Coconut truffles (vegan)
Coconut truffles (vegan)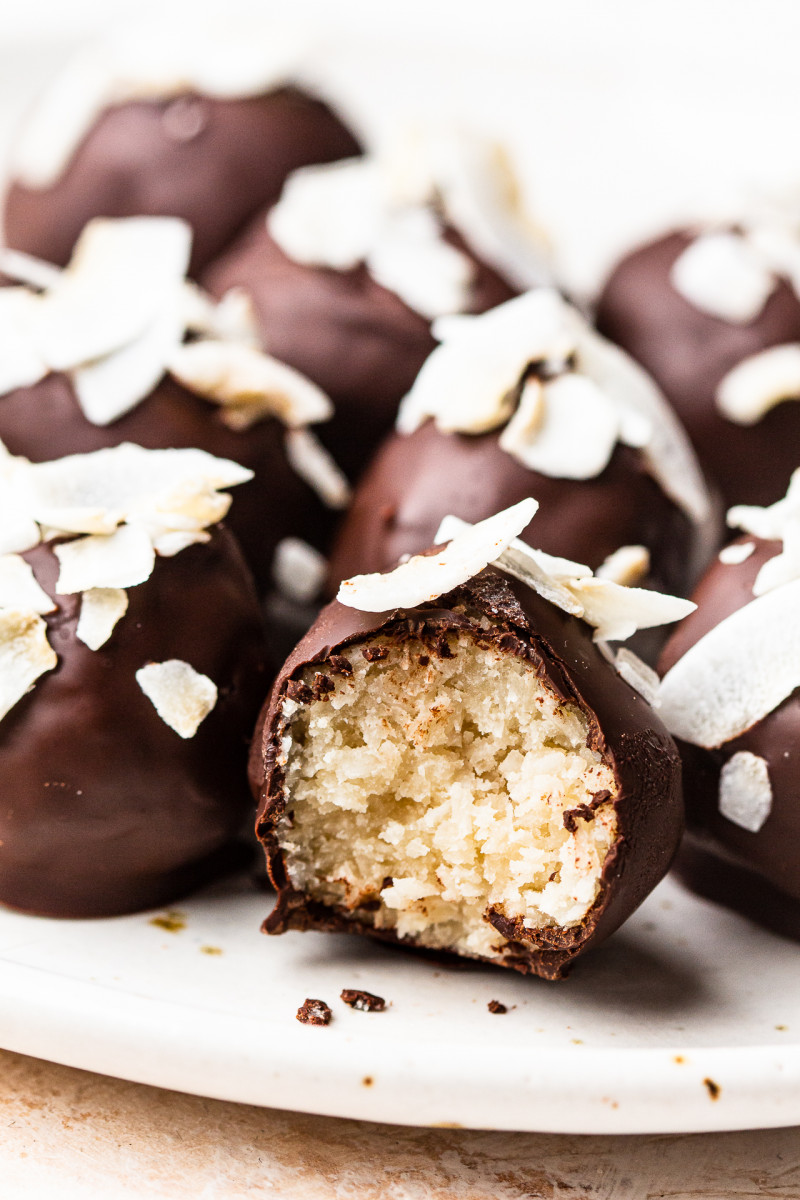 This is not the recipe I was planning on releasing today, but I must have angered the kitchen gods as my intended recipe was just not happening. After 12 failed (not complete flops but not the result I set out to achieve either) attempts under my belt, I was exhausted, stressed and cranky cos I had waaaaaay too much sugar while taste testing and because frustration was making me stress eat (something I am working on…)
I had a brief crisis, an argument with Duncan who tried to rally me up like he would a failing sports team (he has spent his childhood playing sports) with quite the opposite result, but I regrouped finally. I decided to twist a recipe I came up with last year and leave the other one for when I am having a better day.
These coconut truffles or bonbons are easy to make and delicious, especially if you were a fan of Bounty bars as a kid. This is a more grown up version of this 80's chocolate bar, not as sweet, coated in dark chocolate and spiked with rum if, like I, you find that combination irresistible. If you are making them for minors, simply skip that ingredient.
They only need a few simple ingredients and come together in just a few simple steps. Let me run through the ingredients with you.
MORE ABOUT THE INGREDIENTS
MAPLE SYRUP: What you need here is your liquid sweetener of choice, it doesn't have to be a maple syrup, but that's what I tend to use. It's important that its taste is either fairly neutral or complementary to the coconut. If you enjoy ginger, I really like using leftover ginger stem syrup here as it reduces waste and goes well with the coconut flavour.
COCONUT BUTTER: Just like any nut or seed butter, it is simply made from churning coconut until fat is released and a drippy coconut butter forms. I make mine at home and I have an old rickety food processor so it's perfectly possible without any fancy equipment. 250 g / 8¾ oz packet of desiccated coconut gives you approximately 1¼ cups of coconut butter and takes about 10 minutes to make. It is a great addition to desserts, porridge, cakes. Alternatively, you can use raw coconut flesh or coconut oil.
COCONUT MILK: I used full fat coconut milk as it's a coconut flavoured dessert after all, but you could also use any other, neutral tasting plant milk. If using rum, halve the amount of this ingredient.
DARK RUM: I like the flavour combination of rum and coconut, but this is totally an optional ingredient. Skip if you don't enjoy it or are making these for kids.
DESSICATED COCONUT: Not much to say here other than you want finely shredded coconut, like in my photos.
COCONUT FLOUR: A little bit of coconut flour helps to hold these together, but don't go out to buy it just for these, use almond flour instead. Coconut flour is very absorbent so the chances are you'll need a little more almond flour.
DARK CHOCOLATE: I like the contrast between dark (not very sweet) chocolate and the sweet coconut filling inside, but you could use any chocolate you like. You could also make your own chocolate shell out of cacao butter, cacao powder and sugar or maple syrup.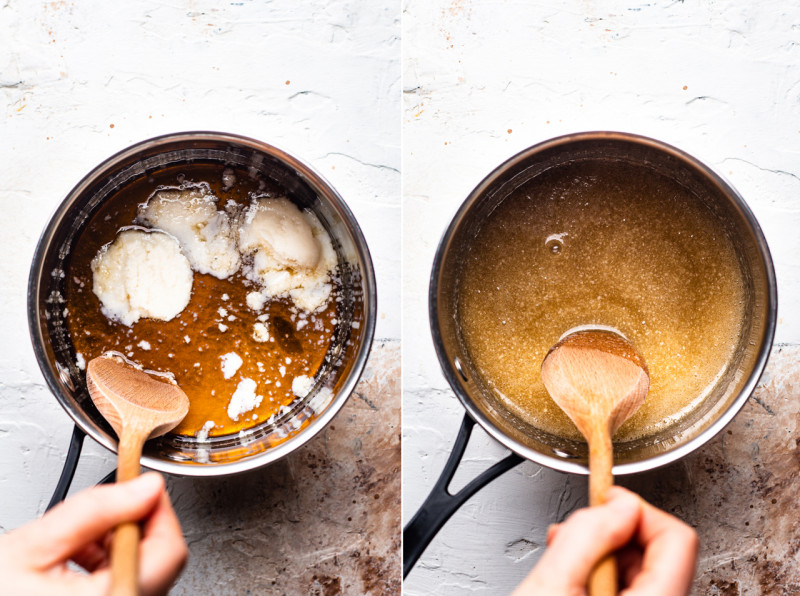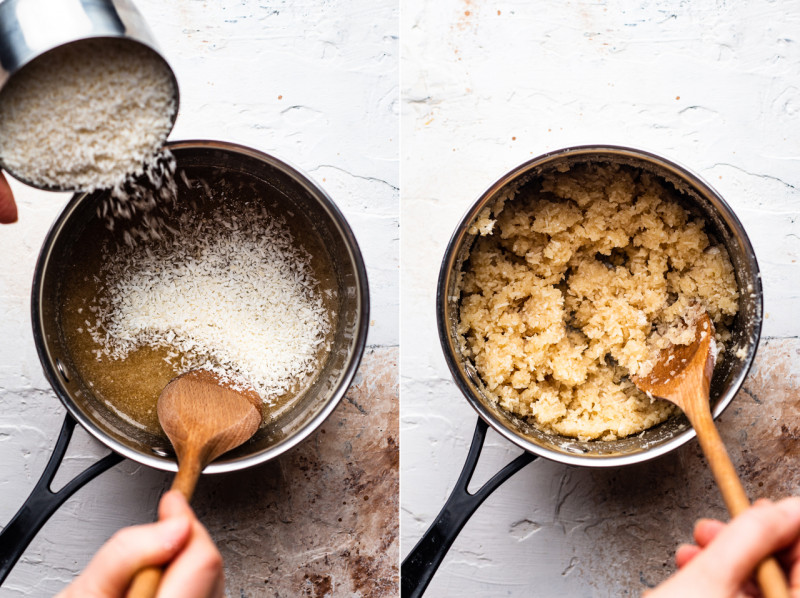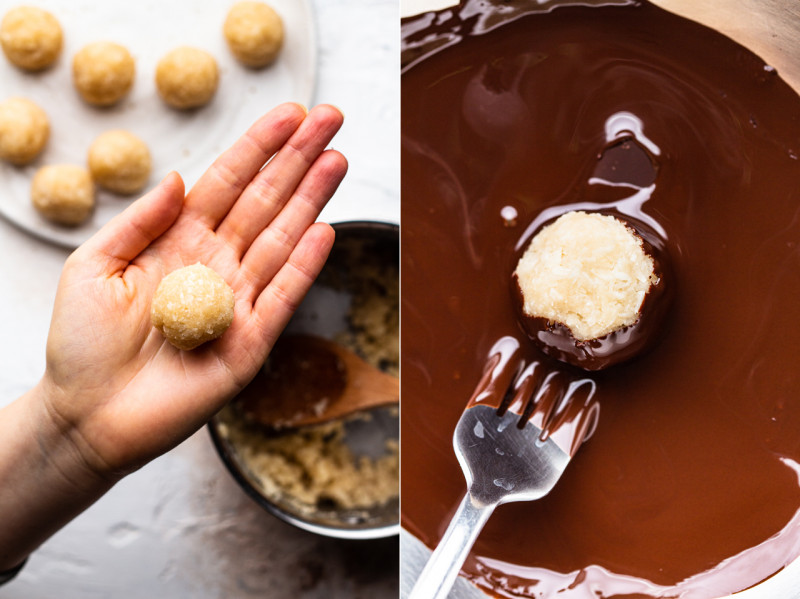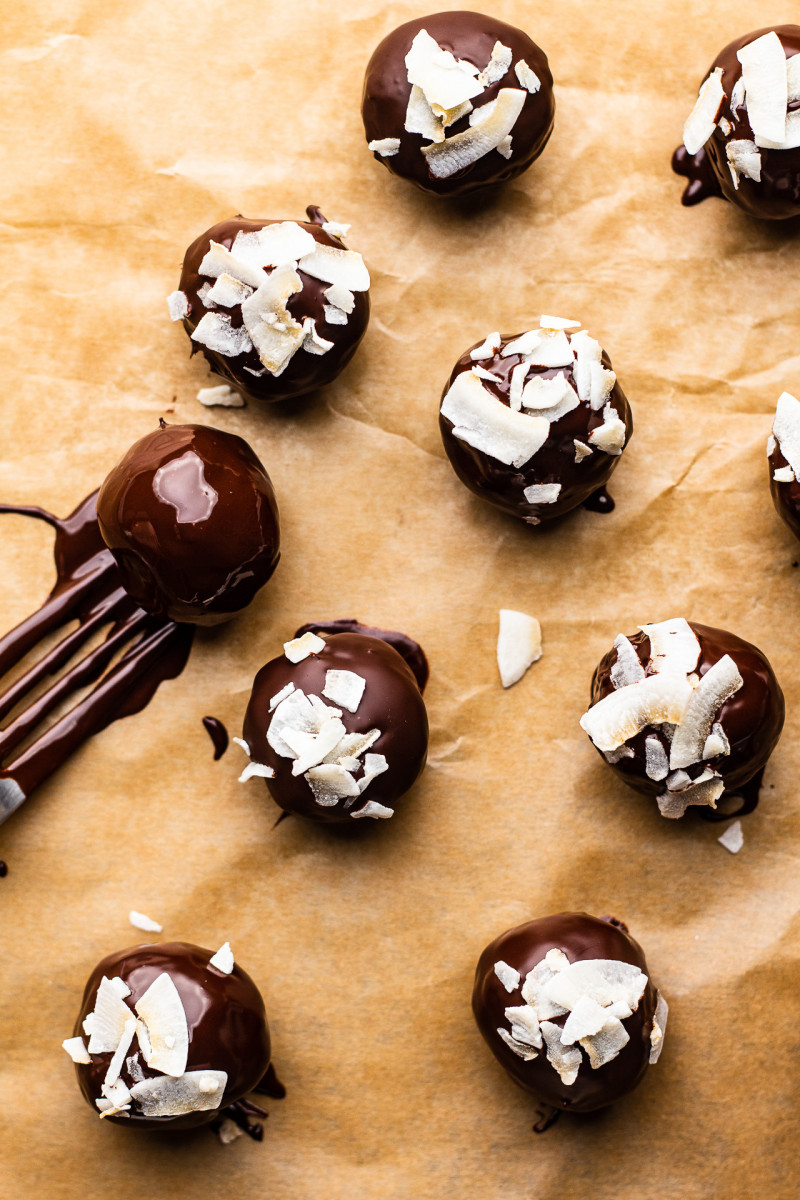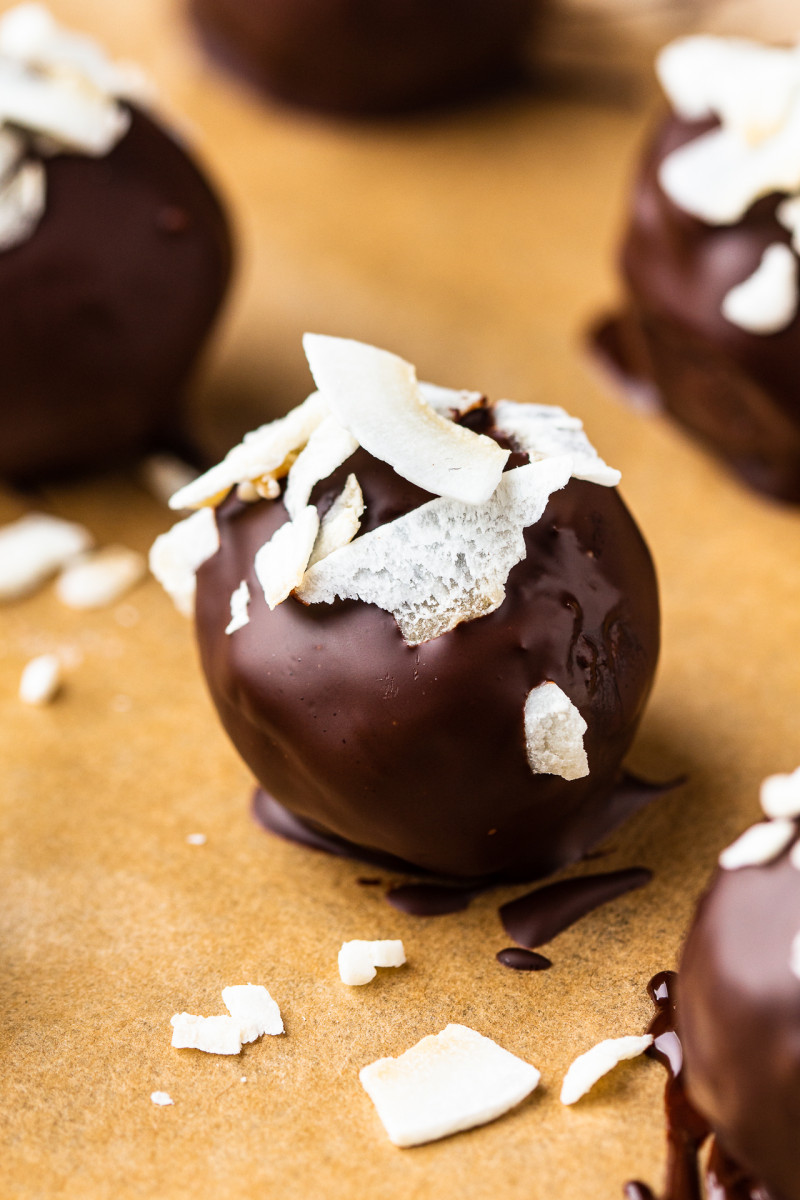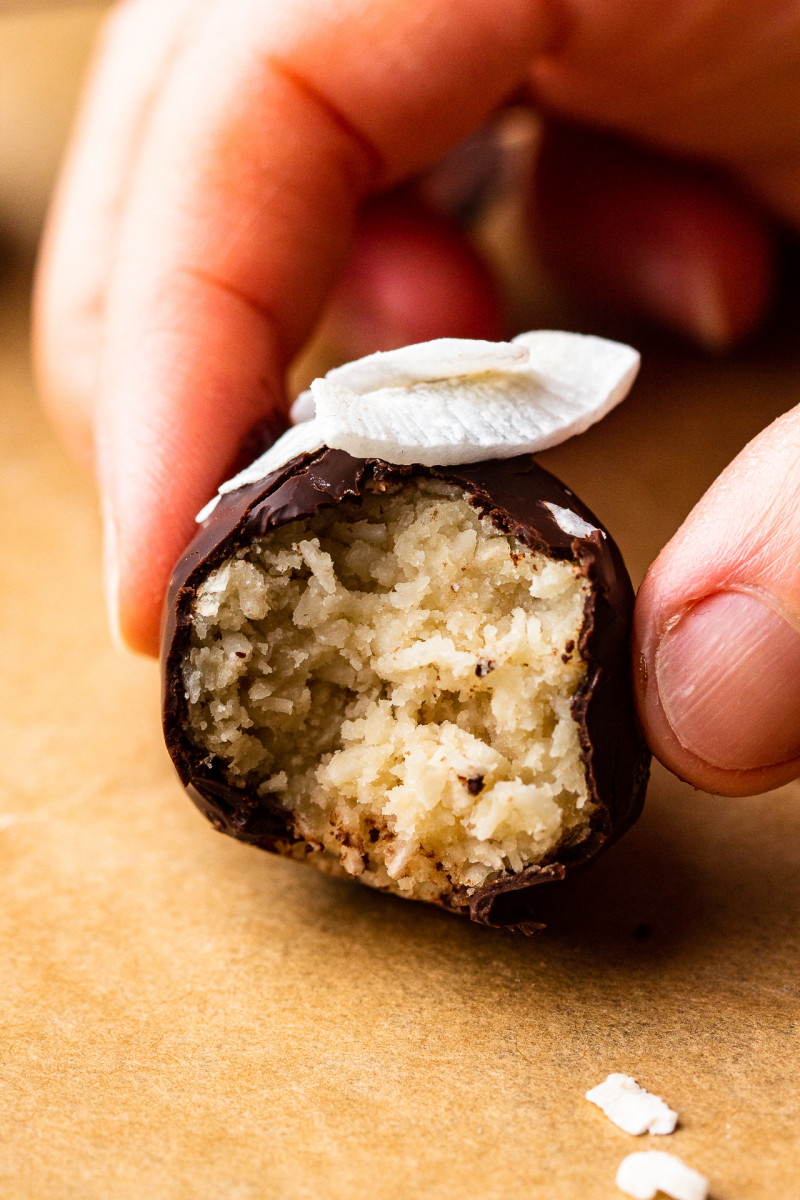 60 ml / ¼ cup maple syrup or other liquid sweetener
30 g / 2 tbsp coconut butter*
30 ml / 2 tbsp dark rum (optional)
60 ml / ¼ cup coconut milk*
85 g / 1 cup (finely shredded) desiccated coconut
12 g / 2 tbsp coconut flour*
a good pinch of fine salt
100 g / 3½ oz vegan dark chocolate (70% cacao solids)*
METHOD
Place maple syrup in a small pot on a low heat, measure out your coconut butter and have it ready.
Bring maple syrup to a gentle simmer (about 2 minutes). When it starts to bubble vigorously, whisk in coconut butter and allow it to bubble gently for about 1 minute.
Take off the heat, whisk in rum, coconut milk (only 30 ml / 2 tbsp if using rum). Stir well then add in desiccated coconut, coconut flour and salt. Combine until you get a homogenous mixture.
Allow the mixture to cool down completely before squeezing portions of it in the palms of your hands and rolling them into balls. I made 15 truffles weighing 15 g / ½ oz each. Refrigerate the truffles while you melt the chocolate to firm them up.
Melt chocolate very slowly in a mixing bowl over a water bath (make sure that the water does not touch the bottom of the bowl!)
Using a fork, coat each truffle in the melted chocolate, transfer to a grease paper-lined tray / plate, decorate with more coconut and allow the chocolate to harden.
Store in an airtight container, in the fridge. These truffles should keep for 3-4 days.
NOTES
*COCONUT BUTTER – You can make it at home easily (
here is how
) or substitute it with raw coconut flesh or even coconut oil.
*COCONUT MILK – Any plant milk will do, but coconut milk gives the best results, it adds coconut flavour and richness. If using rum, use only half of the coconut milk.
*COCONUT FLOUR – Almond flour is a good replacement but it's less absorbent so you may need a little more.
DON'T MISS A SINGLE RECIPE
Join our mailing list and we we will let you know when we publish a new recipe. You'll receive our DELIGHTFUL DESSERTS E-BOOK as a thank you for supporting us.