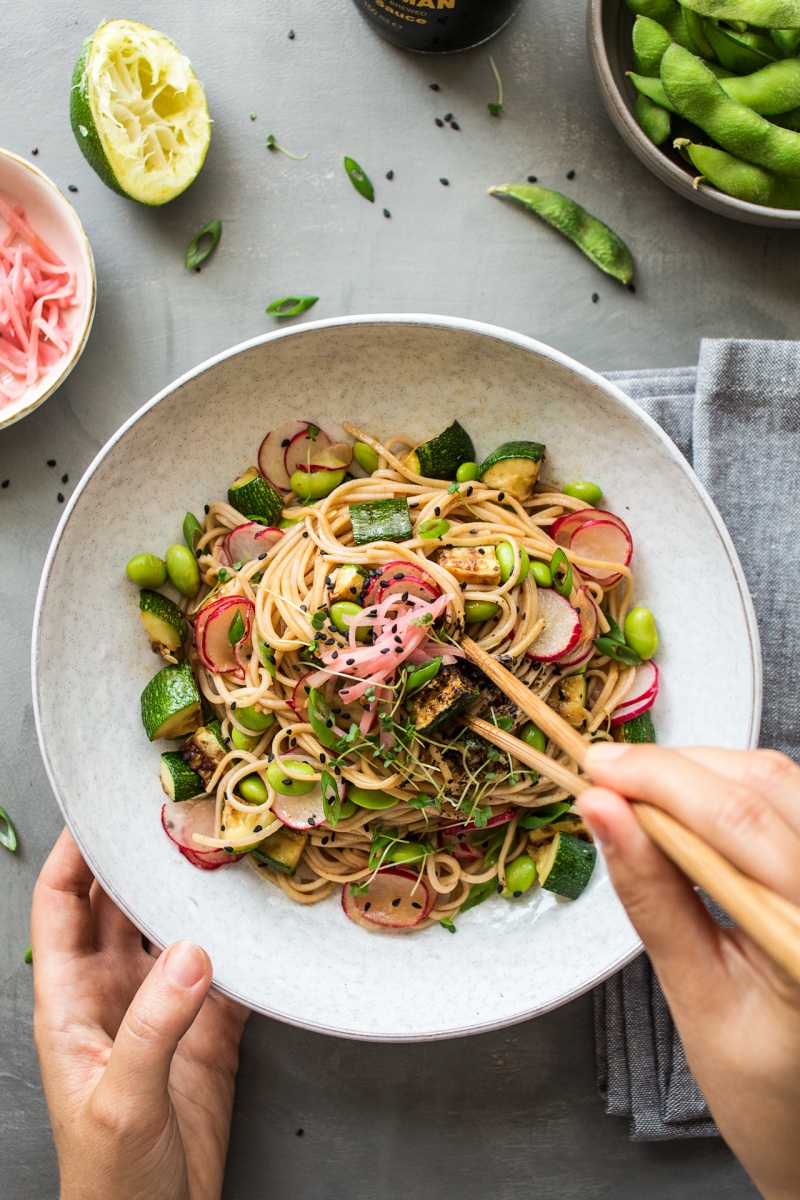 Do you know what a fox mating call sounds like? I didn't until a couple of day ago. The first time we heard it while watching Netflix in the evening, we couldn't figure out what that noise was. It sounded almost human, but not quite and then I thought that maybe it was a dog crying out for help. The noise was persistent and loud so we ran out to see what was going on. Our neighbour ran out too and proceeded to inform us that it was simply a noise of a vixen looking for a mate!
Wow! She must have been very hot to trot as the noise had a ring of desperate urgency to it. And it turns out that she was either very discerning (good on her!) when it came to selecting her mating partner or had an insatiable appetite, as the noise continued in the middle of the night last night and woke me up every time I managed to drift off. As a consequence, I am bit cranky today and really hope that our vixen friend has a quiet night in tonight.
Foxes can be a bit of a nuisance – they keep on turning our compost caddy upside down every week, even though I have tried telling them that they won't find what they are looking for as we are vegan!! – but I love them. I occasionally catch a glimpse of their beautiful flame-red coat as they slink through the back of our garden while I am washing up. It always makes me smile.
It's a funny coincidence as while we were walking around Stokes Croft yesterday, we came across a beautiful print by a Bristol artist that features a fox running down a city road being heckled by two seagulls. As soon as I saw it I had to get it and even though we don't yet have a house we can hang it in yet, I've started a collection of artwork for our first home, as I'm super excited about putting down some roots at last!
On another note, we are still experiencing hot summer weather here in Bristol and I'm feeling a tad lazy, so my recipe today is a lazy cold soba noodle dish that takes hardly any time to prepare, but which is delicious, especially on hot days like today!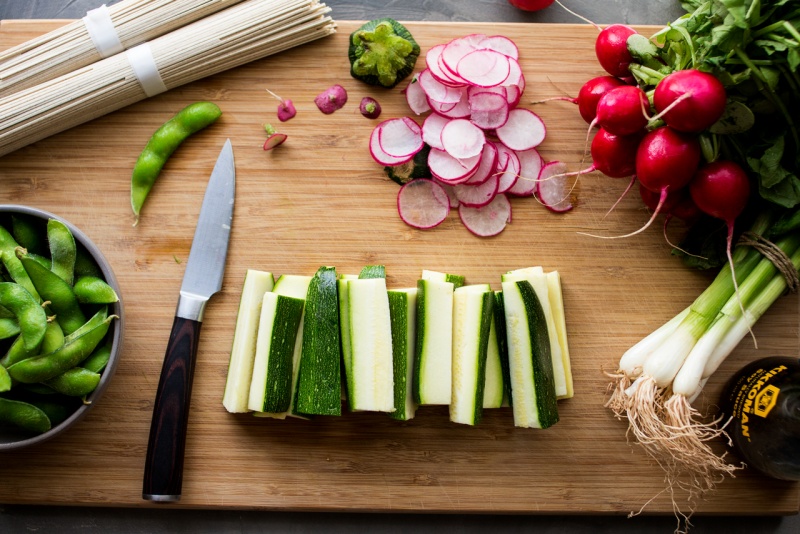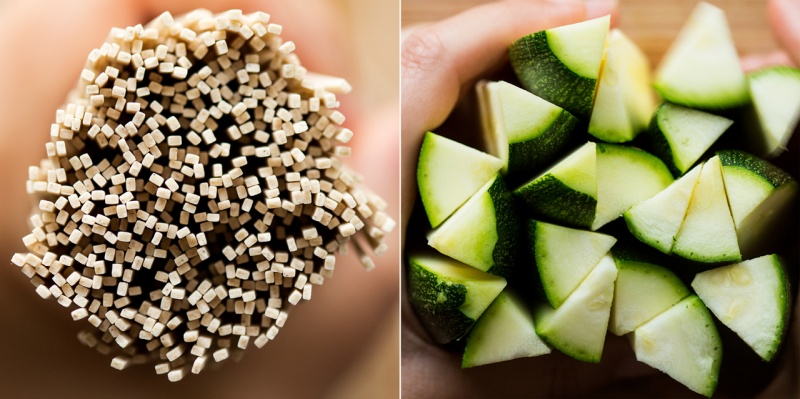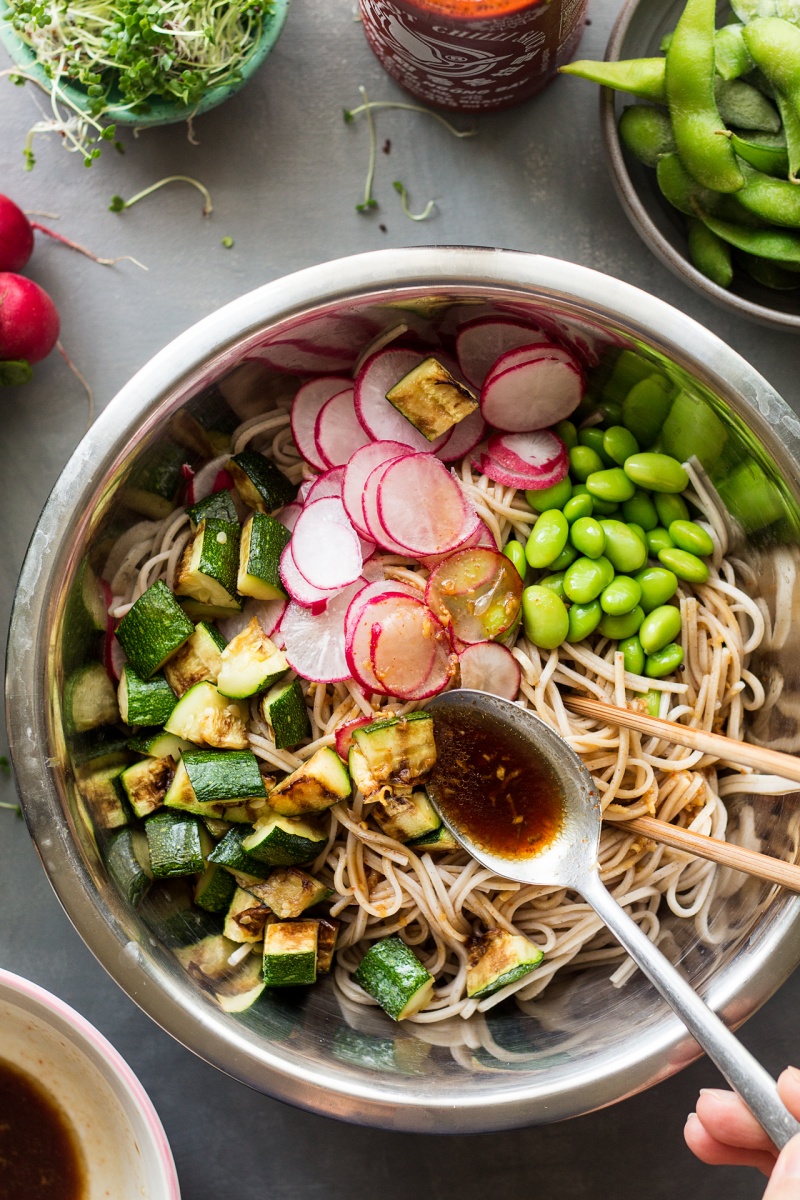 200 g / 7 oz soba noodles*
1 small zucchini
80 g / ½ cup shelled edamame
10 radishes, very thinly sliced
1 small spring onion, green part only, thinly sliced
a few slices of pickled ginger, sliced into thin strands
black sesame seeds, to garnish
LIME-GINGER DRESSING
METHOD
Prepare a large bowl of cold water.
Cook the noodles according to the instructions. Don't take the cooking time indicated on the packet as gospel though – mine required only 3 minutes of cooking, whilst the packet stated 4-5 minutes. Also be sure to stir them gently a few times during cooking to prevent clumping.
Drain the noodles – save a tablespoon of cooking water – and refresh them under a cold tap. Then quickly plunge them into a bowl with cold water. Agitate them a bit with your hands to stop them from sticking to each other. Once drained, stir a teaspoon of sesame oil through them.
Cut the zucchini into 3 equal segments and then place each piece on a chopping board, cut side down, and cut each piece into 6 long wedges.
Heat up a griddle pan. Once hot, brush it with a little bit of neutral tasting oil and place the zucchini pieces on it, cut side down.
Grill for 4-5 minutes and then turn to the other side. Grill until charred on both sides. Chop into bite size pieces.
Mix all the dressing ingredients together, adjusting the level of spiciness to taste. Add 1 tbsp of noodle cooking water.
Place the zucchini, edamame, radishes, spring onions and cold noodles in a bowl and stir the dressing through.
Divide the noodles between two bowls. Top with a clump of pickled ginger strands and black sesame seeds.
NOTES
*To keep this dish gluten-free, look for soba noodles that are 100% buckwheat (often it is buckwheat and wheat flour that are used together) and gluten-free certified.