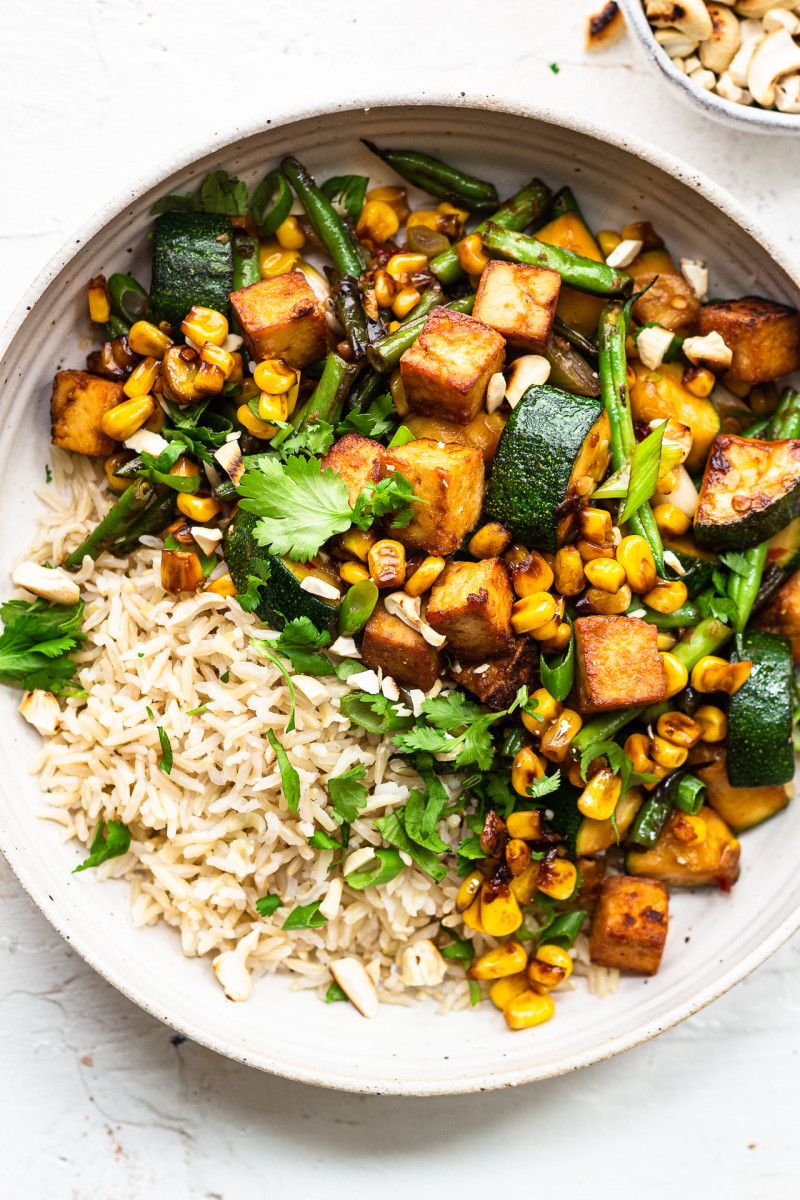 A woman cannot live on ice-cream alone so today I've got a savoury summer dish for you that features the best of late summer produce: zucchini, green beans and sweetcorn.
It's a delicious combination, full of complimenting flavours and textures and it makes for a satisfying meal. I like to have it on brown rice, with some pan-fried tofu for extra plant protein and some toasted cashews for crunch. To be honest, tofu isn't necessary at all so feel free to skip it. If you double the amount of cashews, you will be just as satisfied and the meal will come together quicker too.
What I like to do is to toast a cup or even more of cashews, prepare a big jar of the sauce/dressing and cook a lot of rice in advance and use that throughout the week to help compile this meal a lot quicker. It's really handy when we are both hungry after post-work exercise.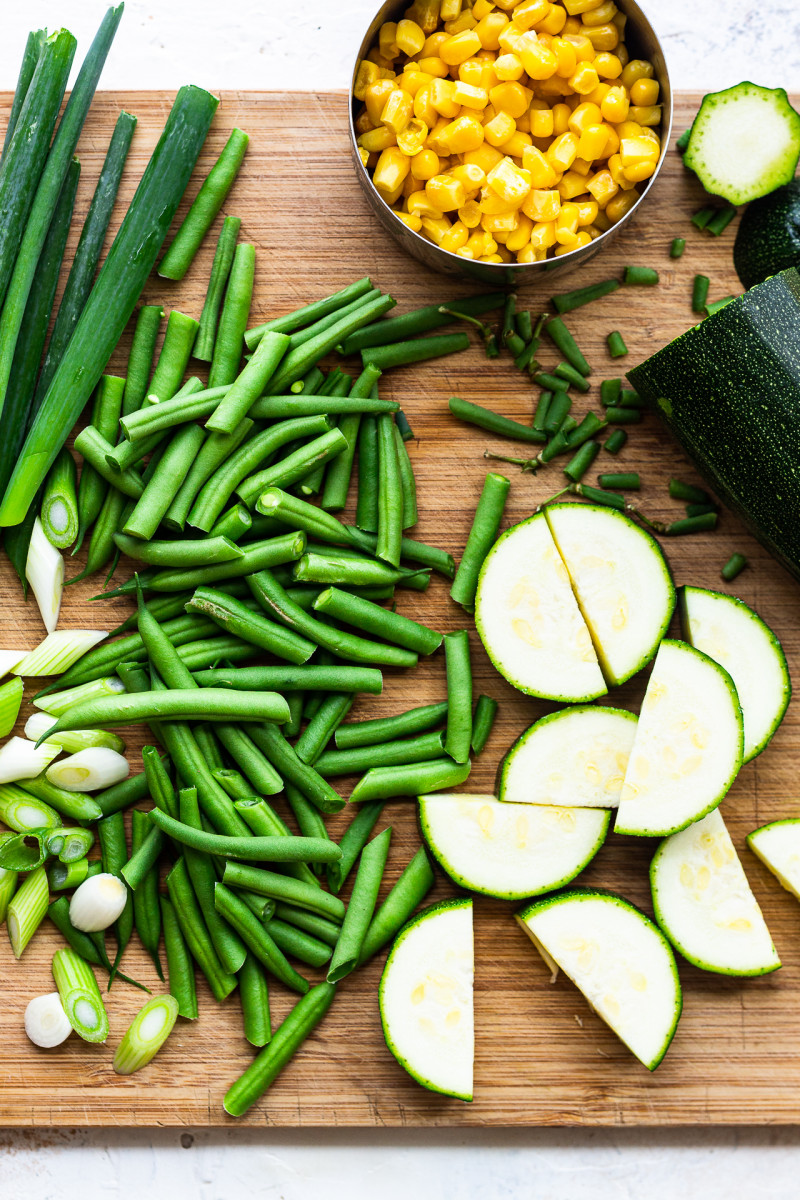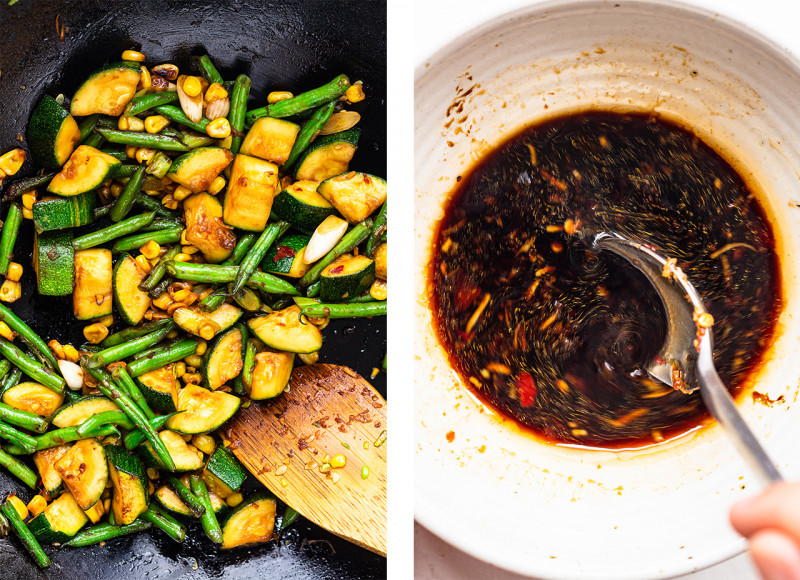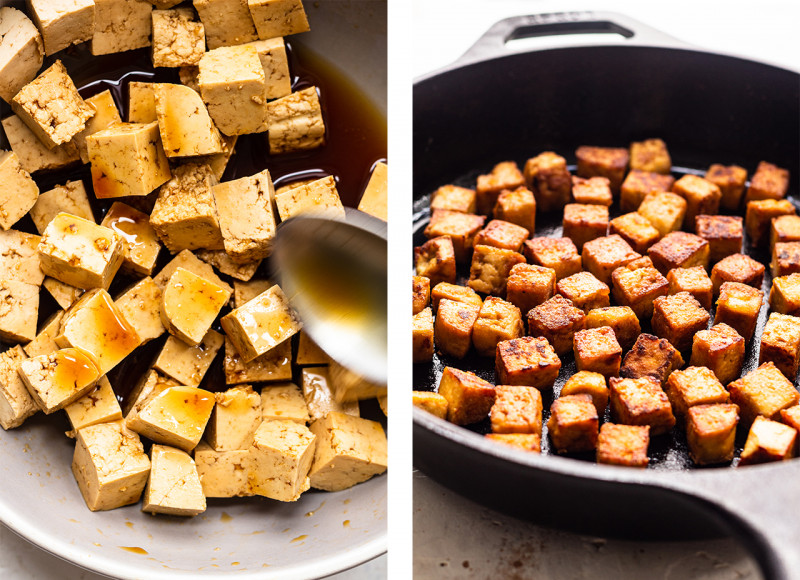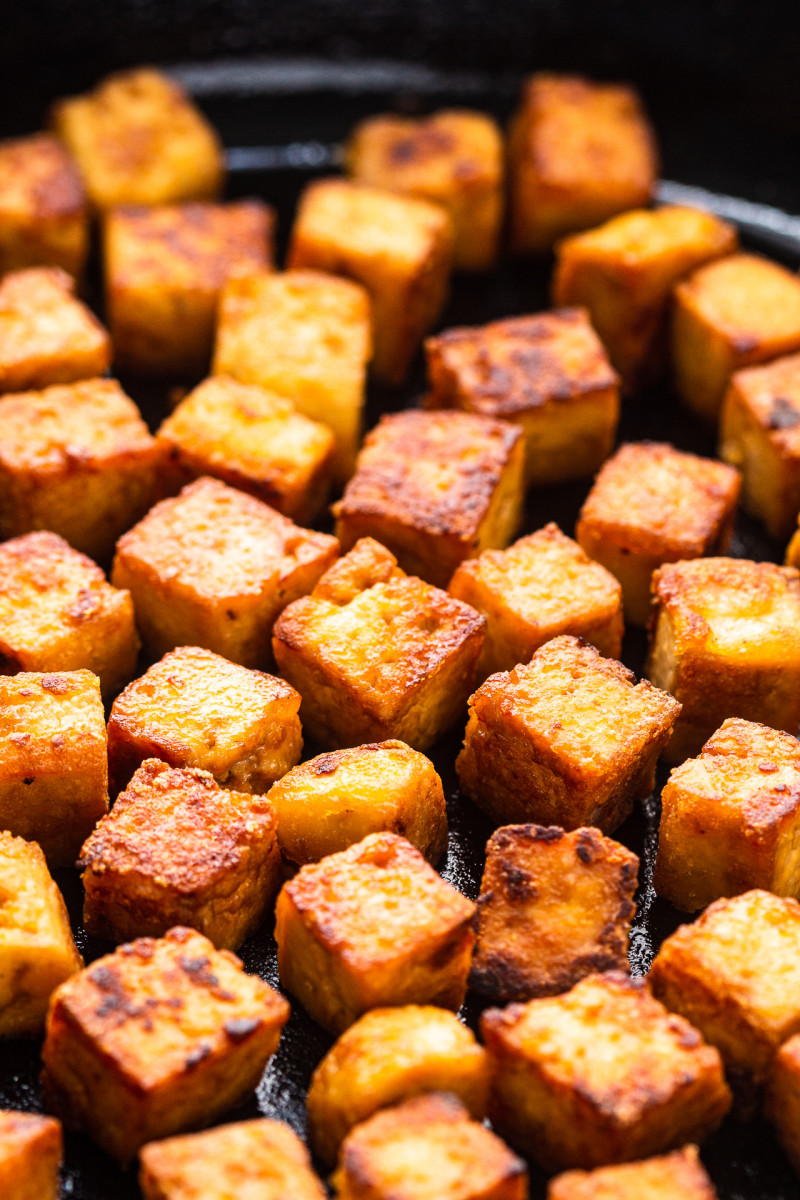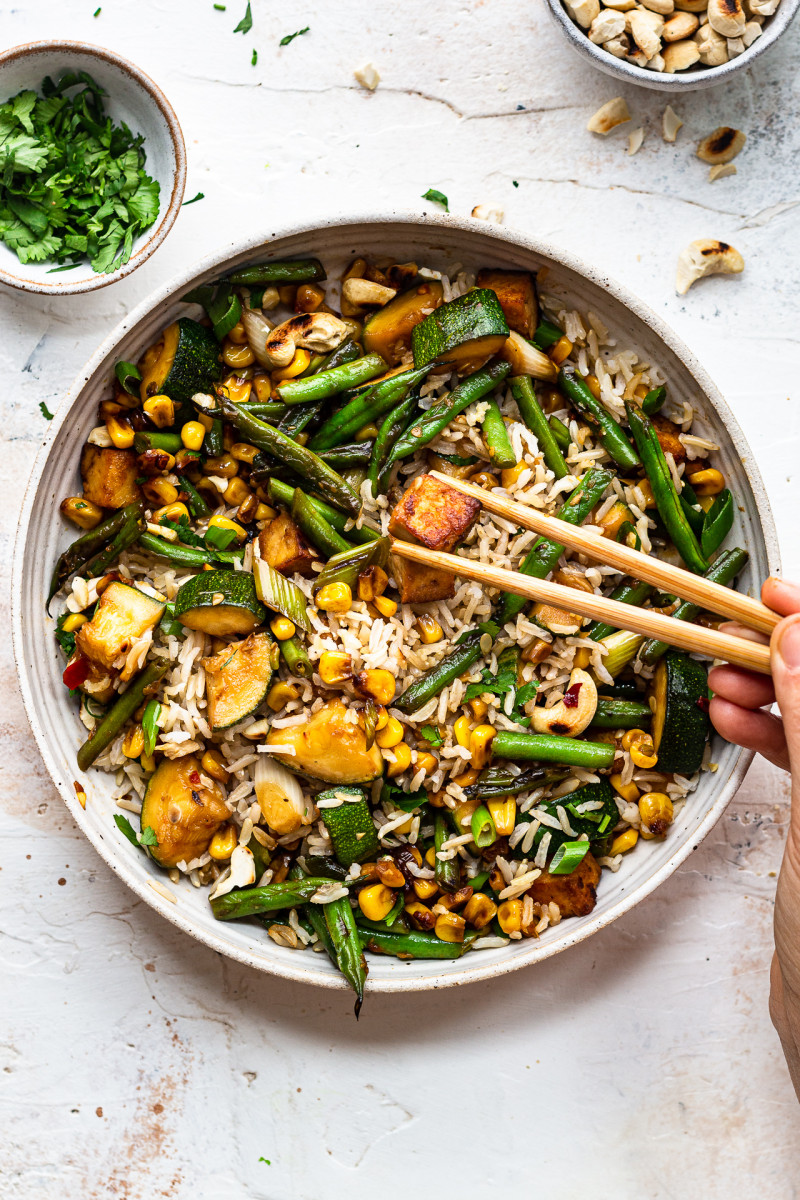 SAUCE
30 ml / 2 tbsp* soy sauce (or tamari)
10 ml / 2 tsp maple syrup
20 ml / 4 tsp rice wine vinegar
5 ml / 1 tsp chilli sauce, like sambal oelek or Sriracha
5 ml / 1 tsp toasted sesame oil
small garlic clove, finely grated
1 tsp finely grated ginger, more to taste
TOFU (optional)
200 g / 7 oz firm tofu, pressed
20 ml / 4 tsp soy sauce (or tamari)
5 g / 2 tsp cornflour/cornstarch
10 ml / 2 tsp frying oil (I use rice bran oil)
STIR-FRY
40 g / heaped ¼ cup raw cashews
200 g / 7 oz zucchini / courgette
100 g / 3.5 oz fine green beans
4 spring onions / scallions
120 g / ¾ cup corn kernels, fresh or defrosted*
10 ml / 2 tsp frying oil (I use rice bran oil)
cooked rice, to serve
fresh corinader, finely chopped
METHOD
SAUCE
Place all the sauce ingredients in a bowl or a jar (that way you can keep any leftovers in the fridge for later). Mix well or screw the lid on tight and shake the jar until combined.
TOFU
Dice pressed tofu into 0.75 cm / 0.3″ cube. Place in a flat bottomed bowl and stir through soy sauce. Allow to marinate for as long as you can (at least 30 minutes), stirring occasionally.
Just before you are ready to fry the tofu, drain excess soy sauce away and sprinkle the tofu with cornstarch.
Pre-heat a wok or a non-stick skillet on a low-medium heat. Once hot, add oil, wait a few seconds for the oil to heat up then arrange tofu in a single layer.
Leave the tofu undisturbed for 60-90 seconds to seal it one side then give it a stir. Continue to fry the tofu on all sides, allowing each side to seal before stirring it again.
STIR-FRY
Slice zucchini into thick slices and then each slice into quarters.
Top and tail your beans and cut them into bite-size pieces. I cut mine into 3 sections.
Slice spring onions into thin slices, separate white and light green parts from dark green tops. Add the former to the stir-fry and use the latter for garnish.
Heat up a wok lightly and add cashews. Fry them on a low-medium heat, tossing frequently, until fragrant and lightly browned. Remove from the wok and set aside to cool.
Wipe the wok with a paper towel. Now heat the wok up until it starts to smoke.
Once hot, add a teaspoon of oil, wait a few seconds for the oil to heat up then add zucchini. Stir fry for about 2 minutes, then remove from the wok and place on a plate.
Add another teaspoon of oil, add in beans and corn kernels if using raw corn. Stir fry for about 2 minutes.
Finally, add in chopped spring onions and defrosted corn kernels and stir-fry for another minute or so. Return zucchini to the wok.
Stir two tablespoons of the sauce through the vegetables. Keep the wok on the heat for 30 more seconds so that the sugars in the sauce caramelise a little.
Serve alongside cooked rice (I used brown) and fried tofu (if using). Drizzle extra sauce/dressing to taste and garnish with roughly chopped cashews and coriander.
NOTES
*SOY SAUCE: adjust the amount to taste. If you are sensitive to salt but want to keep the same volume of the sauce, subsititue some of the soy sauce with water. I replaced 1 tsp (5 ml) of soy sauce with dark soy sauce for colour, which you can do too but that's totally optional.
*CORN: to defrost your corn simply allow it to sit at room temperature for an hour or so before you make the meal, but you are cooking it from frozen, simply add it to the wok with zucchini to lengthen its cooking time.
NUTRITIONAL INFO
*per 1 out of 2 portions (without tofu)