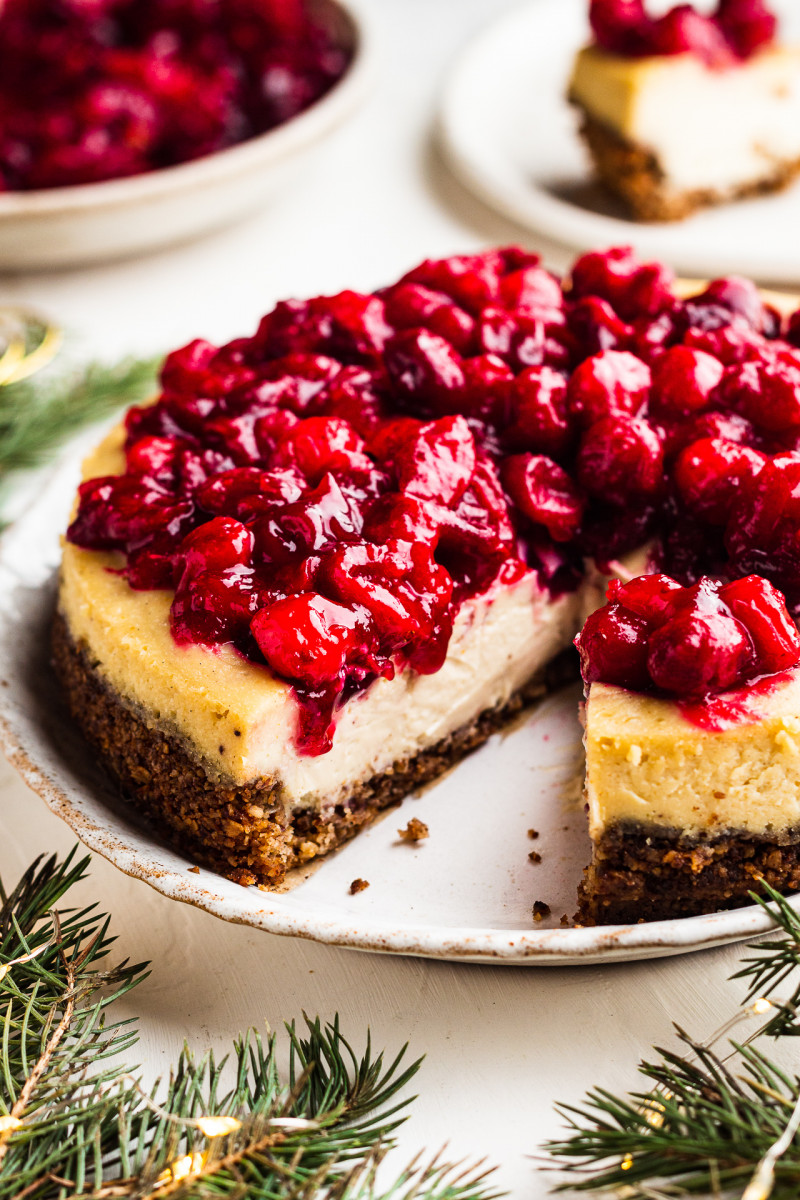 Are you ready for the upcoming Christmas festivities? Stretch trousers (pants) at the ready? Only a few more sleeps and you are probably knee deep in planning, food prep, present wrapping etc. but just in case you are still on the fence about your dessert centrepiece, here I come with a recipe that may upstage your current dessert favourite – I certainly hope so!
This 'oh-so-creamy' baked vegan cheesecake will steal your and your guests's hearts, I promise. And the bonus is it is really uncomplicated to make and does not require any pastry chef skills so even if you are an inexperienced baker, you'll nail it, I promise.
This baked vegan cheesecake is infused with all Xmas flavours you can dream of. It has pecans and a dash of cinnamon in the oat crust that's reminiscent of oat cookies and as easy to work with as play-doh. It is a job you could safely outsource to a minor. The cheesecake mixture is infused with the flavours of ginger, orange, vanilla and a kiss of white chocolate. Then comes a sour component, which complements the creamy cheesecake so well. Firstly, I dabbed the surface with little pools of cranberries (I used shop-bought cranberry sauce) and once the cheesecake set, I adorned the top with juicy stewed cranberries too. The result is gorgeous. A creamy, citrus and ginger-infused interior punctuated with tangy fruit and nutty bits of crust.
In case you are missing some of the key ingredients, let me tell you how flexible this recipe is.
PECANS: Pecans add a festive touch to the crust, but don't worry if you don't have them in your cupboard. You can replace them with pretty much any (maybe apart from pine nuts or peanuts) nut you like. My second preference would be almonds. On that note you can also use almond flour too, which is handy cos, provided you use finely cut oats, means that you can do the entire crust in a bowl without having to take your food processor out at all. If you have a nut allergy, simply use oat flour instead.
CINNAMON: It is simply one of these spices that reminds me of Christmas, but you could totally use something different if you prefer. Ginger (although there is a lot of ginger in this dessert already so I would give it a miss, I think), gingerbread spices, cardamom (you may want to use far less as it's very potent).
STEM GINGER and STEM GINGER SYRUP: Here in the UK, stem ginger, which is essentially chunks of ginger preserved in sugar syrup is a baking aisle classic. I used both the ginger and the syrup to flavour and sweeten this cake as the efficiency of it appealed to me, but you can safely replace stem ginger with finely grated ginger root (be sure to taste the mixture as you add it) and instead of the syrup, you can use any neutral tasting liquid sweetener – bear in mind that maple syrup will make the cake darker – or icing sugar even. If you use icing sugar, be sure to add more plant milk to compensate.
CANDIED ORANGE PEEL: Again, this is a UK staple and it's simply finely diced orange peel preserved in sugar. My mum used to make her own every winter and add it to cheesecakes and I really liked the flavour it added. You can safely skip it if it's not available.
CACAO BUTTER: I used it for both a hint of a white chocolate taste (it's the fat extracted from cacao bean and a key ingredient of any chocolate), but also for a richer, more luxurious texture. You can replace it with vegan white chocolate, but dial down the sugar if you do. You could also replace it with refined (ideally or else you may be able to detect a coconut taste) coconut oil or a vegan block (I like Naturli). This cheesecake is creamy and indulgent, you could halve the amount of this ingredient if you are after something lighter.
SILKEN TOFU: You could replace it with coconut cream at a push, but I would not recommend as you will end up with coconut tasting cheesecake and that's not what this cheesecake is about. Be assured that this cheesecake does not taste of tofu at all. It is simply there to provide structure.
TAPIOCA STARCH: Could be replaced with arrowroot powder or cornstarch at a push.
WATER BATH: Baked cheesecakes (vegan or not) are delicate entities prone to cracking. One way to prevent this is to bake it at a fairly low temperature (which is what I did), but what also helps is baking it in a water bath – see photo below and instructions. It's a bit of a faff and not necessary, but it greatly minimises the risk of it cracking.
I hope I anticipated all the questions you may possibly have and that you will enjoy this cheesecake if you do decide to give it a go.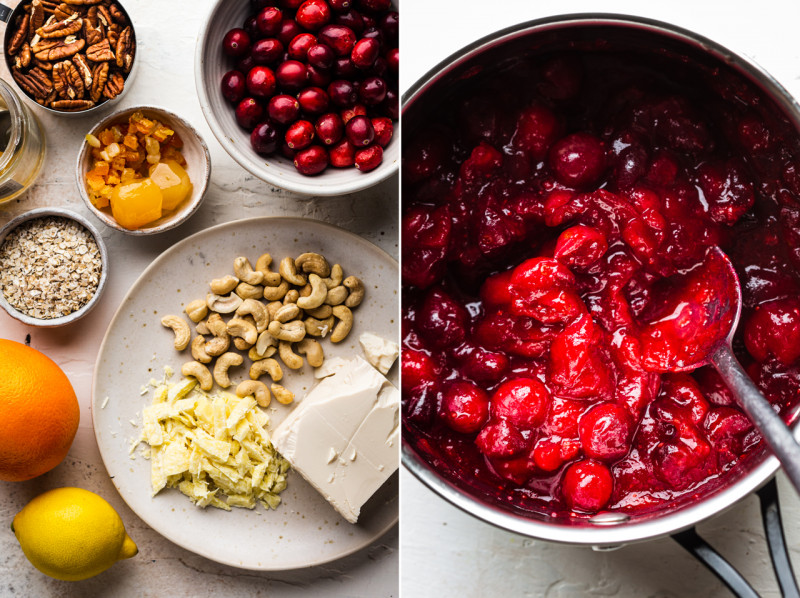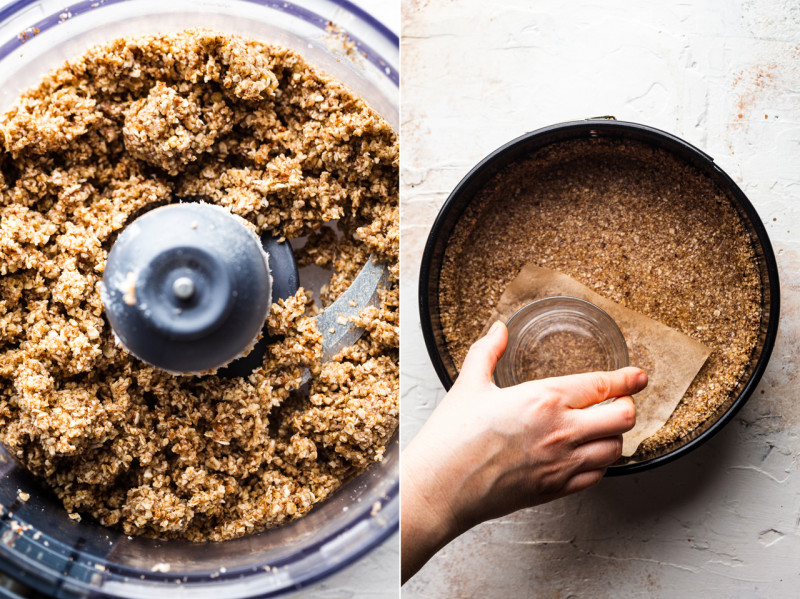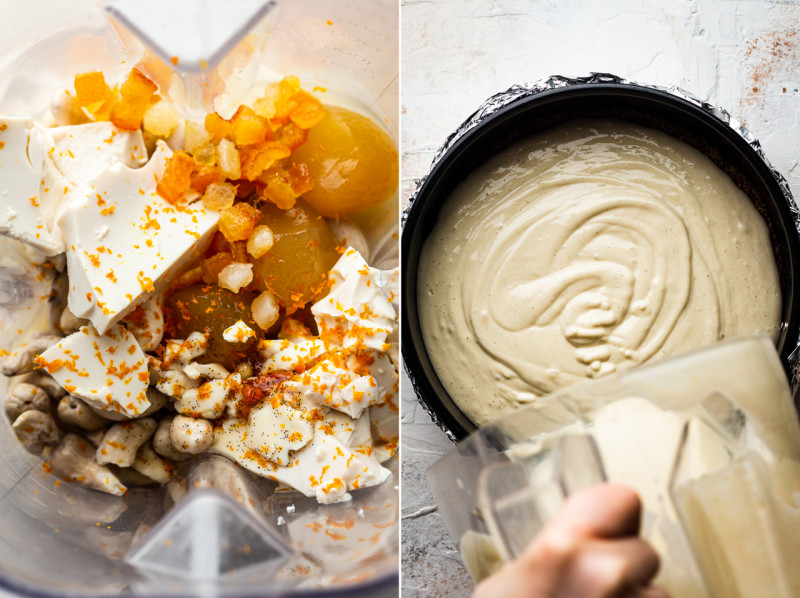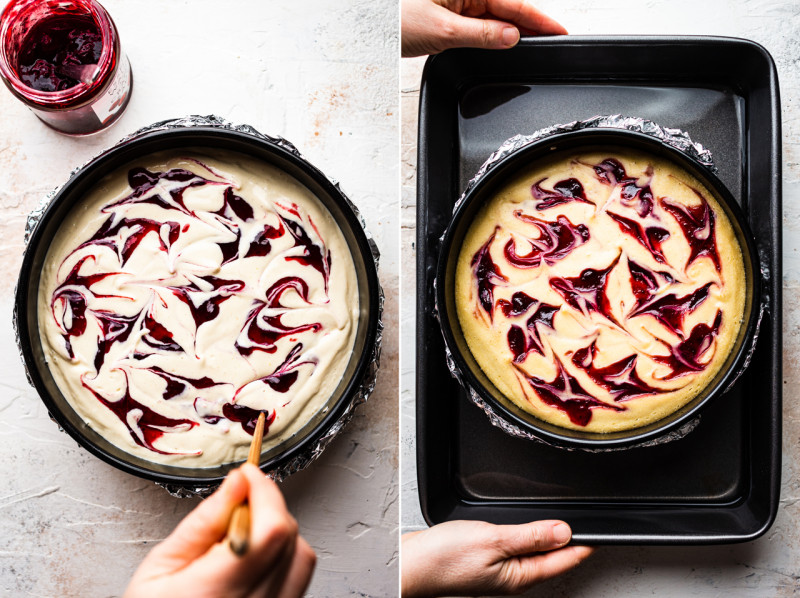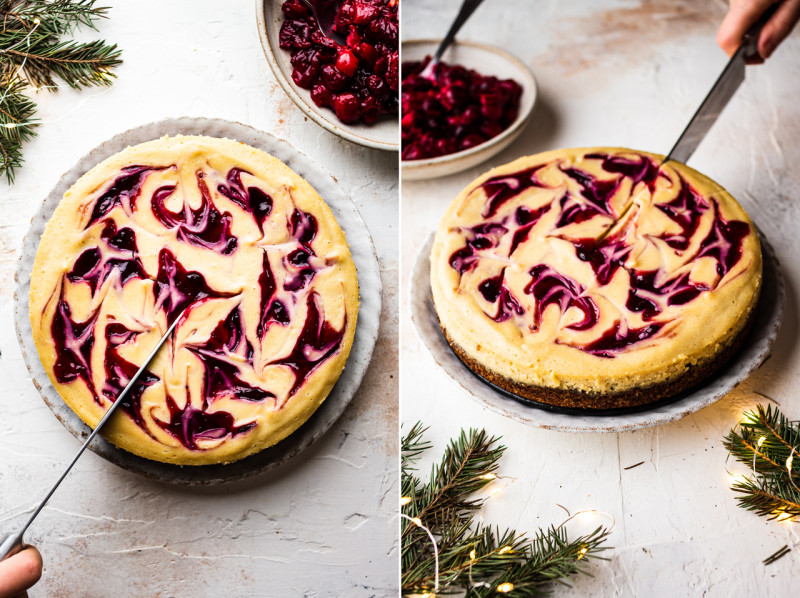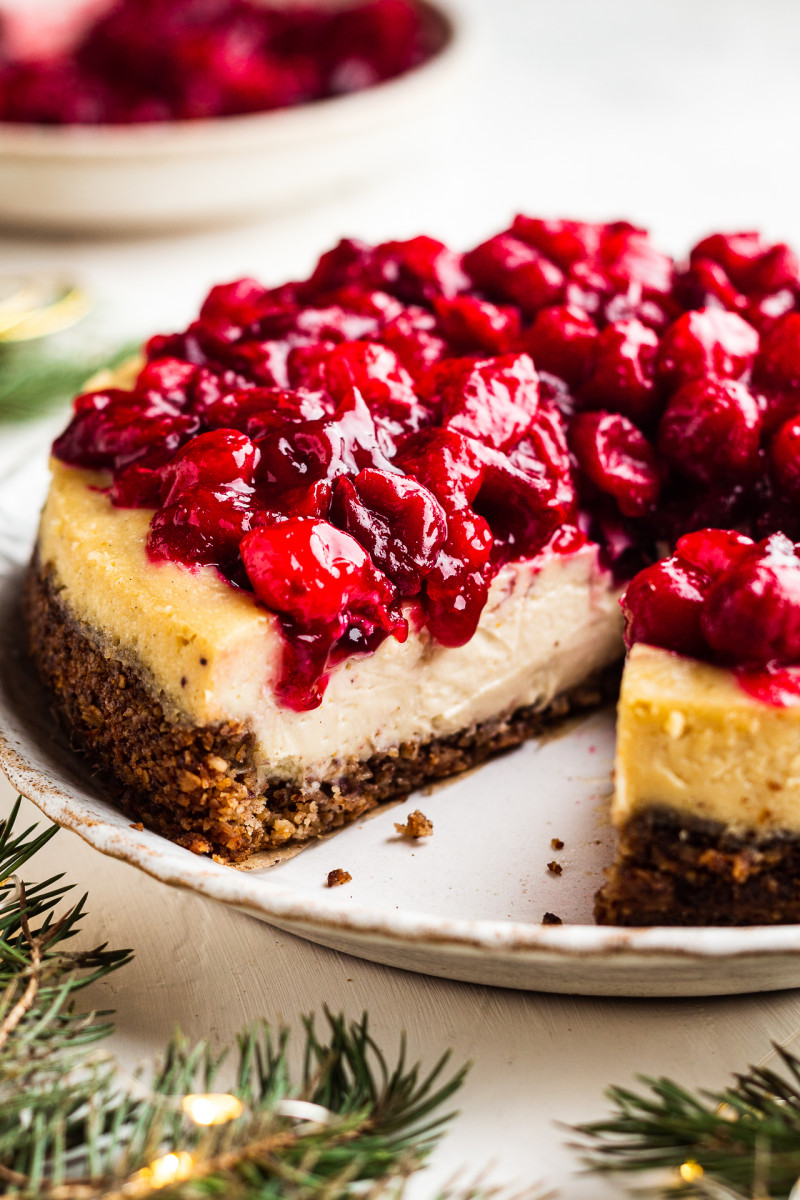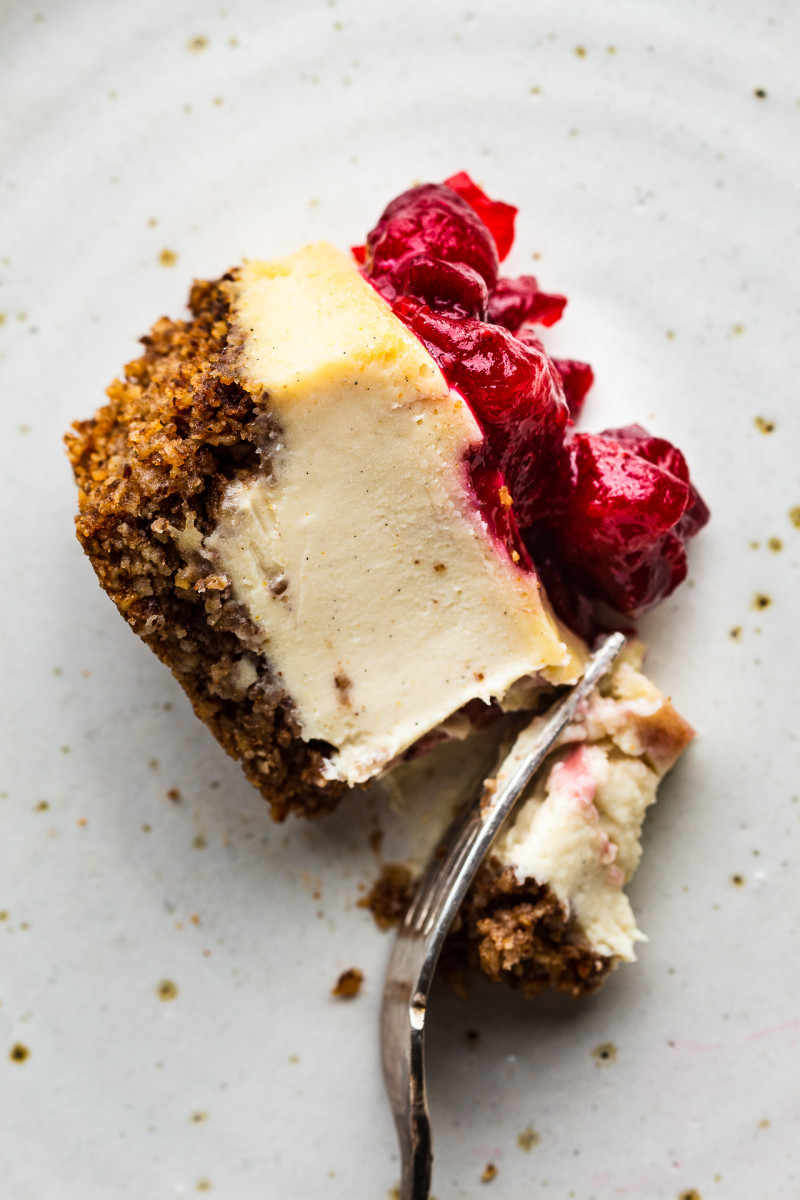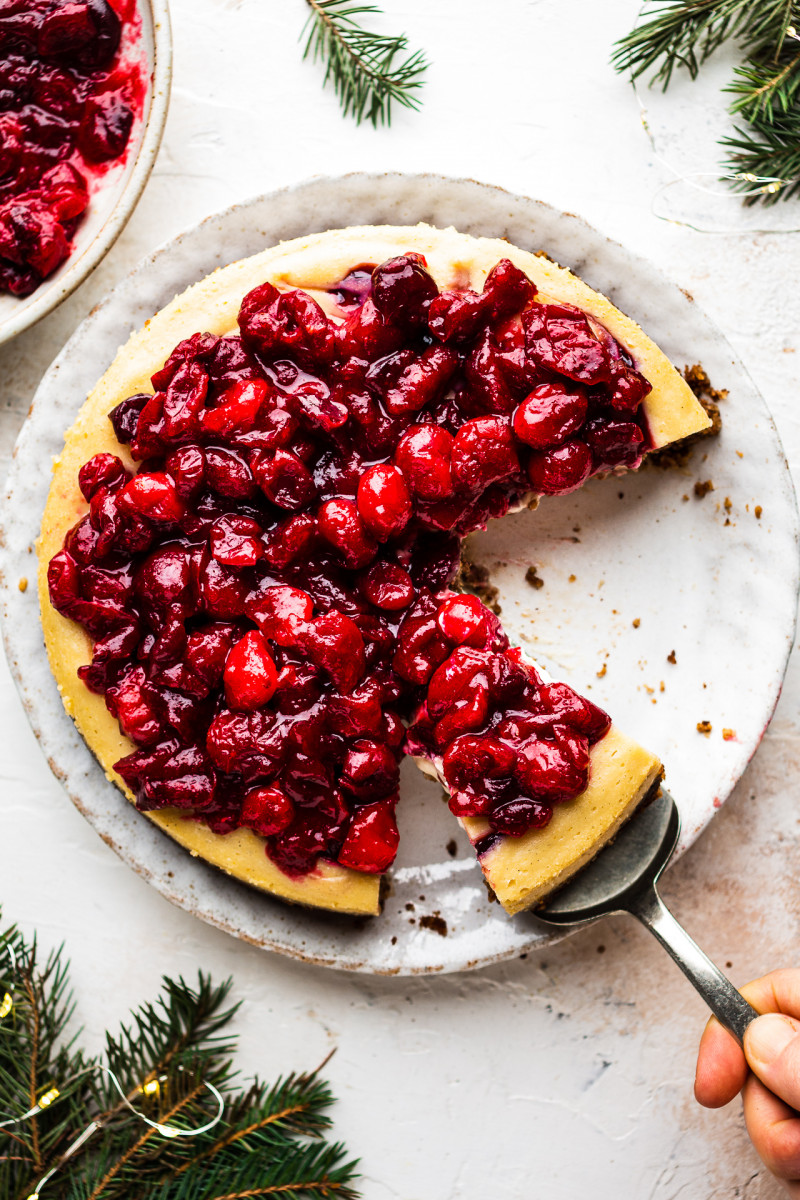 BASE
CHEESECAKE
STEWED CRANBERRIES (optional)
METHOD
BASE
Grind pecans finely in a food processor.
Add oats, salt and cinnamon and pulse a few times, just until evenly mixed.
Next add in softened coconut oil (or vegan block) and maple syrup. Pulse a few times again, until the mixture clumps together.
Grease the baking tin (I used a round 20 cm / 8″ springform tin) and line the bottom and the sides with baking paper.
Using your hands, spread the crumb on the base of your tin and mould it to the bottom and a little to the side using your fingers. Compress the crust using a flat bottomed glass over a piece of baking paper.
Bake in a 180° C / 355° F (no fan) oven for 20-25 minutes, until lightly browned. Allow it to cool.
OPTIONAL: wrap the tin in a couple of layers of tin foil to ensure the tin is watertight. This will allow you to bake the cheesecake in a water bath in order to minimise the risk of it cracking.
CHEESECAKE
Slowly and gently melt cacao butter over a water bath (bain maire). Don't allow the water to boil, as soon as it starts simmering gently, switch the heat off. Make sure the bowl does not touch the water underneath.
Place all the filling ingredients (apart from cacao butter) in a blender and blend until smooth.
Once melted cacao butter has cooled off a bit, add it to the mixture. Taste and adjust seasoning if needed.
Pour the mixture over the pre-baked base. Tap the tin against the workbench a few times to burst any air bubbles in the mixture as they will cause cracks after baking.
Dot teaspoons of cranberry sauce/jelly on the surface of the cheesecake and make decorative swirls using a chopstick / toothpick.
OPTIONAL: if your tin is wrapped in foil, place it in a larger, deep tin filled with an inch or so of water to minimise the risk of cracking.
Bake in a 160° C / 320° F (no fan) oven for about 45 minutes (start checking at around 40 minutes mark) – it's ready when the sides are set, but the middle is still a bit wobbly. Keep in the tray with water until cooled down a little. Allow the cheesecake to set overnight before cutting.
Decorate with stewed cranberries (if using).
STEWED CRANBERRIES (optional)
Place cranberries in a medium size pot together with 60 ml / ¼ cup water and syrup (sugar). Mix well.
Simmer everything gently until cranberries burst, soften and release their juices. Stir regularly.
Finally, stir in cornstarch diluted in 2 tsp (10 ml) of water.
NOTES
*PECANS: You can use other nuts instead (almonds or walnuts, for example). You can also use
almond flour / meal
, in which case you do not need to use a food processor – you can make the dough in a bowl. If you are allergic to nuts, use oat flour instead of pecans.
*CACAO BUTTER / WHITE CHOCOLATE: If using white chocolate, you may want to use a little less syrup / sugar. You can also use refined (for no coconut flavour) coconut oil or vegan block.
*CASHEWS: Need to be soaked in boiling water at least 1 hr prior to using or overnight in cold water.
*SYRUP / SUGAR: I used stem ginger syrup (from a jar of stem ginger) to sweeten this cheesecake. If it's unavailable to you, you can use maple syrup (or any other liquid sweetener) but it will make the cheesecake darker in colour. You can also use icing sugar, but if you do make sure to use an additional 150 ml (½ cup + 2 tbsp) of plant milk to compensate for the loss of moisture.
*STEM GINGER: I used stem ginger (ginger preserved in sugar syrup) and its syrup to flavour this cheesecake – (in the UK) they are available in the baking section of every big supermarket. If you cannot get hold of it, simply use freshly grated ginger to taste and another syrup or icing sugar to sweeten.
*STORAGE: Keeps for up to 5 days in an air-tight box in the fridge. Freezes well, to defrost allow it to thaw naturally in the fridge or at room temperature.
This recipe is based on my previous cheesecake recipes, this one and that one.
NUTRITIONAL INFO
*per per slice (based on 16 servings)