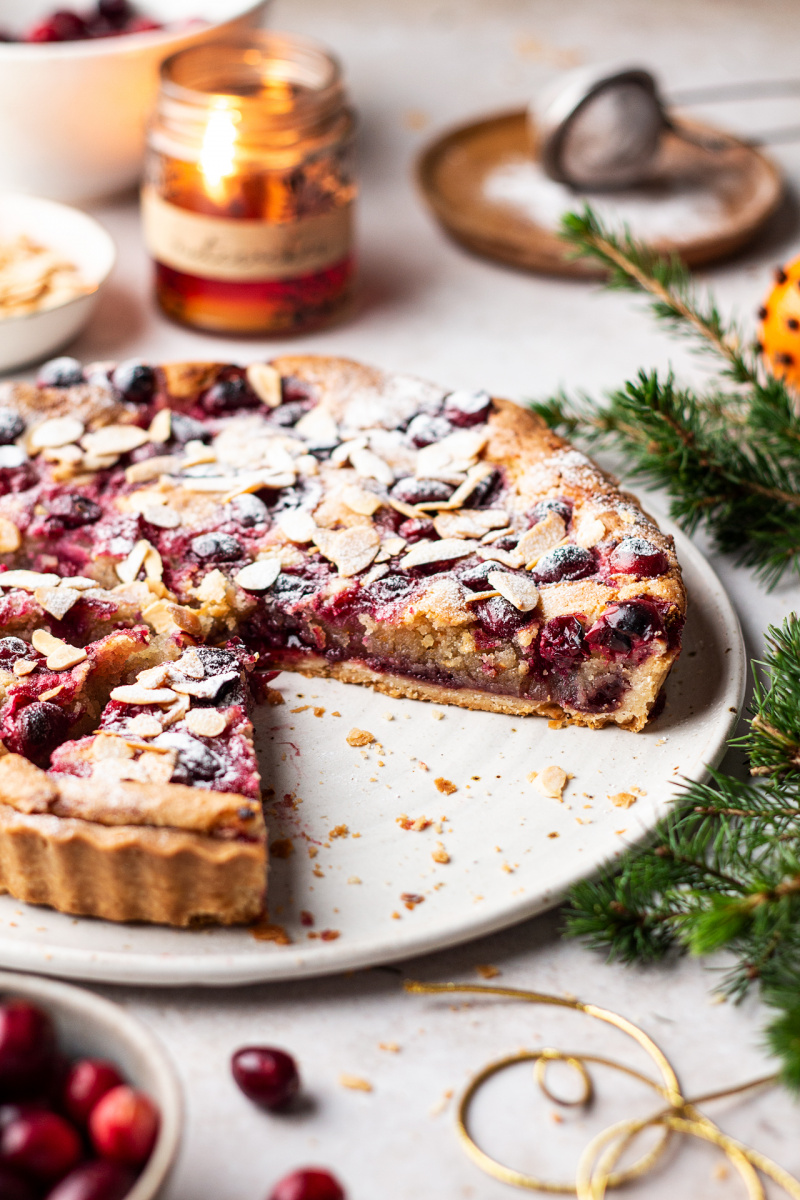 Not long to go till we can eat ourselves silly in the name of tradition, people! Loosen your belts! I hope you still get to celebrate this year somehow, even if it's in a much smaller circle, and if you do, I bet you are in need of a good dessert recipe… Don't worry, I have just the recipe you need, especially if you are not as much of a chocolate fiend as I am (if you are, try this).
My Christmas dessert this year is inspired by a traditional English dessert, known as Bakewell Tart, but with a Christmassy twist. Although the original is named after the small English market town of Bakewell, apparently there is no evidence that it was created there. It sounds like it started off as a jam tart topped with egg custard until the 1900s when it got replaced by an Italian almond mixture known as frangipane.
As I am a big fan of all things almond and frangipane is probably my second favourite type of dessert, it naturally came to mind when I tried to come up with a Christmas dessert that does not include chocolate (it was hard!!!) I have decided that making a bakewell tart with Christmassy flavours is what I feel like this year.
To achieve this, I flavoured my frangipane mixture with generous amount of orange zest and some cardamom and sandwiched it between two different textures of cranberry which, aside from looking beautiful, provide beautiful flavour and texture contrast. There is a layer of cranberry jam at the bottom of the tart and the top is generously studded with whole cranberries that become jammy and juicy once baked. Both of these layers offer a much needed relief from the sweetness of pastry and frangipane filling.
The beautiful thing about this dessert is that, pastry aside, it doesn't require that much skill to make. All you need to do is spoon the jam (I used shop-bought jam) at the bottom of the tart case, whisk and stir frangipane ingredients together to top the jam with and finally place some whole cranberries on top. That's it. Simple, yet divine. I hope you will enjoy it as much as we have.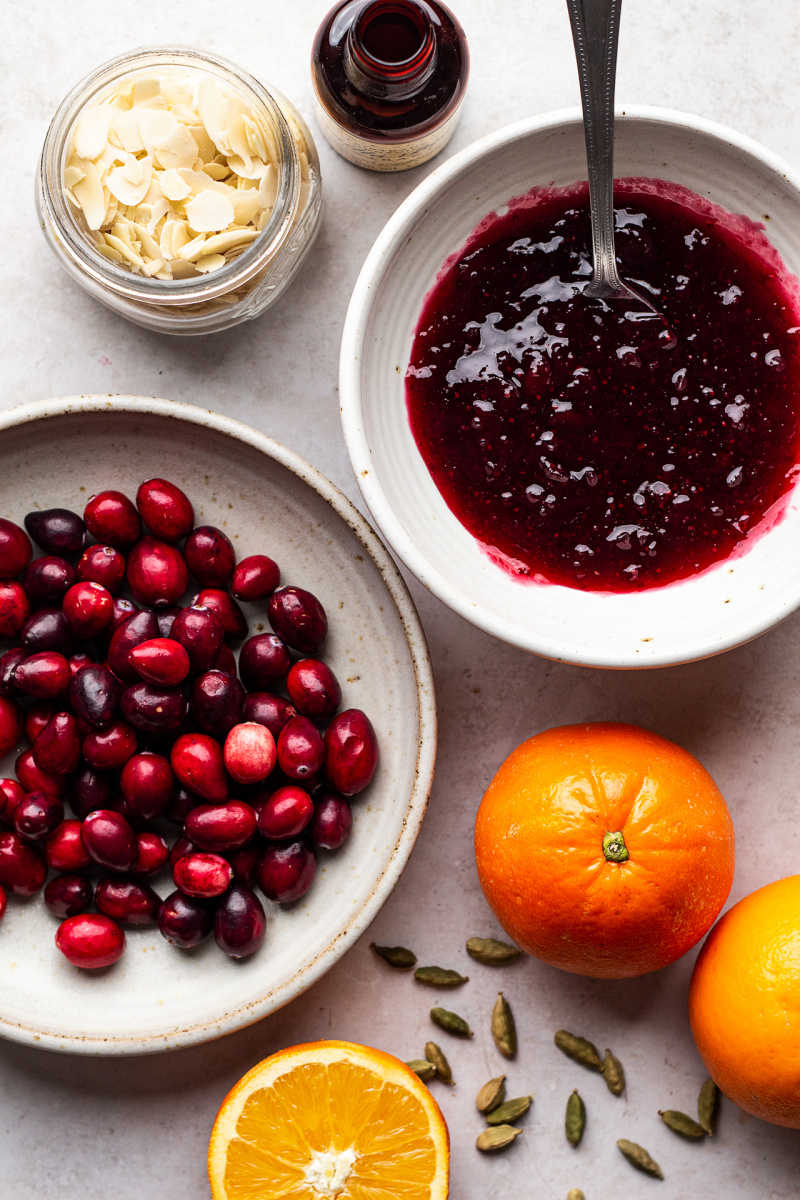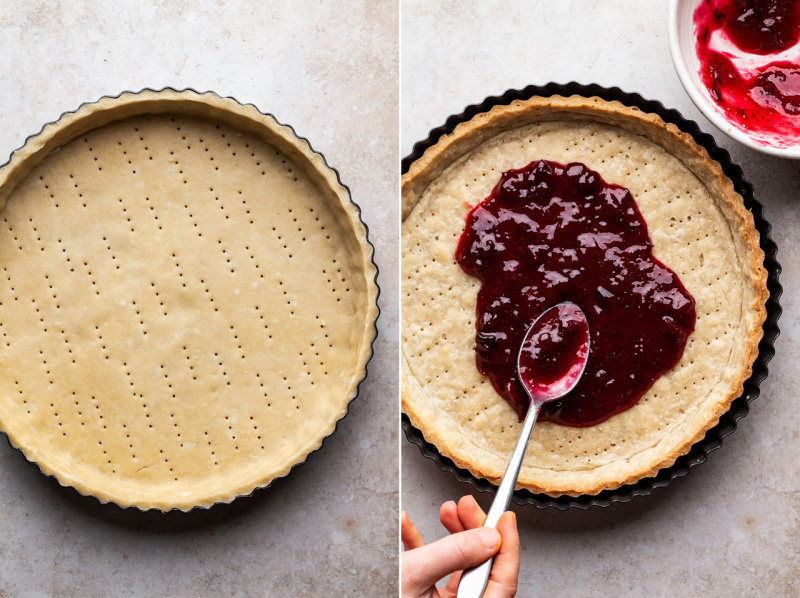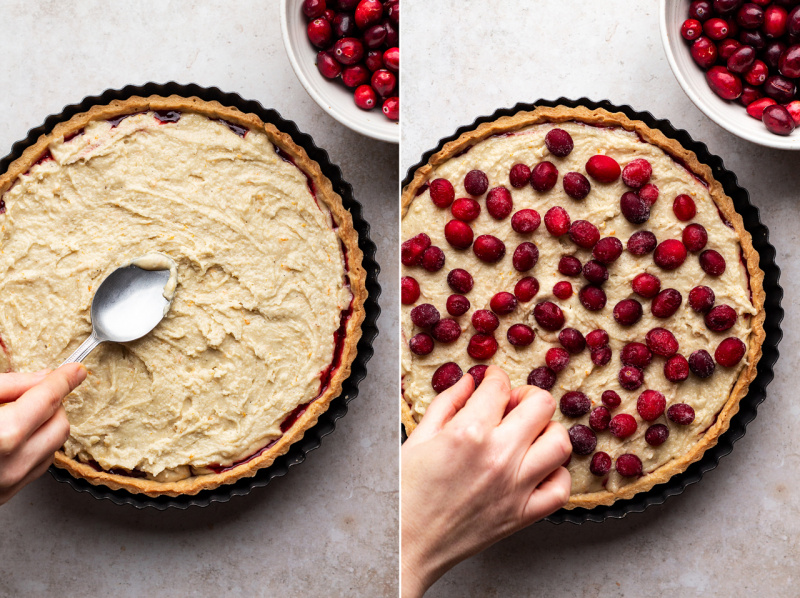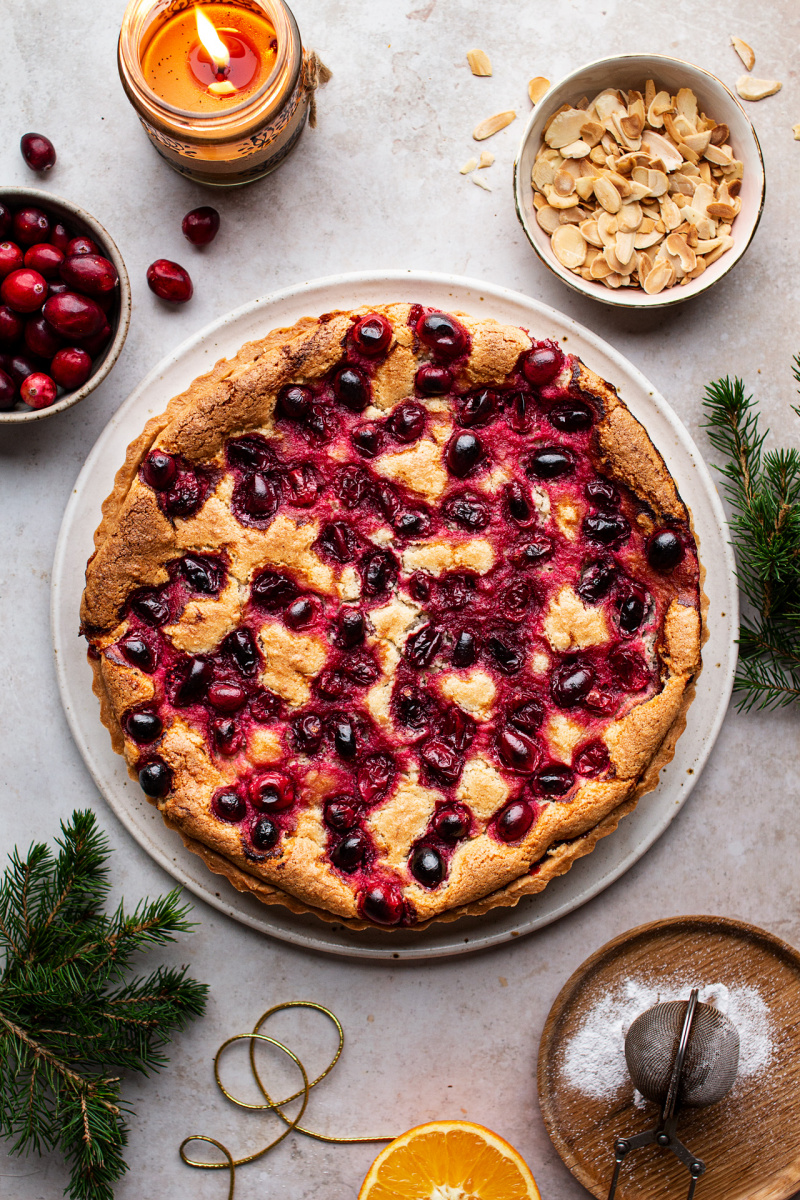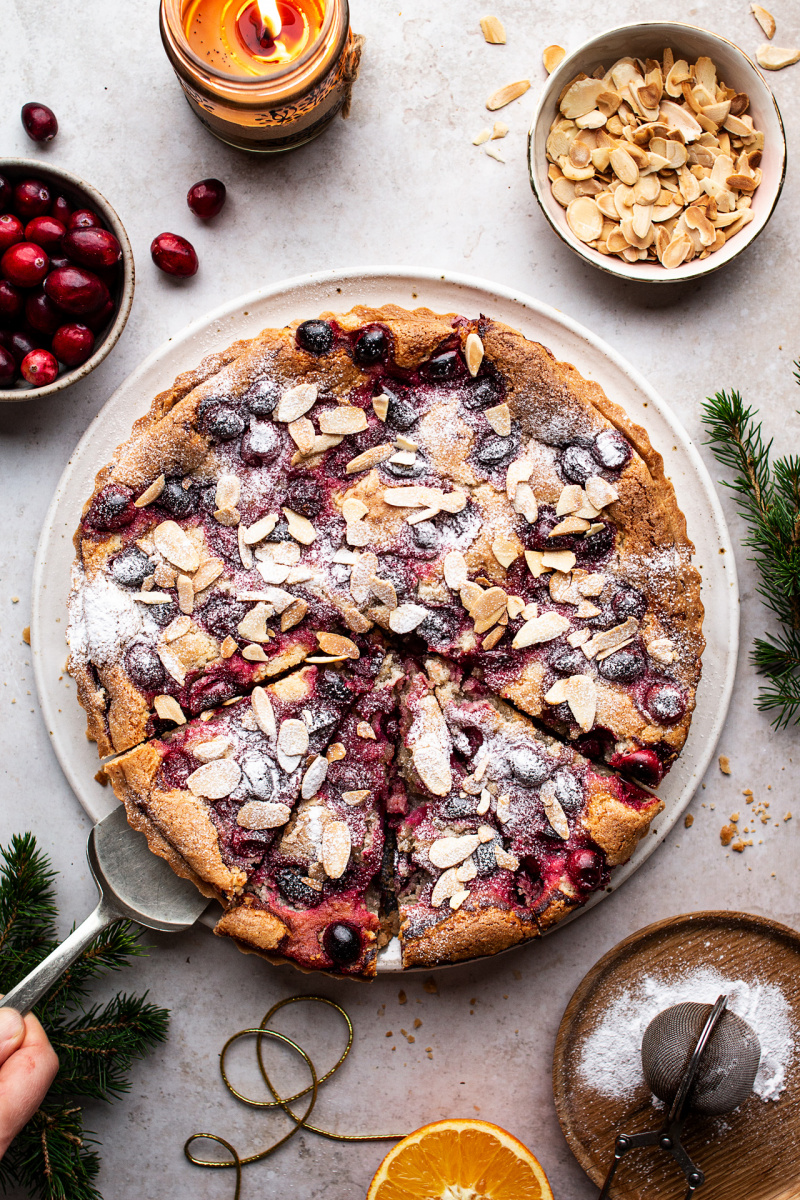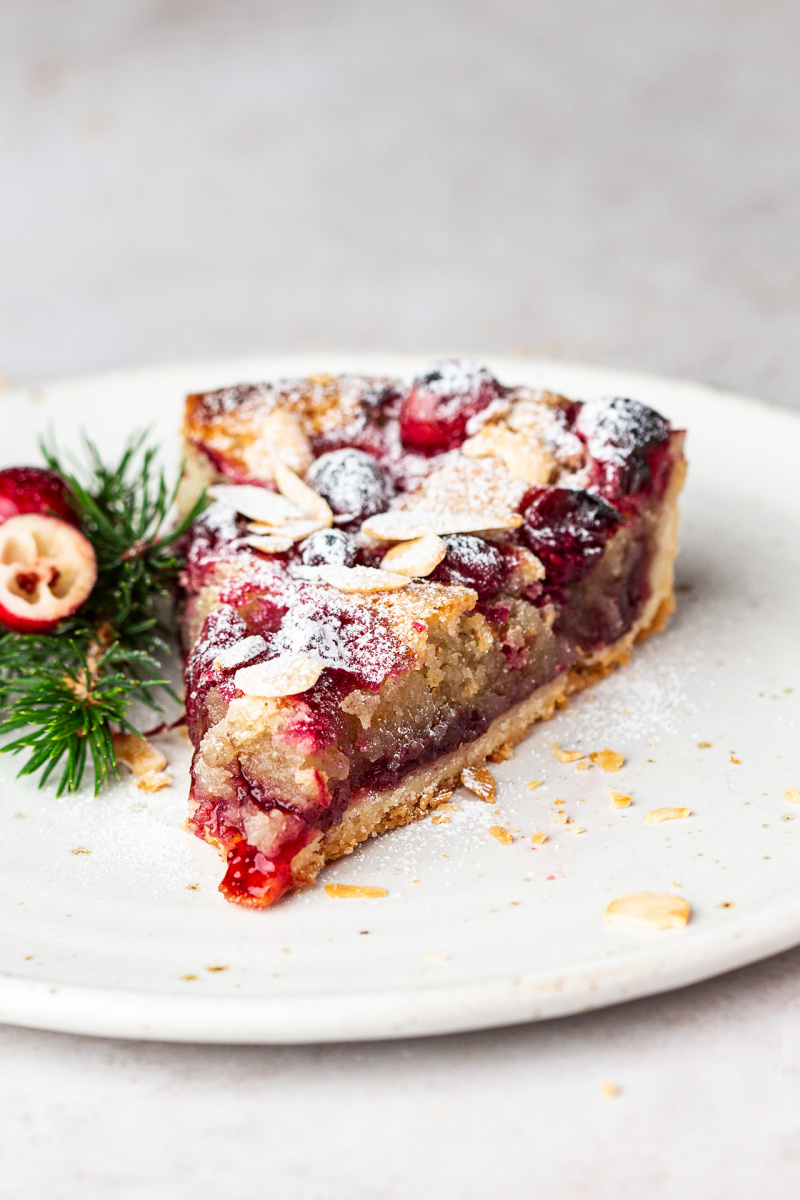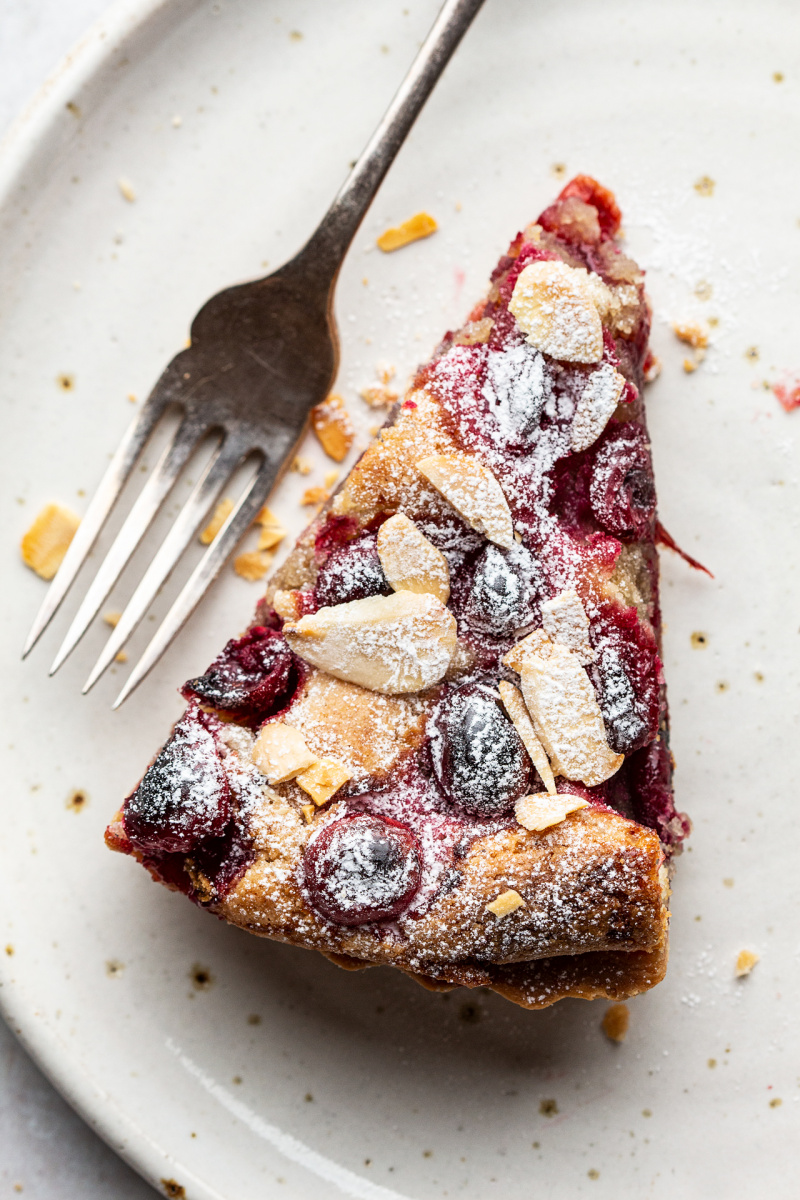 METHOD
PASTRY
Combine the flour, icing sugar, salt and xanthan gum (if making GF pastry) in a large bowl. If using maple syrup instead of icing sugar, add after you've incorporated the fat into the flour.
Add the solid (not melted) coconut oil and cut it into the dry ingredients with a pastry cutter or two knives. You can also use a food processor if you wish.
Once no large lumps remain, use your fingers to rub coconut oil into the flour until it looks like breadcrumbs and there are no lumps of coconut oil left. To check for lumps, shake the bowl and they will come to the surface.
If you are using maple syrup, mix it in with 1 tbsp of water and add it at this stage. If using icing sugar, add cold water – be careful, do it gradually – how much water you'll need depends on how absorbent your flour is. I added about 2 tbsp / 30 ml, but you may need a little more. Mix the water into the flour with a knife and then check with your hand that no more water is needed – the dough should clump together easily but should not feel wet. If it's too dry, add a tiny amount (one tsp at a time) more water, mix and check again.
Combine all the ingredients into a dough gently, but do not knead (that's important for the gluten version) or the pastry will be tough. Wrap it up in a piece of cling film and chill in the fridge for 30 minutes.
Remove the dough from the fridge and roll it out between two sheets of baking paper until you get a circle large enough to cover your entire tart case, about 2-3 mm in thickness. Place the rolled-out dough over a tart case and gently line the inside of it with the pastry. Tuck the pastry in well, ensuring that it fits snugly into all the nooks and crannies. Trim the excess pastry with a sharp knife and patch any holes with the cut-off excess. If making gluten-free pastry (which tends to be more crumbly), you may be better off placing the crumbled pastry in the tart case and simply moulding the pastry with your hands to the shape of the tart tin – you do not need to worry about overworking the pastry as it contains no gluten.
Pierce the bottom of the pastry with a fork in a few places and chill the pastry-lined tart case in the fridge for about another 60 minutes.
45 min into pastry chilling time, preheat the oven to 175° C / 350° F. Line the pastry case with a large piece of crumpled baking paper and fill with baking beads or rice for a blind bake.
Blind bake the pastry for 15 minutes. Remove the paper and beads and bake for another 10 minutes.
FILLING
While the pastry is baking, prepare the filling. Cream oil and sugar (or maple syrup) with an electric whisk. Next, whisk in the flour. Add aquafaba, a small amount at a time. Whisk well after each portion of aquafaba.
Finally, gently fold in the almond meal, orange zest, cardamom, baking powder, vanilla extract and orange blossom water (if using). You should end up with a very thick batter (it will be a bit less thick if you used maple syrup instead of sugar).
Fill the pre-baked (and cooled off) pastry case with a layer of cranberry jam / jelly.
Next, pipe or dot the almond filling on top and spread it very gently. Take your time and do not apply much gentle pressure as otherwise the frangipane will slide over the jam layer.
Decorate the top with cranberries, placing them on top of the filling and pushing them only a tiny bit as the filling will rise during baking.
Bake the tart for about 45 minutes, until the filling is nicely browned. I found that the maple syrup filling tends to take a little longer in the oven (by 10 minutes or so). Remove from the oven and allow the tart to cool down before removing it from the tin and cutting it into slices. The top will crisp up nicely as the tart cools down.
NOTES
*If you have trouble finding either, you can use cranberry sauce (provided it's sweet not savoury) thickened with some
tapioca starch
. Whisk approx. 1 tbsp of tapioca starch (depending on how runny the sauce is, you may need more if it's still runny) into the sauce ahead of using. Alternatively, you could also roast fresh cranberries with some sugar or maple syrup (and a splash of water or orange juice) in a 200° C / 390° F oven until jammy and use that instead.
**You can use fresh but they don't stand up to the heat as well, you may need to cover the tart towards the end of baking time.
This recipe has been adapted from my earlier frangipane and bakewell tart recipe.