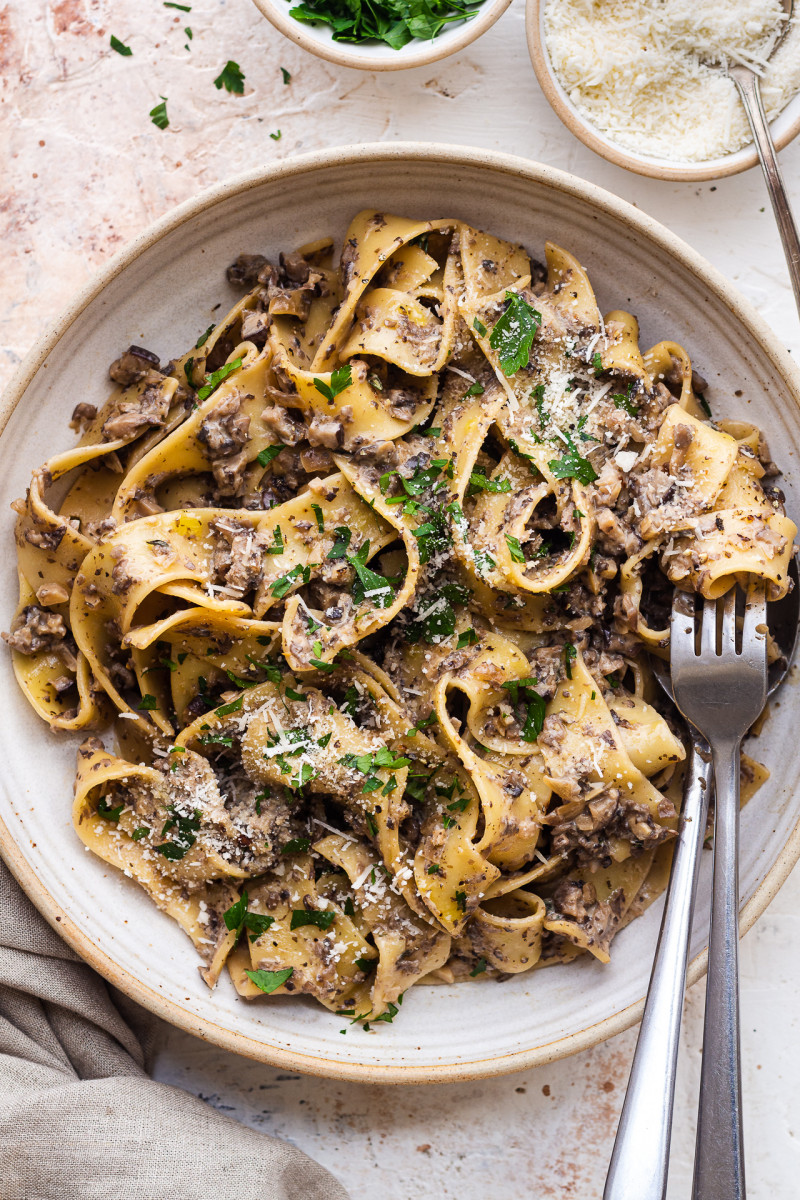 I am not sure you can tell 😉 but I am a massive pasta and mushroom lover. I love pasta – it's my favourite comfort food and I'm obsessed with mushrooms. Mushrooms have always been big in my family so they perhaps remind me of home, I don't know. I just love them and I know that they can be a divisive ingredient.
I have been chewing Duncan's ear off about going mushroom picking for some time now and a couple of weeks ago we finally made it into a Somerset forest in search of mushrooms. To my and Duncan's too, I think, surprise he really enjoyed this excursion and really got into it. I loved it too, but that was a given. It was a lovely day and there was no one about, all you could hear was the static of the forest – I don't know if that's a thing but that's what I call it, it's the sounds of stuff falling off the trees and rustling all around you when you keep quiet.
We found a small trail of what we identified as trooping funnels. After a lot of research to make sure we got it right, I had them for lunch and they were delicious – we are keen to look for more.
Anyway, I digress. This pasta does not require any foraging, but it features mushrooms and it's insanely delicious. It's also very easy to make and the sauce is super suitable for batch prep so I hope you'll try it and share my enthusiasm. I am absolutely obsessed with it right now.
I used a combination of chestnut (or cremini) mushrooms and fresh shiitake mushrooms as these are fairly well accessible in the UK (my local supermarket sells both), but you could also just use whatever tasty mushroom you have on hand, including bog standard white mushrooms. I like to serve this delicious, umami rich mushroom sauce over some chunky pasta strands like pappardelle or tagliatelle, but more accessible penne or rigatoni will also work well.
MORE ABOUT THE INGREDIENTS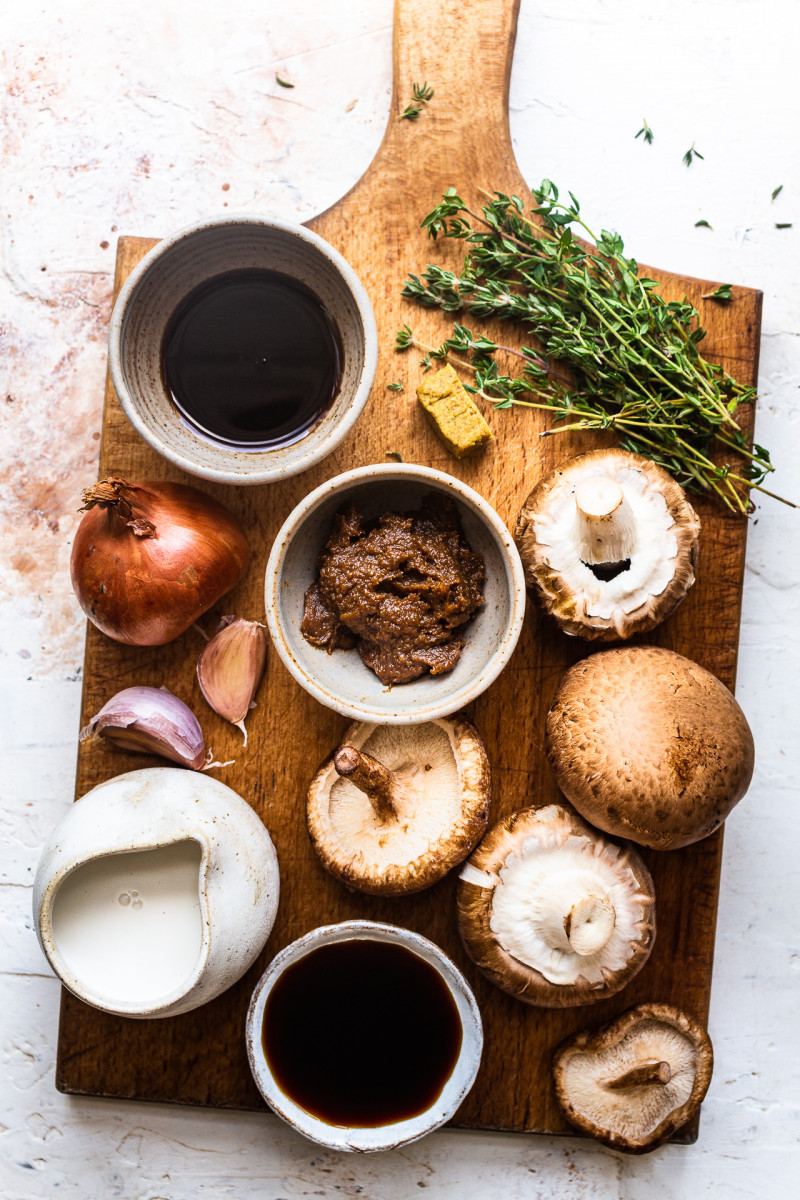 MUSHROOM STOCK: while I would normally use porcini stock in a recipe like this, I realise that porcinis are not cheap and not everyone can access them easily. It is also way more convenient to use a stock cube instead. Use mushroom (sometimes called umami) stock cube here. And if you do have porcinis in your cupboard already, use those to make your stock of course – just make sure not to tip any of the grit that likes to settle at the bottom of the stock into your pasta. And if using chopped up rehydrated porcini, make sure to clean the grit off them too.
CHESTNUT/CREMINI MUSHROOMS: I used chestnut (known as cremini in the US) mushrooms for the bulk of this recipe. If they aren't available, standard white mushrooms will work just as well.
SHIITAKE MUSHROOMS: I like to use some fresh shiitake caps (stems are usually discarded) as they add a great depth of flavour, but it's fine to replace them with more chestnut mushrooms or some chopped walnuts for some crunch!
PASTA: I like chunky pasta strands like pappardelle or tagliatelle with this kind of sauce, but more accessible penne or rigatoni will also work well.
THYME: fresh thyme leaves work great here, but you could replace them with fresh rosemary leaves (chopped) or with a pinch or two (they tend to be more pungent) of dried thyme or rosemary, crushed between your fingers.
SOY SAUCE: soy sauce adds umami and saltiness and it's a bit of a staple so I don't recommend skipping it. Use tamari instead of soy sauce if you are looking to make this dish gluten-free.
RED MISO PASTE: red miso paste is a more assertive sister of white miso paste (also confusingly called yellow miso sometimes!). I love combining it with mushrooms, it adds a great depth of flavour and some saltiness too. If unavailable, use a little bit more of white miso paste or a tablespoon of nutritional yeast.
BALSAMIC VINEGAR: balsamic vinegar and mushrooms are a marriage made in a tastebuds heaven! The acidity of it cuts through the creaminess of the sauce nicely. You may want to add a little more or less depending on your tastebuds and on how acidic your balsamic vinegar is. Mine is quite thick and syrupy so it adds a touch of sweetness alongside the acidity.
VEGAN CREAM: vegan cream is what carries the sauce. I used Oatly single cream but you could use any vegan cream you like, I've tried soy and almond creams I enjoy. Alternatively, blitz 45 g (1/3 cup) of cashews soaked (then drained) in boiling water for 20 minutes with 180 ml (¾ cup) of pasta cooking water or fresh water.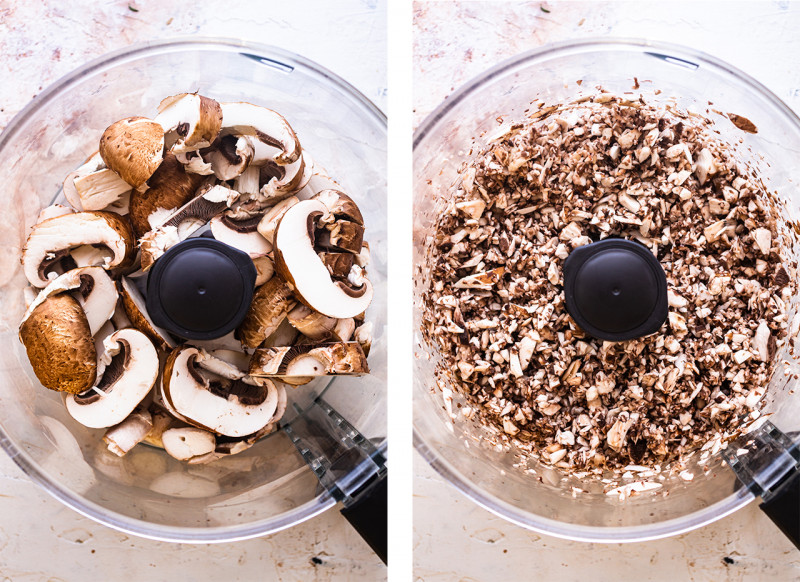 Start off by blitzing the mushrooms in a food processor until coarse. I actually like to dice shiitake caps by hand and pulse the other mushrooms in a food processor to have varied texture.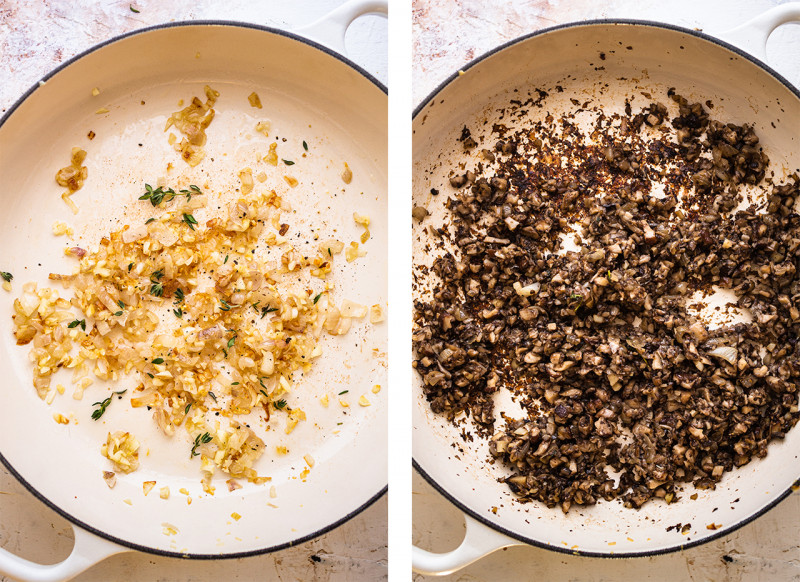 Gently fry off aromatics until translucent and fragrant before adding in mushrooms in two batches. Cook the mushrooms until they turn dark brown and all their liquid cooks off. Add more oil if needed, but don't worry if they catch a little.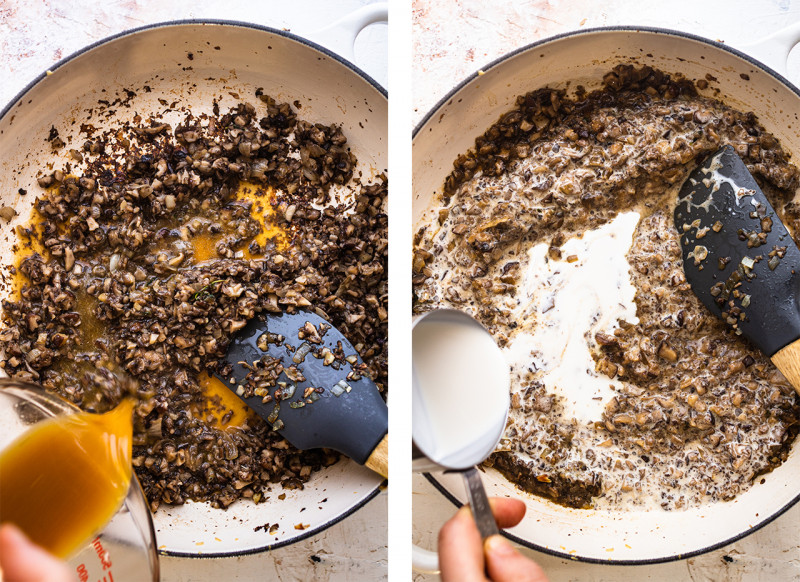 Deglaze the pan with mushroom stock cube (or porcini stock), then add all the seasonings and vegan cream. Bring to a simmer and simmer gently for a couple of minutes before tossing in cooked pasta.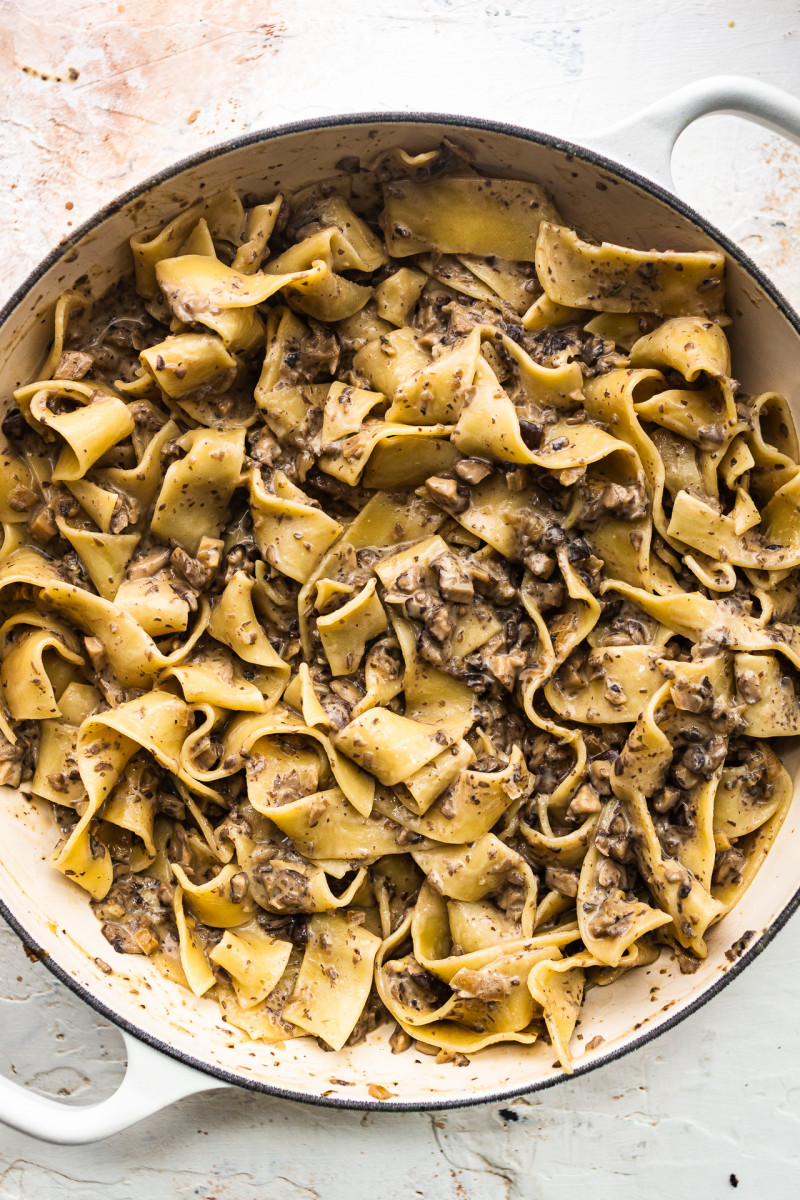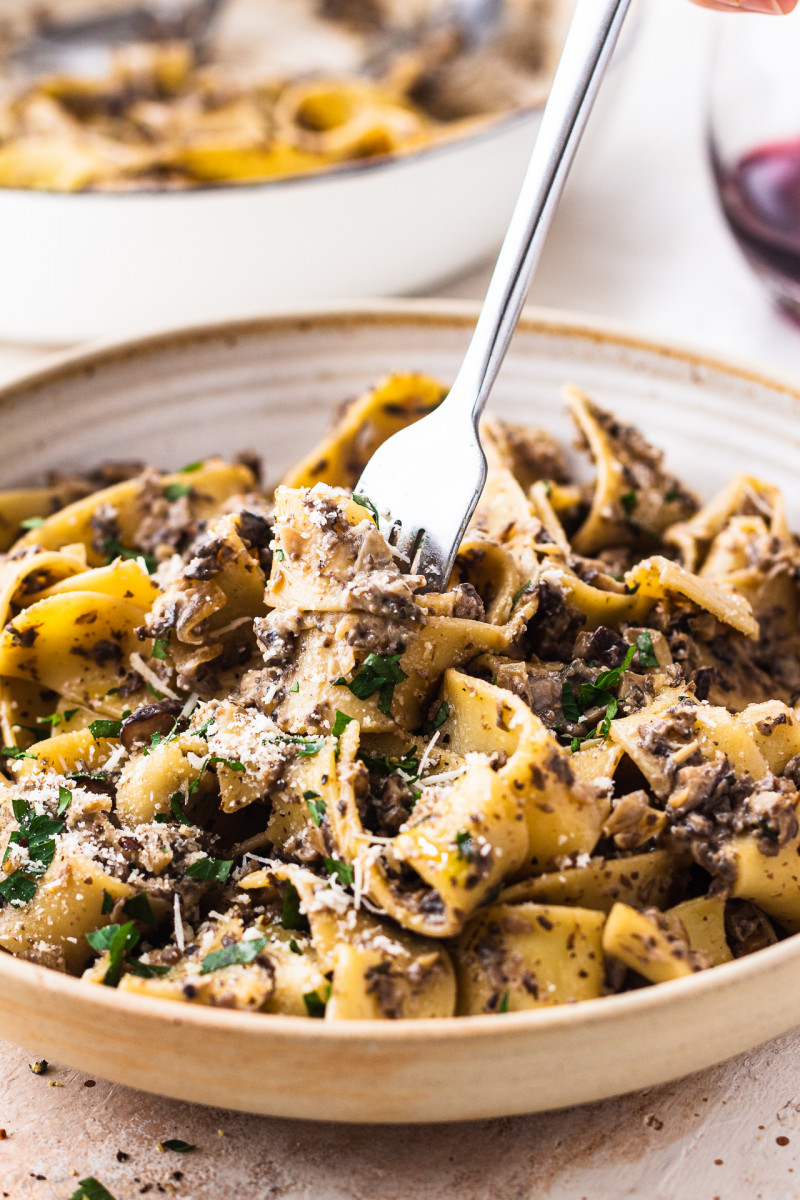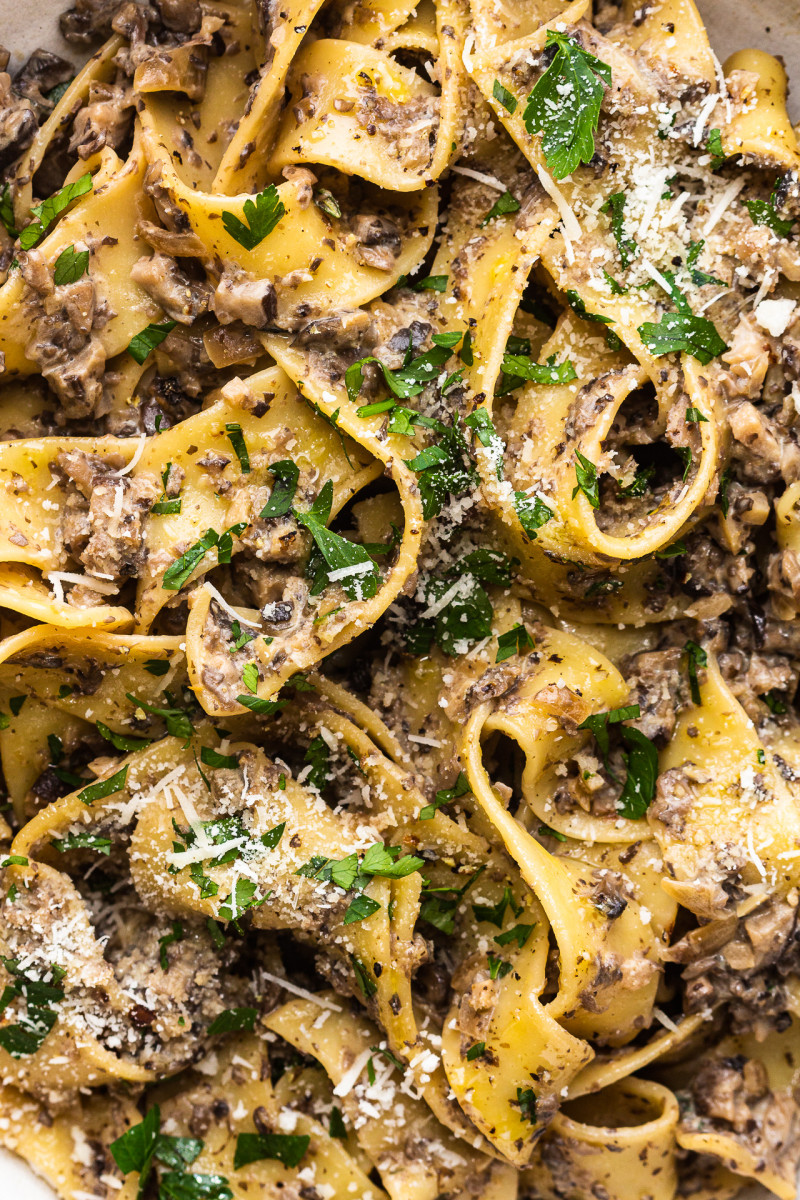 1 mushroom stock cube (or 10 g / 0.35 oz porcini)*
350 g / 12.3 oz oz chestnut/cremini mushrooms*
125 g / 4.4 oz fresh shiitake (or more chestnut mushrooms)
300 g / 10.5 oz dry pappardelle or tagliatelle (GF if required)
30-45 ml / 2-3 tbsp olive oil
2 shallots, finely diced
4 garlic cloves, finely diced
3 thyme sprigs, leaves picked
salt and pepper, to taste
20 ml / 4 tsp soy sauce (or tamari if GF)
15 ml / 1 tbsp red miso paste (GF if needed)
20 ml / 4 tsp quality balsamic vinegar
180 ml / ¾ cup vegan cream (I used Oatly)
fresh parsley, to garnish
vegan parmesan, homemamde or shop-bought or toasted breadcrumbs (optional)
METHOD
Dissolve stock cube in 120 ml / ½ cup of hot water (or soak porcini in hot water – leave them to infuse for a couple of hours if you can). Set aside.
Discard shiitake stems and slice both mushrooms thickly. Place them in a food processor, pulse a few times to grind them (not too finely!) – you want some texture left. I actually dice shiitake caps by hand and process chestnut mushrooms in a food processor.
Boil a large pot of water. Once boiled, add pasta and cook it minute short of al dente.
Heat up 1 tbsp of olive oil in a large frying pan. Add shallots and garlic and sautee on low heat until softened and fragrant, stirring frequently.
Season with a generous amount of pepper, a pinch of salt (soy sauce and miso add saltiness) and thyme leaves.
Add another tablespoon of olive oil and approximately half of the mushrooms. Once these look cooked, add another tablespoon of olive oil if needed and the rest of the mushrooms.
Sautee on low heat until fully cooked and there is no water left in the pan (about 10 minutes from the moment you add the first batch of mushrooms).
Add stock to deglaze the pan. If using porcini, be sure to squeeze all the liquid out of them and not to tip the grit that tends to settle at the bottom. You can chop rehydrated porcini finely and add them to the pasta, but be sure to clean them of any grit.
Add soy sauce, red miso, vegan cream and 1 tbsp of balsamic. Stir everything well and allow the sauce to come to a simmer, simmer for a couple of minutes. Taste, add more salt and balsamic if liked.
Before you drain your pasta, reserve 80 ml / 1/3 cup of pasta cooking water.
Toss drained pasta in the sauce, adding just a little bit (you won't need all of it) pasta water to thin if needed.
Divide between bowls, garnish with chopped parsley and vegan parmesan.
NOTES
Please see the tips on ingredients and possible swaps in blog post above the photos.