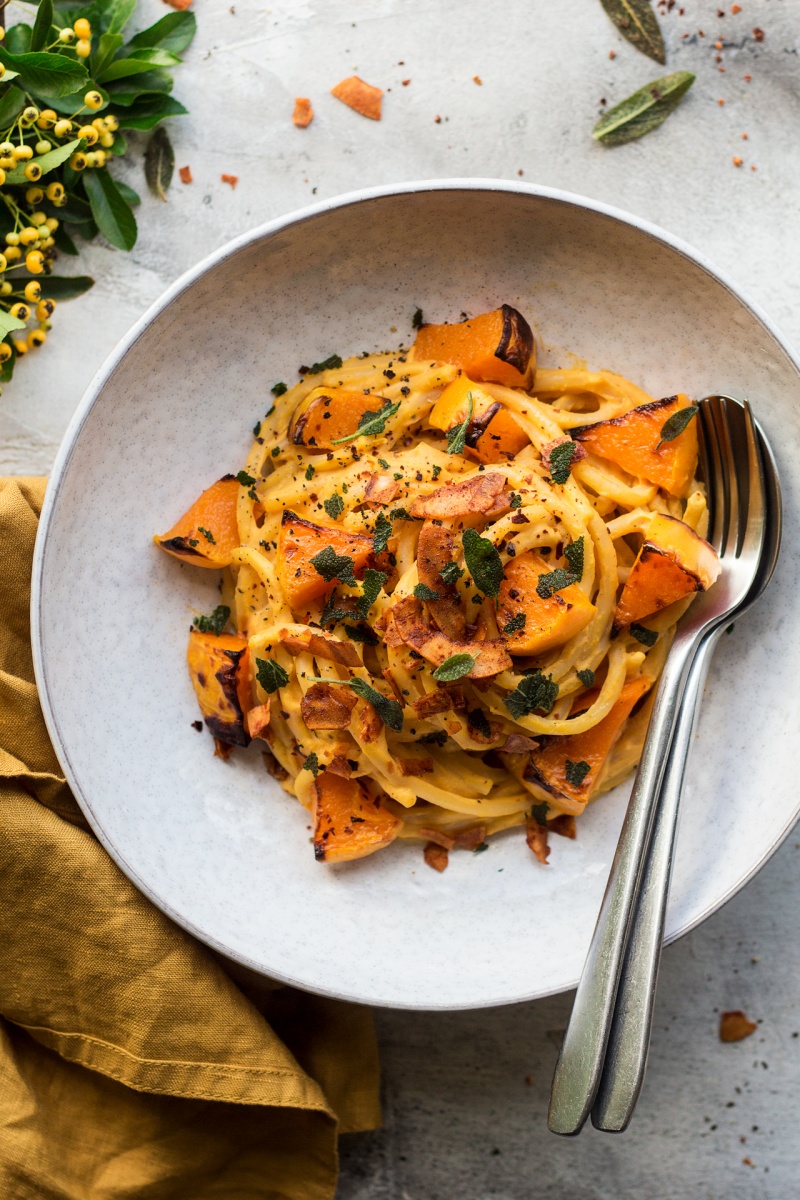 Greetings from Krakow guys, where I am based this week. The sun is shining and I'm about to head off for a run along the Vistula river. It's unseasonably warm here this week and, to my great surprise, food market stalls are laden with beautiful, locally grown tomatoes in all shades of red.
I won't lie to you, I'm enjoying the weather, although the awareness of what this unseasonal amount of sunshine is caused by and symptomatic of is definitely a bit of a killjoy. Having seen the local offering, a part of me feels that I should be publishing a local recipe heroing 'malinowe' (translates as 'raspberry') tomatoes this week. They are a prized local tomato with firm, sweet flesh and paper thin skin in a gorgeous shade of raspberry red, but as I did this recipe last week, while still in Bristol, pumpkin it is.
After the sweet pumpkin pies of last Friday, which I ate far too many of BTW, I have gone with a savoury take on pumpkin today. I hope you'll approve?
It's a plate of creamy pumpkin pasta with heaps of crispy and smokey coconut bacon and an optional sprinkling of crumbled fried sage. It's an easy to make, indulgent, yet relatively healthy midweek dinner. Enjoy!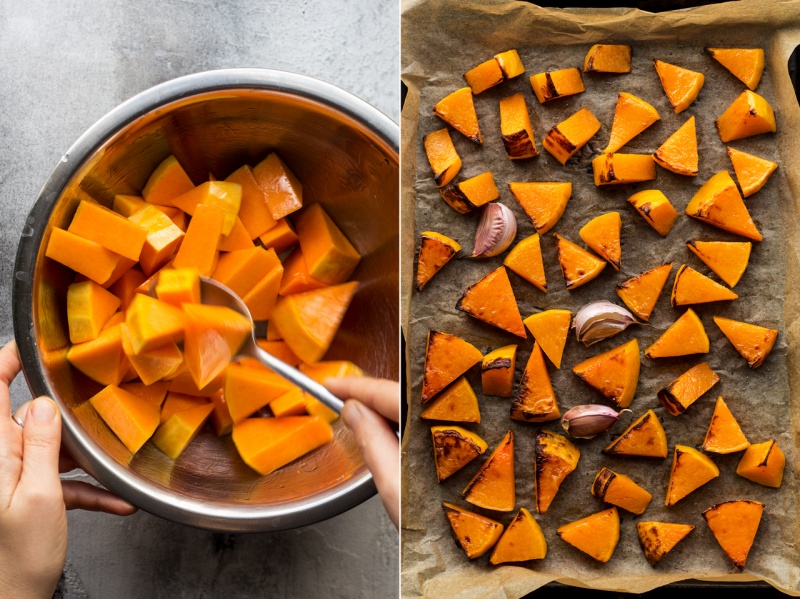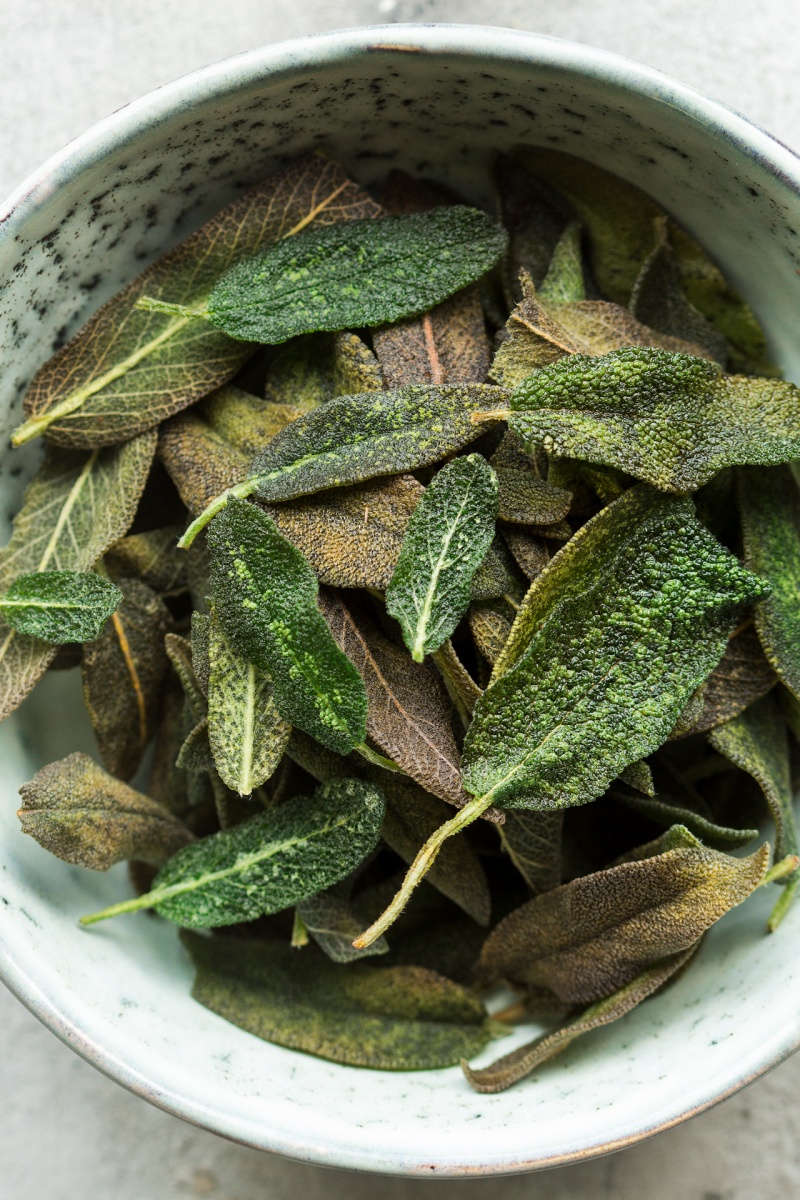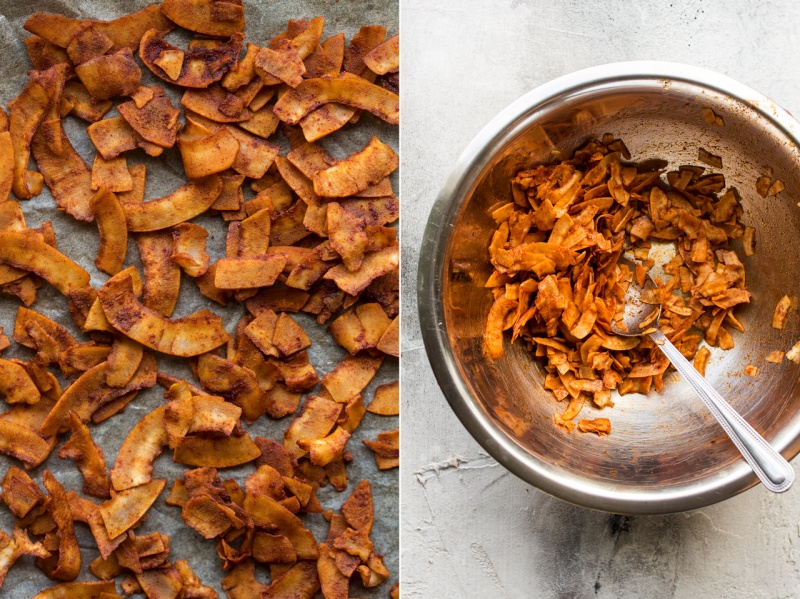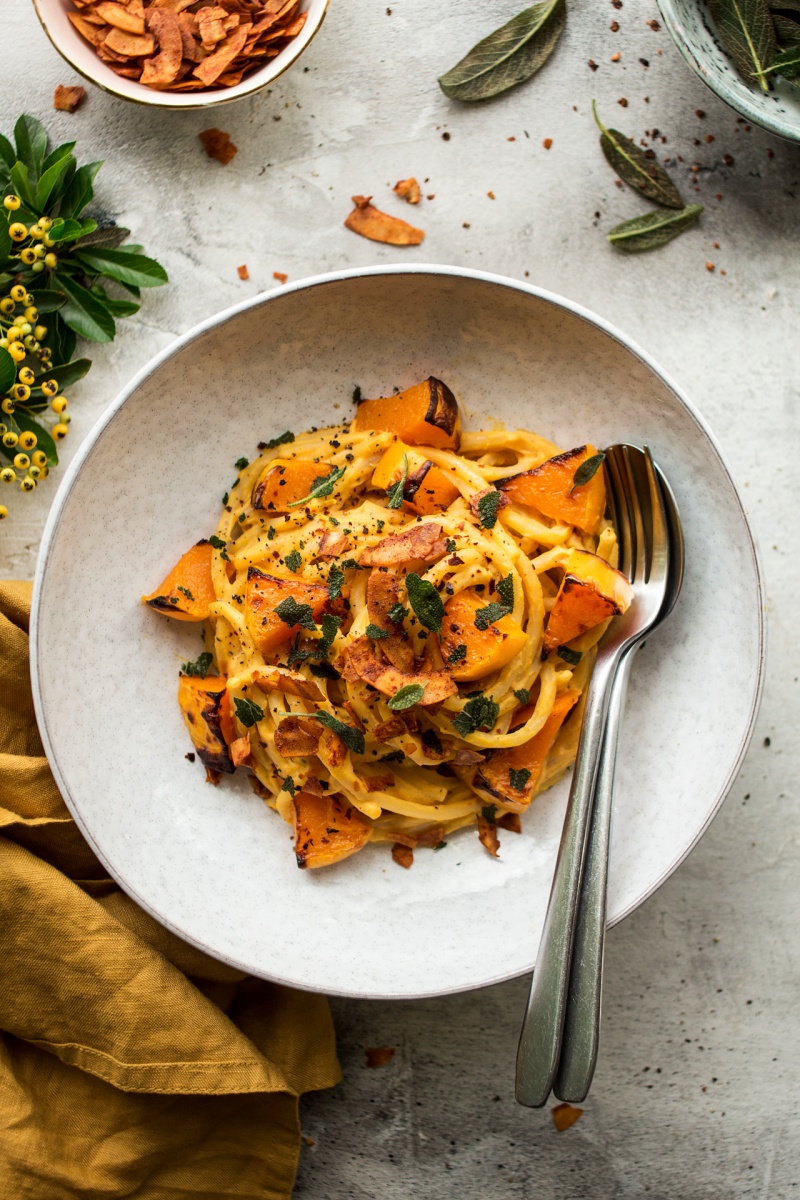 COCONUT BACON
2 tsp maple syrup
2 tsp oil (I used olive oil)
5 tsp tamari or soy sauce
¾ tsp smoked (sweet not spicy) paprika
1 packed cup raw coconut flakes
FRIED SAGE
olive oil
15 fresh sage leaves
finely ground sea salt
SAUCE
600 g / 21 oz firm pumpkin (I used butternut pumpkin), cubed*
1 tbsp olive oil
3 garlic cloves
120 ml / ½ cup plant milk (water or veggie stock)
35 g / ¼ cup raw cashews, soaked in boiling water for 30 minutes
2 tbsp / 30 ml lemon juice
a good pinch chilli flakes, or more to taste
1 tbsp nutritional yeast (optional)
1/8 tsp ground nutmeg
½ tsp salt, more to taste
black pepper, to taste
320 g / 11 oz of your favourite pasta, cooked (I used bucatini)
a handful of fried fresh sage leaves (optional)
METHOD
COCONUT BACON
Preheat the oven to 120° C / 250° F fan function (recommended) or 140° C / 285° F without a fan** and line a medium size baking tray with a piece of baking paper or with a non-stick baking mat.
In a medium bowl, combine all the marinade ingredients.
Add the coconut flakes into the marinade and allow them to sit for as long as you can.
Spread the marinated flakes on the prepared baking tray in as thin a layer as possible.
Bake for about 15 minutes, until dry. Once out of the oven, allow the mixture to cool off completely.
Store in an airtight container in a dry cupboard. The mixture keeps for at least 1 week.
FRIED SAGE
Heat up a little (2 tbsp or so) olive oil in a very small pot or pan and prepare a plate lined with a double paper towel.
Once the oil gets warm, place the flattened sage leaves on it – you may need to do so in batches.
Allow them to fry until crisp, for a few seconds. They will get darker green, but don't allow them to brown.
Place each leaf on the prepared paper towels as soon as they are done. Sprinkle with a little salt and allow them to cool off completely to crisp up further.
SAUCE
Increase the oven temperature to 200° C / 390° F fan function or 220° C / 425° F without a fan.
Coat the cubed pumpkin in 1 tbsp olive oil and spread on a lined baking tray (I reuse the paper I used for the bacon). Place 3 garlic cloves in between the pumpkin pieces. Bake for 15 minutes, until soft and charred in places.
Place the plant milk (water or stock) in a blender together with the drained cashews and the remaining sauce ingredients (up to but excluding the pasta). Blend until smooth.
Add one packed cup of roasted pumpkin pieces (leave the rest for serving) and the squeezed roasted garlic cloves to the blender and blend well.
Season to taste.
Pour a little bit of pasta cooking water onto a large pan and heat up the pasta sauce gently.
Add the cooked pasta and toss in the sauce.
Divide between 4 plates, garnish with charred pumpkin pieces, coconut bacon and fried sage (if using).
NOTES
*To make the sauce, you'll need 1 packed cup of roasted pumpkin, so you could use pureed pumpkin instead if you wish.
**When I'm not in a rush, I prefer to bake my coconut bacon at 100° C / 210° F fan function or 120° C / 250° F, which takes about 30-35 minutes. Here, I increased the temperature in an attempt to quicken things up but you need to be very vigilant as it is easier to burn it at this temperature.