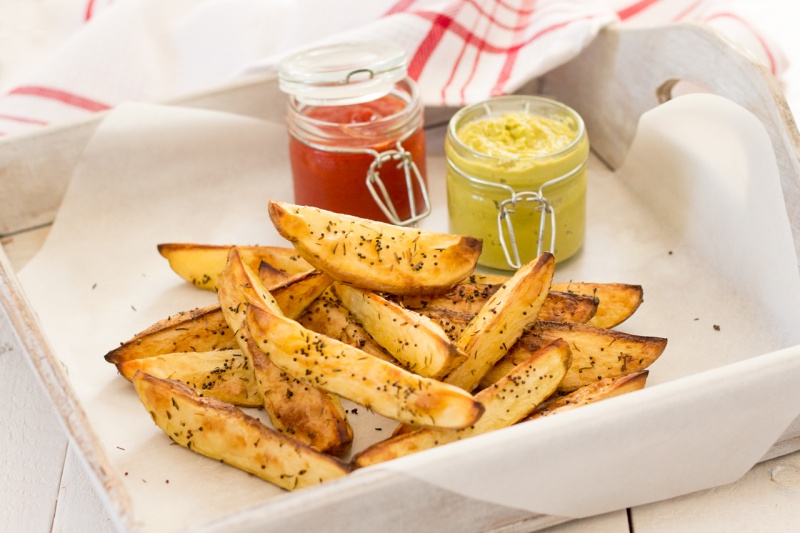 Living on a Greek island isn't the worst thing in the world. In fact, as I sit here in a 20 degree evening after having come in from a lovely swim in the sparkling Aegean sea, I have to admin that most of the time it is actually just as good as it sounds! Unfortunately, when August comes around Greek islands tend to go from nice and hot to a lung-burning, asphalt-melting furnace, the number of tourists triples, everyone you know is working 16 hours a day and it is time to escape. This year, we have decided to flee the coop and drive to my birth country, Poland, via Macedonia, Serbia, Hungary and Slovakia (with a bit of time in Austria and Slovenia on the way back). This means that we're busy as bees preparing everything that we need for the trip and don't have as much time to cook as we normally do. While we prioritise packing and organising, we need to have easy recipes up our sleeves for when we are hungry, haven't been food shopping and don't have much time. Enter the world's simplest and most delicious potato wedges…
Because we are both a little bit health freakish we do not own a deep fat fryer to cook chips. What many view as the alternative – using frozen oven fries from the supermarket – is just too horrible to even contemplate. Processed oven fries look bad, taste bad and if the ingredient list is to be believed, ARE bad for you… Today's recipe fills the gap that exists for easy, high-quality oven fries that are actually just cut up potatoes and taste wonderful. Mustard seeds, garlic and thyme give them an extra flavour and you can have them with either tomato ketchup or a zingy wasabi dip. So, instead of cooking an elaborate lunch today, we sat down to a fresh salad and a big bowl of hot oven potato wedges… which means we have more time to spend on Google maps to plan the details of our journey.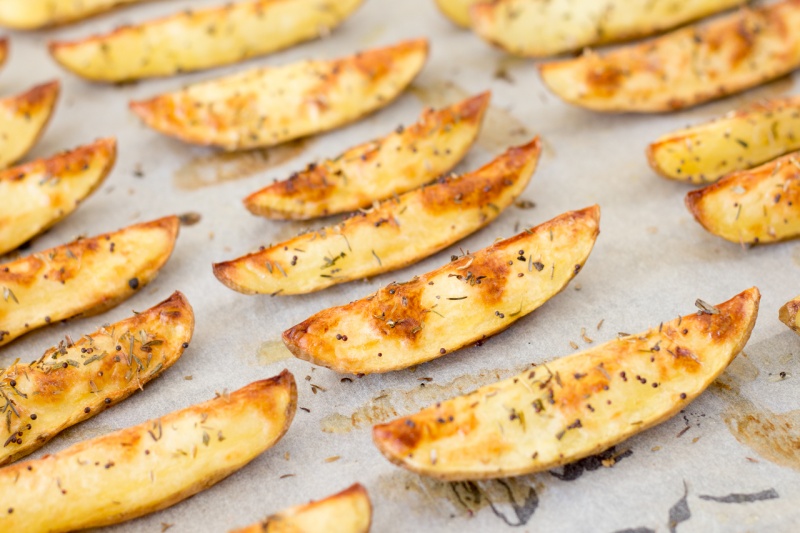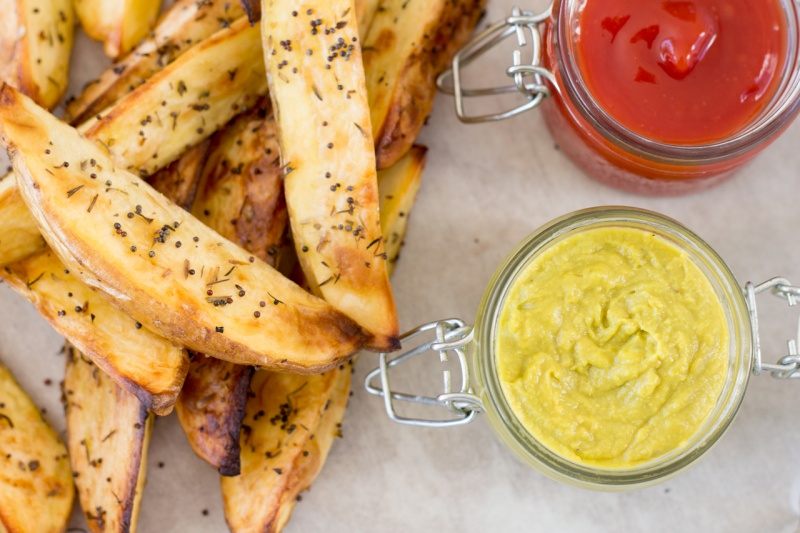 Ingredients
3 large potatoes, scrubbed clean
15 ml / 1 tbsp olive oil
½ tsp mustard seeds
½ clove of garlic, minced
½ tsp dry thyme
sea salt
AVOCADO-WASABI DIP
1 avocado, mashed
½ clove of garlic, minced
juice of ½ lime
1-2 tsp wasabi*
½ tbsp tamari (for GF version) or soy sauce
Method
Set your oven to 225º C / 440º F.
Cut your scrubbed potatoes (no need to peel them unless the dirt is stubborn) into halves lengthwise and then each halve into 3 or 4 evenly sized wedges. Blot the exposed flesh with a piece of kitchen towel to get rid of excess moisture.
Mix all remaining wedges ingredients in a bowl. Simply brush your wedges with the oil mixture on both exposed sides. If you are not bothered about the amount of oil you use, you can also toss your wedges in oil, but you will need to use more like 3 tbsp at least.
Place your potato wedges (skin-side down) on a paper lined baking tray. Bake them in a hot oven for 30-40 minutes, until crip and browned nicely.
While the potato wedges are baking, prepare your wasabi dip by mixing all of the dip ingredients in a bowl. Add a bit of water to thin to achieve the correct consistency. Adjust seasoning to your liking.
Notes
*Wasabi can be substituted by horseradish. Add an amount that suits your taste.
If you want more info on some of the ingredients that we use in our recipes, check out our
glossary
.