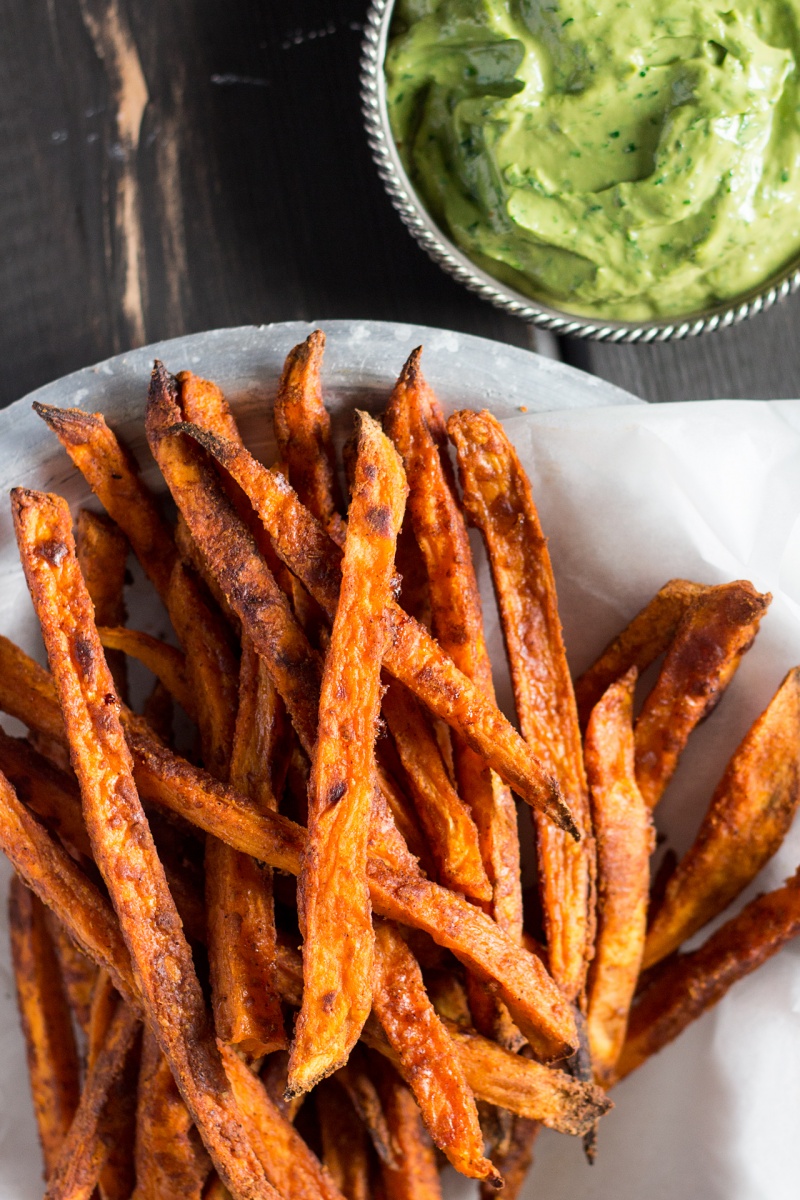 I do not know a single person who doesn't like sweet potatoes. Okay, I do know one person like that but I'm 100% sure their dislike for sweet potatoes is imagined as they've never actually tried one. Imagine that?!
There is something so comforting and satisfying about baked sweet potatoes smothered in spices that most people find them completely irresistible. For me it was love at first bite.
If you are a fan of these beautiful orange spuds too, you are in for a real treat today. We are going to make crispy sweet potato fries and dip them in a lusciously green and deliciously smooth avocado coriander dip, which I was going to call 'avocayo' as it's a bit like a healthier mayo but my SEO expert has slapped my wrists for my far fetched linguistic creativity:), oh well…
To crisp these babies (not actual babies) up, we have two tricks up our sleeve, if you wanna know what they are – read on.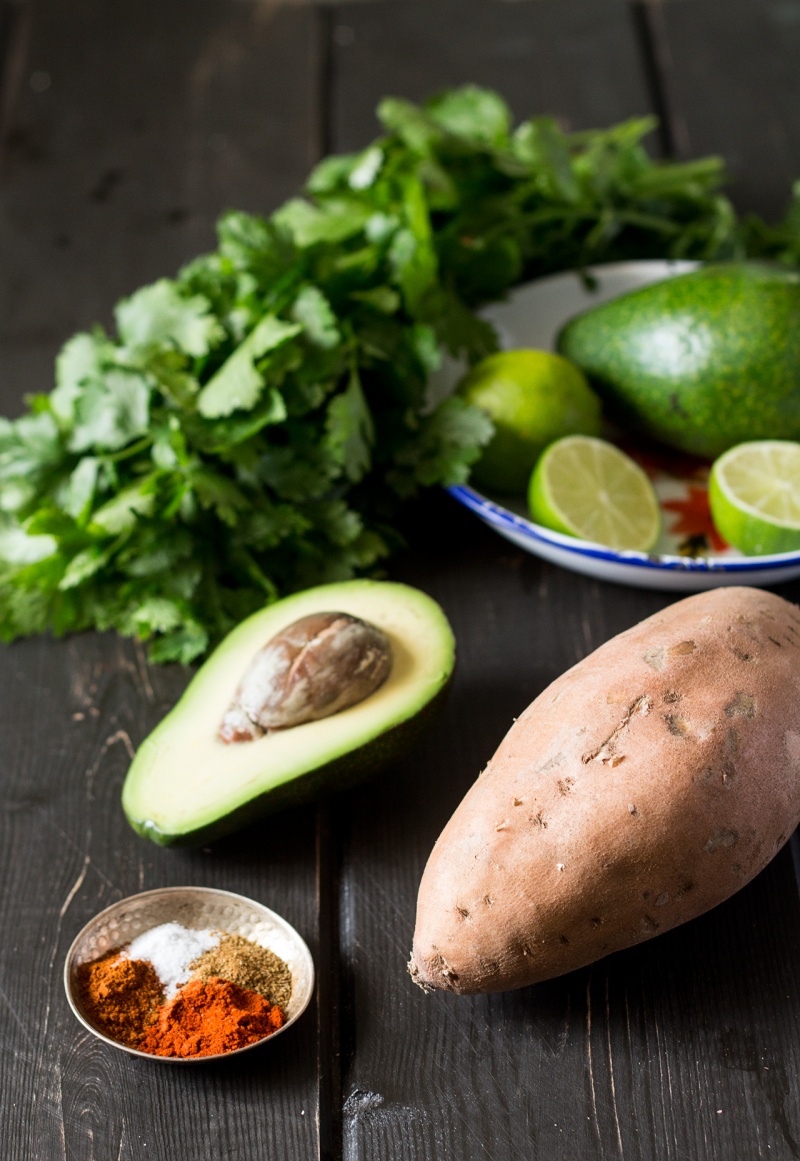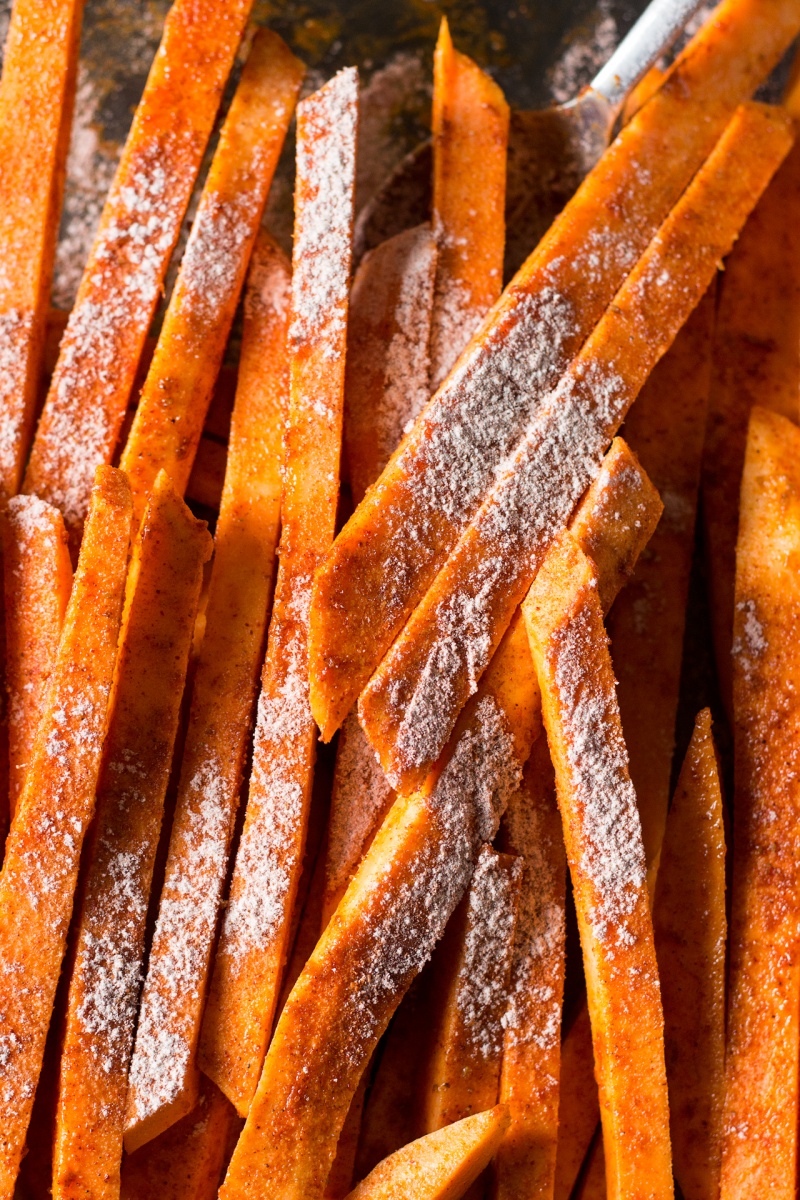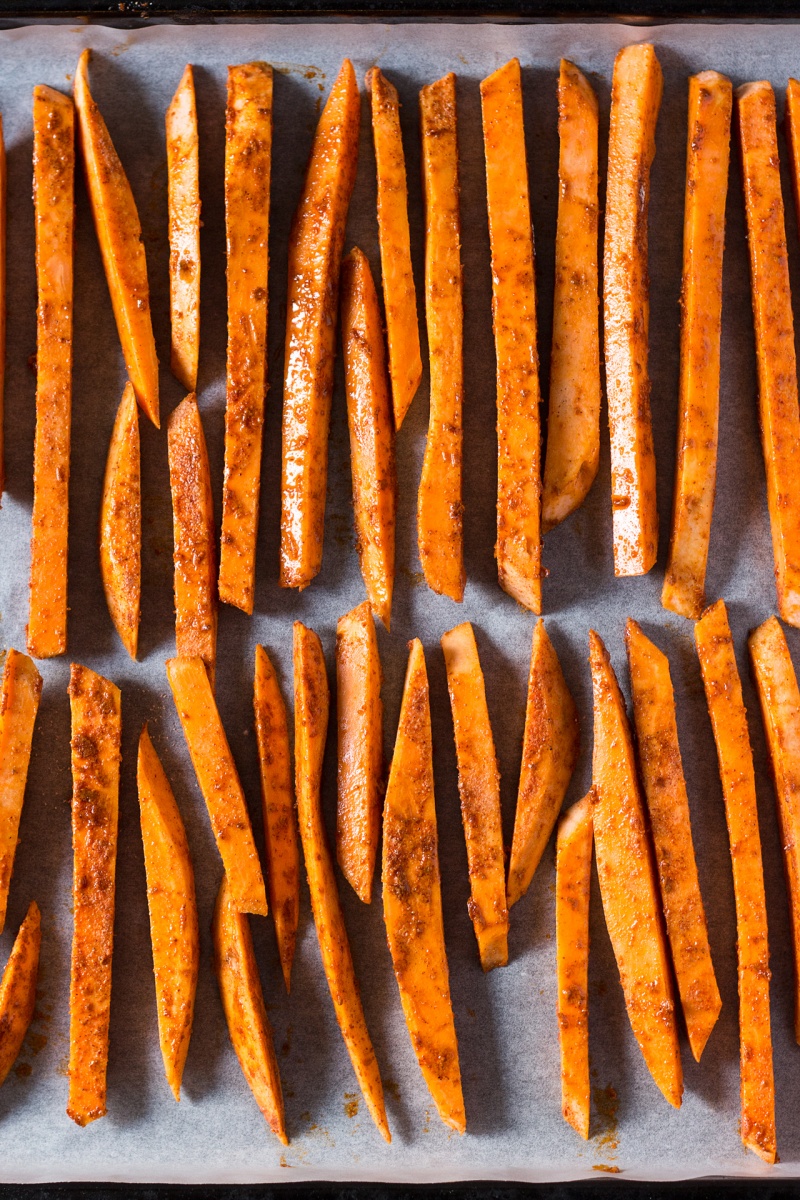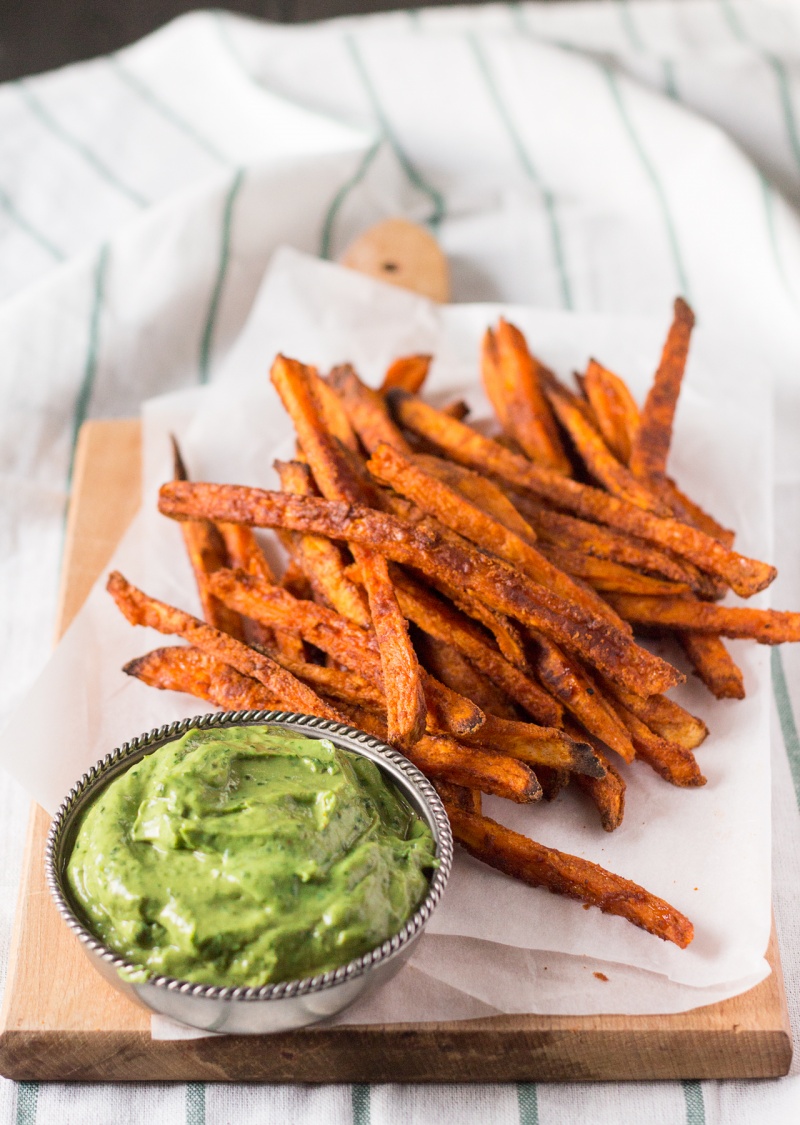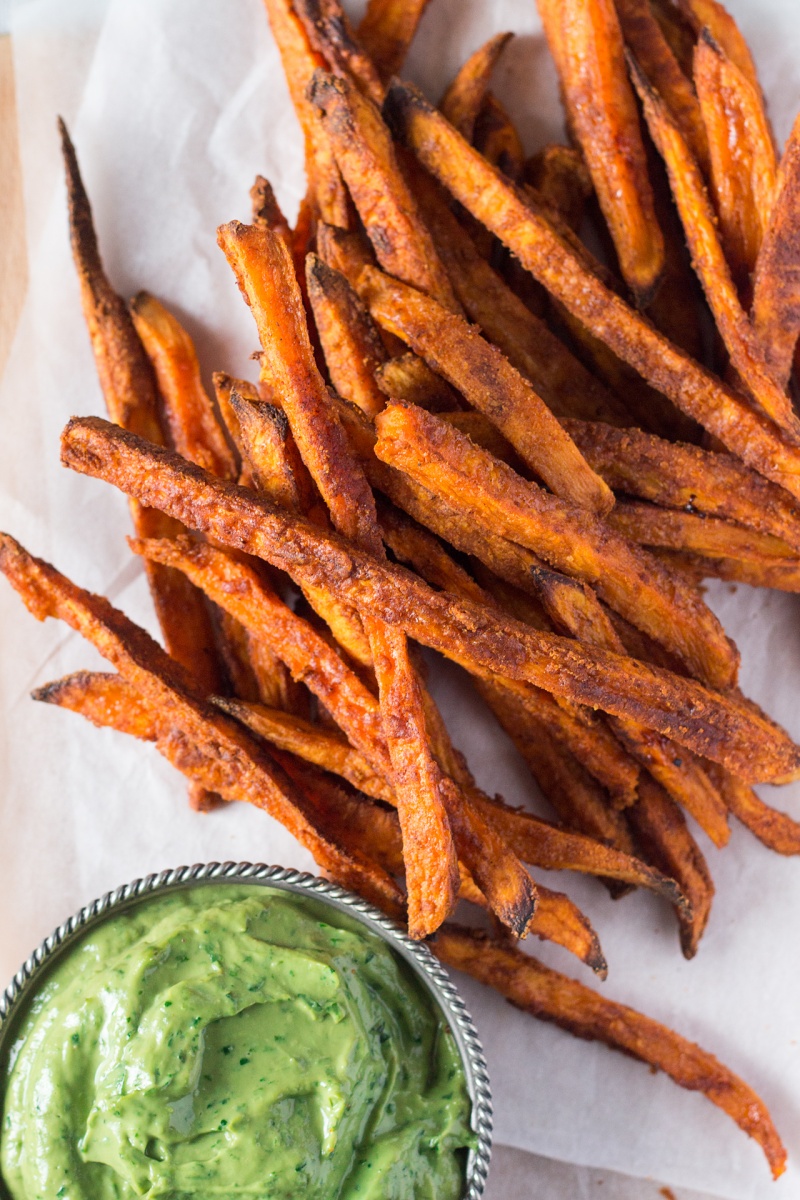 1 large / about 500 g of orange sweet potatoes
1½ tbsp cornflour / cornstarch
2 tbsp rapeseed / canola or other vegetable oil (olive oil will make them less crispy)
½ tsp ground cumin
½-¾ tsp ground hot chilli
½ tsp ground smoked paprika
¼ tsp ground cinnamon
about ½ tsp fine sea salt
AVOCADO-CORIANDER DIP
1 ripe avocado
2 tbsp freshly squeezed lime juice
¼ cup fresh coriander leaves (save stalks for a curry or veg stock)
1 garlic clove, pressed
about ¼ tsp fine sea salt
white or black pepper, to taste
METHOD
Peel the potato and cut in half lengthwise. Cut it into long ½ cm / 0.2″ wide matchsticks. Try to make them as even as possible so that they cook evenly.
Plunge the matchsticks into a bowl of cold water and let them sit in it while you mix your spices.
Mix all the spices with cornflower, but do not add salt at this stage yet.
Take the potato matchsticks out of the water, rinse them and blot dry with a kitchen towel.
Place dry potato matchsticks in a rectangular dish. Drizzle with 2 tablespoons of oil and use your hands to ensure that all matchsticks have been coated in oil.
Pre-heat the oven to 225° C / 435° F and line a baking tray with a piece of baking paper.
Using a small sieve sprinkle a thin amount of cornflour-spices mixture over the greased matchsticks. Make sure all sides are covered.
Place potato matchsticks on the baking tray in a single layer and make sure fries do not touch each other as otherwise they will end up soggy. The more space they have around them the crispier they will turn out.
Bake for about 30-35 minutes. 20 minutes in, gently turn the fries to the other side. If you have some small fries in between larger ones, they will be done sooner so you may want to take them out a bit earlier. Sprinkle with salt once done – adding salt to the spices and cornflour mixture stops the fries from crisping up.
Combine all dip ingredients in a chopper or small blender and whiz until you get a thick dip. You may need to add a tablespoon or so of water to achieve the right consistency.