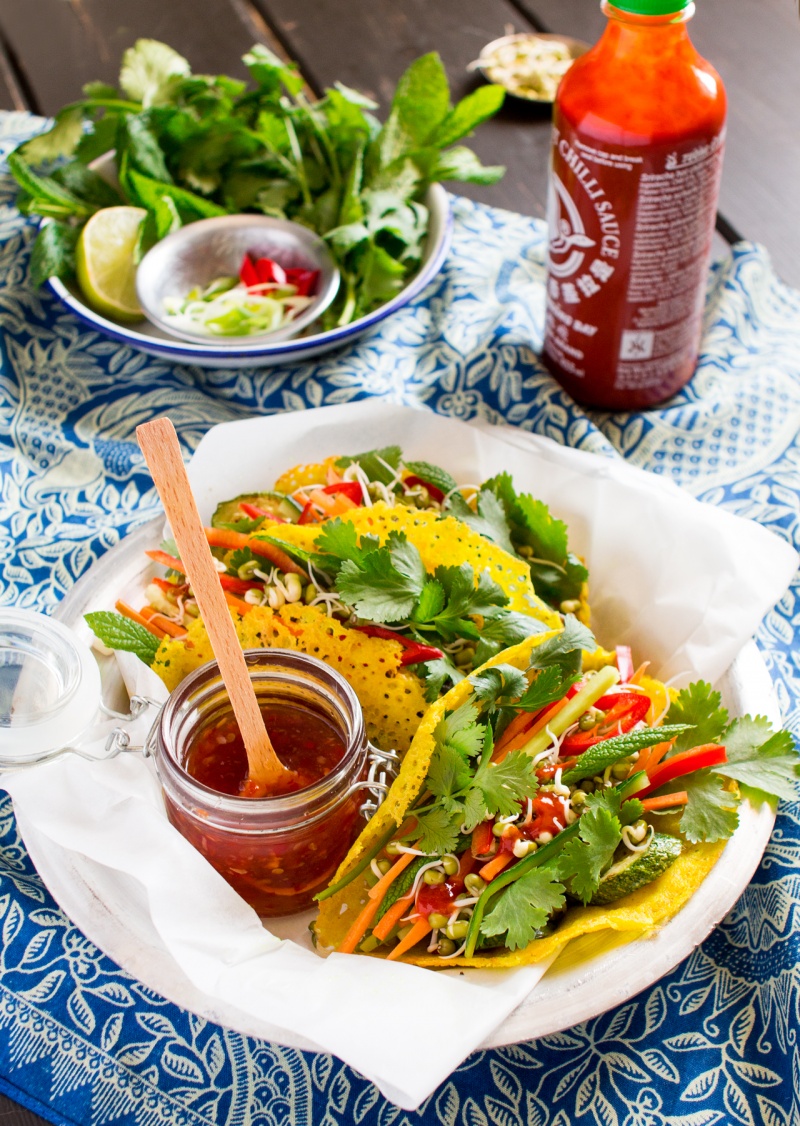 Today, I'm sinking my teeth into my favourite lunch of late: crispy Vietnamese pancakes (banh xeo) deep filled with a range of colourful veggies, homemade mung bean sprouts and fresh herbs with a side of tangy dipping sauce. They are heavenly, naturally gluten-free and very easy to put together too. The key to getting them right is making sure that the pan is almost smoking hot before pouring the batter and leaving them alone for approximately 2 minutes on each side.
This precise waiting time is quite handy actually as it allows you get small bits of washing up done while you're hanging around to flip your pancakes. It allows me to shake off my reputation for being a bit of a messy cook, which is a source of regular arguments between Duncan and myself. He reckons that I should be able to clean up as I cook, but then again, he doesn't cook anywhere near as much as I do and never for the camera, so our standpoint is a bit different. After the last row on this very subject, we both try to stay out of each other's way in the kitchen and try to accept each other's quirky ways without boiling over. So far so good…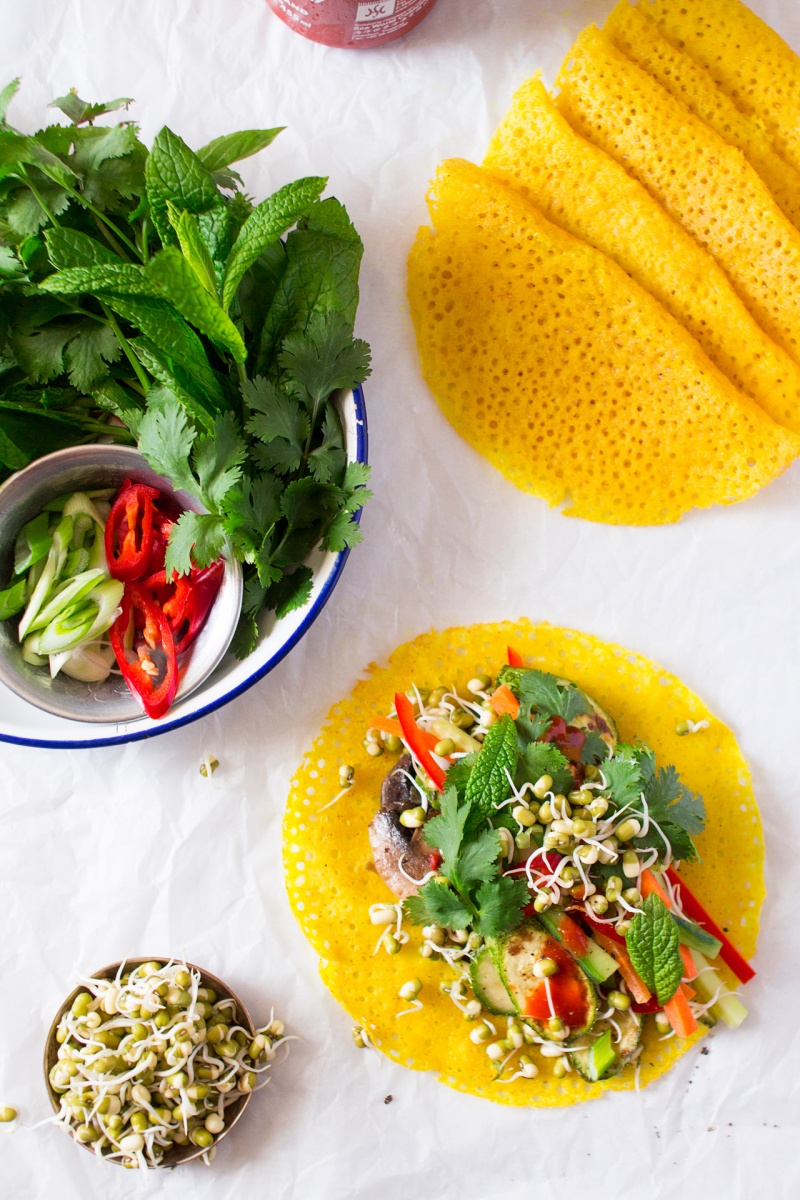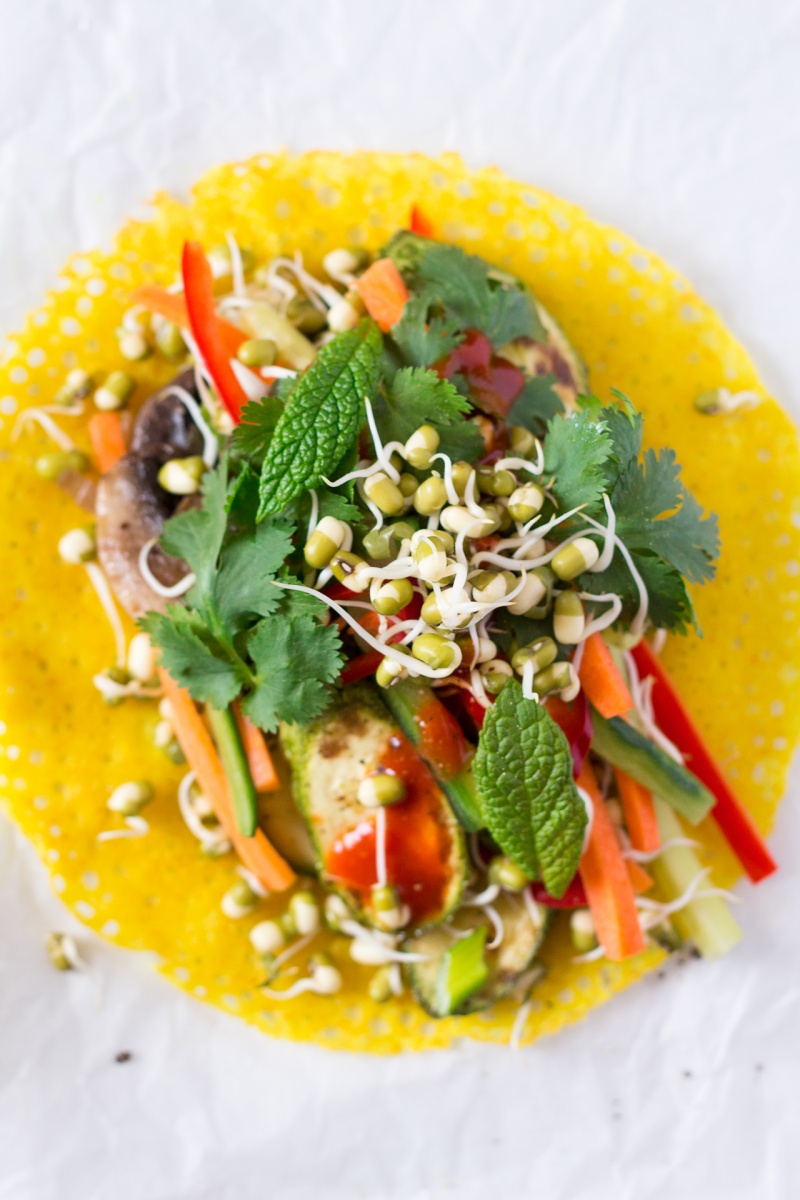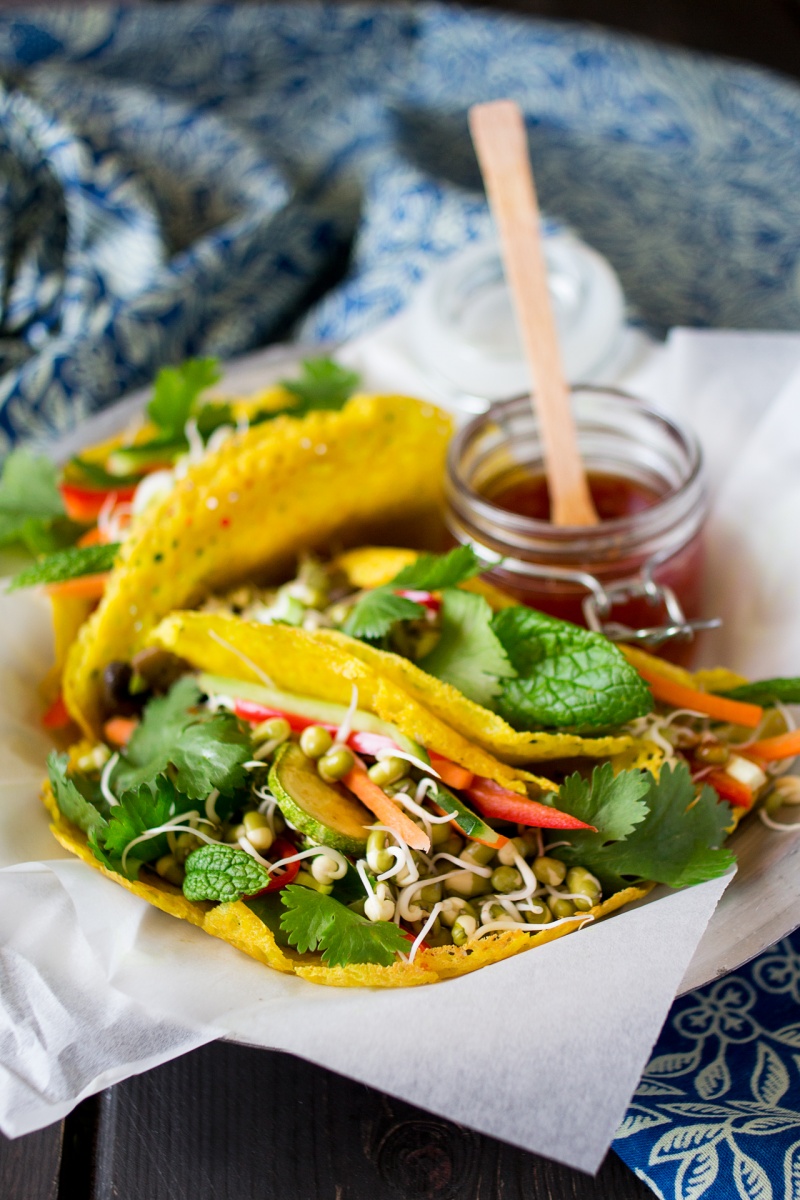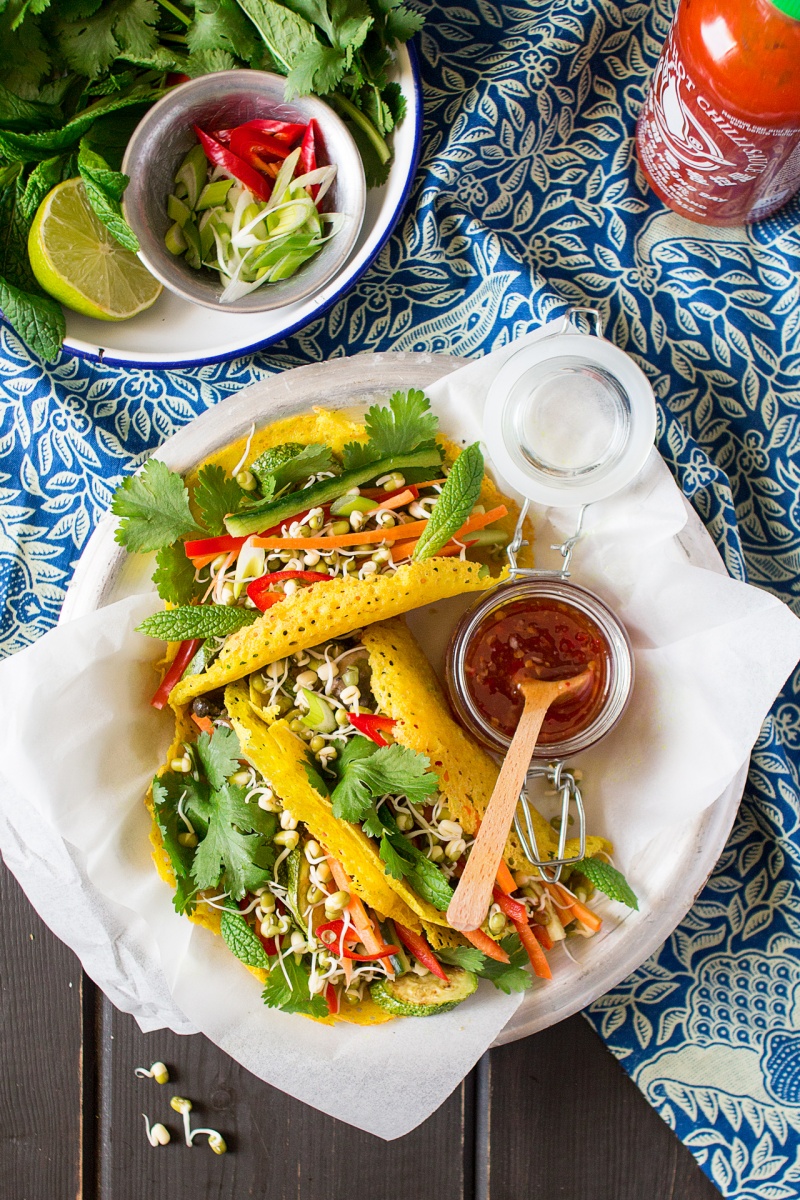 CRISPY VIETNAMESE PANCAKE BATTER
200 g rice flour
2 tbsp cornflour / cornstarch (optional)
240 ml / 1 cup full fat coconut milk (from a can)
pinch of sugar
½ tsp salt
1½ tsp turmeric
about 240 ml / 1 cup of cold water
oil (I used peanut oil), for frying
FILLING
2 carrots, julienned
1 red pepper, julienned
1 cucumber, julienned
2 spring onions, thinly sliced
favourite stir-fried vegetables (optional)
handful of beansprouts (I used mung bean sprouts)
fresh herbs: mint, coriander and / or Thai basil
Sriracha or other chilli sauce, to serve (optional)
DIPPING SAUCE
1 large garlic clove, finely minced
2 tbsp rice vinegar or lime juice
1 tbsp tamari (for GF) or soy sauce
1 tbsp brown sugar or maple syrup
1 red chilli, finely chopped
METHOD
Mix all batter ingredients together in a large bowl and set aside. Add enough water to make the batter runny like crêpe batter. I used just over 1 cup of water to achieve the right consistency. It's best to prepare the batter a few hours ahead of time and keep in the fridge until ready.
Combine pressed garlic and rice vinegar (or lime juice) in a small bowl. Let it sit for a few minutes – combining garlic with acid first will neutralise raw garlic flavour a little. After 5 minutes, add sugar, soy sauce, chilli and 2 tbsp of water and mix well. Set aside.
Heat up a non-stick pan on a medium heat (I used setting 4 out of 6). Once warm, pour a bit of oil on the pan (I use 1 tsp on my 15 cm / 6 in diameter pan). Let it heat up until sizzling hot. Measure out about 1/4 cup of batter and take the pan off the heat briefly. Pour the batter onto the pan and swivel it a few times quickly so that the batter spreads evenly.
Cook the pancake for 2 minutes on one side, after this time, the pancakes should come off the pan very easily. Using a wide spatula, turn the pancake over and fry for 1-2 minutes on the other side.
Fold the pancake in half and set aside. Keeping the pancakes warm while you cook the rest will stop them from becoming too brittle.
Enjoy straight away, filled with stir-fried and fresh veggies, sprouts and herbs.
NOTES