Dairy free cheesecakes (no bake)
Dairy free cheesecakes (no bake)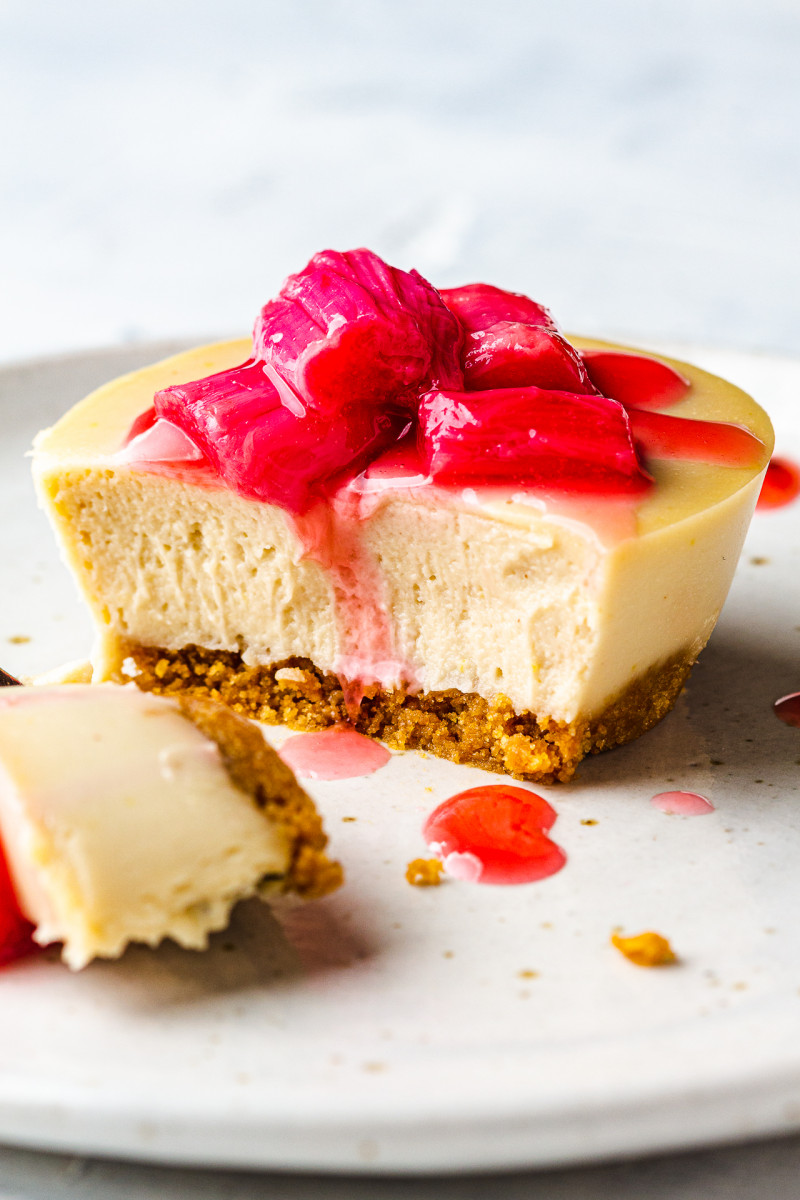 Supposedly we are nearing the start of spring, but our weather pattern is not in agreement. Although it depends on the day, some days it's sunny and warm, others snow (or sleet more like) makes an appearance and there is a piercing chill in the air. I was a little lost in figuring out what kind of recipe will be appropriate for right now – I kept on switching between a spring salad and a stew – but then I remembered that it is Mother's Day here on Sunday so a decadent yet super easy to throw together dairy free cheesecakes adorned with beautifully pink roasted rhubarb seemed very appropriate.
These cheesecakes are completely no bake and are super easy to make. They don't require many or any niche ingredients either so I hope I have made them accessible to everyone. The only thing you may have trouble getting if you live outside of the UK is pink rhubarb. Its gorgeous colour is not necessary for the flavours to work (you can use regular rhubarb), but it sure makes a visual impact, doesn't it? Instead of forced rhubarb – it's called that as it's forced to grow a little early and its gorgeous colour is achieved by means of growing it in complete darkness – use any other tangy fruit or fruit you enjoy. Raspberries (cooked from frozen outside of summer) would be an obvious replacement, but gooseberries, sour cherries and kiwi fruit to name just a few would also work beautifully.
These cute dairy free cheesecakes are a doddle to make too, they do not require any baking skills at all. To make the base, all you need is a food processor or a pestle and mortar and some elbow grease. And to make the cheesecake mixture you need a blender. It does not have to be a very fancy blender either. I used to use an old Kenwood machine (which I now gave away) and now I used my Ninja smoothie maker for this it's a small batch, it works a charm. I hope I have convinced you to give these a go – you won't be disappointed, I promise.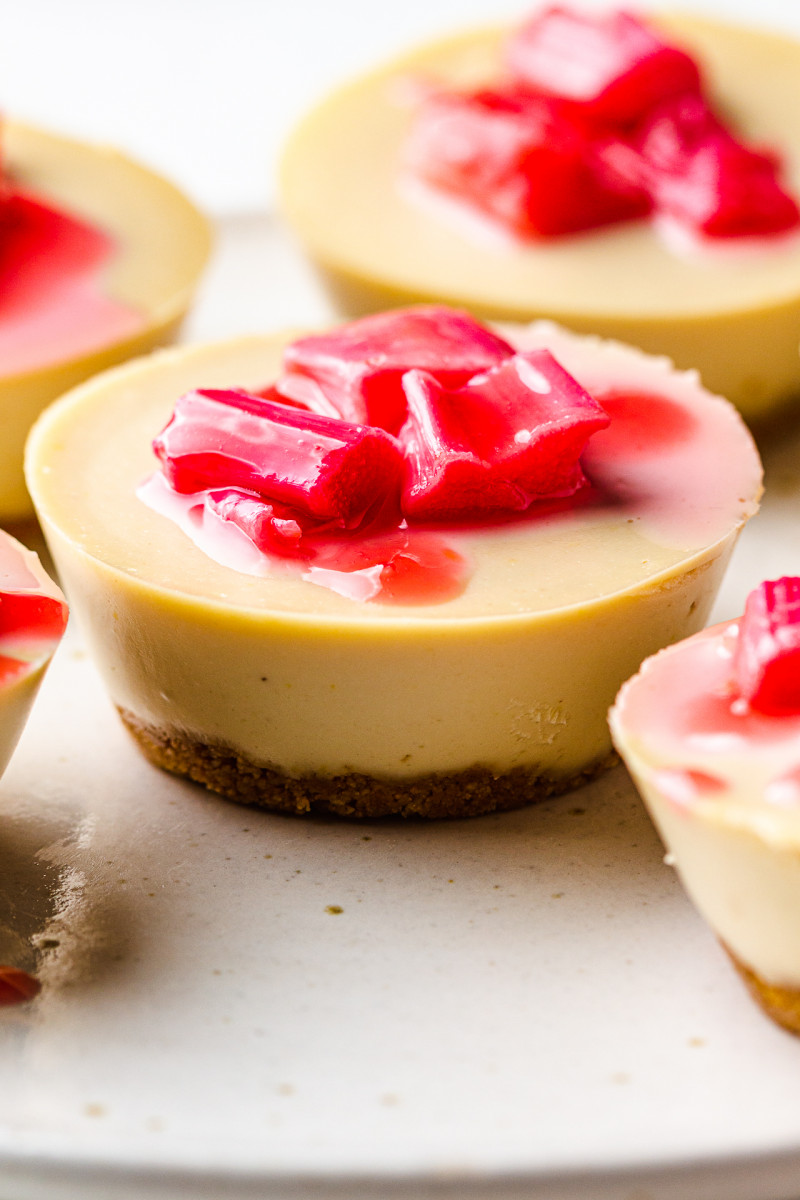 MORE ABOUT THE INGREDIENTS
VEGAN GINGER BISCUITS: Ground up ginger biscuits bound with melted vegan butter are used to make bases for this simple cheesecake. I used regular ginger biscuits (called ginger snaps in the US I think) as they are accidentally vegan and their flavour works perfectly with the flavours of the cheesecake mixture. You could use any vegan biscuits you want instead or make your own bases using wholefood ingredients like here.
VEGAN BUTTER: I used melted vegan butter (Violife brand) to bind crushed ginger biscuits together. You can also use refined (flavourless) or extra virgin coconut oil, but liquid oil won't work – it needs to be the type of fat that firms up in cold temperatures.
VEGAN WHITE CHOCOLATE: Dairy free white chocolate is one of the key ingredients here – it gives these cheesecakes beautiful flavour, makes this cheesecake decadently creamy and firms it up nicely too. I used vegan white chocolate from Aldi so it doesn't break the bank either. If you cannot find vegan white chocolate, 50 g (1.75 oz) of cacao butter will have similar effect, but you'll need to use more sugar.
SILKEN TOFU: Silken tofu, the type that has custard-like texture and comes in a Tetra pack usually, is what I used here. You could use non-silken (known as cotton) type of tofu too I'm pretty sure but I have not tested this recipe with it.
MAPLE SYRUP: Even though white chocolate contains sugar, I felt that the mixture needed more sweetness. I used maple syrup but any neutral tasting liquid sweetener will work the same – agave syrup, rice syrup, golden syrup or even stem ginger syrup if you use stem ginger instead of grated fresh ginger to flavour this cheesecake.
CASHEWS: Cashews are used to make vegan cheesecakes and cheeses as they have a higher fat content than other nuts, which translates to a creamy mouthfeel of the finished product. If you live in Australia, macadamia nuts are a good replacement and if you are allergic to nuts, use sunflower seeds. All three need soaking on water first to soften and make blending easier. Soak in cold water for several hours or in boiling water for at least 30 minutes.
VANILLA: Vanilla needs no introduction, it adds beautiful taste to these cheesecakes and there is hardly such thing as too much vanilla in my books – I used one and a half teaspoon of quality vanilla extract.
LEMON: Lemon juice is used to give these cheesecakes their characteristic tang, which in the case of a dairy cheesecake is achieved by using cream cheese, sour cream or yoghurt. Lemon zest gives these cheesecakes even more flavour so be sure to add that it in.
GINGER: I love the combination of white chocolate and ginger so I used a generous amount of grated ginger to flavour these cheesecakes. If you are not such a ginger fan, use less or don't use at all. You could also use a couple of balls of stem ginger (UK baking aisle staple) or ground ginger to taste.
RHUBARB: This beautifully pink forced rhubarb is a UK speciality – grown in the darkness, in Yorkshire – that my non-UK based readers will not be able to get easily. Fear not, any sour fruit or fruit compote works just as well. Raspberries or blackberries (cooked from frozen outside of season) would be an obvious replacement, but gooseberries, sour cherries and kiwi fruit to name just a few would also work beautifully.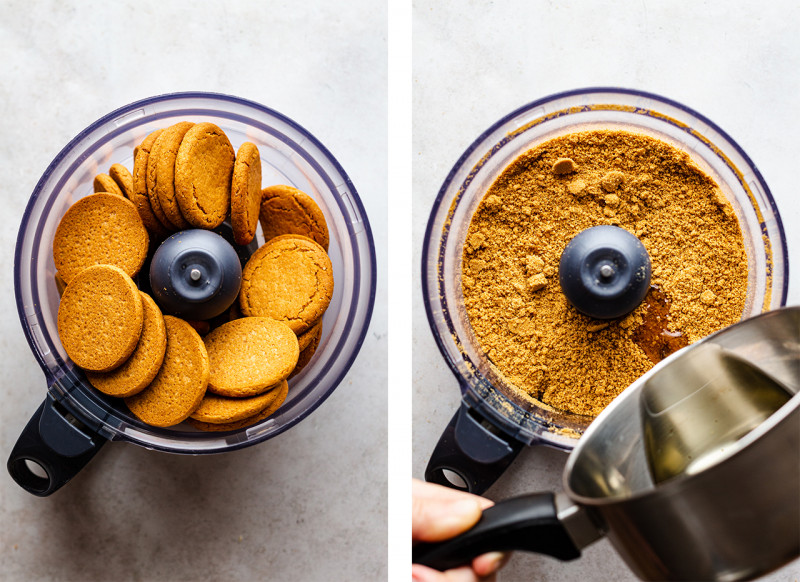 I used accidentally vegan ginger nuts (called ginger snaps in the US, I think) to create biscuit crumb for the bases. You can use any hard biscuits / cookies you enjoy although ginger-flavoured ones are my recommendation for this dessert. The easiest way to create the crumb is to use a food processor, but you can also just use a pestle and mortar and some elbow grease (plus, it's a great way to destress… )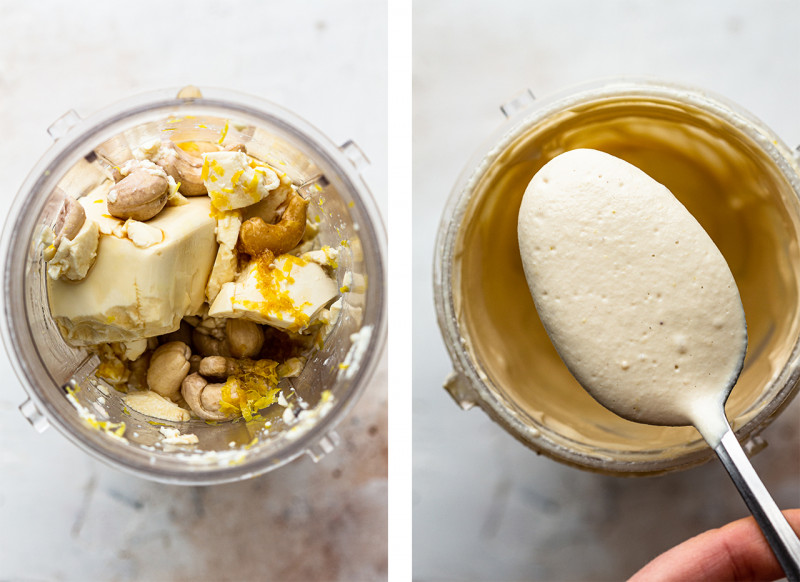 Blend all of the cheeesecake mixture ingredients, apart from the chocolate, in a blender. A small blender, like my Ninja smoothie maker, works well for this amount.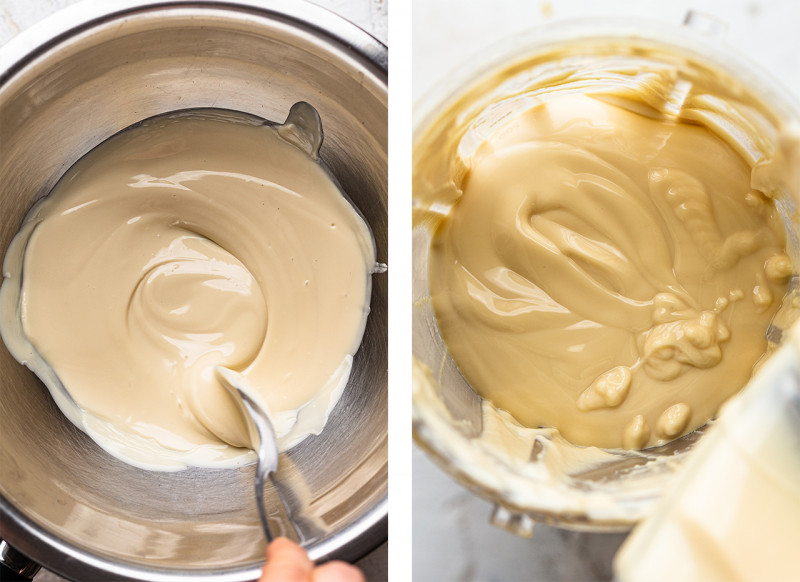 Melt your chocolate slowly over a pot of gently simmering water and then add to the cheesecake mixture, blend again until smooth – you may need to use a spatula to help the blender as chocolate is heavy and it likes to gravitate towards the bottom.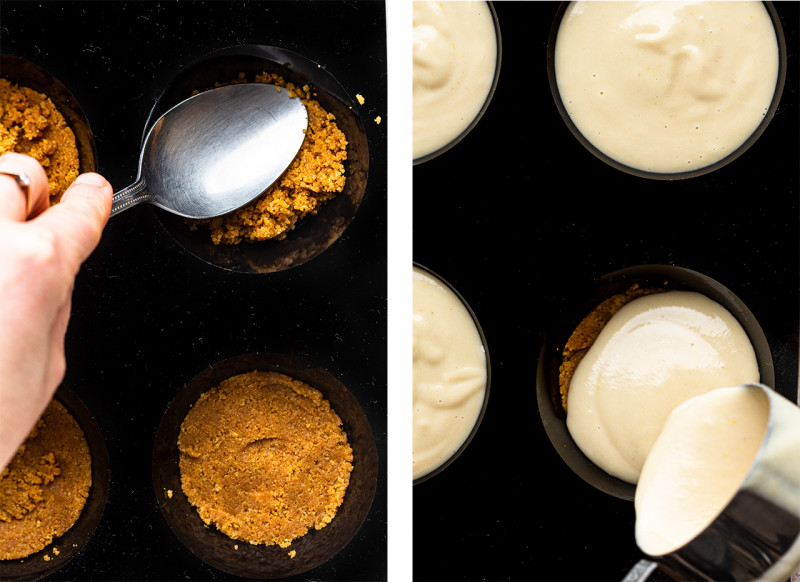 Compact biscuit crumb at the bottom of each muffin hole, then top with cheesecake mixture – give it a stir every time you pour as melted white chocolate likes to sink to the bottom.
Allow the cheesecakes to set in the fridge first and, once firm enough to pick up easily, in the freezer. Top with your sour fruit compote or fresh fruit of choice – I went for roasted rhubarb as it's rhubarb season in the UK right now and it looks too pretty not too.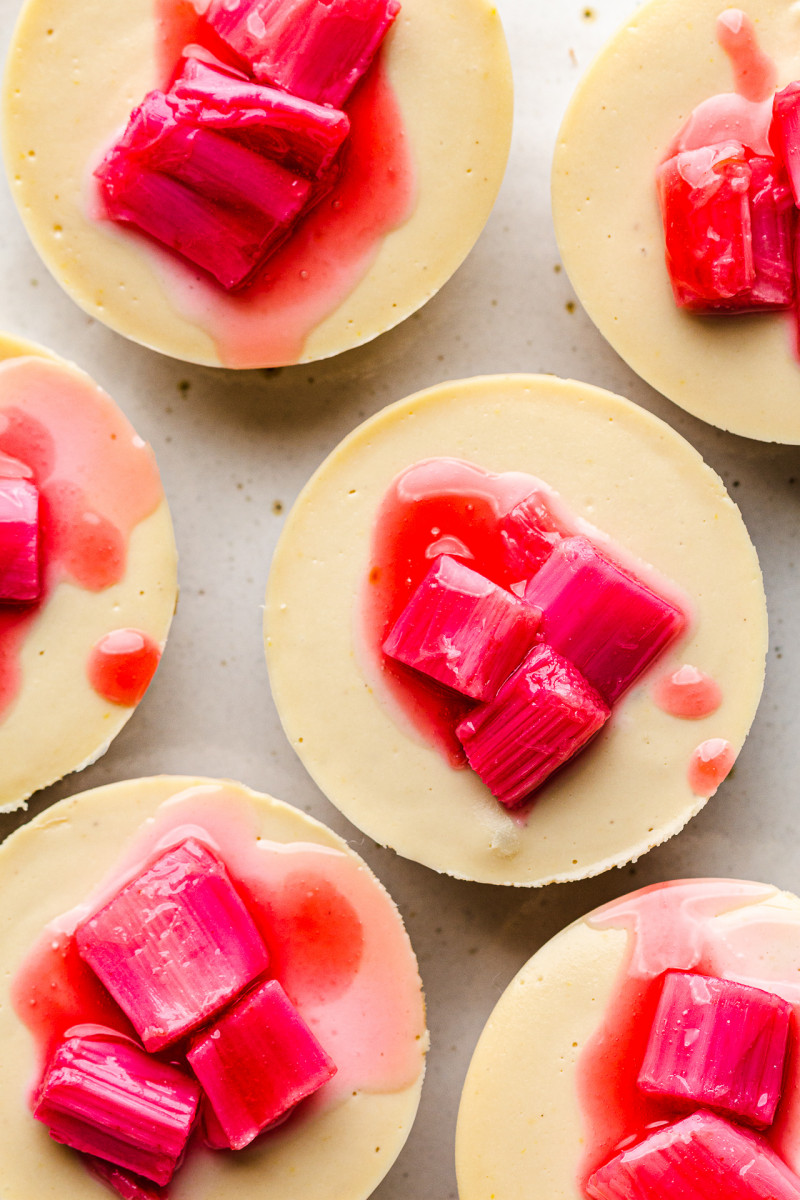 FREQUENTLY ASKED QUESTIONS
CAN I MAKE THESE CHEESECAKES WITHOUT NUTS
You could use hulled sunflower seeds soaked in water first (to soften) instead of cashew nuts. Beware that they will make the colour a little less appealing but will work the same.
HOW LONG DO THEY KEEP?
They keep for up to 4 days in the fridge and in the freezer for a couple of months.
CAN I FREEZE THESE CHEESECAKES?
Yes, you can freeze them in moulds, then unmould and transfer to an air-tight food container. Do not freeze twice so once your cheesecakes have thawed, I would not recommend freezing the again.
CAN I MAKE THESE CHEESECAKES GLUTEN-FREE?
The only component of this recipe that contains gluten are the biscuits used for the base so you can easily make these dairy-free cheesecakes gluten-free by using your favourite gluten-free biscuits (hard cookies for the US audience). You could also make your own base from wholefood ingredients – I really like this one but it does require baking.
HOW DO YOU GET THEM OUT WITHOUT SQUASHING?
In order to get these out of the mould cleanly, I recommend using silicone muffin mould tray or individual cups. I also recommend placing them in the freezer (just to set) as that makes for a mess-free removal.
WHAT VEGAN CHOCOLATE DO YOU USE AND WHAT CAN I USE INSTEAD?
I used Blonde vegan white chocolate from Aldi, which is affordable and tastes pretty good too. There are many vegan white chocolate brands on the market so pick any that you enjoy. Alternatively, you could use 50 g (1.75 oz) raw cacao butter and a little more sweetener/sugar.
WHAT CAN I USE INSTEAD OF GINGER?
If you dislike ginger, you could safely skip it as it's solely used for flavour. In terms of alternatives, I would suggest green cardamom (freshly ground from pods is best!) and orange zest alongside lemon zest.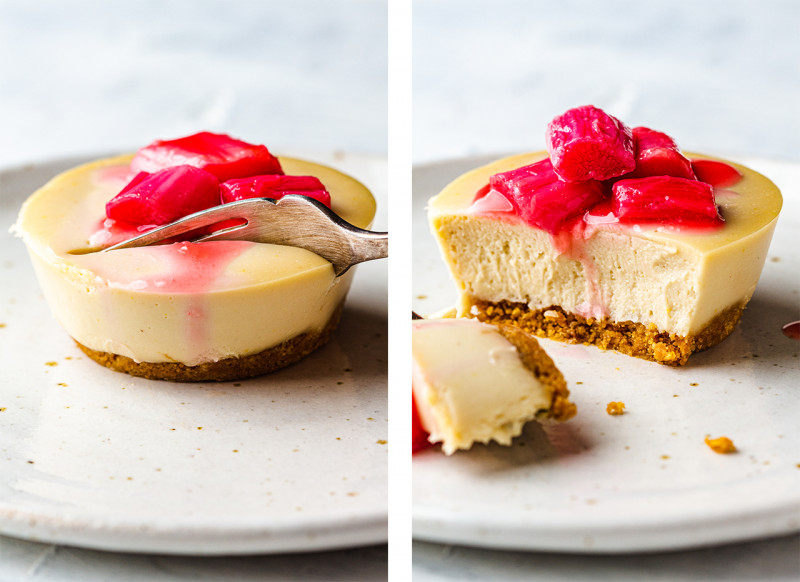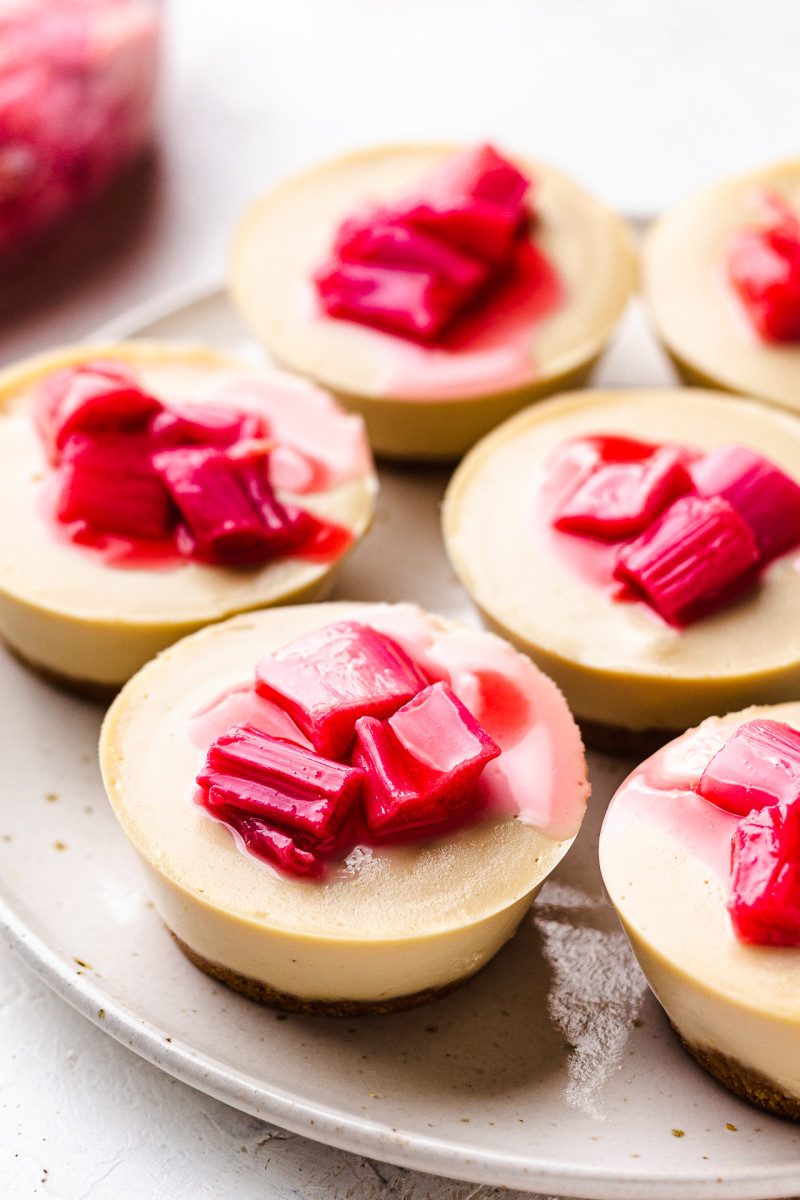 CHEESECAKE BASE
75 g / 2.6 oz vegan ginger biscuits (GF if needed)
30 g / 1 oz (2 heaped tbsp) vegan butter or coconut oil, melted
CHEESECAKE MIXTURE
150 g / 5.3 oz vegan white chocolate
150 g / 5.3 oz silken tofu
60 ml / ¼ cup maple syrup* or sugar
150 g / 1 heaped cup cashews, soaked*
7 ml / 1½ tsp vanilla extract
45 ml / 3 tbsp lemon juice + zest 1 lemon
12 g / 2 packed tsp grated ginger*, to taste
TOPPING
METHOD
PREP: Use a silicone muffin tray* (or cups) – it makes it easy to get these out cleanly. Otherwise line the bottoms and sides of regular muffin tray with circles and strips of baking paper stuck on with a little bit of vegan butter or coconut oil.
CHEESECAKE BASES
Grind ginger biscuits in a food processor until you get a fine crumb. Add melted vegan butter (or coconut oil) and pulse a few times, until the mixture resembles wet sand.
Spoon the mixture between 6 (or 7 for lower cheesecakes) muffin holes, press it down well with the back of a spoon and refrigerate to set.
CHEESECAKE MIXTURE
Melt white chocolate gently over a water bath. Skip to the next step while you wait.
Put drained silken tofu, maple syrup, drained cashews, vanilla, lemon juice, lemon zest and grated ginger in a blender (my small Ninja blender worked well). Process until silky smooth.
Add melted white chocolate and blend until well combined with the rest of the mixture. Transfer to mixing bowl/a big jug and give the mixture a good stir at the start and before pouring each cheesecake as I found that melted chocolate likes to sink to the bottom.
If using a silicone muffin tray, place it on a flat tray that fits in your fridge. Pour the cheesecake mixture over the bases and place in the fridge to firm up.
Once the mixture is no longer runny, place the entire tray in the freezer for about 1 hr – this will make the removal easy. If using a standard muffin tray that won't fit, keep it in the fridge overnight to set.
Pop hardened cheesecakes out of the silicone tray or use a butter knife to go round each cheesecake and gently lift them out of a metal tray.
Top with sour fruit or fruit compote of choice (I used roasted rhubarb). Keep refrigerated for up to 4 days or freeze for up to 2 months.
NOTES
*MAPLE SYRUP: You could use other liquid sweetener (like agave syrup) or icing sugar to sweeten and plant milk (45 ml / 3 tbsp) to get the right consistency. You may also not need as much sweetener – adjust to your taste.
*GINGER: Instead of freshly grated ginger, I also like using 2-3 stem ginger balls (about 50 g / 1.75 oz) instead. You could also use stem ginger syrup (instead of maple syrup) to sweeten but if doing so make sure you taste the mixture before adding ginger balls or else the ginger flavour may end up too strong.
*SILICONE MUFFIN TRAY: I recommend using silicone muffin tray as it makes removal of these way easier. The size of my muffin tray holes is 7.5 cm / 2.9″ diameter and 3 cm / 1.2″ height.
DON'T MISS A SINGLE RECIPE
Join our mailing list and we we will let you know when we publish a new recipe. You'll receive our DELIGHTFUL DESSERTS E-BOOK as a thank you for supporting us.