Dakos salad
Dakos salad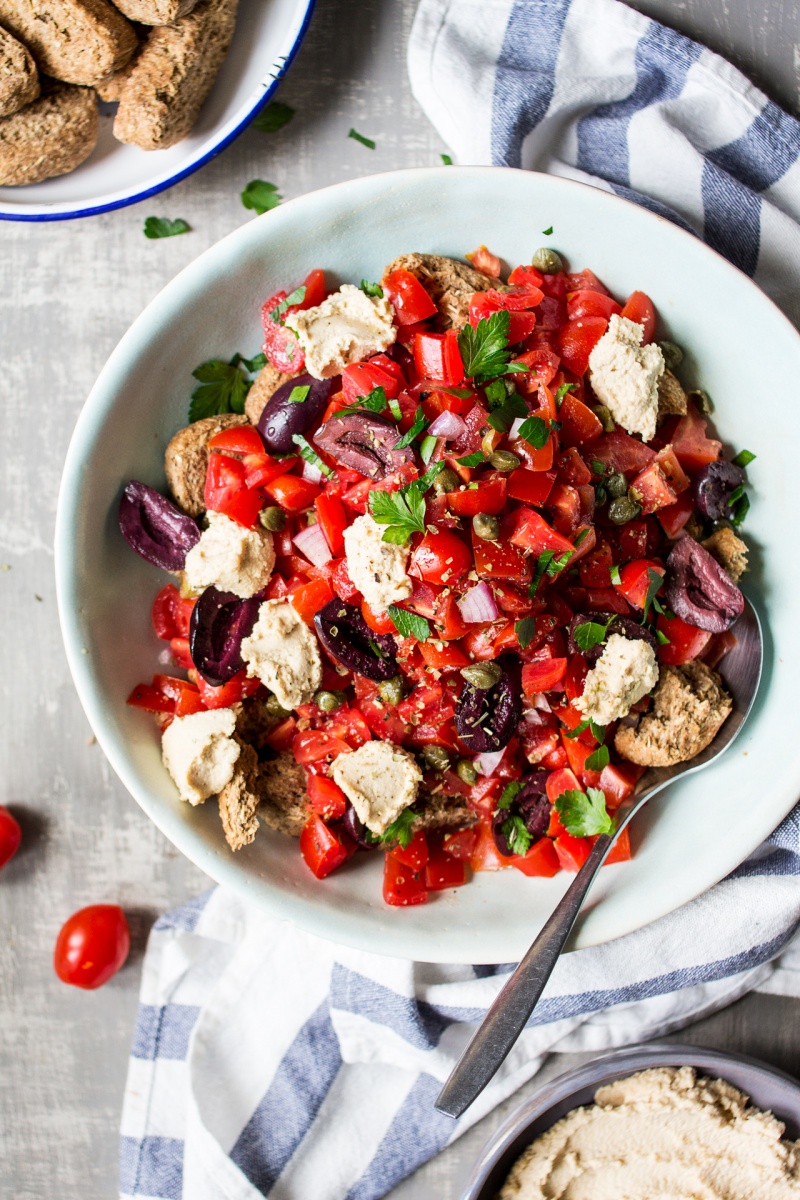 Seeing how enthused you guys were about my vegan gyros, I've decided to continue with Greek-inspired dishes for a bit longer. After all, Greek cuisine is made for summer time, which we are on the cusp of! Today's meal is pretty simple. It heroes the sweetness of Greek tomatoes and pairs it up with the crunchiness of traditional Cretan rusks.
Dakos is a Greek riposte to an Italian panzanella and Middle-Eastern fattoush salad. It's simple, peasant fare, yet packed with flavour.
It can take different forms, sometimes it's served like an Italian bruschetta – rusks are topped with dressed tomatoes and crumbled cheese and sometimes it's a salad, which I personally prefer as it distributes pieces of crunchy rusks more evenly. I've even had a very stylised dakos, served as a cheesecake in one of local restaurants, which I was excited to try. Unfortunately, it didn't live up to the hype. It must have been assembled way before it was served and the rusk base was soggy and not pleasant to eat at all.
The key thing here is not to be stingy when it comes to tomatoes, get the sweetest ones money can buy. I've opted for a mixture of sweet cherry tomatoes (which we literally live on) and a few regular tomatoes – I don't know what variety as our veg shop isn't exactly that fancy 😉 . They have heaps of Greek tomatoes and they taste good – that's all I need to know 🙂 .
So this salad is all about sweet tomatoes mixed in with wisps of red onion, some capers and traditionally – yes, you guessed it – it includes crumbled cheese. Cretans use a local cheese called mizithra, which is something of a mix between feta and ricotta – softer than the former but firmer than the latter. I've used leftovers of my vegan ricotta cheese, which I set with a bit of agar and it worked well. If you live in a buzzing metropolis, feel free to substitute with one of the many plant-based cheese alternatives available.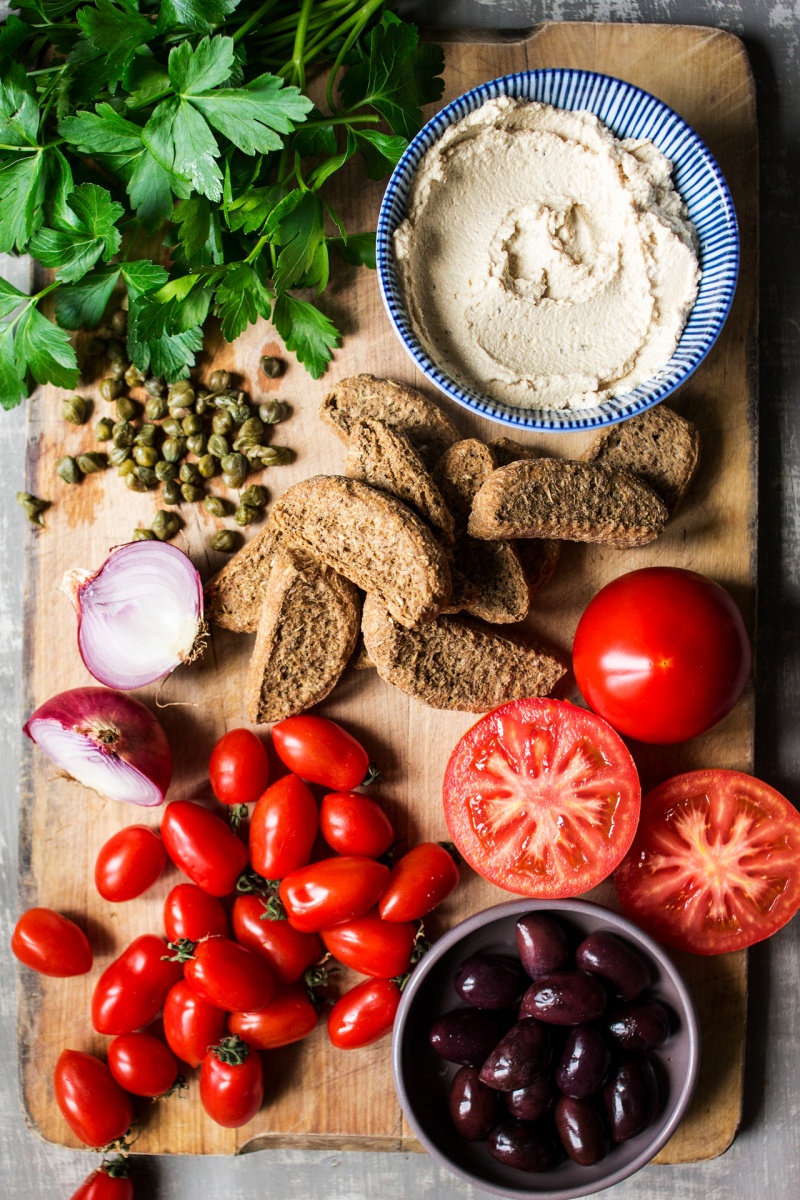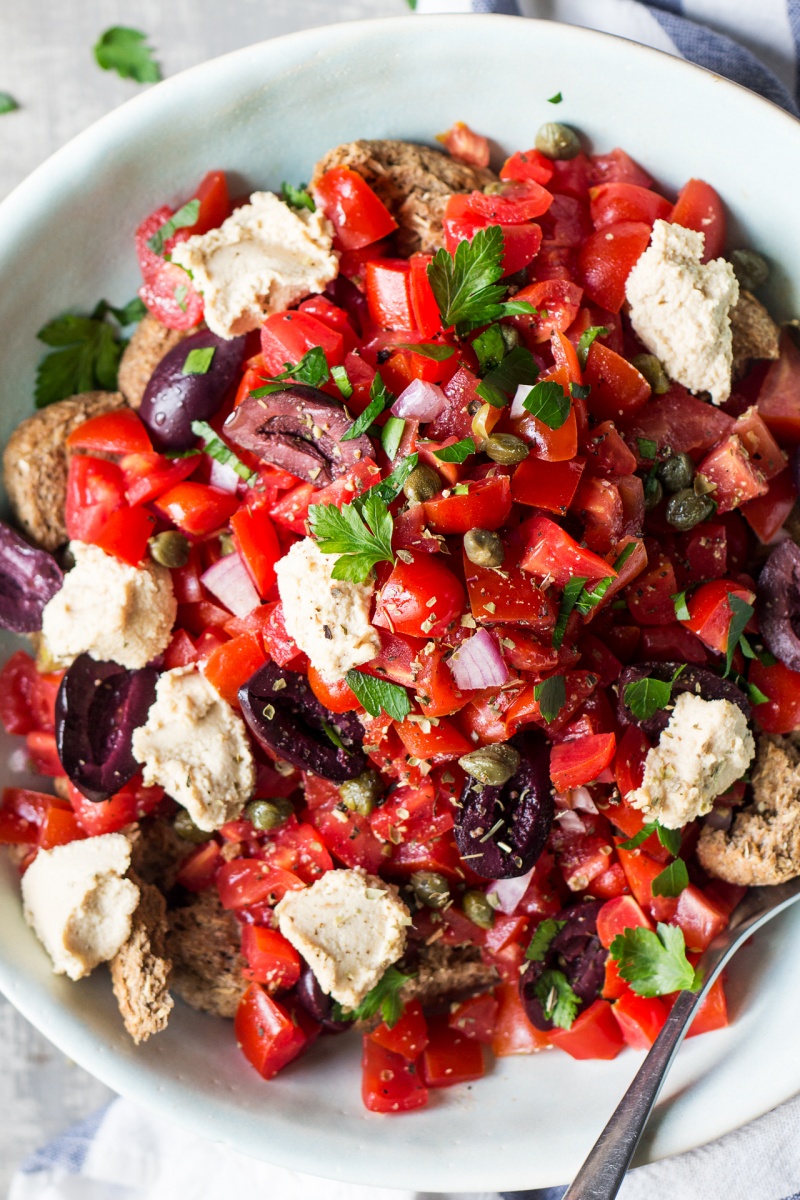 20 sweet cherry tomatoes, diced
2 medium tomatoes, diced
1 heaped tbsp capers, roughly chopped
8 Kalamata olives, pitted and halved
½ small red onion, very finely diced
6 Cretan rusks or other crispbread
fresh parsley, chopped
a sprinkle of dried oregano
vegan cheese (feta or soft cheese)
DRESSING
2 tbsp extra virgin olive oil
1 tbsp red wine vinegar
black pepper, to taste
salt, to taste (go easy if using capers!)
METHOD
Break rusks into smaller pieces with a hammer 😉 (or use your hands).
Place chopped tomatoes, capers, olives in a large mixing bowl.
Mix olive oil and red wine vinegar together and pour it over the mixing bowl's contents. Throw in the broken rusks and mix well.
Season with black pepper and possibly a tiny bit of salt – go easy as capers, olives and cheese all have salt in them already.
Place in a salad bowl, dot with vegan cheese and sprinkle with dried oregano and fresh parsely.
DON'T MISS A SINGLE RECIPE
Join our mailing list and we we will let you know when we publish a new recipe. You'll receive our DELIGHTFUL DESSERTS E-BOOK as a thank you for supporting us.