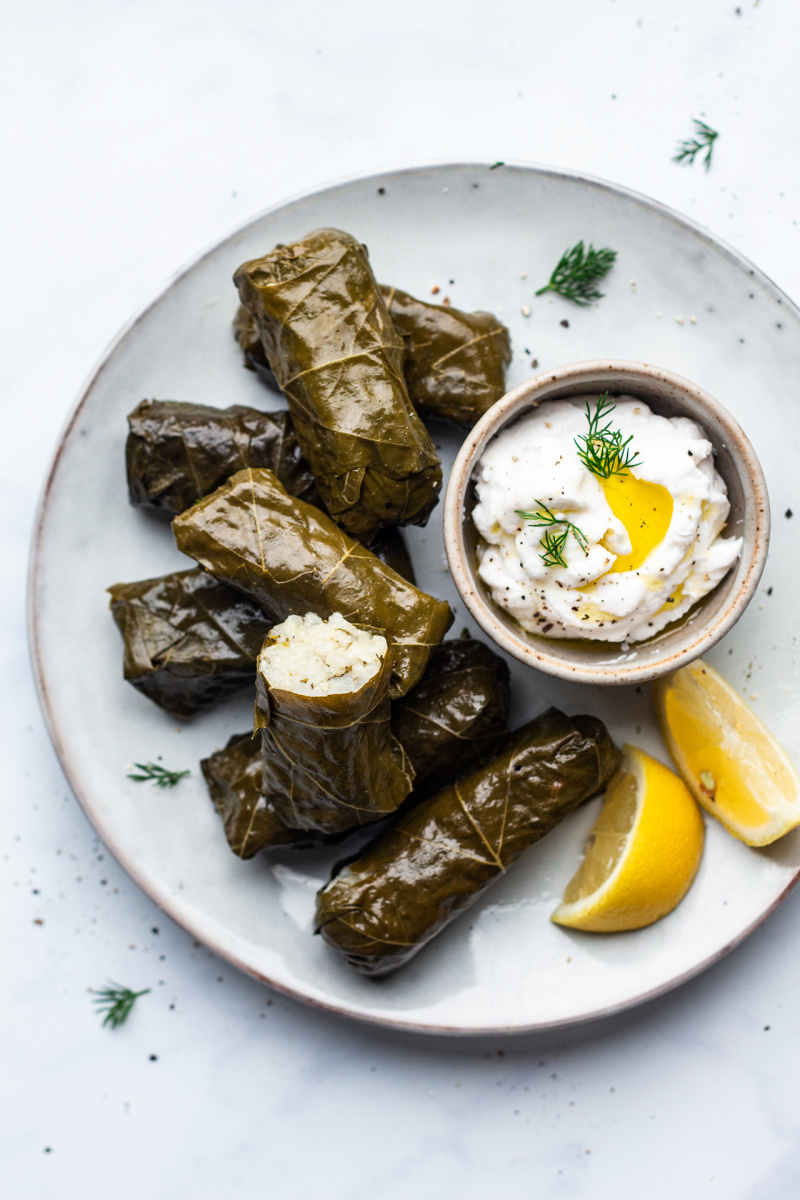 Whenever I post a recipe like this, I just know there is going to be an argument about it on my social media. As soon as I announce a recipe as Greek, there are people angry with me as the dish isn't really Greek, it's Turkish, it's Armenian, it's Lebanese etc. You get the gist. This happens every time. Even when I post a recipe I grew up on, like pierogi for example, I get told that they are Russian, not Polish. That's the beauty of the Internet I guess, everyone knows best…
The truth is that this kind of dish is popular all over the Mediterranean and the Middle East and every country has their own set of ingredients that they tend to gravitate towards. The Greek version, which I am most familiar with, tends to be big on lemon, dill and mint. Other cuisines incorporate things like spices (cumin and allspice), dried fruit (sultanas), nuts (pine nuts) and tomatoes in their vegetarian dolmades and I am sure all of them are equally delicious.
There is a good reason why these cuisines are so intertwined after all (like a 400 year long Turkish occupation of Greece, for instance) as well as a similar climate conducive to relying on the same kind of produce, so let's refrain from nationalism and enjoy the food for what it is. I think that nationalism is everything that's wrong with the world right now. The need to consume food and the propensity for food-related enjoyment is what brings us all together and makes us all human after all. As far as I am concerned, where a dish comes from is not really that important as long as it's nourishing and tasty.
These dolmadakia (dimunitive of dolmades as they are rather small in stature) are inspired by those we used to enjoy in our favourite Paros taverna called Halaris. It was a family run fish taverna but their vegetarian mezze was delicious. We used to go there when we really needed a break from work, sit in the sunshine, enjoy a glass of chilled wine and a selection of mezze while staring at the blue water. Their dolmadakia was something we always ordered as it was so well judged, fragrant with herbs and distinctly lemony and cooked to perfection. This is my take on that dish.
Dolmadakia is always going to take me back to when we both decided to ditch everything we knew and move to a remote Greek island in the middle of the Aegean. It was a fantastic experience and even though we decided to move back to the UK after 4 years, we don't regret it one bit, although that experience challenged us in my ways. For starters, if not for that decision you would not be reading my stream of consciousness right now (it would have been such a shame, right 😉 ?) as I would still be miserably stuck in my 9-5 without a clue that there is another, better way. Feel the fear and do it anyway as they say, right? Facing that fear was certainly very very worth it. Hope you'll enjoy my Greek-style dolmades and have a great weekend!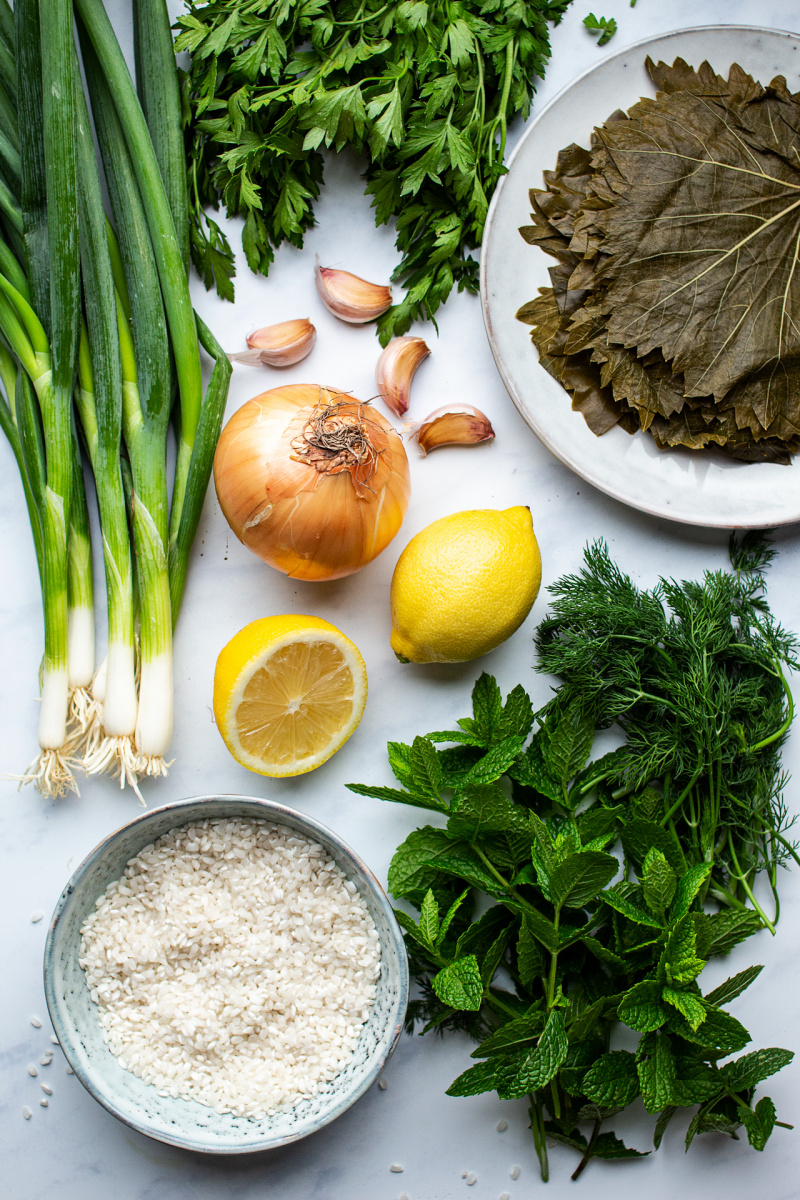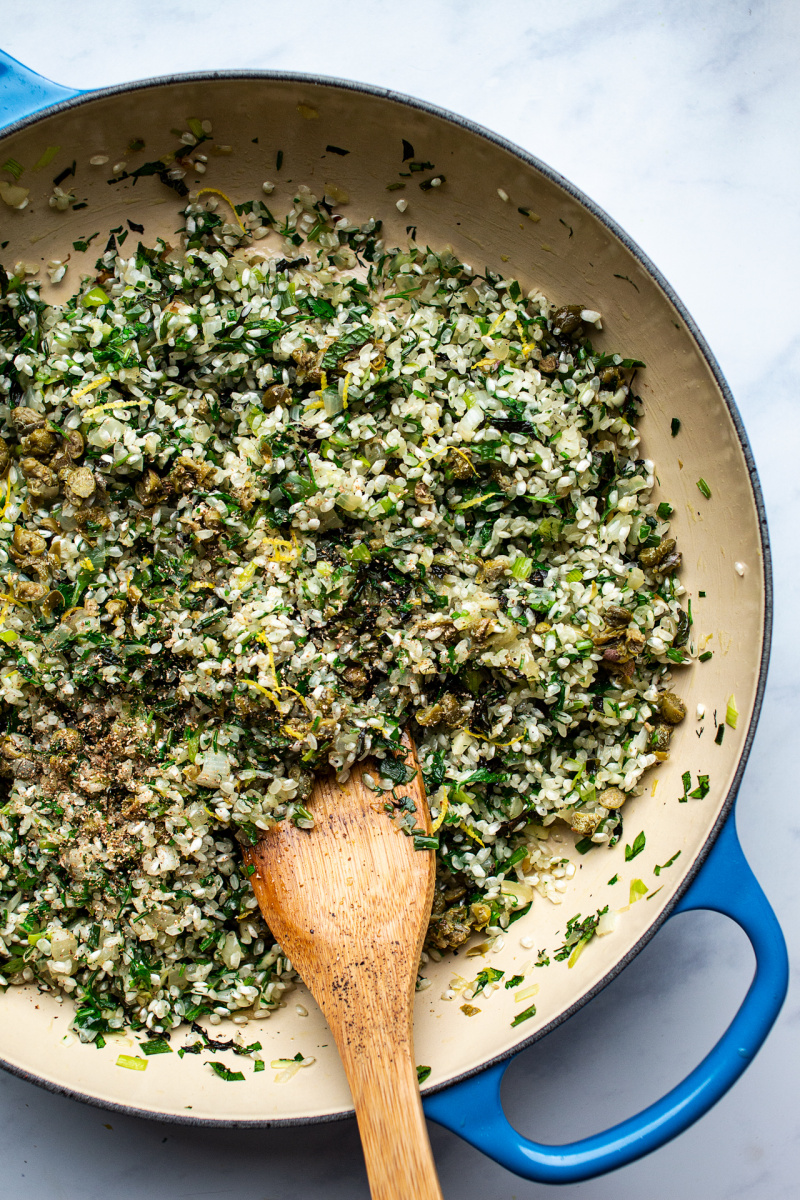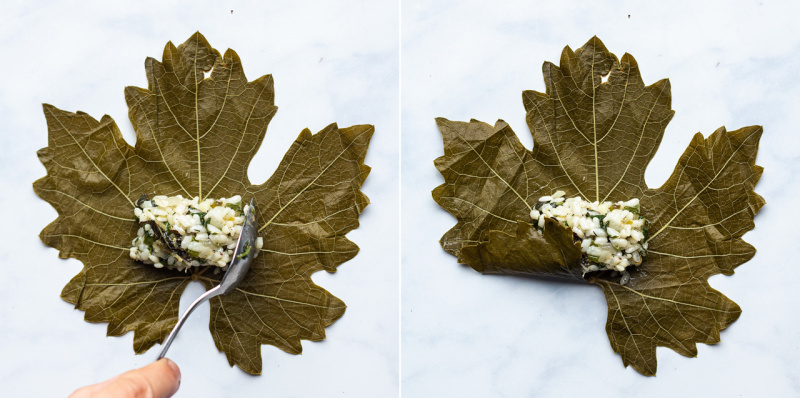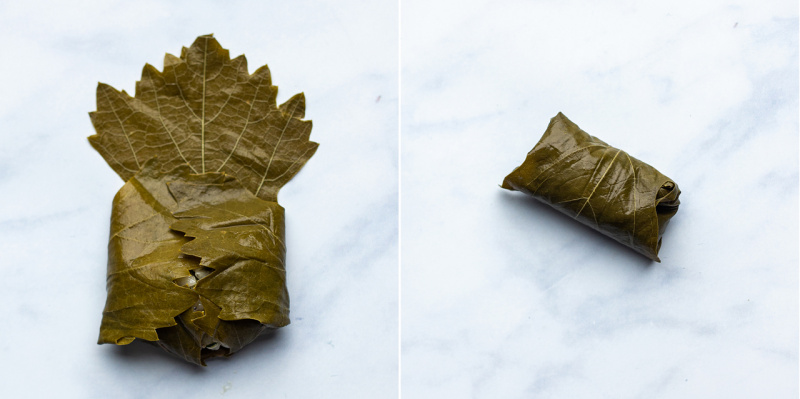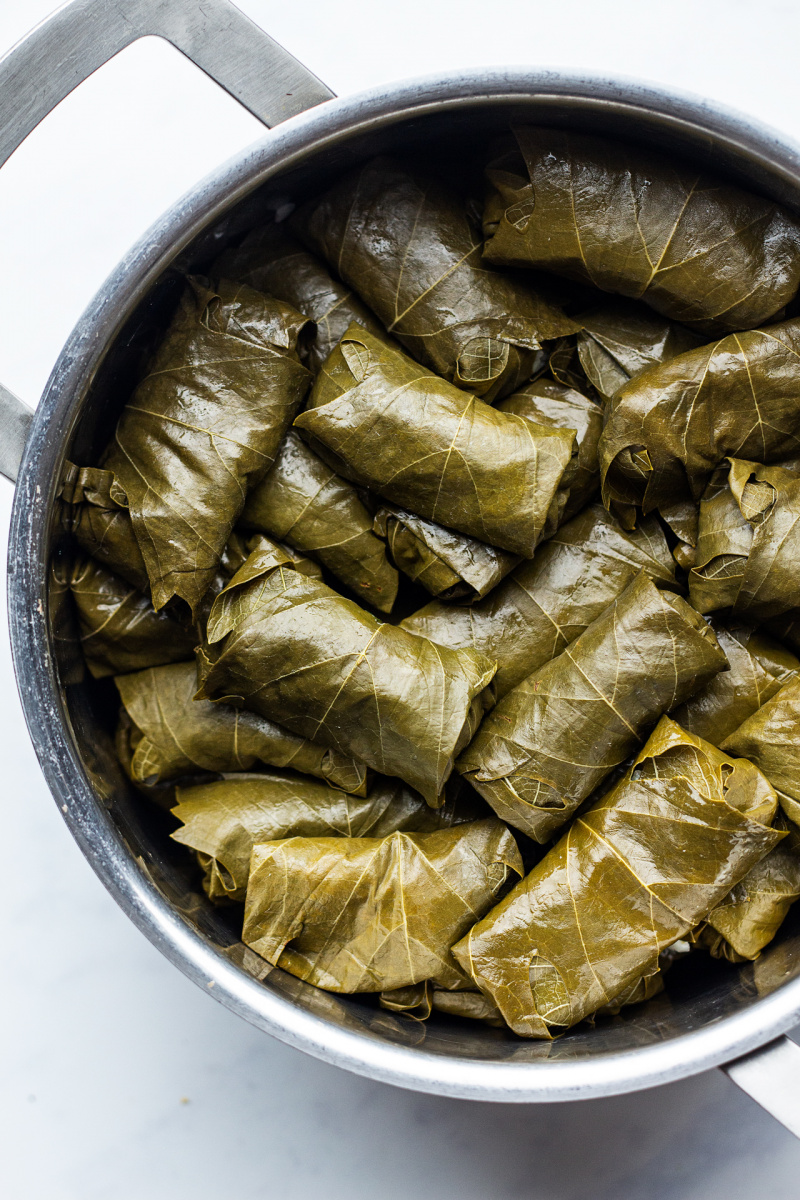 60-120 ml / ¼-½ cup olive oil*
1 onion, diced finely
bunch of spring onions / scallions, diced finely
4 garlic cloves, diced finely
400 g / 2 cups short grain rice (I used paella rice, risotto rice works too)
30 g / 1 oz dill, finely chopped
15 g / ½ oz mint, leaves only – finely chopped
60 g / 2 oz fresh parsley, finely chopped
zest of 1 unwaxed lemon + 4-6 tbsp lemon juice
1½ tsp fine salt, more to taste
heaped ¼ tsp pepper, to taste
a generous grating of nutmeg
1/3 cup capers, chopped (optional)
approx. 80 vine leaves in brine**
1 large lemon, sliced into 3 mm slices
DIPPING SAUCE
neutral tasting vegan yogurt or 135 g / 1 cup cashews or 100 g / 1 cup sunflower seeds
1 garlic clove, finely grated
lemon juice, to taste
salt and pepper
METHOD
FILLING
Heat up 60 ml / ¼ cup of oil in a large, shallow pot with a matching lid. Add diced onion and saute for about 5 minutes, stirring from time to time.
Add chopped spring onions and garlic and keep on sauteing until the onion becomes translucent, making sure you stir the mixture frequently.
Next add in well rinsed rice and saute for about 2 minutes. Next add in chopped herbs, lemon zest, salt, pepper, nutmeg and capers (if using) and stir everything really well.
Add 360 ml / 1½ cups of water and cover the pot with a lid. Let the mixture come to a gentle boil and simmer the rice mixture for about 5 minutes. By this time all of the water should get absorbed by the rice. Take the lid off and allow the mixture to cool off a little before filling the vine leaves.
ASSEMBLY
While the filling is cooling off, cut the stem off the vine leaves with a pair of kitchen scissors. Rinse the vine leaves in plenty of water and dry them on a clean kitchen towel. Work in batches, set torn or small leaves aside to line the pot with.
Line a medium size pot with 20 or so vine leaves (rejects are ideal for this). Arrange a layer of lemon slices on top of the leaves. These two layers prevent the bottom dolmadakia from getting scorched.
Place a wine leaf on a clean surface, veiny side up. Place a heaped teaspoon (the amount depends on the size of the leaf, be sure not to overfill) at the bottom of the leaf. Fold the bottom flaps up, then fold the sides over the filling and roll upwards like a burrito.
Roll the dolmadakia pretty tight but leave a little bit of slack to allow the rice to expand during cooking.
Arrange rolled up leaves, seam down, in the prepared pot, as tightly as you can. Once you complete the first layer, create the second etc. It doesn't matter how you arrange them, you could place them all in a circle or in rows, as long as they fit in fairly snugly – it minimises the chance of them getting unravelled.
COOKING
Add approximately 380 ml / 1½ cups of boiling water, 4 tbsp of olive oil (if not wanting to use this much oil use 30 ml / 2 tbsp of water instead) and 4-6 tbsp of lemon juice. 6 tbsp gives these a pronounced lemony taste, so use 4 tbsp if you prefer the taste of lemon to be subtler. Generally you want the liquids to barely just cover all of the dolmadakia.
Weigh the rolls down with a heavy plate to make sure they do not unravel while being cooked.
Allow the pot to come to a gentle simmer (low heat). Simmer for about 45-60 minutes. Turn the heat off and allow the pot to stand for another hour. After this time all the extra water will get absorbed – the rice will be cooked to perfection and the vine leaves will be perfectly soft.
Store in the fridge overnight. These are best eaten at least a day after they have been made – their flavour gets better as they rest. They keep in an airtight container in the fridge for about a week, leftovers can be frozen.
DIPPING SAUCE (make a day ahead)
If using cashews or sunflower seeds, soak them in boiling water for 30 minutes.
Drain, rinse and transfer to a blender. Blend with just enough water to obtain a silky smooth cream-like consistency.
I recommend, placing the mixture in the middle of a clean muslin cloth and on a sieve with a bowl underneath and letting the excess water drain away so that the consistency is thicker and more luxurious. It's best to do that overnight, in the fridge.
Season with lemon juice, grated garlic, salt and pepper. If using yogurt, I recommend an almond one – I tested thick coconut yogurt and it really did not work for me, the flavour was at odds with the dish itself.
NOTES
*It has to be noted that authentic Greek dishes do not skimp on olive oil. Myself, being generally quite oil averse, I always try to reduce its amount as much as possible. With this dish, I feel that 60 ml / 4 tbsp (it does feed a crowd!) is totally sufficient, but for a more indulgent and authentic version, go for 120 ml / 8 tbsp. Adjust to your personal preference.
**They come in jars or vacuum packed and can be found in Middle Eastern greengrocers as they are commonly used in Turkish, Greek, Lebanese and many other cuisines. I used about 200 g / 7 oz drained weight. You can order them off Amazon here.
My recipe is adapted from this recipe.