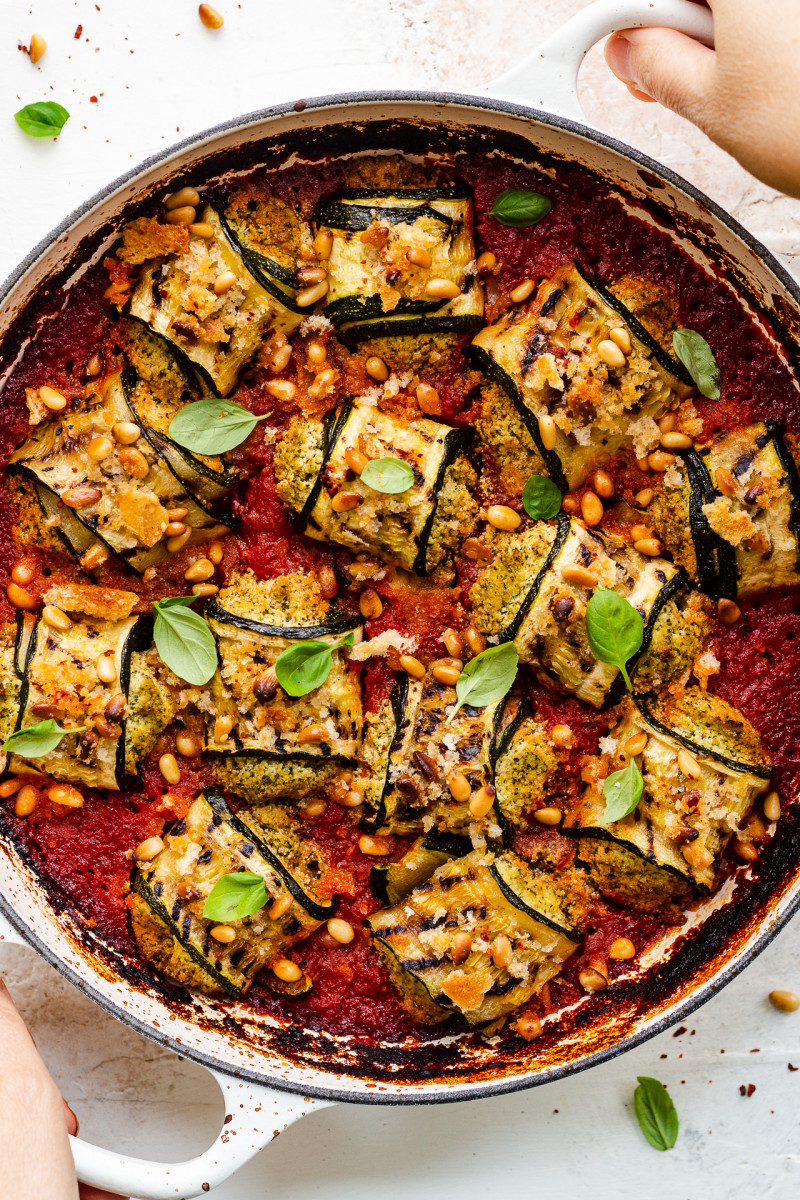 Every summer I get a few emails asking me what to do with a prolific amount of zucchini someone has growing in their garden (waving at you, Rosie!). My first thought is why are people so amazing at growing stuff that they don't know what to do with the excess while I struggle to keep a single plant alive…I'm so jealous. The truth is I am guilty of not putting in consistent enough effort into growing stuff so I reap what I sow…hahahaha, literally nothing, nada at the moment.
Anyways, I digress, the point I was trying to make is that I dedicate this recipe to you lovely zucchini growers and zucchini lovers, like myself. It uses a lot of zucchini (hence double in the title) and so I hope it will help people with 'have too much zucchini growing' predicament. I was inspired by the fact that traditional involtini or cannelloni filling often contains spinach, which similarily to zucchini is quite watery and bland on its own so I thought why not add sauteed zucchini to the filling as well as use it as a way of wrapping the filling?
Having tried it, I am quite fond of this dish, it's fresh and light. I was initially thinking of using a combination of tofu and cashews in my filling (like in this involtini recipe), but in the interest of keeping things simple, I've stuck to tofu. I also began some strength training to help my body face aging so I will take all the protein I can get as long as it's plant protein. If you'd rather use creamy cashews, feel free to make the swap, both work really well.
MORE ABOUT THE INGREDIENTS
ZUCCHINI / COURGETTE – I used zucchini (courgettes) in two ways in this dish hence 'double zucchini involtini'. I grated some, pan-fried and incorporated into the filling and cut some into long slices, charred lightly and used as a wrapper.
TOMATOES – I used quality plum tomatoes in a can as I find that they are more flavoursome than other types of canned tomatoes. I squashed the tomatoes with a potato masher first (you could do that in a pan too, I suppose but I prefer to use a large bowl as it can get messy otherwise) so that the sauce only needs about 30 minutes before going into the oven. You could also use ripe fresh tomatoes, but they do tend to be more watery so you'll need to simmer them down for much longer.
TOFU – use firm cotton (which basically means porous, as opposed to silken) tofu. I used a brand that does not require pressing, but if your tofu is quite waterlogged, simply squeeze excess moisture out with your hands. If you are not keen on tofu, you can use equivalent amount of raw cashews (soaked in boiling water for 20 minutes). If using cashews, you may need to add a splash of water or plant milk to the mixture when processing.
MISO – This Japanese seasoning is a staple flavour enhancer that is widely used in vegan cooking. If you haven't got a jar of it yet, it's worth getting. It's very versatile and keeps for ages.
NUTRITIONAL YEAST – Nutritional yeast (often lovingly referred to as 'nooch') adds a bit of umami to things. I love using it and used it here, in small amounts, to amp up the flavour of the filling.
CAPERS – I love capers, these little pickled flower buds add so much flavour and they work really beautifully here. You can either add them directly to the food processor and blend with the remaining ingredients or you can chop them up and stir through the filling at the end to get surprising pops of flavour here and there.
BASIL & MINT – I flavoured the filling with a little bit of fresh basil and a small amount of dry mint. You can also use one or the other, whatever tastes good to you.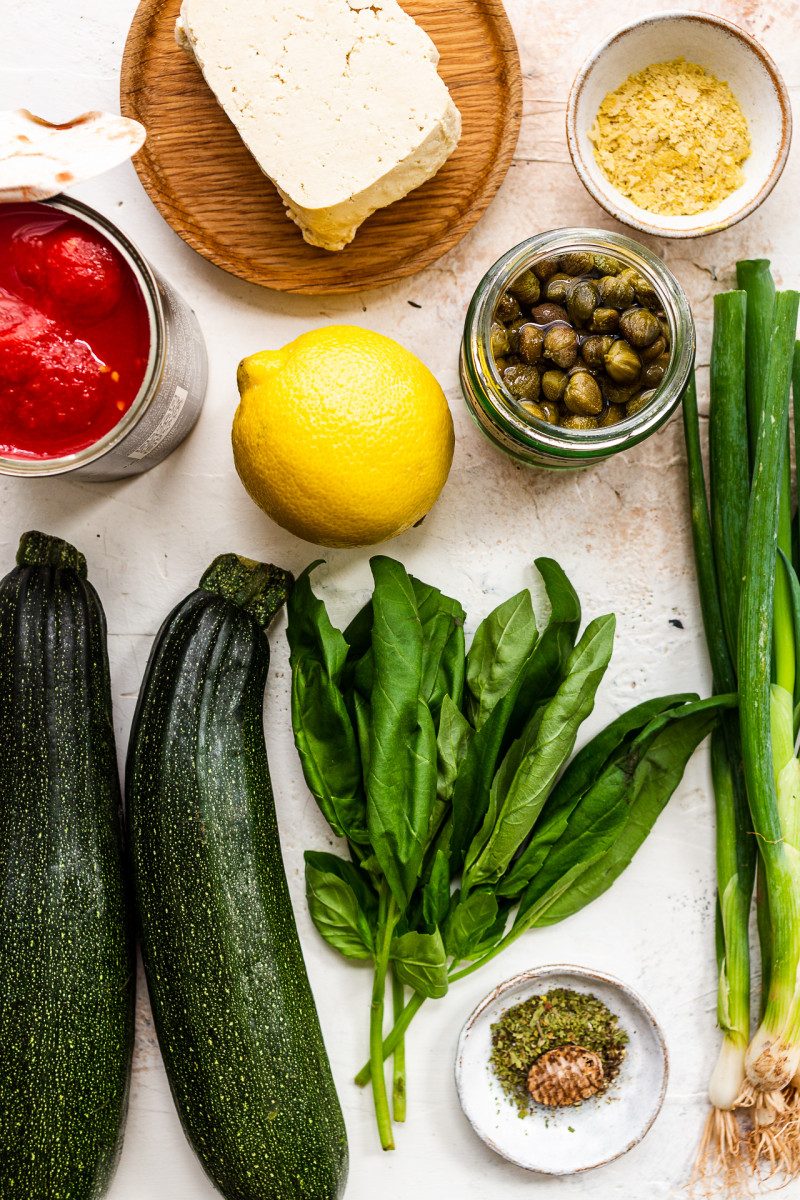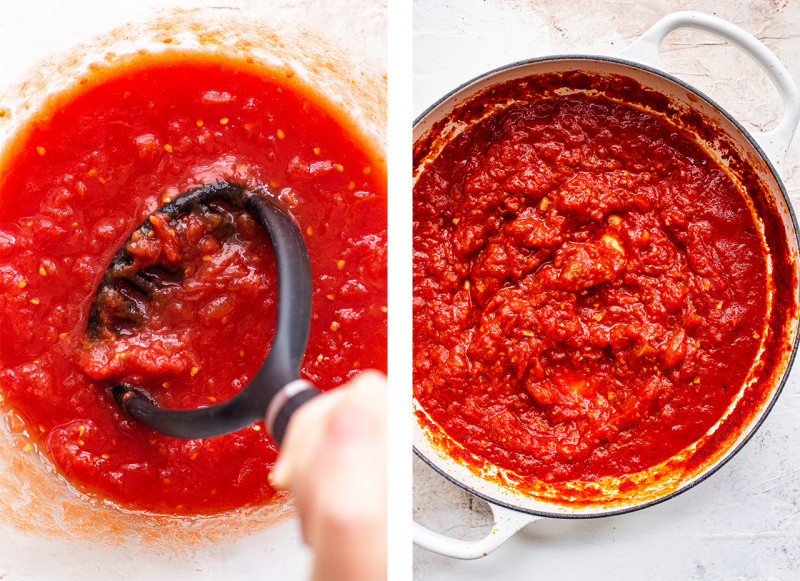 Transfer canned tomatoes and their juices into a large bowl and squash them down well to be able to make the sauce quicker. Allow them to simmer with a little olive oil and garlic for about 30 minutes while you prep the involtini.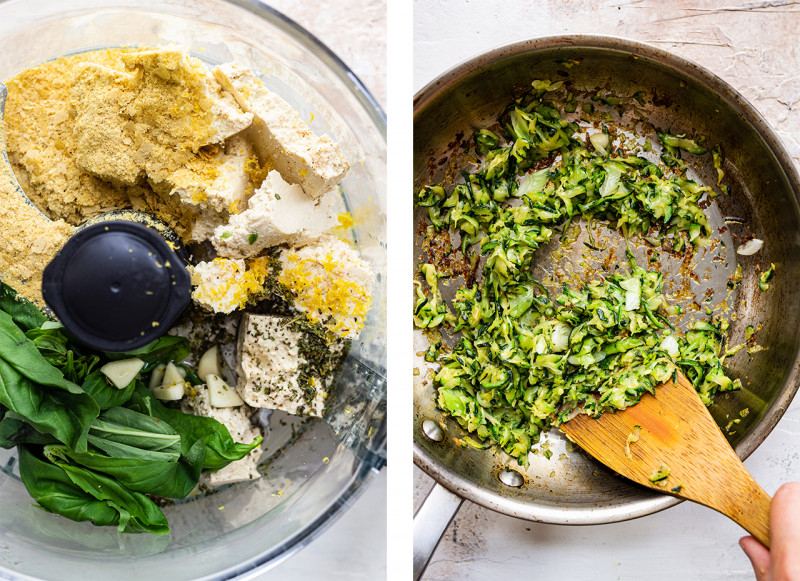 Sautée sqeezed out grated zucchini in a pan with some olive oil and spring onions, then add them to a food processor with the remaining filling ingredients.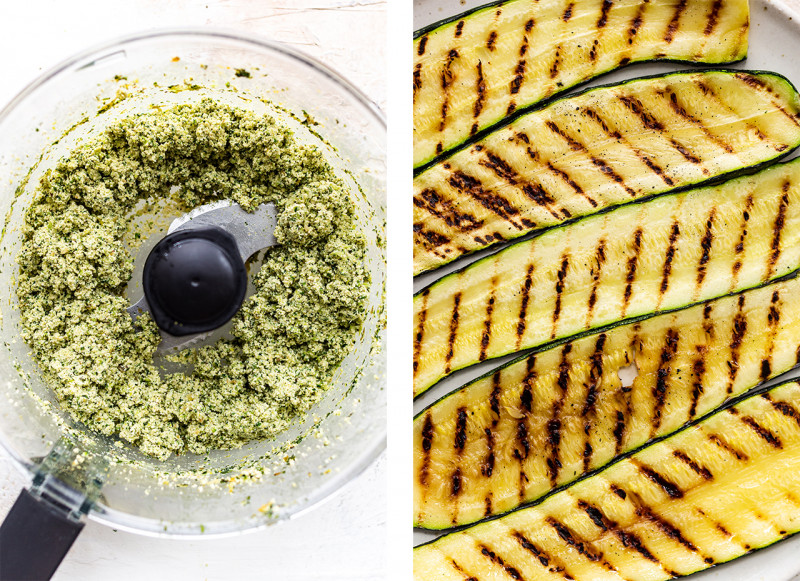 Adjust the seasoning of your filling to taste and char zucchini slices on one side to soften them and to partially cook them (and to make them look pretty once rolled!).
Place zucchini slices charred side down, place a heaped teaspoon of the filling at the widest end and wrap the slice around it firmly.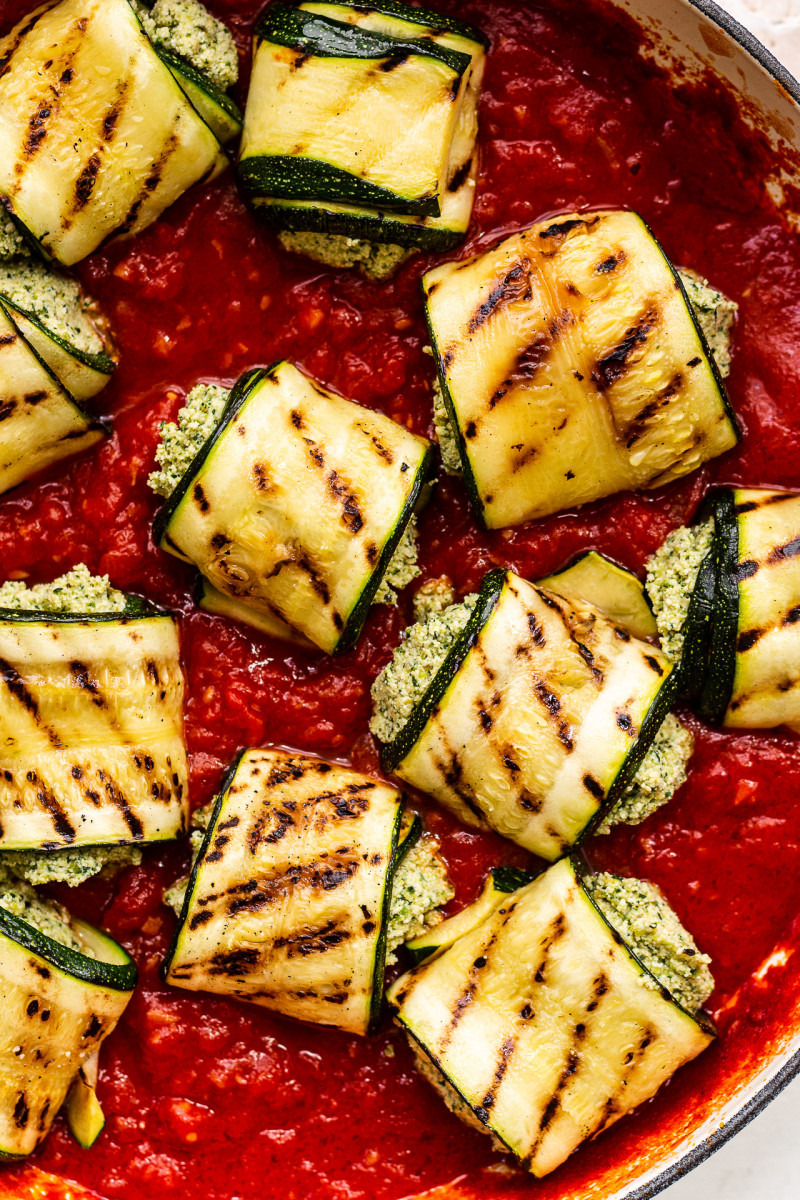 Arrange zucchini involtini in the pan with tomato sauce, seam down. Sprinkle with coarse breadcrumbs and pine nuts (or flaked almonds) on top if you wish. Bake until golden.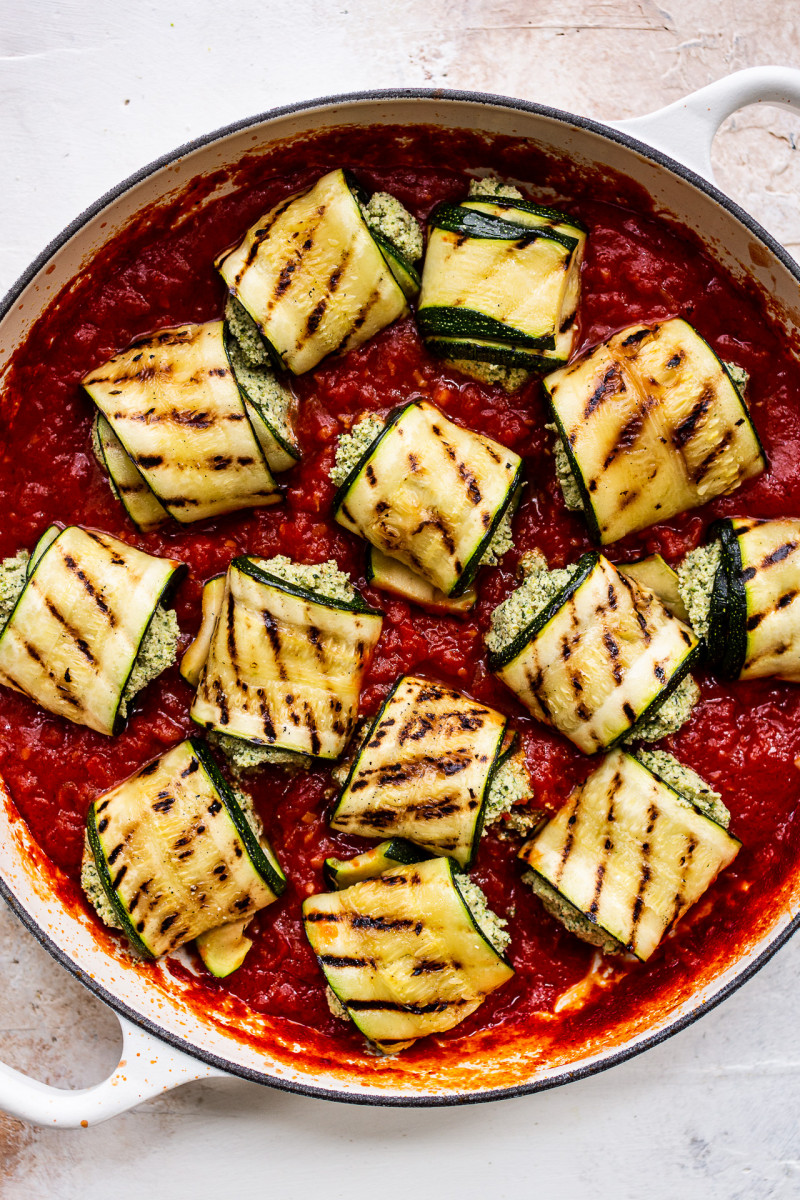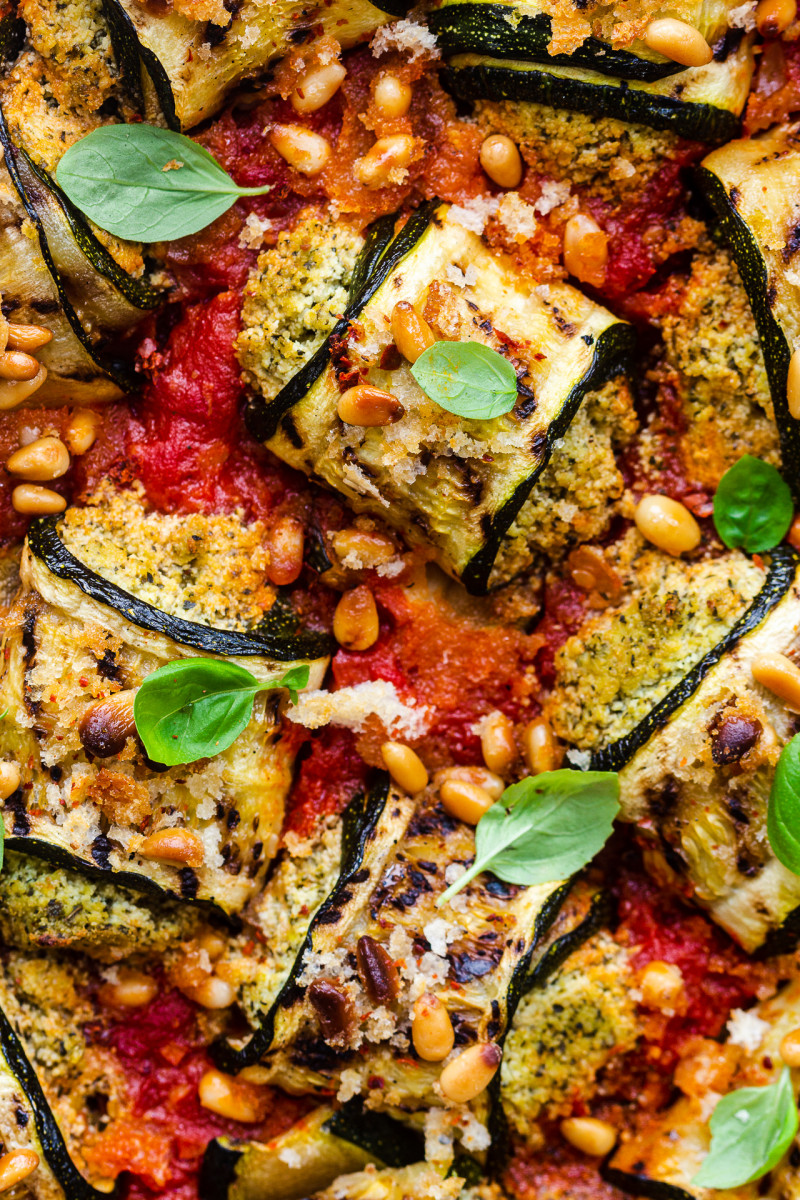 TOMATO SAUCE
800 g / 28 oz of quality tinned plum tomatoes*
2 tbsp / 30 ml olive oil
4 garlic cloves
a pinch of chilli flakes (optional)
salt & pepper, to taste
1 tsp sugar (optional)
INVOLTINI
750 g / 26.5 oz zucchini / courgette, divided
200 g / 7 oz firm cotton tofu*
20 g / 0.7 oz basil, more to garnish
2 tbsp nutritional yeast
1 garlic clove
¼ tsp dry mint, more to taste
black pepper, to taste
½ tsp fine sea salt, more to taste
2 tsp white / shiro miso paste (if unavailable add more salt and nutritional yeast)
freshly grated nutmeg, adjust to taste
zest of 1 lemon + 30 ml / 2 tbsp juice
30 ml / 2 tbsp olive oil, plus more to grease
2 spring onions / scallions, white and light green parts only
2 tbsp capers, finely chopped
GARNISH
2 tbsp coarse breadcrumbs (I make mine from leftover Turkish pide)
2 tbsp pine nuts or flaked almonds
10 ml / 2 tsp olive oil (optional)
METHOD
TOMATO SAUCE
Transfer tinned tomatoes and their juices into a large bowl and squash them well with a potato masher.
Heat up an oven-proof pan that you intend to use for this dish (a 30 cm / 11.5″ round pan works well). Add olive oil and minced garlic. Sautee on a low heat until garlic softens and becomes aromatic – don't let it brown.
Add squashed tomatoes, a generous amount of salt, pepper and a pinch of chilli (if using). Allow the sauce to simmer for 30 minutes on low-medium heat, stirring from time to time. Move on to preparing involtini.
After 30 minutes, the sauce should have thickened sufficiently – taste it and adjust the seasoning to your liking, including adding some sugar if the sauce is too acidic.
INVOLTINI
Using a sharp knife or a mandoline, slice zucchini lenthwise into 0.5 cm / ¼" thick slices. You will need approximately 16 slices for this dish. Keep the offcuts for the filling.
Preheat a griddle pan and brush one side of zucchini slices with a little bit of it. Place greased zucchini slices on the preheated pan and grill until faint char marks develop (you don't want to cook so much that they break) on one side only. Take off the pan and allow them to cool.
Coarsely shred the rest of zucchini, including the offcuts. You will need 300 g / 10.5 oz (about 2 cups lightly packed) of shredded zucchini. Stir ½ tsp of salt through the shredded zucchini, place it in a sieve and allow it to sit for 20 minutes or so.
Place drained tofu, basil leaves, nutritional yeast, garlic (you could also pan-fry it first in step 6 if you prefer mellow garlic flavour), mint, pepper, miso, lemon zest and juice, grated nutmeg in a food processor, process until well combined. Set aside.
Once zucchini has released water, squeeze handfuls of shreeded zucchini in the palm of your hand to extrach more moisture. Go over it twice just to be sure it's as dry as it can be.
Heat up 2 tbsp of olive oil in a small pan, add sliced spring onions. Fry for a few seconds before adding grated zucchini. Sautée it for a few minutes until everything has softened and there is a bit of caramelisation going on. Stir often.
Add sautéed zucchini and spring onion to the tofu mixture. Scrape the pan well, including any caramelised bits – they add flavour. Process until well combined. Stir chopped capers through (you could process them too if you prefer smooth texture). Taste and add salt if needed.
Pre-heat up the oven to 200° C / 390° F.
Place a slice of zucchini charred side down. Add a heaped teaspoon of the filling at the thicker end and roll the slice up around the filling. Place it in the tomato sauce, seam down. Carry on until you've used up all of your zucchini slices.
Sprinkle the dish with coarse breadcrumbs and raw pine nuts coated in a little olive oil and bake for about 30 minutes, until the sauce thickens, the filling is set and the breadcrumb and pine nut topping is golden.
NOTES
*TINNED TOMATOES: You could use fresh ripe tomatoes, but as they are more watery, the sauce is likely to need longer simmering.
*TOFU: You could also use presoaked (for at least 20 minutes in boiling water) cashews.
NUTRITIONAL INFO
*per a quarter of the dish