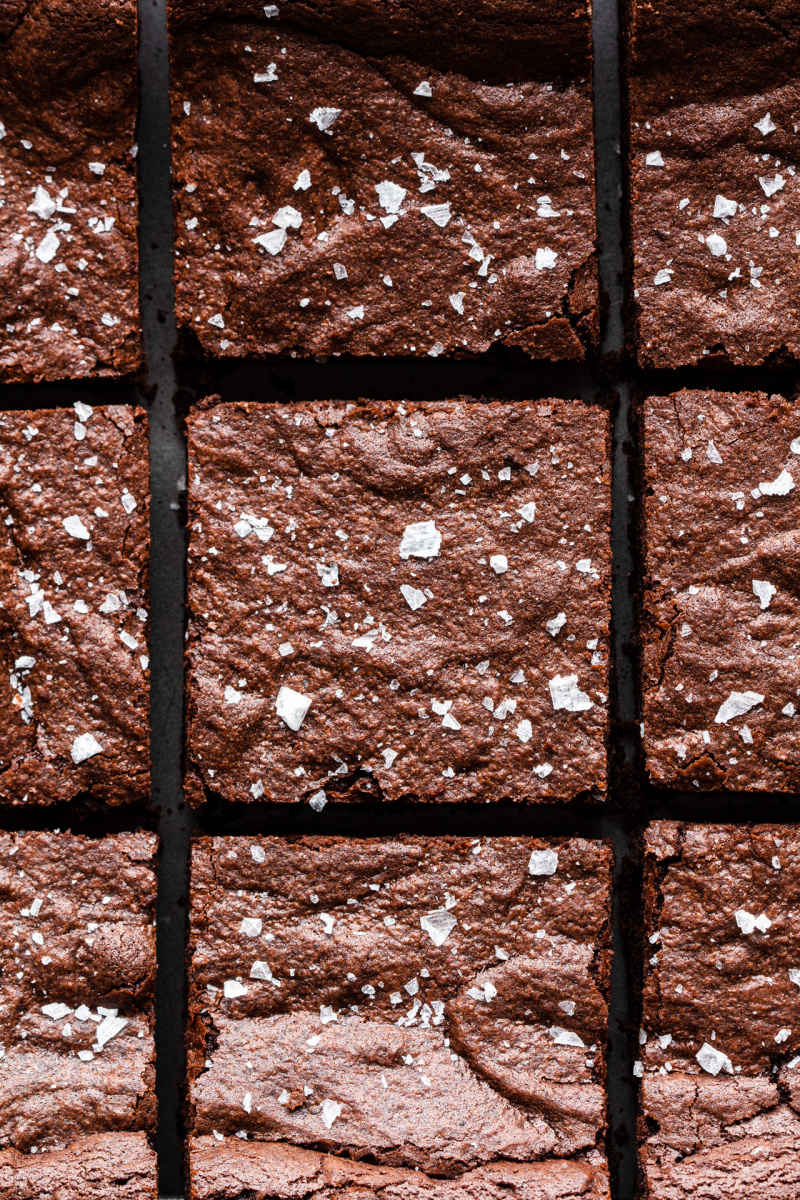 Hope you guys have had a good week and perhaps feel like a spot of weekend baking? If so I have a new recipe to offer up, which is super easy to make and guaranteed to brighten up your weekend. I made a tray of simple vegan brownies featuring a crackly top and a fudgy interior. I've resisted the temptation to add any nuts or extra chocolate to the batter as I wanted a simple, base recipe this time, but you can make them your own, of course.
Cos I'm in a bit of an indulgent mood this week, I've made no attempts to make these brownies healthy – so unlike me, I know! They are based on my last year's recipe for flourless brownies, which are rather popular, but I used oil instead of nut butter and plain flour instead of almond flour. There is a bit of a debate in my house as to how sweet these guys should be. Duncan loves them as sweet as they are and says that if I am going all out I should go all out – you cannot argue with that – but…but I personally prefer them a touch (2 tbsp or so) less sweet. Sweetness is always up for a debate as it's such an individual thing so adjust to your preference but please remember that sugar is responsible for so much more than just sweetness in baked goods, it provides moisture and structure, which are both crucial, especially in the absence of eggs.
What makes these brownies so good is the use of good old aquafaba, which I've been experimenting with pretty much since the inception of this blog and I've used it in countless recipes to great effect. For the newish or budding vegans amongst you, aquafaba is nothing to be scared of. If you can consume chickpeas (you can obtain it from other pulses too but I eat so many chickpeas that I've stuck with chickpea aquafaba), you are fine to consume aquafaba as it's simply the water chickpeas have been cooked in. It is often traditionally consumed in many cuisines, where it is added to soups, stews and dips to thicken them and add a velvety texture. So don't believe it when people tell you that it's harmful – pulses are one of the healthiest things on the planet. While you can simply open a can or a jar of chickpeas, I find that it is so much better and cheaper to just make it yourself from dry chickpeas and if you cannot use it up straight away, you can always simply freeze it for later.
While some recipes, like this chocolate or peanut butter mousse, require aquafaba to be whipped to stiff peaks (which can take a bit of practice to get right), this recipe is way simpler and there are virtually no pastry skills required. Aquafaba simply needs to be foamy and frothy (see photos below), which happens within seconds so don't be put off. Making brownies with aquafaba rather than flax (like this recipe) also has the advantage of there being no bits of flax getting stuck between your teeth. As you can tell, I am a big fan of this waste-free egg white replacer devised by a genius French tenor. It amuses me when people tell me 'it's gross' – really? Do you realise eggs come out of a chicken's bum?! – and I hope to encourage more and more people to use it for the sake of reducing waste, saving male baby chicks and helping our dying planet.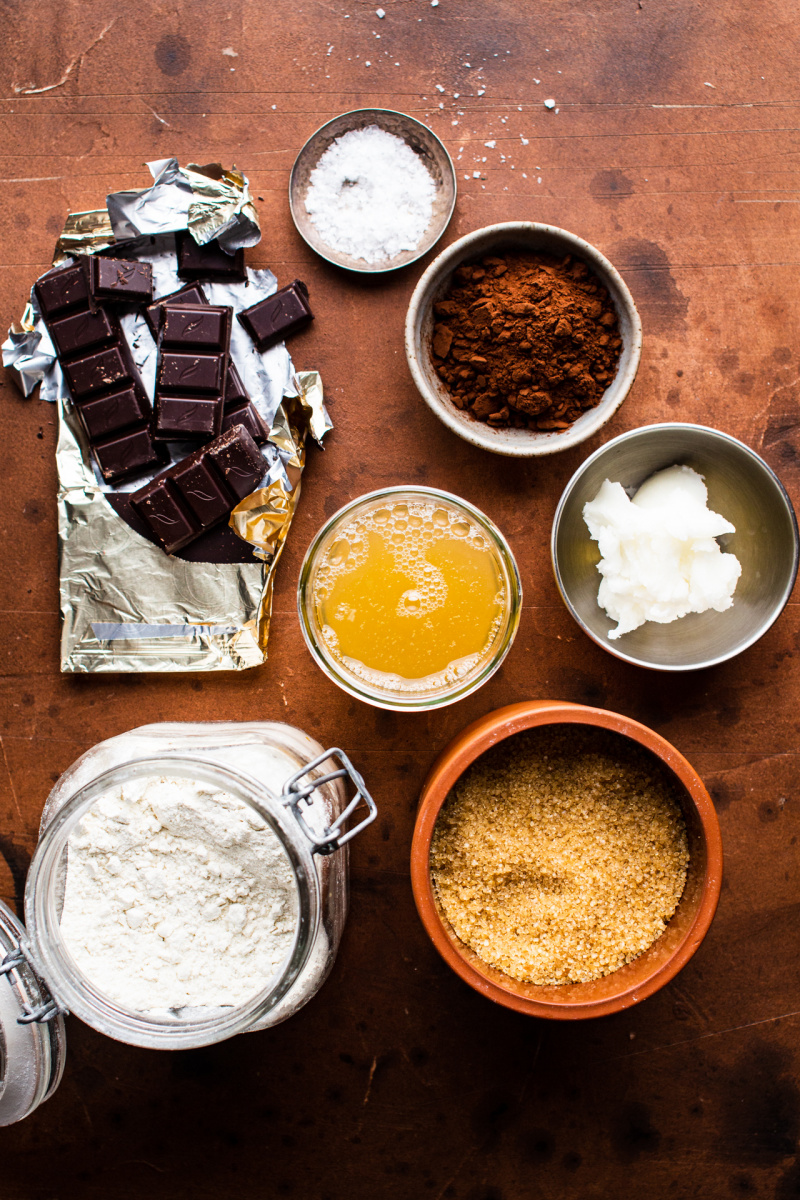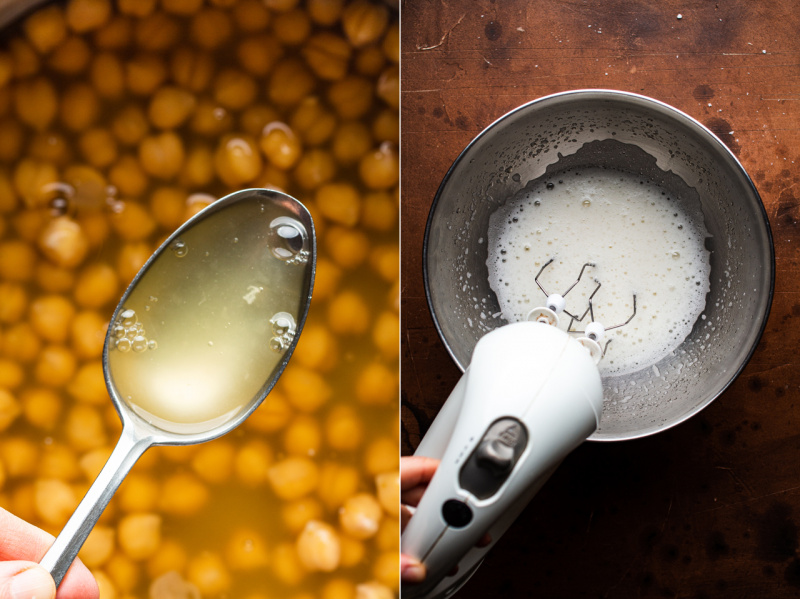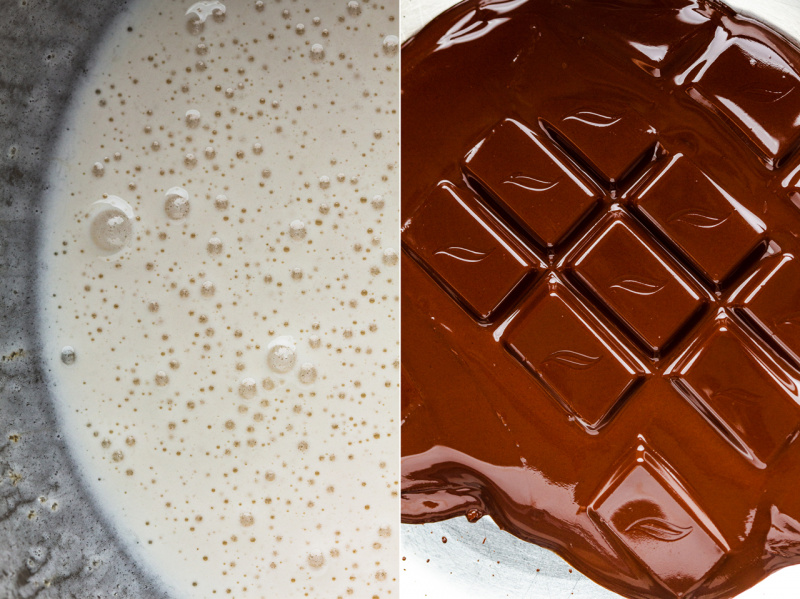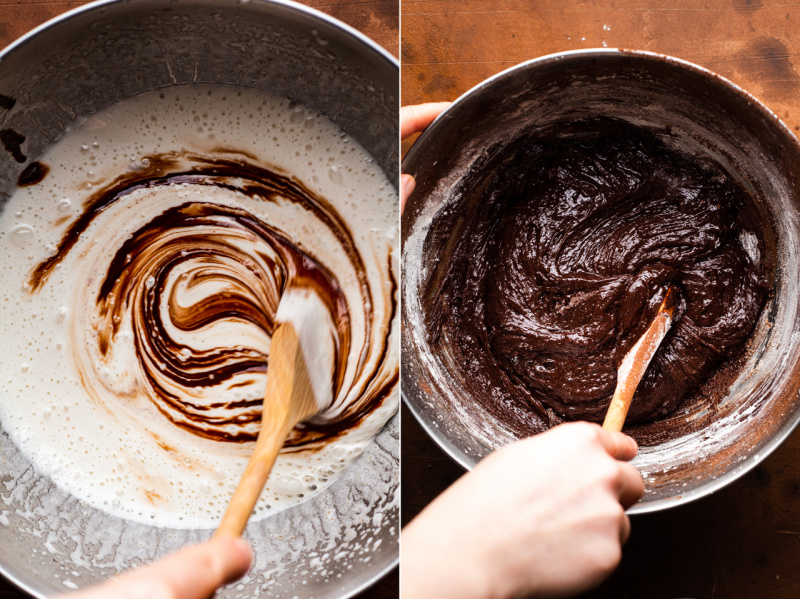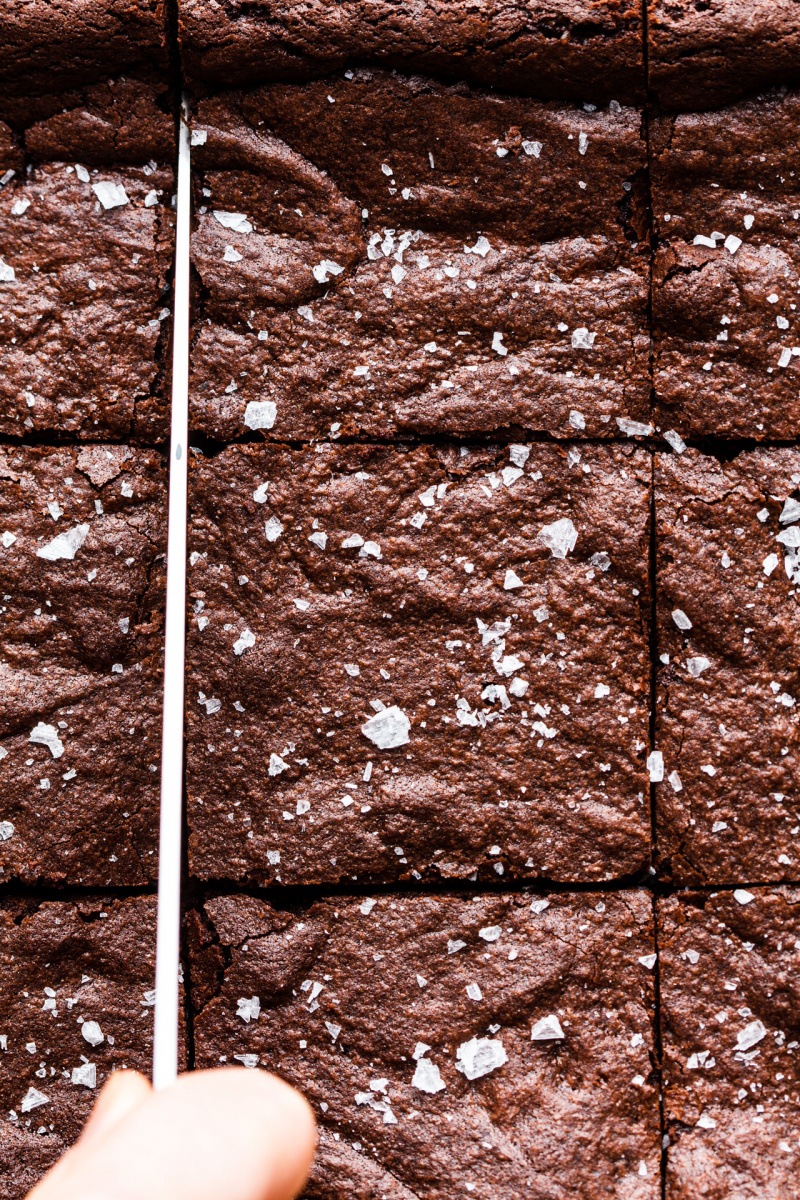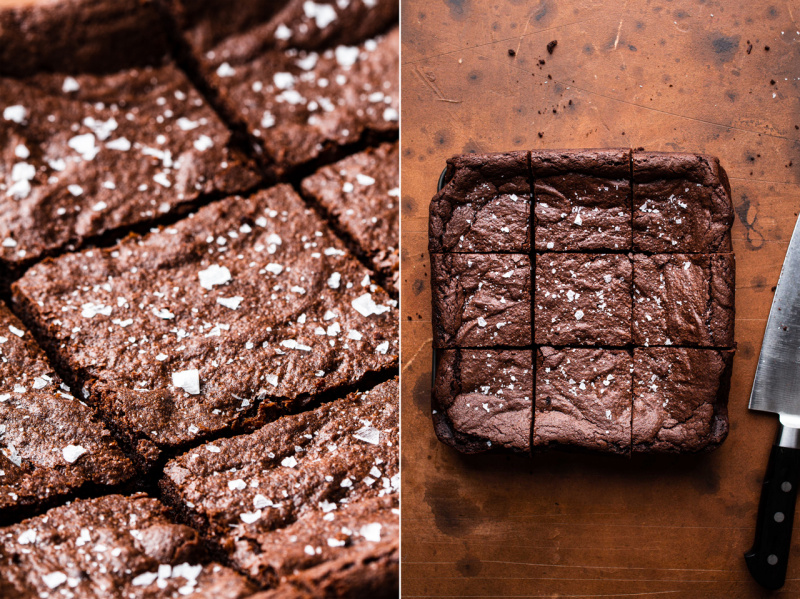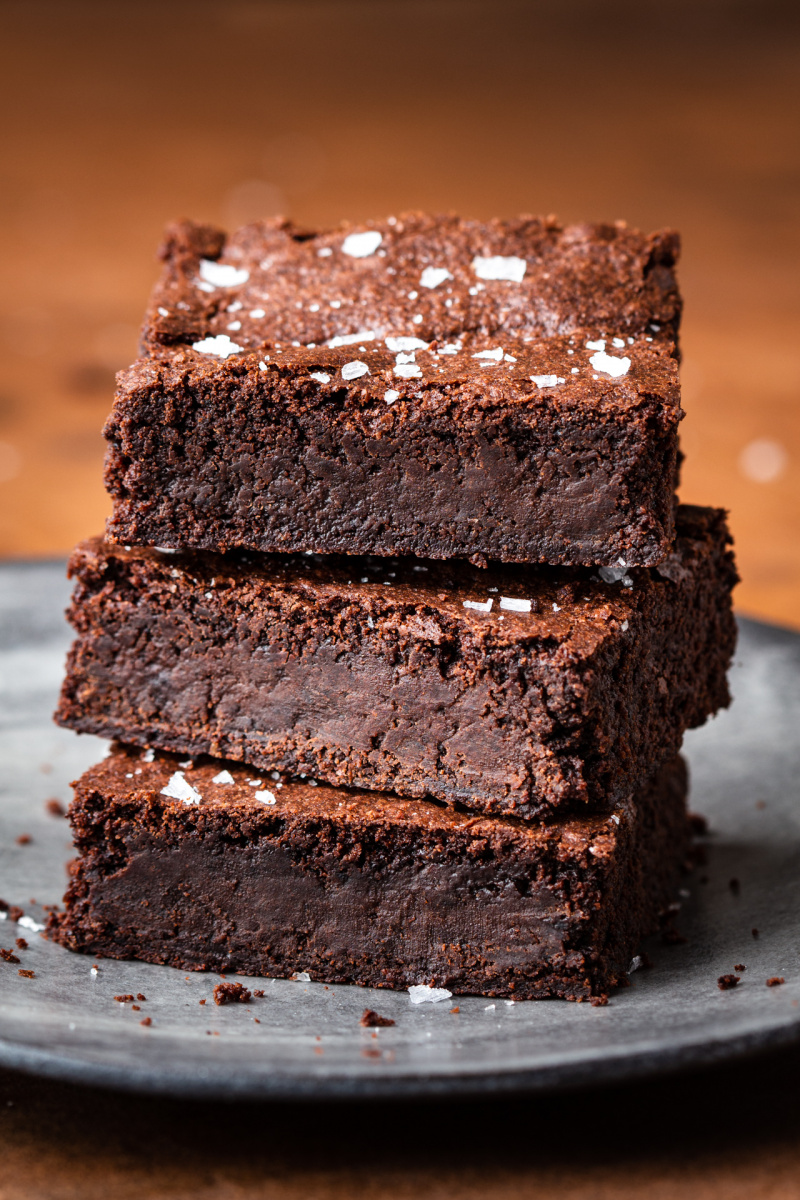 150 g / 5¼ oz vegan 70% cocoa dark chocolate
100 g / ½ cup odourless coconut oil (or vegan block)
120 ml / ½ cup aquafaba (chickpea brine), from a tin or from home cooked chickpeas
200 g / 1 cup sugar* (caster sugar gives you the crispiest outer shell, but coconut sugar works well too!)
160 g / 1¼ cups plain flour / all purpose flour**
50 g / scant ½ cup unsweetened cocoa powder
½ tsp salt
¼ tsp baking soda (GF certified if needed)
¼ tsp baking powder
METHOD
Place broken up chocolate and coconut oil in a metal or glass bowl suspended over a bain-marie / water bath. Melt very slowly (on a low heat) and make sure the bowl with chocolate does not touch the water underneath as chocolate does not tolerate intense heat.
Preheat the oven to 180° C / 355° F. Line a 20 cm x 20 cm  / 8 inch x 8 inch baking tin with baking parchment. Make the baking parchment stick out of the tin so that you're able to remove the brownies from the tin a little easier.
Whip aquafaba with an electric whisk until foamy (there is no need to achieve stiff peaks for this recipe).
Gradually add sugar to the aquafaba, whisking well after each addition.
Using a spatula, fold melted, lukewarm but not hot, chocolate and coconut oil mixture into the aquafaba mixture.
Place a sieve over the bowl and sift through all of the dry ingredients in batches, mixing well until no cocoa or flour pockets remain. The batter should be fairly thick.
Transfer the batter into the prepared baking tin and spread it into the sides and corners with a spatula.
Bake on the middle shelf for about 23 minutes. Baking time depends on how fudgy you like your brownies and on your oven, but when it comes to brownies it's better to underbake them than to overbake them***.
Allow the brownies to cool down completely (!) before cutting with a sharp knife.
NOTES
*I used 150 g / ¾ cup caster sugar and 50 g / ¼ cup demerara sugar. You can certainly use less sugar if you prefer, I would suggest no less than 150 g / ¾ cup as it will affect the structure and texture of the brownies.
**Use 1 cup all purpose GF flour mix and ¼ cup tapioca starch for GF version.
***It's hard to determine when brownies are cooked right due to the fact that they should be quite dense and wet inside. One way to get an idea is to insert a toothpick in the middle of the baking tray and if it comes out just a bit gooey (not overly wet), they are probably ready.
This recipe is based on my flourless brownie recipe.