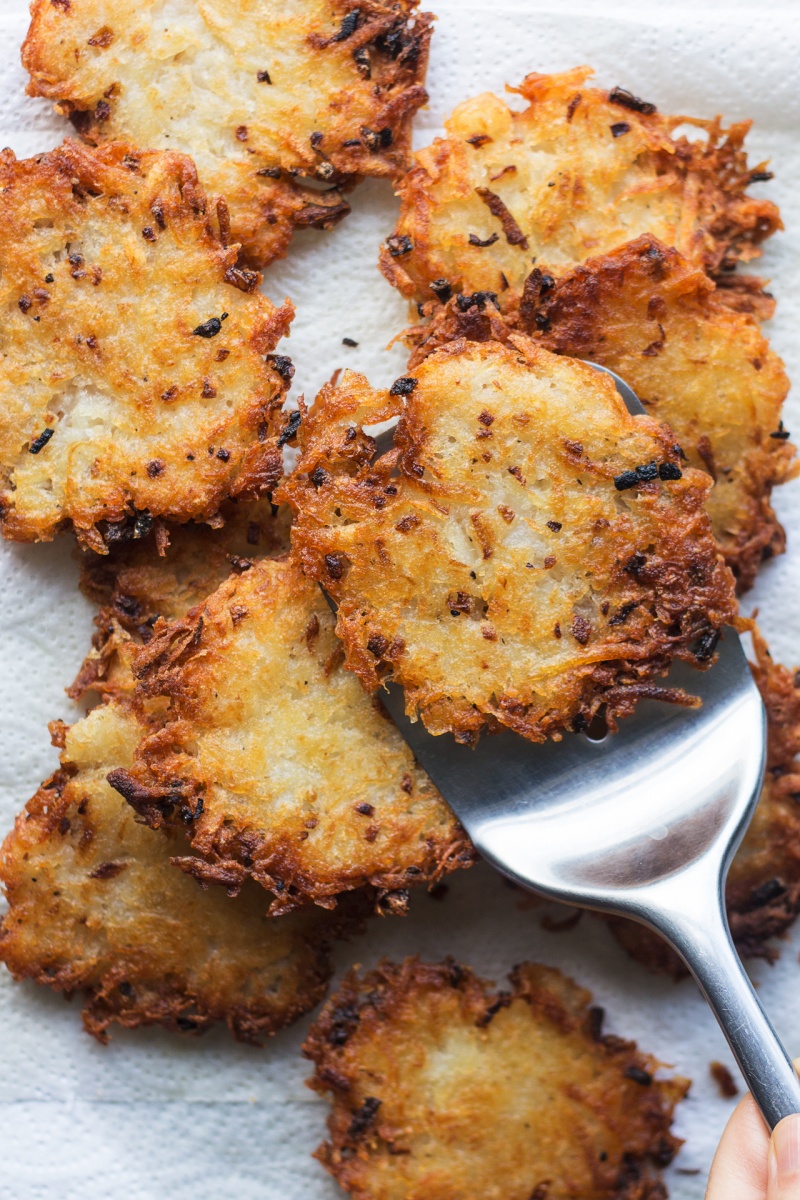 Welcome to Lazy Cat Kitchen Latkesfest 2.0 😉 . They are much, much simpler than my original version and they taste better too! If that's not a win, I don't know what is! They taste so good in fact, that on the day of the photoshoot, I ate so many that I had to skip supper! This never happens and I am not proud (and running with close to a dozen latkes bouncing around in your stomach is tough….rookie error, Ania!!), but they are SOOOOO GOOD – I could and would not stop!!
Even though I don't really cook traditional Polish dishes, these eggless latkes took me back home instantly and I realised that I missed having them lots. We used to have them fairly regularly at home when I was growing up. Even though my mum shares my dislike for frying things and using too much oil, she would make an exception in this case. They are my Dad's absolute favourite food. I often joke that he is about 75% latkes and the rest is probably red wine 😉 . He likes them so much that when Mum lost her love of cooking when me and my brother left home, he found a restaurant that makes them to his liking and takes mum there to get his monthly latkes hit.
Latkes, which Polish cuisine owes to its Jewish population, are very divisive. Everyone has their unshaken preferences when it comes to these golden potato cakes. Some like them grated finely, with only a little crispy edge and some like them thick and 'meaty' in the middle, more like pancakes. Others like them grated coarsely, crispy all over. Some people eat them with a dollop of sour cream (I'm defo in this camp) while others prefer them with all kinds of sauces – a meaty gravy called 'hunter's sauce' and a mushroom gravy are both popular. I also know that some people like to have them with applesauce, but that's not so popular in Poland, as far as I know.
These super easy eggless latkes are just the way I like them, I hope you don't mind?! I combined coarsely and finely grated potatoes for a textural contrast of generous crispy edges (which many people refer to as 'koronka' meaning 'lace' in Polish) and some 'toothiness' in the middle. They are best fresh off the pan but they can also be reheated in a warm oven if you have any leftovers – I very much doubt that 😛 . I serve mine with a thick cashew cream generously seasoned with lemon juice and a pinch of salt for a dairy-free sour cream alternative. It's quick to whip up and especially after it has been refrigerated, it brings this lovely creamy and cooling quality to the hot and crispy latkes.
So…If you love latkes and are looking for an uncomplicated vegan recipe, I hope these will hit the spot. And if you have never had latkes, what are you waiting for? Get frying!! You've got nothing to lose and I can guarantee that they will steal your tastebuds. I mean POTATOES. FRIED. GOLDEN. What's not to love?!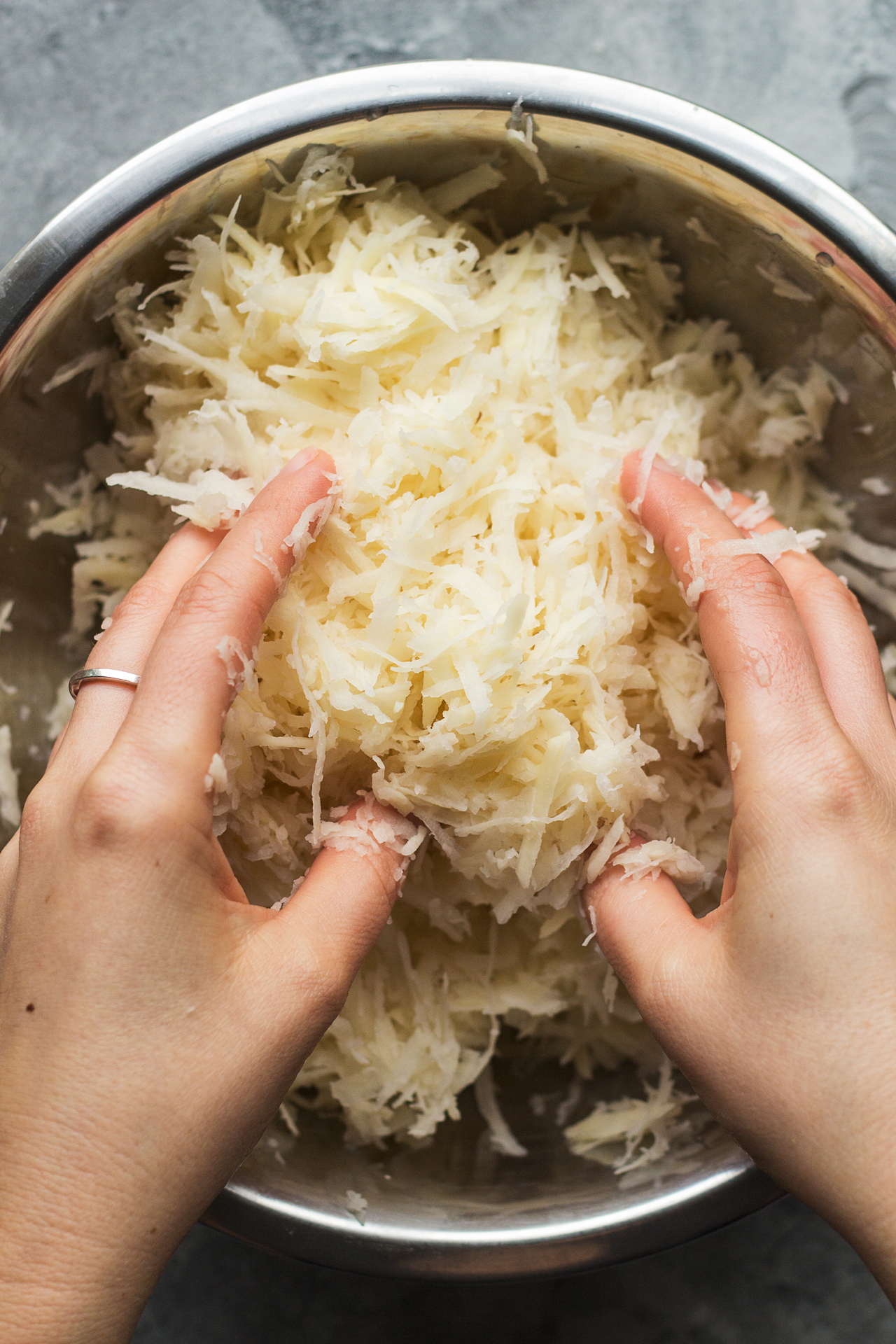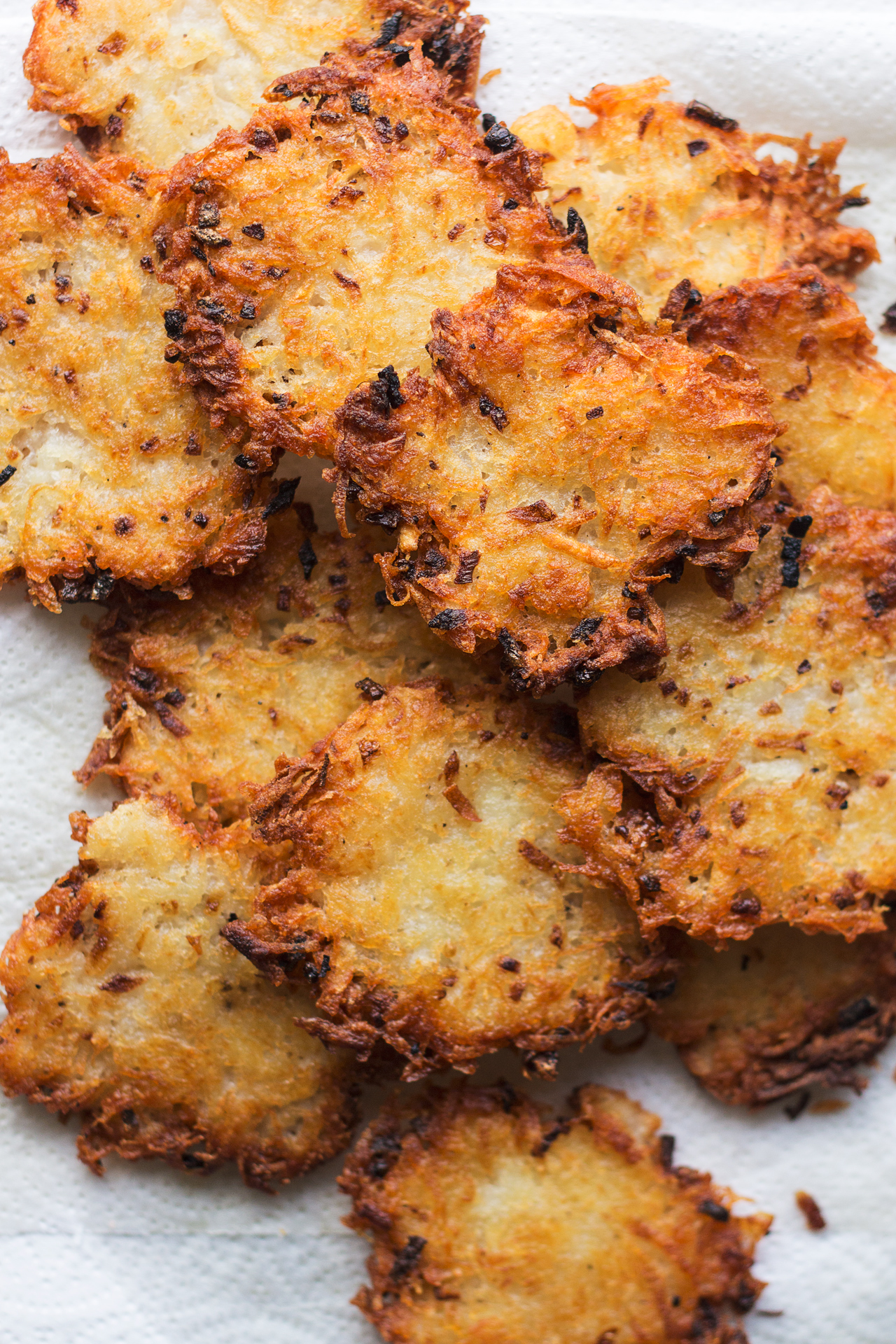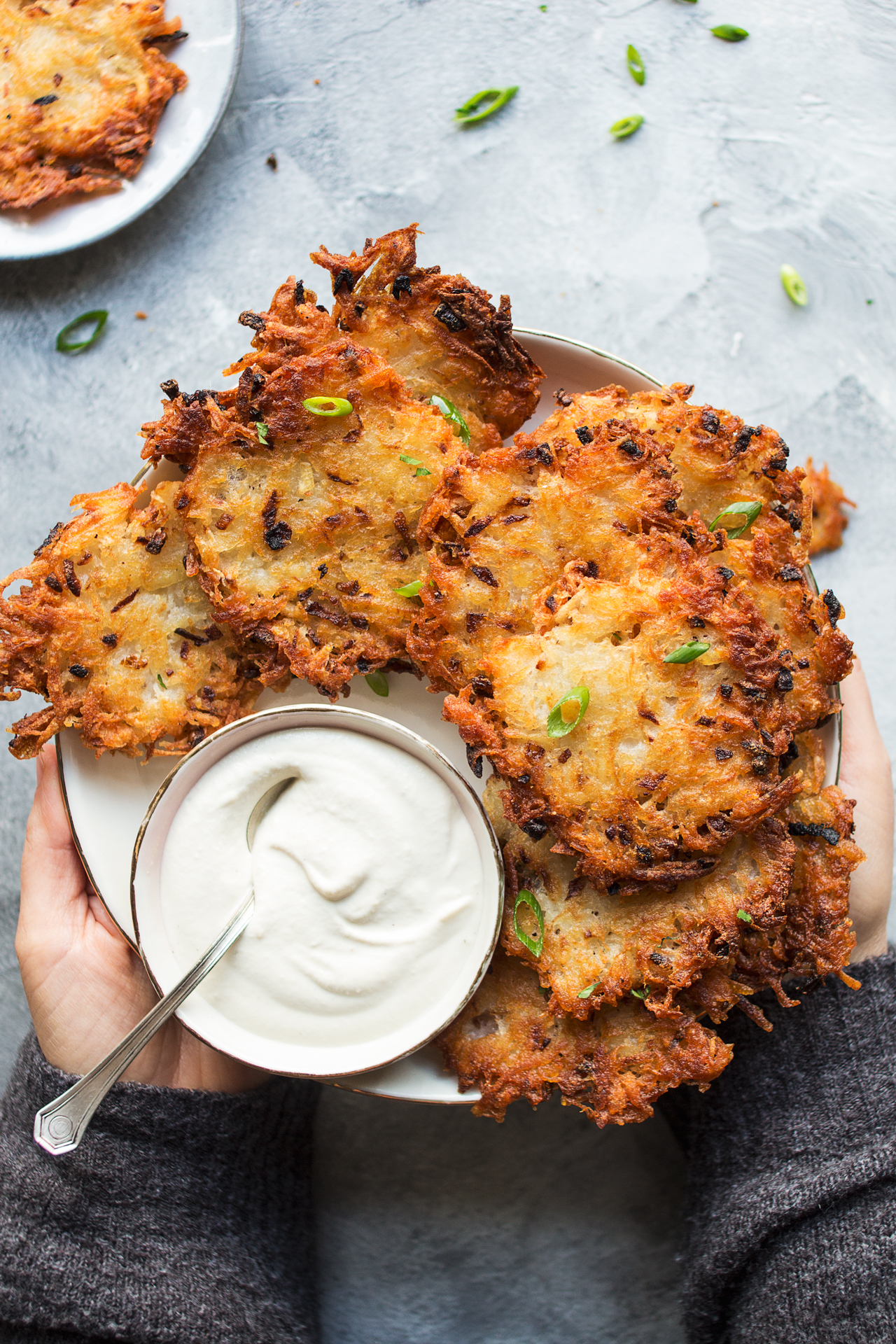 SOUR CASHEW CREAM
juice of 1 lemon, adjust to taste
1 cup raw cashew nuts, soaked in boiling water for 30 min
salt, to taste
LATKES
1 kg / 2 lb starchy potatoes (I used Maris Piper)
1 small onion, very finely grated or diced
1 tsp fine salt, more to taste
freshly ground black pepper
3 tbsp flour (I used Dove's Farm free from to keep the latkes GF, but rice flour or all purpose wheat flour works well too)
oil, suitable for frying (I used rice bran oil)
METHOD
SOUR CASHEW CREAM
Pour 60 ml / ¼ cup of water and the juice of half a lemon into the blender. Add the drained and rinsed cashews and blend.
Taste the mixture. If you want more tanginess, add more lemon juice, otherwise add more water to get the mixture smooth, but still thick (I added 120 ml / ½ cup liquid in total). Season with salt and set aside in the fridge (overnight if you can, but it is not necessary!)
LATKES
Grate half of your potatoes coarsely and half very finely. Place the grated potatoes in a large bowl filled with water. This prevents discoloration and it also allows you to separate the potato starch from the potatoes easily.
Once you are done grating, remove the potatoes from the water with a slotted spoon and place them on a fine sieve. Using the back of a spoon, keep on pressing the potato mixture into the sieve gently to allow excess water to drain away. Additionally, you may want to wrap the drained potatoes in a clean kitchen towel and squeeze as much water out of them as you can. You can also use your hands and squeeze little handfuls of them instead – it's more time consuming but easier on the cleaning. This step is very important as the drier the potatoes, the crispier your latkes will be.
Gently tip the bowl that the grated potatoes were sitting in and drain away the water to reveal a pool of potato starch set at the bottom of the bowl. Don't throw that away, we will add it to the latkes mixture to maximise crispiness.
In a large bowl, combine the dry grated potatoes, grated onion, salt and pepper. Then add the flour and the dry potato starch that has gathered at the bottom of the bowl, making sure you don't add any water back in. Mix it up really well.
Heat up a wok or a frying pan on the stove. Pour enough oil to cover the bottom of the pan and heat up the oil. Once the oil is hot, scoop a tablespoon worth of the latkes mixture and press it between two tablespoons to make the mixture nice and compact. Lie the mixture on the hot oil (you should hear a loud sizzle as soon as the mixture hits the pan) and flatten the latke a little. Depending on the size of your pan and the size of your latkes, fry 3-4 latkes at a time.
Fry on one side for about 3-4 minutes. Do not flip the latkes over until they are browned all over on one side – you'll notice the edges will turn brown, that's the time to flip. Flip them to the other side using a flat spatula. Fry until the other side turns golden brown too (about 3-4 minutes). Remove from the pan and place on a plate lined with kitchen roll to soak away any excess oil.
Put the ready latkes in a warm (100º C / 210º F) oven while you fry subsequent batches.
Serve warm, topped with chilled cashew sour cream.