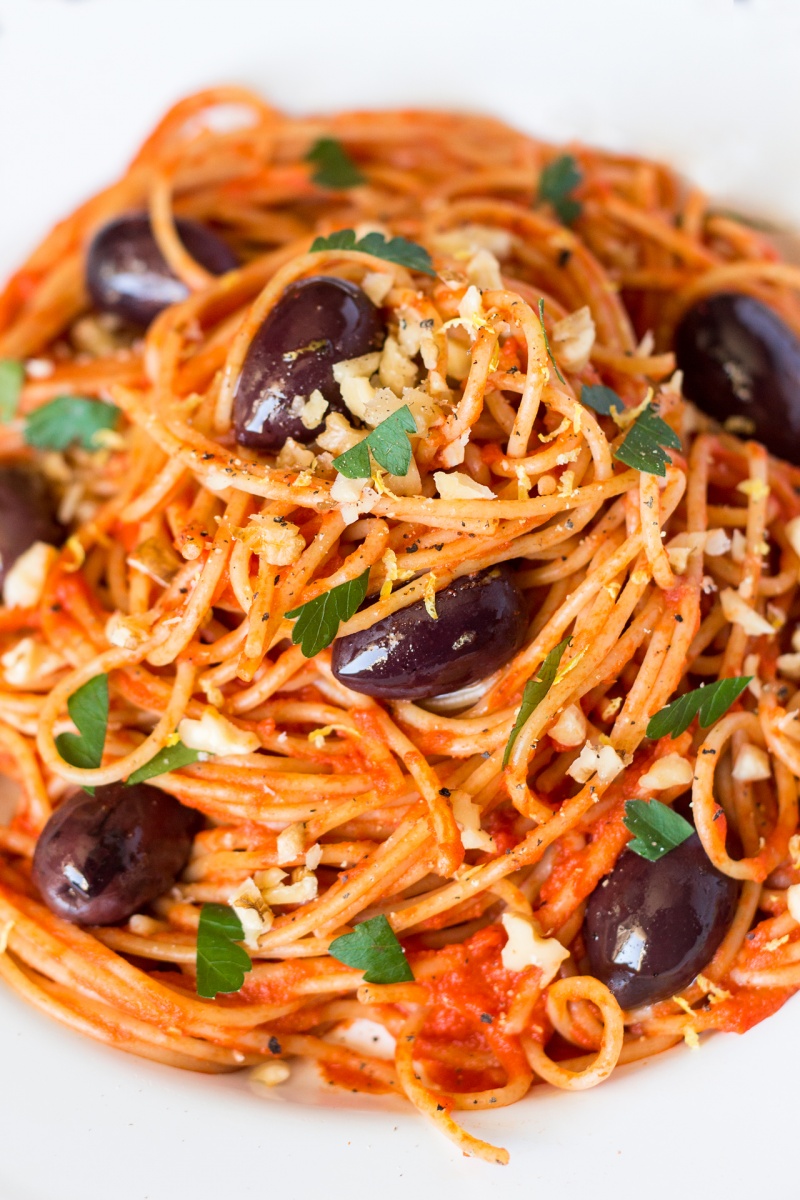 As much as it pains me to admit this my life isn't all about making dainty vegan desserts. Sometimes real-life stuff gets in the way and the girl cannot afford to spend hours in the kitchen agonising over the consistency of her lemon curd or the level of sweetness of her chocolate cake.
Sometimes the girl wants the dinner to make itself so that she can focus on other stuff. This is exactly where this vegan tomato sauce pasta comes in.
This dish simply makes itself. All that is required of you is to chop up some garlic and to give the sauce a good stir every now and again.
Although usually I'm a passionate advocate of using real, unprocessed ingredients, it is still winter here (I know I said on Friday that spring had arrived but turns out that Greek weather has had a change of heart) so there are no sweet, sun-ripened tomatoes to be had.
So in this recipe I used good quality tinned tomatoes for the sauce. After all, they would have been picked and preserved at the height of Greek tomato season so they are bound to taste better than greenhouse tomatoes available at this time of the year, right? That's my logic anyway.
This sauce is a basic vegan tomato sauce with a pinch of chilli thrown in for good measure. You are welcome to put your own spin on it. Fresh or dry oregano, basil and parsley are all good additions as is a little bit of onion (fried with the garlic) too.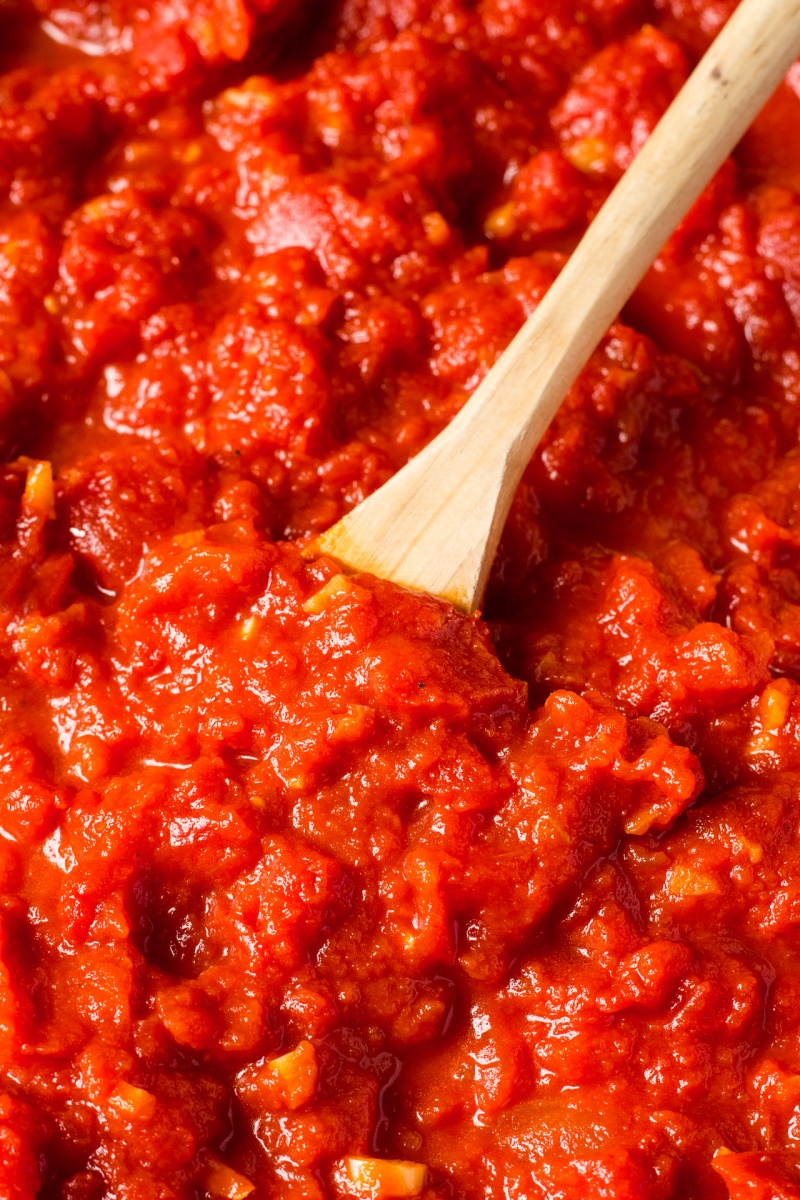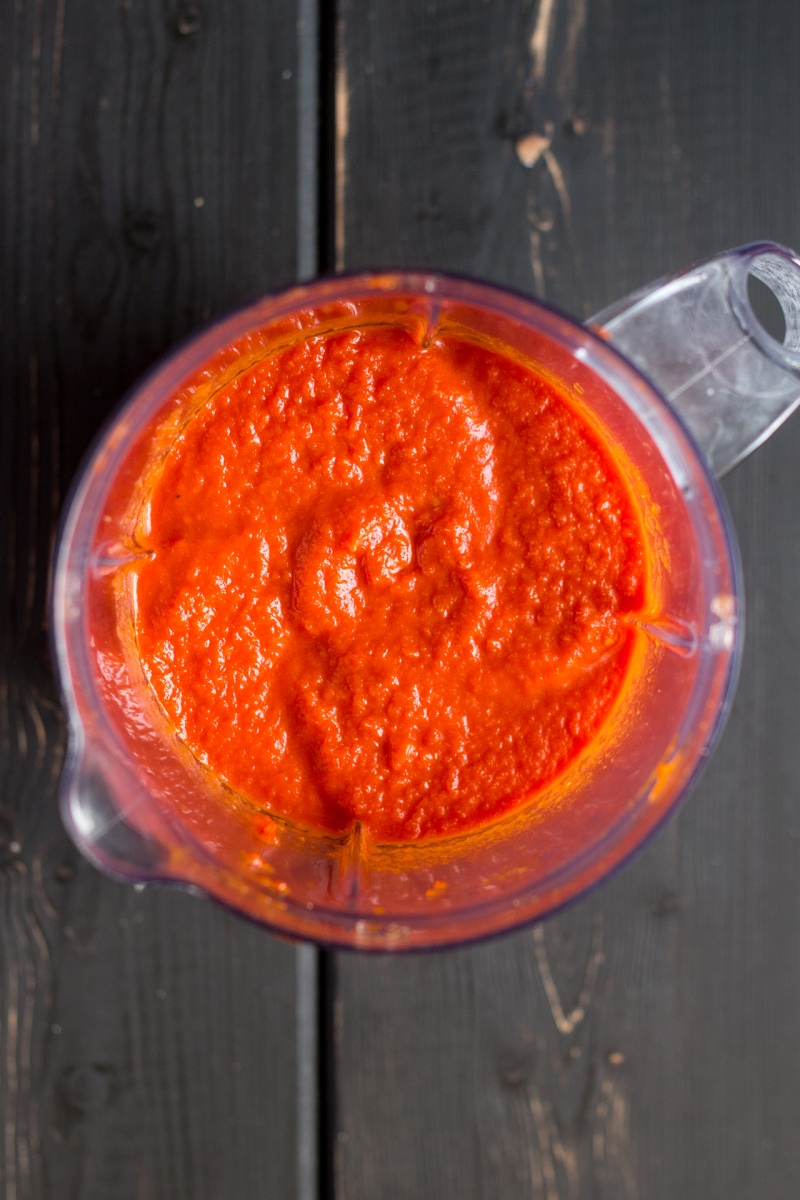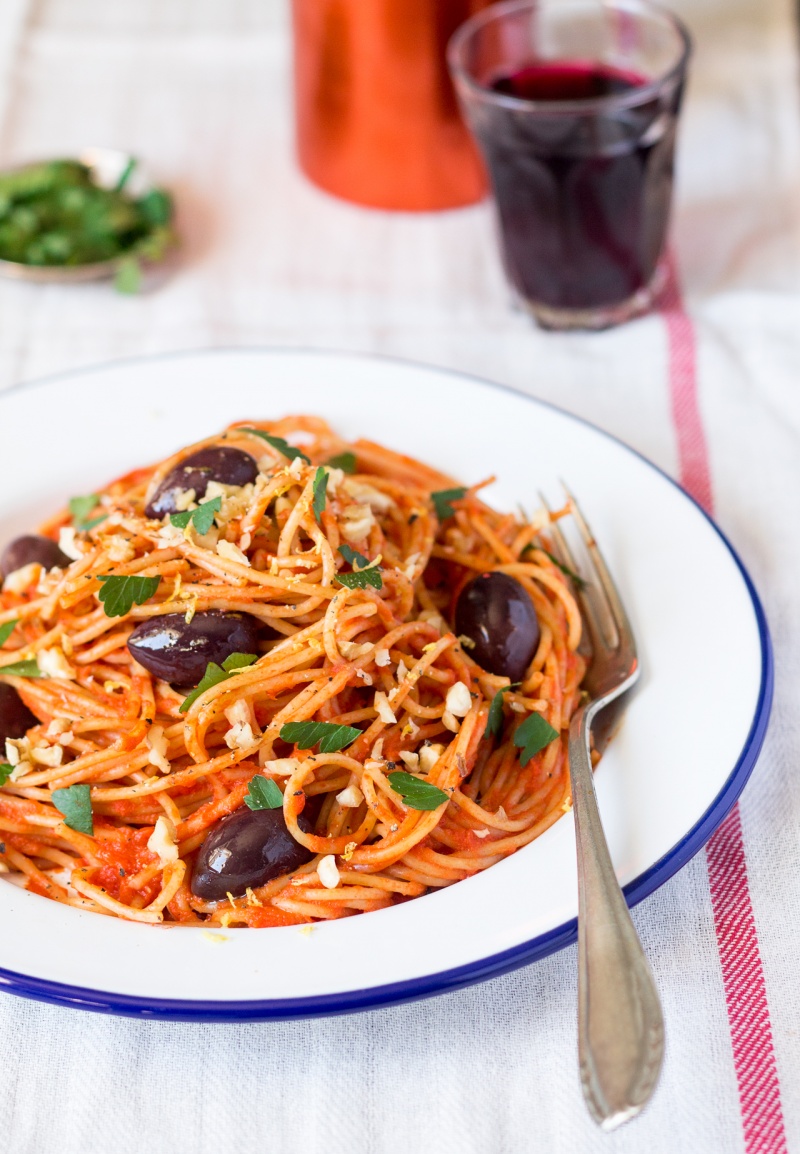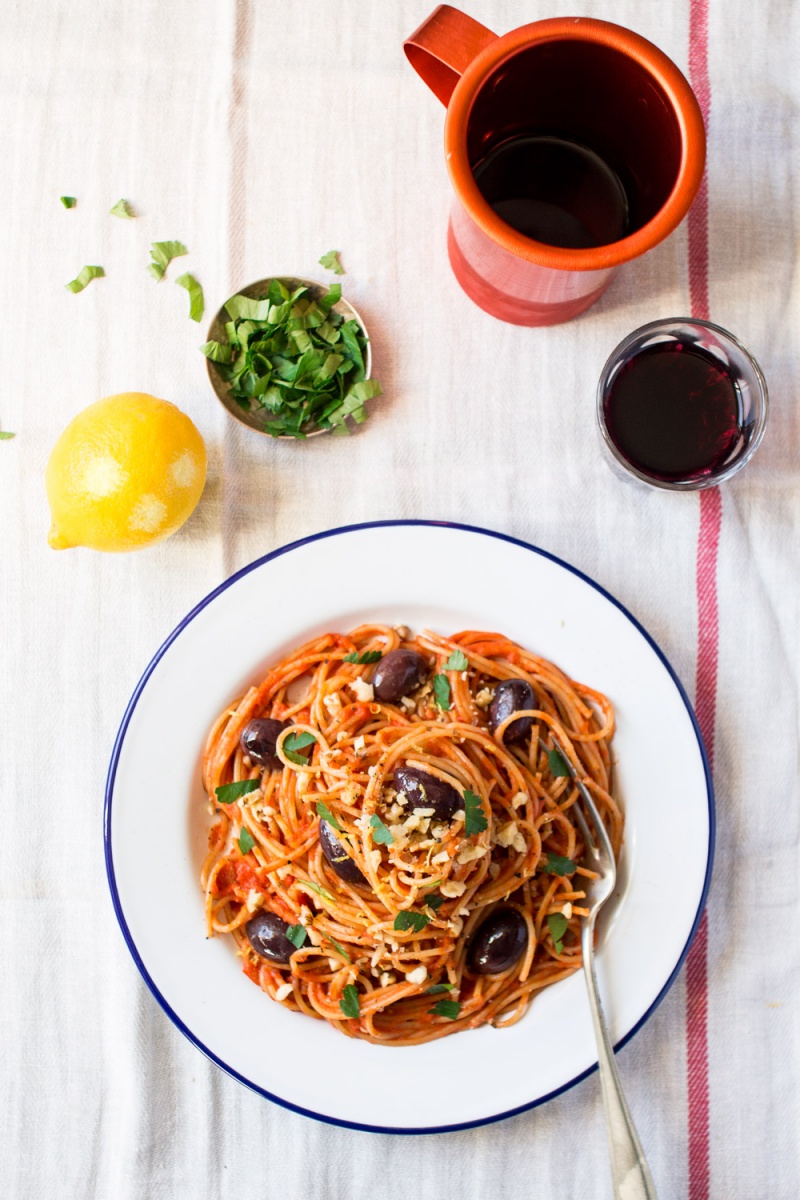 TOMATO SAUCE
4 x 400 g / 14 oz tins of quality chopped tomatoes or plum tomatoes
2 tbsp / 30 ml olive oil
5 garlic cloves, finely diced
240 ml / 1 cup vegetable stock or water
3 tsp brown sugar
1-1¼ tsp sea salt
pepper, to taste
½ tsp hot chilli powder or flakes (optional)
large sprig of basil (optional)
REMAINING INGREDIENTS
handful of Kalamata olives
handful of chopped walnuts
1-2 tsp lemon zest
fresh parsley, to garnish
cooked pasta of choice (gluten-free for GF version)
METHOD
Heat up olive oil in a large frying pan.
Throw in garlic and stir-fry it on low-medium heat until it softens and becomes fragrant.
Chuck in tinned tomatoes. If using plum tomatoes squash them with a potato masher first before adding to the pan. Now add stock or water (I tend to rinse my tins out with it to get all the tomato goodness out), add 1 tsp of salt and chilli and simmer (without a lid) on a low heat for about 45-60 minutes giving it a good stir every 10-15 minutes. You want the tomatoes to break down fully and the sauce to thicken so that it coats your pasta nicely.
Towards the end of cooking time, add a large spring of fresh basil and submerge it in the sauce to release its beautiful aroma. Season the sauce with sugar (to neutralise citric acid used to preserve the tomatoes), pepper and more salt if needed. You can also add a bit more olive oil if you want it to be richer.
If you want your sauce to be smooth, transfer it into a blender and give it a good whiz. I usually skip this step as I don't mind my sauce a little chunky.
Mix the sauce into freshly cooked pasta. Serve with a few olives and a sprinkle of wanuts, lemon zest and fresh parsley.