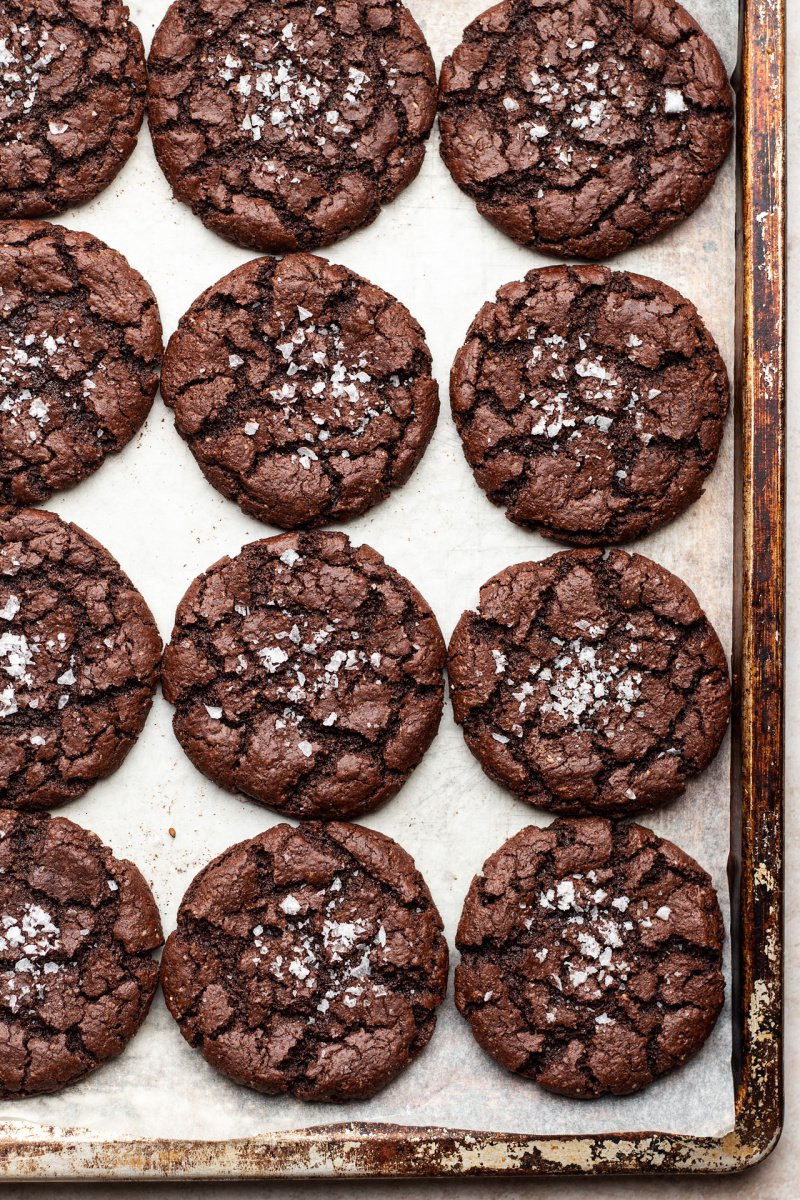 This past week has been very emotionally draining and I really feel the need to take it easy this weekend. After a week of freezing cold downstairs, we now finally have two working radiators in our newly opened up living space, so spending time in my kitchen is a pleasure again and having painted the wall the radiators hang on, we are finally able to get a glimpse of what our living room will eventually look like. It's motivating to keep going despite some short term discomfort.
What's been hard, apart from constant cleaning and DIY, was squabbling with the builders. They have done a decent job overall, but there was some drama as they left a lot of mess around the newly opened space, knowing I will need to get it cleaned off before I decorate and despite me reminding them to do it well before they clocked off for the day. I ended up cleaning some of it myself and only painted behind the radiators as a result, as they promised to put it right when they install the radiators on Thursday. They did clean it, but their heart was clearly not in it and so I will now have to go over it again. Sigh.
They also broke one of the original floorboards while prising an adjacent floorboard up in order to install the heating and then lied to me about it! Apparently, it wasn't them, even though curiously out of an entire floor of 100 year floorboards, only one floorboard was shattered to pieces right next to the place where you can see a chisel has gone in! I mean, come on… How naive do you think I am?
I think where I went wrong is I was too nice to them, on standby to guide them when their boss clearly did not brief them well enough, to make them hot drinks, to clean alongside them when the dust has settled and they started thinking that I was working for them, not the other way round. I also feel that there was an inherent element of good old sexism involved – would they have the cheek to tell a male customer to clean the surfaces right next to the opening they've just made and failed to protect from dust themselves? I very much doubt that! Anyway, lesson learnt, next time I will make sure to keep a distance and make my demands clear.
Today's recipe is a tray of delicious brownie-like chocolate cookies as that's all I could muster in my slightly frazzled mental state, to be honest. They are delicious – soft, fudgy and intensely chocolatey. They are naturally gluten-free too as they are made without any flour (almond flour is only a flour by name). They are ridiculously easy to make and come together in just about 20 minutes (plus some necessary cooling time) so you could be enjoying them a mere half an hour after an impromptu cookie hankering strikes you all of a sudden 😉 . Do you get those too?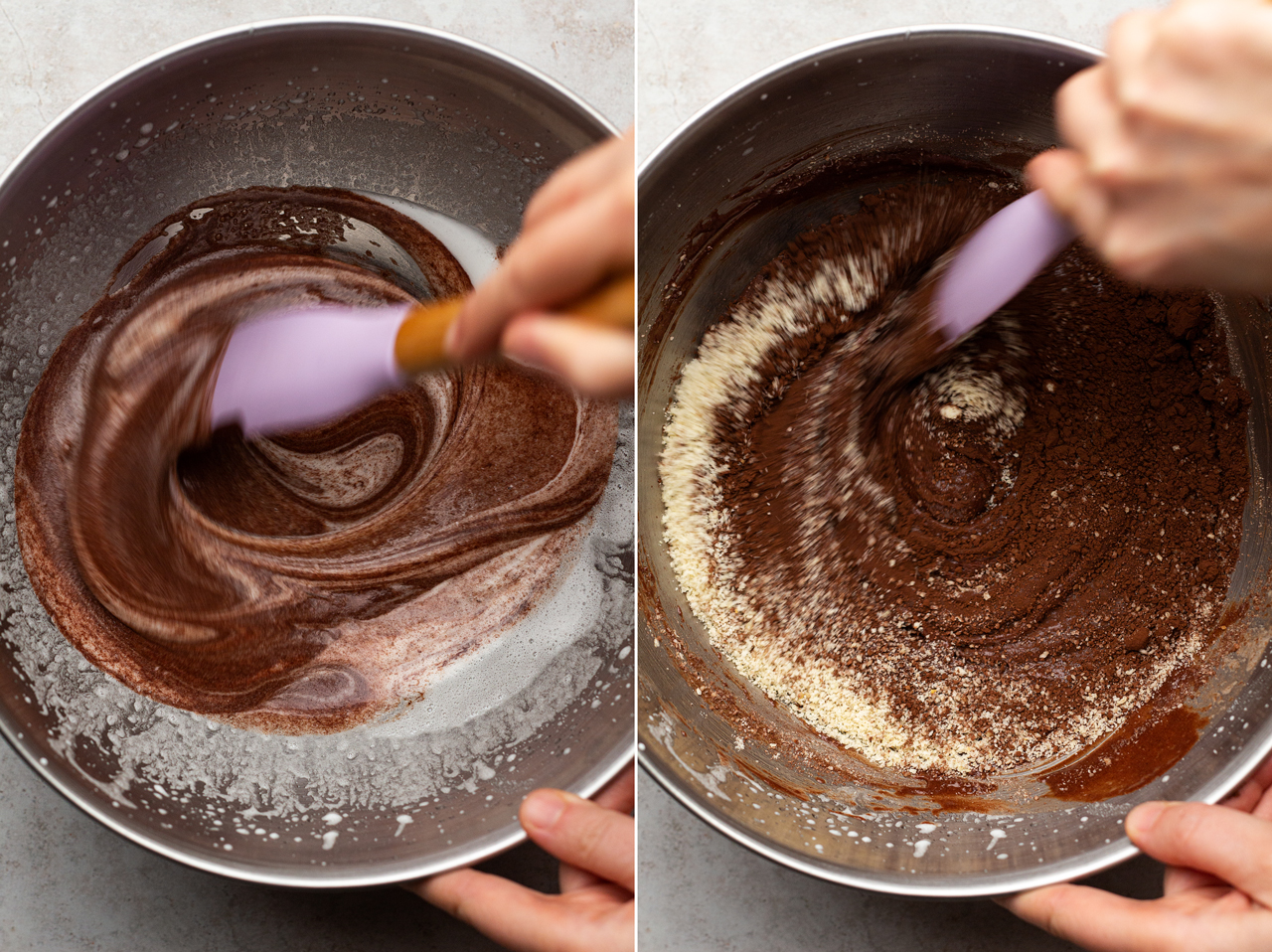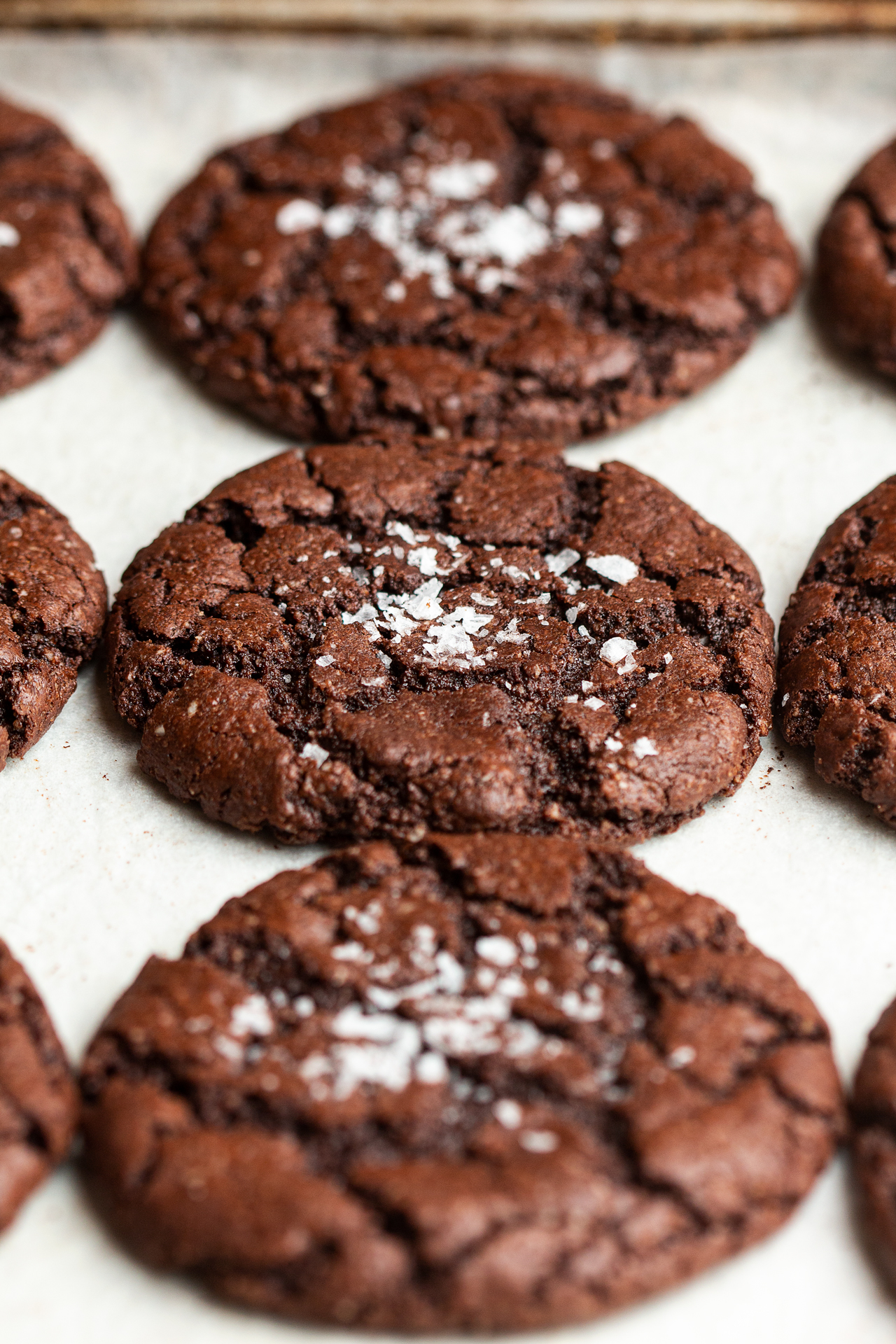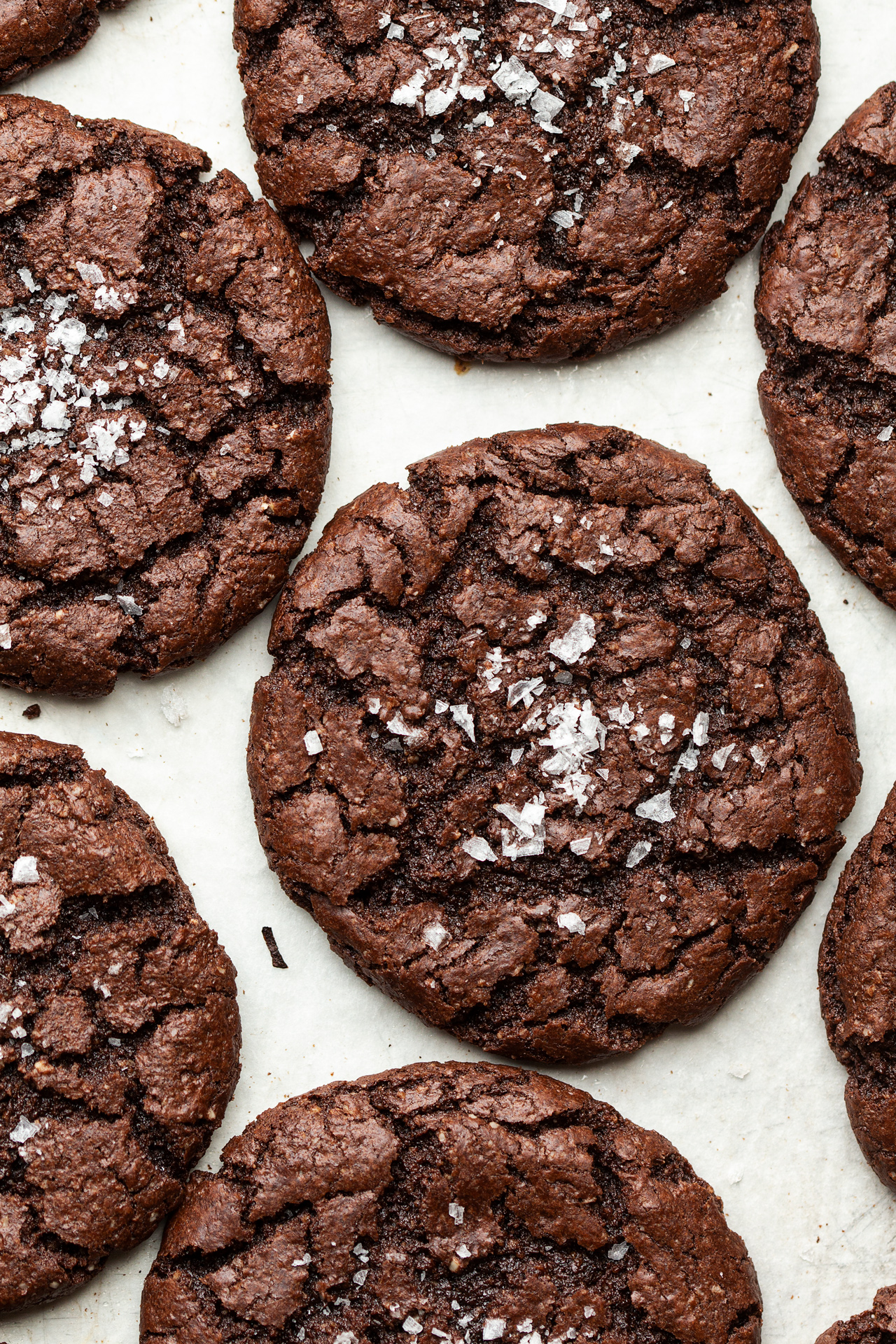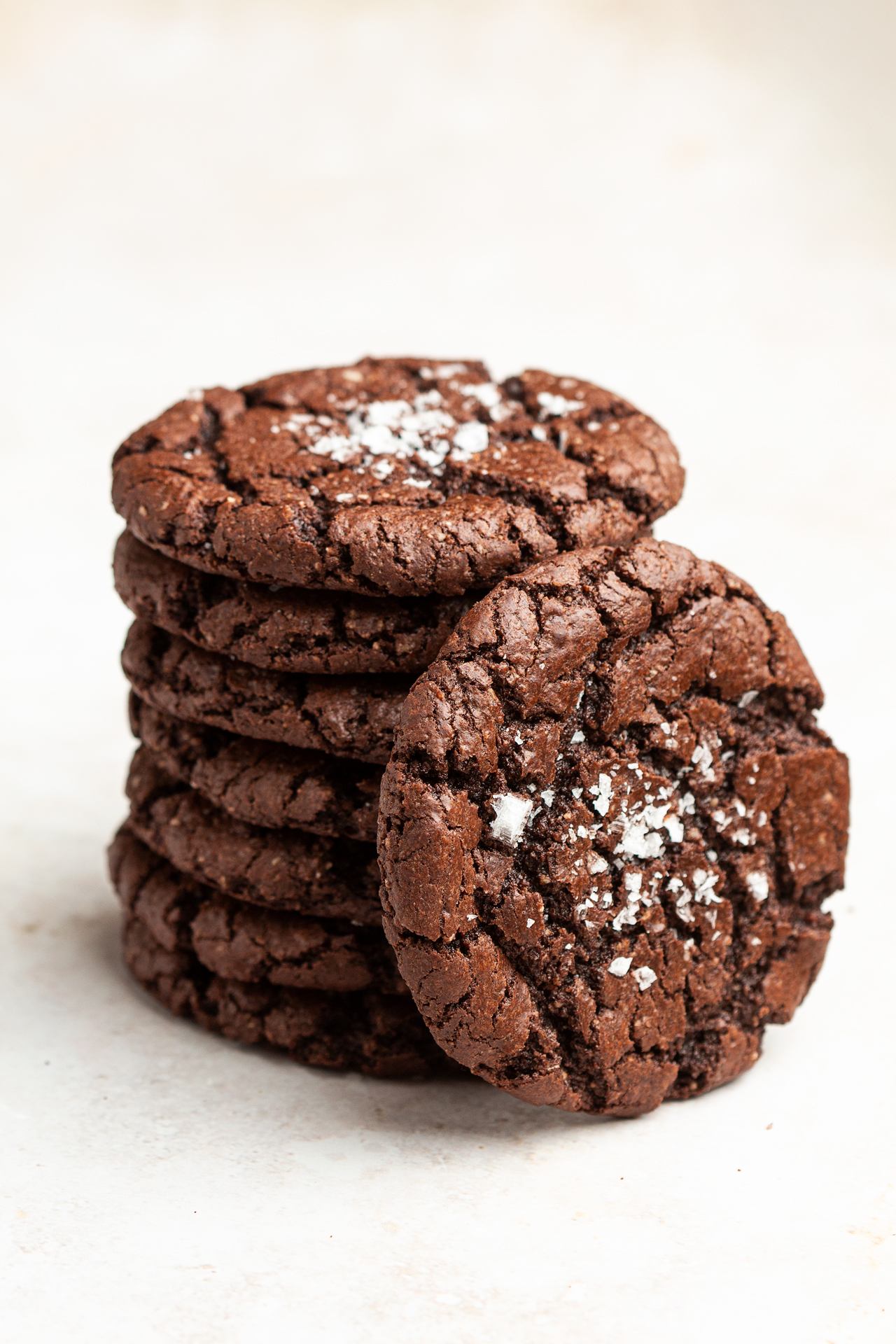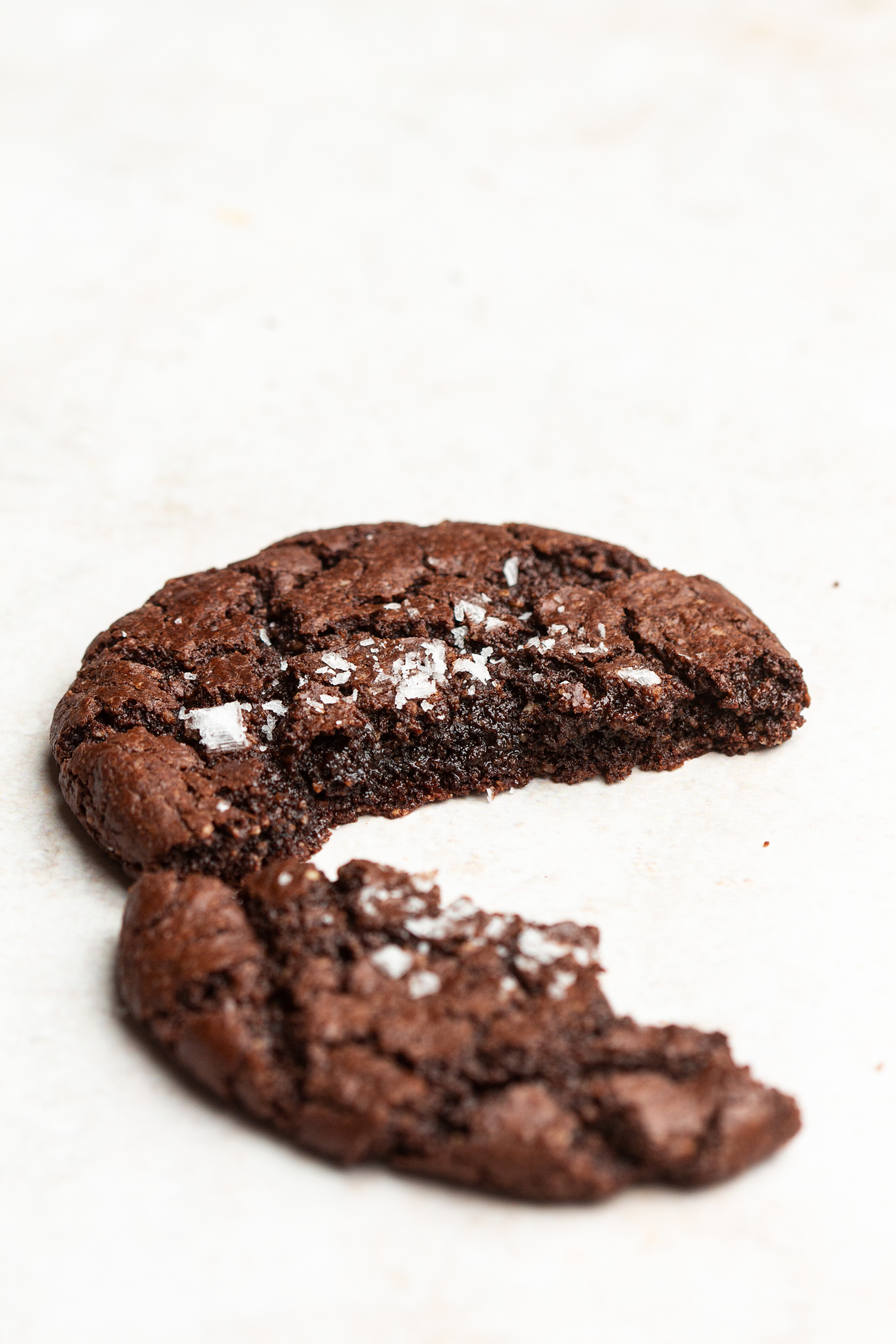 100 g / 3.5 oz vegan 70% cocoa dark chocolate
80 ml / 1/3 cup aquafaba (chickpea brine), from a tin or from homecooked chickpeas
140 g / 2/3 cup sugar (caster sugar gives you the crispiest outer shell, but coconut sugar works well too!)
80 g / 1/3 cup 100% natural nut or seed butter of choice (I used this almond butter)
100 g / 1 cups finely ground almonds / almond flour
40 g / heaped 1/3 cup cocoa powder
¼ tsp salt OR coarse sea salt for sprinkling
½ tsp baking soda (GF certified if needed)
METHOD
Melt the chocolate very slowly over a bain marie / water bath. Make sure the bowl with chocolate does not touch the water underneath.
Preheat the oven to 175° C / 345° F. Line a large baking tray with a piece of baking paper.
Whip aquafaba with an electric whisk until foamy (no need to achieve stiff peaks for this recipe).
Gradually add sugar to the aquafaba, whisking well after each addition.
Using a spatula, fold warm melted chocolate into the aquafaba and sugar mixture.
Fold in almond butter.
Add in all the dry ingredients (skip ¼ tsp salt if you intend to sprinkle the cookies with coarse sea salt!) in small batches, mixing well until no cocoa or almond meal pockets remain. The batter should be very thick.
Dollop approx. 2 tbsp of batter per cookie on the prepared baking tray, making sure to leave plenty of space around each cookie. Sprinkle with coarse sea salt if using.
Bake on the middle shelf for about 10-11 minutes, allow the cookies to cool off completely before eating.