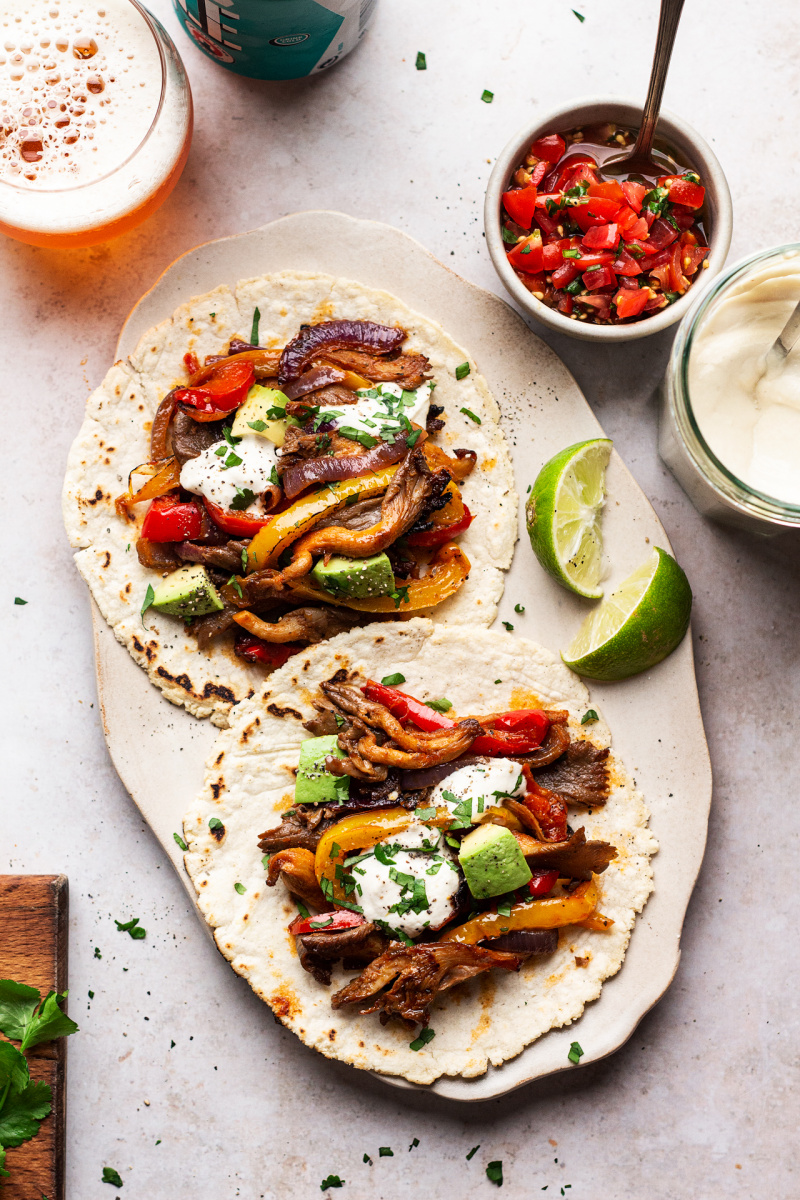 After a few days of unbearable heat around these parts, the temperature has come back down and there is a nice gentle breeze in the air again. I'm glad, as even though I love warm weather, that was a bit much, especially when you are stuck in a city and no longer live by the sea. Had the weather not calmed down a bit, all I could manage today would be another salad recipe but luckily putting the oven on is no longer torture and so I have a way more exciting recipe for you today, for vegan fajitas.
While this recipe can be done on the stove top, the mushrooms in particular benefit from being baked. Initially, I started off baking the mushrooms and sizzling the onions and peppers in a pan separately, but then I had a brainwave and decided to combine the two and bake them instead. This way is so much more straight forward and convenient. These vegan fajitas make for a perfect midweek dinner material or low effort entertaining that doesn't leave you so exhausted preparing the meal that you end up not really enjoying the evening. Or maybe that's just me. I sometimes feel so much pressure for everything to be spot on and for everyone to enjoy the food that all that mental fretting leaves me drained. Although I am working on cutting myself some slack more and more often and I am happy to report that it really does work wonders on one's mood.
So these vegan fajitas are really super easy to make. All you need to do is to chop up some onion and peppers roughly. Then place them and some oyster mushrooms on a large baking tray and coat in a marinade fragrant with spices. Leave the ingredients to marinate for a few hours if you can or shove into the oven straight way if you are too hungry to wait. Then wait half an hour for the oven to do its magic and that's it, YOU ARE DONE!
Use shop-bought tortillas (I obviously made my own cos my perfectionism is only curable up to a point 😉 ), vegan sour cream, a ripe avocado, some fresh coriander and a squeeze of lime and enjoy. Don't forget about some chilled summer ale (if you are that way inclined) and both YOU and your guests will be a bunch of happy bunnies. An al fresco consumption method is highly recommended but not a non-negotiable…Hope you'll enjoy these as much as we have!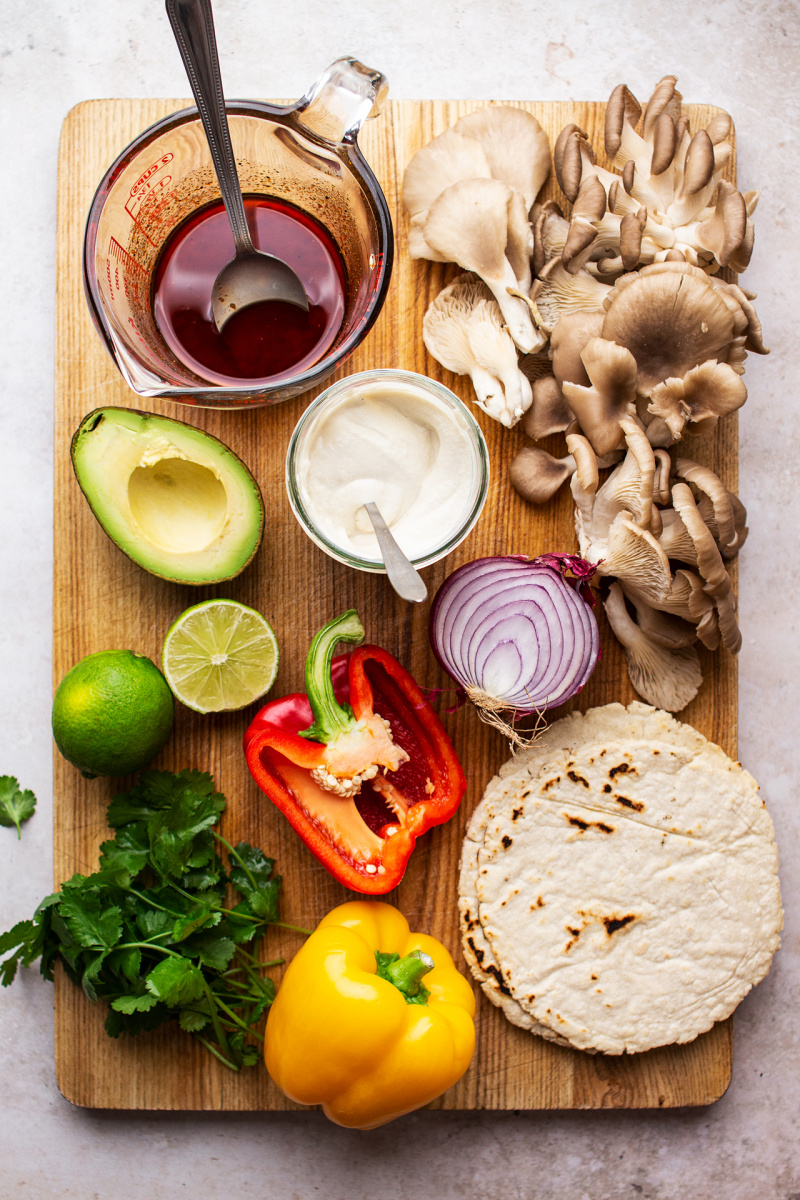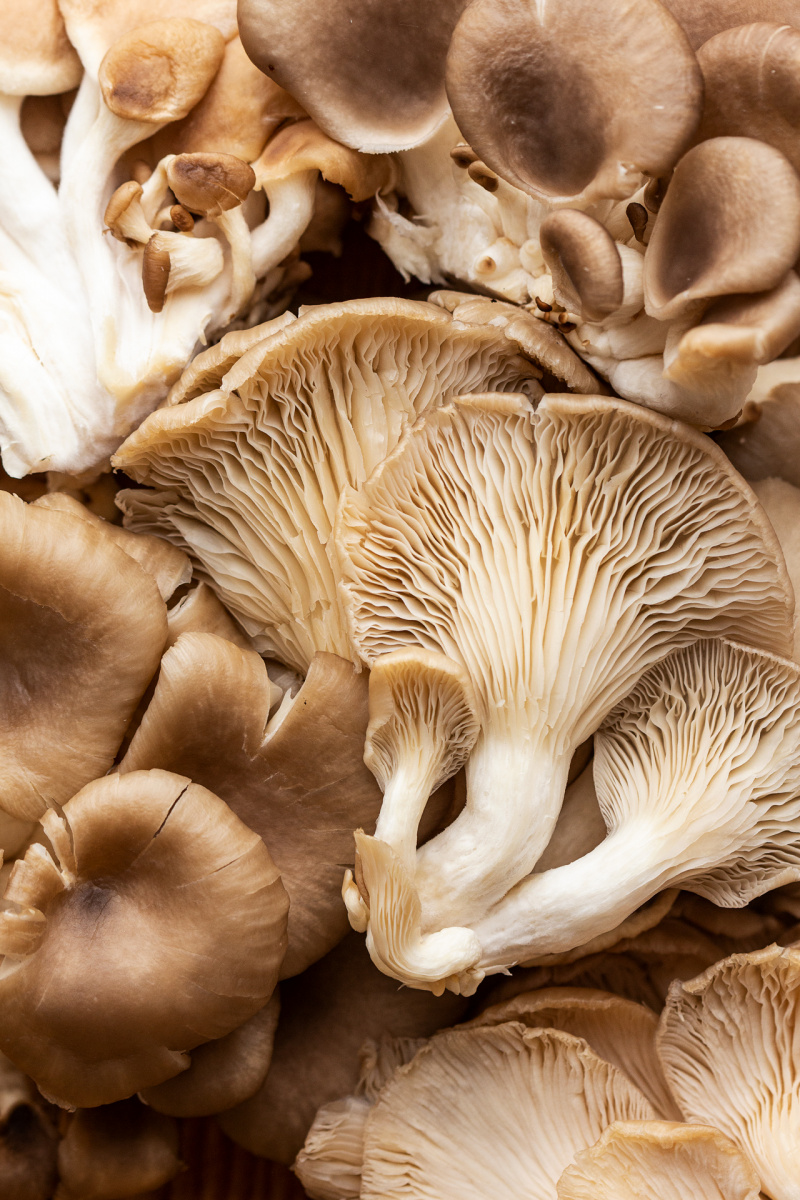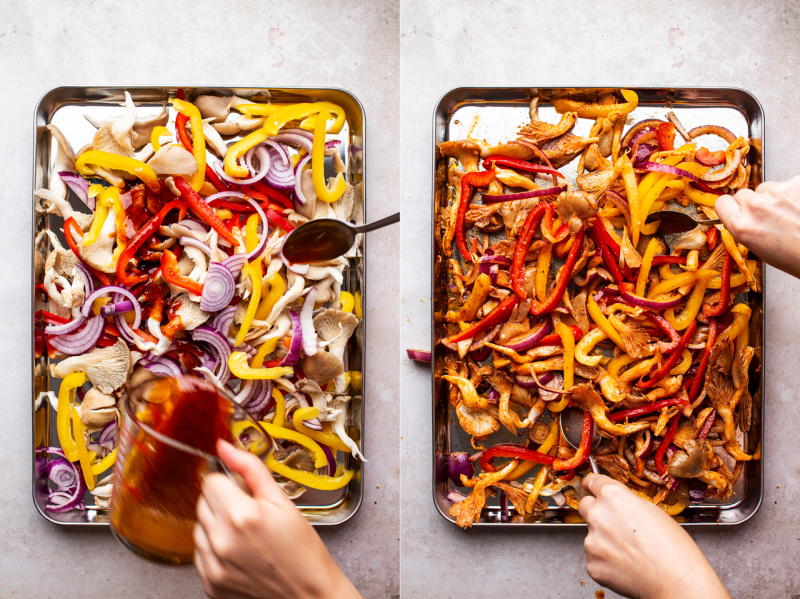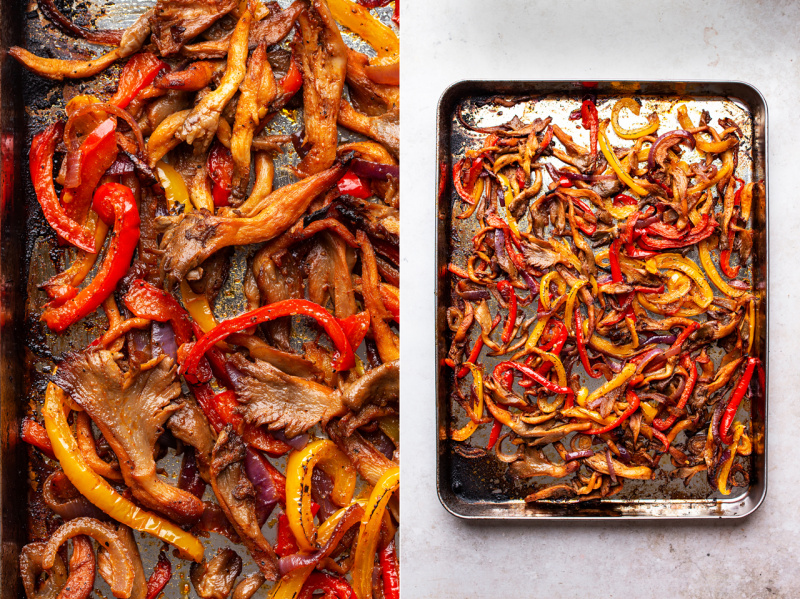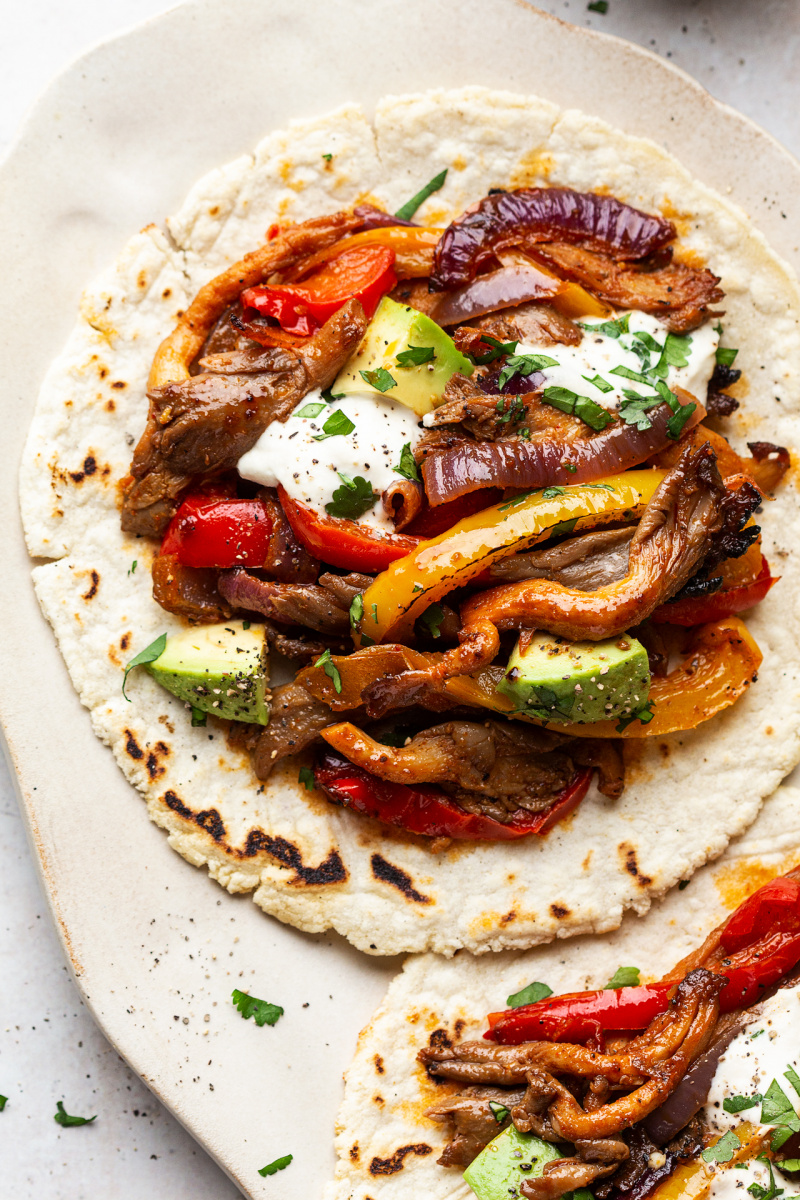 FILLING
60 ml / ¼ cup olive oil*
35 ml / 2½ tbsp soy sauce or tamari (for GF version) or ¾ tsp salt
30-45 ml / 2-3 tbsp lime juice, adjust to taste (I like 3 tbsp)
2 tsp maple syrup
2 cloves garlic, finely grated
1¼ tsp ground cumin
1¼ tsp smoked paprika
¼ tsp black pepper
1/8 tsp cayenne pepper, to taste
1 red bell pepper, thickly sliced
1 yellow bell pepper, thickly sliced
1 red onion, thickly sliced
300 g / 10½ oz oyster mushrooms
8 soft tortillas* (corn for GF version), kept warm
REMAINING INGREDIENTS
avocado or guacamole
vegan sour cream, homemade or shop-bought
small bunch of coriander
lime wedges
METHOD
Make the marinade by combining the first 9 ingredients together. Mix really well.
Put all of the pepper and onion slices on a large, deep, baking tray (like this). Add the mushrooms, tearing bigger ones into smaller pieces with your hands.
Coat everything in the marinade and set aside for as long as you can, but you can bake straight away too, if you wish.
Preheat the oven to 200° C / 390° F.
Bake the mushrooms and peppers for about 15 minutes, giving everything a good stir and then increase the temperature 225° C / 435° F to bake for another 20-25 minutes, until all juices bake out and the ingredients get a nice char.
ASSEMBLY
Assemble your vegan fajitas by putting a generous amount of filling at the bottom of each tortilla. Finish off with chopped avocado, vegan sour cream, fresh coriander and a squeeze of lime and a dash of Tabasco (if liked).
NOTES
*You can get away with less oil if you are seeking an even healthier option – I would recommend 30 ml / 2 tbsp at the very least – although using veggie stock instead of oil will work also. Oil adds flavour, makes the marinade stick to the ingredients better and locks in moisture.
**I made my own corn tortillas. In the interest of keeping this recipe short and sweet and knowing there there are shop-bought tortillas available (like these, for example), I have not included the tortilla making process in the recipe but if feel like making them yourself, here is the recipe I followed.