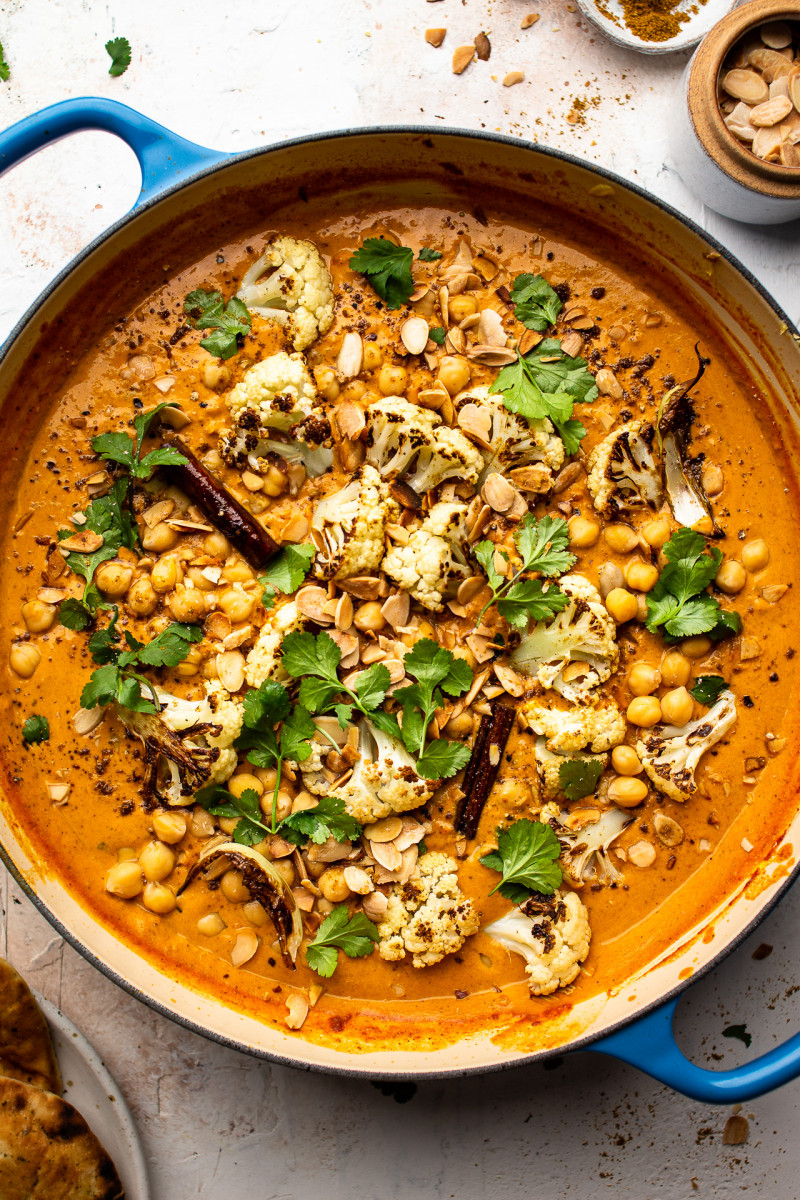 Oh hello there! How is it that the weekend is already here again? I don't know about you, but I feel like some comfort as, while the sun does occasionally make an appearance, the days have been wet and dark around these parts lately. This easy vegan korma fits the bill so we've been scoffing it down a lot lately. Duncan took some for his kayaking trip and enjoyed it immensely after thrashing himself in the freezing cold river for hours (I don't know how he does it!). The reason I call it an easy vegan korma is that I simplified the process behind this classic Indian curry, but it still features most of the flavours of the original.
Like with most curries, there are many different versions of korma, depending on which part of India they come from. Apparently 'korma' is an Urdu word for braise as meat and vegetables are typically braised in a creamy sauce, based either on cream, coconut or yoghurt. The North Indian versions are mild and very fragrant with a complex mixture of warming spices – cinnamon, cardamom, nutmeg, cloves – which betray korma's Persian influence. The dish was created by the royal kitchen of Mongol's king who ruled Northern India between 16th-18th century.
The South Indian version tends to feature tomatoes and coconut and a less complex spice mix. My version is a bit of a blend of Northern and Southern versions with several simplifications to make it an achievable midweek meal. If you are interested in how and why, I go into more details below. I hope you'll enjoy my take on this beautiful Indian dish.
MORE ABOUT THE INGREDIENTS
WHOLE SPICES: To flavour the oil, I used a selection of whole spices that most people have in their cupboards already (like cinnamon sticks, cloves or bay leaves), but if you are missing any of them simply replace them with ground ones instead. Just be sure to add ground spices in with all the other dry spices AFTER all the aromatics have been sautéed. If you happen to have mace in your cupboard – which is the outer shell of nutmeg – use a piece of mace together with the other whole spices to flavour the oil instead of nutmeg at the end. I didn't use it in my recipe as I don't think that it's a commonly owned spice and I tried my best to make this recipe accessible.
GROUND SPICES: This curry relies on a lot of spices but don't be intimidated as they are easy to get and they keep for a long time, so if you enjoy cooking with spices, they will be great to have in your spice arsenal for future dishes. Here are all of the spices, whole and ground, you will need for this dish. Make a cupboard audit 😉 – you probably have most of them already.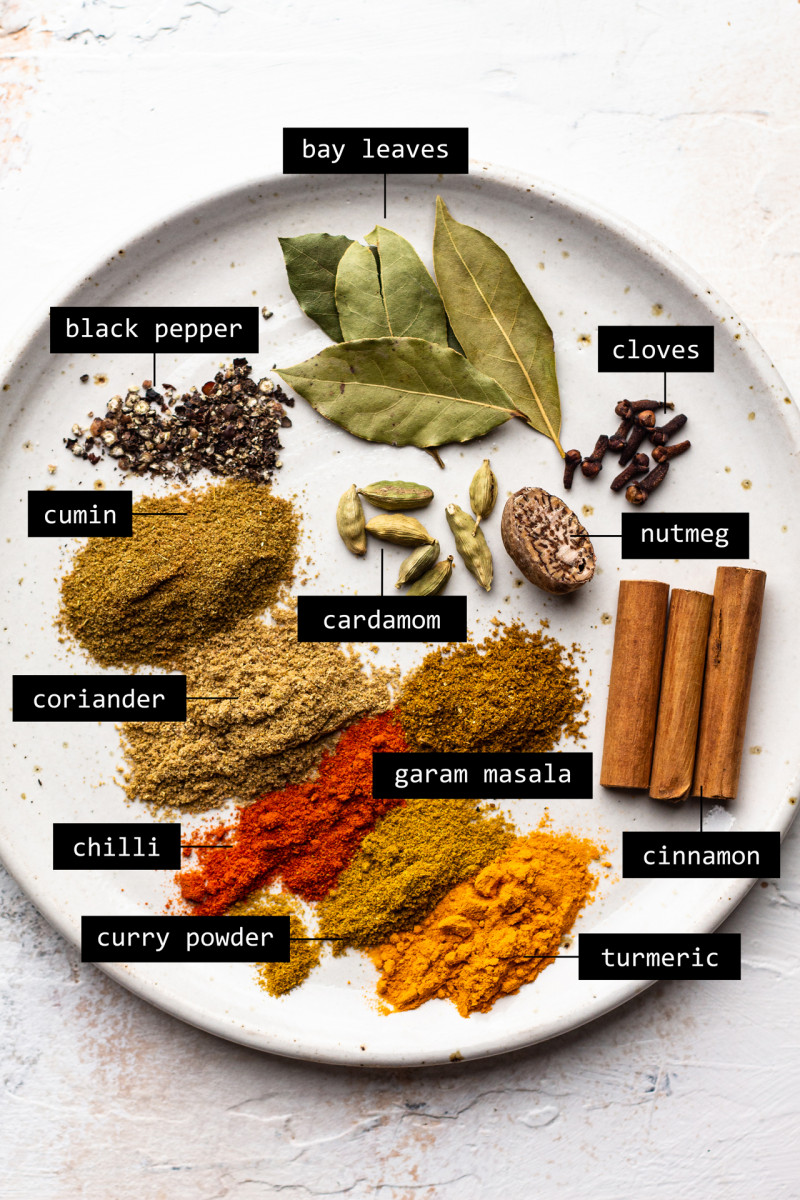 AROMATICS: An aromatic paste made with onion, garlic, ginger and chilli (commonly referred to as aromatics) is at the core of all Indian curries. You could of course make them into a paste, but to make sure I deliver on my promise for an 'easy' recipe, I simply opted to dice all of my aromatics very finely instead.
FRESH CHILLI: Please adjust the amount of chilli to your preference. I wanted a bit of a kick, so I used an entire green chilli (labelled as mild) including the seeds plus some dry chilli powder to achieve that. If you would rather have a milder version, deseed the chilli, use less of it or even replace it with a quarter of green pepper.
TOMATOES: The Southern version of this curry uses tomatoes, the Northern version not so much. I like the tomato version more as it's a little fresher and zingier but you can adjust that to taste. Use only half a can if you prefer. You can also use fresh (peeled) tomatoes, 2 ripe medium-large tomatoes are roughly equivalent to a 400 g / 14 oz can.
COCONUT MILK: I love the richness coconut milk contributes to a curry and as I always have it in my pantry that's what I used. You could also use a vegan cream (like Oatly) if you are not keen on coconutty curry sauces.
ALMOND BUTTER: Traditional korma is made with nuts – almonds or cashews, occasionally pistachios – which are soaked, drained and blended with water to add richness and creaminess to the sauce. In order to simplify the process without sacrificing any of the taste, I opted to use some almond butter (you could obviously go for cashew butter if you prefer) instead. As it's already made from roasted almonds, it adds a beautiful depth of flavour and creaminess to the sauce without any extra process or fuss.
MORE ABOUT THE PROCESS
LOW HEAT: Like with most things, curry does not like to be rushed. You need to give it a little time develop its flavours. Use a low-medium heat until you are ready to simmer the sauce. Low heat and stirring is particularly important when adding spices (both whole and ground, but especially ground) as they are completely devoid of any moisture so are very easy to burn, which would give your curry a horrible, acrid taste.
MAKE A DAY AHEAD: Like most dishes of this type, the curry sauce benefits from being being made a day in advance – this allows all of the flavours to develop and deepen.
ROASTED CAULIFLOWER: While traditionally vegetables are braised in the sauce (you can totally do that, just be sure to add a bit more water to the sauce), I opted to roast my cauliflower in the oven. I love the flavour of roasted cauliflower so much more than simmered and I like the efficiency of the cauliflower getting baked when the sauce is being simmered. I also opted to use cooked chickpeas in the sauce, but you can totally use any vegetables you like and have on hand and you get to cook them in any way you prefer. Green beans or broccoli would be my second choices – you could roast them, cook them in the sauce or steam.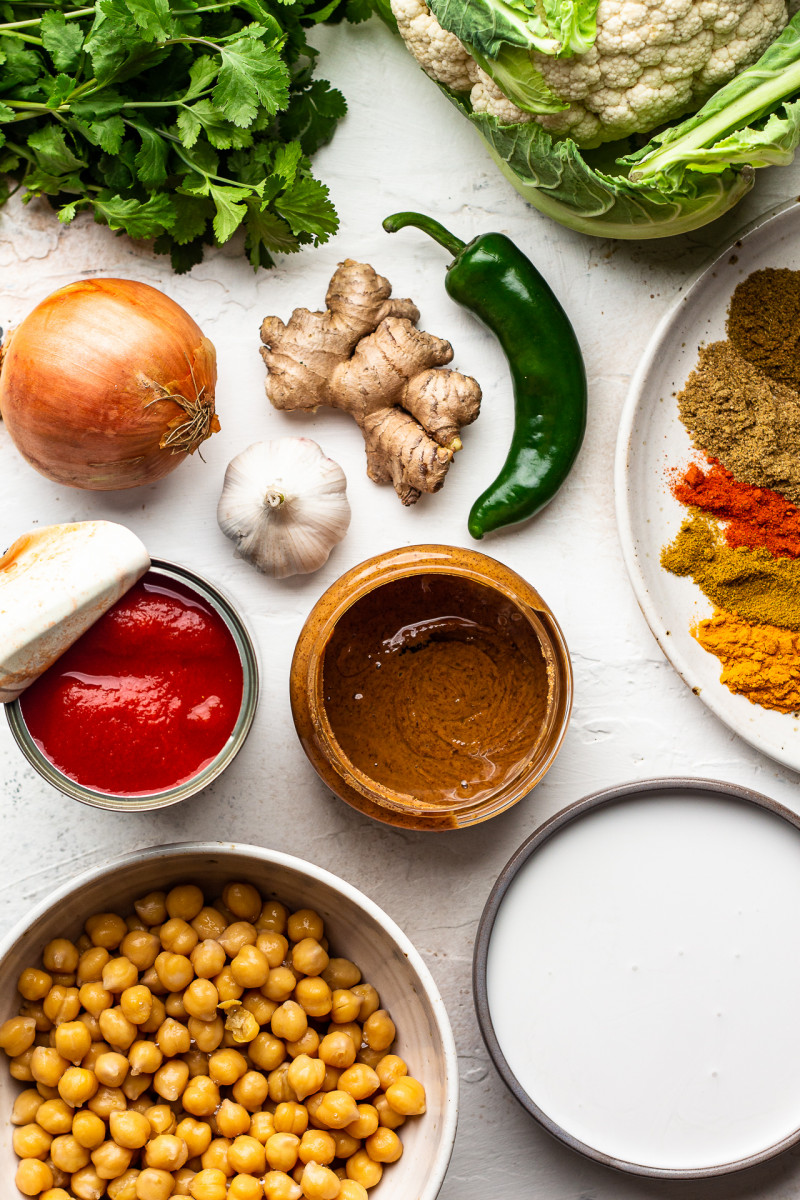 Begin with sautéeing all of the aromatics (onion, garlic, ginger and chilli) in the hot oil flavoured with whole spices. I like to give the onion a head start as it takes longer to soften. Keep your heat low (low-medium) and stir frequently, especially after you've added ginger and garlic and they are both easy to burn. Once your aromatics have softened and are fragrant, stir in dry spices. Make sure the heat is low and if they start catching, immediately add a splash of water to stop them from burning and spoiling your curry.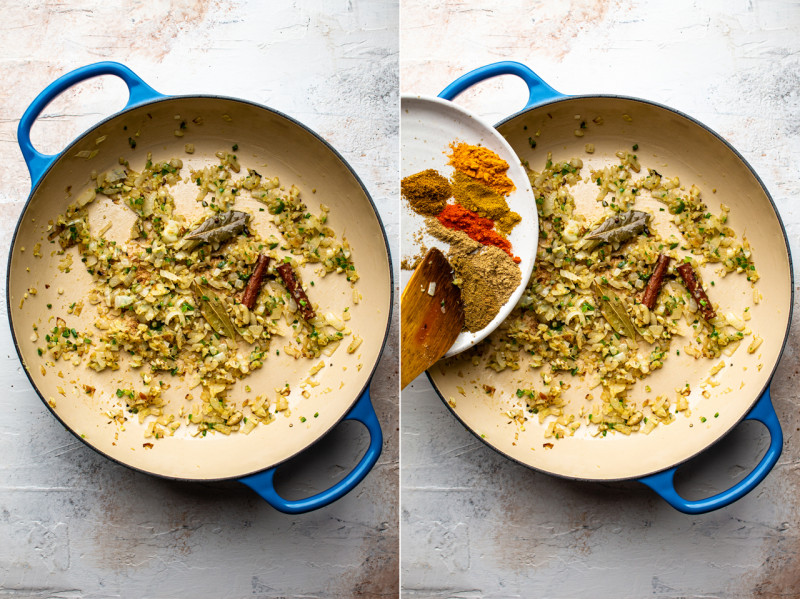 Next step is to add tomatoes, squash them down to help them turn into a sauce quicker and a good amount of water. This step is pretty hands off, you can now relax and get on with something else – just don't forget to give the pan a stir from time to time and a splash of more water if the sauce is looking dry but still has chunks of tomato in it.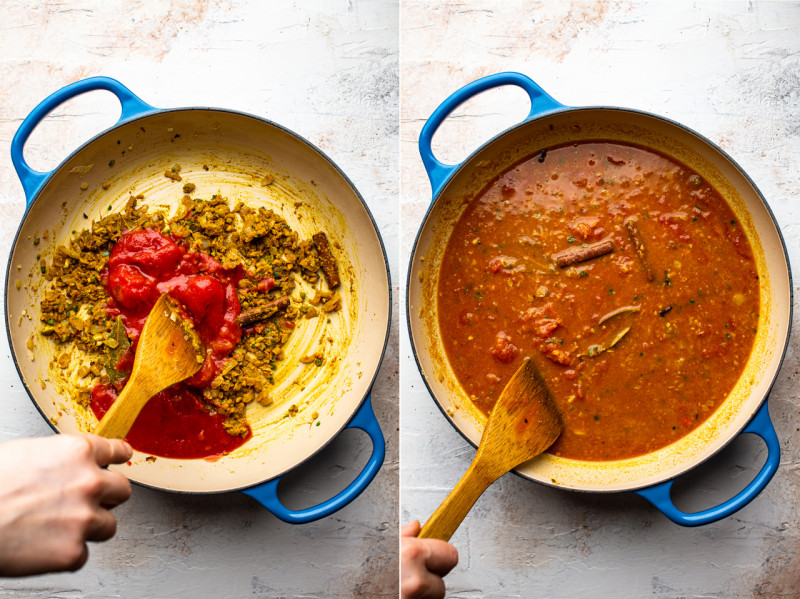 Once the tomatoes have broken down and reduced (photo on the left), stir in coconut milk and almond butter. Simmer for a few more minutes, adjust the seasoning et voilà – you are done! Allow the sauce to cool down, then store in the fridge overnight for all of the flavours to get acquainted with each other 🙂 The dish will be better for it!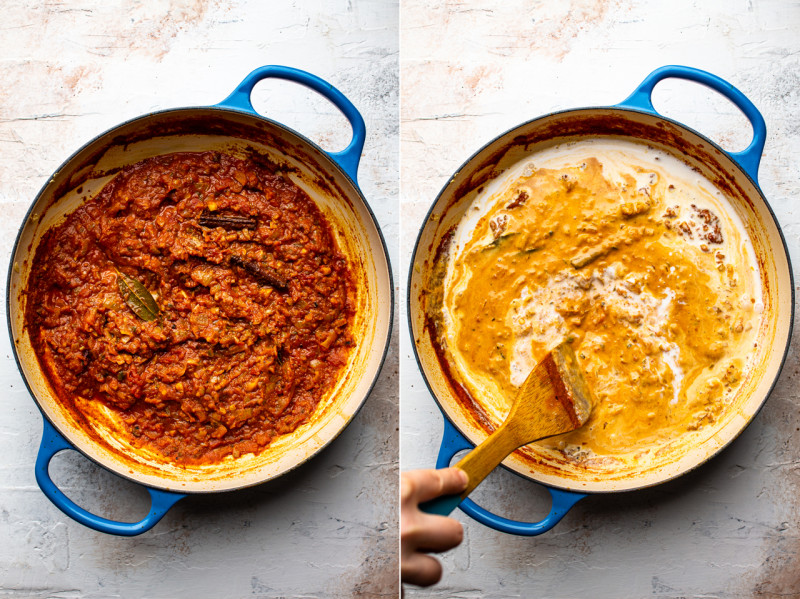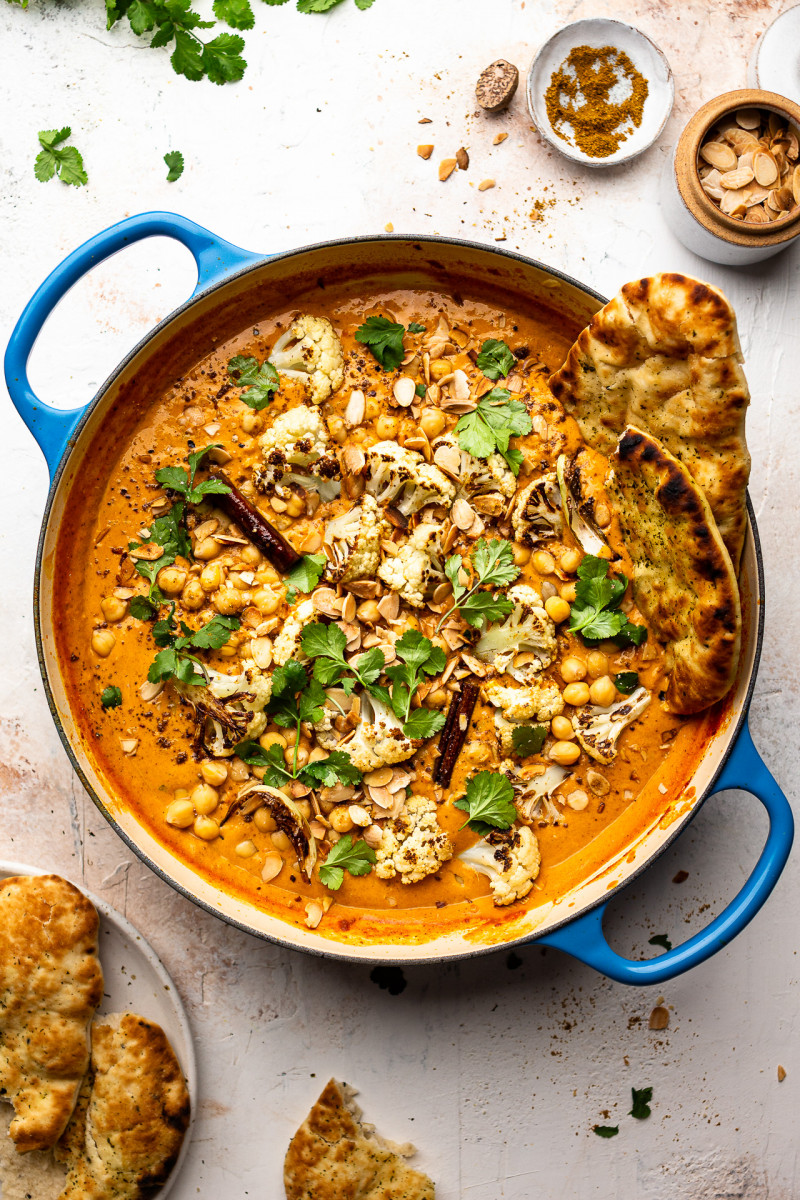 SPICES
10 cm / 4″ quill of cinnamon (or ½ tsp ground) or cassia
2 bay leaves
3 cloves (or 1/8 tsp ground)
4 green cardamom pods, crushed open (or ¼ tsp ground)
freshly ground black pepper, about ¼ tsp
1 tsp turmeric
2 tsp ground coriander
1½ tsp ground cumin
½ tsp chilli powder, adjust to taste
1 tsp garam masala, divided (2 x ½ tsp)
grated (or ground) nutmeg, to taste
CURRY SAUCE (make a day in advance)
30 ml / 2 tbsp oil, + extra for cauliflower
1 large onion, finely chopped
6 garlic cloves, finely chopped
1 mild green chilli*, finely chopped
1 tbsp finely grated ginger (thumb-size piece)
salt, adjust to taste
200-400 g / 7-14 oz canned plum tomatoes*
400 ml / 14 oz full fat coconut milk*
30 g / 2 tbsp almond butter (diluted in 120 ml / ½ cup water)
2 tsp sugar, adjust to taste
OPTIONAL ADD-INS
2 cups basmati rice, cooked or vegan naan or both
500 g / 17½ oz fresh cauliflower*
300 g / 2 cups cooked chickpeas*
toasted almonds, to serve
chopped fresh coriander, to serve
METHOD
CURRY SAUCE (make a day in advance)
Assemble all of the spices keeping the first four (whole spices) separate from the rest, unless using them in their ground form too. Also, keep ½ tsp of garam masala and nutmeg separate from the rest of the ground spices, they will be used to finish the curry.
Heat up oil on a medium heat, in a heavy bottom pan. Once the oil is warmed, add whole spices. Fry them off on a low heat for 30-60 seconds, stirring frequently so that they don't burn.
Add diced onion, fry it off gently – stirring frequently – until almost translucent (about 10 minutes).
Next, add in garlic, fresh chilli and ginger and a few pinches of salt. Fry on a low heat until softened and fragrant, stirring frequently.
Make sure the heat is set to low and add all of the dry spices apart from the ½ tsp of garam masala you set aside earlier. Coat the aromatics in spices and allow them to toast gently but don't let them burn, add a splash of water if it looks like they are catching.
Add in canned tomatoes, a can worth of water and a good amount of salt. Squash the tomatoes and allow them to simmer gently until they break down completely and the sauce thickens (about 20 minutes). If the pan is looking dry and the tomatoes are still chunky, add a splash more water and carry on simmering.
Next add in coconut milk, almond butter and season. Simmer for 5 minutes, taste and add sugar and a bit more salt, if needed. Rest overnight for best flavour.
Finish the curry off with garam masala and a grating of nutmeg, toasted almonds and fresh coriander. Depending how much tomatoes you've used, you may want a squeeze of lime too – I used a full can and found the sauce had a nice balance.
OPTIONAL ADD-INS
RICE: Rinse your rice really well – until the water runs almost clear. Put rinsed rice in a pot with 2½ cups (600 ml) water and a teaspoon of salt. Give the rice a stir and cover with a fitting glass lid. Simmer on a very low-medium heat until all of the water gets absorbed by the rice – if you tilt the pot and no water seeps out, switch off the heat but keep the lid on. Allow the rice to stand covered until ready to serve (at least 10 minutes).
CAULIFLOWER: You could simmer the cauliflower in the curry sauce until soft or (my favourite way!), coat in a little oil and roast it in the 200 C / 390° F oven for 20 minutes, until soft and charred in places, flipping the pieces to the other side halfway through.
CHICKPEAS: Drain the chickpeas and warm them in the curry sauce just before serving.
NOTES
*FRESH CHILLI: Adjust the amount to your taste, if you are after a mild curry, deseed the chilli before using and perhaps only use a half.
*CANNED TOMATOES AND COCONUT MILK: You could only use ½ tin (200 g / 7 oz) of canned tomatoes to make the curry even creamier and indulgent. I like to use an entire can of tomatoes and an entire can of coconut milk.
*CAULIFLOWER: If you are not keen on cauliflower, you could use sweet potato, broccoli, peas or any other vegetables you enjoy.
*CHICKPEAS: If you are not keen on chickpeas, how about your favourite tofu?