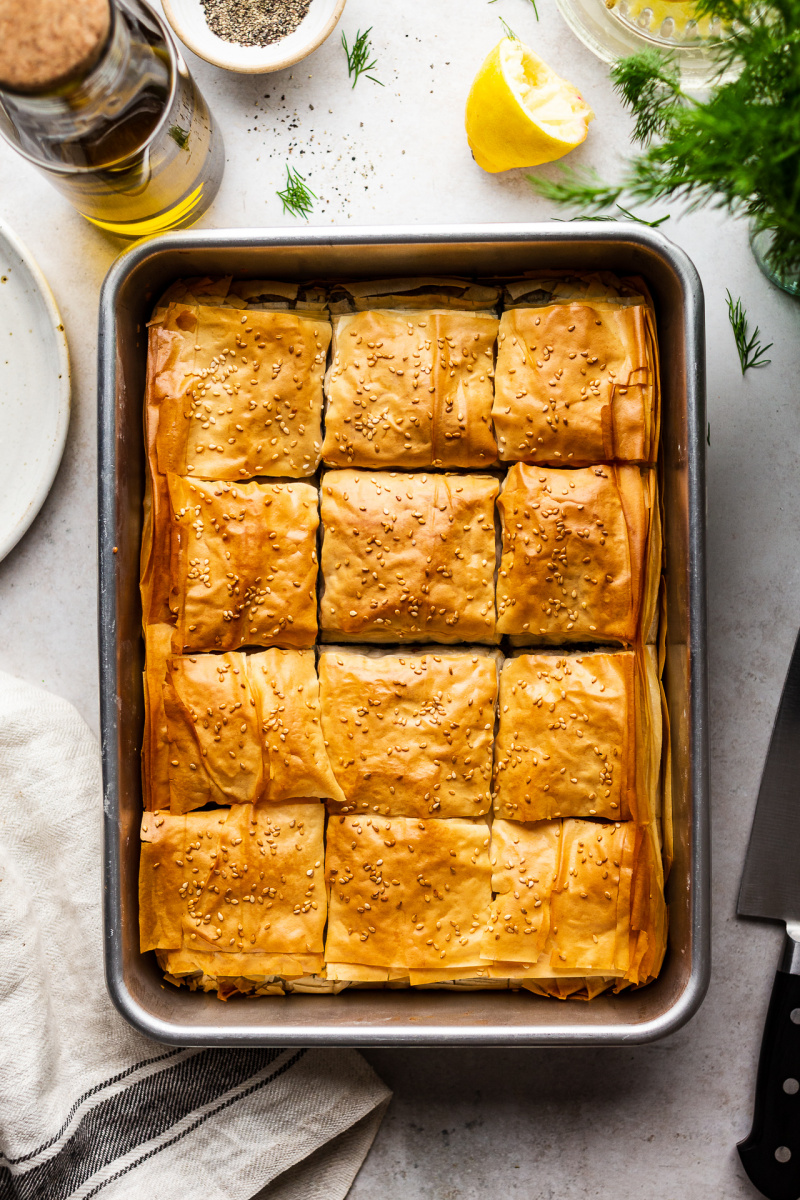 For fellow UK-dwellers, happy bank holiday weekend! Judging by how busy it was out yesterday and how unusually empty of cars our street is, lots of people have gone away for the weekend. We've decided to beat the crowds and we aren't hitting the road until after the weekend. We've planned a small break on the Pembrokeshire coast during the week so we are both checking the weather forecast like hawks.
As long weekends are conducive to family gatherings, especially after the year we have had, I thought that a tray of a Greek-inspired (I miss Greece!) crowd pleaser that's easy to make would make a good recipe today. As you probably know, I am no stranger to Greek cuisine on account of having lived there for four years and so I have made a spanakopita recipe before and while I still stand by that recipe, it is a little more time consuming to make due to its coiled shape and my almond feta cheese, which while delicious, it is a little more involved. It is time, I thought, for a simpler recipe that anyone can pull off without feeling intimidated.
The most time consuming bit about any, not just vegan, spanakopita recipe is the spinach prep. It needs to be precooked and then all of the moisture needs to be squeezed out of it as otherwise all that moisture will steam up in your pie during baking, making it soggy. It doesn't take that long though, especially if you can task someone with strong hands to do all the squeezing for you while you prep the rest. I mean, I am fairly sure you won't be eating this amount of pie alone, so you should not have to be making it alone either. You can employ an old kitchen towel to squeeze the moisture out, but the least messy way is to simply squeeze the spinach out by the handful and go over it all at least twice.
Other than the spinach prep, layering the pastry in the tin is a breeze. You simply need to be gentle with it, but it is absolutely fine if there are any tears (use these sheets in the middle of the pie) and the pastry layers do not have to sit perfectly flat against each other – in fact, some unevenness and creases encourage air pockets forming between layers and leads to a flakier end result, so a little messiness is a good thing.
The creamy element of spanakopita is usually made of a combination of a few different cheeses and sometimes yoghurt or cream cheese is added for extra creaminess. I aimed to match the consistency and flavour profile of that element by making a creamy cheese-like component with soaked cashews (flaked almonds, sunflower seeds or tofu would work also!) flavoured with lemon, salt, garlic and nutritional yeast. It comes together in seconds in a food processor or blender and gets directly added to the spinach and sautéed aromatics.
Another hallmark of a good spanakopita is building an impressive stack of layers on top of the filling, so even though it may be tempting, do not scrimp on the amount of pastry or oil. I used up nearly two packets of it in an effort to get that crispy golden canopy of pastry and it turned out beautifully. I hope you'll make it and enjoy the end product as much as we have.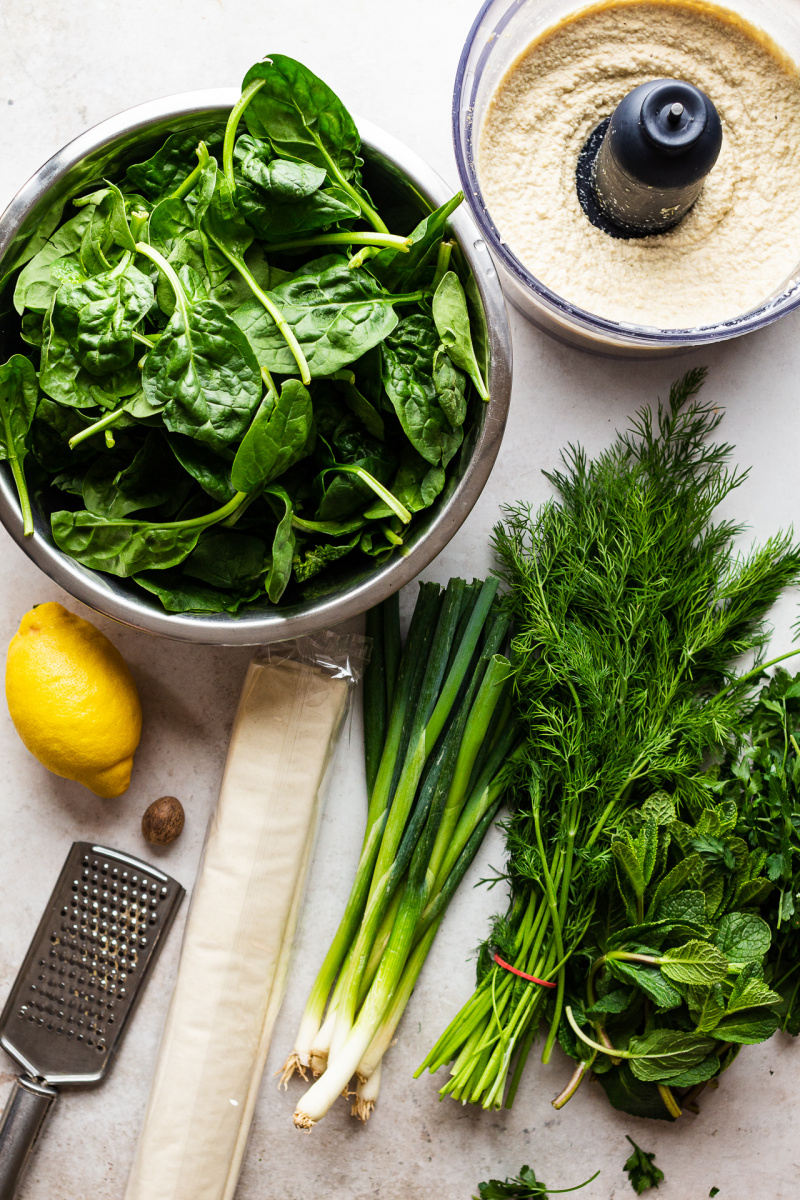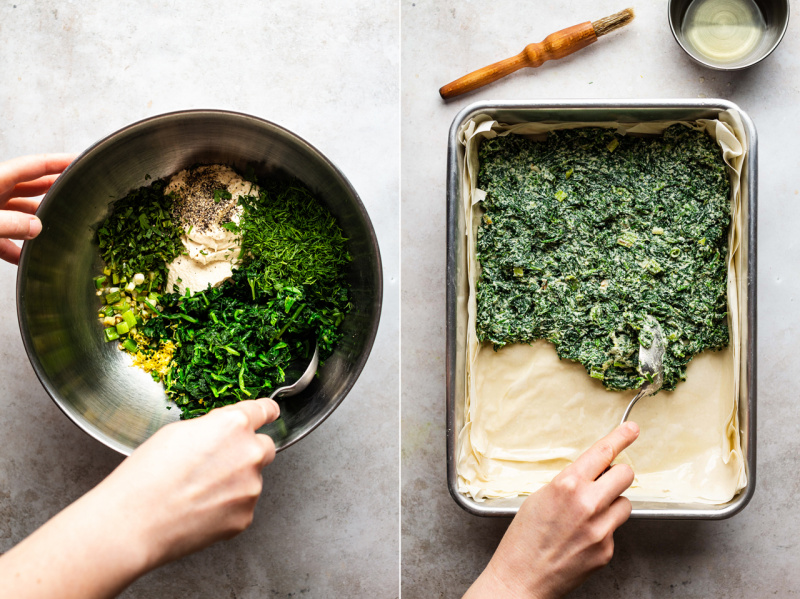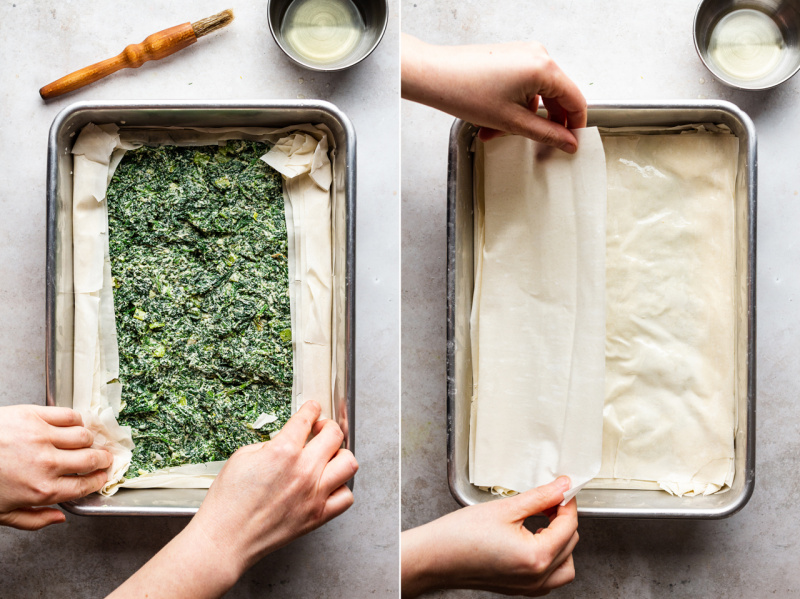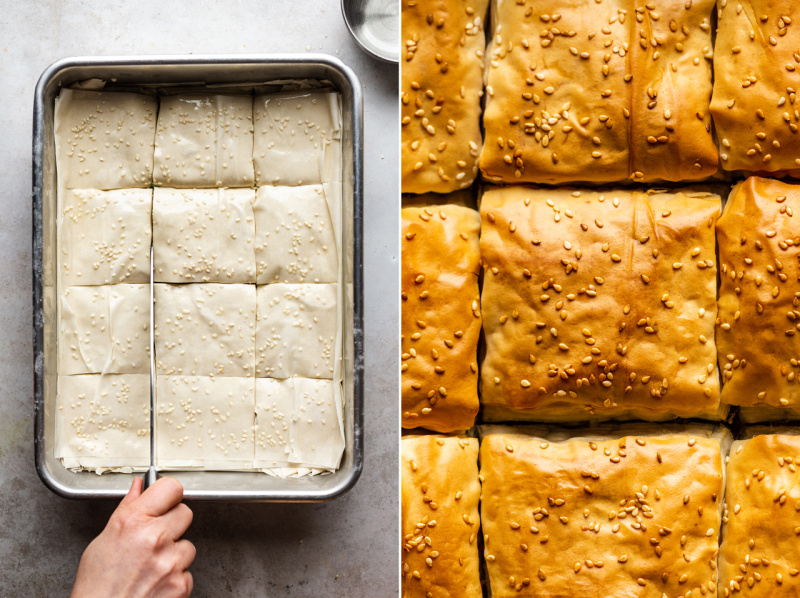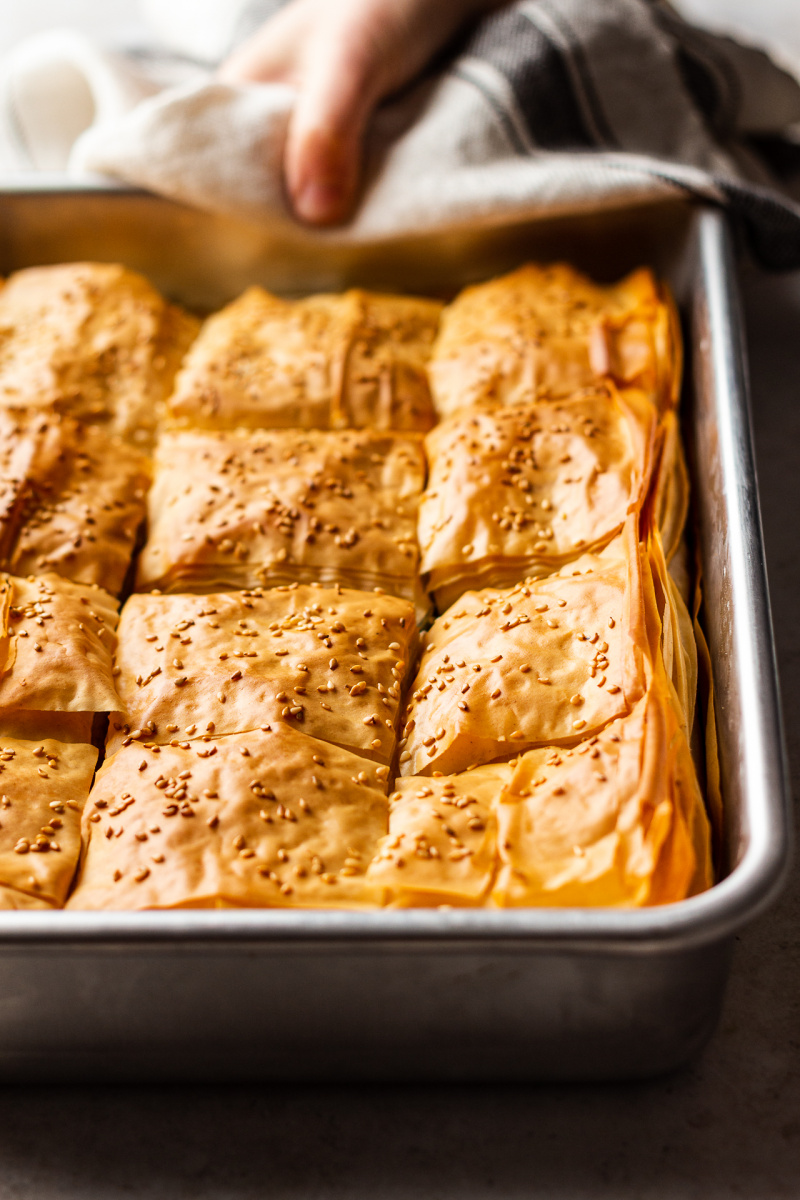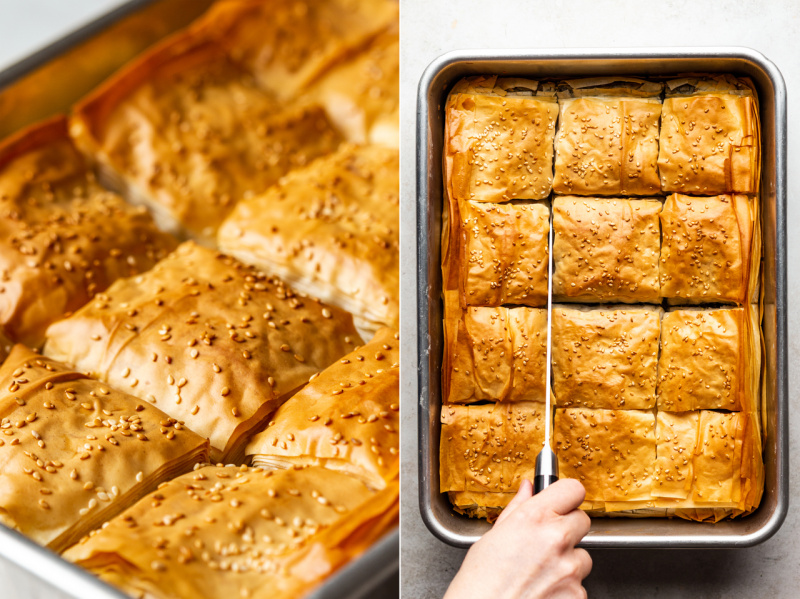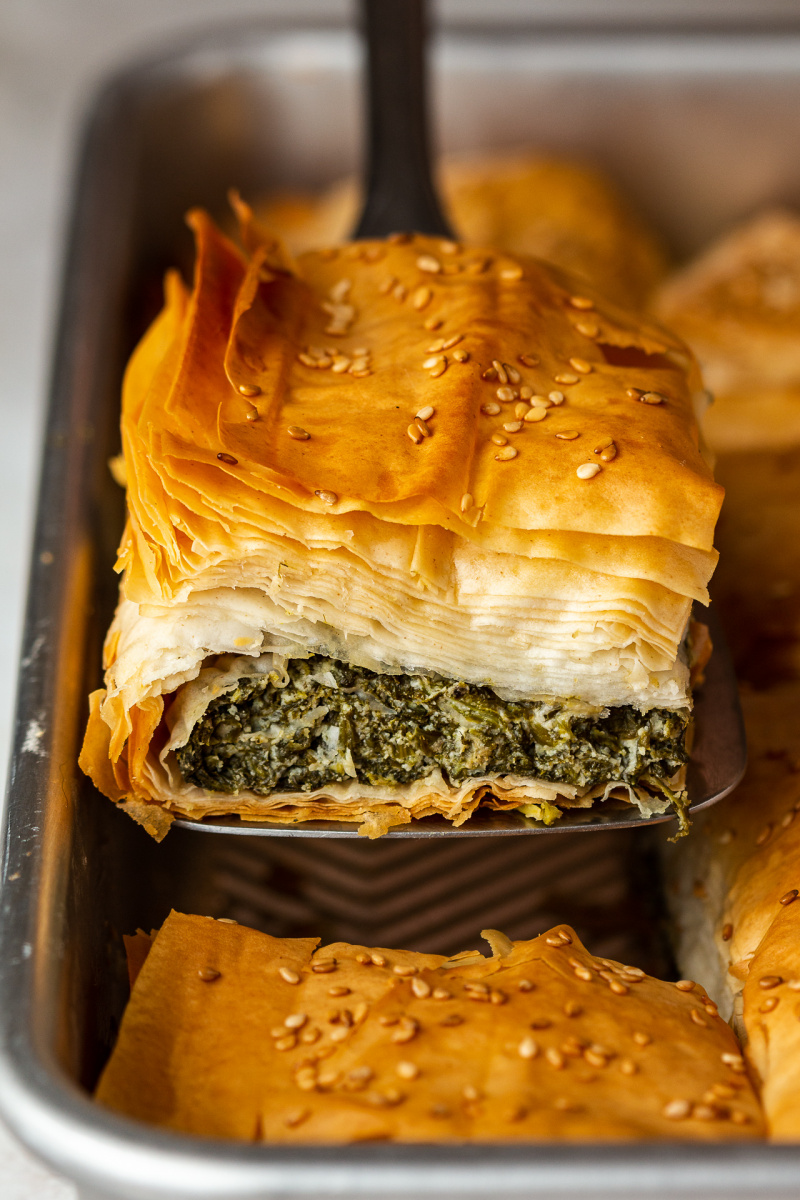 200 g / 1½ cups cashews, soaked overnight*
60-75 ml / 4-5 tbsp juice + zest 1 lemon
olive oil
4 tbsp / ¼ cup nutritional yeast, divided
1 tsp salt, divided
3 garlic cloves, divided
900 g / 2 lb fresh spinach
10 spring onions / scallions, sliced finely
15 g / ½ oz mint leaves
15 g / ½ oz dill leaves
15 g / ½ oz parsley leaves
freshly ground nutmeg (I use about ½ nutmeg), to taste
½ tsp black pepper, to taste
2 x 250 g / 8¾ oz packets of vegan phyllo, thawed in the fridge overnight
sesame seeds, to garnish (optional)
METHOD
Place drained cashews in a food processor (an upright blender will work too and give you a creamier texture, but you may need to use a tamper as the mixture is meant to be quite thick).
Add 80 ml / 1/3 cup of water, 60 ml / ¼ cup lemon juice, 1 tbsp olive oil, 2 tbsp of nutritional yeast and ½ tsp salt and one garlic clove, process or blend until smooth, scraping the sides of the machine as you go along to make sure the mixture is creamy and uniform – a little texture is fine.
Cook the spinach by blanching it in batches for about 40 seconds and then plunging it into a bowl of ice-cold water (to stop it from cooking any further).
Wring cold spinach dry (that's very important as otherwise the pie will be soggy) using your hands or a kitchen towel – be very thorough. Chop the spinach finely afterwards.
Heat up a tablespoon of olive oil in a small pan, gently stir-fry the spring onions (apart from the green tops, add them directly to the filling – I used half of them) and garlic until softened and fragrant. Cool them down.
In a large bowl, mix the cashew mixture with chopped spinach, lemon zest, finely chopped herbs, nutmeg, black pepper, 2 tbsp nutritional yeast, softened garlic and spring onions. Mix everything really well, taste the mixture and add more salt if needed (I used another heaped ½ tsp) and more lemon juice (I added 1 tablespoon).
ASSEMBLY
Preheat the oven to 180° C fan / 355° F fan (or 200° C / 390° F without a fan, although I recommend using a fan – it helps to crisp the pastry up) and grease your baking tin with olive oil.
Line the tin with the first sheet of pastry allowing the excess to rest against the sides of the tin. Brush the pastry with some olive oil and place another sheet on top. Continue in this manner until you've used up approximately a third of your pastry sheets making sure the sheets you are not working with are covered with a damp kitchen towel so that they do not dry out.
Spread the filling on top of the pastry, levelling it out with a spatula.
Fold the excess pastry from the bottom sheets over the filling to tuck it in. Next, start covering the top with more pastry sheets, brushing each sheet with olive oil as you go along. Trim the sheets you are putting on top of the filling to size, alternating using whole sheets with two half sheets, brushing with oil between each layer.
Brush the final layer with oil and sprinkle with sesame seeds (if using). Using a sharp knife scour the dish so that the pastry puffs up during baking and it is easier to cut it into slices later. Try not to cut into the filling underneath as it will dry out too much.
Bake for approximately 35-40 minutes, until golden brown. Allow the pie to 'set' for 30 minutes or so before cutting into it. It's best after it has been made but you can store the leftovers in the fridge for 3-4 days in an air-tight container.
NOTES
*Or at least for 1 hr in boiling water.
I find that shop bought phyllo / filo can be a little bland so sprinkling a little salt between sheets while brushing with oil is a good idea.
This is the baking tray I used, it has the following dimensions: 9″ x 13″ / 22 x 33 cm.