Who would like a slice of banana bread? I really like making cakes and I like sharing them with others. Always in the hope that they will enjoy them, of course. I may have a mindset problem, but I think a piece of cake and a cup of good coffee (or tea) has a mood enhancing power on the most dreary of afternoons.
You know when someone offers you a slice of cake? You have basically two choices, as far as I am concerned. Politely decline or accept it and consume it with joy. If the said cake is making you smile, say so. If it's not to your liking, keeping it to yourself is possibly a good idea, unless the gifter insists on feedback and even then, a pinch of tact goes a long way.
What really irks me is when people take the cake and then simply proceed to tell you how they have had better, their wife makes a nicer one or they don't really like one of the key ingredients (banana-less banana cake, anyone?)
They will want to call it 'honesty', but that's just plain rude, in my opinion! Someone made this cake with love and care and they really hoped you would enjoy it or else they wouldn't give it to you. If for whatever reason it's not quite to your taste, fair enough, but have a bit of consideration for them. You are not a Masterchef judge! Get over yourself!
This mini-rant is based on a real life experience that has recently left me puzzled. And the funny thing is that these are usually the same people who would not be able to handle it if you were to be honest in return. I think we have probably all come across that type of person before…
The moral of this life lesson is to not waste your cake on people like that, give it to those who will offer you a simple 'thank you' and a smile in return.
Going back to the cake. This is my healthier take on one of my favourite cakes of all time – banana bread. I like to make mine with buckwheat flour, personally, but you are welcome to use a gluten-free flour mix or a regular all purpose flour, if gluten doesn't bother you. If you are keen on using alternative sugars, coconut sugar works rather well here, although I tend to use demerara sugar myself. It contains no eggs obviously (so no cholesterol worries here) and it's quite low on fat – I only used 4 tablespoons (¼ cup) of oil for the entire loaf. Despite all the health conscious swaps, I still think it's a cracking good cake and I hope you'll enjoy it too.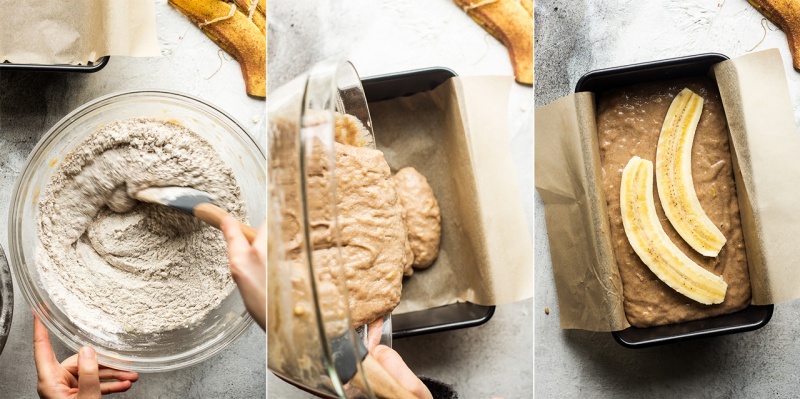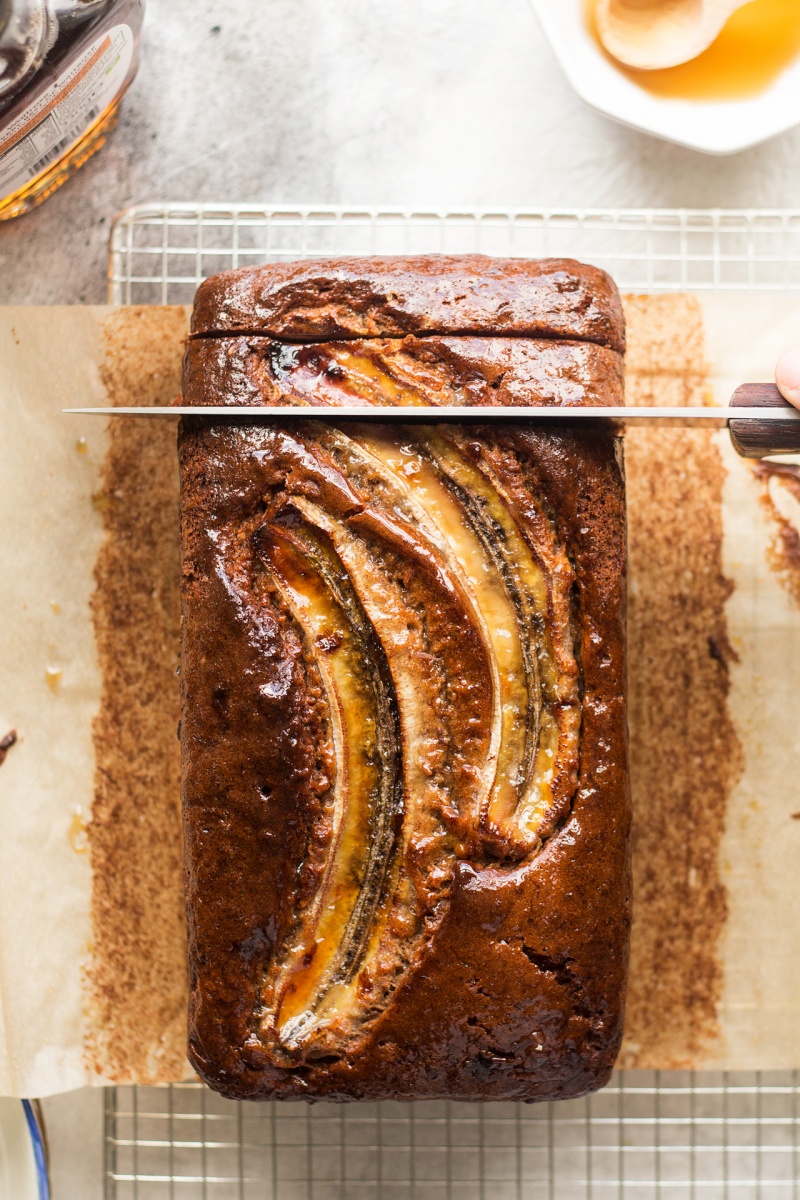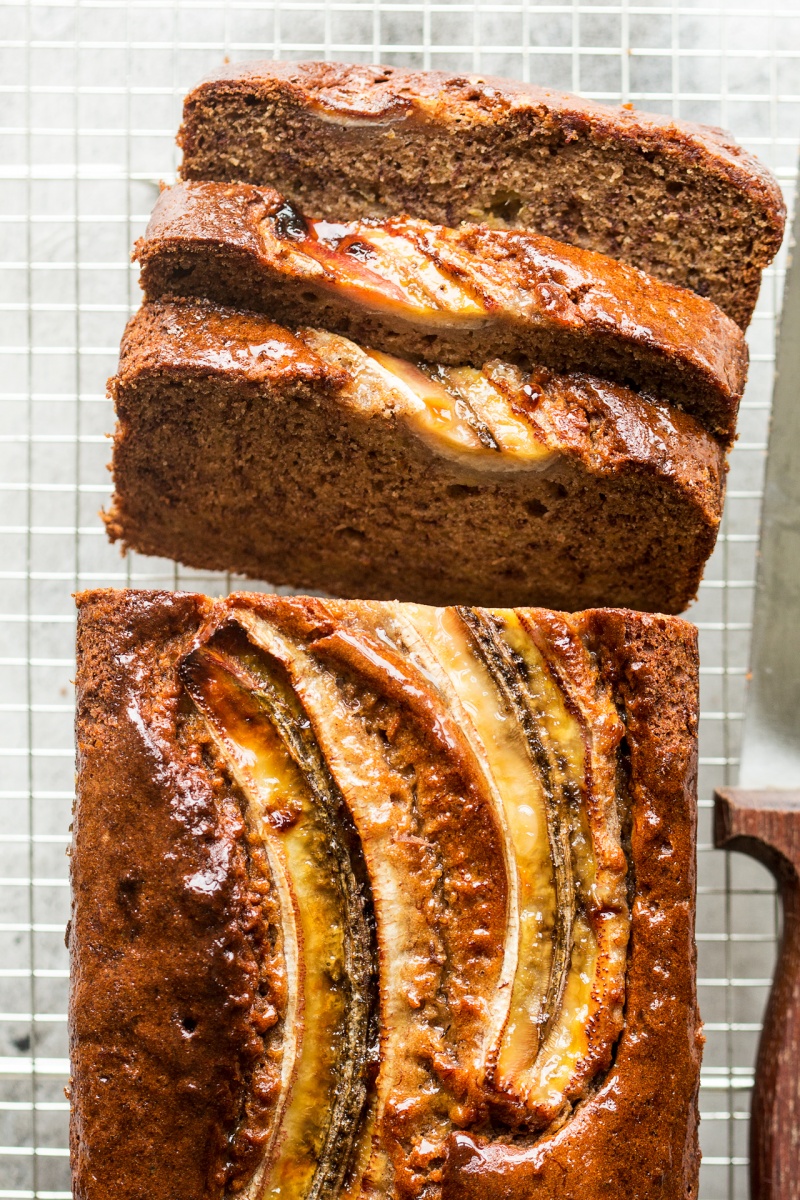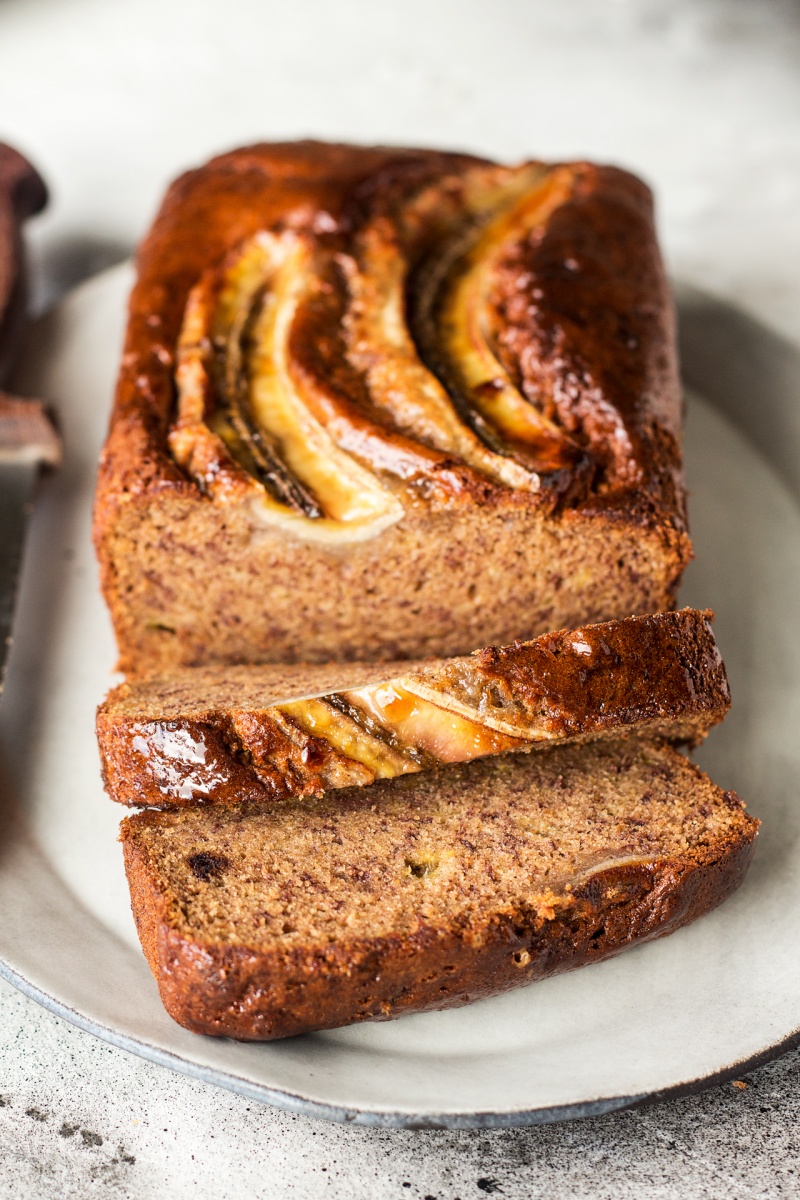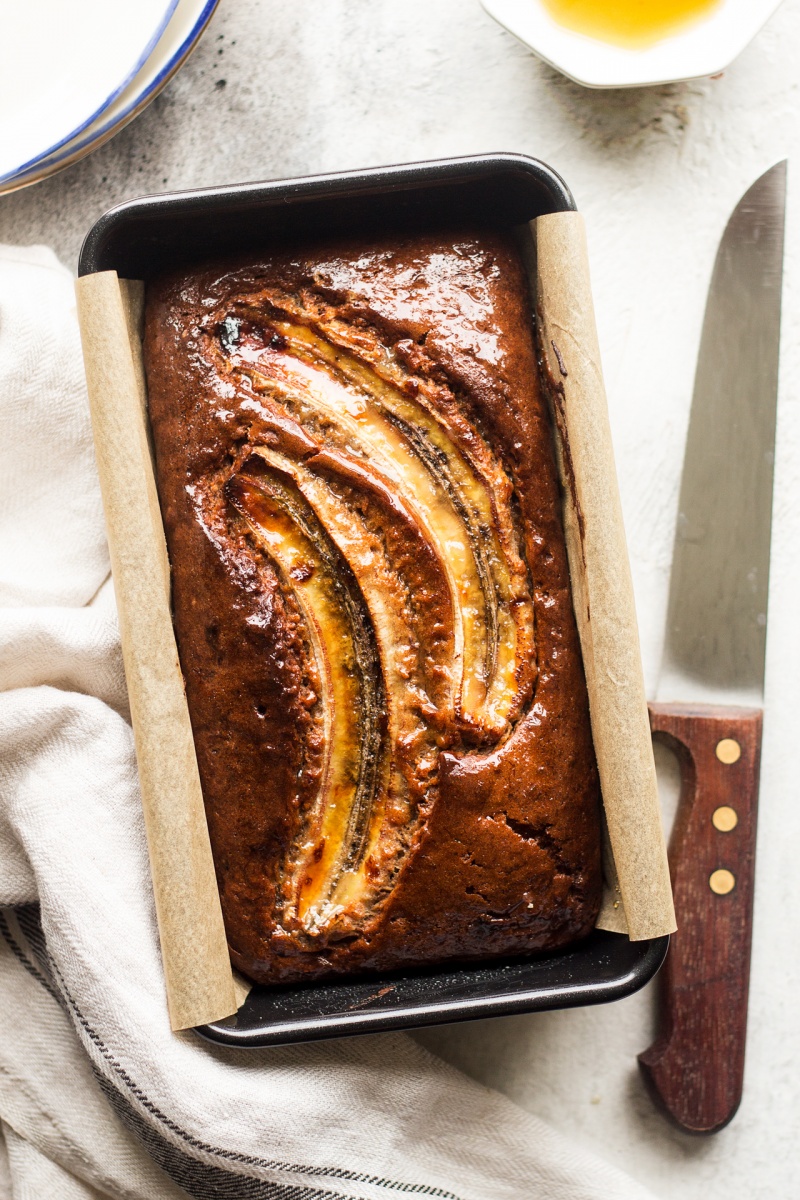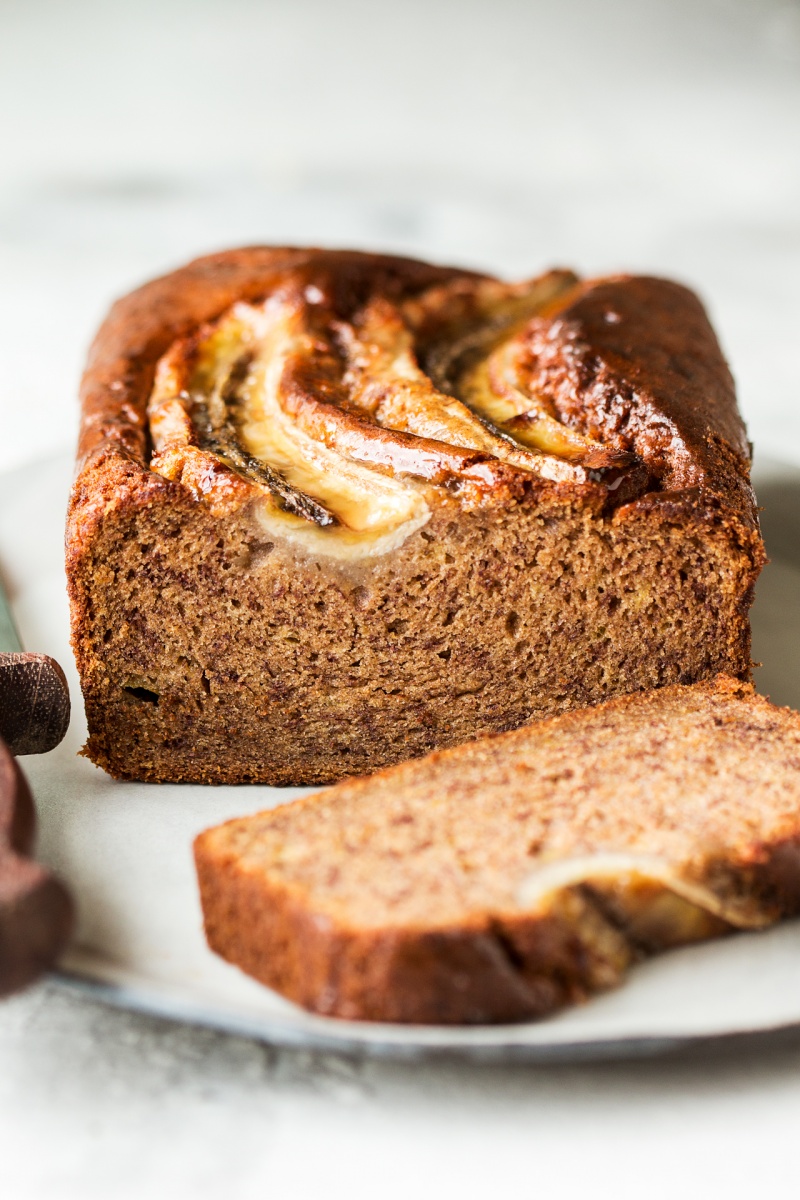 DRY INGREDIENTS
180 g / 1½ cups buckwheat flour*, GF flour mix OR all purpose wheat flour
1 tsp of baking powder
¾ tsp of baking soda
1½ tsp of cinnamon
WET INGREDIENTS
360 g / 1½ cups mashed up, overripe bananas
60 ml / ¼ cup mild tasting oil (I used mild olive oil)
90 ml / 1/3 cup + 2 tsp almond milk (or other thin plant milk)
2 tsp lemon or lime juice
125 g/ ½ cup + 2 tbsp coconut sugar or demerara sugar**
EXTRAS
1 banana for decoration (optional)
2 tsp maple syrup, for glaze (optional)
METHOD
Warm up the oven to 175° C / 350° F and line a 900 g / 2 lb cake tin with baking paper. Move the oven rack a notch down from the middle position.
Combine well mashed up bananas with oil, almond milk, lemon juice and sugar in a large bowl. Mix very well.
In a smaller bowl, combine all the dry ingredients.
Add dry ingredients to the wet ones in three batches, mixing well each time. Mix until there is no dry flour left, but do not overmix (that's only important if you are using a flour containing gluten)!
Transfer the cake batter into the prepared baking tin. It should be fairy thick. Slice a banana in half lengthwise and place on top of the cake – do not press it down as the cake will raise all around it.
Bake for about 50-55 minutes, or until a toothpick comes out fairy clean (this cake should be moist). Remove from the oven and brush with with a little maple syrup while the cake is still hot.
Let the cake cool down completely before removing it from the tin and slicing. Use a serrated knife to slice if you have one – I find that it produces neater looking slices.
NOTES
*Buckwheat is a naturally gluten-free pseudo grain that is related to rhubarb, but it may get cross-contaminated with gluten during processing so if you have a severe gluten intolerance or Celiac disease, make sure you only purchase buckwheat flour that is gluten-free certified.
**If your bananas are very ripe and you like your cakes to be subtly sweet (or you are trying to use less sugar), 100 g / ½ cup of sugar is enough, especially if you intend to glaze the bread.
I used a 2 lb / 900 g cake tin of the following dimensions: 18.5cm x 8cm x 6cm (like this), which holds 8 cups / 2000 ml liquid (to the brim), but the batter should fill no more than 2/3 – 3/4 of the 2lb cake tin or else the cake may not raise.
This banana bread recipe is adapted from my earlier recipe for banana bread.