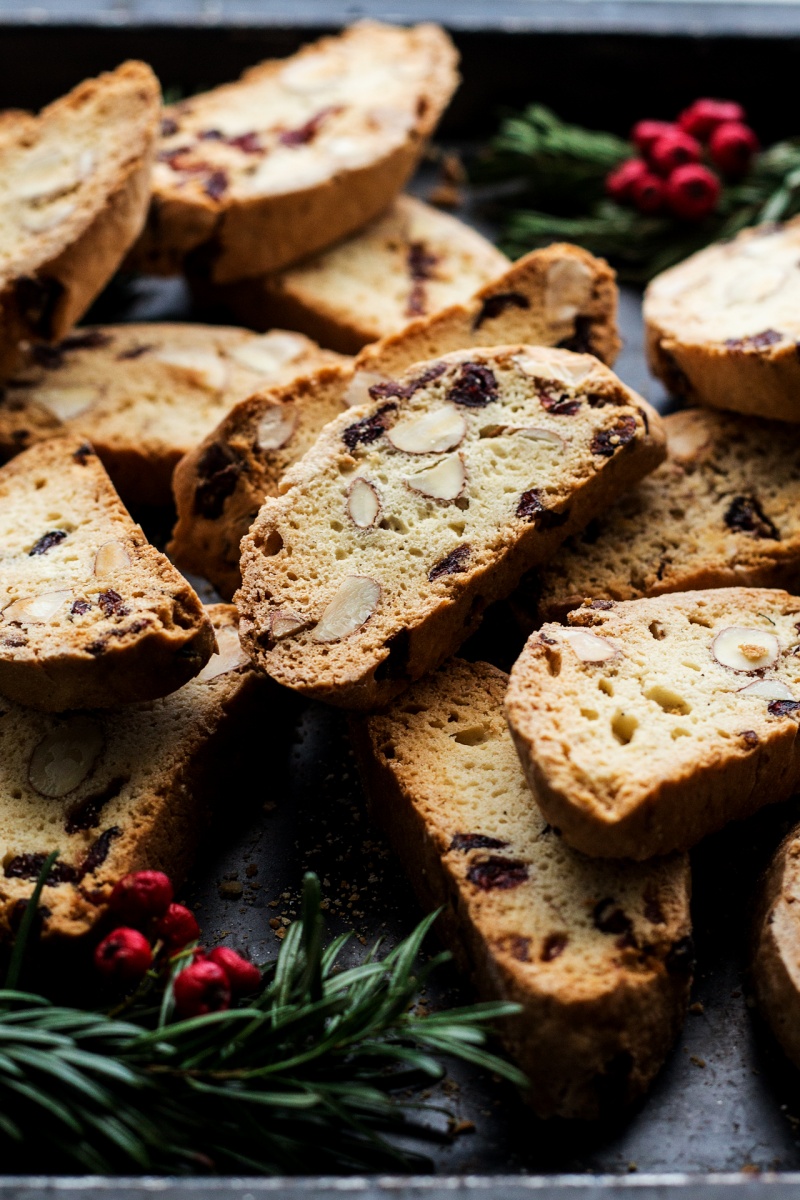 Cantuccini (or biscotti as they are known outside of Italy) are double baked Italian cookies that are best dunked in a glass of a sweet dessert wine or a cup of strong black coffee. They are crunchy, studded with nuts (I went for almonds and cranberries) and totally moreish.
They used to be something I lived on while working in an office. I always had a box of them in my drawer and having them alongside my afternoon coffee was something I looked forward to every day. I used to kid myself that I will only have one or two tops and was always very surprised how quickly I went through them…
I've not had them since going vegan so there was only one thing I could do about it – make them vegan! I was a bit sceptical about the outcome at first as they essentially rely on three core ingredients: flour, sugar and eggs, and that last one is not always the easiest thing to mimic in all contexts.
But when you come to think of what an egg is from a chemical standpoint, it's essentially protein (white) and fat (yolk) so I decided to replicate it by fortifying aquafaba (which is known to mimic egg whites so successfully) with a bit of almond butter. It was an instant hit! Even Duncan, who has just had orthodontic braces put on and was explicitly forbidden from having any, had some when my back was turned and raved about them afterwards (or maybe because he hasn't been able to eat much lately and is always hungry, possibly).
After the initial success, I decided to try another combination: protein-rich soy milk and a touch of coconut oil and it also worked a treat! As I like to have choices and I know that you do too, I included both versions below. As far as I can tell they are both pretty good. In terms of differences, I would say that the version with the aquafaba is a bit coarser and crunchier and perhaps a touch closer to the original, but the version with soy milk and coconut oil is also really good, a bit more delicate and a bit gentler on your teeth. Also, if you are worried about your teeth and are not keen on dunking (I am becoming British slowly, I think 😉 ), just reduce the 2nd baking time and they'll be a lot softer.
I hope you'll enjoy these and perhaps add them to your Xmas cookie rota (if you have one going). One good thing about these biscotti is that as they are already pretty dry, you can make them a long time in advance and seal them in a airtight jar until Xmas – although I dare you to actually be able to leave some for your Xmas table 😉 !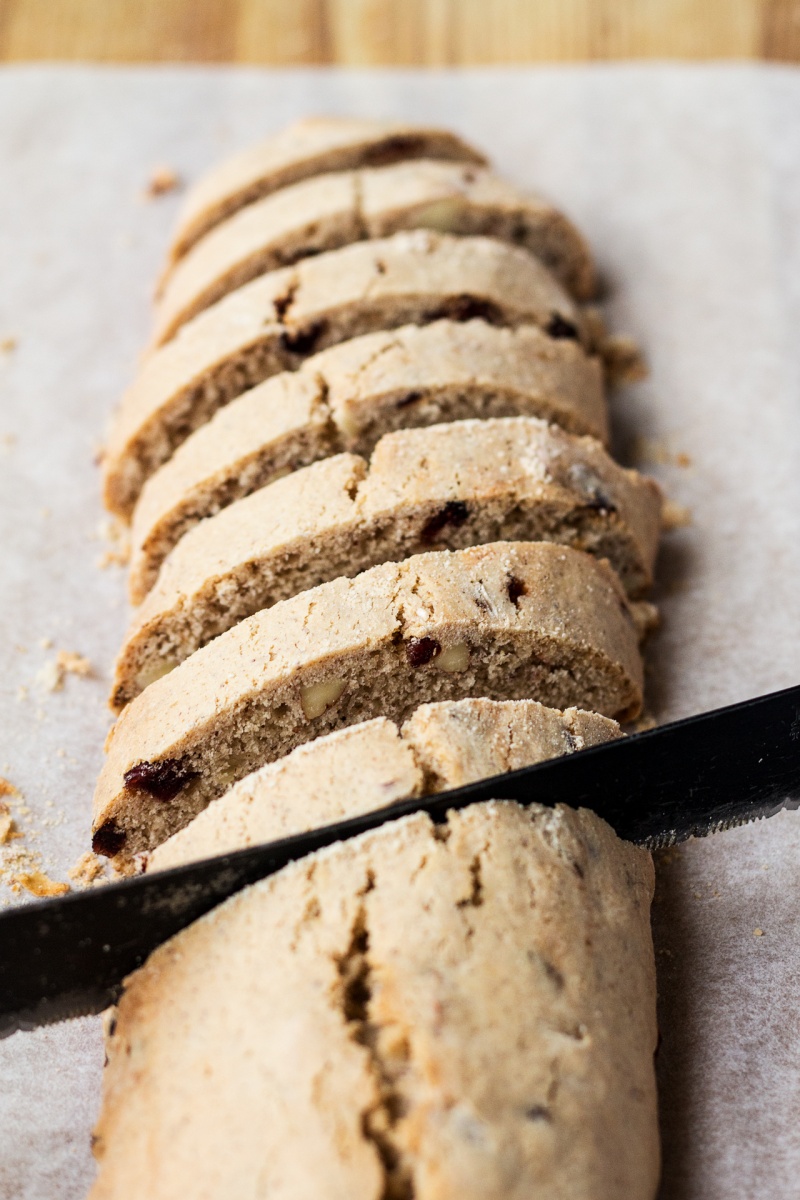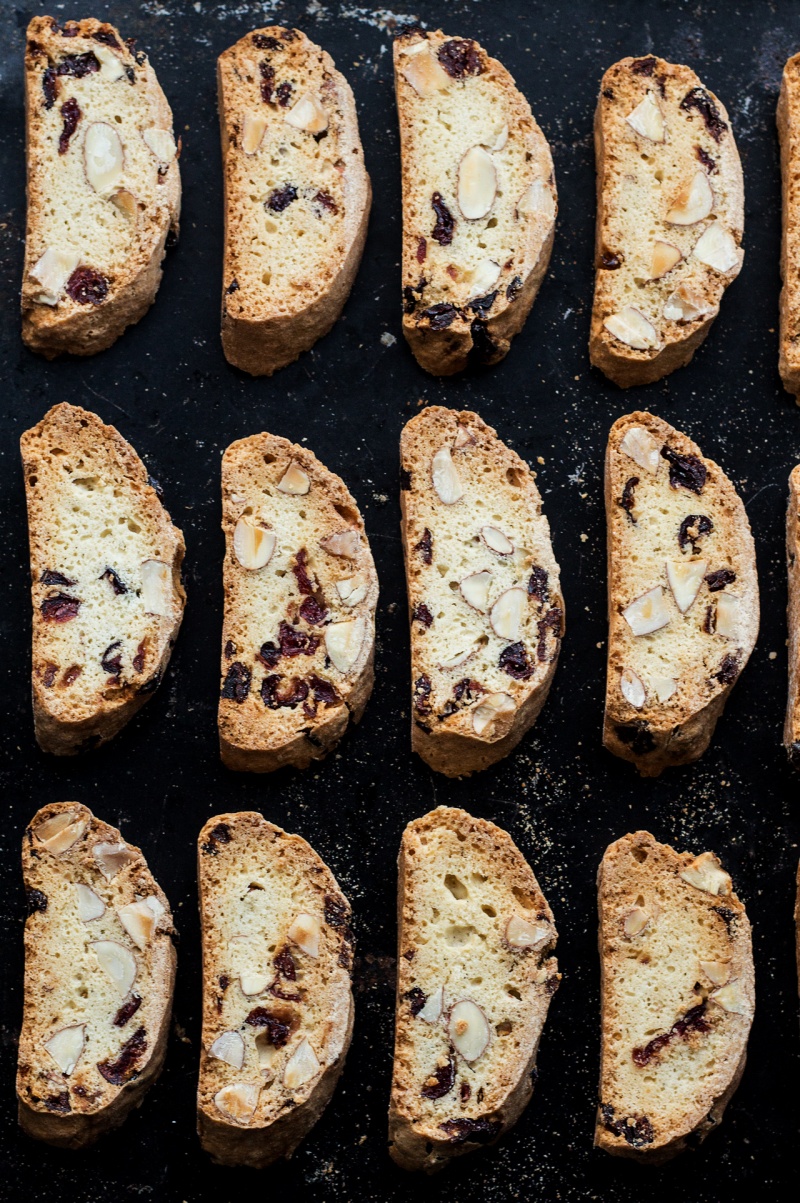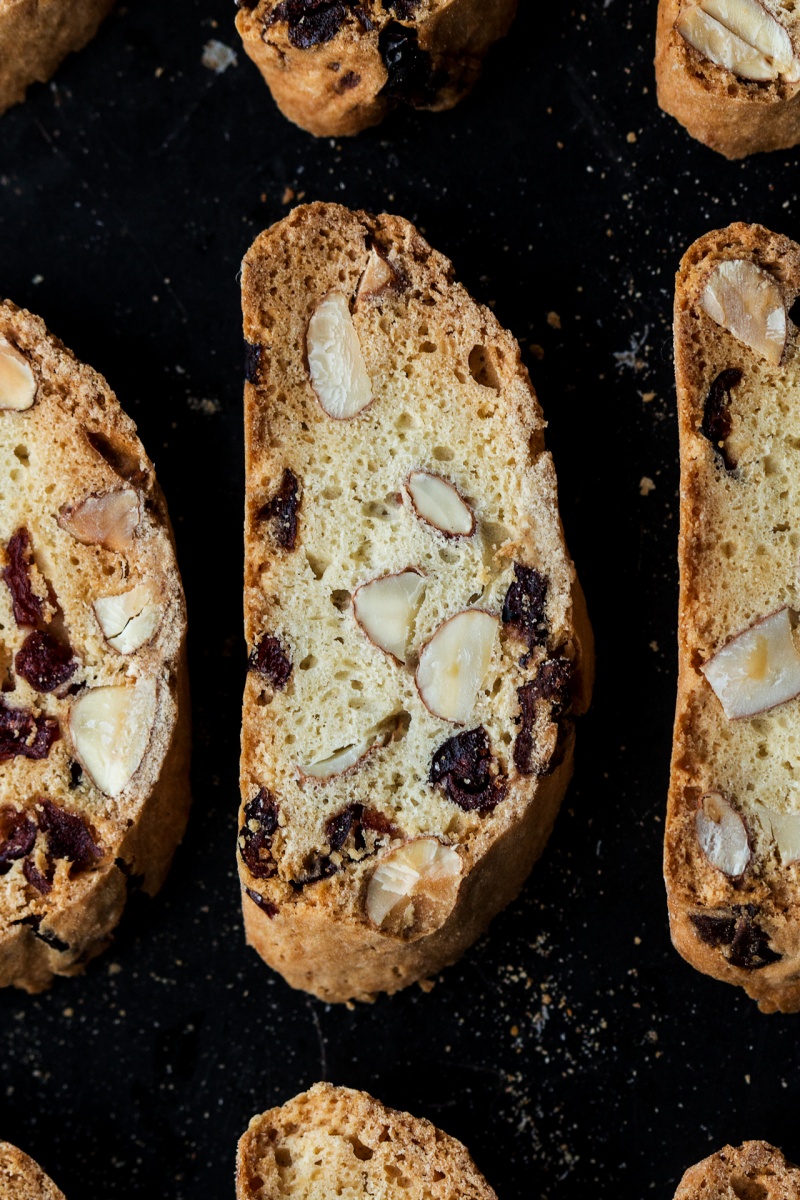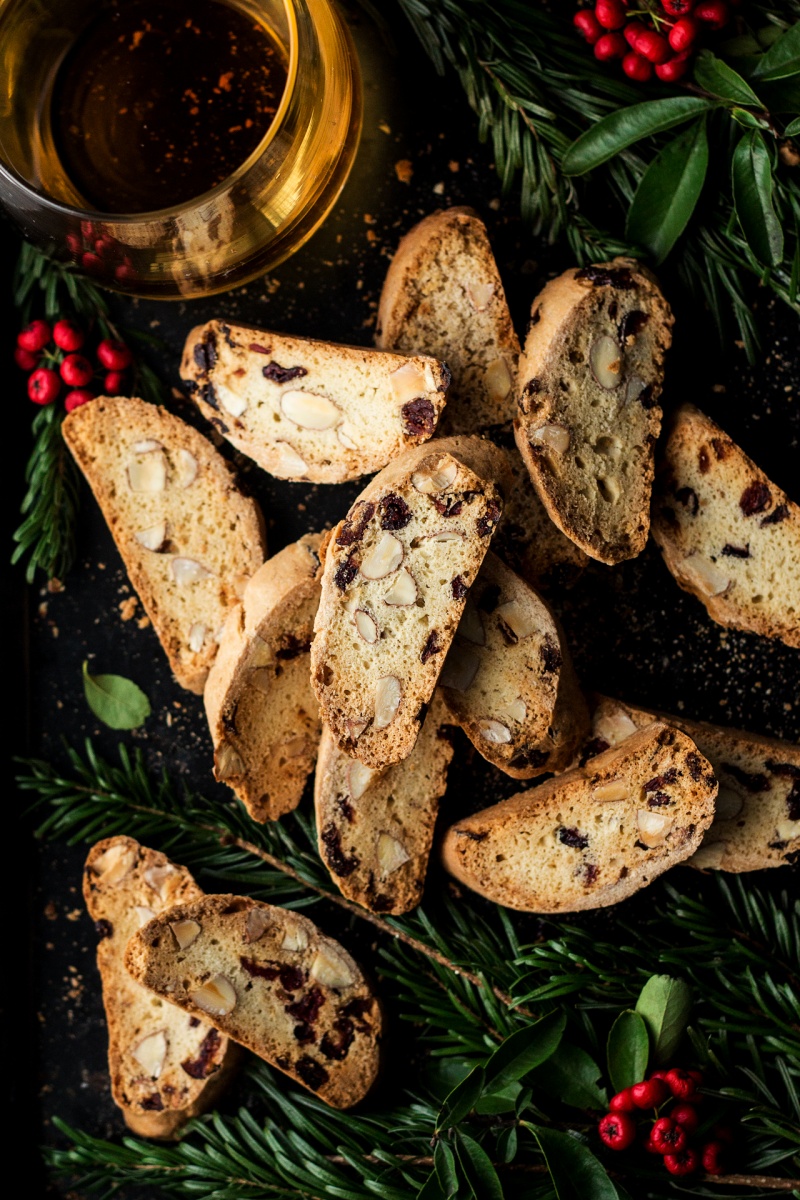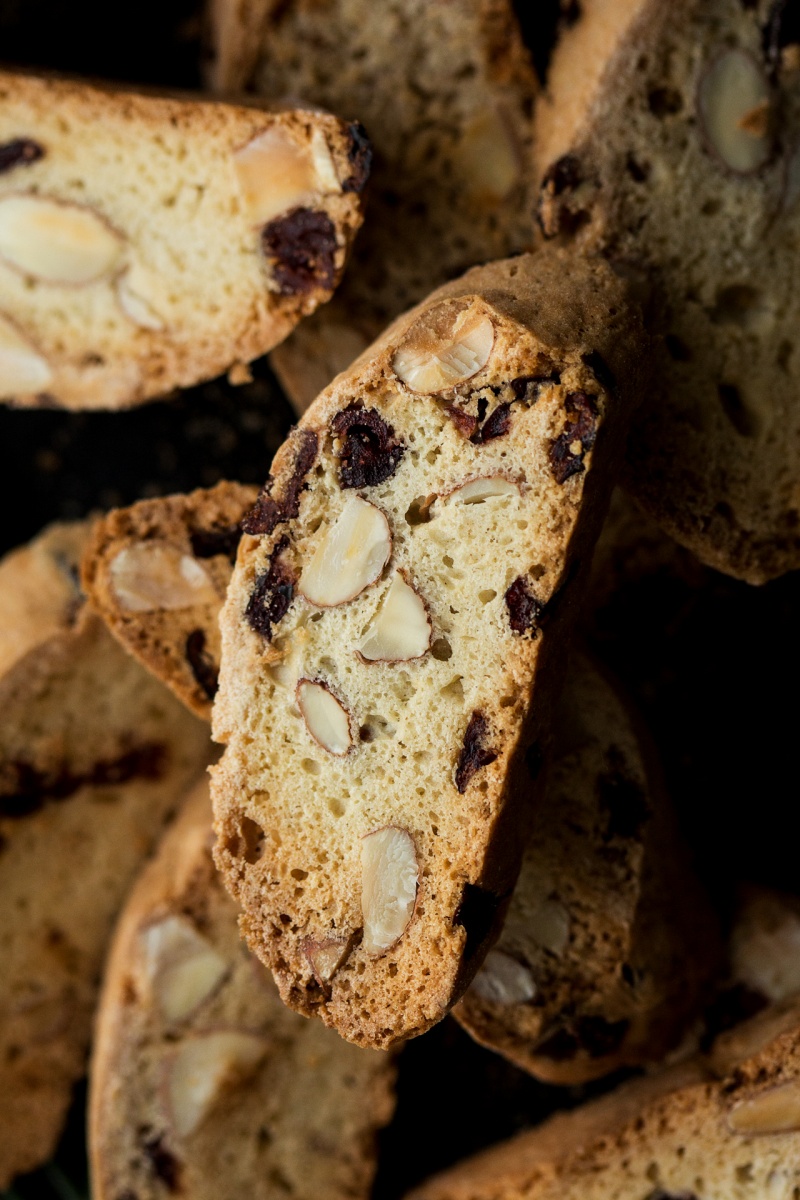 DRY INGREDIENTS
125 g / 1 cup all purpose white flour*
65 g / 1/3 cup caster sugar (demerara sugar works too)
½ tsp baking powder
pinch of fine salt
zest of one small unwaxed orange (optional)
35 g / ¼ cup almonds, chopped roughly
30 g / ¼ cup cranberries, chopped roughly
WET INGREDIENTS (OPTION 1)
WET INGREDIENTS (OPTION 2)
METHOD
Mix the first five dry ingredients (flour to orange zest) in a medium mixing bowl. Set aside.
Set the oven to 150° C / 300° F fan forced (or 170° C / 340° F no fan) and line a baking tray with a piece of baking paper.
If making version 1, place the coconut oil in a small metal or glass bowl over a bowl with simmering water or in a warm place so that it melts. Once melted, using a wire whisk, whisk soy milk into the melted oil, followed by almond or vanilla extract.
If making version 2, place the aquafaba / chickpea water in a small bowl and whisk the almond butter into it until the two are completely combined and lump free. Whisk in almond or vanilla extract.
Add the wet ingredients to the dry ingredient and knead gently (you don't want to activate too much gluten in the flour) until roughly combined. The dough should be not too dry or too sticky. If it's too dry, add a touch more (1 tsp to begin with) soy milk (version 1) or aquafaba (version 2) and if it's too wet, add a touch more flour.
Add chopped almonds and cranberries and incorporate them gently into the dough, making sure they are distributed more or less evenly.
Roll the dough into a long, thick snake and then transfer it to a baking tray and flatten it into a 3-4 cm / 1-1.5″ wide and 25 cm / 10″ long log.
Place in the hot oven for about 30-35 minutes, until the log's surface is firm to a gentle pressure and lightly browned. Do not switch the oven off as these will need to be baked again.
Let the log cool down for 15-20 minutes before cutting into it. Cut it into 1-1.5 cm / 0.4-0.5″ slices with a serrated knife. Place the slices on a baking tray cut side down and return them to the oven for the second bake. Bake for about 15-20 minutes, until your biscotti achieves the desired crispness and colour – remember the longer you bake them the harder they get. I also found that version 1 needed about 5 minutes longer than version 2.
NOTES
 *I have not tried making these gluten-free, but if you would like to try, I would recommend using a baking GF flour mix that contains some xantham gum.
**I used aquafaba straight from a can of chickpeas. You can also use homemade aquafaba – here is how to make it.