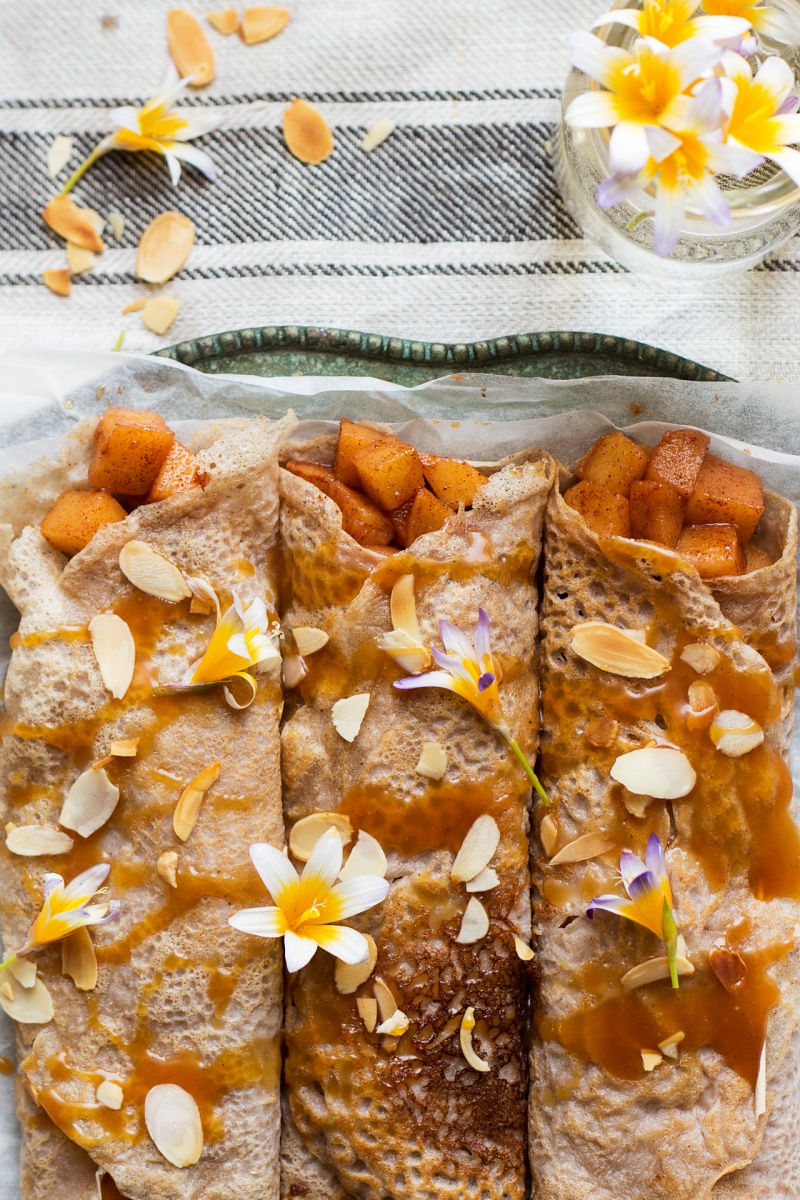 It's not entirely clear why it is pancakes that are traditionally consumed on so called Shrove Tuesday (or the more secularly named Pancake Day) in most English speaking countries. It's probably due to the fact that traditional pancake ingredients like milk, butter and eggs were forbidden during fasting and so needed to be used up before the feasting began.
In this sense, my pancakes or crêpes don't quite meet the brief as they obviously contain none of the aforementioned ingredients. They are effortlessly vegan and gluten-free (if you don't mind gluten in your food, use all purpose wheat flour instead*) and if not for the decadent caramel sauce they would ALMOST be a health food 😉 .
As I'm still patiently waiting for the first real strawberries of the year and a combination of apples and cinnamon happens to be one of my favourites, I've decided to go for that quintessentially autumnal and winter flavour combo here. I am, of course, biased but it works really well against nutty buckwheat flour and indulgent caramel sauce.
Just a word of warning when it comes to caramel making though. Regardless of whether you are making a vegan or a non-vegan version, making caramel requires a bit of skill, so please don't be discouraged if you don't nail it at your first go. I've wasted a fair amount of sugar and coconut milk in honing my caramel-making skills so I know what I'm talking about. If your are not an experienced caramel wizard and cannot afford for things to go wrong, go for the second of the two sauce recipes I included below. It's way easier! Bon appetit!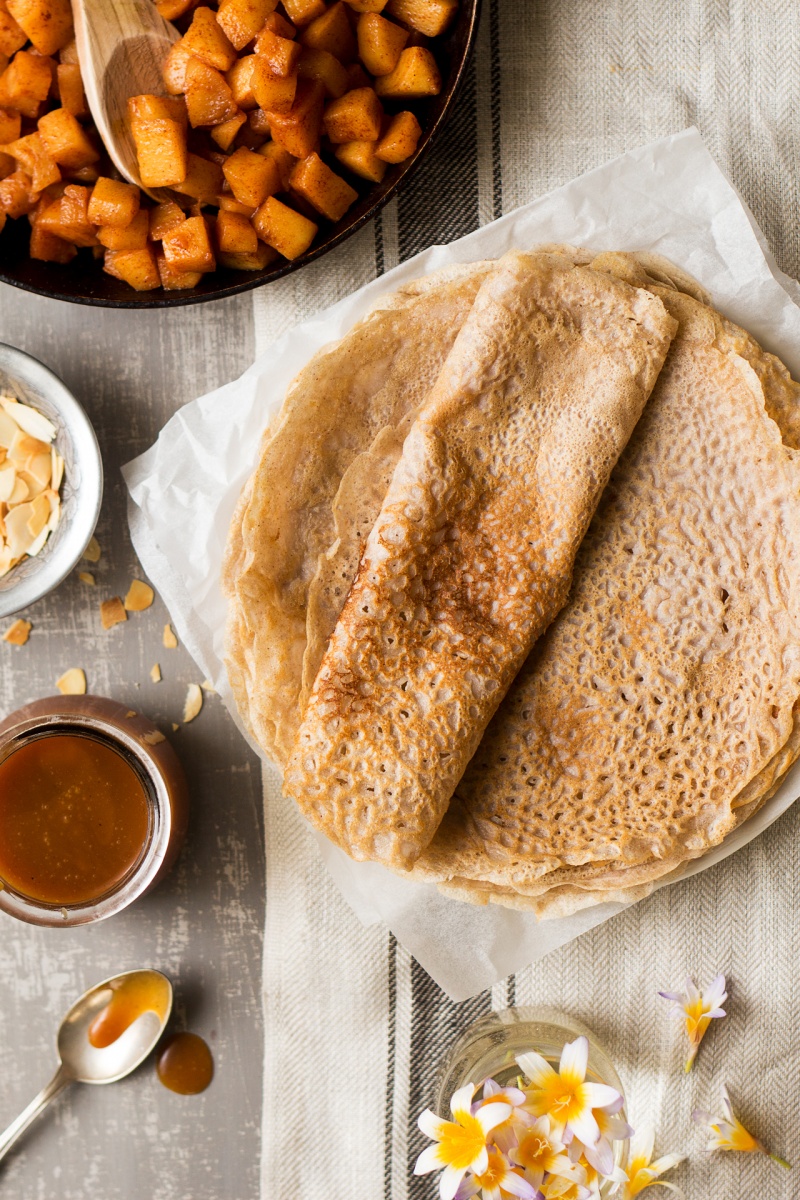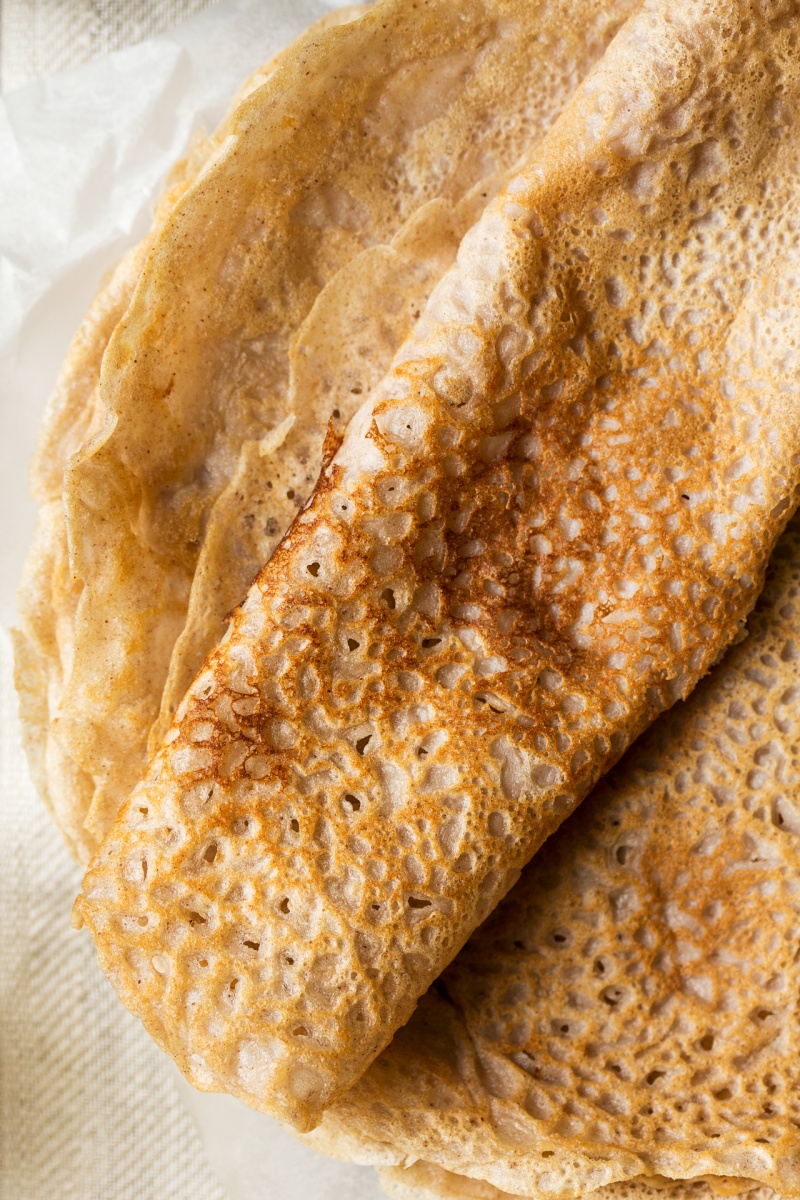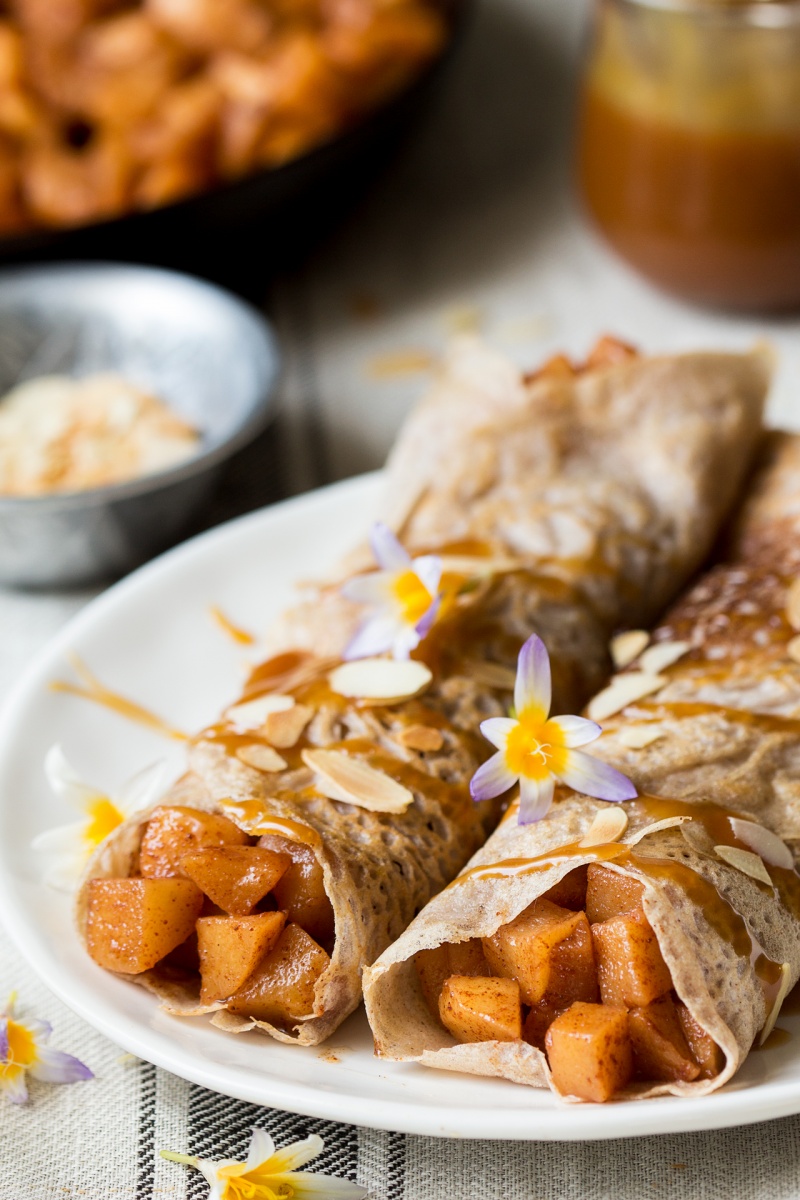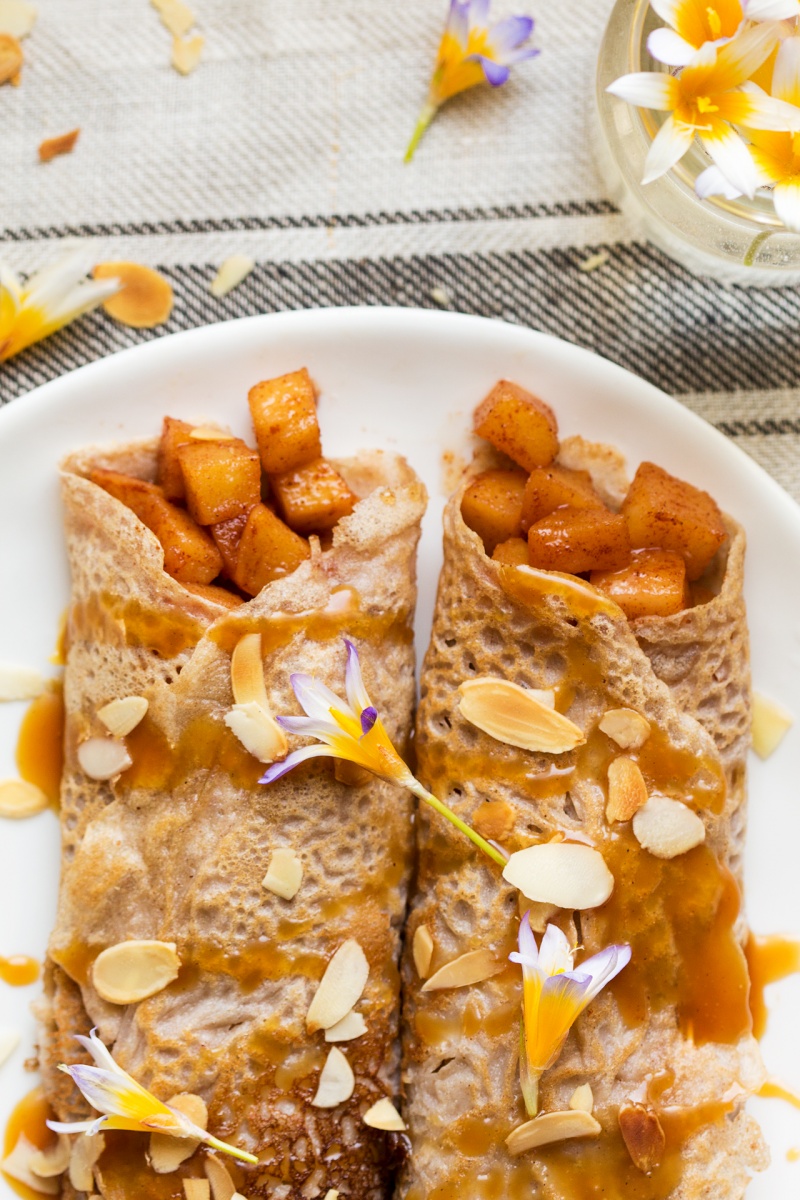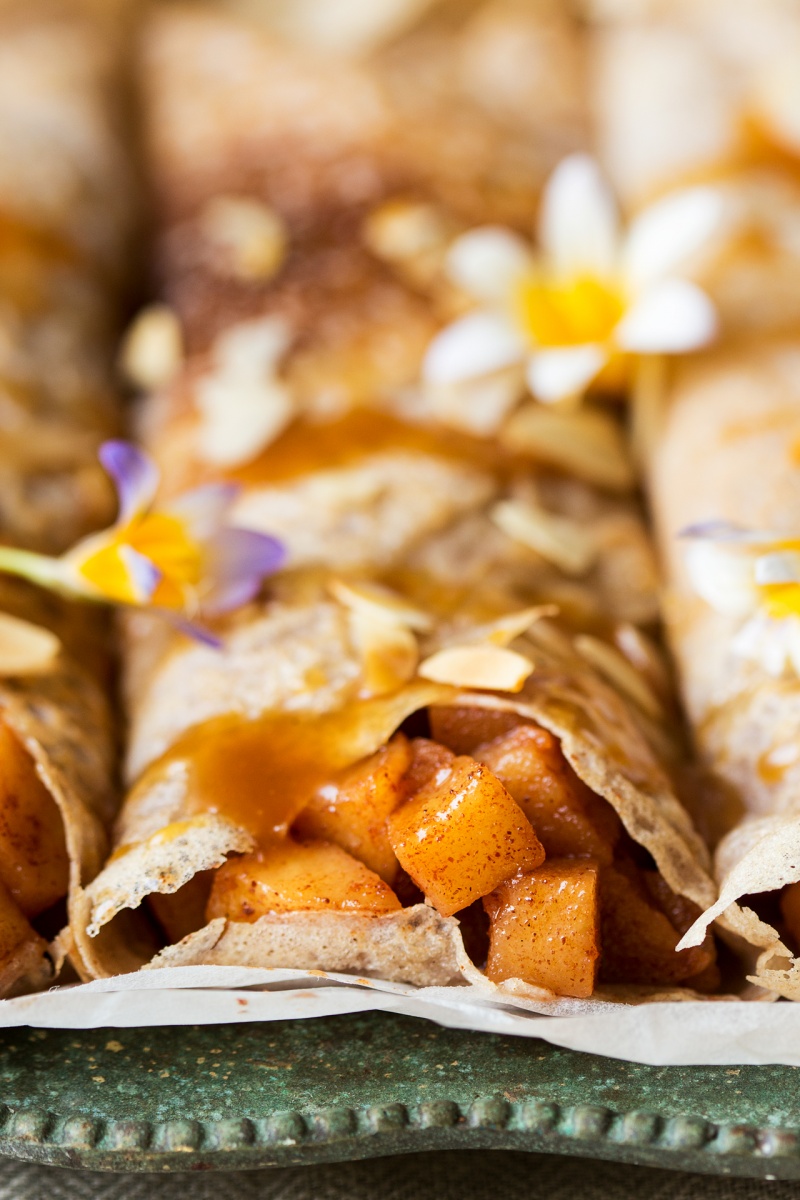 GLUTEN-FREE BATTER
CINNAMON APPLES
CARAMEL SAUCE (SUGAR VERSION)
CARAMEL SAUCE (HEALTHIER ALTERNATIVE)
METHOD
CRÊPES
Place the first 3 ingredients in a large bowl. Make a well in the centre and very gradually start adding in plant milk (60 ml / ¼ cup at a time) whisking the whole time. Whisk well after each addition to ensure that there are no lumps in the batter. Initially the batter will look thick and gloopy, but it will start looking like a crêpe batter with every milk addition.
In a separate bowl, whisk aquafaba with a hand whisk until frothy and light and add it into the crêpe batter.
Finally whisk in maple syrup (if using), melted oil and adjust the amount of plant milk to ensure the batter is the right consistency – it should be runny, but should coat the back of the spoon.
Heat up a medium (I used 24 cm / 9.5 " pan) non-stick pan on a medium heat. Brush the pan with a small amount of oil to make sure that the pancakes do not stick. Take the pan into your hand (off the stove) and pour a thin layer of batter (I found that 60 ml / ¼ cup of batter is optimal) into the pan and swivel it well to form a thin, round crêpe. Put the pan back on the stove and cook until the crepe no longer sticks to the pan and can be flipped to the other side. Once flipped, cook the crêpe on the other side for another minute or so.
Put cooked crêpes in a stack so that they do not dry out and become brittle.
Once ready to serve, fill each crêpe with cinnamon apples, drizzle with your caramel of choice and sprinkle with toasted almond flakes.
CINNAMON APPLES
Wash the apples, peel them and cut them into a uniform dice.
Heat up a medium pan. Add a tablespoon of coconut (or olive oil) and once it heats up, throw in diced apple and sprinkle with cinnamon. Stir well to coat.
Add a splash of water (or brandy if you like) to the apples and let them cook gently, on a low-medium heat, until they become soft and cooked through. Once ready, they will become less opaque.
CARAMEL SAUCE (SUGAR VERSION)
Spread an even layer of sugar at the bottom of a dry pan or pot. Heat up the sugar on a medium heat (I used setting 3 out of 6). Refrain from stirring it, although if your pan has hot spots, you may need to gently manoeuvre the unmelted sugar into a hot spot. Meanwhile, warm up ½ cup of coconut milk in a separate pot.
Once all the sugar has melted, let the sugar caramelise and darken slightly (it will happen quite quickly so be careful not to burn it). The darker the caramel, the less sweet it will be. Once the sugar achieves the colour you are after, take the pan off the heat and slowly stir in the warmed up coconut milk and then add salt. Be very careful as even though warming milk up minimises this, caramel may be splattering at this point and it will be very hot.
There is a chance that once you add the coconut milk, some of the caramel will harden into big lumps. What you need to do is to return the pan to the stove and set on a very low setting (I used 2 out of 6) to allow these lumps to melt away. Make sure you keep on stirring the mixture. Now, because the longer you cook your caramel sauce the more sticky and less sauce-like it will become, if you do need to bring it back to the stove to melt any stubborn lumps, add another ¼ cup / 60 ml of coconut milk to the pan to ensure that once your lumps have dissolved the caramel will retain sauce consistency. Do not panic if it appears to be too runny at first, caramel thickens as it cools down. If it does end up being too runny, place the pan back on the stove and reduce the caramel gently to thicken the sauce.
CARAMEL SAUCE (HEALTHIER ALTERNATIVE)
Slowly heat up maple syrup in a pan. When it starts to boil gently, take it off the heat. Stir in almond butter and salt with a hand whisk. Return the pan to the stove and simmer very gently, stirring the caramel for another minute to thicken the sauce a little bit – remember that it will thicken a bit more as it cools anyway. If it's too thick once cool, stir in a few drops of plant milk to bring the desired consistency back. Set aside.
NOTES
*If you don't want to make these gluten-free, substitute buckwheat flour, rice flour and corn flour with 2 cups of white all purpose wheat flour. You can also use half white flour and half wholemeal / wholegrain but the pancakes will be less delicate.