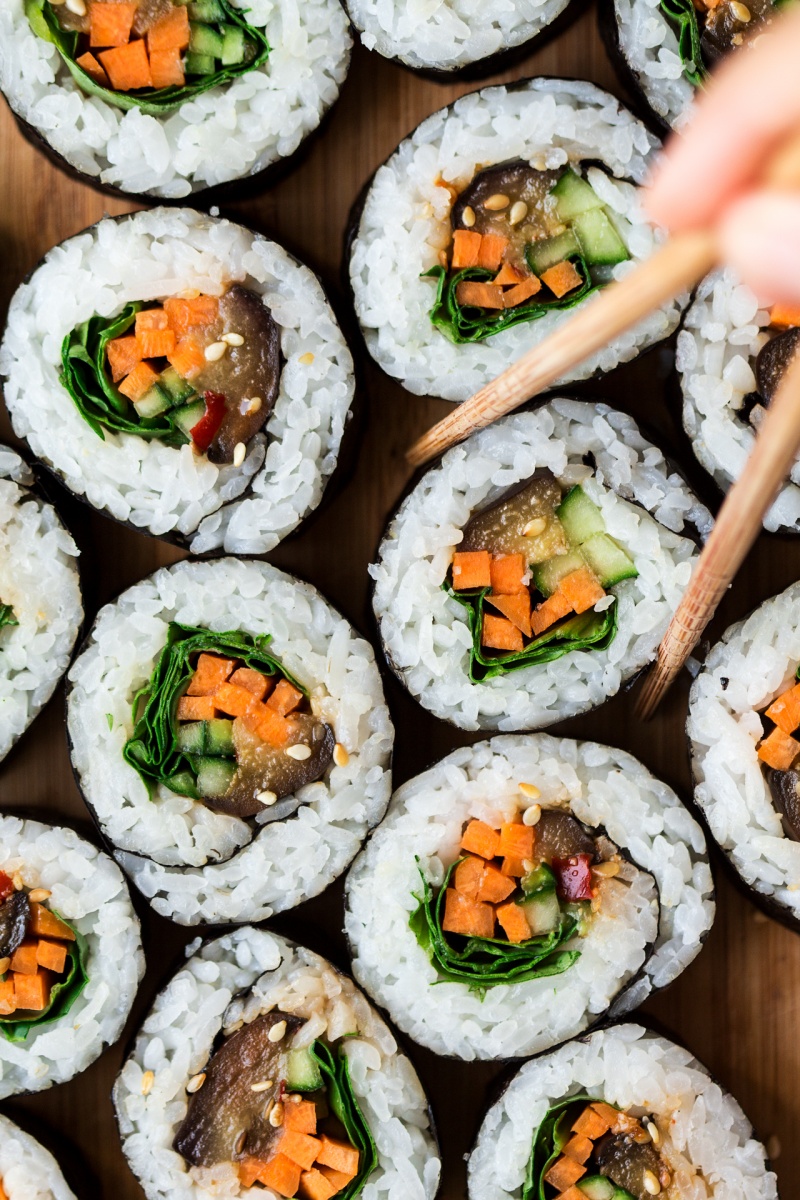 If you're bored of your regular sushi rolls and your garden keeps on giving you eggplants (aubergines) at a pace crazier than you know what to do with, take a leaf out of my book and make eggplant sushi.
I know it isn't terribly conventional but who cares if it tastes good, right? As vegans, we need to get a bit more creative than most and that's what I love. When we were visiting Poland this winter, on our last day we went to an all vegan sushi joint and we were in heaven.
Those guys managed to do amazing things with sushi rice and vegetables and if I lived there they would get sick of seeing my face all the bl**y time 😉 . Shame I was too busy enjoying my meal instead of taking notes, as I could attempt to recreate some of their ideas, but all I remember was lots of 'party in my mouth' moments.
My simple eggplant maki rolls are not a patch on the delights they were able to offer, but one has to start somewhere 😉 and who knows where this new found veggie sushi obsession (apart from a larger jeans size 😉 ) may lead…
Greeks do wonderful dishes with eggplants, but sometimes I simply get bored and want to shake things up. As eggplants actually come from Asia originally, putting an Asian spin on this delicious meaty fruit (yes, it is!) is a no brainier.
I decided to grill them slowly to get the inside cooked through and the exterior nicely charred and then pop them into a super simple sesame marinade and that's it. I added some raw veggies for colour and crunch and my very own sushi aficionado, Duncan, was a super happy bunny indeed.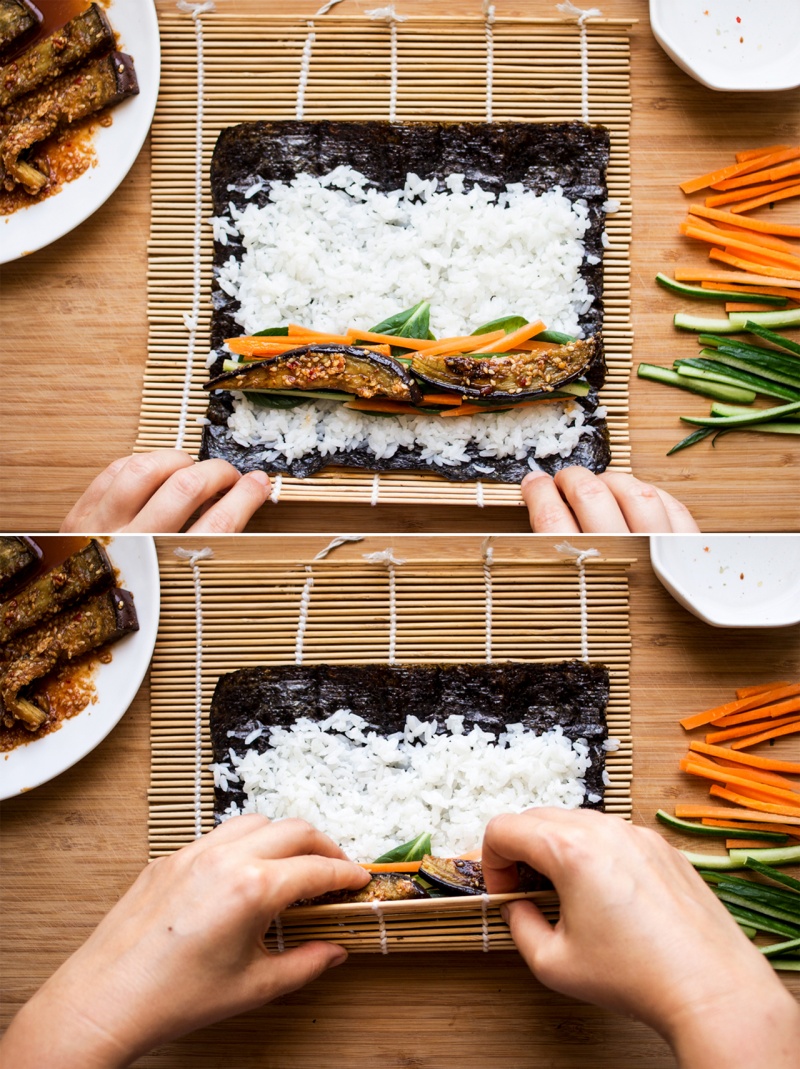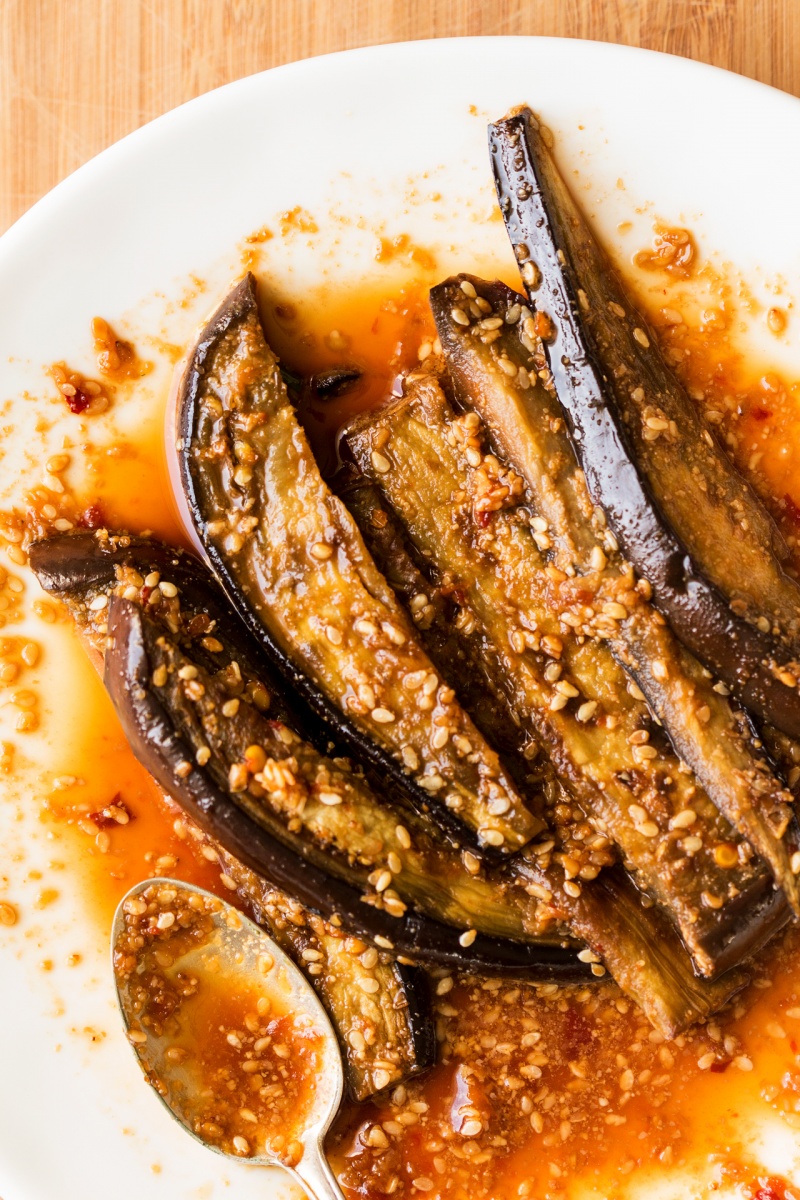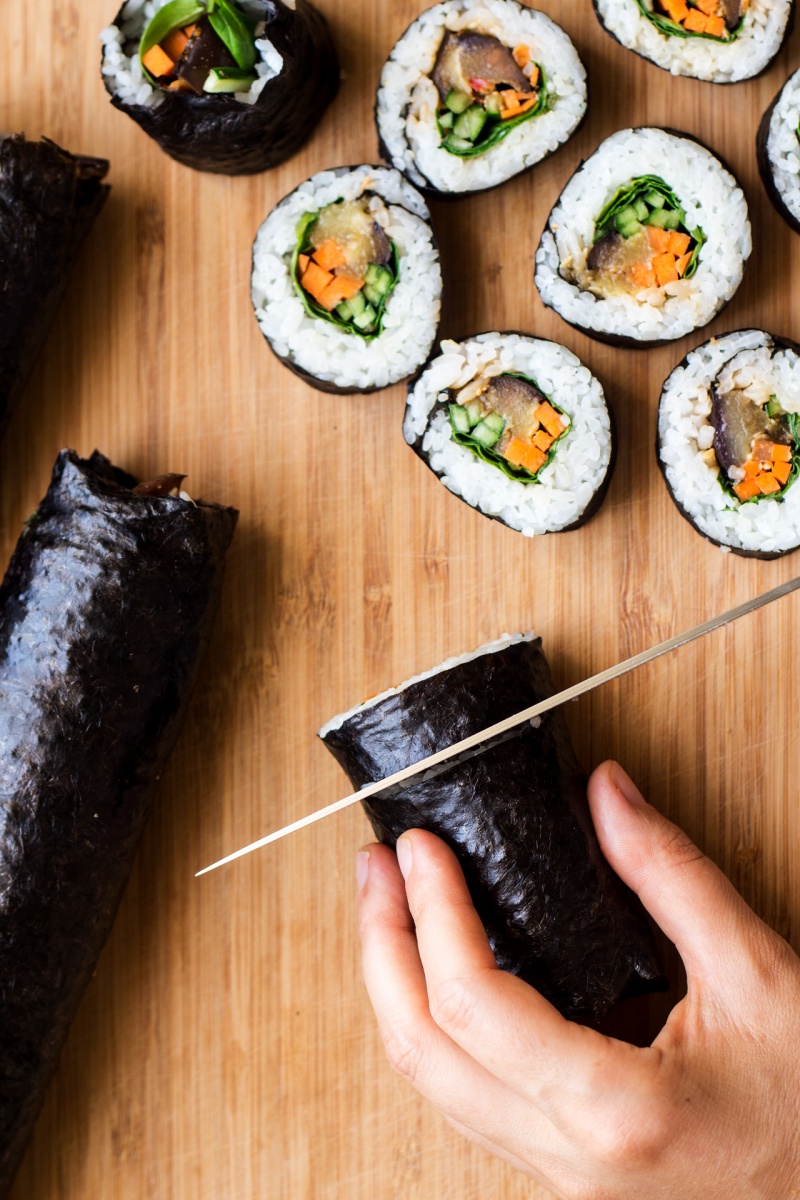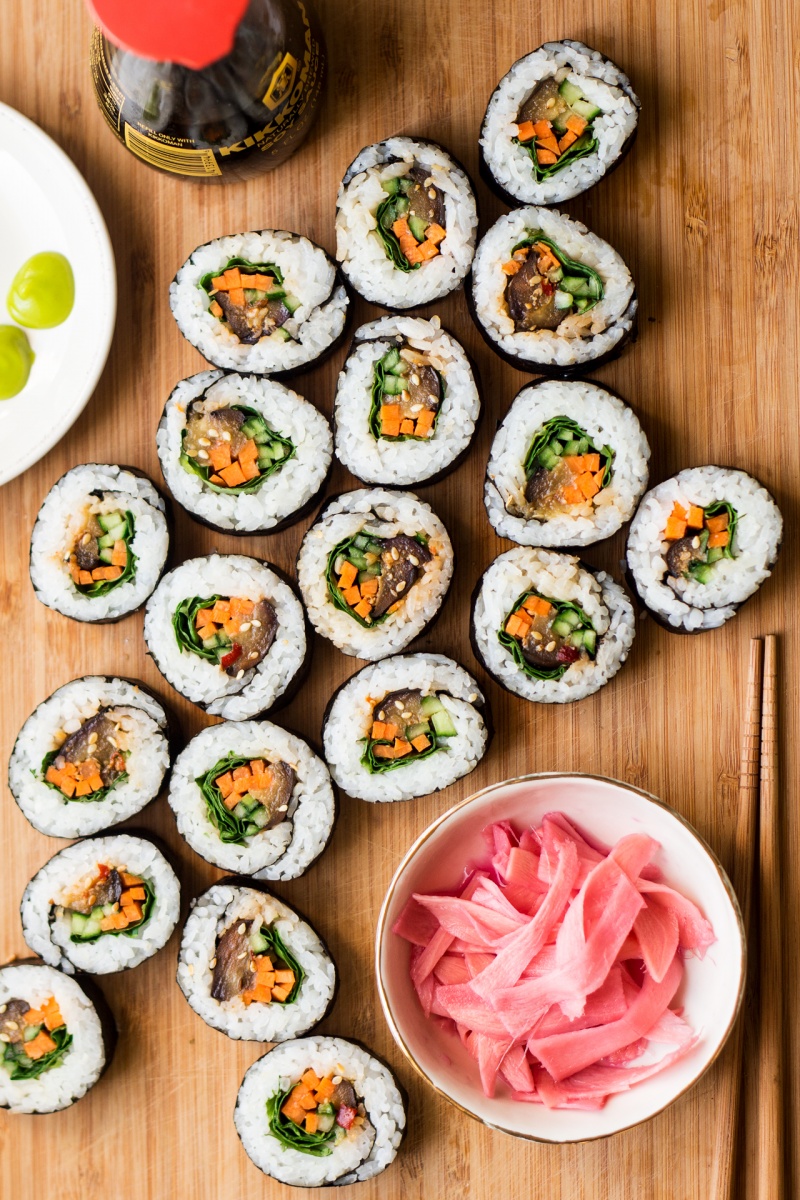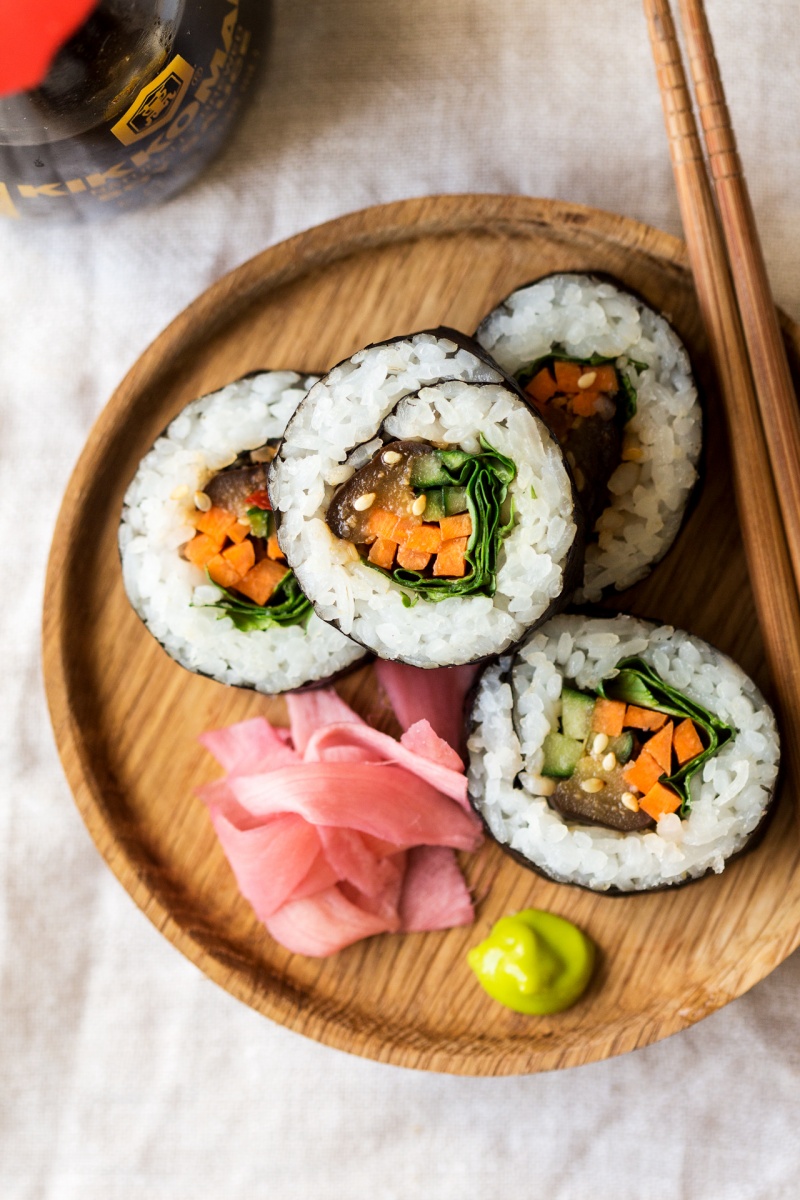 SUSHI
FILLING
2 tbsp sesame seeds
1½ tsp toasted sesame oil
2 tbsp tamari (for GF version) or soy sauce
1 tbsp maple syrup
4 tsp rice vinegar
½ tsp spicy chilli sauce (I used sambal oelek)
2 small eggplants / aubergines
approx. 30 g / 1 oz baby spinach leaves
1 carrot, peeled and julienned
1 Lebanese cucumber, cored and julienned
CONDIMENTS
METHOD
SUSHI RICE
Rinse sushi rice very well until the water runs clear. I tend to do that in a glass bowl so that I can easily judge when it's been rinsed enough.
Place rinsed rice in a medium pot that you have a glass lid for and cover with 2 cups of water. Cover with a lid and bring to the boil. Once the water comes to boil, decrease the heat down to low and let the rice cook until it has absorbed all of the water (about 10 minutes). Once all the water has been absorbed, switch the heat off but do not lift the lid and let the covered pot sit on a warm hob for another 5-10 minutes to finish off cooking in its own steam.
While the rice is cooking prepare seasoning by mixing rice vinegar, maple syrup (or sugar) and salt in a small bowl. Adjust the level of sweetness and saltiness to your taste.
Transfer cooked rice onto a large tray (a large Pyrex works well) and season with the mixture you prepared earlier by gently folding the seasoning into the rice with a spatula (being careful not to squash the grains). Allow the rice to cool down completely – helping it cool down quicker by fanning is a good idea if you have the time 😉 .
FILLING
Gently toast the sesame seeds on a hot pan until golden and fragrant. Crush them in a pestle and mortar.
Prepare the marinade for the eggplant by combining sesame oil, tamari (or soy sauce), maple syrup, rice vinegar and sambal oelek in a shallow bowl. Add crushed sesame seeds and set aside.
Slice eggplants into 1½ cm / 0.5 " slices lengthwise. If you usually do this, salt eggplant slices on both sides and set aside for about 60 minutes or so for the salt to draw out any bitterness. Rinse the salt off and pat the slices dry.
Heat up a griddle pan on a medium high heat. Once hot, brush the pan with a bit of oil (I used olive oil) and place the eggplant slices on it. Allow them to cook gently and char a little, for about 5 minutes on each side.
Take the slices off the heat and allow them to cool. Cut each slice into 3 long strips lengthwise and coat in the marinade (and don't discard your marinade afterwards as it makes a great dipping sauce).
ASSEMBLY
Wrap your sushi mat (bamboo mat or folded kitchen towel) in a large piece of cling film and have a small bowl of water handy. Put the mat down, put a nori sheet on top of the mat, shiny side down. Grab some cooled sushi rice and spread it evenly on the nori sheet leaving a 1 cm margin at the very top, for sealing. As well as spreading the rice evenly, keep on pressing it into the mat with the back of a spoon.
Place fresh spinach, carrot, cucumber matchsticks and eggplant pieces in a long line along the bottom edge of the nori sheet and leave a bit of space below so that you can fold the nori sheet over the filling.
Using the mat, slowly start rolling the roll, squeezing it tightly with both hands as you roll. Go back every now and then to make sure everything is tightly bonded.
Once you get to the end, dip your finger in water and brush the water on the margin to seal the roll. Finish rolling and set the roll aside. Repeat the last 4 steps with the remaining nori sheets.
Once you've rolled all the sushi rolls, cut them into 1 cm slices with a sharp knife. Serve with pickled ginger, wasabi and a side of tamari (or soy sauce).
NOTES
If you are new to sushi making, see
this recipe
for step-by-step photos.
*Although it contravenes tradition, you could use brown rice for this. If using brown rice, cook it in the same way in 3 cups water (ratio of rice to water is 1:1½).