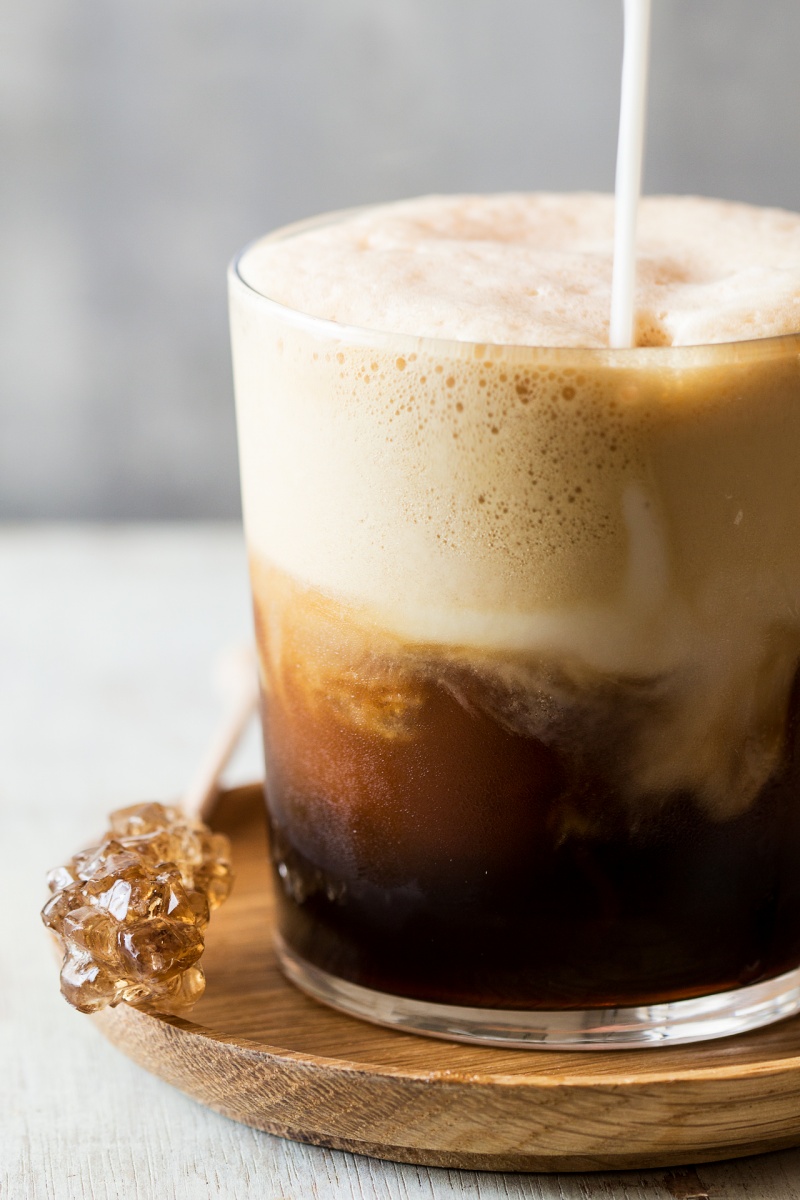 'Hello, I'm Ania and I'm an espresso freddo addict!' Espresso freddo is a way of life here, in Greece, and no summer would be complete without it. As opposed to other cold coffees out there, this one is really pure and simple – quality coffee, ice, maybe sugar, maybe a dash of milk, that's it. No whipped cream, no ice-cream scoops floating in it, no artificially flavoured coffee syrups. What you see is what you get and that's good as, apart from them tasting delicious, freddos are also beautiful to look at. Especially against the back drop of white-washed buildings with blue doors and the stunning blue sea!
Greeks have a secret code when it comes to ordering their espresso (or cappuccino) freddo. You have a choice of γλυκο / gliko (sweet), μέτριο / metrio (medium-sweet) or σκέτο / sketo (unsweetened). The trouble is this is a very subjective scale. In some places metrio is way too sweet while in others just right. We used to always order metrio, but as most places were a bit too generous with sugar, we've decided to bite the bullet and start ordering sketo. It was pretty shocking to begin with – the first sip felt like it could wake up a corpse – but now I wouldn't have my espresso freddo any other way.
Every cafe in town has a special machine for making this magical beverage and you can obviously buy one like that, but you really don't have to. Last week, when a heatwave hit us all of the sudden, I decided to see if I could make this beloved drink of mine in a blender.
I tried my very average, old blender and a power blender that I recently bought second-hand and neither of them broke a sweat. The only difference being that the power blender crushed my ice a little more finely – something that our local freddo expert and cafe owner, Stella, thinks isn't at all necessary. In fact, she prefers hers with a few uncrushed ice cubes. I was so happy with my discovery that I decided to share it with all of you coffee fiends out there so that you don't suffer painful coffee withdrawals on sweltering hot summer days 😉 .
When I order this drink out, I always go for an espresso freddo as most local cafes don't do plant milk, but when at home a dash of fridge-cold, homemade almond milk is an amazing addition. It takes the edge off the unsweetened coffee and makes the drink deliciously smooth. Sometimes I also like to flavour my coffee with a bit of cardamom. It's not something they do here, but I like the combination and if you are a fan of these fragrant pods, I recommend trying it. If you hate cardamom (as I know it's a bit of a room splitter) but would like to give this drink a bit of a twist, try a vanilla pod (or extract) instead.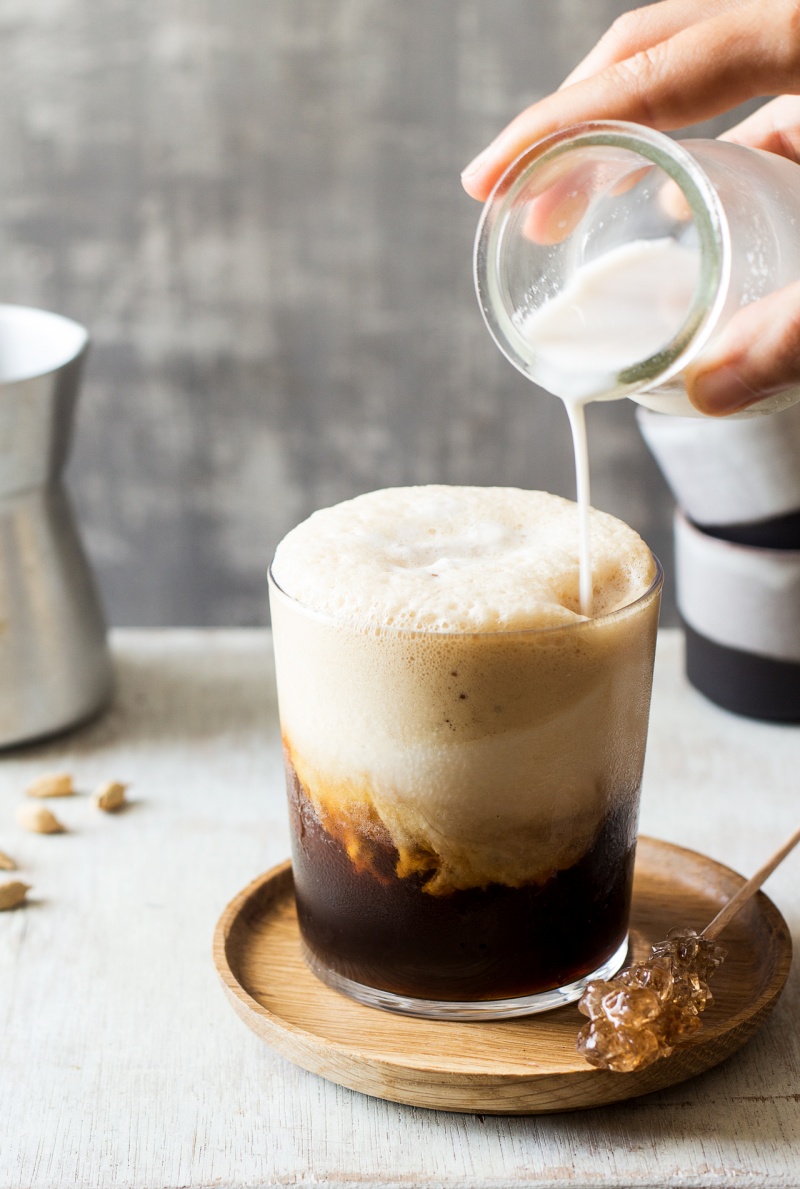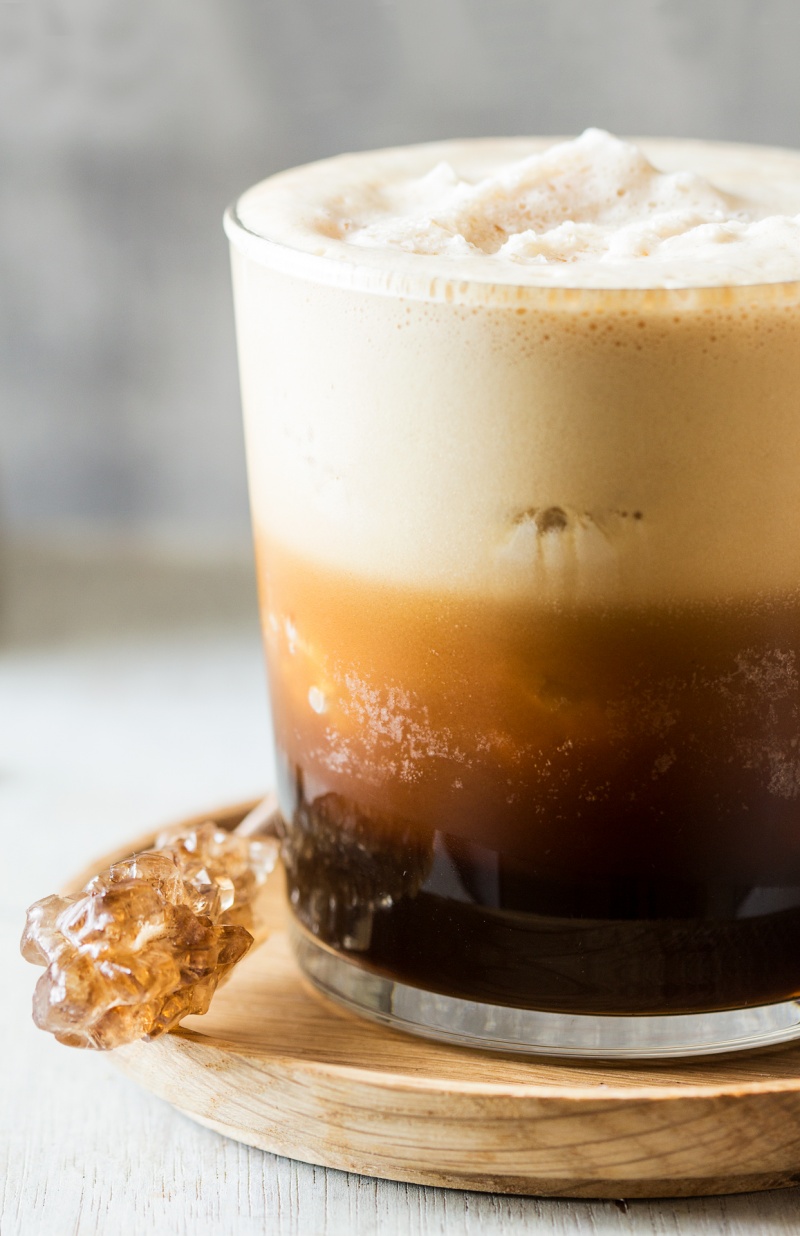 strong black coffee for 2 (for example 2 x double espresso), cooled
20 ice cubes
approx. 120 ml / ½ cup almond milk, I use homemade
maple syrup, to taste (optional)
2-3 green cardamom pods or a piece of vanilla pod* (optional)
METHOD
Make a strong coffee – freezing tends to dull flavours so I suggest making it 50-100% stronger than you would normally. Duncan likes to make a single origin coffee in his beloved aeropress and I make a double espresso for me. Allow your coffee to cool down.
Divide half of the coffee between two glasses and pour the other half in the blender (both a power blender and a cheap blender will work here, the difference is that ice may not get crushed as much in a low-power blender). Add a touch of maple syrup (or sugar) if you like your coffee sweetened.
Add ice cubes and blend on high for a few seconds, until most of the ice is crushed and the coffee turns a little frothy.
Top your coffee with the ice-coffee mixture and (optionally) top up with cold almond milk to take the edge off.
NOTES
*If you would like to add cardamom flavour to your coffee, crush 2-3 green cardamom pods with a side of a knife or a rolling pin and place in 120 ml / ½ cup almond milk for at least 12 hrs for the favour to develop. If you want to flavour your coffee with vanilla instead, put a scraped-down vanilla pod and scraped seeds into your almond milk and let it infuse in the same manner.