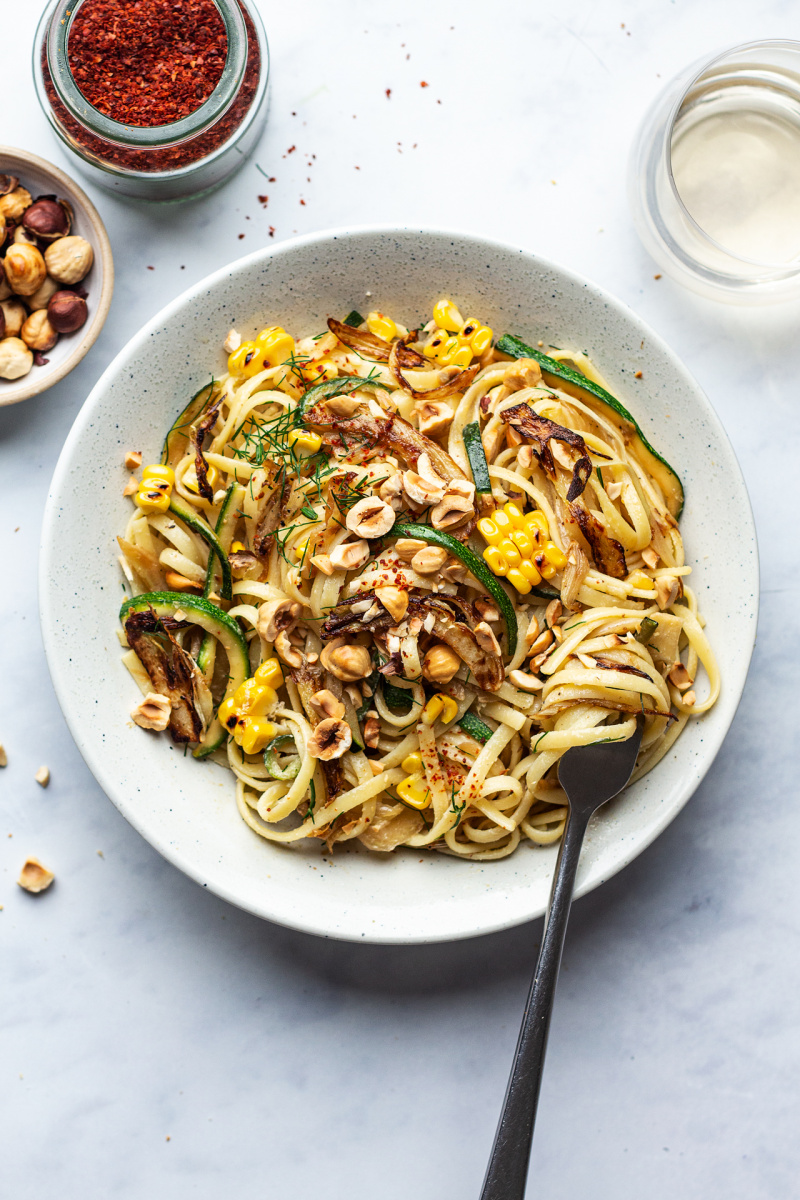 The first half of this week has gone by quickly for me. I have a new creative project on my hands and it's unrelated to cooking or photography, both of which I enjoy immensely but I also appreciate having a new thing to channel myself into. We also have a whole host of home and garden improvements in the works. They are currently in the planning phase but we hope to start on them in the next week or two, so despite not being able to get away this summer, we will not be bored, that's for sure.
Today's recipe is a simple yet deliciously creamy and full of umami pasta that heroes fennel as it's currently in season and it appears to be a vegetable that many people don't seem to know what to do with, so I hope this recipe might help 'break the ice', so to speak. I have certainly overheard a few conversations in the vein of 'what the hell is that?' in my local supermarket and I have been asked by the cashier about the name as they did not know what to look for when putting my shopping through.
I do wonder if fennel is not that popular in the UK because it is so beloved across the pond, in France. I have certainly met a few English people who dislike certain vegetables on the basis of them being un-English. Garlic being a prime example. Do these people not realise that vegetables do not abide by countries' borders or give a toss about stupid human rivalries? It honestly blows my mind. The funny thing is that often the same people who proudly announce that they have a long list of things they do not eat, consume the very thing they say they abhor with pleasure when the dish containing the offending item is prepared for them. I mean, I don't ever consider cooking anything savoury without garlic…for example.
This pasta dish really celebrates fennel, which gets sliced thinly and caramelised in a pan with some zucchini ribbons and charred sweetcorn. It then gets added to linguine coated in a creamy, salty and ever so slightly sweet miso sauce. Roasted and crushed hazelnuts provide a different texture and are a nice finishing touch – although pine nuts, almonds or walnuts would work well too. It's easy and fairly quick to make and makes a nice change from tomato-based pastas that abound at this time of the year. I hope you'll enjoy this summer dish and that the fennel will become something you look forward to having.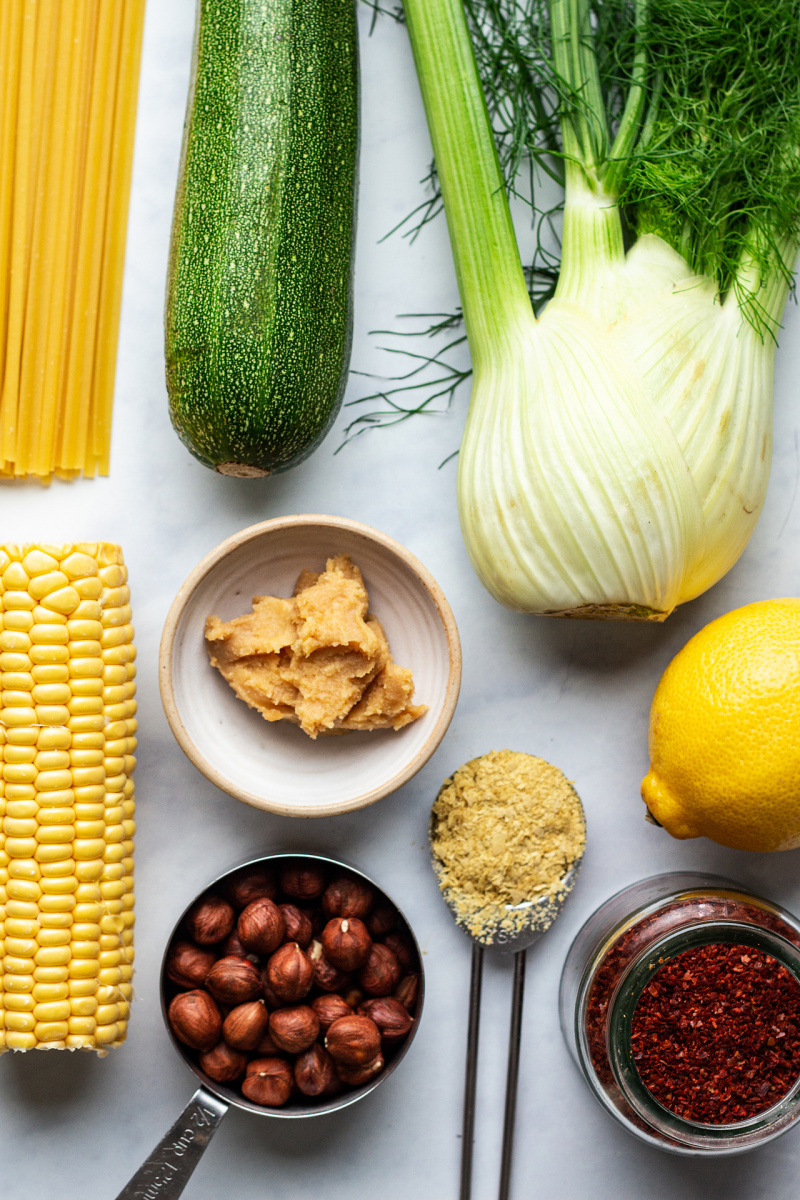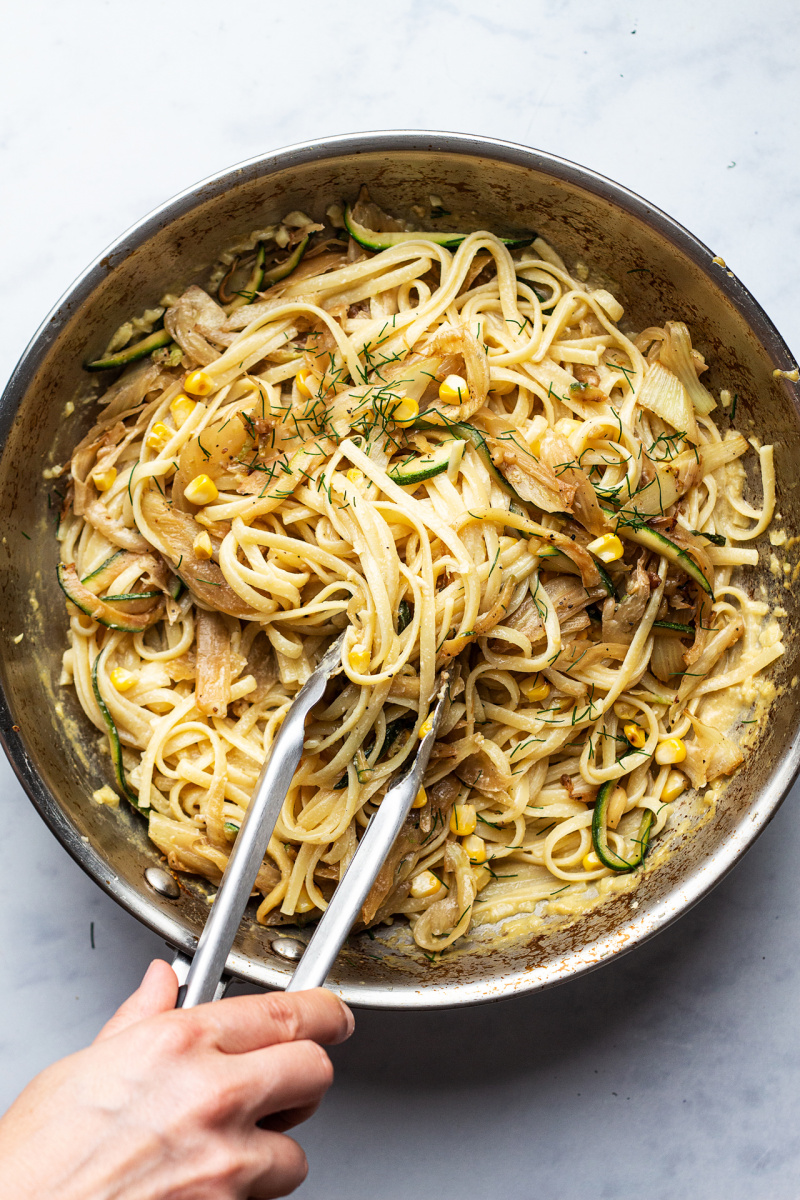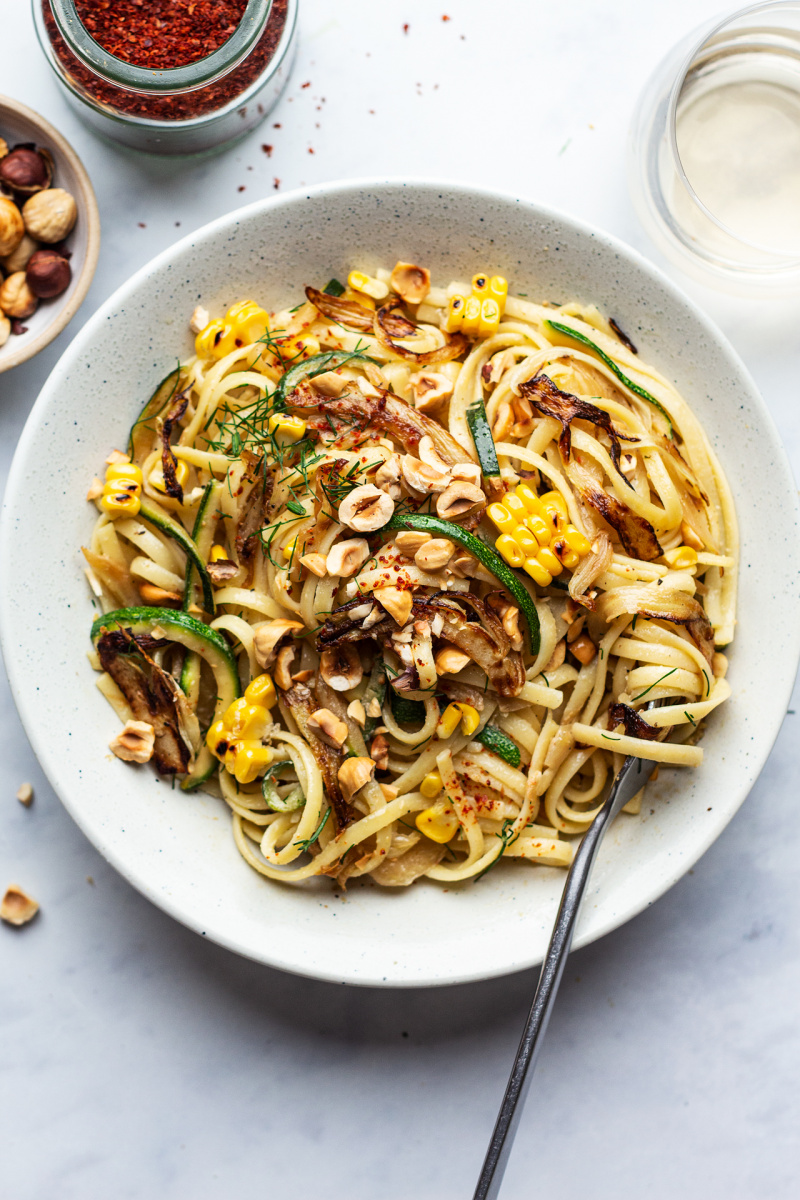 1 small corn on the cob
45 ml / 3 tbsp extra virgin olive oil
1 fennel bulb
½ courgette / zucchini
salt and black pepper, to taste
200 g / 7 oz linguine (GF if needed)
1-2 garlic cloves, finely diced (use 2 if you are a garlic fiend)
1 heaped tbsp white / shiro miso paste*
30-45 ml / 2-3 tbsp almond/soy milk or vegan cream (like Oatly)
2 tbsp nutritional yeast
1 tbsp lemon juice, adjust to taste
a good pinch of chilli flakes (I like fine Korean chilli flakes)
2 tbsp toasted hazelnuts**, to serve
METHOD
OPTIONAL STEP: Heat up a griddle pan. Brush the corn with a tiny bit (½ tsp will do) of oil and char it on all sides, turning every 3 minutes or so.
Cut the green part of your fennel bulb (save the fronds for decoration), slice the bulb really thinly using a mandolin or a knife and then chop the slices into thinner strands roughly. Cut your courgette / zucchini into thin batons / matchsticks. If you skipped step 1, shave the corn kernels off the cob.
Heat up 1 tbsp oil in a non-stick pan (I like to use a stainless steel one for this dish).
Add raw corn kernels shaved off the cob (unless you are charring it whole) and fennel and cook, stirring frequently. Add zucchini batons after a few minutes as they take less time to cook through. It's fine if the fennel catches a little here and there – caramelisation adds flavour. Once cooked through, season with pepper and salt and set aside.
Cook the pasta just short of al dente (the pasta I used takes 10 min to cook al dente, I cooked it for 9 min) in a small amount of water. Save 120 ml / ½ cup of pasta cooking water just before you drain your pasta (it will be rich in starch by that point).
Heat up remaining 2 tbsp of olive oil in a large pan (I simply wash the pan I cooked my fennel in). Once the oil is warm, add finely chopped garlic – it should sizzle gently once it hits the pan. Saute garlic on a low heat, stirring often. Do not let the garlic brown as it will make your pasta taste bitter, you only want it to soften and flavour the oil.
While the garlic is frying, dissolve miso paste in 2 tbsp of the almond milk and a splash of pasta cooking water.
Once the garlic is softened and fragrant, add in dissolved miso paste and nutritional yeast and a squeeze of lemon, and a pinch of salt – stirring everything together so that you get a light emulsion that will coat your pasta. Allow it to bubble for a few seconds, adding a touch more pasta cooking water if the sauce is too thick. I used up just over 60 ml / ¼ cup of pasta cooking water in total.
Add drained pasta to the sauce. Coat the pasta in the sauce, season well, including a sprinkle of fine chilli flakes (if using) and then stir cooked veggies through. If you cooked your corn on the grill, shave the kernels off the cob and add them to the pasta.
Divide between two bowls, garnish with pan-toasted hazelnuts and fennel fronds.
NOTES
*If wanting to keep this dish gluten-free, make sure to use a gluten-free miso paste – made with chickpeas, rice, millet, amaranth or quinoa instead of wheat, barley or rye.
**The best way to roast hazelnuts is to place them on a baking tray and bake in a 180° C / 355° F pre-heated oven for 8-12, until the skins have ruptured and the nuts beneath are golden brown and fragrant. It's best to roast them in large batches (small batches will roast very quickly). Once out of the oven, place them in a clean kitchen towel, fold the towel over the nuts and rub them against each other with your hands through the kitchen towel – this will loosen the skins, making their removal easier. Store in an air-tight jar, in a dark cupboard, for future use.