When it comes to quick, impromptu meals, pasta is a true life saver! It is versatile, filling, comes together quickly and always tastes good.
And no, I don't agree with the opinion that it's an unhealthy thing to eat – especially when prepared without lashings of butter, heaps of Parmesan or buckets of cream – not that I've ever been a fan of creamy pasta sauces anyway.
Take this simple fennel pasta, for example. Apart from charred fennel, it gets its flavour from sweet Greek tomatoes, capers, olives and a handful spices. It's vibrant and super tasty. It's finished with some fresh parsley and toasted pine nuts for an extra crunch.
Yes, I did use some olive oil to bring the sauce together but no more than a vinaigrette-style salad dressing would call for so I don't know about you, but I eat pasta like this regularly and do not beat myself up about it at all.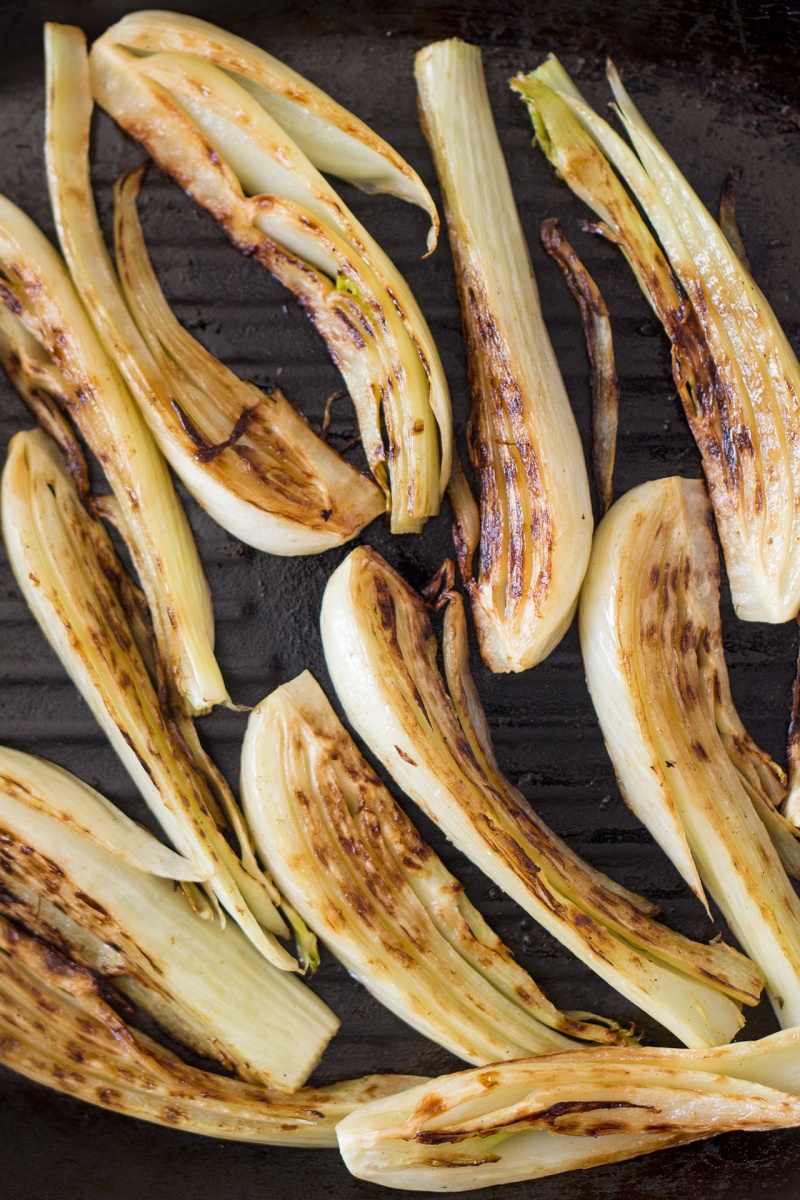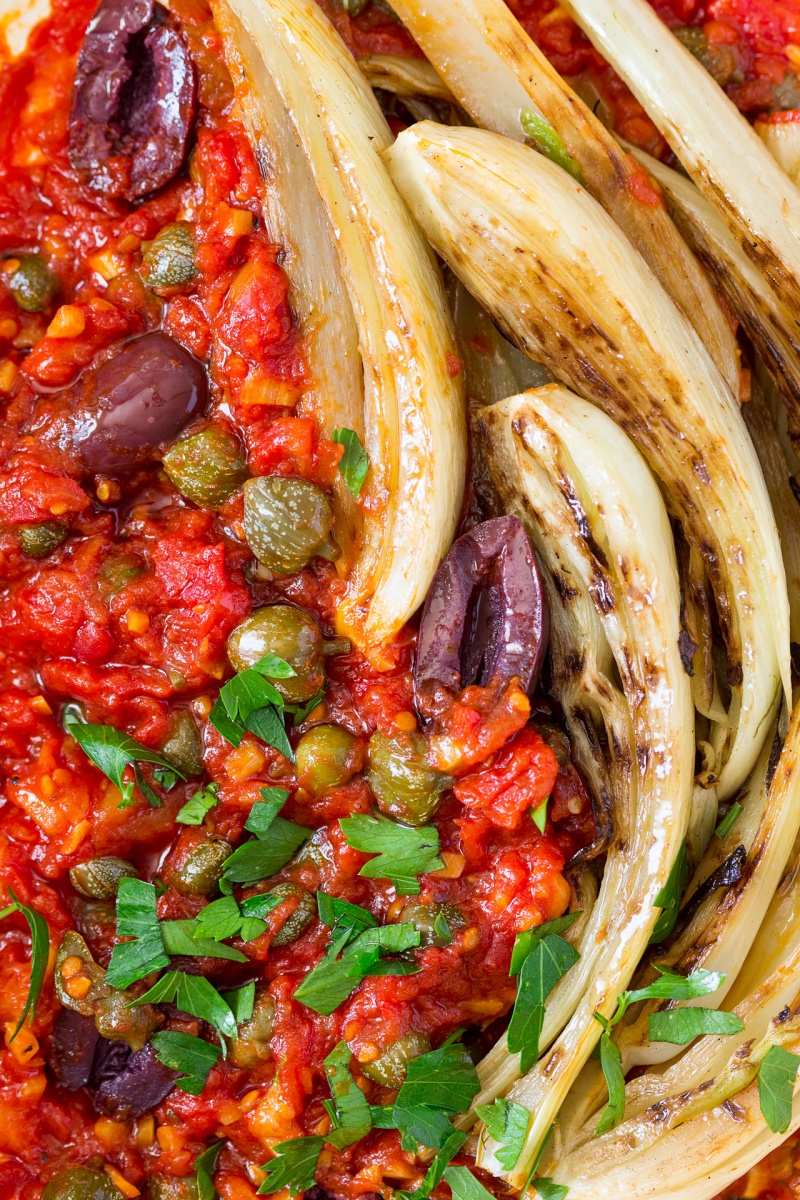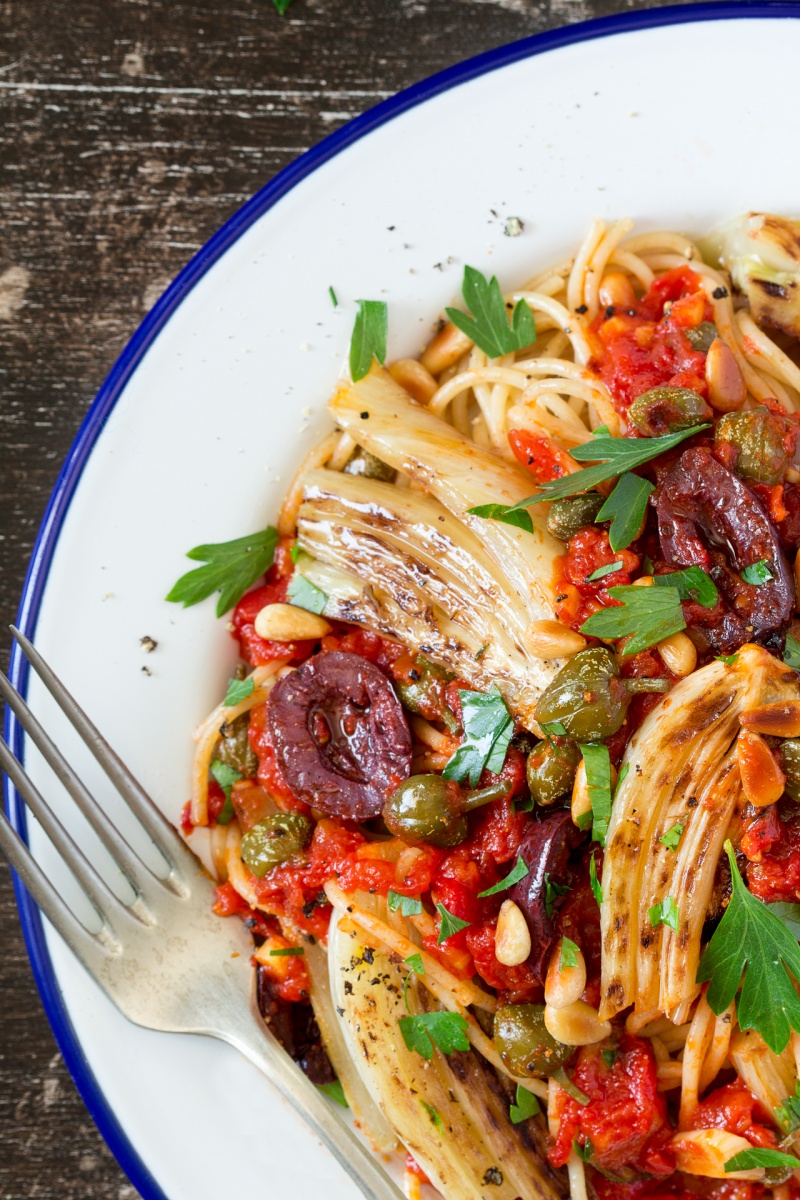 1 large fennel bulb
3 tbsp / 45 ml olive oil
¼ cup / 50 g capers (rinsed well if very salty), chopped
10 Kalamata olives, pitted and halved
4 garlic cloves
2 cups diced ripe tomatoes (approx. 3 large tomatoes)
1 tsp brown sugar
1 tsp tomato paste
5 tsp balsamic vinegar
salt, to taste
pepper, to taste
generous pinch of hot chilli flakes
generous pinch of saffron (optional)
200 g of your favourite pasta* (I used wholemeal spaghetti), cooked al dente
1 tbsp chopped fresh parsley
2 tbsp pine nuts, pan roasted
METHOD
Heat up a heavy bottomed pan on a medium-high heat. Trim fennel and cut it into 8 wedges lengthwise. Brush the wedges of fennel and unpeeled garlic cloves with a small amount of olive oil. Place on a hot pan and let fennel caramelise and garlic cloves brown for a few minutes. After fennel is nicely browned on one side, turn it over to the other side and let the other side caramelise and soften. Turn garlic over to the other side and let it brown on the other side too.
Once fennel is soft, take it off the pan, season lightly with salt and pepper and set aside. Peel roasted garlic cloves and put them through a garlic press or chop them into a small dice.
Heat up 2 tbsp of olive oil in the same pan. Add roast garlic and chopped tomatoes and let them simmer on low heat until they soften and thicken into a sauce. Mix in some tomato paste, balsamic vinegar and sugar. Season with salt, pepper, chilli and saffron to taste. Add chopped capers and olives.
Mix in cooked pasta. Serve topped with caramelised fennel (you may want to cut the wedges into smaller pieces so it's easier to eat), toasted pine nuts and fresh parsley.
NOTES
*Use gluten-free pasta for a gluten-free meal.