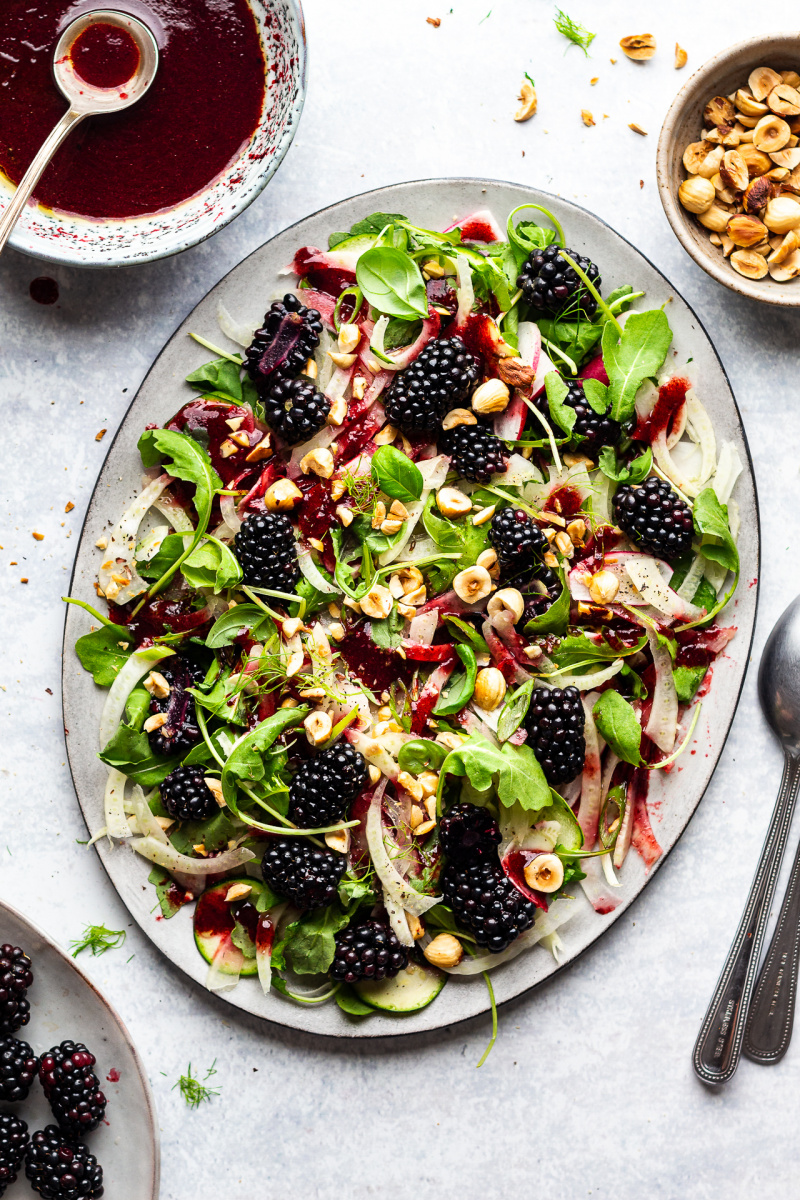 If you follow me on social, you probably know that I have not had the best week this week. I skipped my usual Wednesday post as I've been feeling a bit burned out. Everything felt like pushing water uphill and I felt like I had nothing left in my tank and I needed to recharge and not think about cooking or recipes (haven't quite succeeded at that as you can see) for a little while in order to keep on bringing value to this space.
I'm not a robot, although sometimes the way my recipes are delivered into your inbox or show up in your feeds may seem like I am 😉 . Sometimes even I feel like I am! I appreciate technology for all the things it has made possible. If not for technology, I would still be stuck in an office cubicle pouring over timelines, resources and costs of advertising campaigns for a product I did not really care about, wondering where I've gone wrong in life to be doing THIS for a living. Don't get me wrong, by many modern standards it was a job that many people would be happy in, but for me personally it was absolutely soul destroying.
Thanks to technology, and a lot of hard work, I can call THIS my job now and I love it but like every job this one also has a bit of a flipside. The Internet is an insatiable beast that you need to feed on a regular basis in order for your work to be seen by anyone. Once you stop, you very quickly get downgraded by Google and to then dig yourself out of that hole takes months, even years and the less your work gets seen the easier it is to succumb to thinking 'what's the point of all that anyway' and give up.
This is where being a human rather than a recipe generating robot makes it tricky. If you are having a week filled with anxiety and self-doubt and feel like you are incapable of producing anything of value, you cannot just simply take time out. Google does not care WHY you've stopped posting, it simply notices that you did and downgrades all your work accordingly as you are 'seen' as someone unreliable. It would be better for you to post a picture of your cat (she is adorable but still…) or a recipe on how to brew tea than nothing at all. This is where the pressure is coming from and I would be lying if I said it doesn't get to me from time to time.
So to appease Google and to hopefully inspire you to try something different, I've thrown together a simple summer salad based on two of my old recipes. As you may know, I am a massive fan of fennel (I buy several bulbs a week) – a vegetable that's a little underappreciated here in the UK. It has a distinct but mild flavour so it does well in so many contexts – both savoury and sweet. It's great in a simple slaw, in a creamy pasta and in a simple late summer-inspired soup too. I also love it paired with fruit (cherries and grapes, for example), which is what this salad is – it's a happy union of fennel and blackberries. The mildly sweet, aniseed taste of crunchy fennel shards contrasts with tangy and soft blackberries, which are present both whole and blitzed into a beautiful, burgundy red dressing. A bit of bitter rocket, fresh basil and a smattering of satisfyingly crunchy hazelnuts and the side dish is complete, yet requires little effort. I hope you'll enjoy it.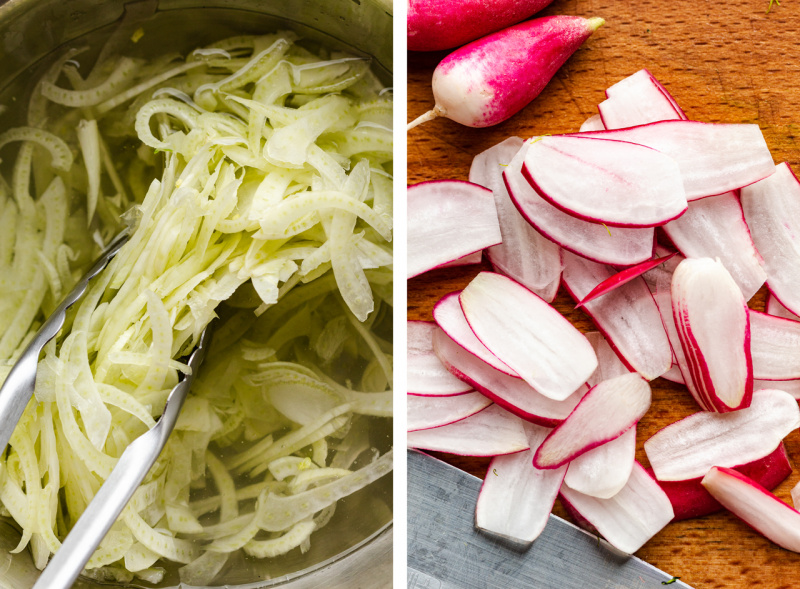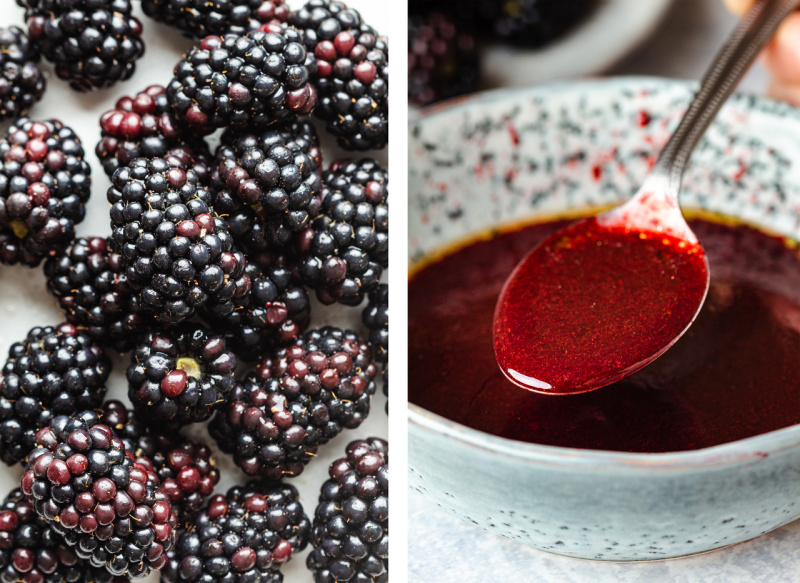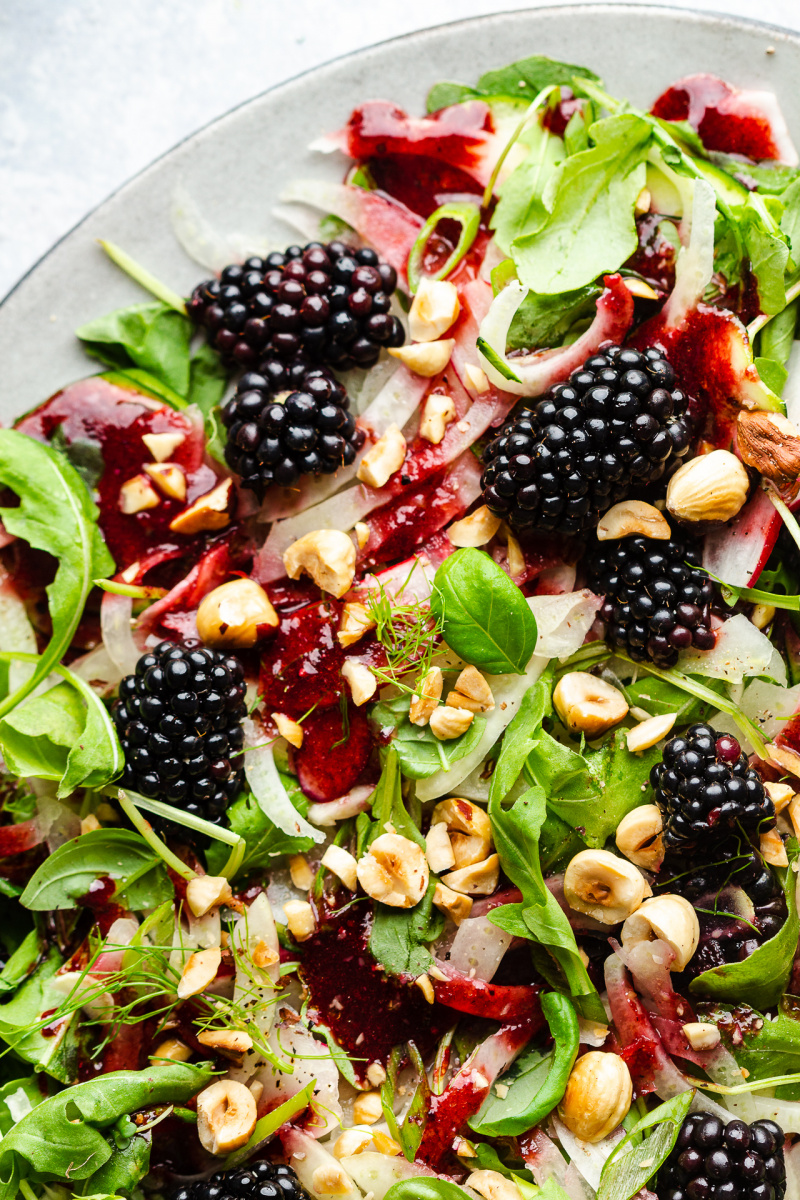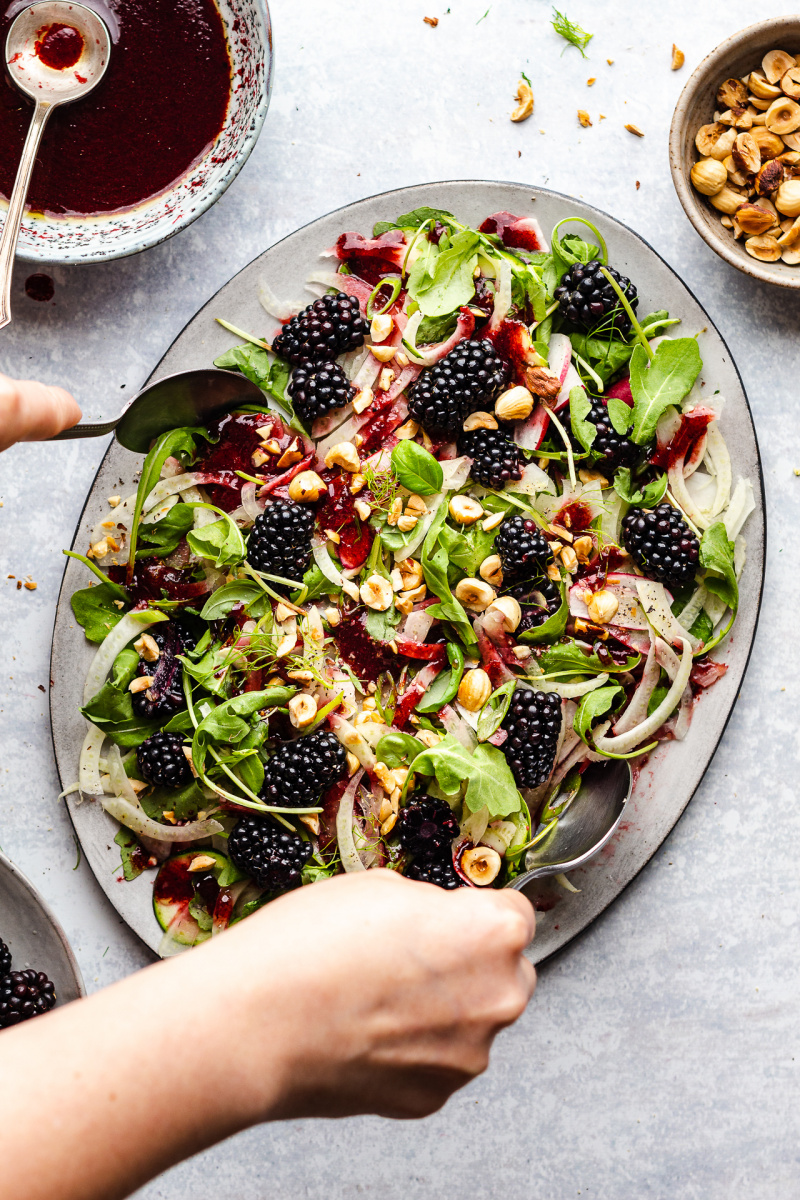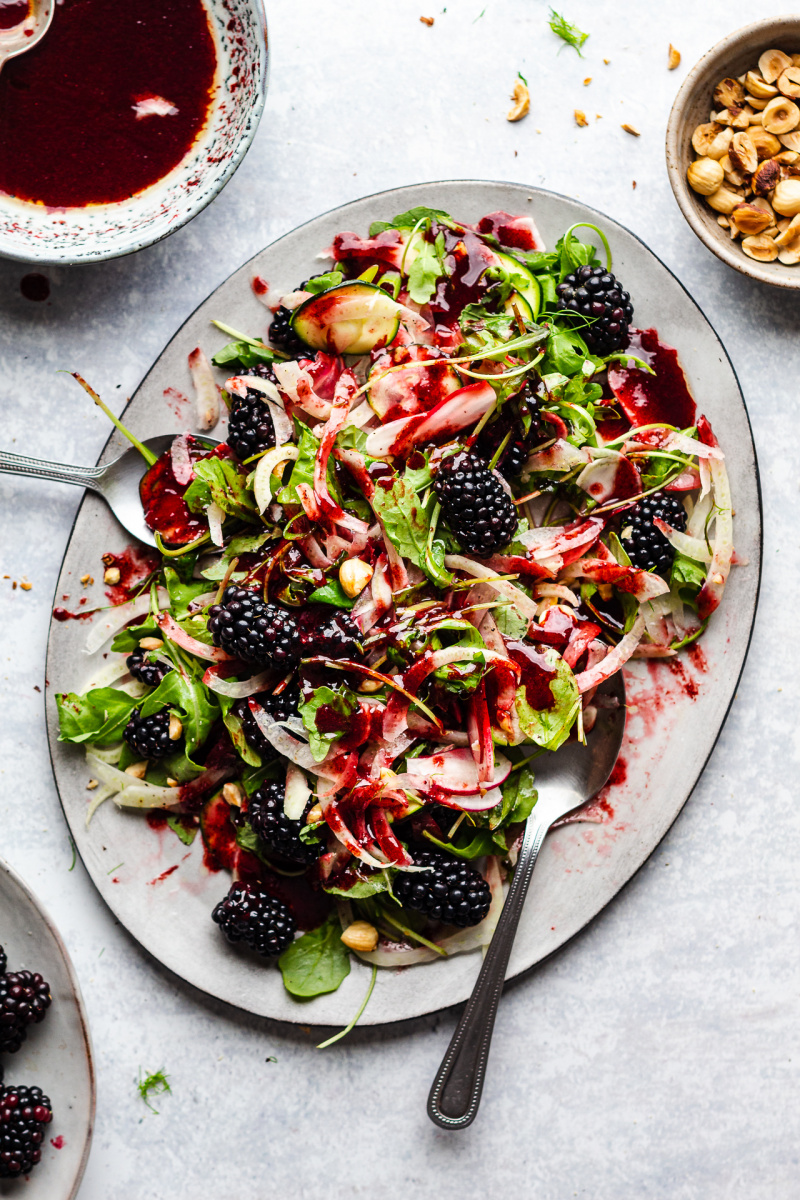 SALAD
a handful of hazelnuts
250 g / 9 oz fennel (1 large)
50 g / 1¾ oz rocket / arugula or other salad greens
5 French radishes, sliced thinly (optional)
115 g / 4 oz ripe blackberries
a few fresh basil leaves, shredded
BLACKBERRY DRESSING
85 g / 3 oz ripe blackberries
30 ml / 2 tbsp extra virgin olive oil or hazelnut oil
1 tbsp apple cider vinegar or balsamic vinegar
1 tbsp maple syrup, adjust to taste
½ small shallot, finely grated (optional)
sea salt and black pepper, to taste
METHOD
Roast hazelnuts on a dry frying pan, tossing frequently so that they don't burn. Alternatively, heat up the oven to 180° C / 350° F and spread the hazelnuts on a baking tray. Toast for about 6-8 minutes, until golden and fragrant. Be aware that this second method works better for a larger quantity (2-3 cups) of nuts. Allow them to cool and chop roughly.
Slice fennel on the smallest mandolin setting or slice it thinly by hand, using a sharp knife. Place sliced fennel in a bowl of ice-cold water with 2 tsp of lemon juice to prevent oxidisation. Set aside for 10 minutes, fennel will become crispier and nicer to eat.
Blitz blackberries for the dressing in a small blender (a bullet one like Ninja blender works best). Press the pulp through a small sieve to get rid of the pips.
Add olive oil, vinegar, maple syrup and shallot (if using) to your dressing. Adjust the amount of acidity and sweetness to your taste – it will depend on how tangy / sweet your blackberries are as well as on what balance of those flavours you enjoy.
Drain sliced fennel well. Arrange it on a platter with rocket / salad greens, sliced radishes, blackberries (cut in half if large) and basil leaves.
Pour the dressing over the salad, scatter toasted hazelnuts on top.