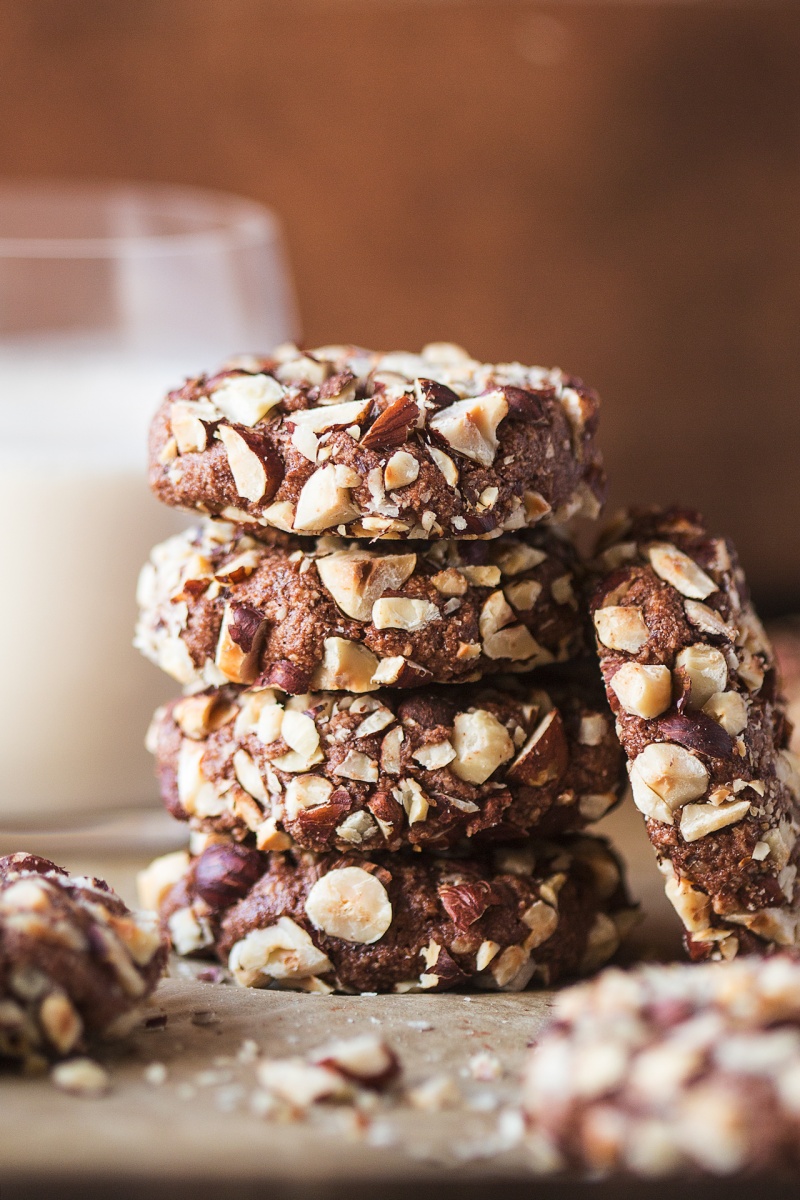 When it comes to chocolate and hazelnuts, they can do no wrong in my books! My love for this flavour combo started in my childhood when my dad used to bring us a specific brand of hazelnut chocolate from his infrequent work trips to Germany. My brother and I used to refer to it as 'a chocolate with a window', as it had a rectangle of transparent plastic in the middle of the bar, revealing a generous amount of whole hazelnuts peeking through the chocolate. It was a double treat in communist Poland as there was no real chocolate to be had. This is perhaps why I have this simple marriage of flavours imprinted so well on my brain and it never ceases to excite my tastebuds.
These crunchy on the outside and soft on the inside cookies are a bow to this childhood flavour memory. I resisted my natural urge to over complicate (I call that improving) things and kept them simple, BUT I would not be myself if I did not tell you that an addition of orange zest, ground cardamom, coffee or hot chilli would be very welcome here too. For the best results, I recommend making these with superfine (known as caster in the UK) sugar, but as I know that many of you are keen on alternative sugars, I also tested them with maple syrup and while it changes the texture of these cookies substantially – they end up being flatter – they came out really quite tasty too.
With Xmas just round the corner, these cookies would make a great addition to the festive cookie platter, if that's something you are into. My late grandma was famous for making about 12 different types of cookies for Xmas every year, well into her 80s. Her cookies were legendary and it must have taken her a solid week to produce all of them, but she was unstoppable!
While I used to enjoy eating them immensely as a kid, I won't be following in her footsteps, as I do remember her always being very overworked and super stressed (in fact all WOMEN in my family were) leading up to Xmas. Even if you were to suggest that maybe we don't need all this variety and quantity of food, that was never an option. My mum is the same and she is a bit worried that I am at odds with this tradition myself, but tell you what, it's time to start your own traditions if the old ones don't really serve you. Who is with me?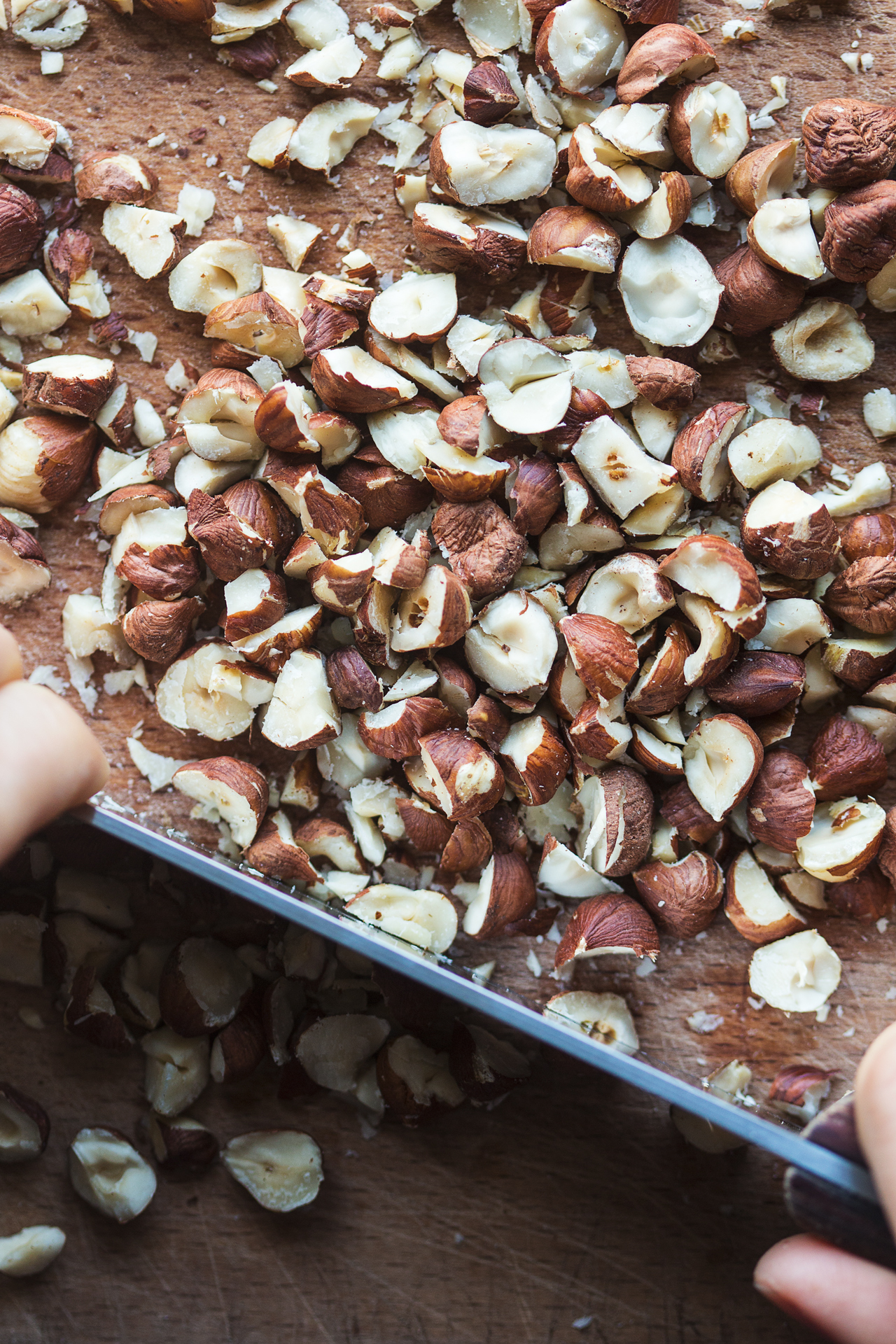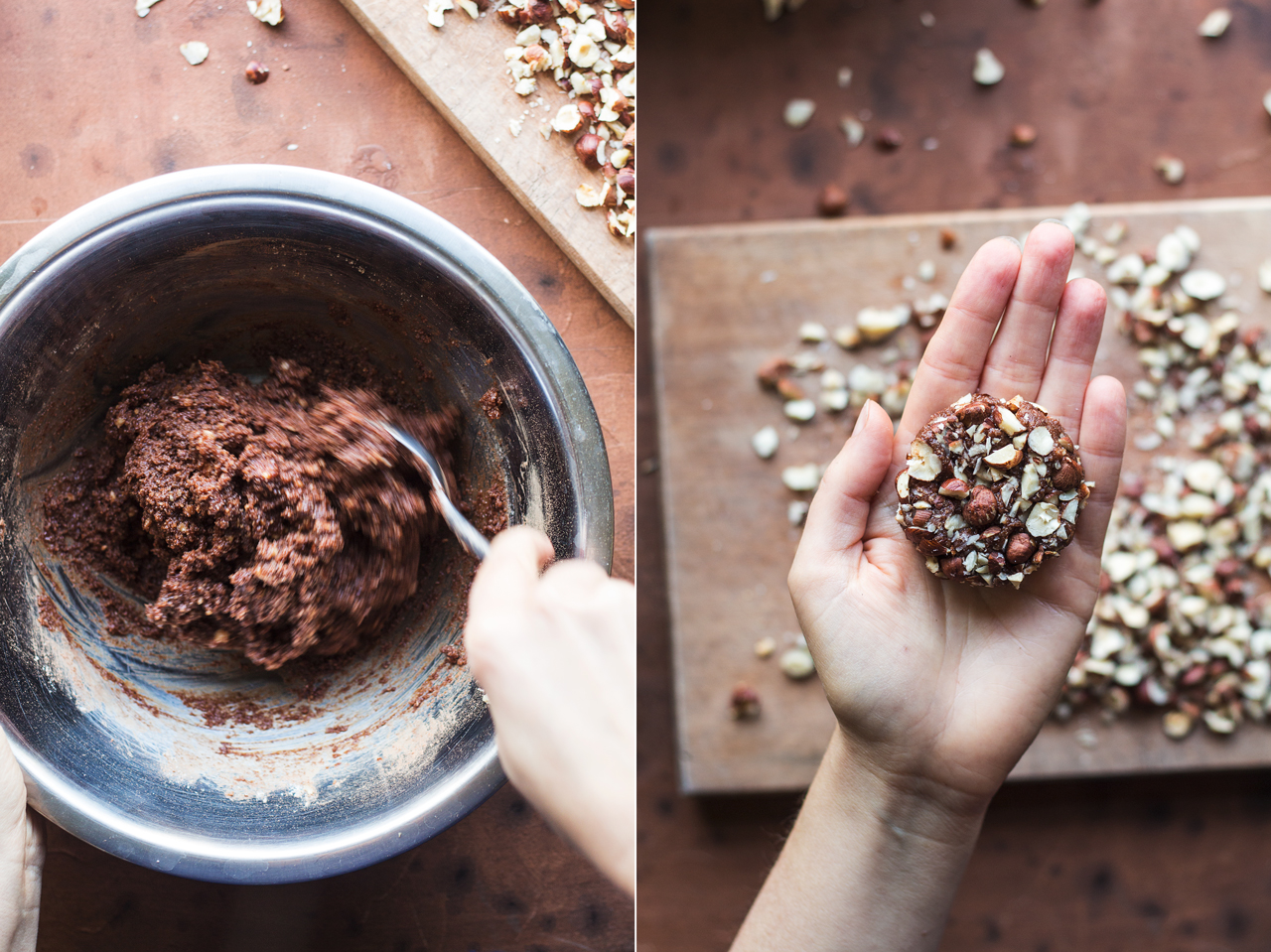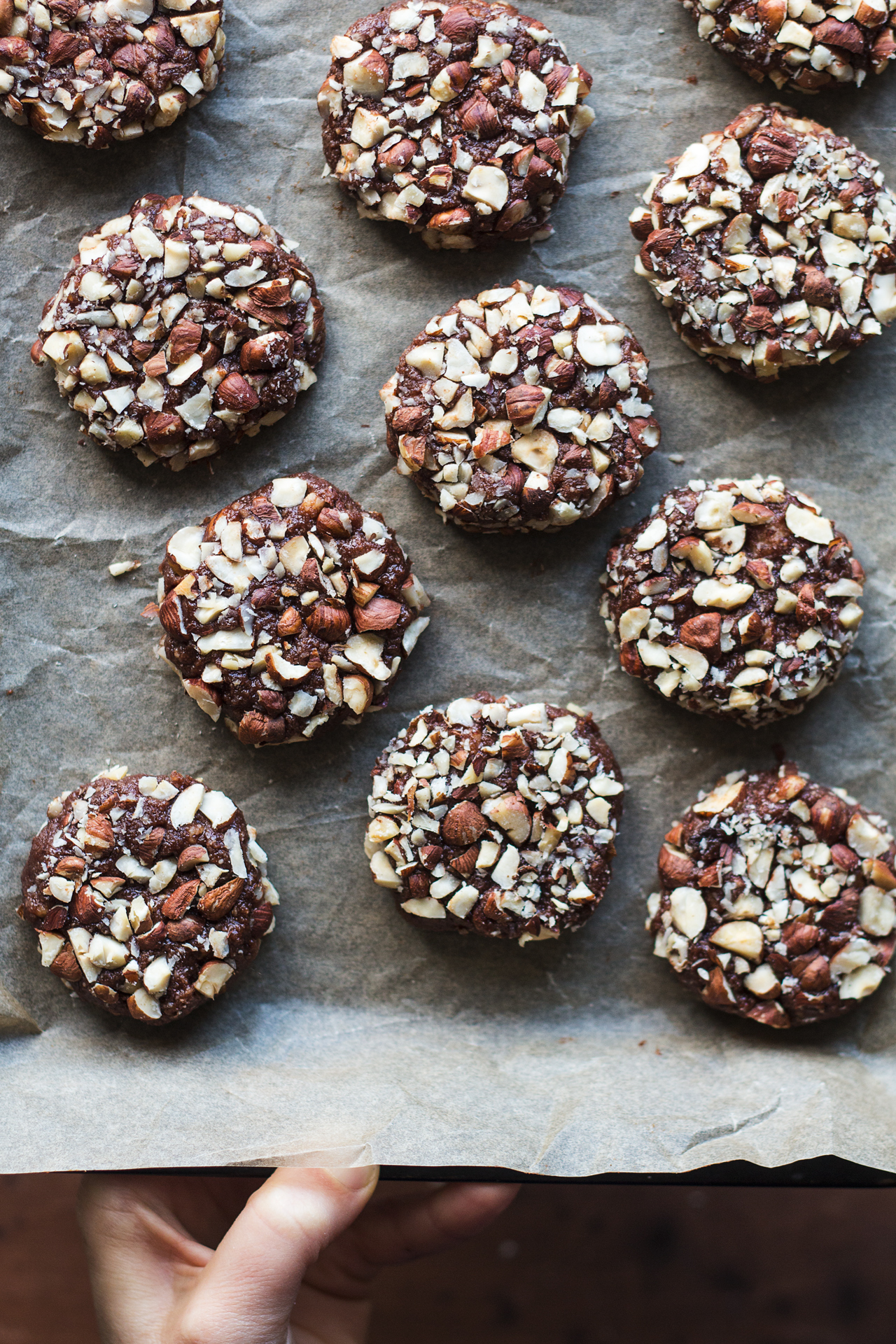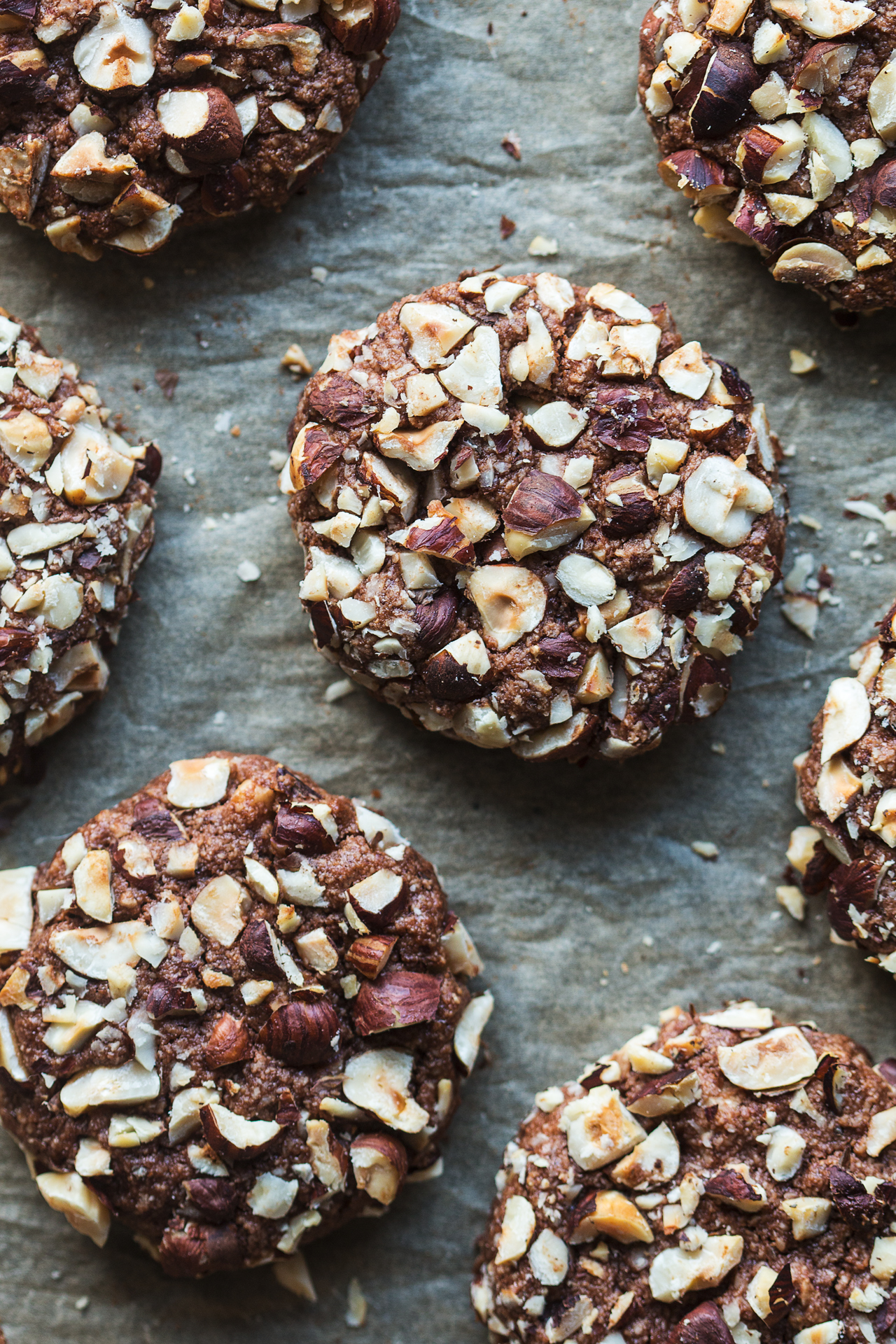 150 g / 1 cup hazelnuts, divided
100 g / just under 1 cup hazelnut meal (or finely ground hazelnuts)
80 g / heaped 1/3 cup sugar (caster / superfine sugar works best) OR 80 ml / 1/3 cup maple syrup*
heaped ¼ tsp fine sea salt
2 tbsp cacao powder
45 ml / 3 tbsp aquafaba / chickpea brine
METHOD
Take 100 g (2/3 cup) of hazelnuts and grind them into a coarse powder in a food processor or coffee grinder. Leave a few bigger chunks in for extra texture.
Chop the remaining 50 g (1/3 cup) of hazelnuts quite coarsely and spread them on a large plate or tray.
In a big mixing bowl, combine the hazelnut meal, coarsely ground hazelnuts, sugar, salt and cacao powder. Using maple syrup will produce a dough that is much wetter and so it's texture will differ from what you can see in my photos.
Mix it all well and then add enough aquafaba (I used 3 tbsp, it may end up being a bit more or a bit less) to bind all the ingredients together and produce a sticky cookie dough.
Divide the dough into 12 equally sized pieces. Roll each portion of dough between the palms of your hands and then lightly press the dough into the chopped hazelnuts to coat on both sides. If you used maple syrup, spoon blobs of the mixture onto the baking tray and sprinkle the chopped nuts on top.
Preheat the oven to 175° C / 350° F. Place the cookies on a parchment-lined baking tray. Bake for about 15 minutes (maple syrup cookies take more time to bake, about 25 minutes), until they are lightly browned on top. Remove from the oven and let the cookies cool down before transferring to a plate (or else they may fall apart). Store in an airtight container.
NOTES
*I recommend using sugar to make these as it produces a nicer texture, but I have tested making these with maple syrup and it can be done. It does, however, make the cookies flatter and requires a longer baking time.