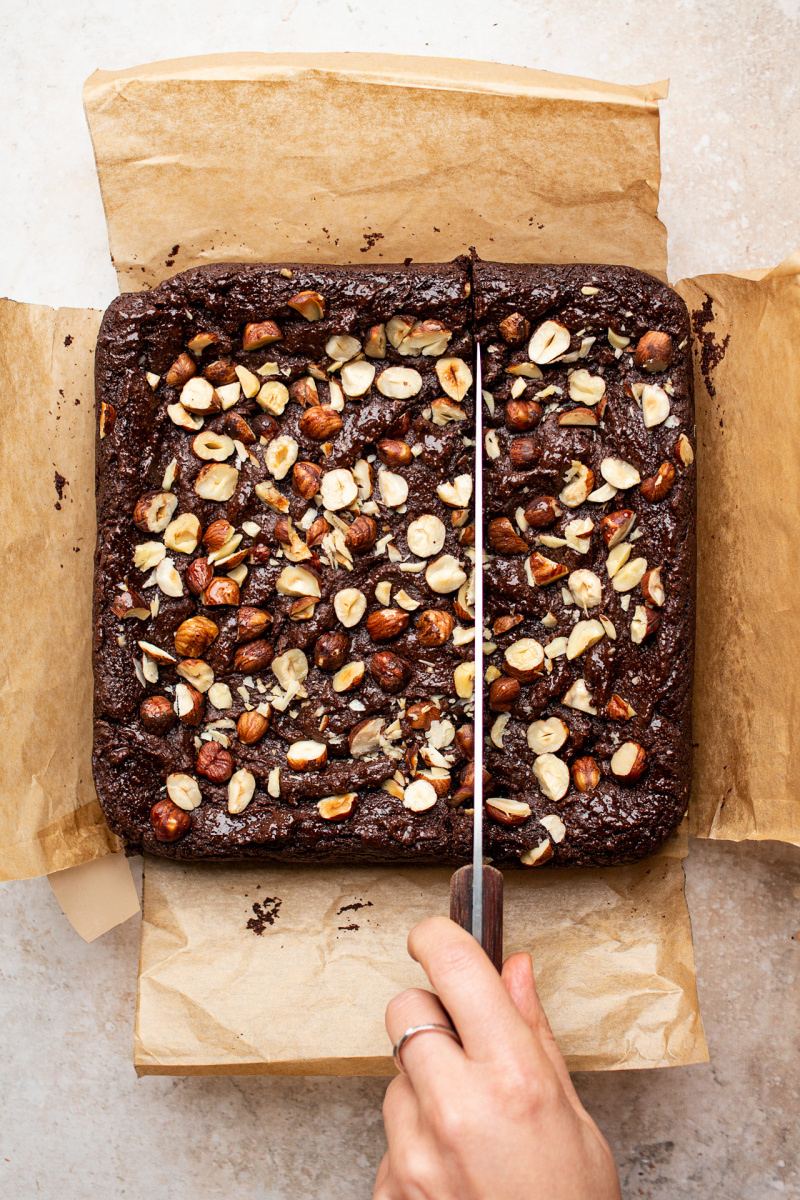 If you follow us on Instagram, you might know already that this past Wednesday night we were invited to the Bristol premiere of a new BBC nature documentary series called Seven Worlds One Planet narrated by England's beloved storyteller David Attenborough. We watched an episode entitled 'Antarctica' followed by a live interview with some of the makers, including David Attenborough himself.
The film was breathtakingly beautiful and utterly awe inspiring yet also profoundly sad at the same time. We both left in tears! For the first time ever, a BBC documentary of this sort chose to draw people's attention to the undeniable effect that our collective actions have on the planet and millions of species of animals that we all think we love and treasure. It's about time given that climate change science has been capable of making accurate predictions (which are sadly coming true today!) since the 1980s.
The film offers some hope by illustrating, for example, how a near extinct whale population (killed by our demand for whale blubber margarine and soap!!) regenerated itself after all but three countries (Japan, Norway and Iceland) worldwide committed to a complete whaling ban in 1986, but unless we stop inflicting any further damage, things will go from bad to worse very soon as the rate of destruction is accelerating more rapidly than originally predicted.
Things look so dire right now that scientists estimate that 150-200 species of plant, insect, bird and mammal become extinct every 24 hours!! It's insane! And apart from some occasional lip service, we do very little. Plus to make matters worse, there are no shortage of people, lead by those who profit from the main culprit industries (fossil fuels, meat and dairy, automobile, transportation, to name the key players), who insist that climate change is a hoax, diluting the urgency of the message and making people shrug their shoulders and carry on as they were. It's infuriating how unchecked self-interested greed tramples over everything else.
While it is sometimes very lonely being vegan (when pretty much everyone you know makes fun of you behind your back and ostracises you for your choice to minimise harm) I was never as convinced about my and Duncan's decision to leave meat, dairy and eggs off our plate as I am now. As things are at a tipping point, I really feel the sense of mission with this blog. I am not the kind of person to go on animal vigils or to try to make people on the street go vegan, but I feel like I am doing my bit by showing up here, cooking delicious plant-based food and showing people that being vegan isn't about deprivation or elitism, it's about doing your bit for the environment, for the animals and for your own health too, while enjoying food as much (if not more) as you used to. There is no better time to go vegan than now!
Speaking of not depriving yourself of the food you enjoy, today's recipe is a tray of super indulgent vegan brownies cos like I say, veganism ISN'T a diet. It drives me bonkers when, in a bid to discredit it, the media equates it with weight loss. These brownies are super dense, rich and delectably fudgy. I've tested them over and over again and this is my most favourite version thus far. I find it even nicer when it's been sitting in the fridge overnight, the fudginess cranks up a notch – heavenly.
These flourless vegan brownies are really simple to make too. While I do use aquafaba to replace eggs, in this recipe you do not need to whip it until you reach stiff, or even soft, peaks. Simply whip it until white and foamy, 2 minutes tops, and then stir all the other ingredients through it, it's really easy and delish! That's a promise! Oh and as an added bonus, they happen to be naturally gluten-free also! x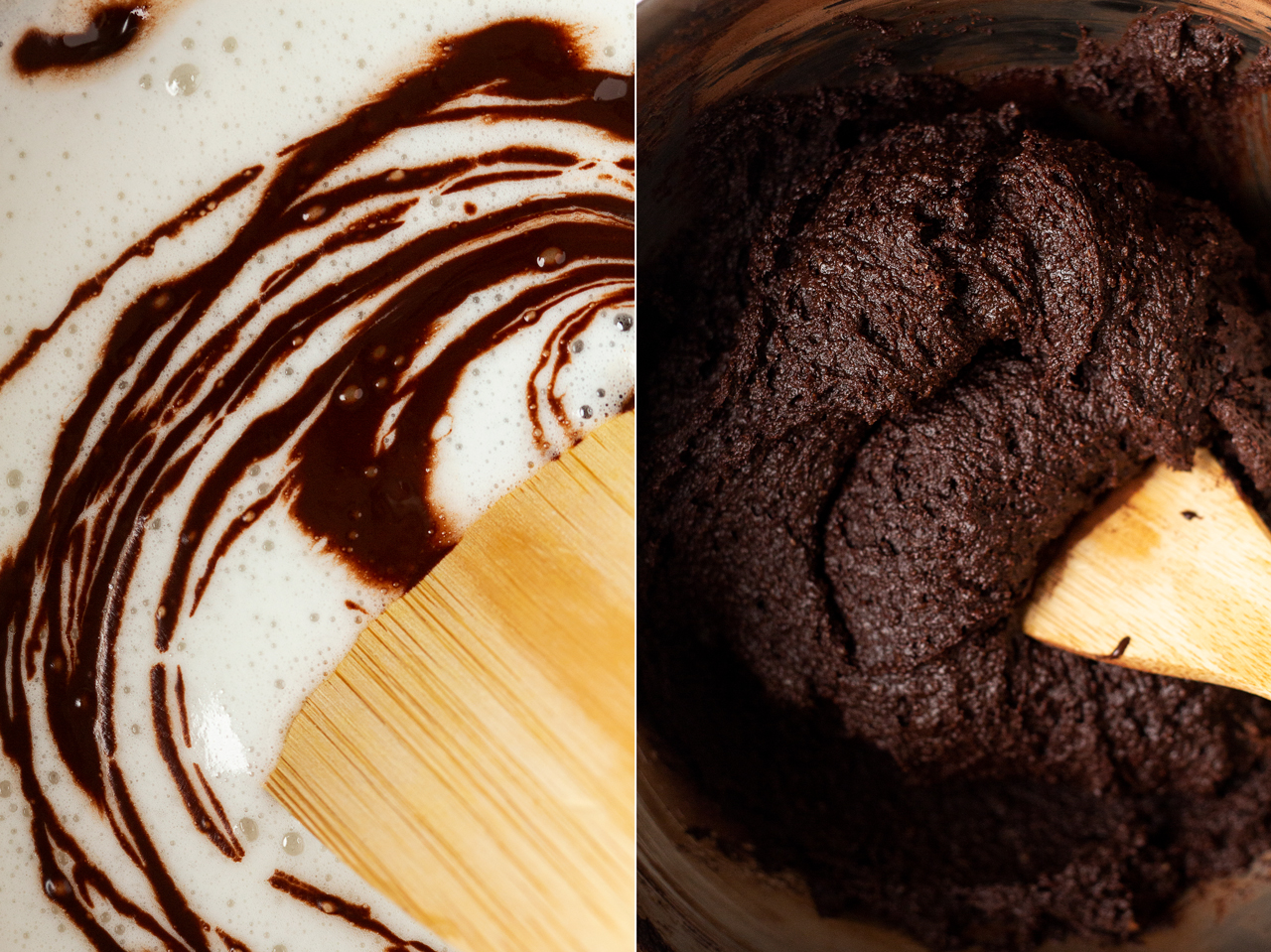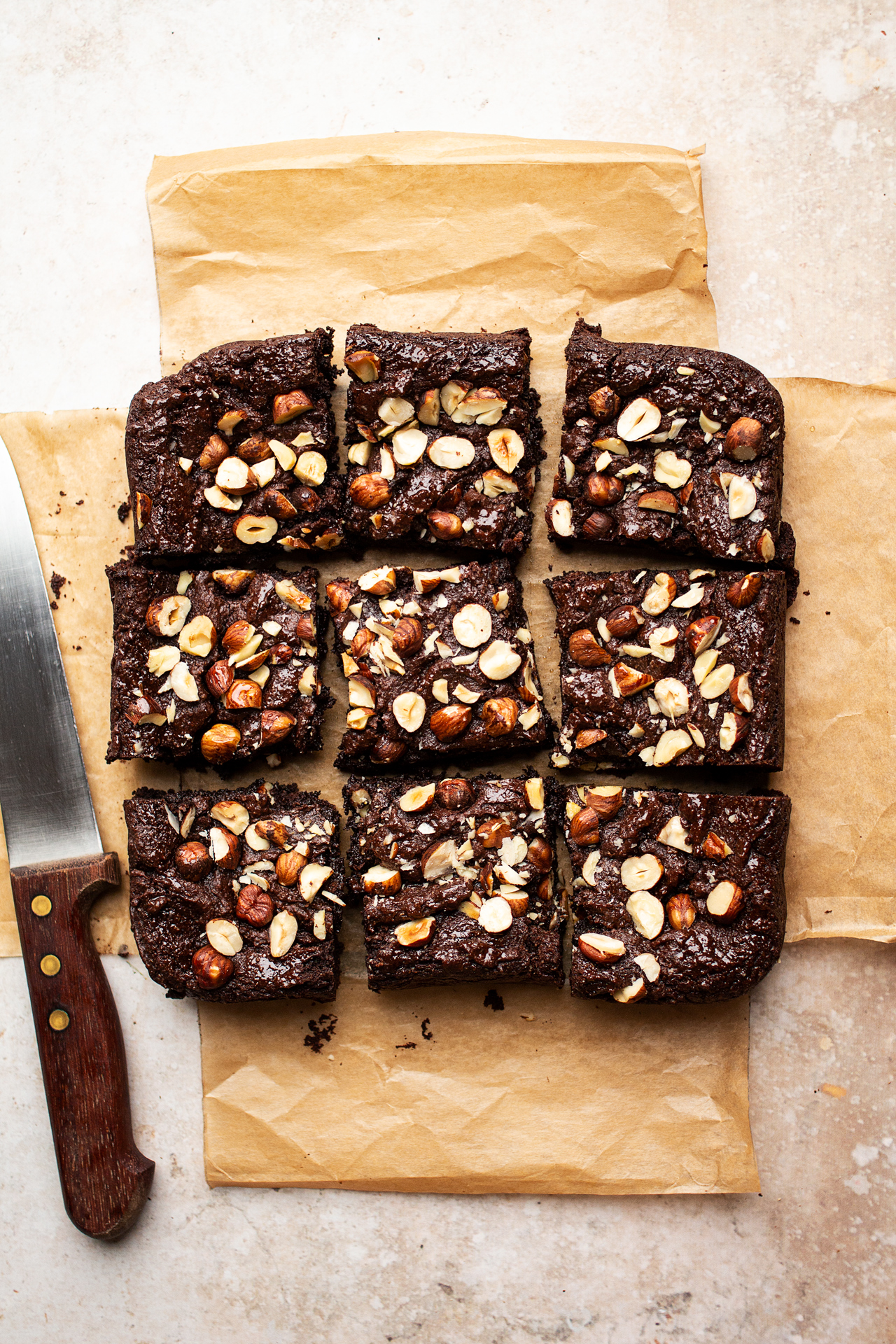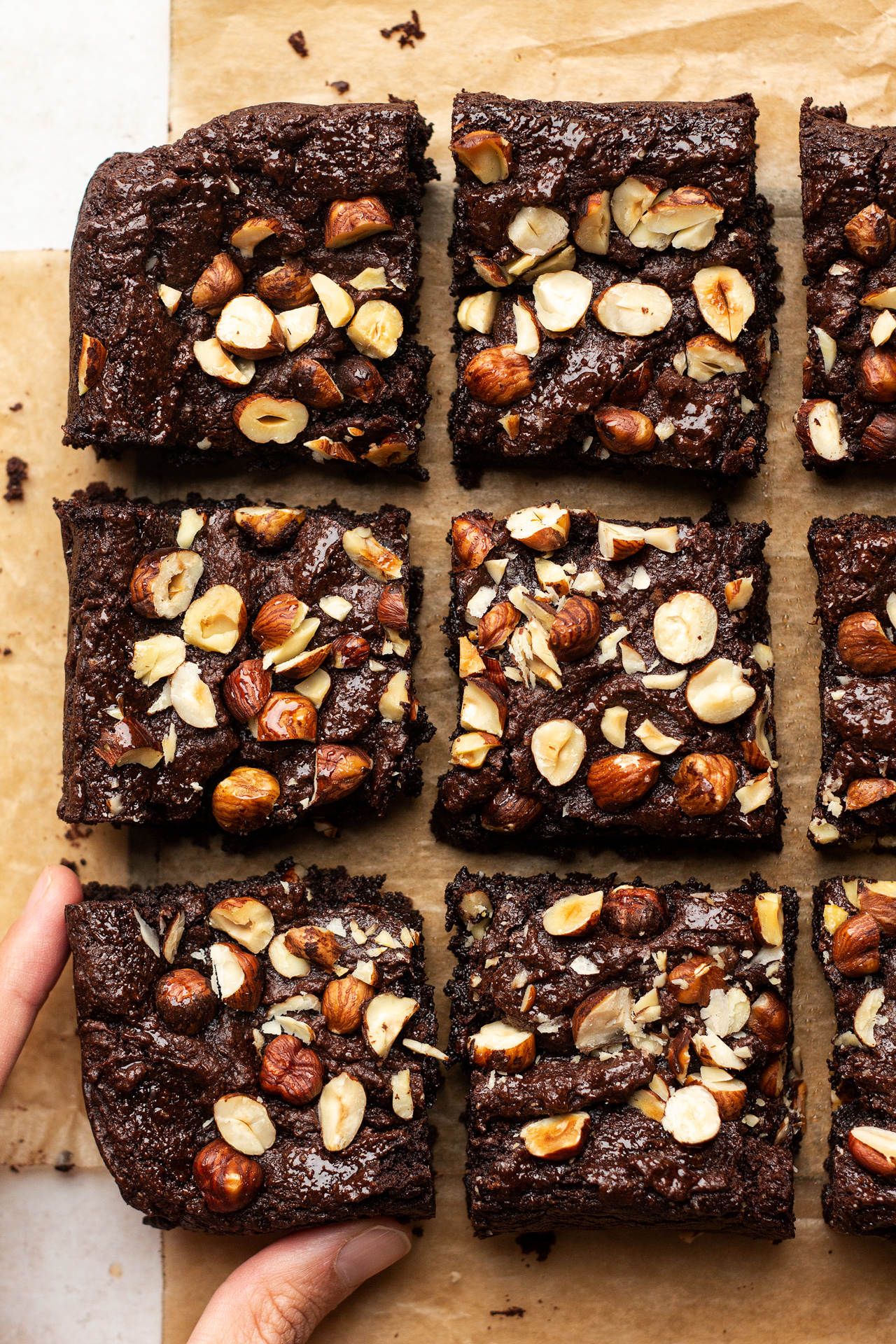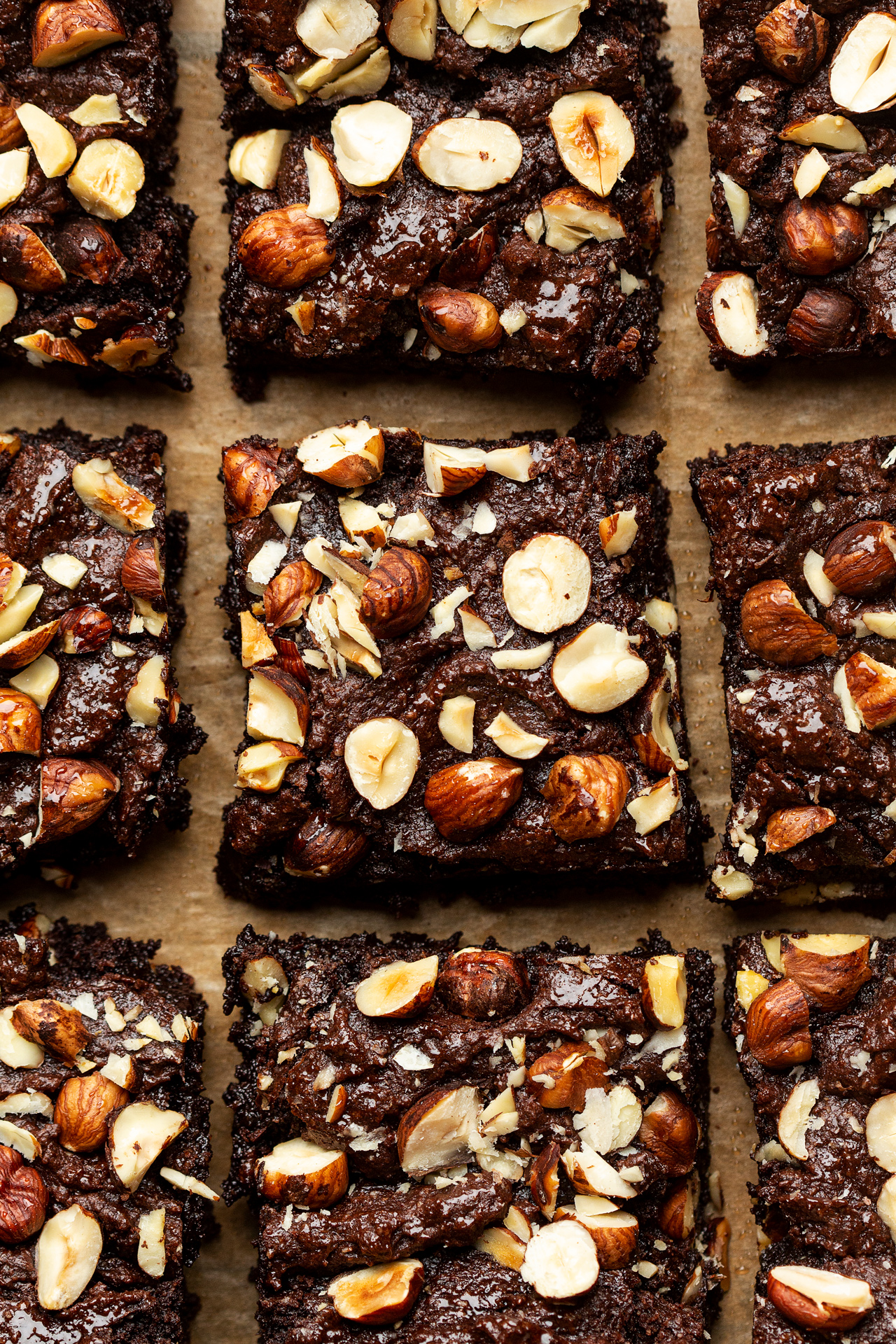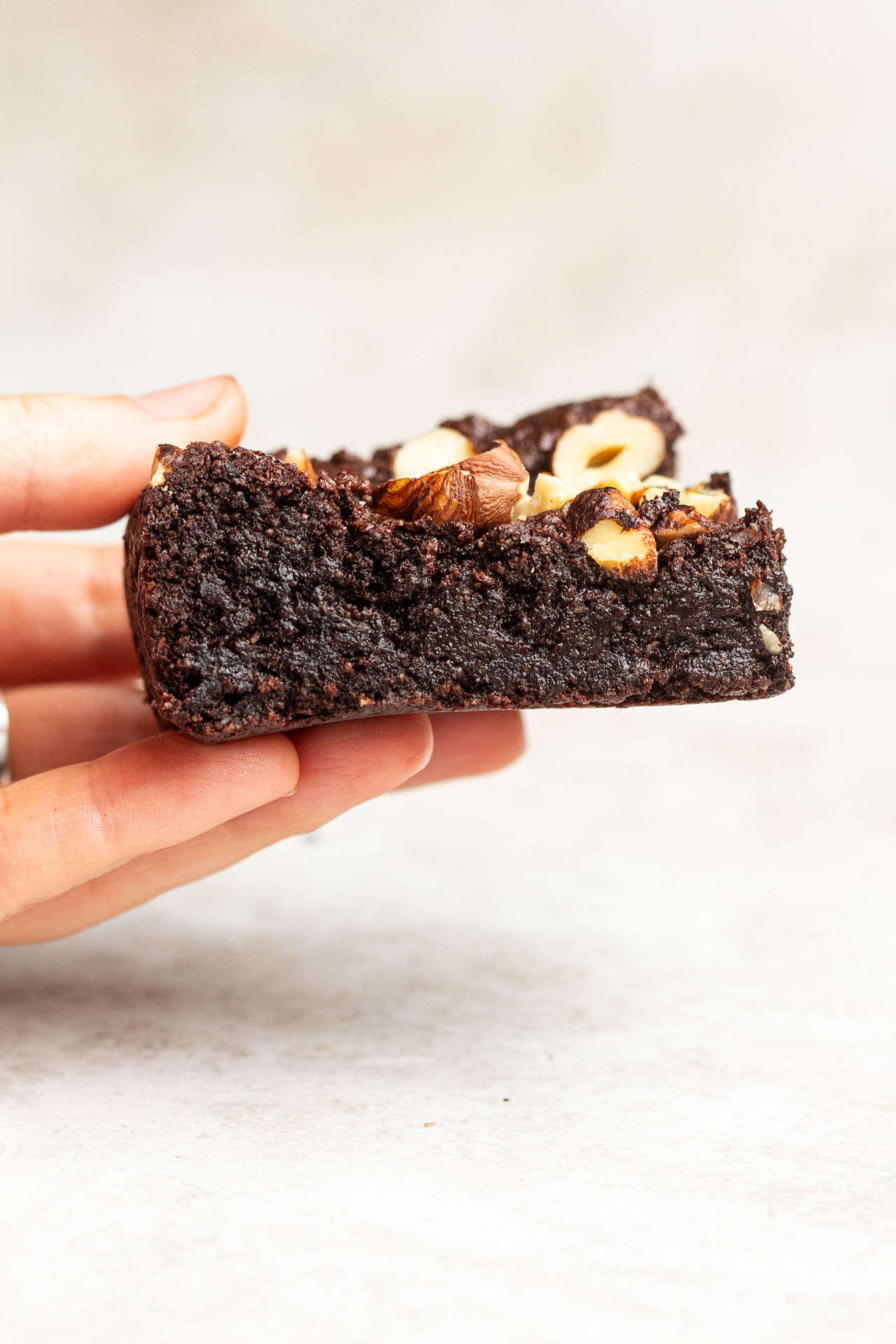 150 g / 5.30 oz vegan 70% cocoa dark chocolate
120 ml / ½ cup aquafaba (chickpea brine), from a tin or from homecooked chickpeas
200 g / 1 cup sugar (caster sugar gives you the crispiest outer shell, but coconut sugar works well too!)
180 g / ¾ cup 100% natural nut or seed butter of choice (I used this almond butter)
2 tbsp water or plant milk (I used almond milk)
150 g / 1½ cups finely ground almonds / almond flour
70 g / ¾ cup cocoa powder
½ tsp salt
1 tsp baking soda (GF certified if needed)
chopped nuts (I used hazelnuts), for decoration (optional)
METHOD
Melt the chocolate very slowly over a bain marie / water bath. Make sure the bowl with chocolate does not touch the water underneath.
Preheat the oven to 175° C / 345° F. Line a 20 cm x 20 cm  / 8 inch x 8 inch baking tin with baking parchment. Make the baking parchment stick out of the tin so that you're able to remove the brownies from the tin a little easier.
Whip aquafaba with an electric whisk until foamy (no need to achieve stiff peaks for this recipe).
Gradually add sugar to the aquafaba, whisking well after each addition.
Using a spatula, fold melted, lukewarm but not hot, chocolate into the aquafaba and sugar mixture.
Fold in almond butter and 2 tbsp of water or plant milk.
Add in all the dry ingredients in batches, mixing well until no cocoa or almond meal pockets remain. The batter should be very thick.
Transfer the batter into the prepared baking tin and spread it into the sides and corners with a spatula. Sprinkle with chopped nuts if using.
Bake on the middle shelf for about 25 minutes (depending on how fudgy you like your brownies and on your oven). Allow the brownies to cool down completely (!) before cutting with a sharp knife.