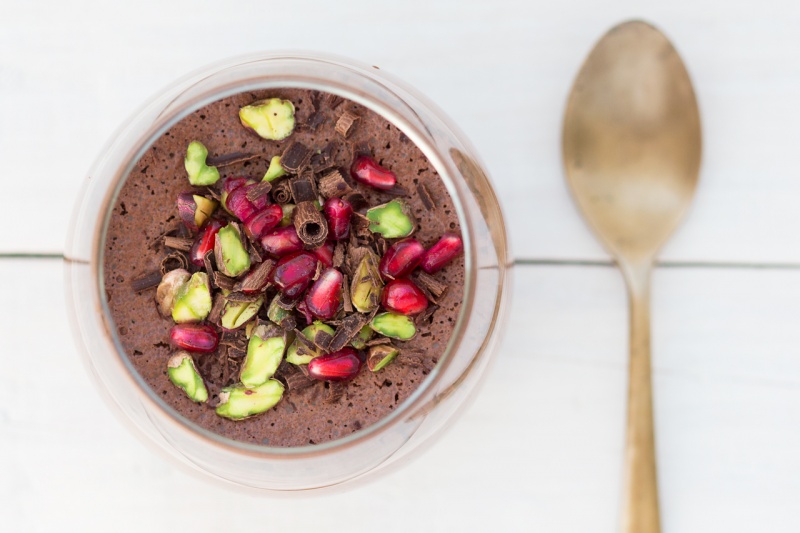 I'm so excited to bring this simple yet indulgent vegan chocolate mousse with aquafaba recipe to you, guys. As I've already mentioned in my previous posts, ever since I've read about the brilliant invention of aquafaba 'egg whites', I've been massively obsessed with it.
I'm part of an inspiring Facebook group solely dedicated to making things with aquafaba and I can tell you that every single person who tries to whip chickpea water like egg whites has the same reaction – that of amazement mixed in with excitement.
It's because it's a blooming genius invention. It opens up so many possibilities, not only for vegans, but also for people with egg allergies.
Who would have thought that something as basic as whipped chickpeas (most beans, in fact) cooking water can yield such amazing results. To make sure I have not gone mad and this thing doesn't, in fact, taste vile, I made this mousse twice while a couple of our omnivorous friends were staying with us. Not only did they LOVE the dessert, but when I was making it the second time, they watched me whip up the chickpea water into stiff peaks as they couldn't quite believe that it is as simple as it sounds. They were so impressed and vowed to make this dessert once they get home. It's the best compliment I could have wished for. 
For the sceptics amongst you, let me re-assure you, this dessert DOES NOT taste of chickpeas at all. If I hadn't just told you what's in it, you would have thought that it's an indulgent chocolate mousse, just like your grandma used to make. Go on, try it for yourself – you'll want to shout from the rooftops about it.
PS: you may also like one of these aquafaba-based mousses instead: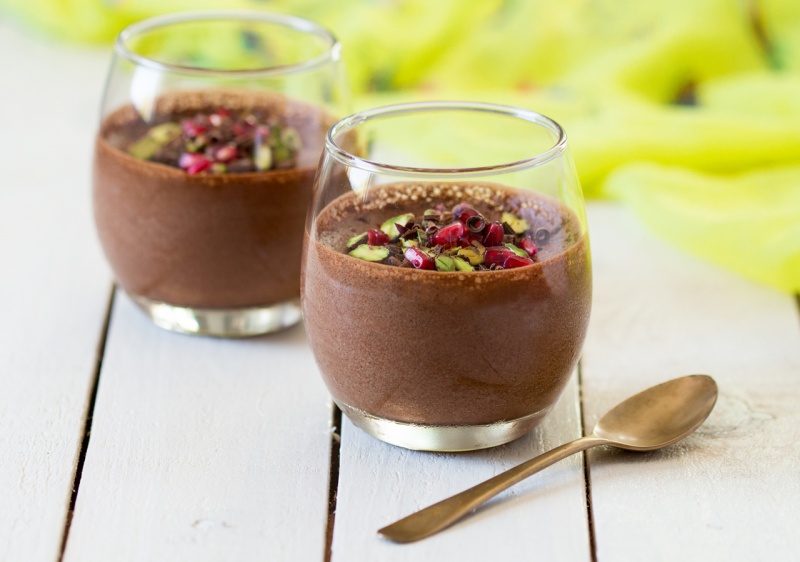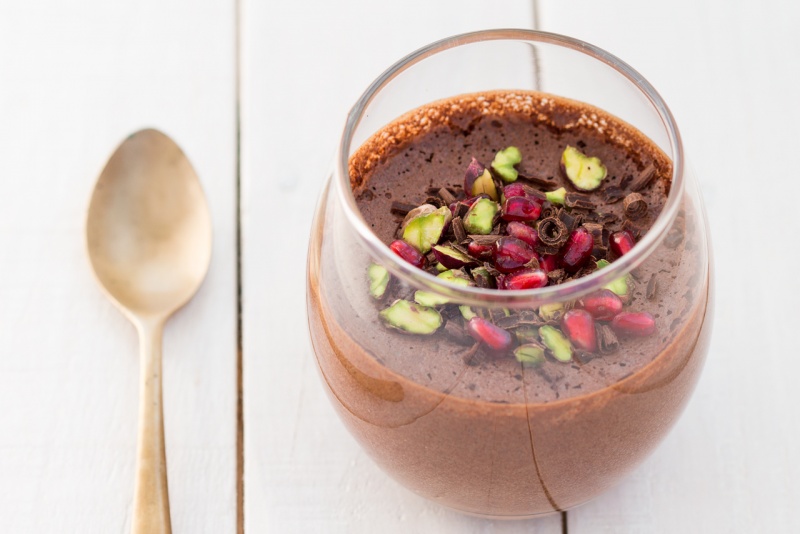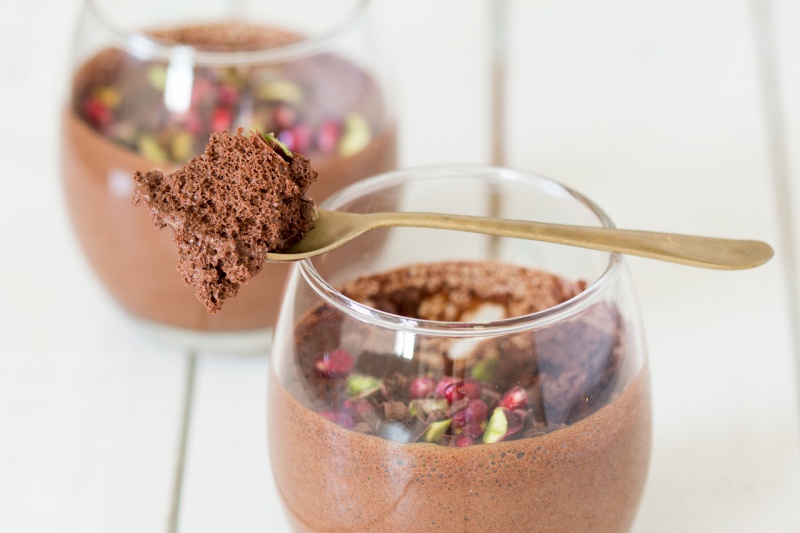 ¾ cup / 180 ml (room temp) aquafaba (from low-sodium canned chickpeas OR home cooked)
1 tsp lemon/lime juice or scant ½ tsp cream of tartar
140 g / 5 oz dark 70% cacao vegan chocolate
10 g / 2 tsp coconut oil (to help with chocolate seizing)
25 g / 2 tbsp caster (superfine) sugar (optional, adjust to taste)
GARNISH (optional)
1 tbsp chocolate shavings
a handful of pomegranate seeds
a handful of chopped pistachios
METHOD
This recipe contains a step-by-step VIDEO (see above).
Place broken up chocolate and coconut oil in a glass or metal bowl suspended over a water bath. Make sure the bowl with chocolate does not touch the water underneath. The key to success is not to overheat the chocolate and to be gentle with it – it's a temperamental ingredient.
Allow the water to come to a simmer slowly. Once it does, turn the heat off and allow the chocolate to melt in the residual heat.
Once chocolate looks melted, give it a slow and gentle stir. Take the bowl with chocolate off the heat and allow it to cool down – you want it as cool as possible but still liquid.
Once chocolate is almost cool, drain room temperature chickpea water (aquafaba) into large glass bowl. The bowl and the utensils you'll use to whip aquafaba need to be completely grease-free as even the tiniest grease residue can prevent aquafaba from reaching stiff peaks.
Add acid (lemon/ lime juice or cream of tartar) to the chickpea water to stablise the aquafaba – it helps to reach stiff peaks.
Using an electric egg whisk, whip chickpea water into stiff peaks – this is SUPER important as otherwise your mousse will deflate completely once the chocolate has been added. The best way to check if you have achieved stiff peaks is to invert the bowl with whipped aquafaba. If aquafaba slides down even a tiny bit, you are not there yet – keep on whipping until it does not move at all. I use an old, hand-held whisk and it takes me about 8 minutes to get stiff peaks. If you are a lucky owner of a stand mixer, it will happen quicker. The good news is that (as opposed to egg whites) aquafaba cannot be overwhipped.
Once you reach stiff peaks, start adding sugar, bit by bit, whipping the whole time. If sugar has caused the stiff peaks to perish, whip the mixture until you get stiff peaks again. Caster (also known as superfine) sugar or icing sugar work well, other sugars are known to make aquafaba deflate.
Check that the chocolate has cooled down sufficiently – it should not be warm to the touch or else chocolate is likely to seize and you will end up with grainy mousse.
Gently and gradually fold a portion (approx. a third) of melted chocolate into whipped aquafaba – using a silicone spatula and a gentle folding motion. Continue adding the chocolate to the aquafaba in two-three more batches until all of it has been incorporated. Do not worry if your fluffy mixture deflates a bit once all of the chocolate has been added – that's perfectly normal – but you should still see plenty small bubbles in the mixture. By the time you've added all of your melted chocolate, the mousse MAY have more of a pourable than spoonable consistency – that's ok.
Divide the mixture between 4 glasses. Gently stir the mixture between putting it into individual glasses as a bit of melted chocolate tends to drop to the bottom sometimes. Once in glass, give the mousses a gentle stir with a toothpick to ensure the mixture sets evenly.
Put glasses into the fridge overnight for the mousse to set.
NOTES
SEIZED CHOCOLATE – dark chocolate isn't an easy to work with ingredient as it is prone to seizing (i.e. it turns grainy and oily). I know that it frustrating, but it's something that may happen regardless of whether you make a chocolate mousse with aquafaba or whether you make it in a traditional French way (using eggs). Like with most things, it takes some practice to be able to avoid it.
Here are some common reasons WHY CHOCOLATE TENDS TO SEIZE:
– being exposed to heat for too long
– being exposed to too intense heat (I therefore do not recommend using microwave to melt it)
– stirring too much or too quickly
– due to coming into contact with even a drop of water
– due to a thermic shock between ingredients (aquafaba needs to be as close in temperature to the chocolate as possible)
– sometimes it seizes for to apparent no reason at all…
To minimise the risk of CHOCOLATE SEIZING:
– melt the chocolate slowly and using as little heat as possible (switch the heat off once the water barely starts to simmer)
– stir gently and as little as you can get away with
– make sure aquafaba and melted chocolate are at similar temperatures
– you could add a splash of plant milk or plant creamer (like Oatly or full fat coconut milk) to the bowl with unmelted chocolate and allow them to come to temperature together, then mix gently to create a ganache prior to incorporating into whipped aquafaba. This will ensure that the chocolate does not seize when it comes into contact with aquafaba, BUT it does sometimes seize when plant milk/creamer is being stirred into the chocolate and the only way to rescue a mixture like that is to stir in some boiling water, which will make the mousse less stiff and more watery.
PS: you may also like one of these aquafaba-based mousses instead: