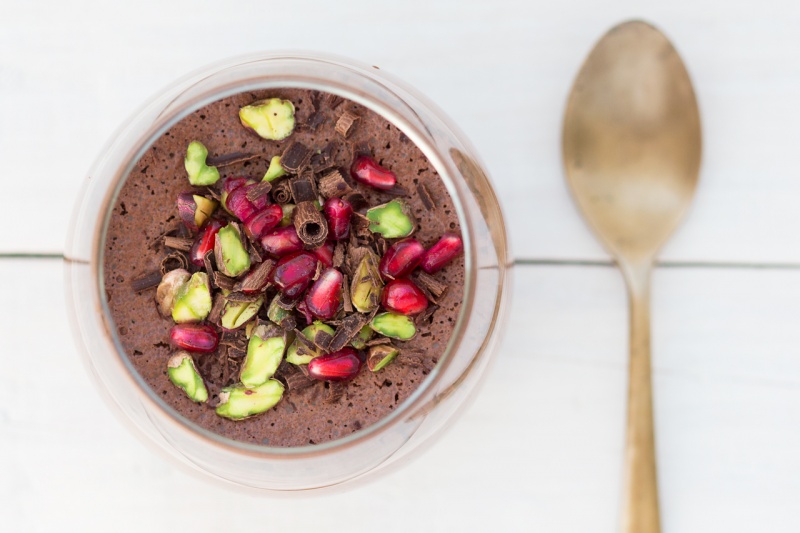 I'm so excited to bring this simple yet indulgent vegan chocolate mousse with aquafaba recipe to you, guys. As I've already mentioned in my previous posts, ever since I've read about the brilliant invention of aquafaba 'egg whites', I've been massively obsessed with it.
I'm part of an inspiring Facebook group solely dedicated to making things with aquafaba and I can tell you that every single person who tries to whip chickpea water like egg whites has the same reaction – that of amazement mixed in with excitement.
It's because it's a blooming genius invention. It opens up so many possibilities, not only for vegans, but also for people with egg allergies.
Who would have thought that something as basic as whipped chickpeas (most beans, in fact) cooking water can yield such amazing results. To make sure I have not gone mad and this thing doesn't, in fact, taste vile, I made this mousse twice while a couple of our omnivorous friends were staying with us. Not only did they LOVE the dessert, but when I was making it the second time, they watched me whip up the chickpea water into stiff peaks as they could't quite believe that it is as simple as it sounds. They were so impressed and vowed to make this dessert once they get home. It's the best compliment I could have wished for.
For the sceptics amongst you, let me re-assure you, this dessert DOES NOT taste of chickpeas at all. If I hadn't just told you what's in it, you would have thought that it's an indulgent chocolate mousse, just like your grandma used to make. Go on, try it for yourself – you'll want to shout from the rooftops about it.
PS: If you make this vegan chocolate mousse, don't forget to tag me on Instagram as @lazycatkitchen and use the #lazycatkitchen hashtag. I love seeing your takes on my recipes!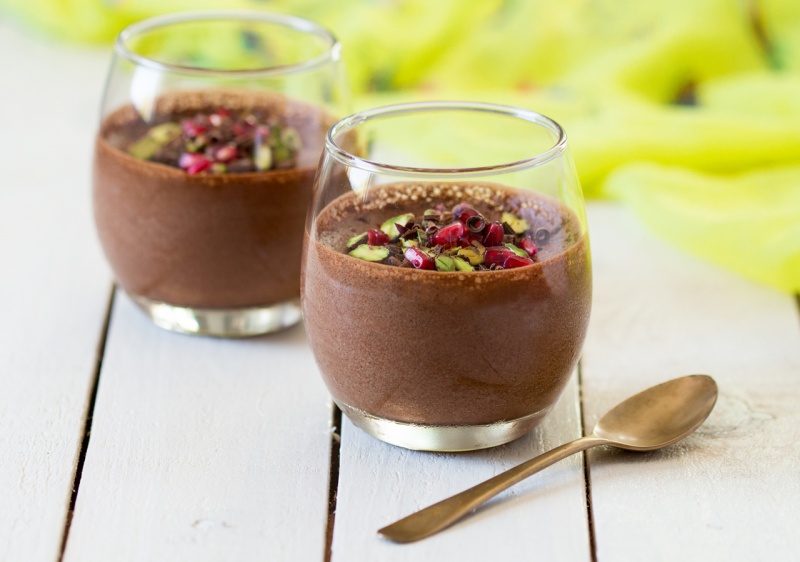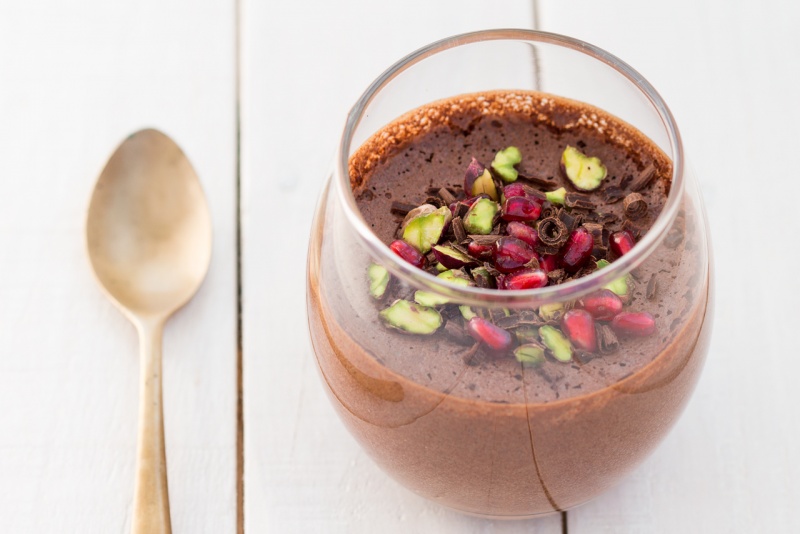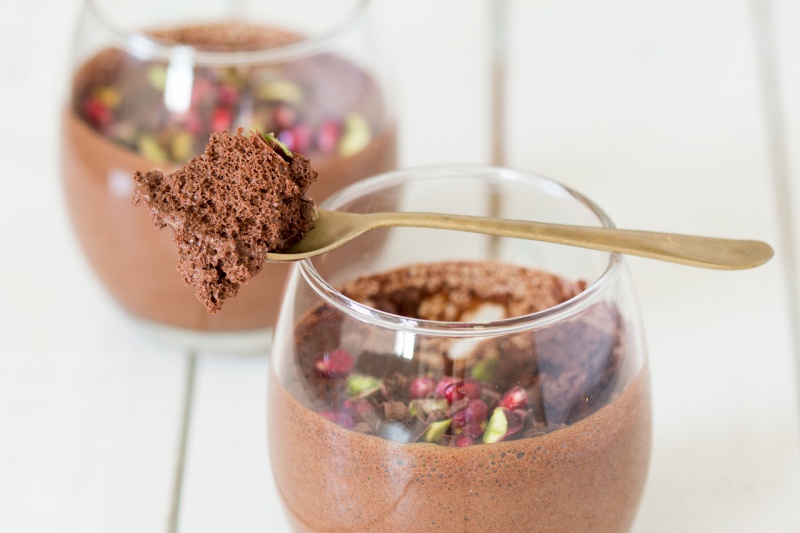 makes: 4 portions (160 ml each)
Ingredients
1 cup /240 ml aquafaba (from 400g / 14 oz can of low-sodium chickpeas OR home cooked chickpeas)
140 g dark (70% cacao) vegan chocolate
a generous splash of plant milk (optional)
20 g / 1 heaped tsbp white caster sugar (optional, SEE NOTES)*
1 tsp vinegar or lemon juice (optional)
2 pinches of hot chilli powder (optional)
GARNISH (optional)
1 tbsp chocolate shavings
a handful of pomegranate seeds
a handful of chopped pistachios
Method
This recipe contains a step-by-step VIDEO (see above).
Break the chocolate into smaller chunks and place it in a glass bowl together with a splash of plant milk. Plant milk isn't necessary, but I found that it stops chocolate from seizing (i.e. little chocolate particles from forming in the mousse) once it has been incorporated into stiff aquafaba. Place the bowl over the water bath and allow the chocolate and the milk to heat up very slowly (that's important as chocolate is very sensitive to high temperatures) and melt into each other – refrain from stirring until chocolate is completely melted. Once the chocolate has melted into the plant milk, mix the two gently with a wire whisk. Take the bowl off the heat and allow it to cool down a little.
Open your tin of chickpeas and drain the chickpea water into large glass bowl. The bowl and the utensils you'll use to whip aquafaba need to be completely grease-free as even the tiniest grease residue can prevent aquafaba from reaching stiff peaks. One 400 g tin should give you 240 ml / 1 cup of chickpea water. Reserve the chickpeas for another use, like a salad or burgers.
I recommend adding a teaspoon of acid (like vinegar or lemon juice) to the chickpea water to speed things up and stablise the foam.
Using an electric egg whisk, whip the chickpea water into stiff peaks – this is super important. The best way to check if you have achieved stiff peaks is to invert the bowl with whipped aquafaba. If aquafaba slides down even a tiny bit, you are not there yet – keep on whipping until it does not move at all. I used an old, hand-held whisk and it took me about 15 minutes to get stiff peaks. If you are a lucky owner of a stand mixer, it will happen quicker. The good news is that (as opposed to egg whites) aquafaba cannot be overwhipped.
OPTIONAL STEP: Once you reach stiff peaks, start adding sugar, bit by bit, whipping the whole time. If sugar has caused the stiff peaks to perish, whip the mixture until you get stiff peaks again.
Check that the chocolate has cooled down sufficiently – it should not be warm to the touch or else chocolate may seize and you will end up with grainy mousse.
Gently fold melted chocolate into whipped aquafaba using a silicone spatula. Do not worry if your fluffy mixture deflates once the chocolate has been added – that's perfectly normal. By the time you've added all of your melted chocolate, the mousse MAY have more of a pourable consistency.
Add chilli powder if using and mix well. Divide the mixture between 4 glasses. Gently stir the mixture between putting it into individual glasses as a bit of melted chocolate tends to drop to the bottom sometimes.
Put glasses into the fridge for minimum 3 hours for the mousse to set. I tend to chill mine overnight and it's perfectly set and fluffy each time.
Notes
*The exact amount of sugar depends on your taste and how sweet your chocolate is. Sugar isn't necessary though, I make my mousse without sugar as per video above.
If you wish to make your own aquafaba (chickpea water) from dry beans, here is how.
If I use tinned chickpeas, I use the ones by an Italian brand called MARA.
If you want more info on some of the ingredients that we use in our recipes, check out our
glossary
.