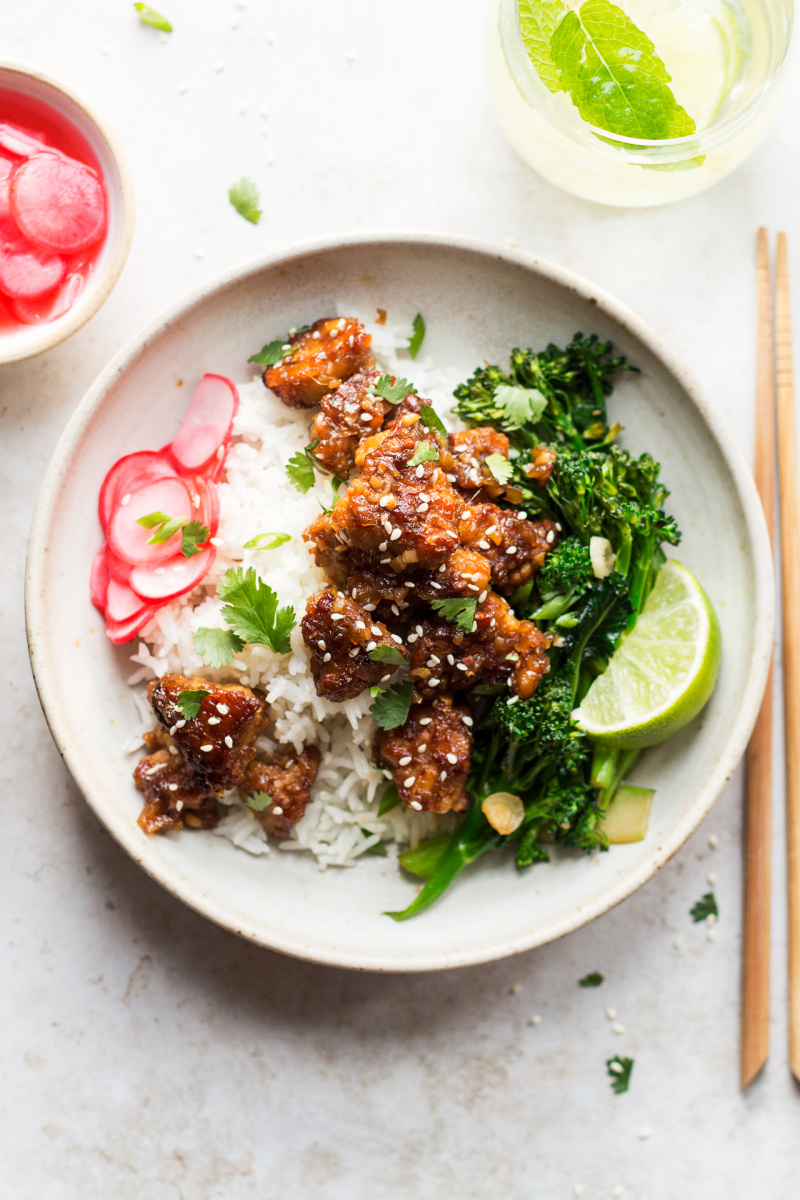 Hey guys, hope your week is peachy?! We've been blessed with beautifully sunny weather here in Bristol (it's May so about time, eh?) this week and I found it extremely hard to get any work done as a result. This is when being one's own boss gets hard sometimes. On one hand, you can simply say 'I deserve some down time' and sit in the garden smelling flowers all day, but if you continue doing that too often, you'll find yourself with no business to speak of. Self-discipline is key and while I am normally okay with that, when the sun is shining so beautifully after so long, my self-discipline goes out of the window (literally). If not for the fact that I lost the ropes needed to hang up my hammock, I would be now swinging happily in it.
So after 2 full days of procrastination, I've finally had to buckle down and shoot some photos for you, so here goes. Today's dish is inspired by a traditional Indonesian method of preparing tempeh known as 'tempeh goreng'. Although it literally means fried tempeh, it is so much more than that. First, bite size pieces of tempeh get fried until golden and then get coated in a ludicrously delicious savoury caramel-like glaze, which makes the whole thing insanely addictive. Make sure you prepare your tempeh just before serving the dish or else I can guarantee that you'll lose half of it to snacking… Or maybe it is just me and my extremely poor impulse control…
Speaking of which, I've decided that I need a little help in this department so I've installed a new app on my phone, which helps me track the amount of grazing I tend to do on a daily basis. I've only been logging all my food for a few days now, but it has already illuminated to me how much unnecessary food ends up in my stomach over the course of each day, just because I'm bored, frustrated or I don't want something to go to waste. Now that I can see everything in black and white, I instantly feel a little bit more accountable. The thing is, I don't go hungry or even deny myself a small treat daily, yet I find that I am simply making more considered choices when it comes to what I need to eat for sustenance or a little pleasure and what I tend to eat just because it's within reach. It's been very educational and I'm hoping to develop some new, better habits in the long run.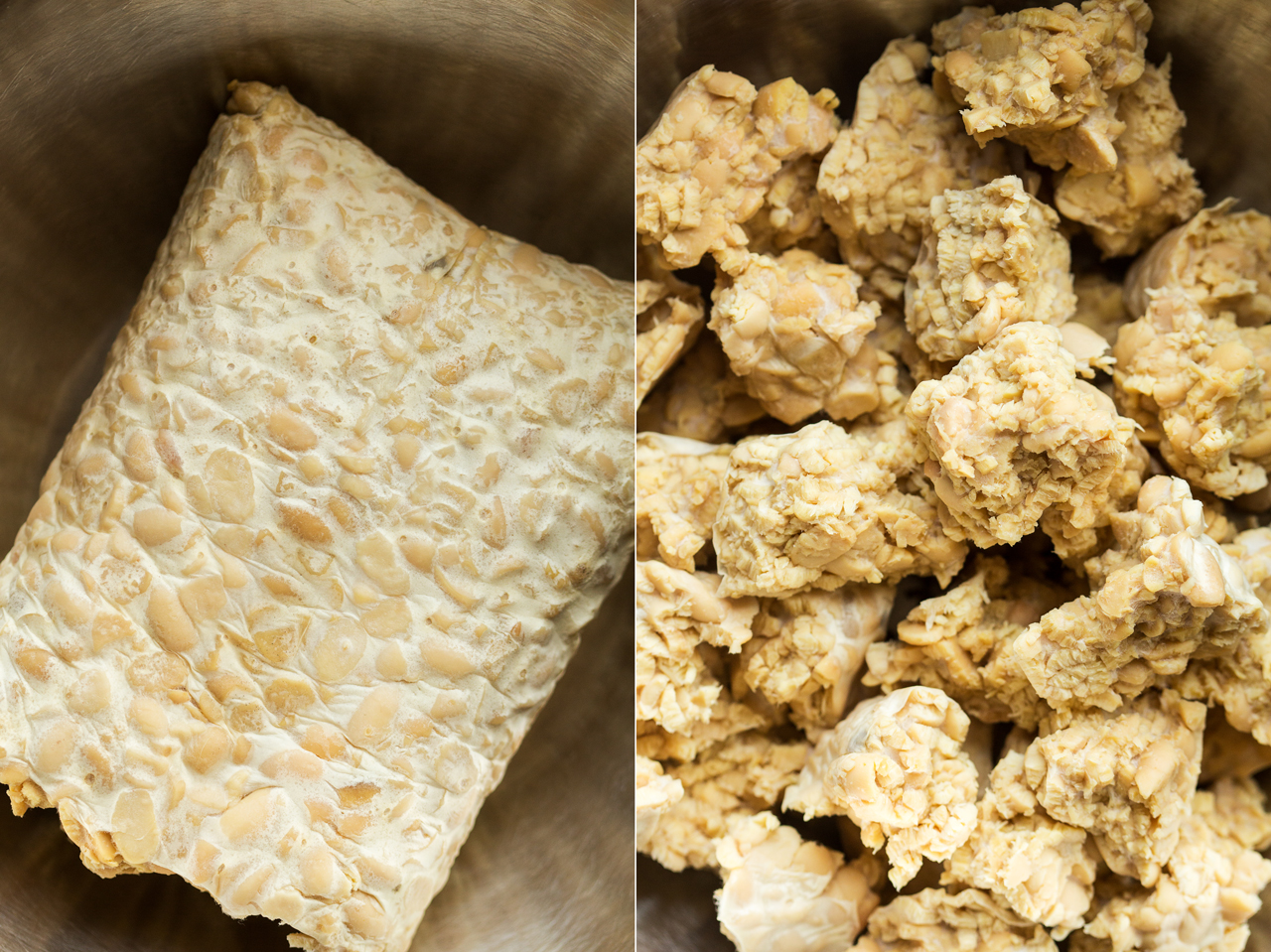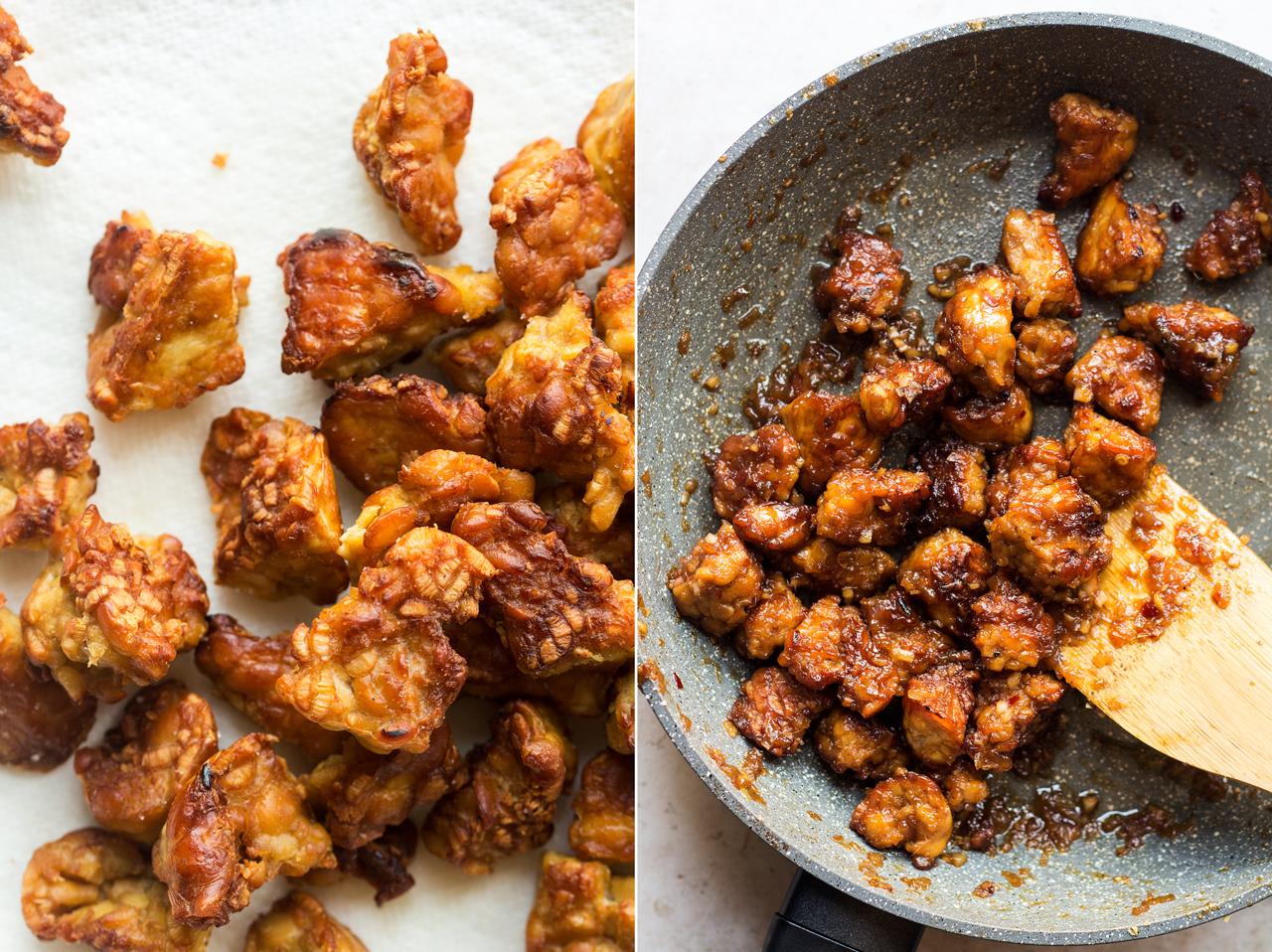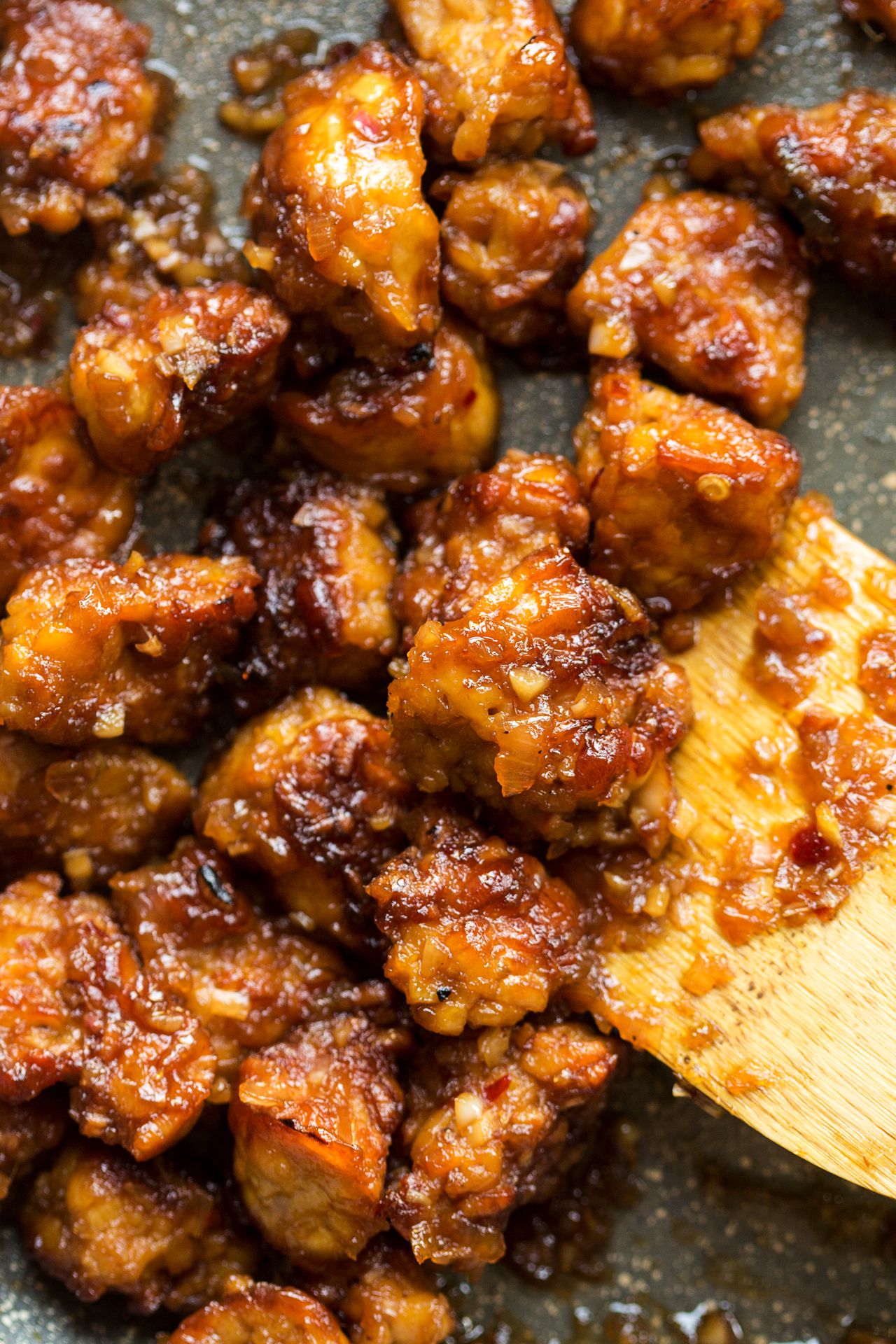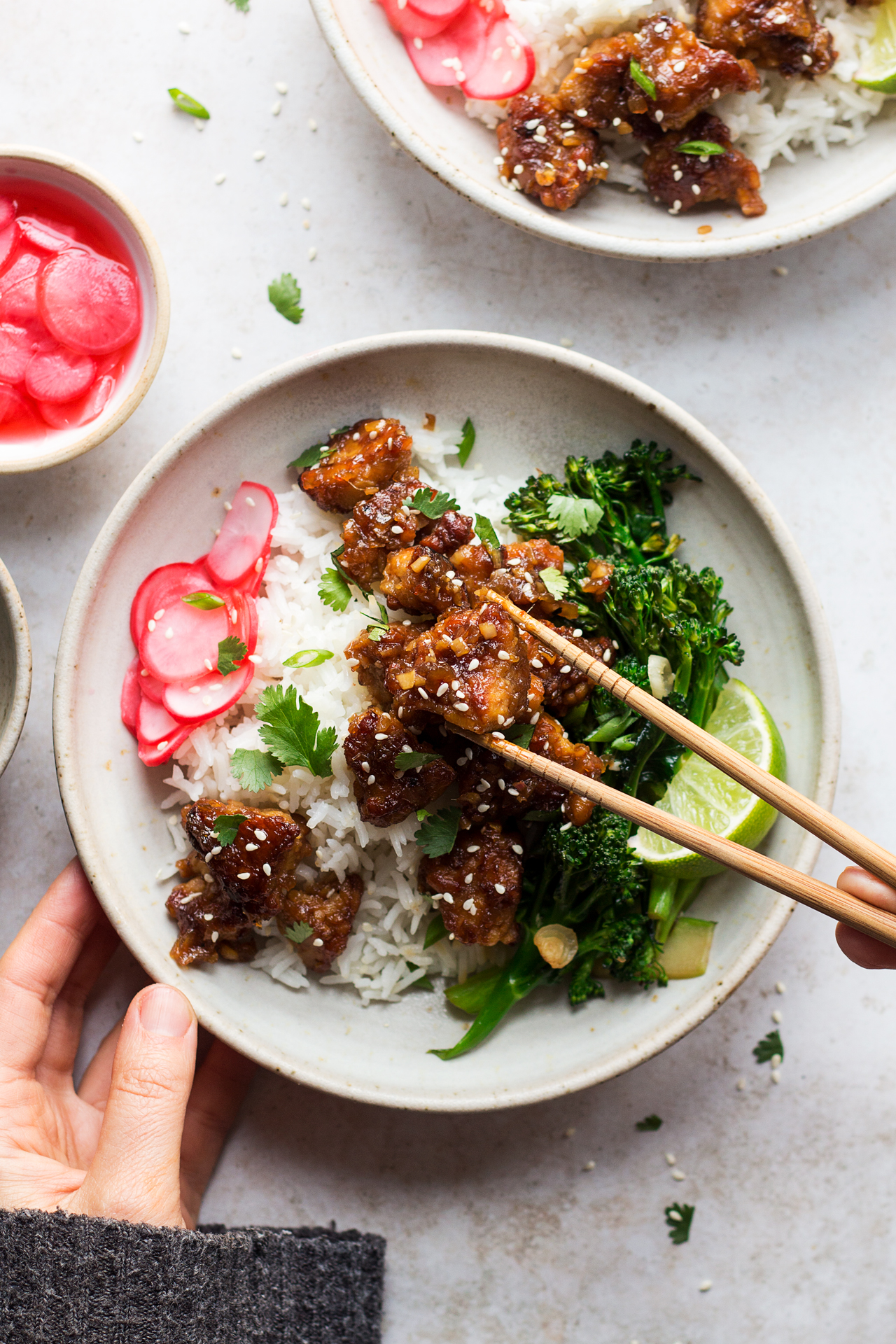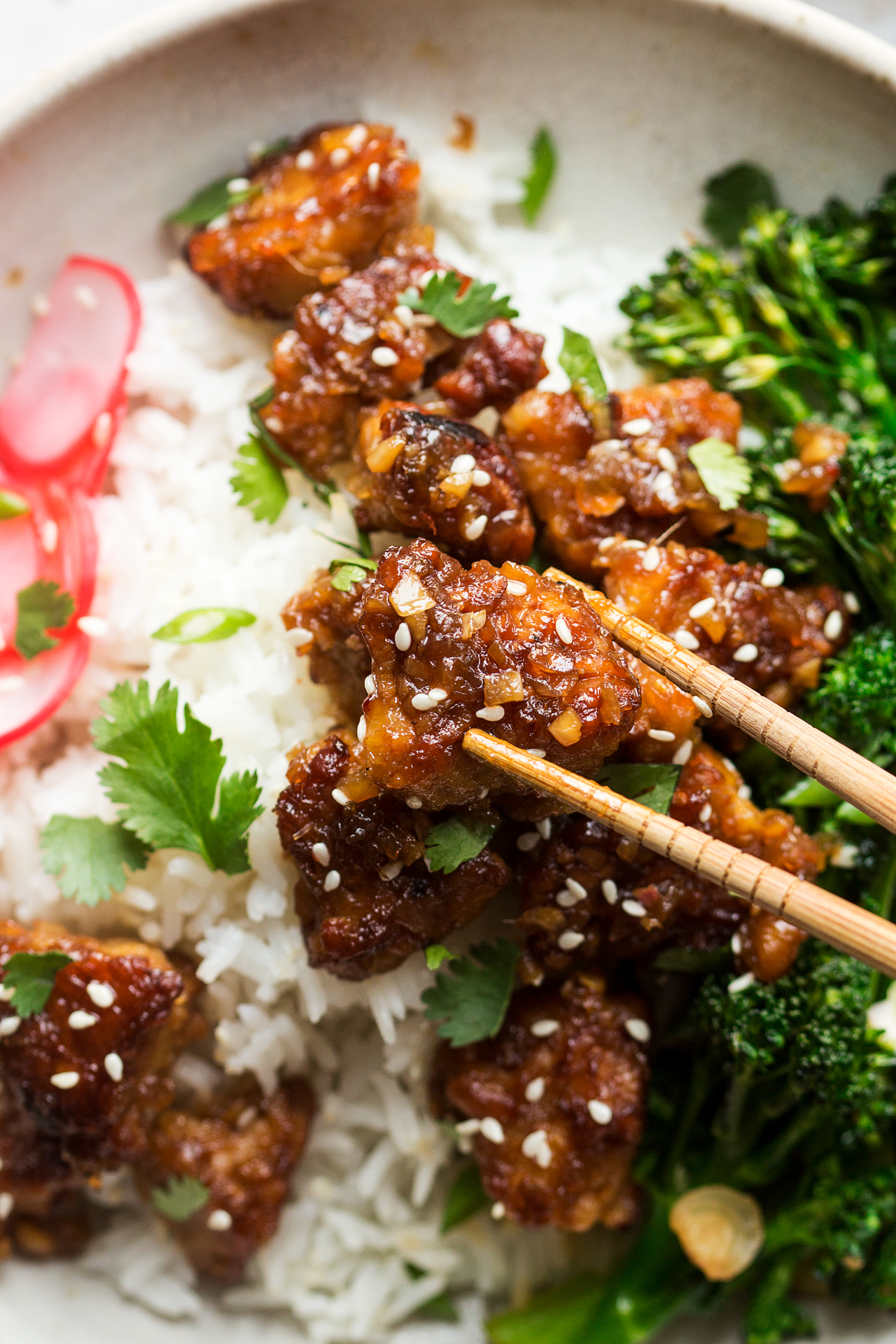 TEMPEH
200 g / 7 oz tempeh
2-3 tbsp high smoke oil* (I like rice bran oil)
salt
2 small shallots, very finely diced
1 garlic clove, very finely chopped
1 stalk of lemongrass, minced well (optional, add more ginger if unavailable)
1½ tsp finely grated ginger
1-2 tsp sambal oelek, adjust to taste (or Sriracha)
4 tsp coconut sugar (or any other sugar)
3 tbsp lime juice
REMAINING INGREDIENTS
195 g / 1 cup rice, cooked
200 g / 7 oz broccoli, stir-fried or steamed
favourite pickles (optional)
fresh coriander, for serving
green part of spring onion / scallion, sliced thinly
METHOD
Tear tempeh into small-medium chunks with your hands. You could also cube it, but I prefer the organic shape and it's easier to make too.
Heat up 2 tablespoons of oil in a small pan. Once the oil is hot, add tempeh chunks and allow it to fry (without stirring) until browned on one side. Once golden-brown on one side, give it a stir and allow to brown on the other side. Lift out of the oil with a fork or a slotted spoon and place on a plate lined with a paper towel. Sprinkle with a generous amount of salt and set aside.
Use leftover oil (or add another tablespoon of oil if needed to the same pan) to fry diced shallot for about 2-3 minutes on low heat – until translucent.
Add garlic, lemongrass, and ginger. Sauté on a very low heat, stirring frequently.
Next, add in sambal oelek, coconut sugar and lime juice. Allow the sauce to bubble a little on a low heat. Season with salt.
Place fried tempeh in the sauce and stir well to coat.
Serve with rice, broccoli and pickles. Garnish with fresh coriander and the green part of the spring onion.
NOTES
*If you are not keen on frying, dry the tempeh pieces out in an 180° C / 355° F oven for about 20 minutes before glazing.