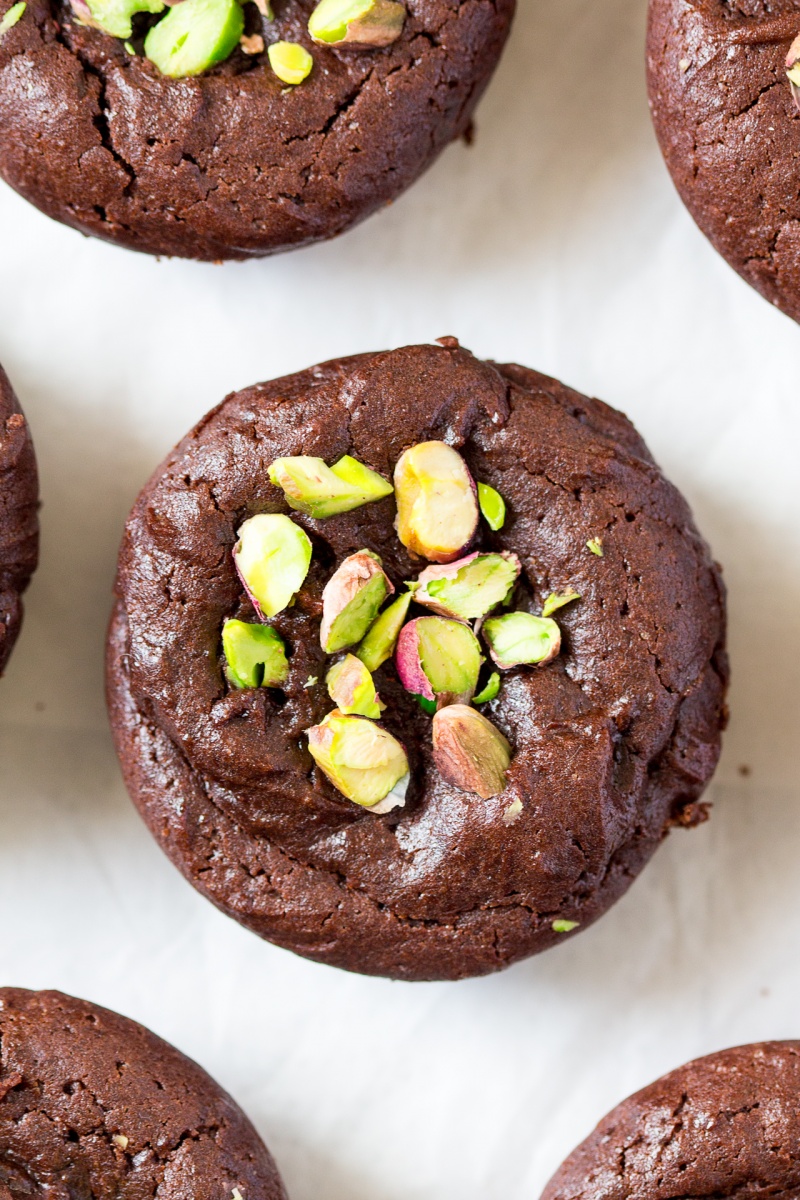 Brownies have always been one of my favourite sweet treats. Today, after quite a few rounds of testing (which wasn't all that bad), I bring you a tray of perfect fudgy vegan brownies.
They are crispy on the inside and fudgy on the inside, the way every good brownie should be. They are intensely chocolatey, come together quickly and due to their small size, bake so quickly that you'll have plenty of time to make yourself a cup of coffee before they are out of the oven.
The key to the fudgy interior is taking them out of the oven just in time. They may look underdone as the tops harden and crisp up as the brownies cool down, but trust me – they are not. They are heavenly!
They certainly got a huge thumbs up from my fiancé. I made a whole tray for the photoshoot. I had the best intention of sharing them with my neighbours, but this plan has somehow fallen by the wayside. We both ate them all and I won't tell you how many (or how few rather) days it took us cos I'm ashamed…
When it came to the last brownie, I caught Duncan making eyes at it and said that there is NO WAY I'm giving up my half. He said that he is going to get it by surprise attacking me…that boy is a charmer, eh? 😉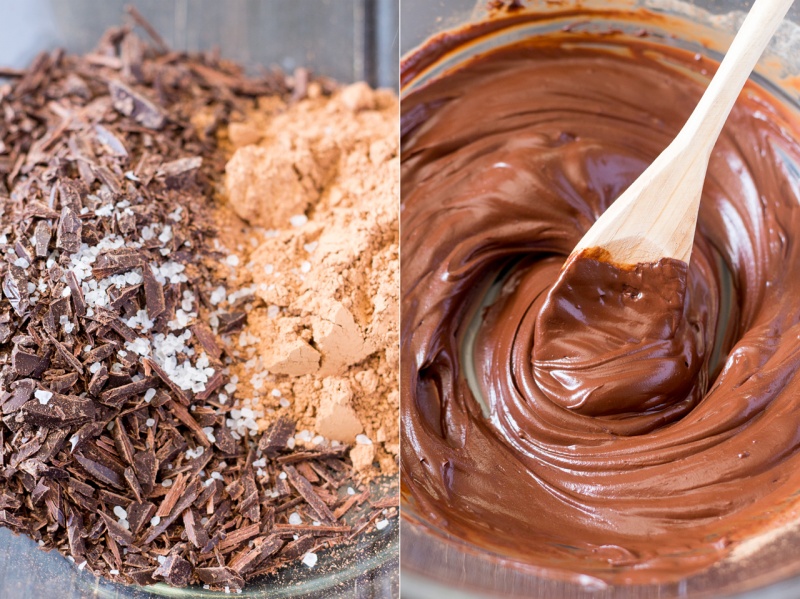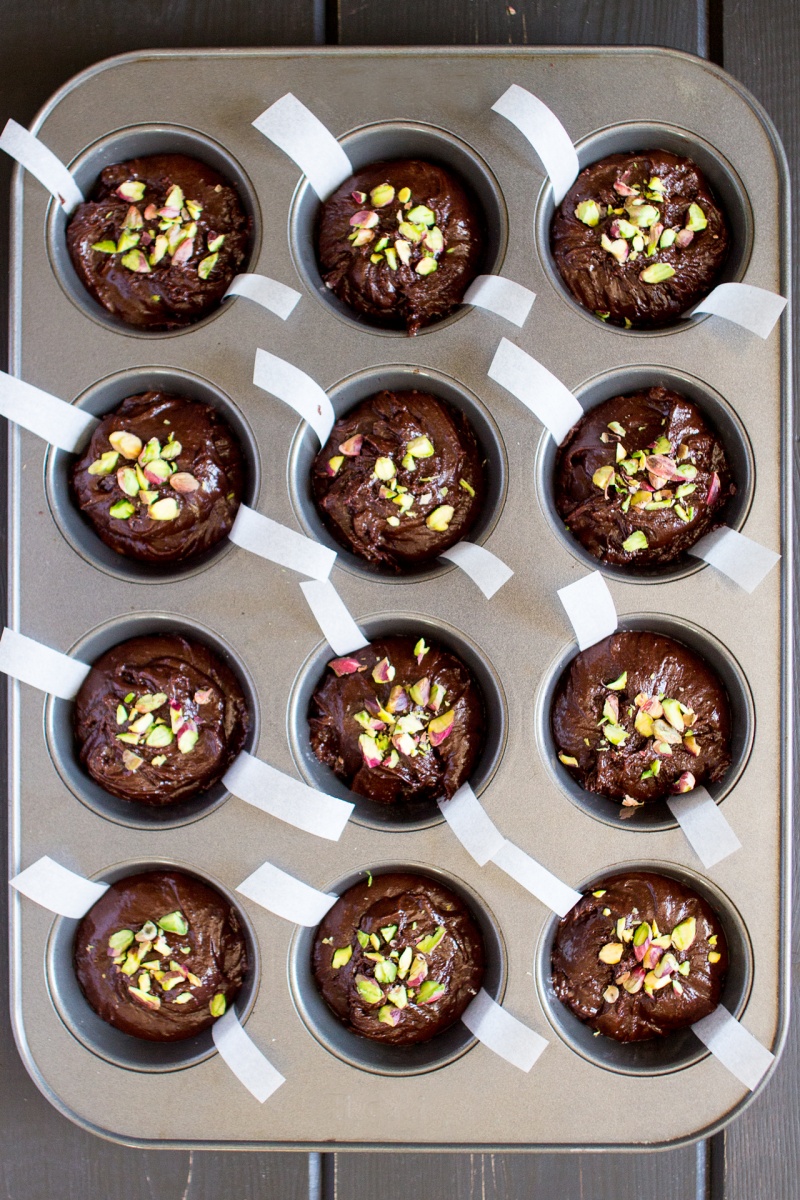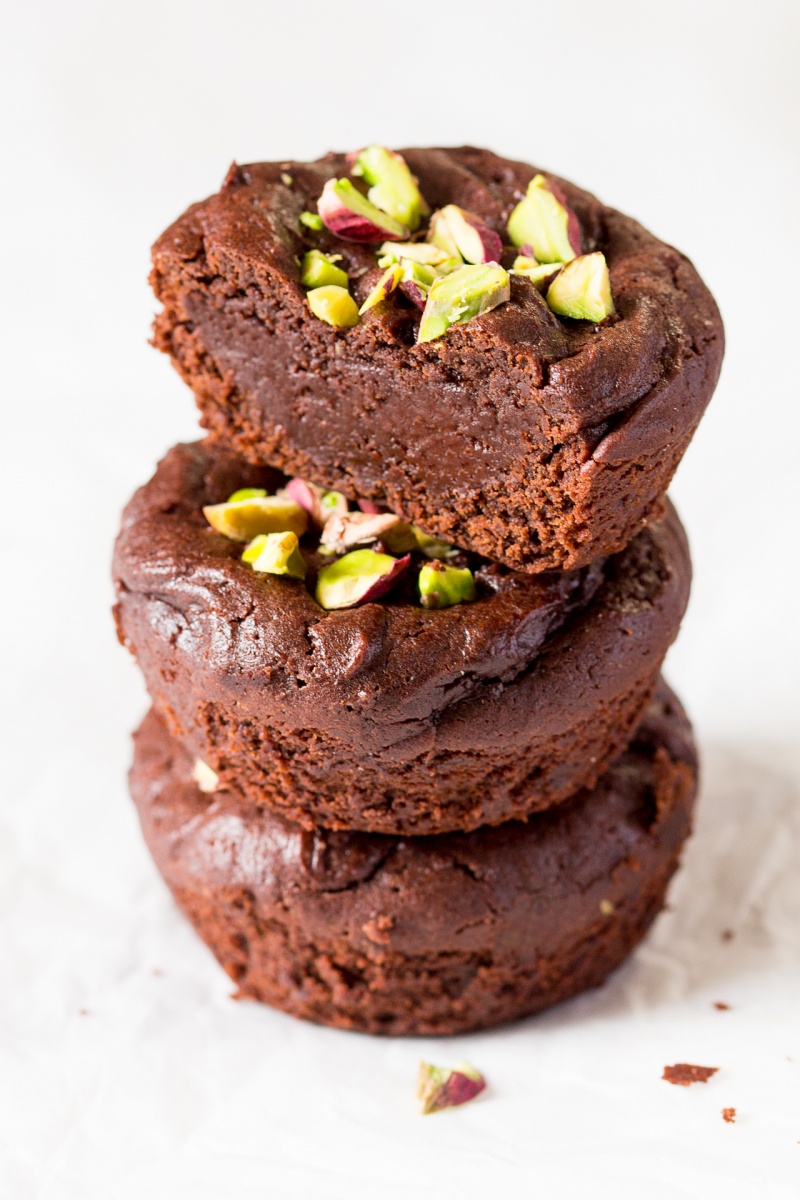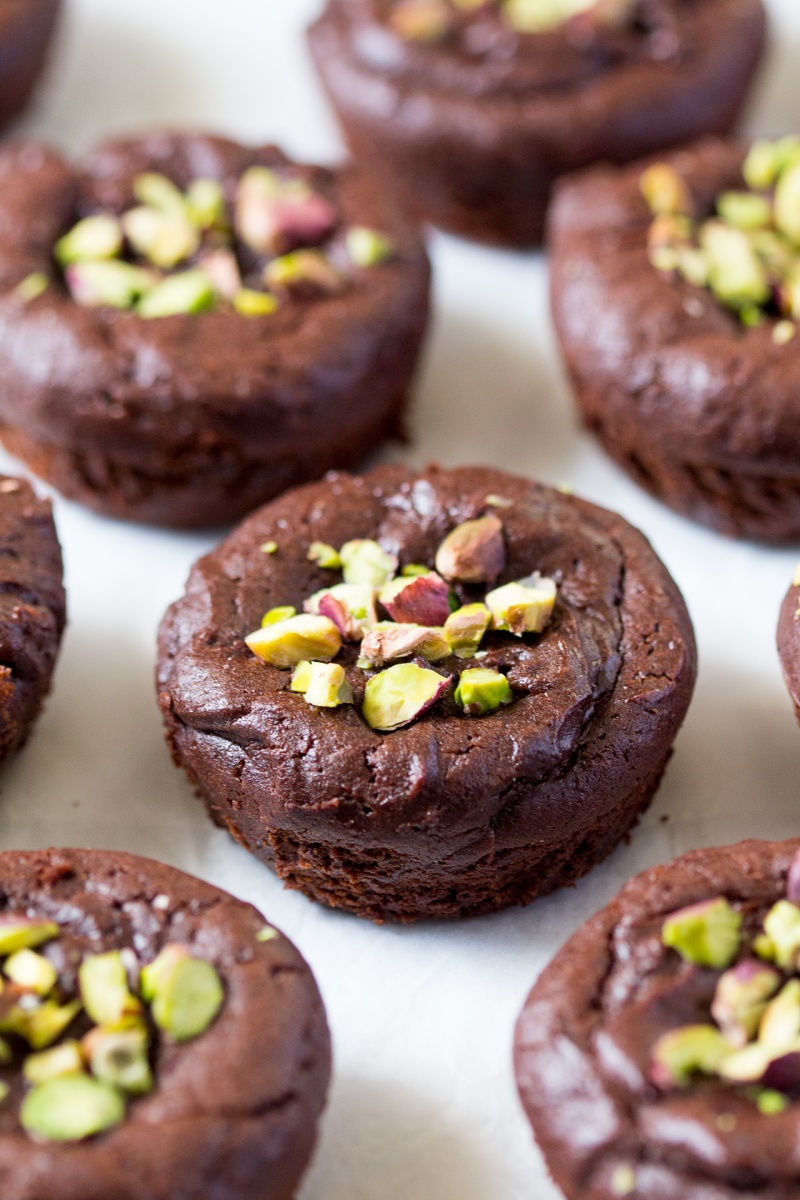 2 tbsp flax / chia meal OR 3 tbsp reduced aquafaba*
220 g / 1 ¾ cup white plain cake (as opposed to bread) flour
¼ tsp baking soda
6 tbsp / 3/8 cup raw cocoa powder
110 g dark chocolate (I used 70% cocoa)
¼ tsp salt
60 ml / ¼ cup espresso + 75 ml / 5 tbsp boiling water
200 g / 1 cup caster sugar
80 ml / ¼ cup + 1 tbsp + 1 tsp mild olive oil
30 g pistachios, chopped (optional)
METHOD
If using flax or chia, prepare them by mixing 2 tbsp of ground seeds with 3 tbsp / 45 ml of water. Put aside in the fridge to allow it to thicken.
Pre-heat the oven to 180° C / 350° F. Line a standard 12 hole muffin tin with cupcake liners or line the bottoms with circles of baking paper and insert a strip of baking paper into each hole to be able to take them out easily. Oil the sides of each muffin hole. Do not rely just on greasing the tin with olive oil alone as in my experience hardened tops are likely to come off when trying to remove brownies after baking (see the photo I put on my Instagram – @lazycatkitchen).
Weigh your flour, add baking soda and mix the two together, sift. Set aside.
Chop your chocolate very finely. Put it into a big mixing bowl, with cocoa powder and salt. Stir well.
Boil a kettle of water and make an espresso. Make sure you time it so that they are both ready (and hot) at the same time. Pour 75 ml / 5 tbsp of boiling water and 60 ml / ¼ cup of hot espresso into the bowl with chocolate. Stir it well until chocolate dissolves into hot liquid. Do not add any more liquid.
Add in sugar, flax / chia egg (by this time it should turn all sticky) or cooled aquafaba and olive oil. Using a hand mixer, blend the mixture until it's smooth.
It's time to add flour and the baking soda mixture. Add a little at a time and stir it into the chocolate mixture with a spoon. Do not be tempted to use an electric mixer as it will overwork the batter and spoil the brownies. Stir gently and just enough until there are no flour pockets any more, but no more than that.
Spoon the batter (it will be quite thick) into the muffin tin. Smooth it with a spatula and sprinkle chopped pistachios on top. Bake on middle shelf for about 11-12 minutes. Remember the brownies will continue to cook for a little while longer once removed from the oven and the tops will harden as they cool. The top should be nice and crispy, but the inside gooey. Remove them from the oven and let them sit in the tray until they are cool enough to remove. If you try to remove them too quickly, they may fall apart.
NOTES
 This recipe is an adaption of
my earlier recipe
for vegan brownies.
*Aquafaba (AF) or bean brine is leftover cooking water from cooking most legumes. I use chickpea water and have not tried using any other type yet. You can get it from a can of low sodium chickpeas or make your own. In this recipe, I used homemade aquafaba. When making your aquafaba, soak dry chickpeas in lots of water overnight, rinse and put in a large pot with lots of water. Bring to the boil and then simmer for about 1 hour (until beans are soft). Remove cooked chickpeas with a slotted spoon and what's left in your pot is aquafaba. If it is too runny (ideally it should resemble egg whites), reduce it a bit by simmering it on a low heat (without a lid) until it reaches the consistency similar to an egg white. Cool it down before using.