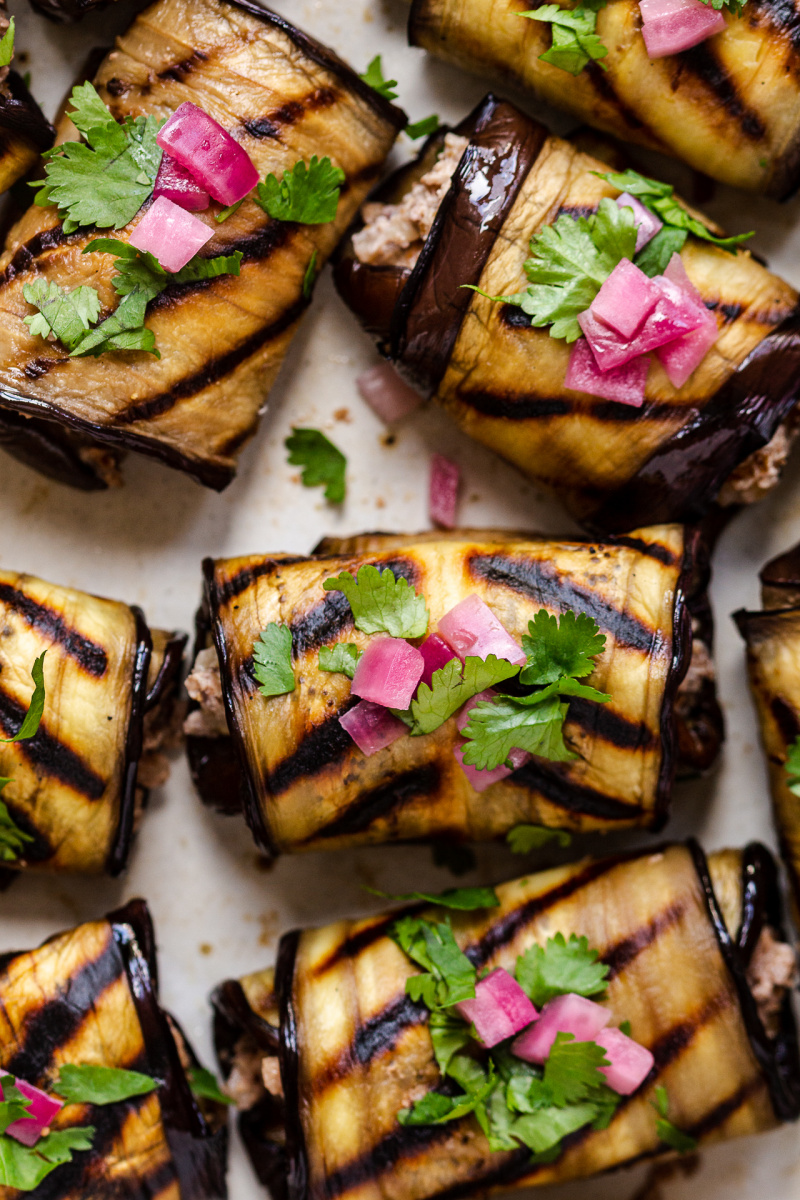 As we are bang in the middle of the eggplant season, I've decided to regale you with another BBQ-friendly eggplant recipe (see this addictive miso lathered eggplant recipe I posed last week). I am a massive eggplant lover – I love its versatility and its fleshy texture that turns silky smooth if cooked right. Over the years, I've used it to make smoky baba ganoush, to make comforting bakes like moussaka or eggplant parmigiana, to turn it into meatballs, to stew it in an aromatic curry sauce and to turn it into a super simple stir-fry. The possibilities are endless.
Today's recipe is inspired by a Georgian dish known as nigvziani badrijani (stuffed eggplants), which is delicious and very suitable for al fresco cooking so it's perfect for the BBQ season. Its key ingredients – eggplants, walnuts, garlic and lemon – happen to be some of my favourites too so it's a no brainer! Traditionally eggplants get fried in oil, but as I am not a massive fan of frying, especially eggplants as they tend to soak up a lot of grease, my suggestion is to grill them on a BBQ or a sturdy griddle pan instead. Not only is this method of preparation healthier, they also end up looking way more appetising too thanks to the beautiful char lines.
The filling is made of walnuts, garlic, lemon juice and spices. Again, this is certainly a departure from the tradition, but my suggestion is to toast the walnuts lightly prior to grinding them. It's not a big job – the easiest way is to spread them on a baking tray and whack it into the oven for 10 minutes – yet it adds bags of flavour to the dish!
You can make the filling in a food processor or crush the walnuts by hand in a pestle and mortar. It depends on how much time you've got on your hands and what texture of filling you prefer. I wanted to leave a tiny bit of crunch and texture seeing that eggplants have none once cooked, so I channelled my inner grandma (who would not be seen dead anywhere near a food processor) and crushed the walnuts by hand – it's not the worst job, honestly.
In terms of seasoning, a Georgian cook would use their ubiquitous spice mix, the melodically sounding khmeli suneli. My research revealed, however, that a lot of its distinct flavour comes from the slightly bitter fenugreek, which if you are into making Indian curries you may know as methi, so that's what I used in conjunction with some coriander, cumin, smoked paprika and black pepper. It works well and while I twisted this Georgian delicacy a little to suit my palate and the contents of my cupboard, it's delicious and I hope you'll enjoy my take on it too.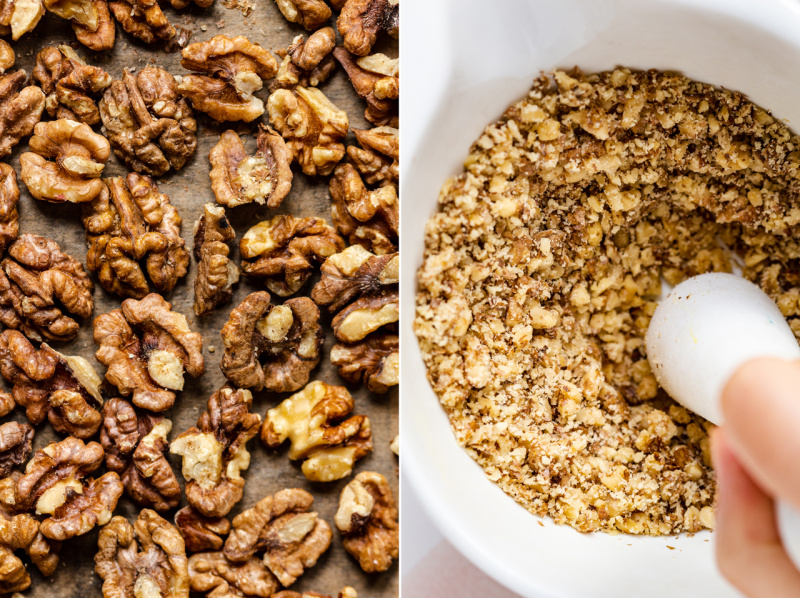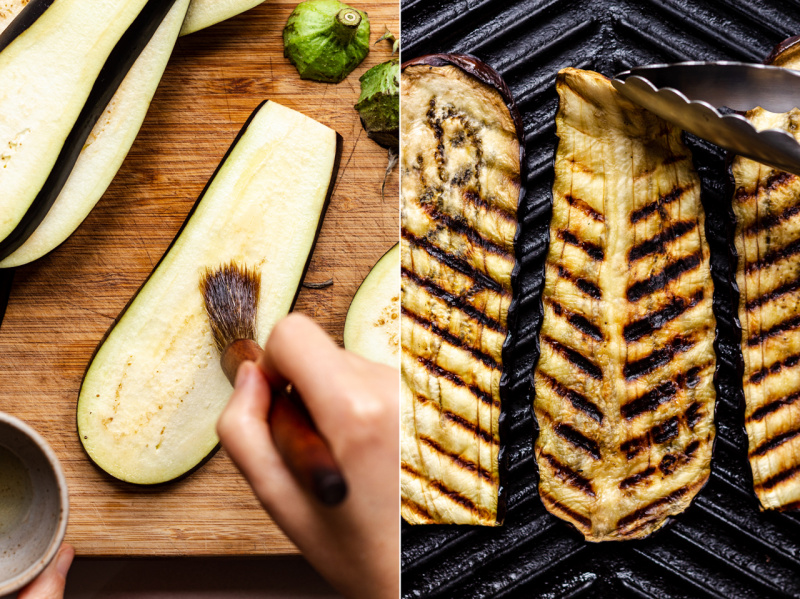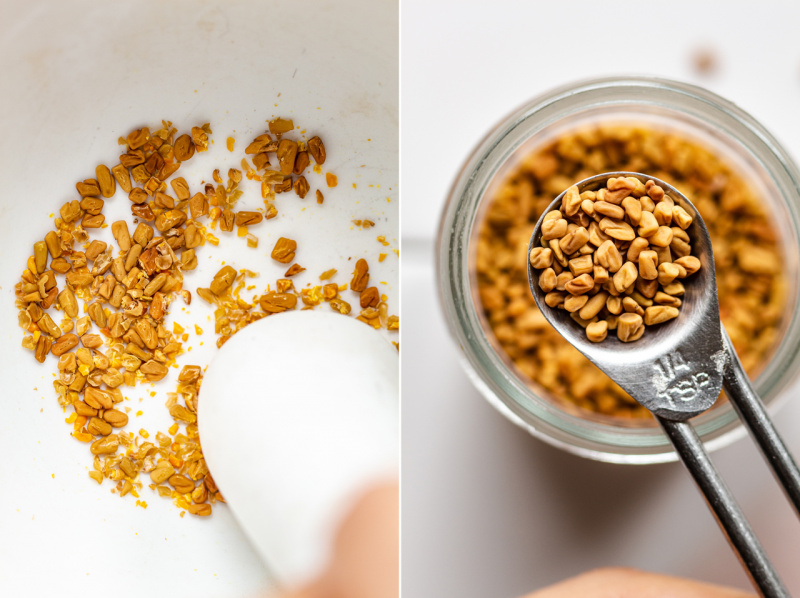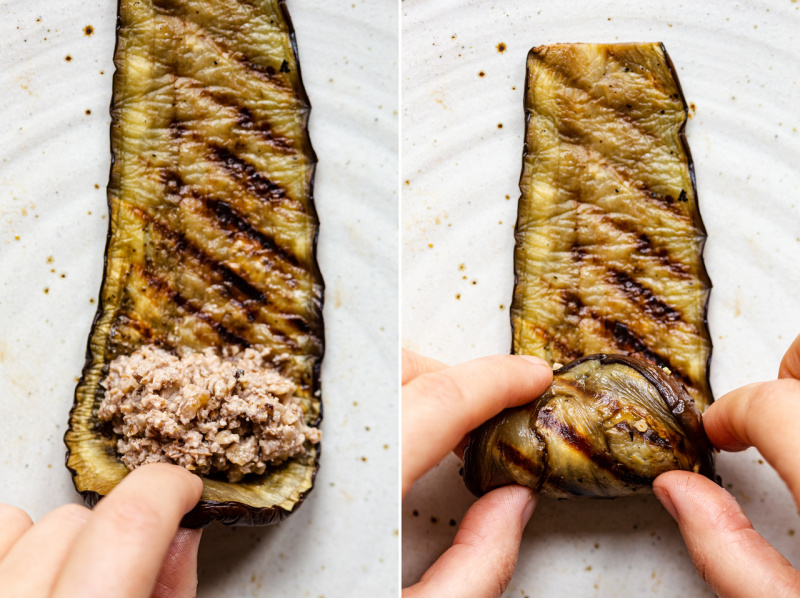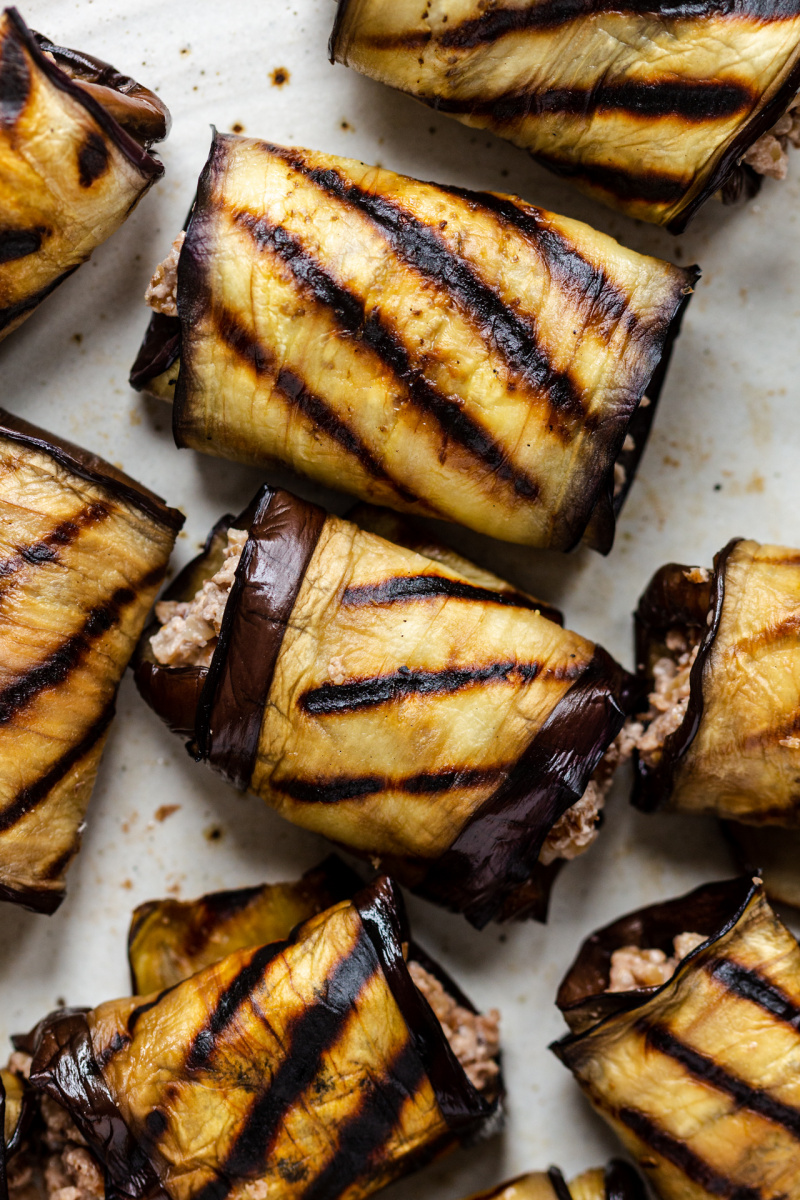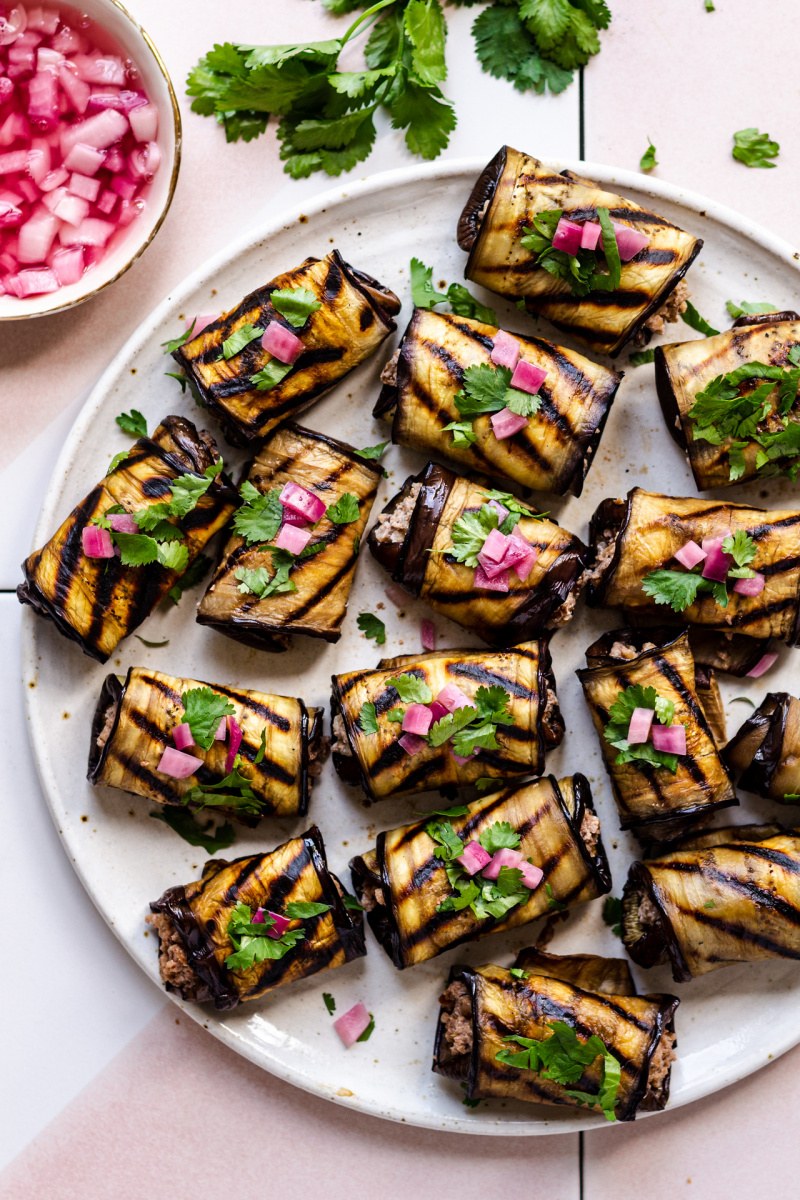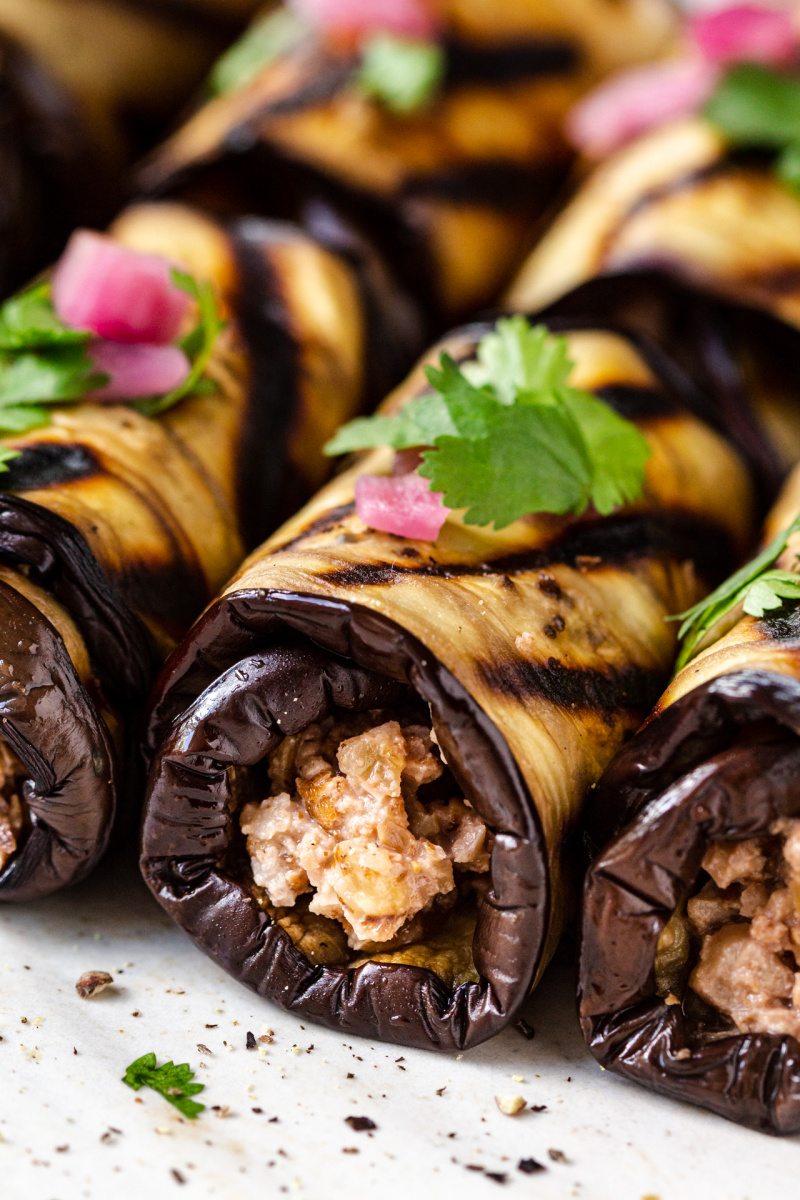 1.2 kg / 42 oz (4 medium) aubergines
olive oil (optional)
salt and pepper, to taste
135 g / 1½ cups walnuts
2 garlic cloves, finely grated
15-30 ml / 1-2 tbsp lemon juice
½ tsp ground coriander
½ tsp smoked sweet paprika
¼ tsp ground cumin
¼ tsp whole fenugreek seeds*, crushed finely
10 ml / 2 tsp date syrup, maple syrup or pomegranate molasses*
10 ml / 2 tsp walnut oil, optional
fresh herbs (coriander, parsley, mint or basil), to garnish
pomegranate seeds or quick-pickled red onion, to garnish
METHOD
Cut your aubergines into 1 cm / 0.4″ slices lengthwise. Heat up a griddle pan (you can also use a low heat area of your BBQ). Once the pan is hot, brush eggplant slices with a little bit of oil, season with salt and place them on the grill. Decrease the heat to low and allow the eggplants to grill slowly (about 10 minutes on each side initially – then a little less as the pan gets hotter) until cooked through and charred. Brush the other side with oil and grill the other side for 10 minutes. You will need to do them in batches. Alternatively, you could also cook them in the oven (without any oil if preferred), like in this recipe. As soon as the eggplant slices come off the pan, roll them up whilst they are still warm.
OPTIONAL: While the eggplants are charring, toast the walnuts on a dry frying pan or in a 160° C / 320° F until golden, about 10 minutes. You can skip this step but I find that it really enhances the flavour.
OPTIONAL: Grate the garlic and place it in a small bowl with 1 tbsp of lemon juice – it will make the garlic taste more mellow without the need to cook it.
Once the walnuts are cool, crush in a pestle and mortar or grind them in a food processor. I prefer the former as it allows me to control the texture better and I like to leave the filling a little chunky to contrast with the smooth eggplant flesh. If you prefer it to be smooth and creamy, use a food processor.
Season the walnuts with lemon juice and garlic mixture, ground spices, date syrup and salt and pepper. Finally trickle a bit of hot water (I used 90 ml / 6 tbsp) to the walnuts while processing / crushing them by hand and a touch of walnut oil (you can use olive oil or skip) to make the filling less crumbly.
Unfurl eggplant slices, place a heaped teaspoon of the mixture at the widest end of the slice and roll the eggplant up tightly (you can use wooden toothpicks to hold them in place).
Arrange on a plate / platter, decorate with chopped herbs and pomegranate seeds (or diced pickled onion if pomegranates are out of season).
NOTES
*The traditional Georgian recipe uses a spice mixed called
khmeli suneli
. If you can find it, add it to taste.
*POMEGRANATE MOLASSES has a sweet sour flavour so make sure to use less lemon juice in the filling.