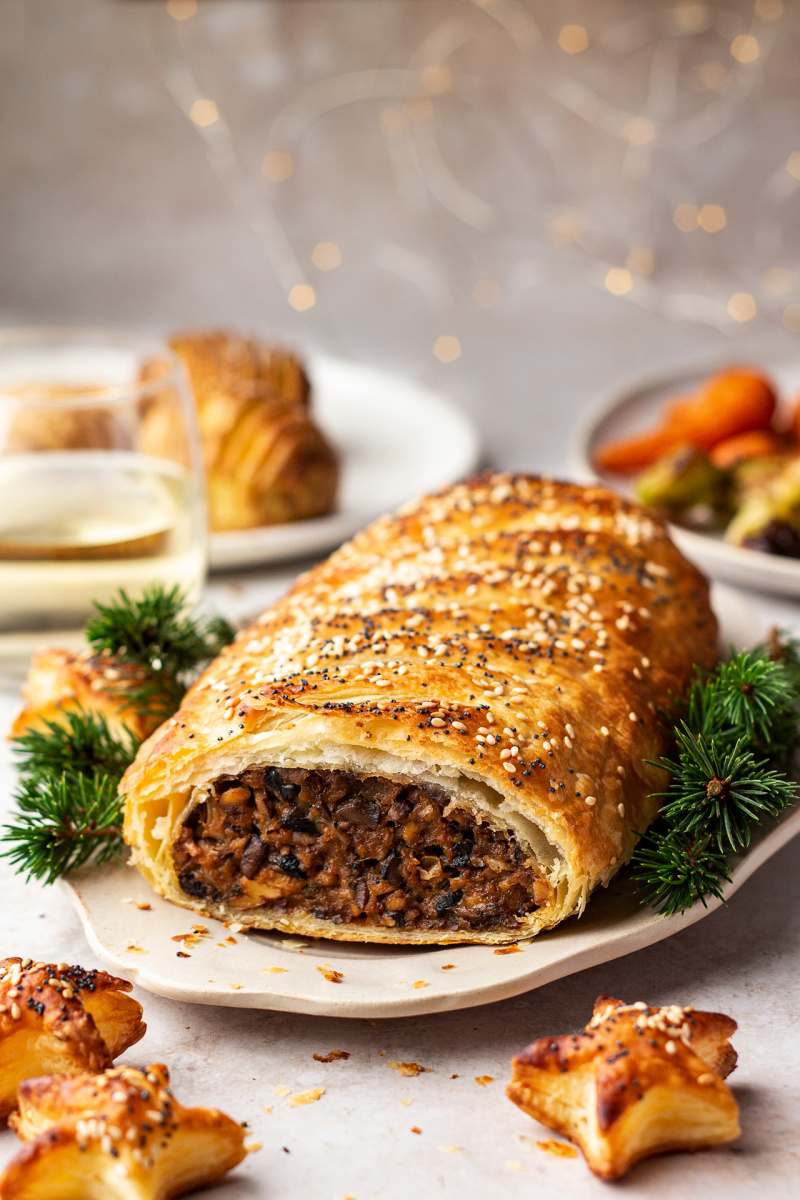 We are nearly there, guys! For me personally, Christmas is supposed to start tomorrow night as Poland is one of those countries for which Christmas Eve dinner is the official opener and probably the most important gathering of the entire Christmas period.
Typically, I would either fly home or perhaps dare to host for the first time (although it is a lot of pressure and I am not my mum, I am not sure I could pull it off) but as the pandemic has paralysed the entire world's plans, I am staying home and not planning anything special (don't tell my mum). We are instead having a festive meal with a couple of friends on the 25th, Anglo-saxon style.
I am a bit sad not to be with my family for Christmas and it's kind of silly as my visits home are always a little bittersweet, if I am completely honest. We all love being in each other's company to begin with, but there is always strife by the end of it. That's the sad truth and it is perhaps why I feel conflicted about Christmas. I want to enjoy it but I am also very careful not to get my hopes up and to be realistic about how things may turn out. We grow up believing that family is where we can truly belong, but it's the people closest to us that can also hurt us the most.
So this year things are very low key for us. We are going over to our friends' house, which they have only just bought and we are excited to see it and hear what they plan to do to it. We've split the cooking up between us and our friends so that no one has to slave by the stove for hours on end. I am making this very dish and gravy and Duncan is in charge of making a sticky toffee pudding. It will be lovely to socialise in person at last and to put our feet up for a few days straight after that as we are both exhausted to be honest.
Today's dish is based on my much loved mushroom sausage roll recipe from last year. Golden puff pastry filled with a beautiful mixture of earthy mushrooms and smoky tofu, flavoured with winter herbs and some soy sauce and a smidge of fiery mustard. Compared to my other centrepieces (this one and that one), this dish is pretty simple to make – I resisted the temptation to make it super fancy – so if you are looking for something that doesn't require a huge amount of effort but looks festive and ticks all of the flavour boxes, give this recipe a go. I paired it with a mushroom miso gravy but that's optional, a jar of quality cranberry sauce will work well too. Enjoy and Merry Xmas!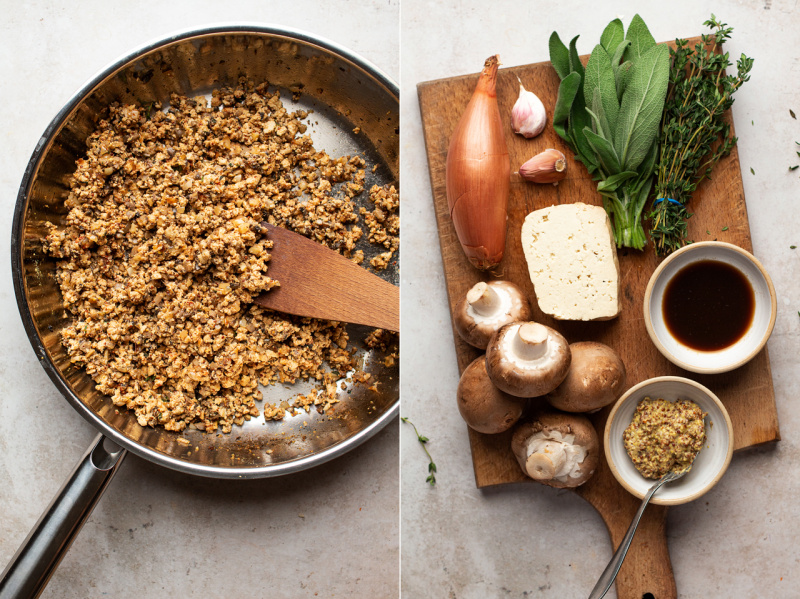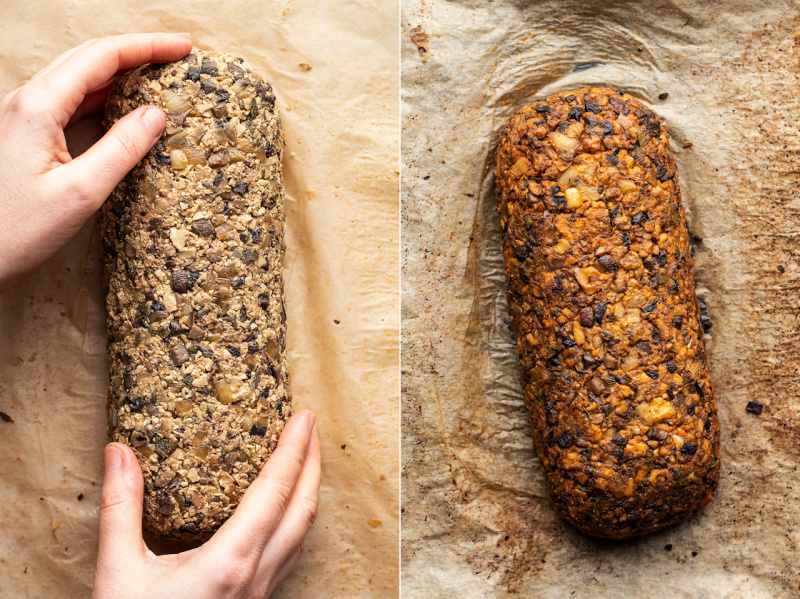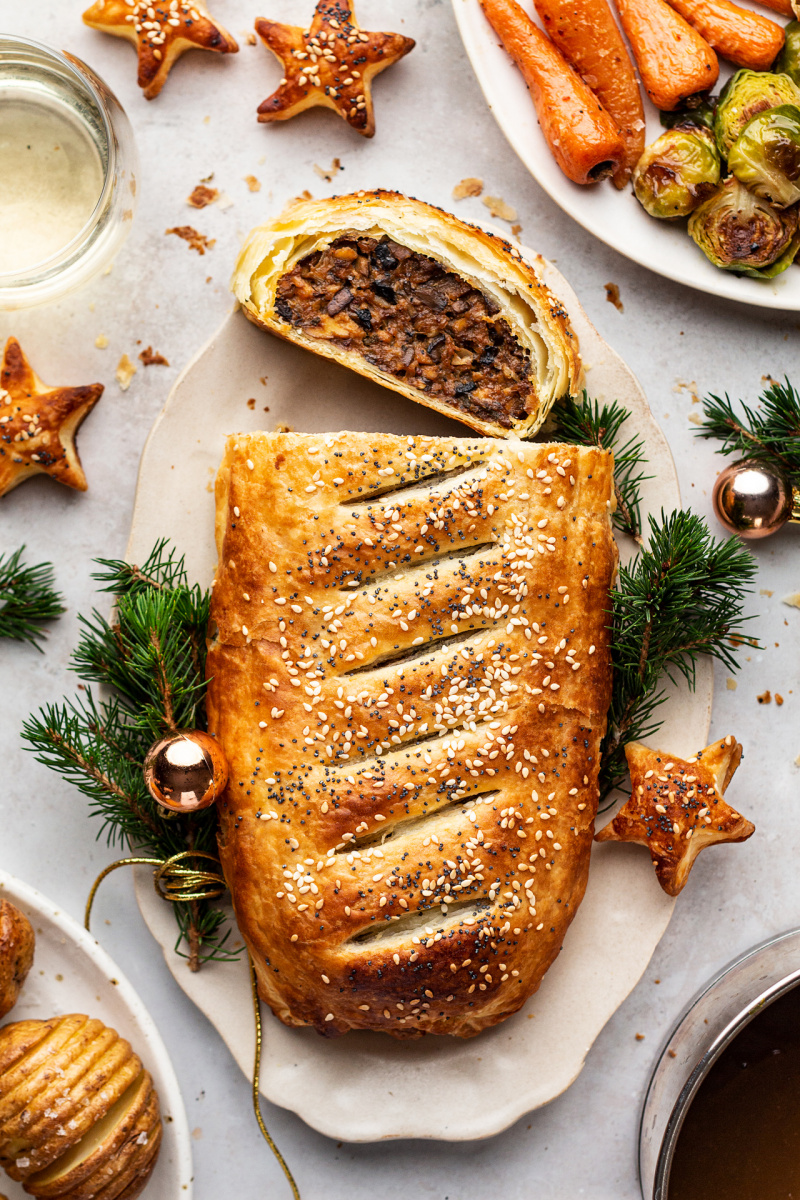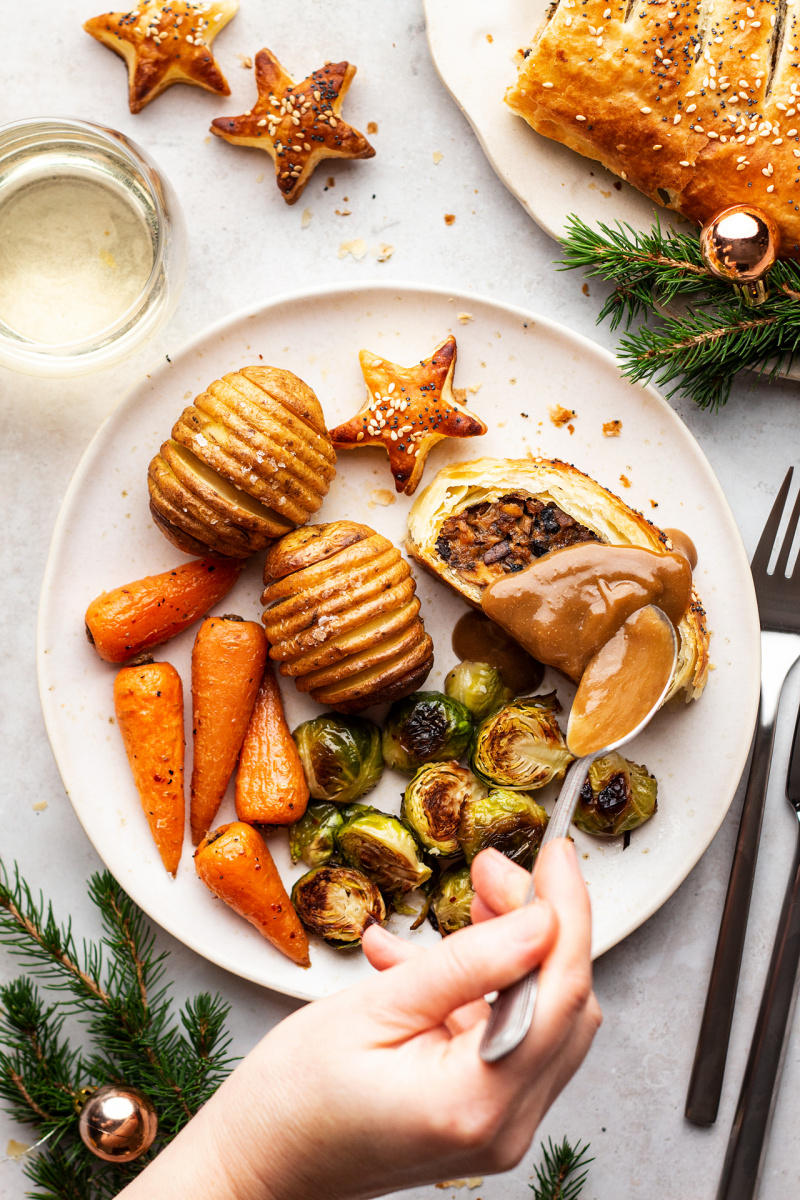 250 g / 9 oz chestnut / baby bella mushrooms
225 g / 8 oz smoked firm cotton tofu* OR 175 g / 1 packed cup cooked brown rice
3 tbsp olive oil
2 large shallots, finely diced
3 garlic cloves, finely diced
8 fresh sage leaves, finely chopped
4 thyme springs, leaves picked
4 tsp vegan Worcester sauce
1 tbsp soy sauce / tamari (for GF version)
¼-1/3 tsp salt, adjust to taste
generous grind of black pepper
2 tbsp nutritional yeast
2 tsp tomato paste
1½ tsp wholegrain mustard, more to taste
1 tsp smoked sweet paprika (if using rice), more to taste
¼ cup flour (I tested tapioca starch and rice flour)
1 sheet vegan puff pastry
vegan egg wash: 2 tsp plant milk, 1 tsp olive oil + 1 tsp maple syrup or sugar
2 tsp sesame or / and poppy seeds, to decorate
MUSHROOM MISO GRAVY (optional)
20 g / 7 oz dry mushrooms (I used a mixture of porcini and shiitake), well rinsed
2 tbsp olive oil
2 large shallots (I used scallion type), roughly diced
6 garlic cloves, unpeeled and crushed
2 small carrots, scrubbed clean and roughly diced
2 celery sticks, roughly diced
2 tsp tomato paste
1 sprig of fresh rosemary, whole
6 sprigs of fresh thyme, whole
4 sage leaves, roughly chopped
120 ml / ½ cup vegan white wine
1 fresh or dried bay leaf
10 black peppercorns
1 tbsp white / shiro miso
1 tbsp nutritional yeast
2 tsp vegan Worcester sauce
1 tbsp soy sauce
1 tbsp balsamic vinegar
1 tsp maple syrup or sugar
salt, to taste (if needed)
2 tsp cornstarch / cornflour
METHOD
Chop mushrooms into very small dice and mash well drained tofu with a fork. You can use a food processor for both, but I prefer chopping the mushrooms by hand as it is too easy to overprocess them and lose all the texture.
Heat up olive oil in a large frying pan. Add shallots and fry until translucent, stirring from time to time.
Add garlic, chopped up sage and picked thyme leaves. Fry until garlic softens and becomes fragrant, stirring often.
Add chopped up mushrooms and let them sauté until they are cooked and all the excess water cooks out.
Add in mashed up tofu (or cooked, cooled-down rice), vegan Worcester sauce, soy sauce, salt, pepper, nutritional yeast, tomato paste, mustard and smoked sweet paprika (if using rice). Mix everything really well. Taste and adjust the seasoning to your liking. If there is still some moisture in the pan, make sure you allow it to cook out before cooling the filling.
Once the filling is cool, add the flour, stir it well and then form a compact log out of the mixture. Compact the filling well with your hands so that it forms a nicely shaped log that fits the size of your pastry sheet. My log was 20 cm / 8″ long. Optionally, brush the outside of the log with a bit of olive oil.
Heat up the oven to 180° C / 355° F (160° C / 320° F if using fan function) and line a baking tray with a piece of baking paper.
Place the log on the baking tray and bake for about 35-40 minutes so that it firms up before being wrapped up in pastry. Allow it to cool down before wrapping in pastry.
Take the puff pastry out of the fridge for about 10 minutes before assembling the rolls so that it's more pliable.
Once you are ready to assemble the roll, heat the oven up to 200° C / 390° F (180° C / 355° F if using fan function).
Unravel the puff pastry sheet so that the long edge runs parallel to the edge of the workbench.
Gently place the pre-baked log, top side down, in the middle of the pastry sheet, alongside the shorter edge of the pastry.
Wrap the log in the pastry, seal well and then very gently (rope some spatulas and someone else in to help), flip the log so that the seam is at the bottom.
Using a sharp pairing knife, make small incisions in the pastry at regular intervals.
Glaze the roll with vegan egg wash and sprinkle with sesame and / or poppy seeds.
Place the roll on a paper-lined baking tray and bake for about 40 minutes, until the pastry has puffed up and become golden brown.
MUSHROOM MISO GRAVY
AHEAD OF TIME Bring a kettle of water to a boil and pour about 500 ml / 2 cups of boiling water over cleaned dry mushrooms to create a mushroom stock. Allow the mushrooms to infuse for as long as you can.
Heat up 2 tbsp of olive oil in a heavy bottomed pan. Once the oil comes to temperature, add shallots, garlic, carrot and celery. Sauté gently on a medium heat until lightly caramelised, stirring often.
Next add in tomato paste and fresh herbs, stir well and allow it to cook until caramelised (not burnt) – stirring from time to time.
Next add in wine (it will deglaze the pot incorporating all the beautiful, stuck-to-the-pan bits into the gravy), bay leaf, peppercorns, miso, nutritional yeast and porcini stock (save rehydrated mushrooms for another dish like risotto).
Allow the mixture to simmer gently until it reduces by about half (30-45 minutes).
Season with vegan Worcester sauce, soy sauce, balsamic vinegar, maple syrup / sugar and a little bit of salt (if needed). Set aside for the flavours to infuse (ideally overnight if you have time).
Strain the mixture and squeeze all of the juice out of the veggies.
Return the liquid to a small pot. Taste and season to taste.
Bring the gravy to a gentle simmer. Thicken it a little by whisking the cornflour slurry (cornflour mixed in with 2-3 tsp of water) in slowly while it simmers.
NOTES
 *I used firm tofu that does not require pressing but if your tofu is quite waterlogged, make sure you squeeze out excess moisture prior to making this.