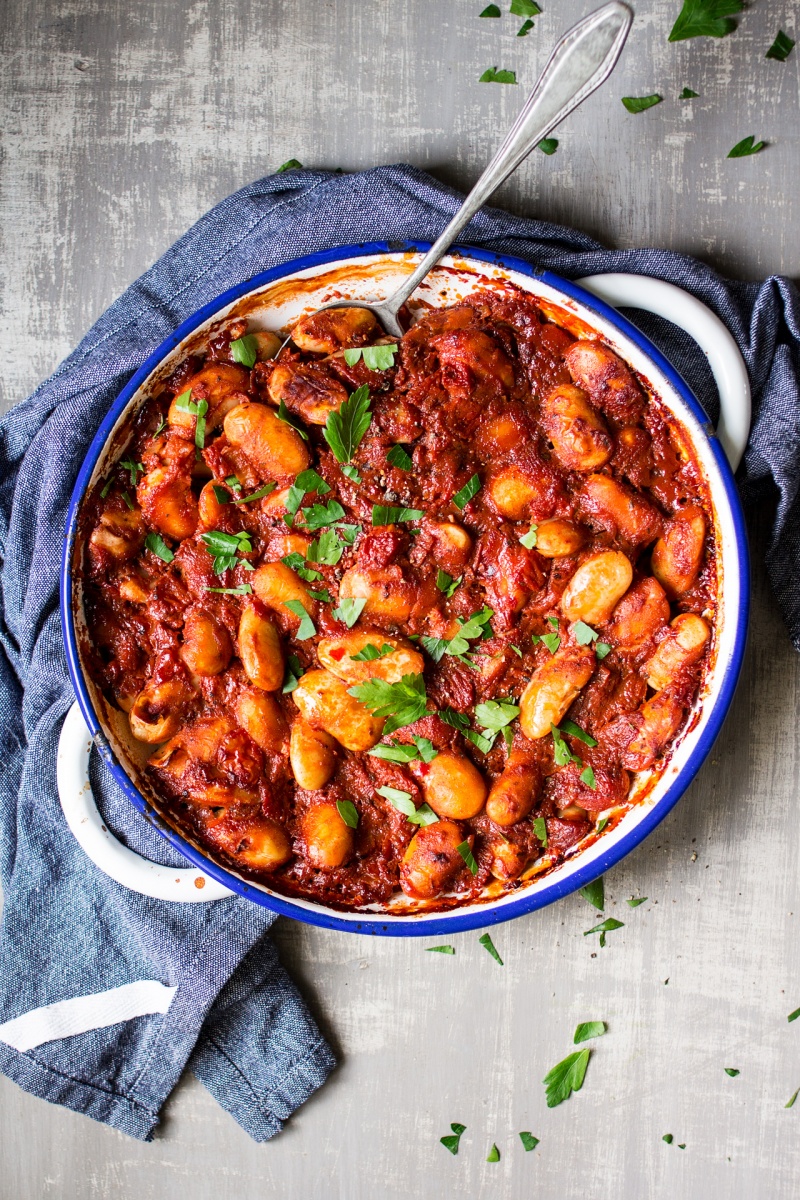 Being vegan during Greek Easter is hard. In the weeks prior to Easter, when all the fields are covered with lush grass and beautiful wild flowers, you see lots of sweet little lambs frolicking around, enjoying the spring sunshine and trimming the 'lawns'. They seem so happy and carefree and it makes me sad when we drive past one week later and there are no more lambs… 🙁 .
We used to get invited to traditional Easter lunches but we cannot bear to watch a poor little lamb rotating on the spit while everybody around us goes on about how juicy and delicious the meat is and how much they love lamb (clearly not the happy and carefree kind). They will also be utterly confused as to why we don't want to eat it or not even a bit of feta cheese.
It is ironic that a lot of modern Greeks do not seem to grasp the point of being vegan (or what it even entails) as the idea of abstaining from eating animal products stems from ancient Greece and in its agricultural past.
In fact, Greeks used to eat lots of healthy, beautiful meat-free dishes. Even today devout Greeks typically consume these plant-based dishes in the 40 days preceding Easter, although you get the sense that meat abstinence is a bit of a chore for them.
Gigantes plaki is the best example of these plant-based dishes and one of our favourite 'mezedes' (small plates). It's beautifully fragrant, simple to make and utterly delicious! It's a nourishing and satisfying meal with plenty of plant-based protein. It may seem like it takes a long time to make, but it really doesn't – the oven takes care of most of the work for you! 🙂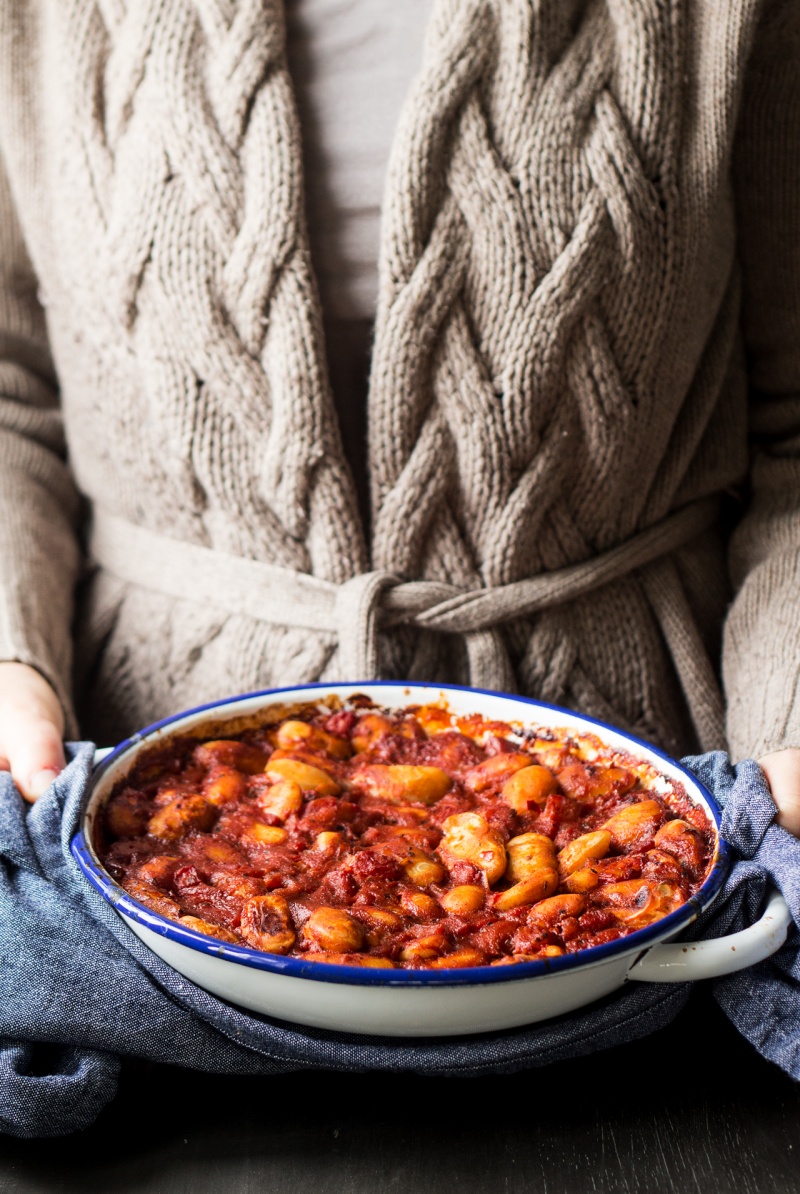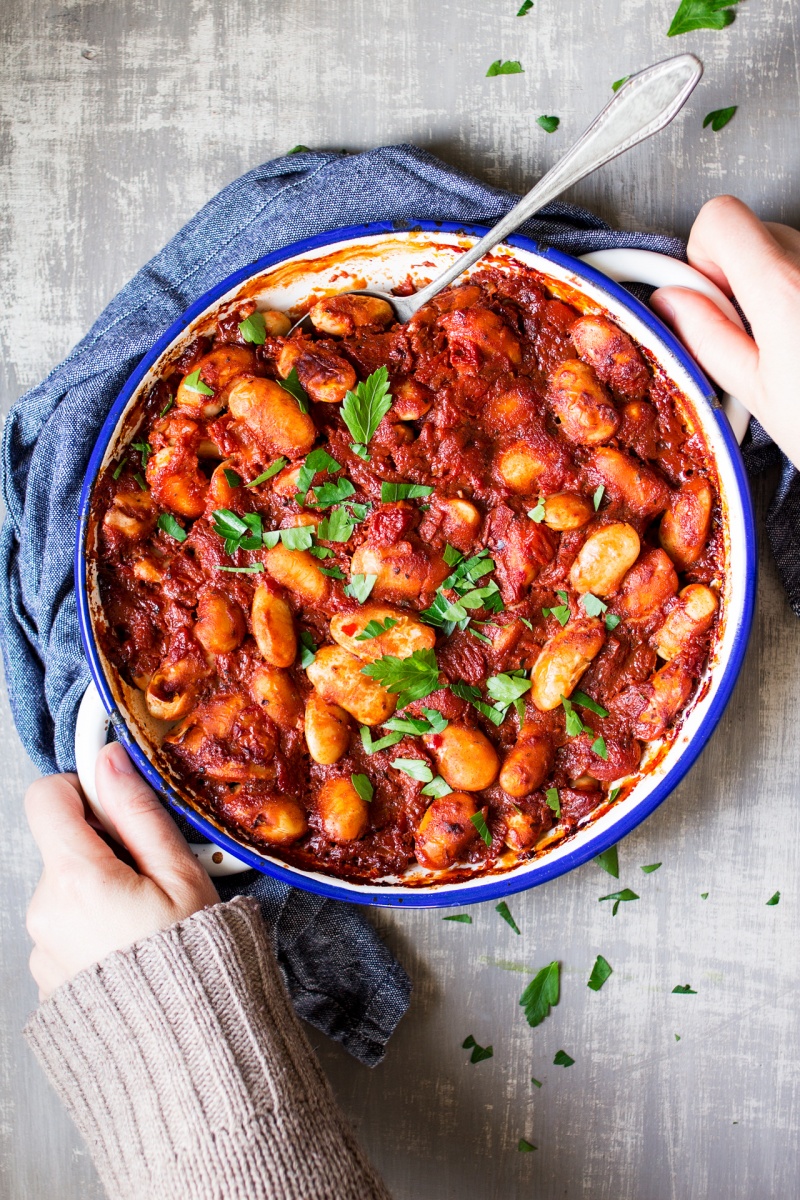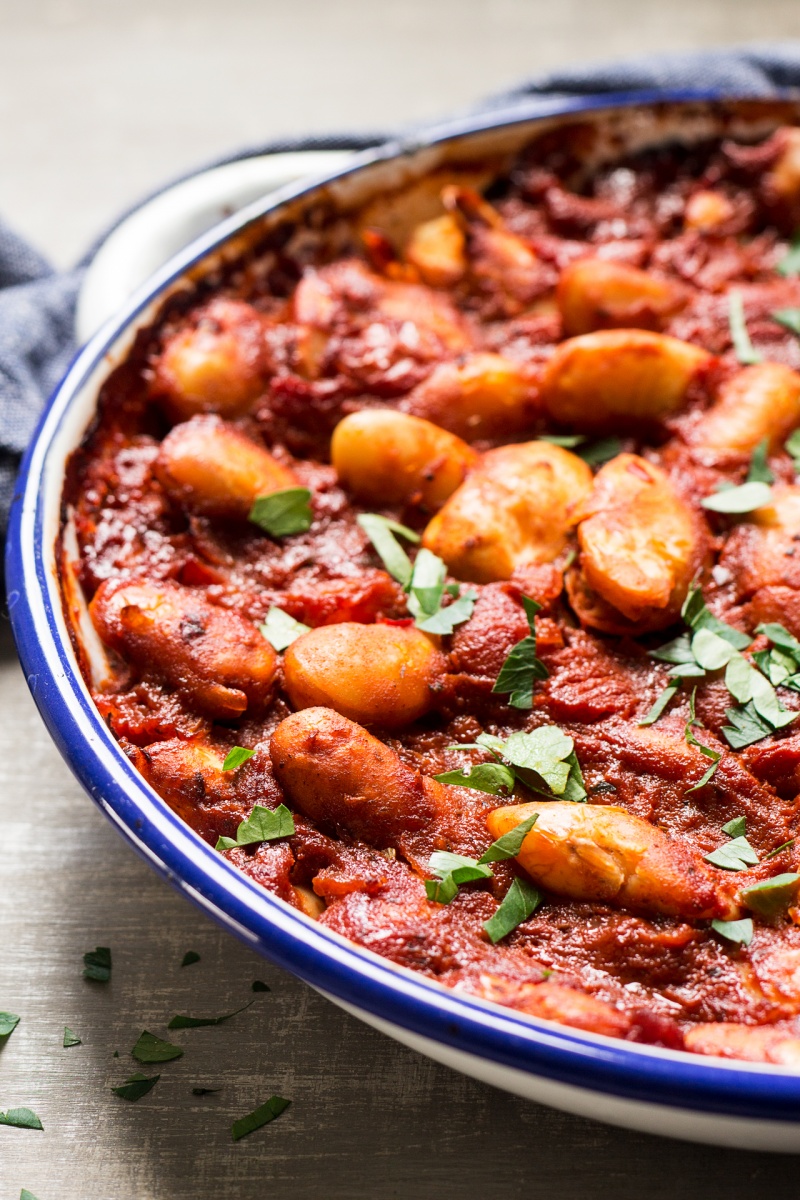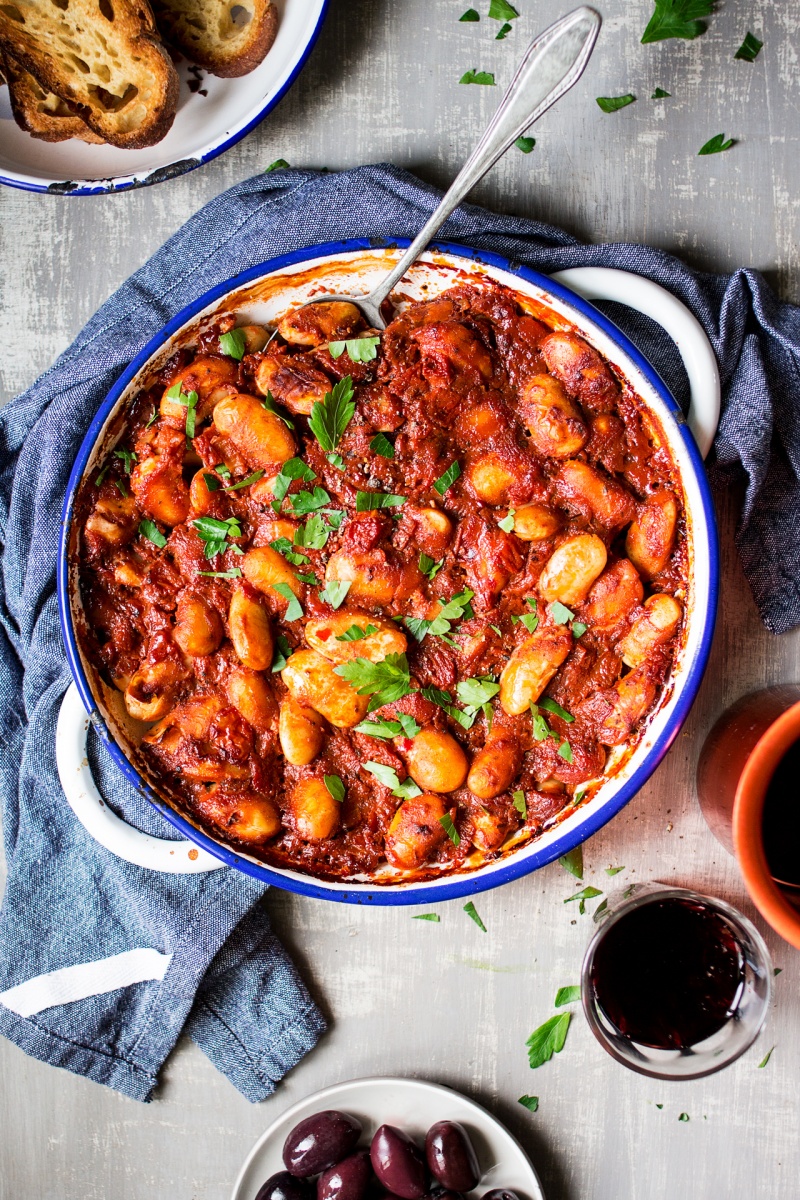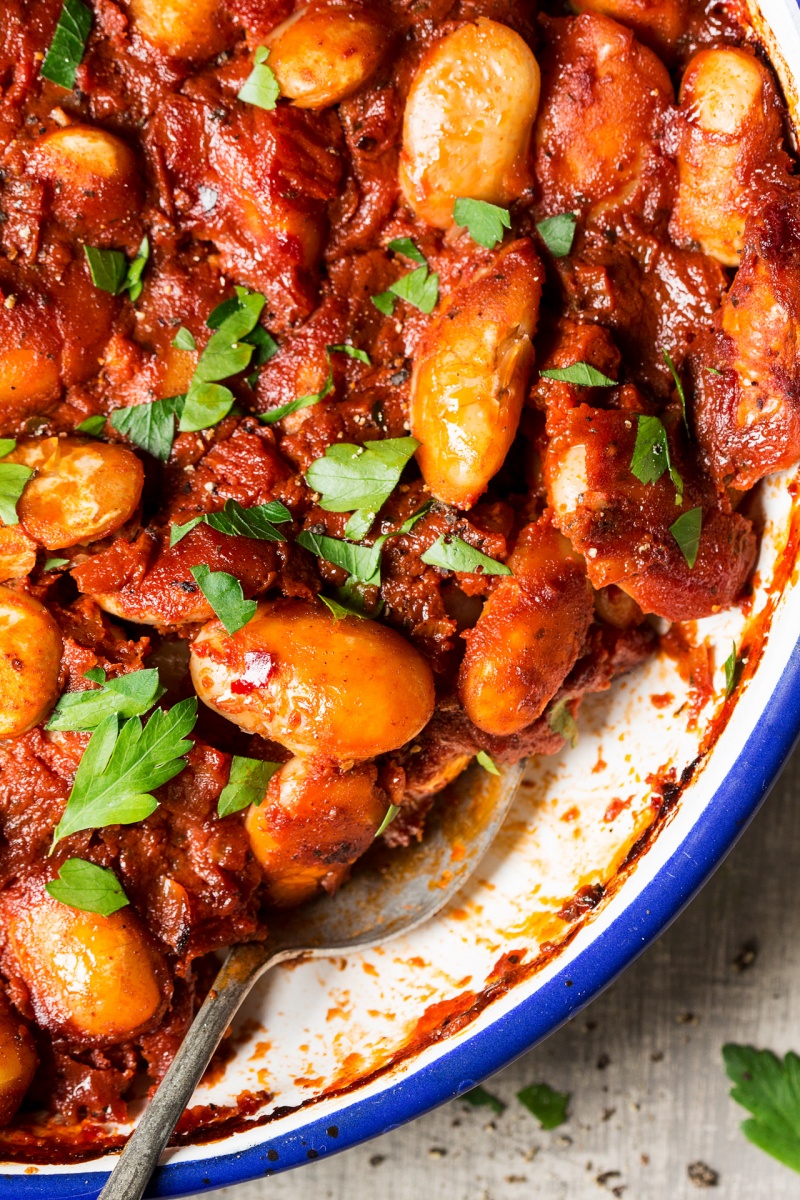 250 g / 2 cups dry giant / butter beans, soaked overnight
45 ml / 3 tbsp olive oil
2 x 400 g / 14 oz tins of chopped tomatoes*
1 tbsp tomato paste
1 small red onion, finely diced
3 cloves garlic, finely diced
1 tsp dried oregano
1 tsp ground cinnamon
2 tsp brown sugar or maple syrup (optional)
a good pinch of chilli powder (optional)
approx. 1 generous tsp fine sea salt
few grinds of black pepper
handful of parsley, finely chopped
METHOD
Discard soaking water and rinse the beans well. Put them into a medium pot and cover with plenty of water. Bring to the boil and then simmer (with a lid mostly covering the pot) for about 45 minutes (make sure you gather the foam that has come to the surface and discard it). At this stage, the beans need to be cooked 'al dente' as they will finish off cooking in the oven.
In a frying pan, fry the onion until translucent, add in garlic and fry for another minute or two.
Decrease the heat to low and add in cinnamon and chilli (if using) to the onion and garlic mixture. Fry for another minute, coating the onion and garlic in the spices. Stir often as spices are dry spices and burn easily.
Pre-heat the oven to 180° C / 355° F.
Add in tomato paste, diced tomatoes, oregano, salt, sugar (if your tomatoes are a bit too tangy) and pepper. Simmer for about 30 minutes – until tomatoes are starting to thicken. Add in drained beans and mix everything together.
Transfer the mixture to an oven safe dish adding about ½ cup of bean cooking water. Stir through well.
Bake for about 1 hr, until the sauce has thickened nicely and the beans are soft and creamy.
NOTES
*If using fresh tomatoes, use about 8 medium ripe tomatoes (peeled).