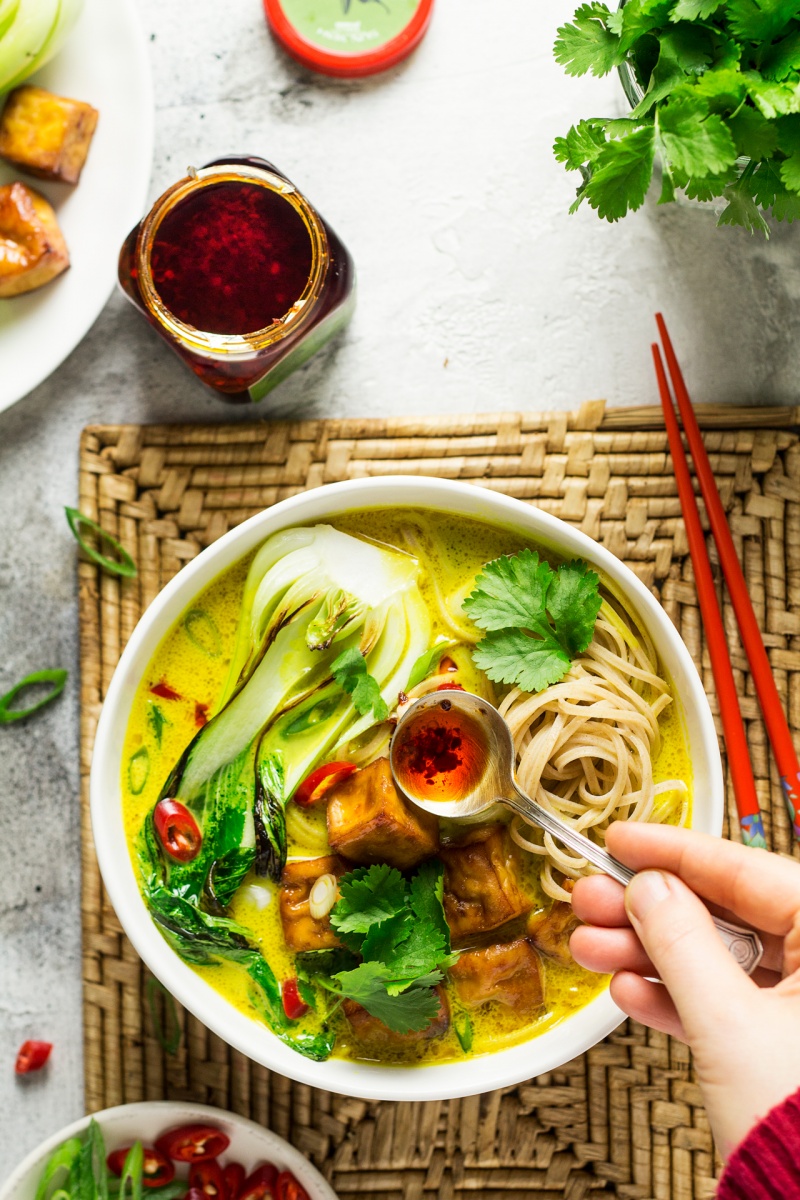 I have not had a cold since I went vegan (three and a half years ago)…until now. I started feeling a bit funny on Tuesday and I've been sneezing and sniffling ever since. I am gutted as I've only just got back into running and now I have had to stop again. Oh well, there is not much I can now do apart from not getting in the way of my body trying to recover.
It's true that my immune system was at its peak when we lived in the warm climate of Greece, but we did visit Poland in the middle of winter a few times (where temperatures oscillated around -12° C / 10° F most days) and even though I did not bring the warmest clothing (I simply do not own clothing for that kind of cold anymore), I managed to keep the cold at bay. I do think that swapping animal products for plants has had a part to play in that.
It's been a few days so I've accepted my fate and my coping strategy is to sleep lots, drink lot of liquids and ingest insane amounts of ginger (fresh ginger tea is my best friend of late), garlic and leafy green vegetables, which is something I do anyway.
Today's recipe for a warming ginger and turmeric broth has been inspired by an international old wives' tale that chicken broth is the best remedy for a cold. For obvious reasons, there won't be any chickens going anywhere near my soup, plus I'm convinced that it isn't a chicken's carcass (in fact, food derived from animals has been proven to promote not inhibit inflammation) that does you good, but all the plant extracts and natural anti-inflammatories (like ginger, garlic, black pepper and turmeric, in this case) that should be taking the credit for all the healing.
This flavoursome potion is spicy and warming. It can be drunk from a cup like savoury tea or made into a more substantial meal with oodles of noodles (or rice) and your favourite toppings. I went for bok choi and baked tofu but there are plenty of other toppings that would work here: mushrooms, broccoli, rice, chickpeas, tempeh, cabbage, kimchi, sprouts, sweet potato and pumpkin, to name just a few…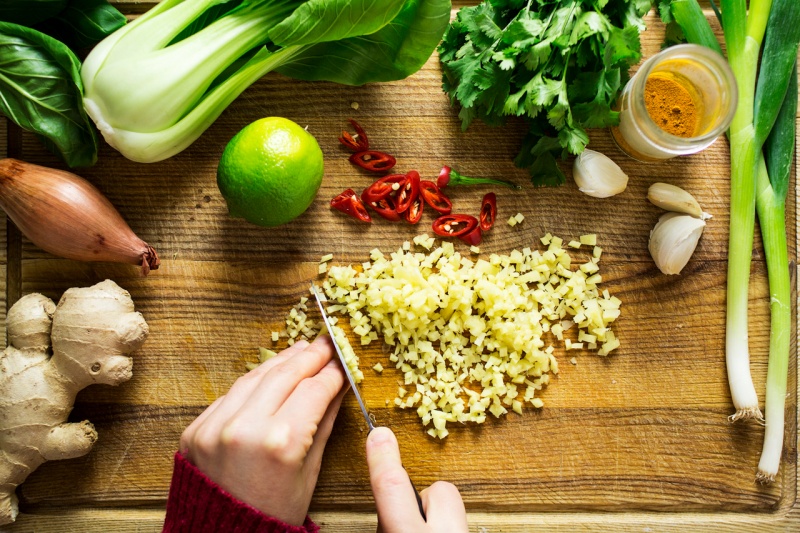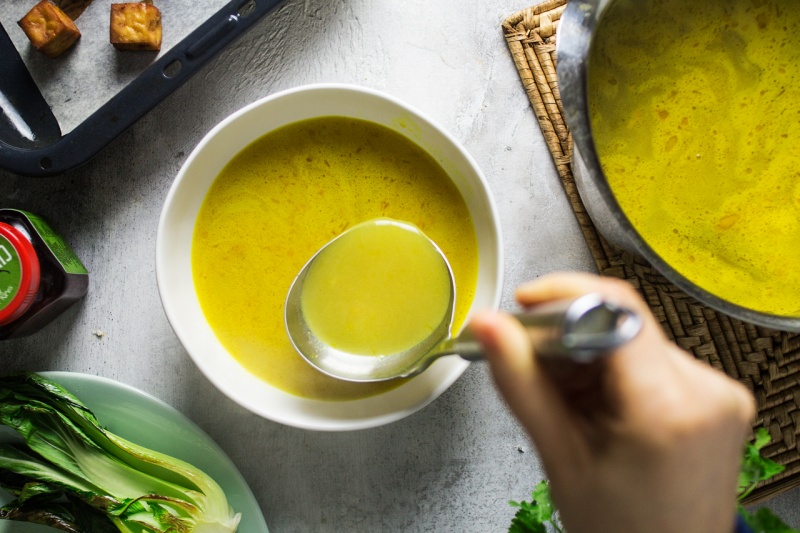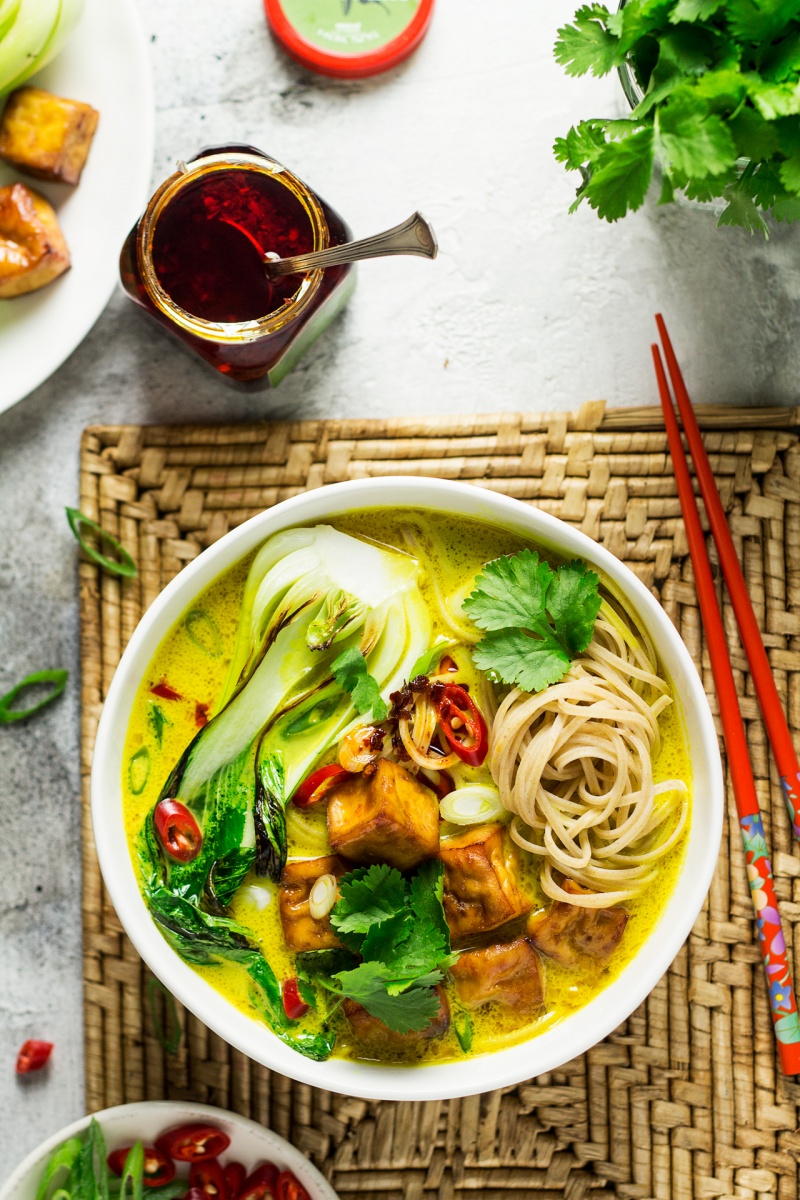 BROTH
1 large banana shallot
60 g / 2 oz fresh ginger, peeled
3 large garlic cloves, peeled
1 sliced red hot red chilli or chilli flakes, to taste
1 lemongrass stalk, rough leaves discarded
2 tbsp oil (I used rice bran), (optional but recommended)
2 tsp ground turmeric
3 black peppercorns
1.25 L / 5 cups water or veggie stock
1 vegan stock cube (unless using stock)
1½ tsp salt (less if using salted stock or stock cube)
juice of 1 lime
240 ml / 1 cup full fat coconut milk OR 120 ml / ½ cup coconut cream
OPTIONAL EXTRAS
noodles (GF if needed), 50 g / 1.7 oz per person, cooked
400 g / 14 oz firm or extra firm tofu, baked or fried
200 g / 7 oz bok choi or other dark leafy greens, stir-fried or steamed
sliced spring onions / scallions, to serve (optional)
fresh chilli, to serve (optional)
fresh coriander, to serve (optional)
METHOD
Chop all your aromatics (shallot, ginger, garlic, chilli and lemongrass) finely. Alternatively, you could slice them roughly and then put them in a herb chopper or food processor and mince them.
Heat up 2 tbsp of oil (I used rice bran) in a heavy-bottomed pot. Once the oil gets hot, throw all the aromatics in. Sautee them on a low heat, stirring very frequently, until they have softened and released their aroma (about 5 minutes).
Now, add in the powdered turmeric and peppercorns. Stir turmeric into the aromatics, allowing the spice to toast gently before adding more moisture to the pan. Stir the whole time and make sure your flame is on low as ground spices burn easily.
Add about 5 cups / 1.25 L of water and a veggie stock cube or vegetable stock. If you don't have any stock handy, but happen to have random unused vegetables in the fridge, put them in to create a stock on the go. I used 1 carrot, ½ small fennel bulb, a small wedge of cabbage, 2 celery sticks and a dried (shiitake) mushroom to impart more flavour to the soup. This is totally optional, but a good way to use up all these unwanted bits and pieces.
Bring the soup to the boil and simmer gently for about 45 minutes.
Season with salt (or soy sauce / tamari) and lime juice.
If you want the soup to have a little more body, thicken it with coconut cream or coconut milk.
Put the bowls into a warm oven (100 °C / 210 °F) to heat them up for serving.
Serve hot soup over cooked noodles, bok choi and fried or baked tofu (see this recipe for details). Garnish with fresh coriander, sliced chilli and spring onions.