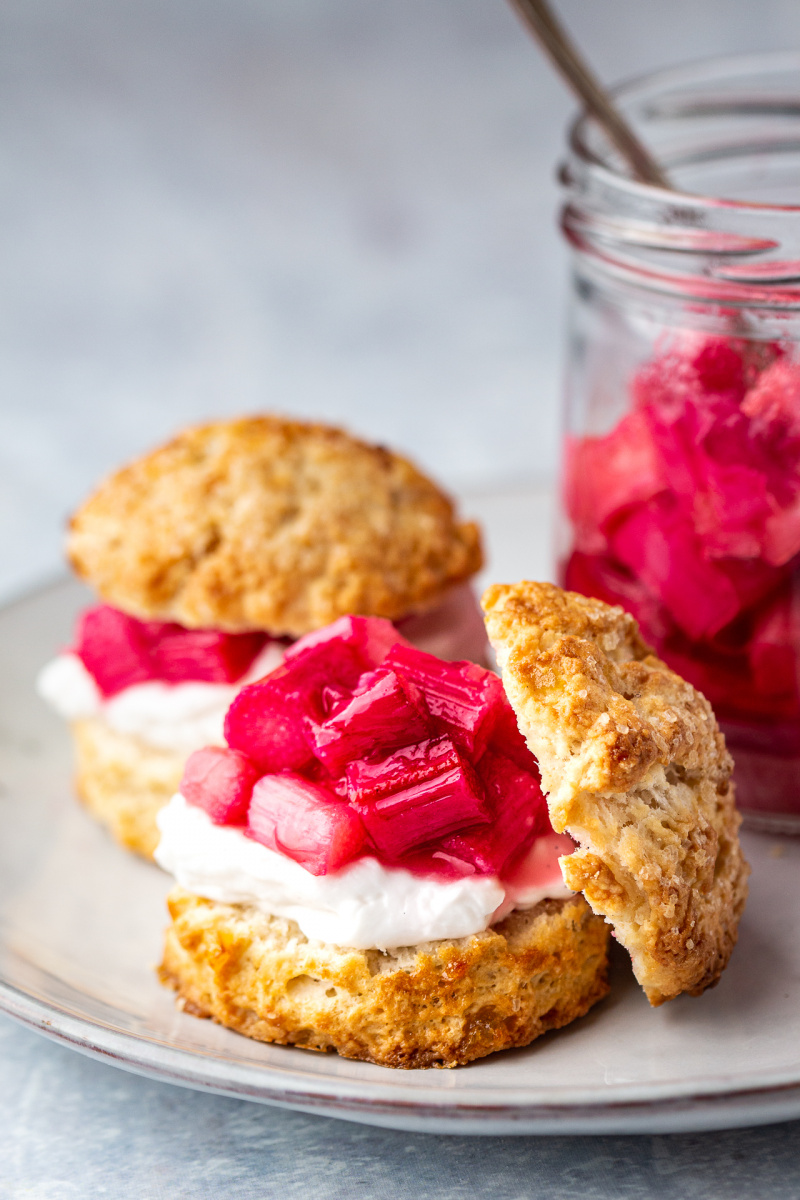 It's a miracle there is a new recipe up today at all as I ended up in Accident and Emergency (A&E) halfway through the photoshoot last night. Yeah, this week has tested both of us immensely and we feel a bit shattered. On Tuesday, I stepped back in from my run to see my phone light up on the kitchen counter. I had a sinking feeling in my gut as it was Duncan, who was out running too and I knew that he would not call me unless something had happened. Turned out that he was knocked off his feet by an off-the-leash pitbull, fell to the concrete onto his shoulder and once the adrenaline dissipated and he tried to resume running, he realised he wasn't able to carry on and that he needed to go to the hospital.
I washed my face, jumped out of my running gear and started frantically grabbing his clothes, something for him to eat and other things that I thought he may need and within 15 minutes I was in a cab heading towards him. It was dark and cold and I was really worried he might get hypothermia, but luckily a fellow runner who was walking his dog and lives nearby, noticed Duncan's distress and ran home to fetch him a jacket and some painkillers. What a legend!
We got to the hospital and after some waiting, a few consultations and an X-ray, Duncan ended up going home in a sling and with an appointment to see an orthopaedic surgeon the next morning. He is suspected of having a torn or partially torn shoulder rotator cuff, but we won't know for sure until he has had an MRI, which is on Sunday – fingers crossed. We are really hoping that there is no tear as I think that would necessitate an operation according to Dr Google, but we are trying not to second guess.
So that was our first A&E trip this week, the second was me! I was multitasking like a boss, shooting these scones and preparing dinner at the same time, feeling absolutely fine until a sudden bout of abdominal pain rendered me unable to stand, walk and made my face and lips green. I was feeling close to passing out and it went on for quite a while but I was still holding out for it going away – I really didn't want to spend the night at A&E. Finally, after there was no improvement for ages, we made a call to go to the hospital.
Despite me pleading with him not to, Duncan attempted to drive but with his injured shoulder it wasn't happening so we hailed a cab. Annoyingly once we got there, I started to feel much better. There were so many people waiting and I just knew that with this little pain, it would be hours before I was seen and I would rather recuperate on my own sofa, so we turned back around and hailed the same cab back. Once home, I did get pain tremors but nowhere near as intense and I developed a fever too. I went to bed hoping that some sleep will sort me out and that I wouldn't have to go again in the middle of the night. I woke up with no fever and only a little pain and I am hoping whatever this is will pass on its own accord and there will be no more trips to A&E needed.
As it's Mother's Day in the UK tomorrow, I have made a delicious Devon-inspired treat that would make any mum happy. A tray of fluffy ginger scones, filled with tangy thick yoghurt and juicy oven-roasted rhubarb as its brightly coloured stalks have just started making an appearance here. I am such a fan of its vibrant colour and deliciously tangy taste that I cannot resist making something sweet with it every year. Last year, I made these rhubarb buns and no bake cheesecakes, the year before crepes and this white chocolate cheesecake back in 2018. I hope you and your mum (if you make them for her) will enjoy my this year's tribute to rhubarb as much as we have.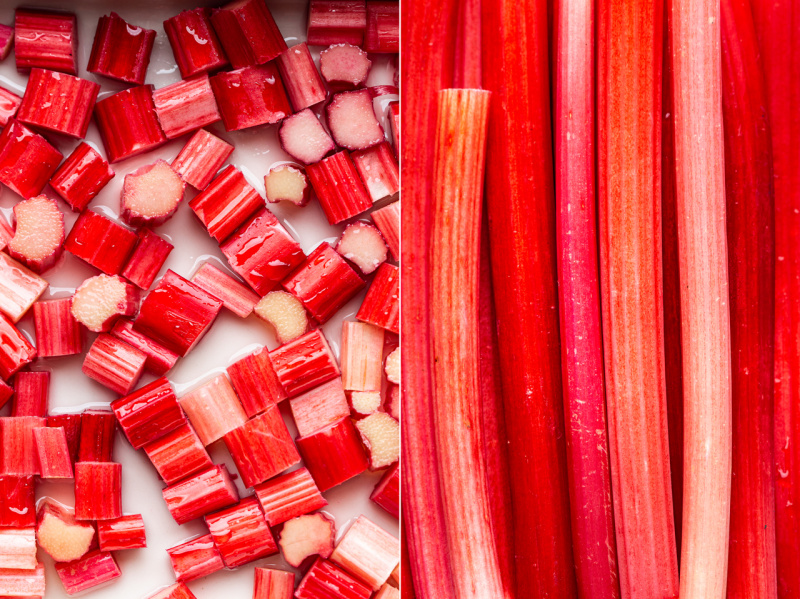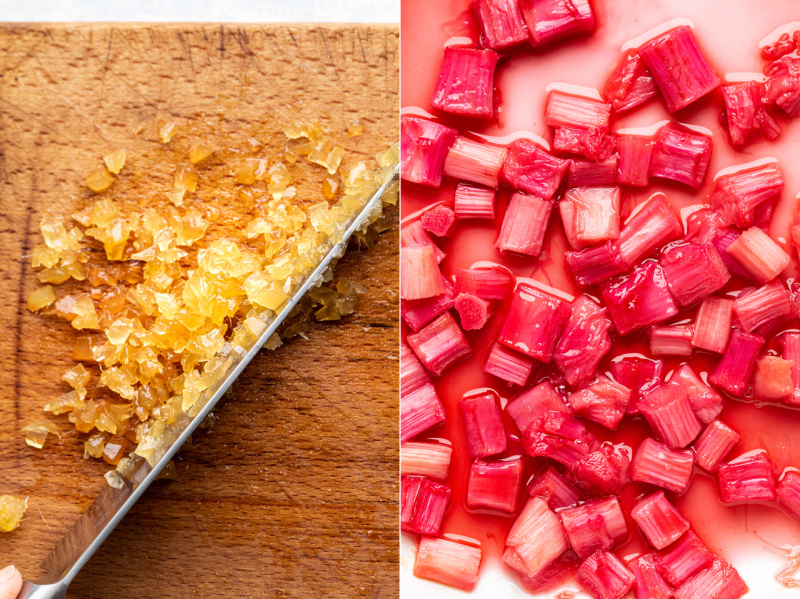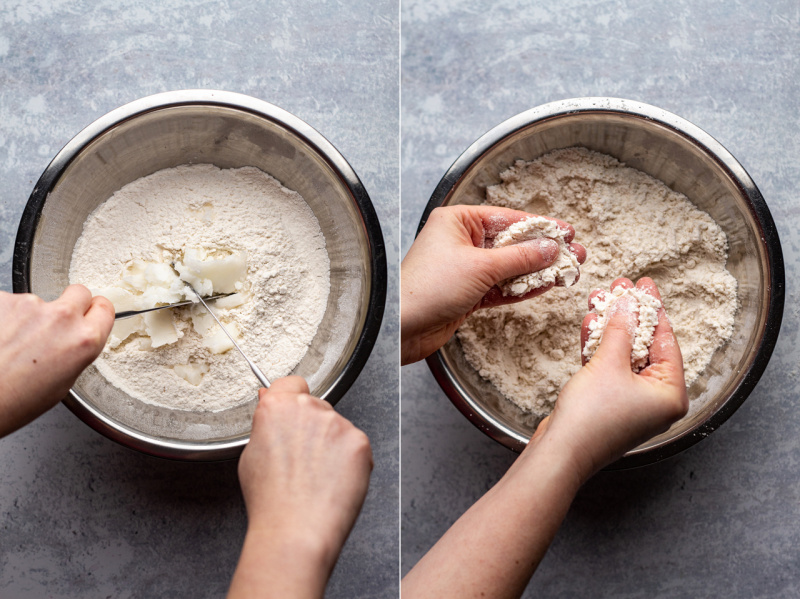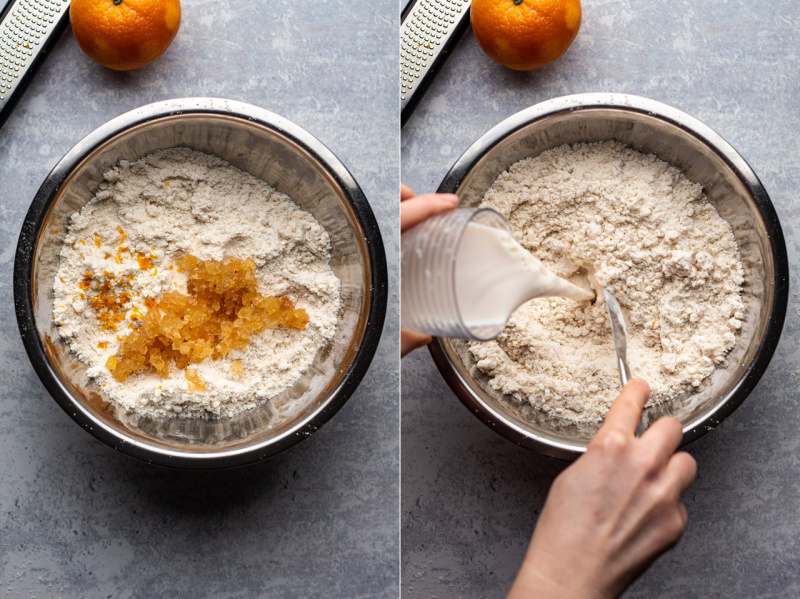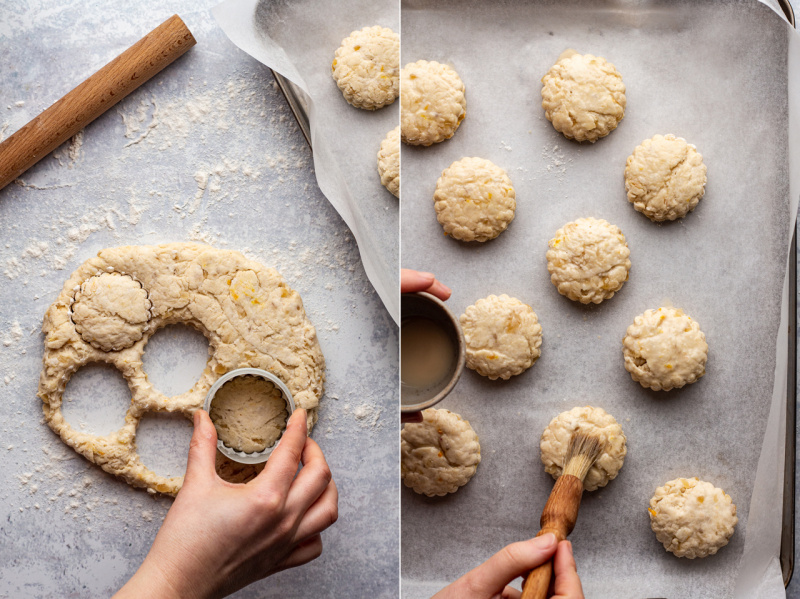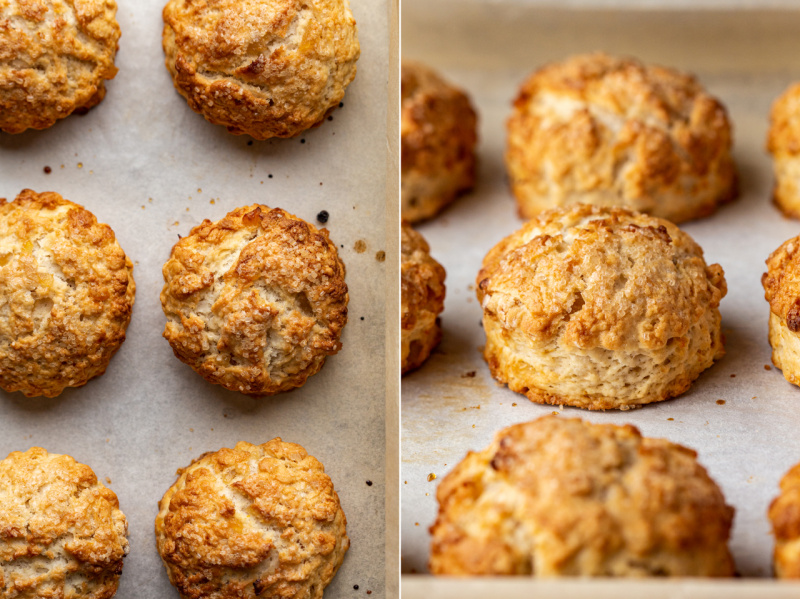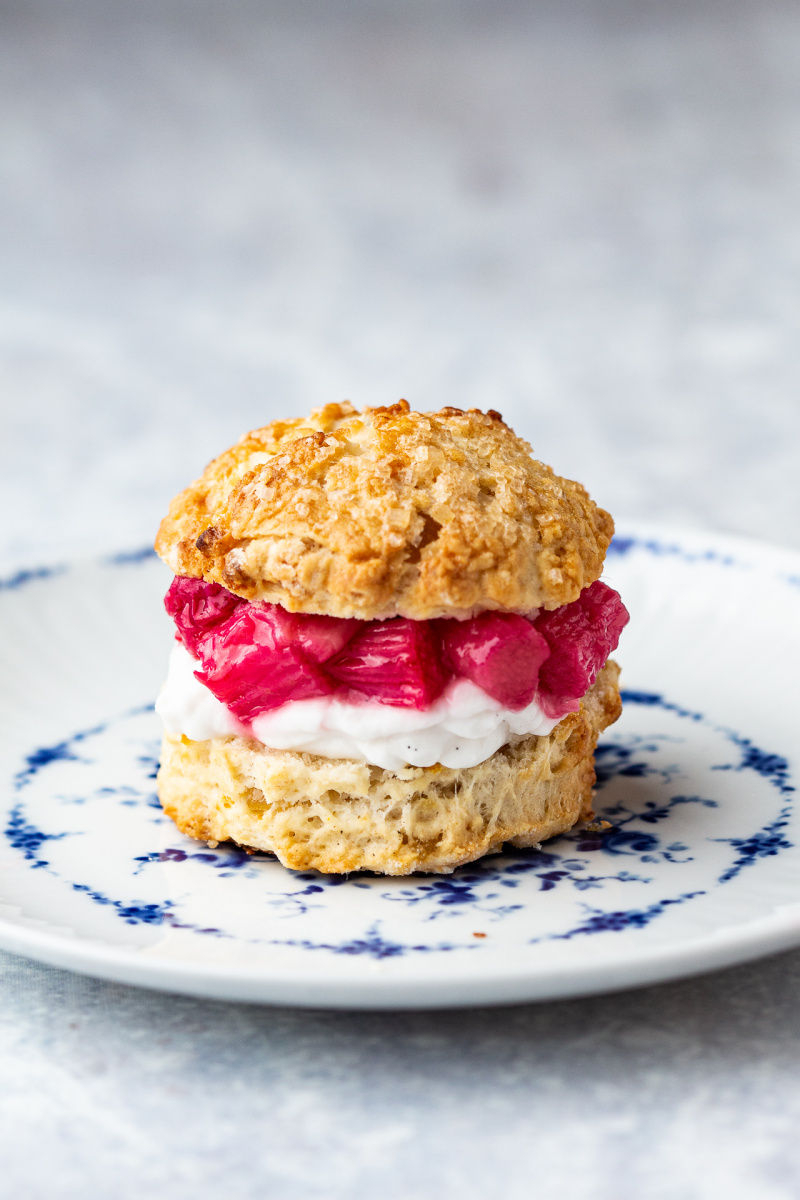 ROASTED RHUBARB
GINGER SCONES
250 g / 2 cups all purpose white wheat flour or GF plain flour (I use this one)
¾ tsp xantham gum (for GF version only)
3 level tsp baking powder
25 g / 2 tbsp caster (super fine) sugar or coconut sugar
¼ tsp fine salt
1 tsp ground ginger or 1½ tsp freshly grated*
50 g / ¼ cup packed fragrance-free (or extra virgin if you don't mind coconut taste) coconut oil or vegan butter
50 g / 1¾ oz (3 balls) stem ginger or crystallised ginger, diced small
zest of 1 orange
160 ml / ½ cup + 2½ tbsp almond milk (or any other thin plant milk)
GLAZE
TO SERVE WITH
METHOD
ROASTED RHUBARB
Heat up the oven to 200° C / 390° F.
Wash the rhubarb, trim the ends and cut it up into 2 cm / ¾" pieces. Transfer to a baking dish and coat with the syrup.
Bake for about 15 minutes, until soft but not falling apart. Start on the scones while you wait.
GINGER SCONES
Sift flour, xantham gum (if using GF flour mix) and baking powder into a large bowl. The sifting is not strictly speaking necessary, but it helps to get lighter scones.
Add sugar, salt and ground ginger (if using) and mix well.
Chop coconut oil small and add it to the flour. Using two knifes cut it into the flour until there are no big chunks.
Next, use your fingertips to rub coconut oil into the flour until the flour looks pebbly. Do not rush this step or take shortcuts if you are after light, nicely risen scones.
Next add in extra ginger (if using, see NOTES), orange zest and very finely chopped stem or crystallized ginger. Mix everything well.
Start adding plant milk slowly while bringing the dough together. Start off using a spoon and then just use your hands. Do not handle the dough too much, just until it's combined and stays together – do not worry about it being very smooth.
Place the dough in the fridge for 15-20 minutes (no longer than that as the baking powder will lose its fizz) while you increase the the oven temperature to 220° C / 425° F (or 200° C / 390° F with fan) and line a baking tray with a piece of baking paper.
After the dough has had a chance to rest, roll it out on a lightly floured surface. Keep the dough thick (2 cm / ¾") for fluffy scones.
Use a fluted cookie cutter that is 5 cm / 2″ in diameter and cut circles out of the dough. Do not twist the cutter as that inhibits rising, simply apply a lot of pressure to the cutter and then lift the cutter with the scone inside. Place over the baking tray and gently pop the scone out onto the tray. I found that dipping the cutter in flour and then shaking the excess off helps a lot when it comes to releasing the scones onto the tray.
Bring any dough leftovers very gently into a ball and cut out some more – they won't be as good as the first batch, but if you handle the dough super gently, they will still be very tasty.
Place the scones on the prepared baking tray, making sure there is some space around each one. Mix all the glaze ingredients together in a small bowl and glaze the tops of the scones with a pastry brush.
Sprinkle each scone with some sugar (if using) and bake for 12-15 minutes. My oven heats the right hand side more than the left so after 12 minutes the ones on the right were done, but the other ones needed another 3 minutes. I rotated the tray before baking them for the last 3 minutes so that they were evenly browned on all sides.
Let the scones cool down a little before cutting them in half with a serrated knife and filling them with coconut yoghurt and roasted rhubarb.
NOTES
*If you only want a hint of ginger, use stem / caramelised ginger only. If you love ginger and want more of a kick, add ground ginger or finely grated fresh ginger too.
**If making your own cashew cream, you may want to skip the ginger from that recipe.
If you cannot find rhubarb, use a tangy jam or frozen raspberries cooked down and thickened with a little cornflour / cornstarch.