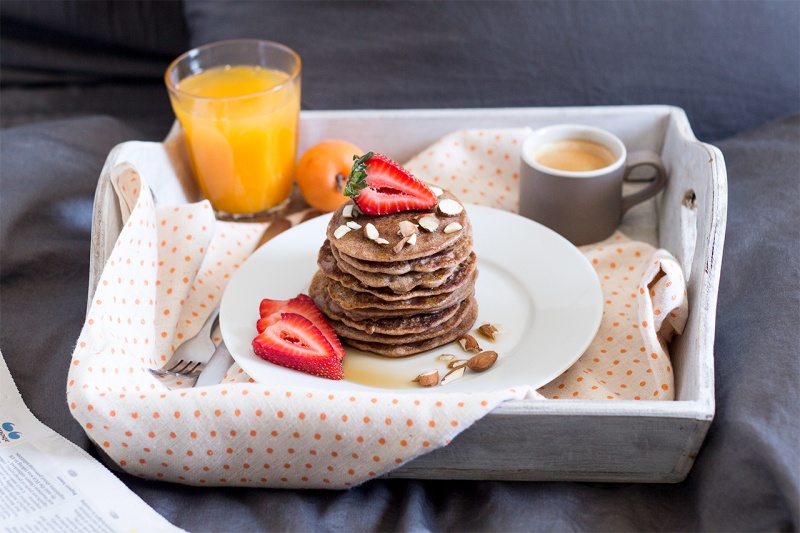 Who doesn't like a breakfast in bed? Sometimes, when I'm feeling generous and when I somehow manage to drag myself out of the bed early (which is very rare as my sleeping skills are legendary), I make us breakfast and bring it to bed.
There is something nice about waking up to a smell of coffee and a lovingly prepared breakfast. In a bid to encourage you to do the same for your other half, I put together a quick pancake recipe that is both vegan and gluten-free.
The vegan buckwheat pancake batter is made up of buckwheat flour, which despite its misleading name has nothing to do with wheat and it is 100% gluten free. You should be able to find one in a health store and possibly even in other shops as with so many people being intolerant to gluten these days, loads of shops carry an array of gluten-free products.
Don't worry if it's a mission impossible though as making your own flour from buckwheat is super easy and quick.
What you want to buy is raw buckwheat (as opposed to an already roasted one, often referred to as 'kasha'). Have a look at my photo below – the grains are mostly pale brown with a few greenish ones thrown in. That's what raw buckwheat looks like. The other type, kasha or kasza (it's very popular in my homeland, Poland), looks similar but the grains are dark brown. It tastes much stronger and while it's super healthy and suitable for other uses, it would be overpowering in pancakes.
So once you get hold of raw buckwheat, dust your coffee grinder off and grind for a few seconds until you transform it into a flour. It happens really quickly as unroasted buckwheat is fairly soft. Pancakes are one of many possible uses for raw buckwheat and I'll be sharing some more buckwheat recipes with you soon.
This recipe is dedicated to my friend, Elie, who has recently discovered that she has several food intolerances, poor thing, and is going through a tough time at the moment. She has asked me to come up with gluten-free cupcakes, but that's still work in progress and I am hoping to buy myself more time by giving her a recipe for a tasty gluten-free brekkie instead:).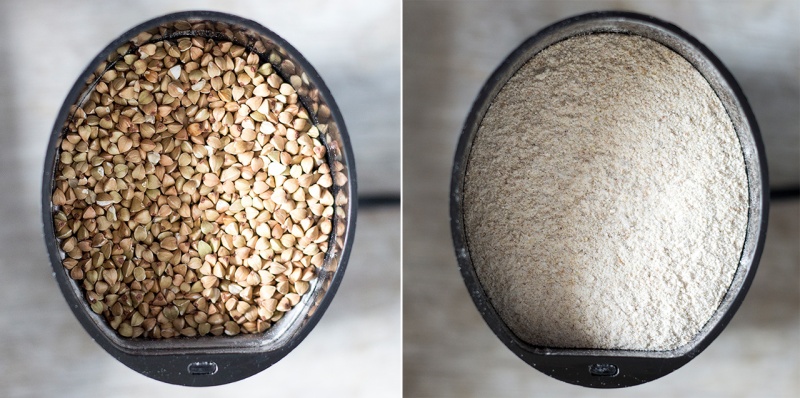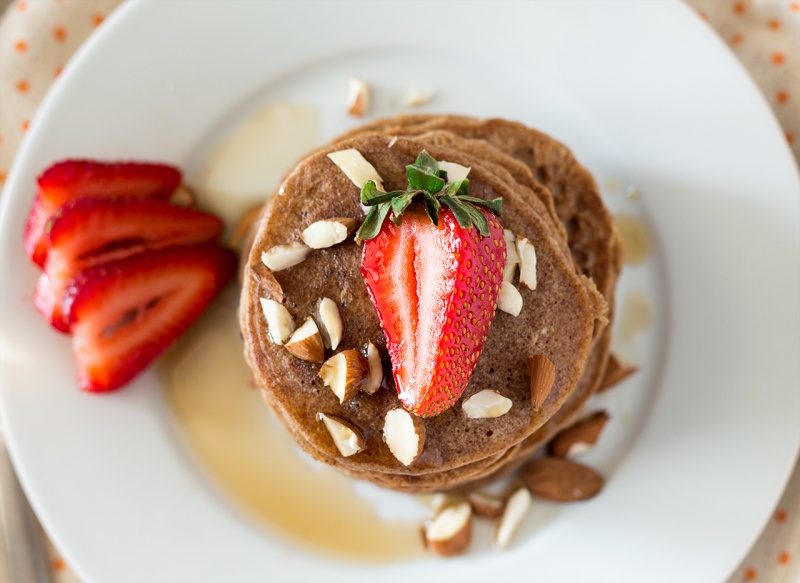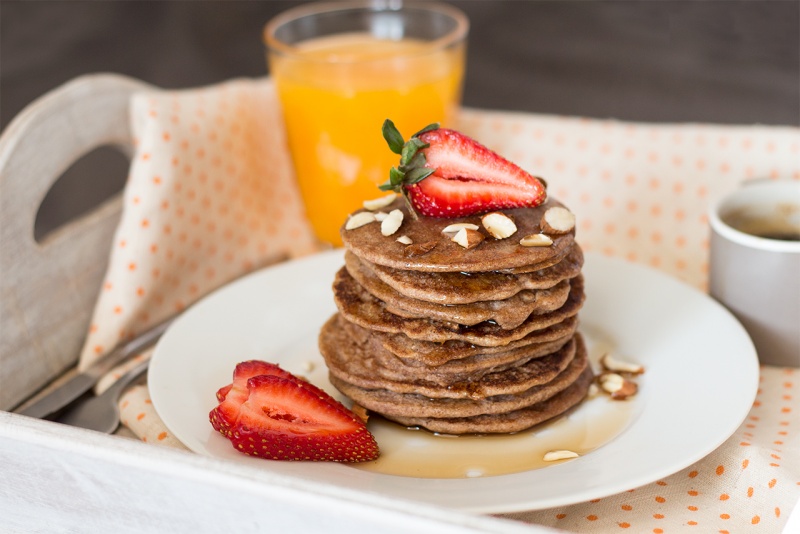 TOPPINGS
seasonal fruit
chopped almonds
METHOD
In a mixing bowl, combine flour, salt, baking soda and baking powder.
In another bowl, combine all wet ingredients: coconut milk, ½ cup water, maple syrup, lemon juice and almond butter. Whisk everything together until combined and there are no chunks of almond butter in the mixture.
Pour wet ingredients into dry ingredients stirring until you get a homogeneous mixture. Add more water (1-3 tbsp) as needed – depends on how thick your coconut milk was. If you like your pancakes thick add less water, if you prefer them thin add more.
Heat up a frying pan on the stove, brush the pan with a bit of oil using a silicone pastry brush (you can also use an oil spray).
Ladle 2 tablespoons of the pancake mix per pancake. Keep cooking the pancakes until lots of little bubbles form and burst. If you flip them before the bubbles burst they may end up undercooked.
Once bubbles burst, flip pancakes gently. Fry until nicely browned on the other side and serve. Keep cooked pancakes in a warm oven while making the rest.
NOTES
*You can make your own flour by milling raw (that's very important! You don't want toasted buckwheat as the taste is very different) buckwheat groats in your coffee grinder. They are quite soft before they get toasted so even a not so powerful coffee grinder will make you heaps of buckwheat flour in seconds..
HERE IS MY NEWER, IMPROVED RECIPE FOR THESE: vegan buckwheat pancakes