I made this double chocolate banana bread with my neighbour Suzie in mind. She is always happy to take any baked goods off my hands and loves chocolate and bananas. Her (cheeky 😉 ) passing comment about how my healthy banana muffins would benefit from some chocolate gave me an idea to combine both flavours into the next recipe 🙂 .
As expected, Suzie loved it! And so did we – the whole loaf disappeared in an embarrassingly short time.
Apart from being our cake taster in chief, Suzie is also the best cat rescuer there is. In the 2.5 years I've known her, she must have saved about 100 cats. Her house is purring with close to 20 cats (and two puppies to balance things out) that she saved and couldn't part with.
Every time there is a cat emergency, Suzie is always happy to get involved, share her amazing experience and knowledge and, as you can imagine, plenty of funny cat stories too. In these difficult times full of hate and misery, let's all be more like Suzie (minus her advanced chocolate addiction 😉 ). Being kind may be harder but it's so much more rewarding…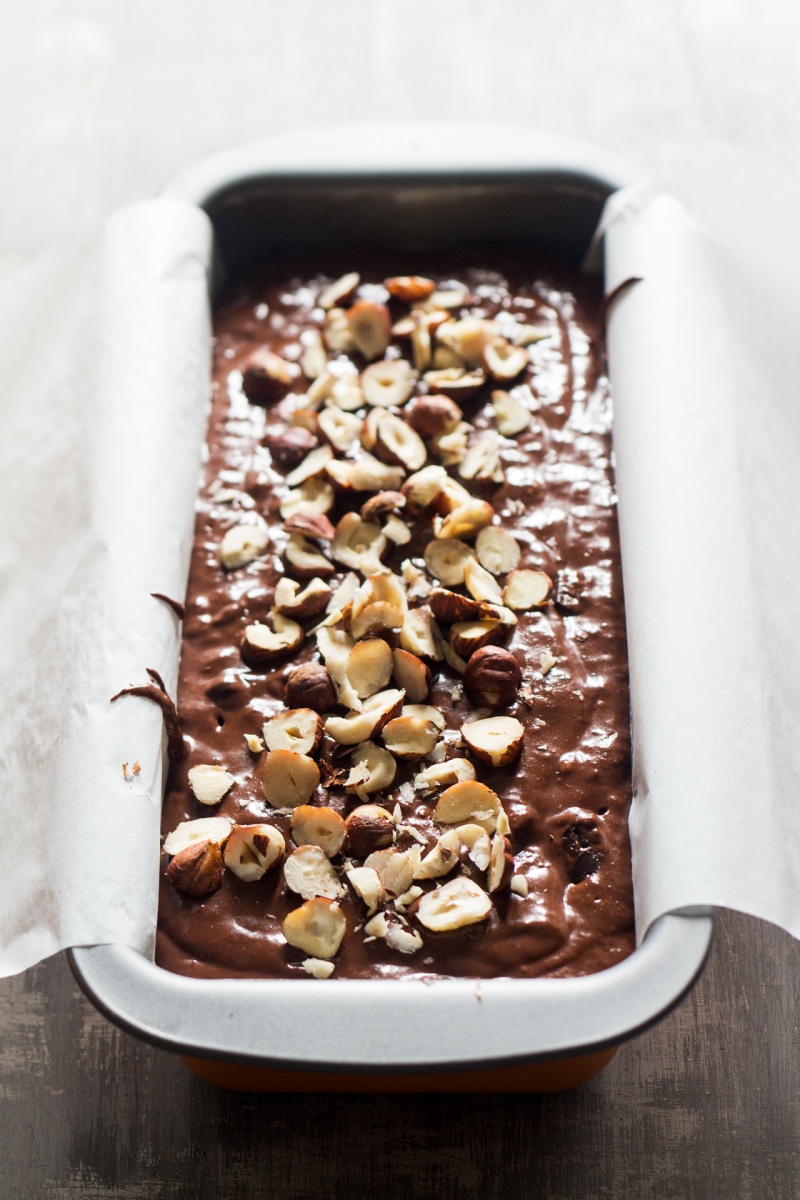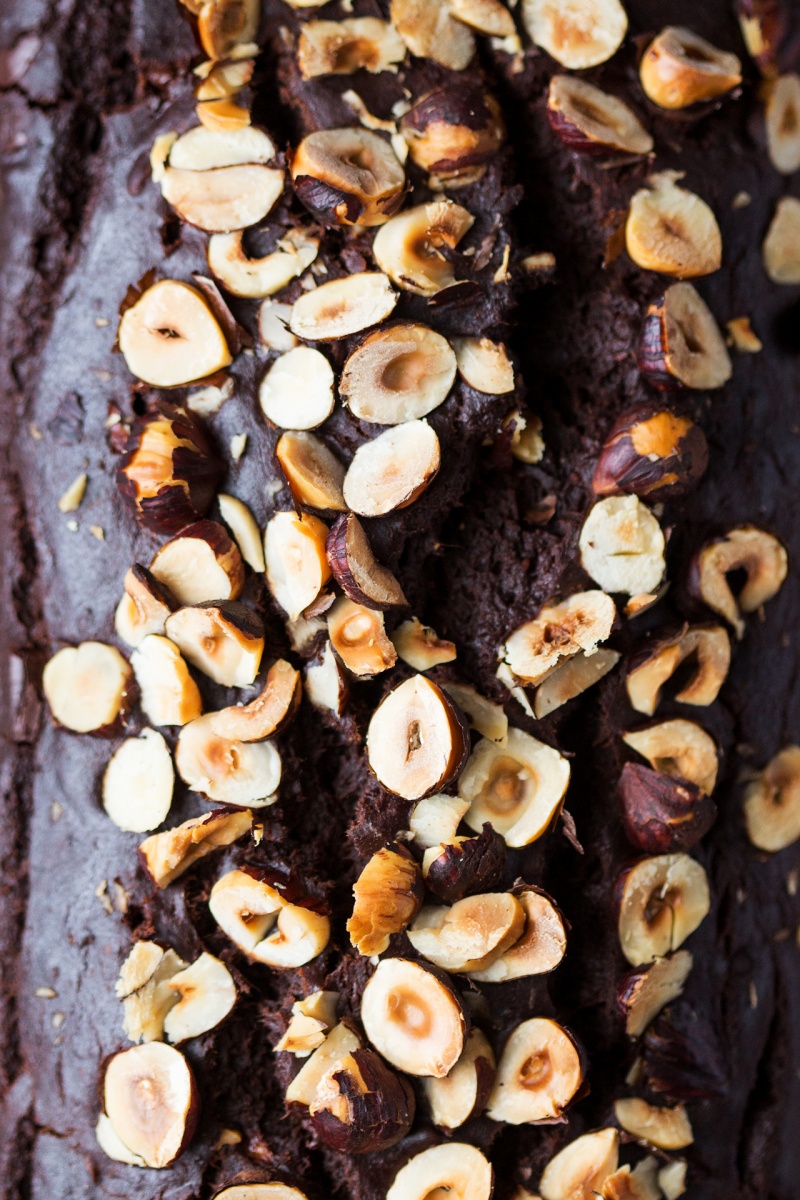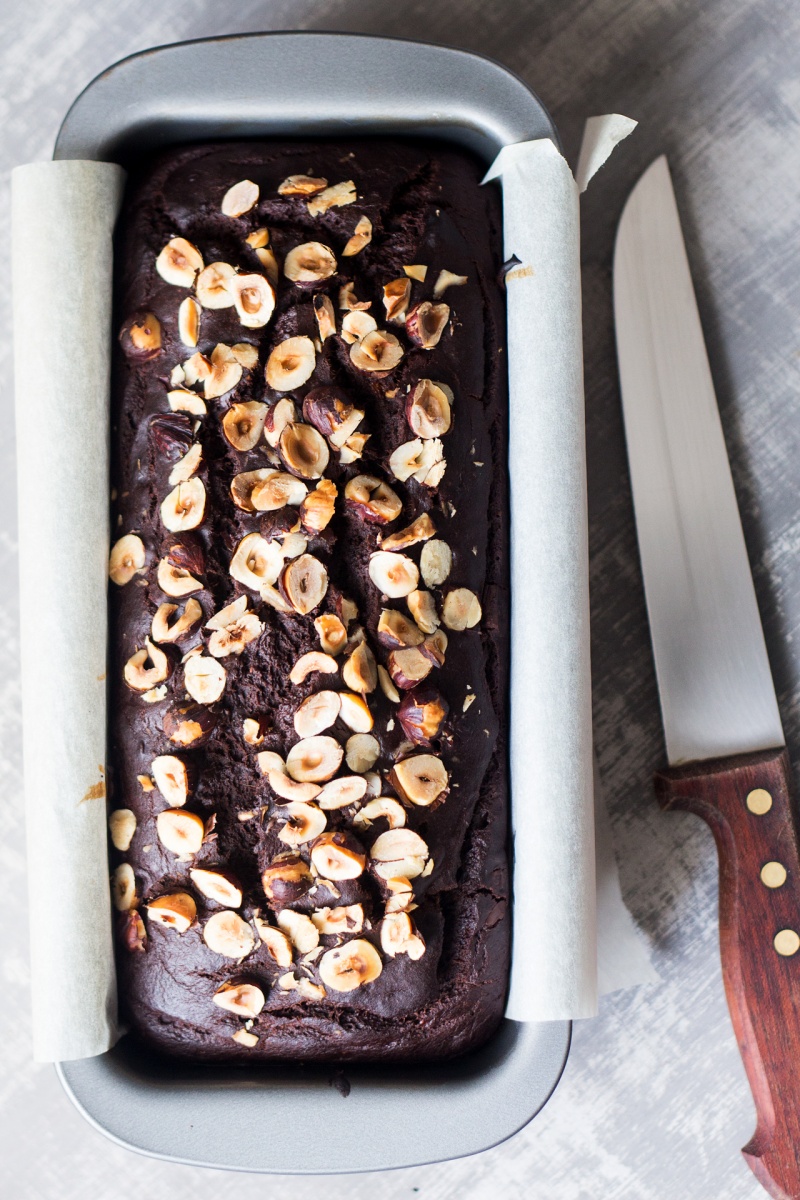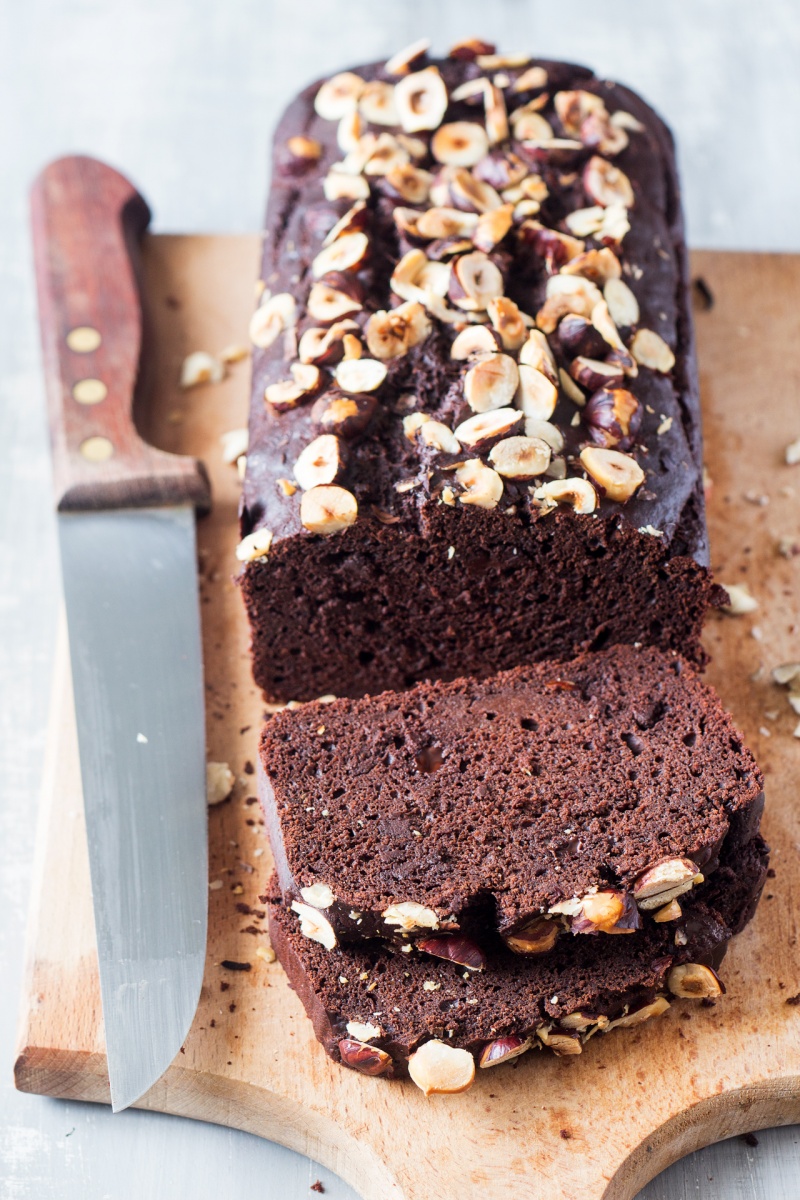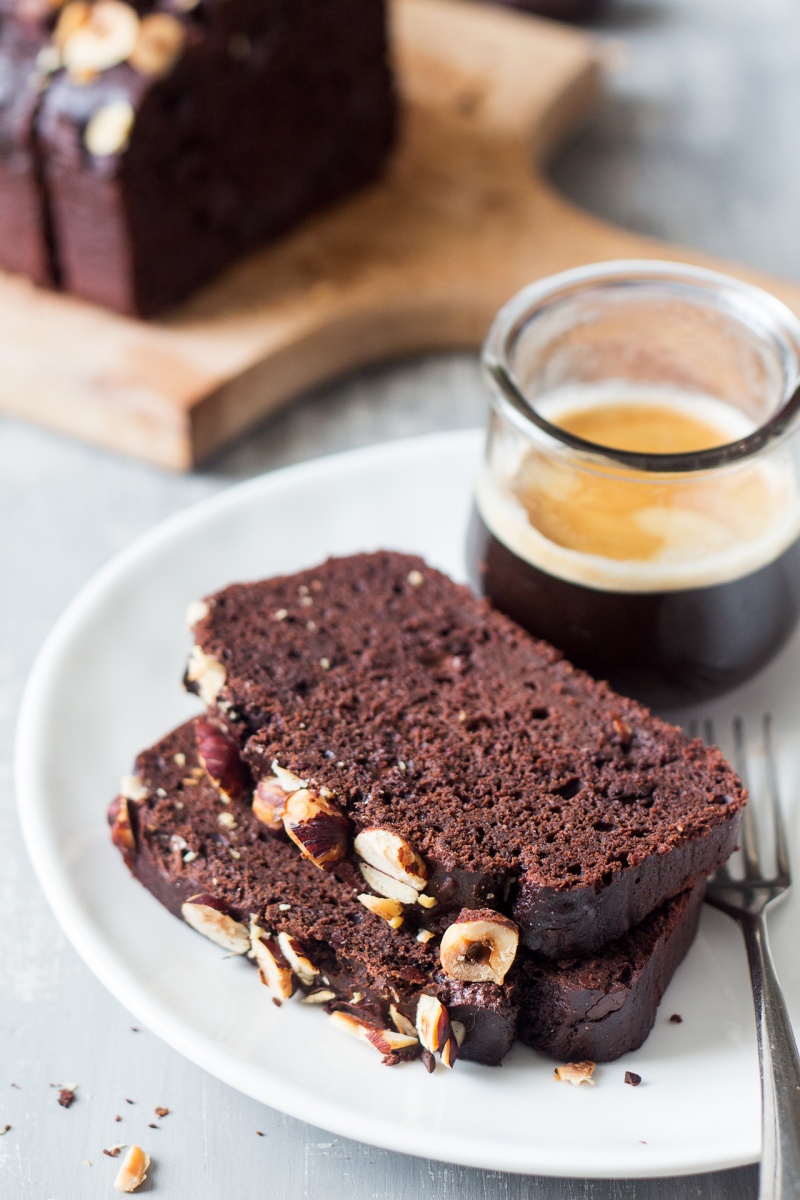 WET INGREDIENTS
360 ml / 1½ cup mashed ripe bananas (about 3 medium)
120 ml / ½ cup any plant milk
90 ml / ¼ cup + 2 tbsp olive oil (or melted coconut oil)
180 g / 1 scant cup sugar (I used demerara)
60 ml / ¼ cup espresso or strong coffee*
DRY INGREDIENTS
120 g / 1 cup buckwheat flour**
35 g / ¼ cup rice flour
25 g / scant ¼ cup cornflour / cornstarch
½ tsp baking soda
1 tsp baking powder
120 g / 1 heaped cup cacao (I used raw)
¼ tsp fine sea salt
100 g / 2/3 cup vegan chocolate chips or chocolate, diced small
chopped hazelnuts, for decoration
METHOD
Mix ground chia seeds (or flax seeds) with 2 tablespoons of water and set aside for it to become gelatinous. Make an espresso or a cup of strong coffee.
Place all of the dry ingredients (except for chocolate and hazelnuts) in a medium mixing bowl. Mix really well with a hand whisk.
Place well mashed bananas, coconut milk, olive oil, sugar, cooled coffee and the chia egg in a large mixing bowl.
Place a sieve over the large bowl and sift ¼ of the mixed dried ingredients into the wet ones. Mix them in after sifting and continue until you've used up all the dry ingredients (sifting helps getting rid of any lumps in cacao, for example).
Heat up the oven to 175° C / 350° F and brush a loaf tin with a small amount of oil.
Mix all the ingredients well together. As this is a gluten-free batter, you don't need to worry about over mixing, but if you've used wheat flour instead, mix gently and be careful not to over mix. Stir chocolate chips or chunks into the batter.
Transfer the batter to the loaf tin and sprinkle the top with hazelnuts.
Bake in a pre-heated oven (on a shelf that's one notch lower than the middle one) for about 65-70 minutes, until a skewer comes out clean. Cool before removing from the tin and slicing. Use a serrated knife to slice.
NOTES
* Sub coffee with almond milk, watered down coconut milk or even water if you cannot have / don't like coffee, although the coffee flavour doesn't come through, promise! It's simply there to bring out more chocolate flavour.
** If you don't care about making this bread gluten-free, skip buckwheat and rice flours, cornflour / cornstarch and chia / flax egg and use 180 g / 1½ cup regular white wheat flour instead. Be super careful not to overmix the batter as the cake will come out tough.
Dimensions of my loaf tin are 23 cm / 9 in x 9 cm / 3.5 in x 5.5 cm / 2 in. For a 2 lb / 900 g tin, use ¾ of this recipe and adjust baking time slightly.