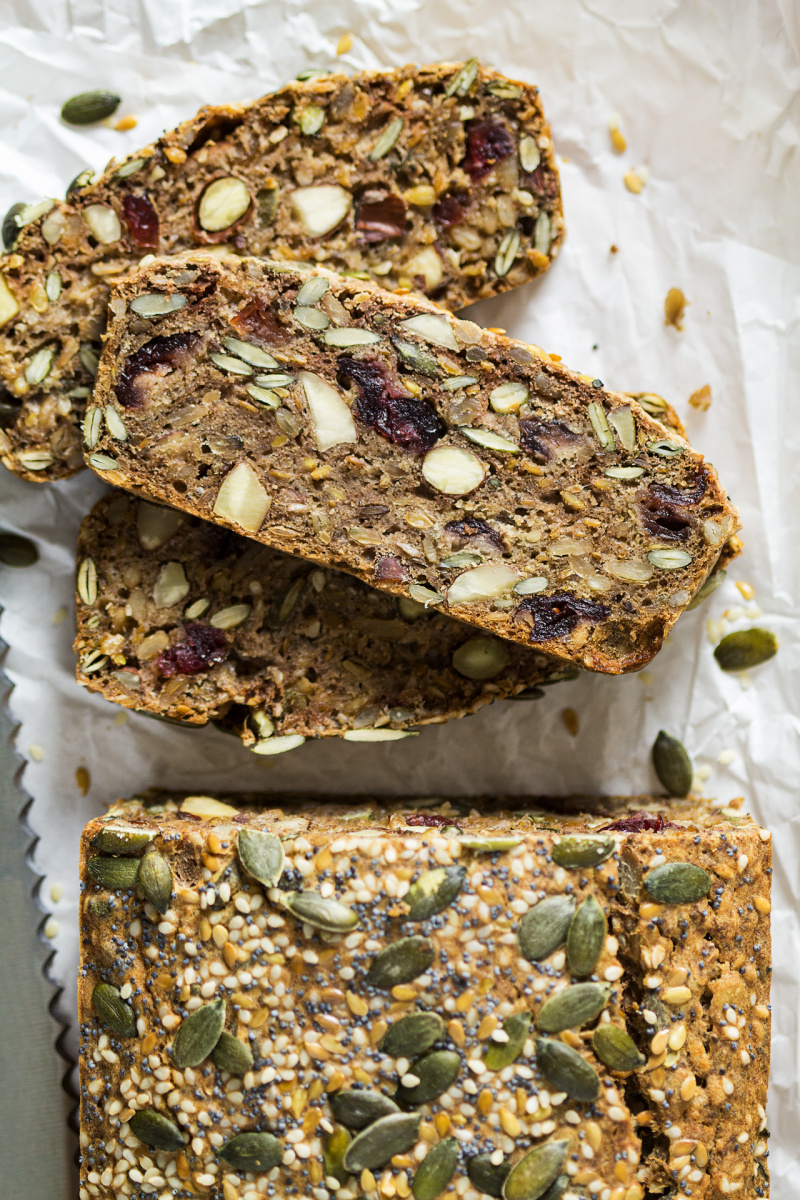 I got a bit bored of the staple winter breakfasts that I alternate between – porridge or cinnamon bagels – and decided to shake things up a bit and make a super seedy and slightly sweet loaf of bread instead. I'm rather pleased with the end result and thought you might appreciate the recipe.
It's studded with a selection of oh-so-good-for-you (especially for your hormones) seeds, some nuts and a small amount of cranberries. It reminds me of the nut-packed dark bread my gran used to buy in her favourite bakery in Krakow. It was the kind of loaf that was crunchy with nuts and slightly sweet with added honey and we would have some more honey on top usually. I used to love that bread! I definitely inherited my love for nuts, coffee and a general sweet tooth from my late grandma.
This bread is so easy to throw together, you'll be laughing. It requires no yeast, kneading or proofing! Thanks to buckwheat flour it's naturally gluten-free, yet there is no need for xanthan gum (or other gums typically added to make gluten-free dough possible) either. Ground up flax (or chia) seeds hold it together just fine. If you can throw a few ingredients into a bowl and give them a good stir, you will manage on your first go, promise.
Dry-toasting nuts and seeds isn't necessary, but it doesn't take that much extra effort and gives the bread a deeper flavour so it's worth it, in my opinion.
This bread is an ideal vehicle for open sandwiches, which are a thing in my native Poland (Germany and Scandinavia too, as far as I know). Both sweet and savoury toppings work well and I can personally think of a few dozen different combinations which I am going to try out in the course of the next few weeks. I hope you'll love this recipe as much as I do!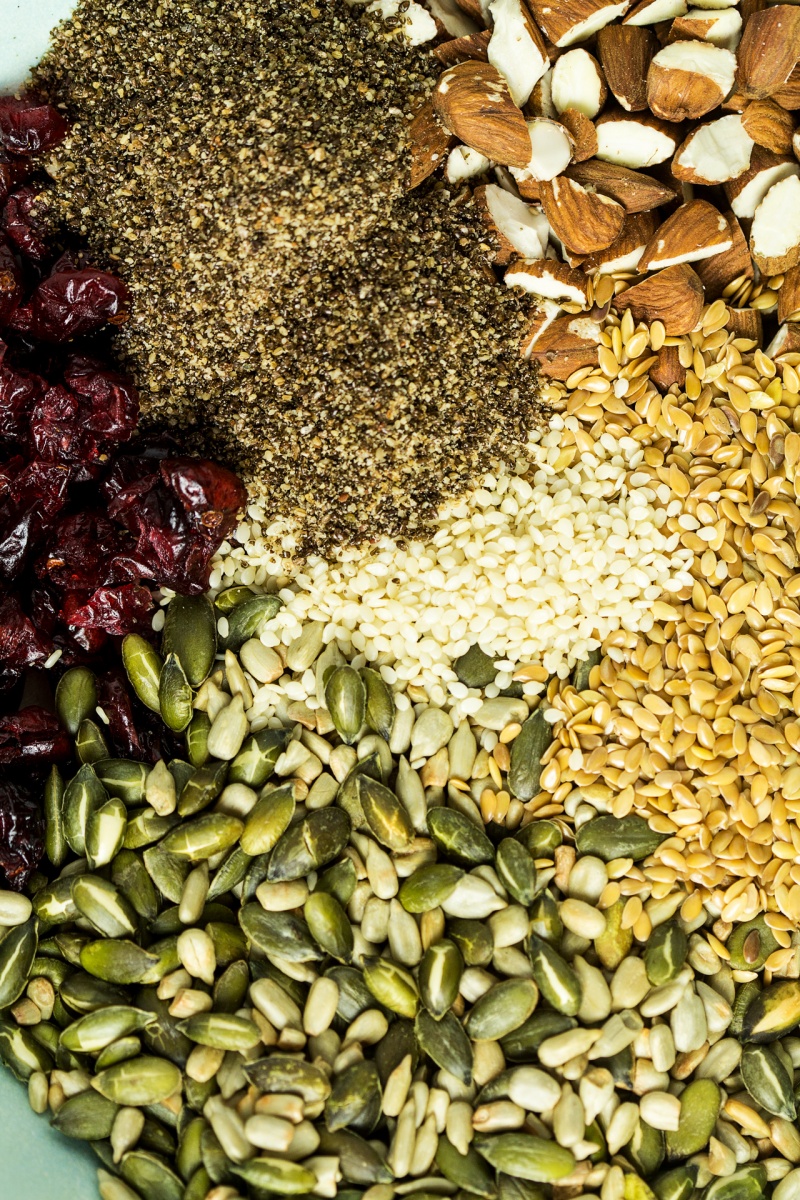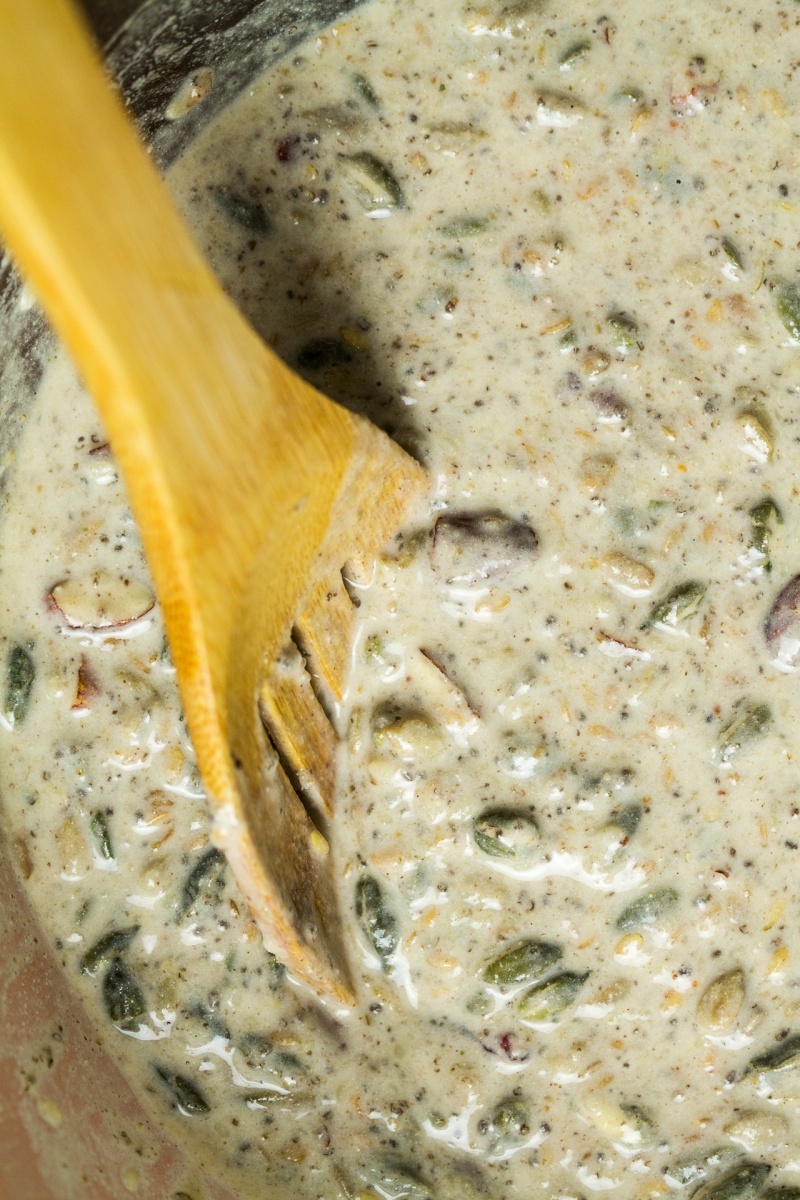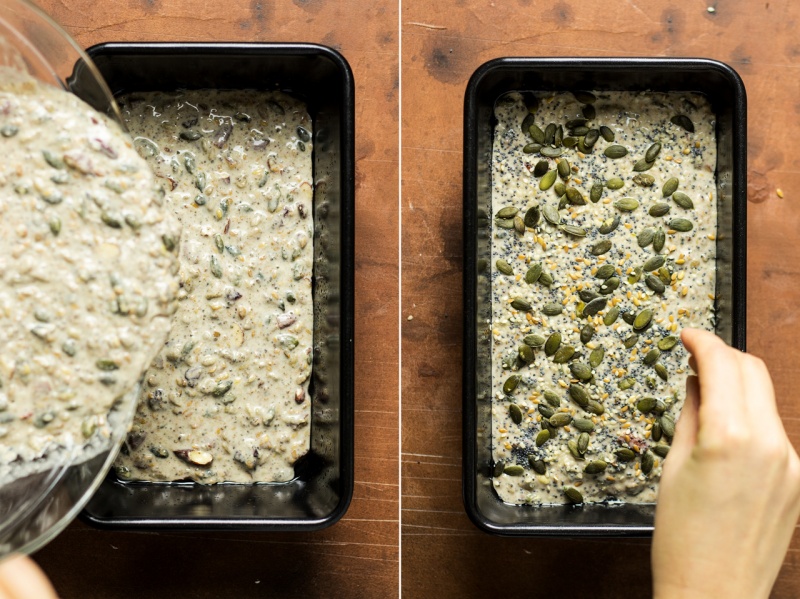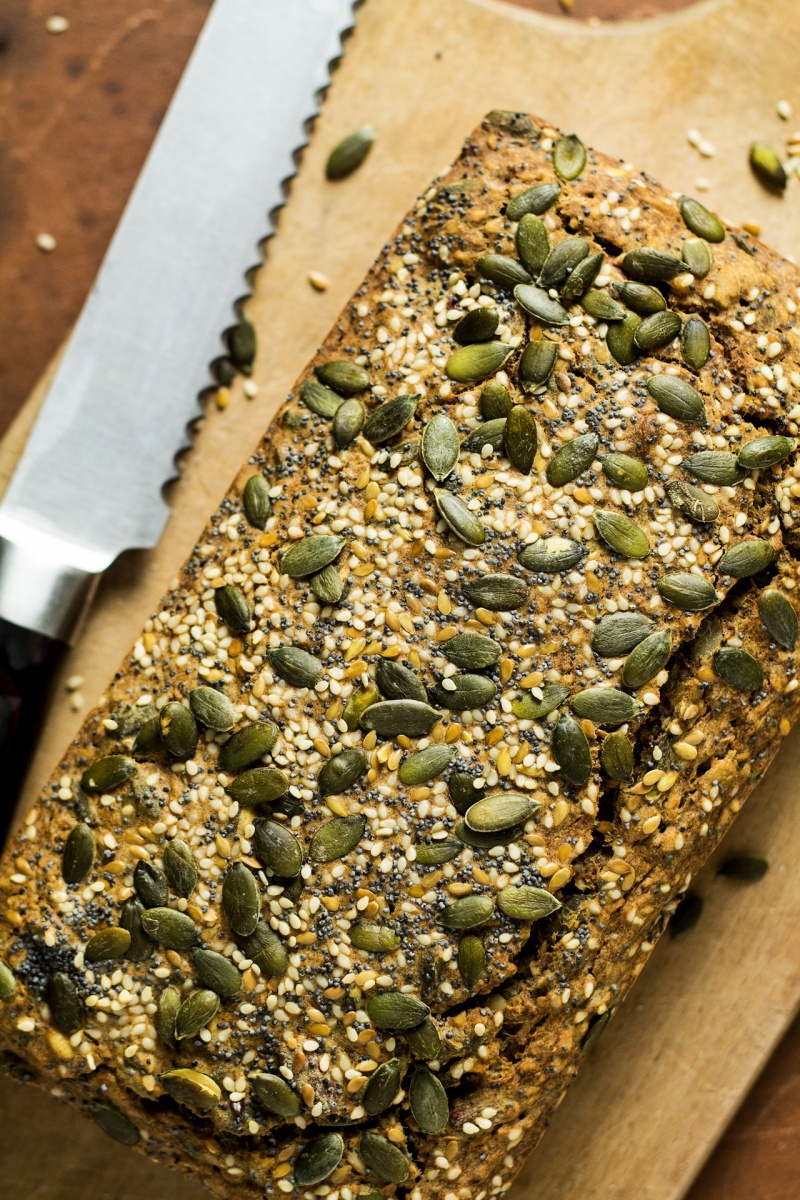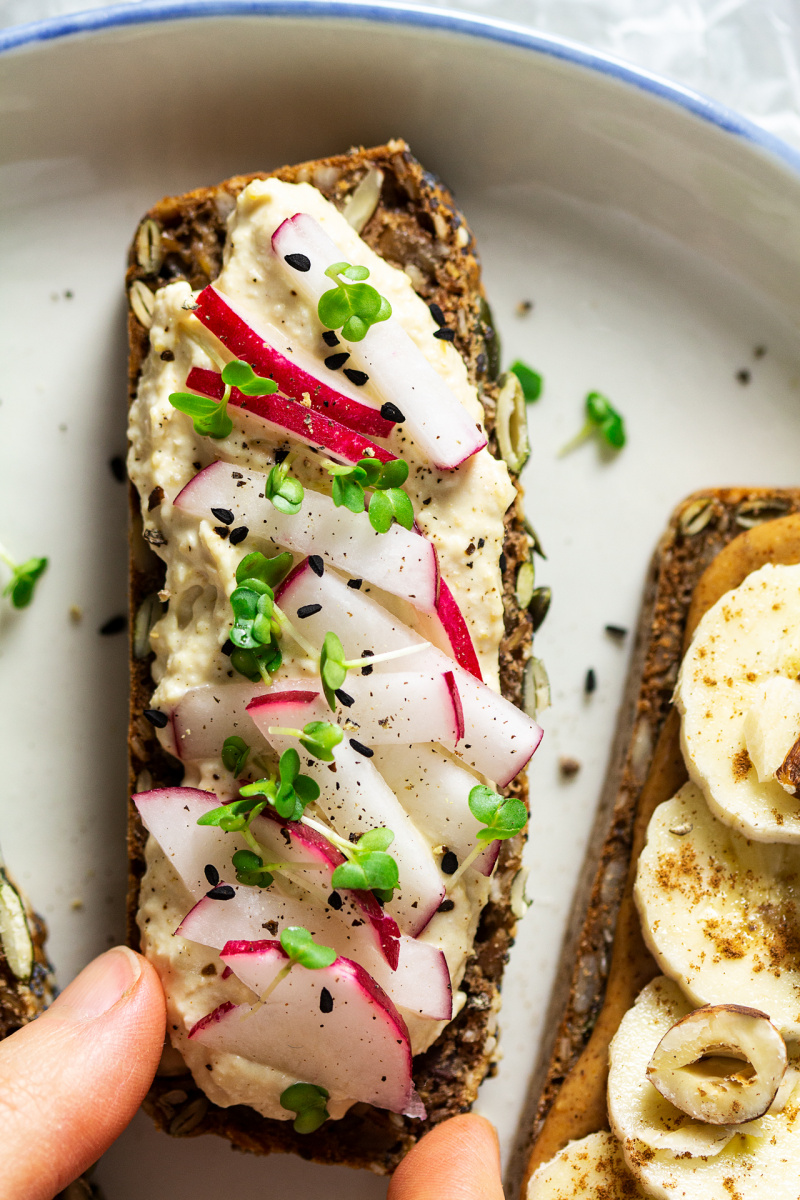 DRY INGREDIENTS
140 g / 1 heaped cup buckwheat flour*
¾ tsp baking soda*
1 tsp fine salt
2 tbsp ground chia seeds or flax seeds
85 g / heaped ½ cup almonds (walnuts or hazelnuts)
40 g / ¼ cup flax seeds (I used golden flax seeds), more to decorate
35 g / ¼ cup sesame seeds, more to decorate
65 g / ½ cup pumpkin seeds, more to decorate
70 g / ½ cup sunflower seeds, more to decorate
30 g / ¼ cup dried cranberries (dates, prunes or apricots)
ground cinnamon, ginger, nutmeg, cloves (optional)*
WET INGREDIENTS
45 ml / 3 tbsp oil (I used mild olive oil) + more to grease the pan
15 ml / 1 tbsp maple syrup
1½ tsp apple cider vinegar (or lemon juice)
360 ml / 1½ cups water
METHOD
Mix the first four dry ingredients (use BAKING SODA not baking powder – video caption is incorrect!) in a large mixing bowl. Set aside.
Set the oven to 150° C / 300° F fan forced (or 170° C / 340° F no fan) and grease a 1kg / 2lb baking tin with a bit of oil. I also recommend lining the tin with a piece of baking paper as this bread tends to stick.
This is an optional step, but recommended! Heat up a medium size pan on a low-medium heat. Once hot, add almonds to it. Dry roast the almonds for a few minutes until fragrant and lightly browned on both sides – move them around the pan frequently so that they don't burn. Remove the almonds from the pan and place them on a chopping board. Add pumpkin and sunflower seeds to the pan and dry roast them together, stirring frequently.
Chop toasted almonds up roughly and if using dates, prunes or apricots rather than cranberries, remove the stones (dates) and chop them into smaller pieces too.
In a small mixing bowl combine all the wet ingredients.
Add cooled-down nuts, seeds and dried fruit to the dry ingredients.
Stir the wet ingredients into the dry ones and mix well to combine. Let the batter rest for about 30-60 minutes so that ground chia or flax seeds (also known as a flax egg) have had a chance to activate (become jelly-like) in the added moisture.
Pour the batter into the prepared baking tin and decorate the top with extra seeds before putting the bread in the oven.
Bake for about 60 minutes, until a skewer comes out clean. Let the bread cool down completely before cutting into it and use a serrated knife to cut it.
NOTES
 *BUCKWHEAT FLOUR: Buckwheat is a naturally gluten-free pseudo grain that is related to rhubarb, but some brands may get cross-contaminated with gluten during processing so if you have a severe gluten intolerance or Celiac disease, make sure you only purchase buckwheat that has been certified as gluten-free (please be aware that Doves Farm buckwheat flour we show in the video above ISN'T gluten-free certified. We made a mistake and realised it too late)
*BAKING SODA: Please ignore the fact that the video calls for baking powder (instead of baking soda). It's a typo that we didn't spot in time. Baking soda is the correct ingredient.
*SPICES: If you intend to have this bread with sweet toppings, adding some ground spices and optionally increasing the amount of sweetness (to 2 tbsp maple syrup) is a nice idea. I would start with ½ tsp cinnamon and ¼ tsp ground ginger and nutmeg and a good pinch of cloves. For a savoury take on this bread, nigella seeds make a nice topping and olives a great substitute for dried fruit.