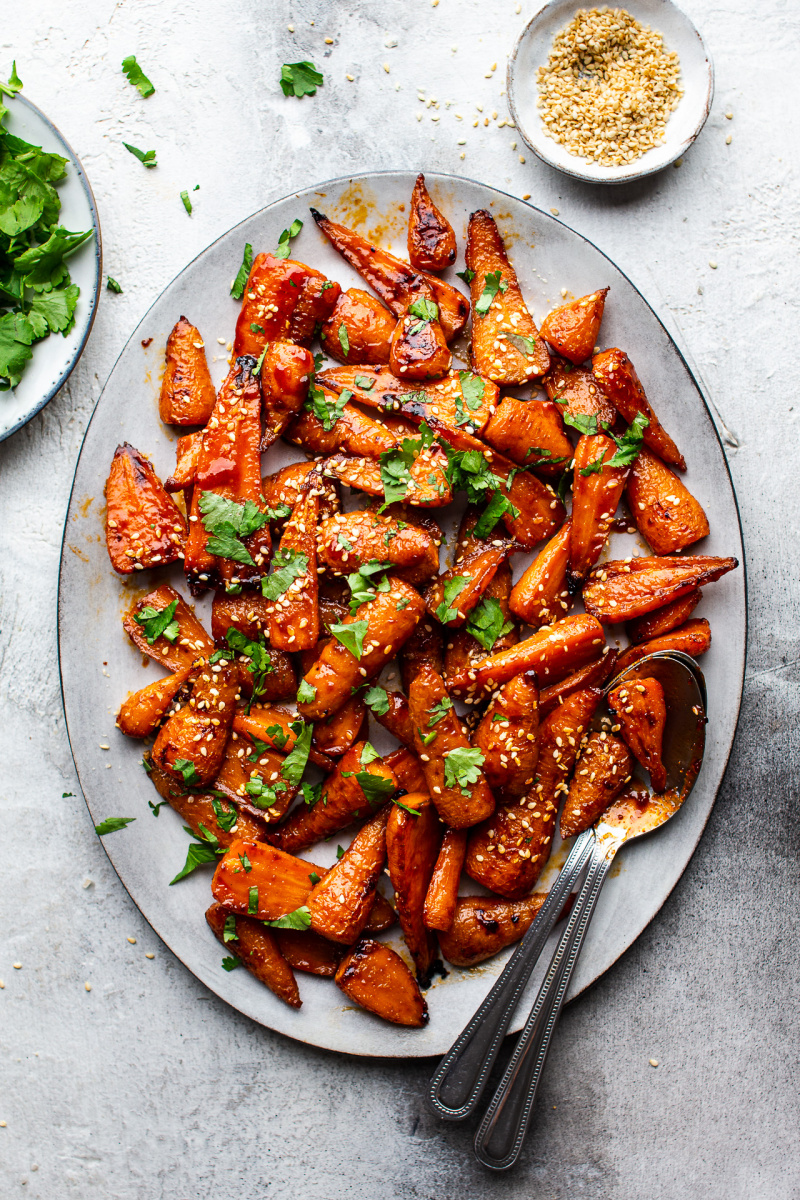 Thanksgiving and Xmas are coming – not that anyone needs a reminder, mind you – so I've decided to focus on some vegetable sides that could adorn our festive tables when the time comes. That gives me a little break from a test kitchen overflowing with festive desserts too, so that's a double win.
I'm hoping to bring you a cracking dessert this Saturday (fingers crossed my final test cook goes well), but in the meantime, how about a plate of beautifully roasted carrots smothered in spicy sweet Korean-inspired glaze? Unconventional, I know, but when you are vegan you don't get to eat many conventional things anyway so why not?
I went all out and used cute looking Chantenay carrots for this dish, which tend to turn up in shops in this pre-Xmas period. They are served alongside a traditional Xmas roast dinner over here, prepared in a classic French way – boiled (often to within the inch of their life sadly) and then smothered with lots of butter – but I much more prefer roasting them in the oven, which gives them a chance to caramelise and sweeten. I pre-baked them first, coated them in a sweet spicy gochujang marinade then roasted them some more to get that beautiful caramelisation going. They are delicious and pretty to look at. I hope you'll give them a go.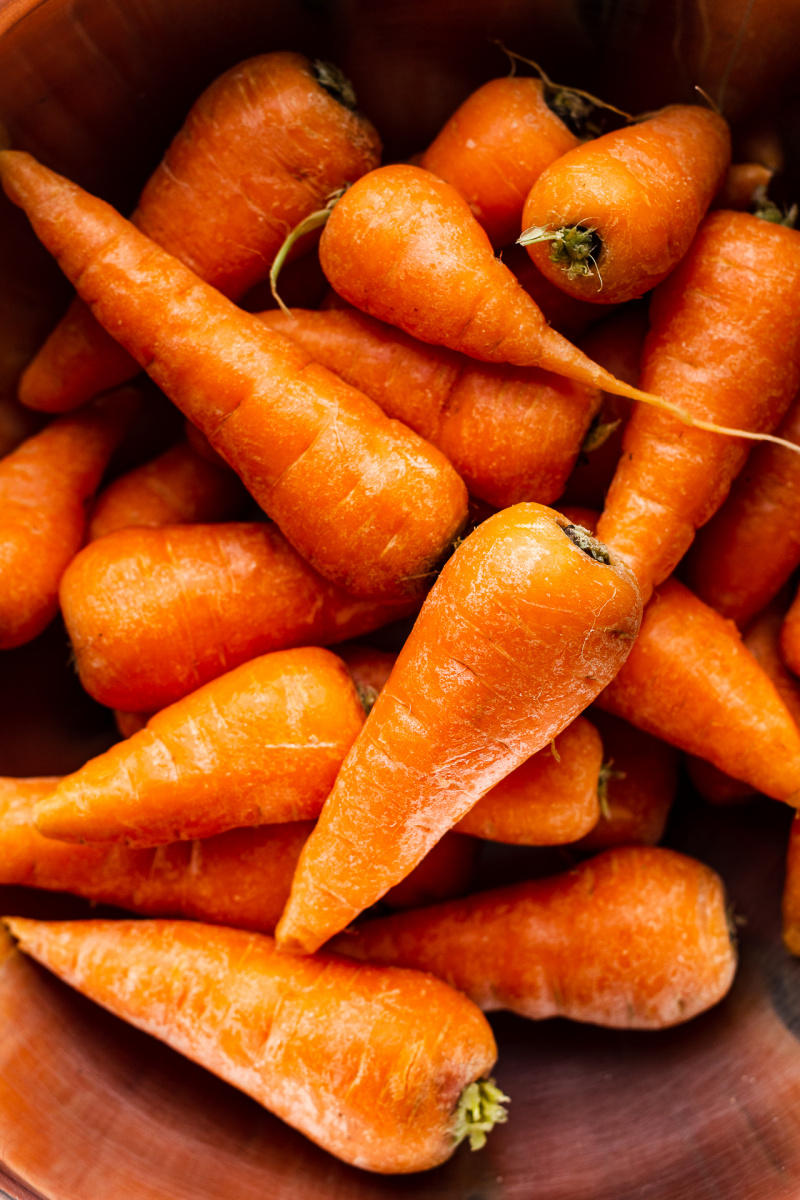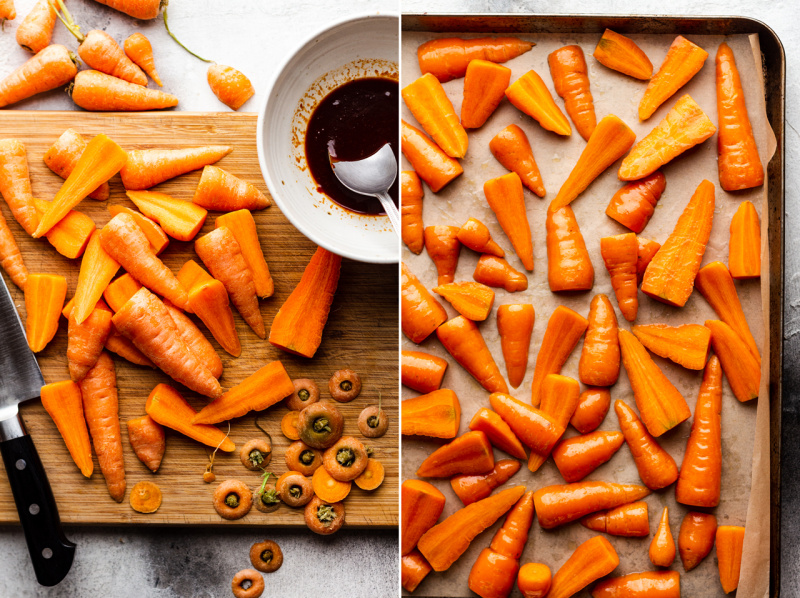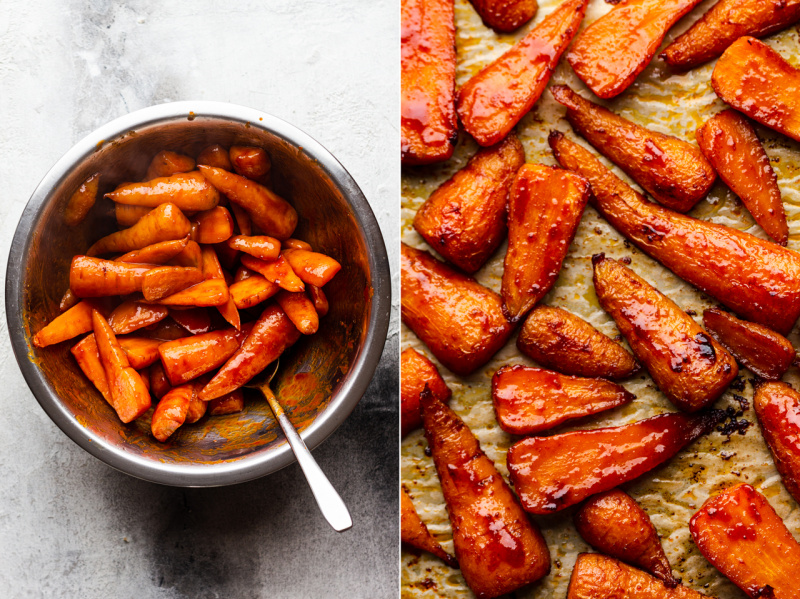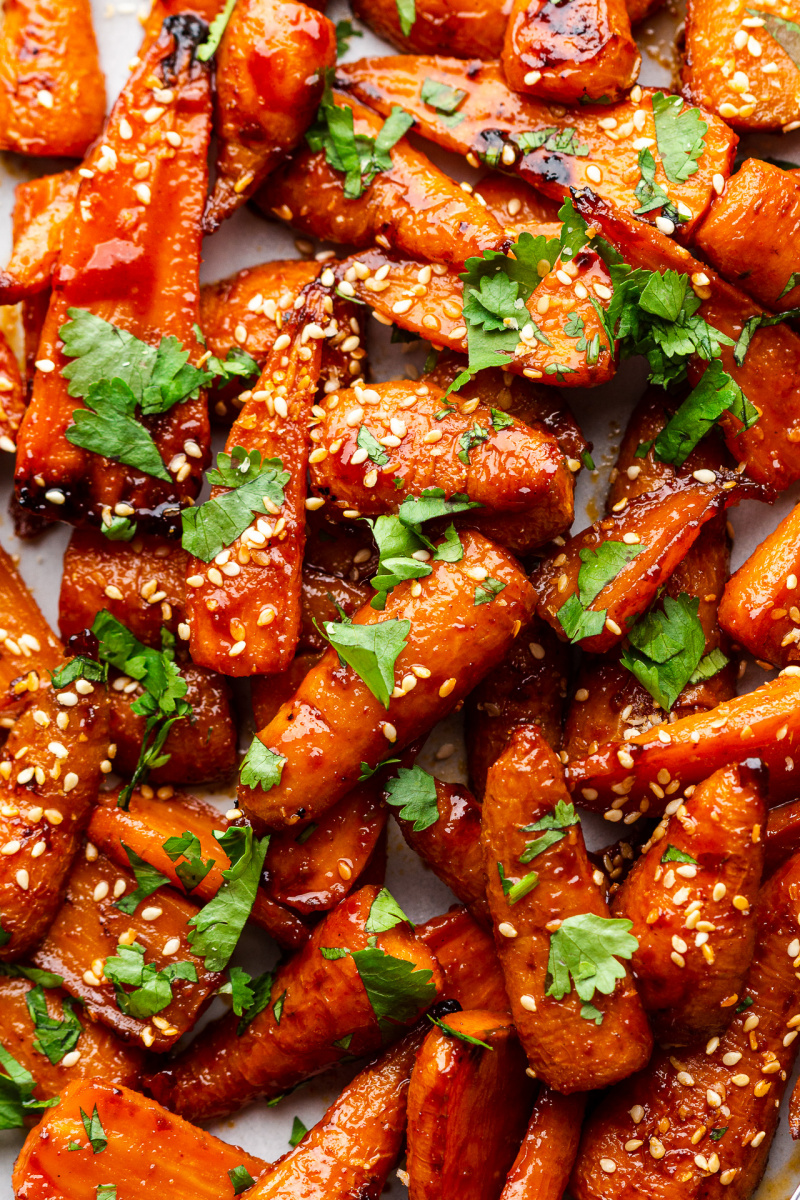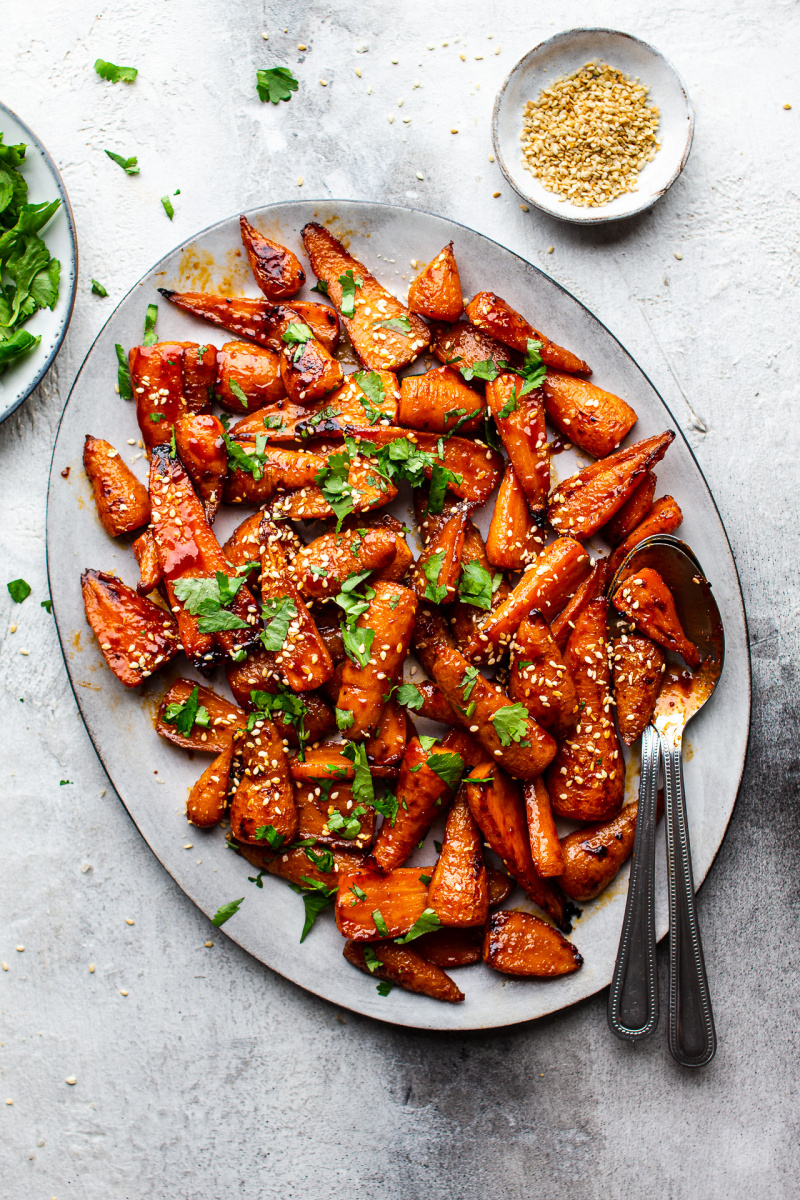 500 g / 17 oz small carrots*, scrubbed clean
10 ml / 2 tsp neutral oil
15 ml / 1 tbsp Gochujang*, adjust to taste
15 ml / 1 tbsp soy sauce (or tamari for GF version)
5 ml / 1 tsp toasted sesame oil
15 ml / 1 tbsp maple syrup
1 tsp finely grated ginger
1 garlic clove, finely grated
salt, to taste
squeeze of lime / lemon (optional)
toasted and crushed sesame seeds (or peanuts)
fresh coriander, chopped
METHOD
Set the oven to 200° C / 390° F (no fan) and line one large baking tray with baking paper.
Wash the carrots well and dry them – I used a clean kitchen towel and then dried them in a low oven for about 10 minutes. You can also air-dry them.
Top your carrots and cut them in half lengthwise, leaving the very small ones whole. Coat in oil and roast until cooked through (about 20 minutes). Give them a good stir halfway through the baking time.
In a small bowl, combine gochujang paste, soy sauce (or tamari), toasted sesame oil, maple syrup, ginger and garlic.
Increase the oven temperature to 225° C / 435° F and coat the carrots in the spicy marinade (I like to return them to the bowl I used for coating them in oil to do that).
Return the carrots to the a baking tray and roast for about 10 minutes, until the marinade is caramelized in places.
Season with salt to taste and sprinkle with a little lime or lemon juice if you find the dish too sweet.
Place roasted carrots on a large serving platter. Sprinkle with toasted sesame seeds and fresh coriander.
NOTES
*CARROTS: I used Chantenay carrots but any smaller ones will do.
*GOCHUJANG (KOREAN CHILLI PASTE): if you haven't got any to hand, you could replace it with (Middle Eastern) harissa, sesame oil with olive oil and sesame seeds with roasted almonds, for example.