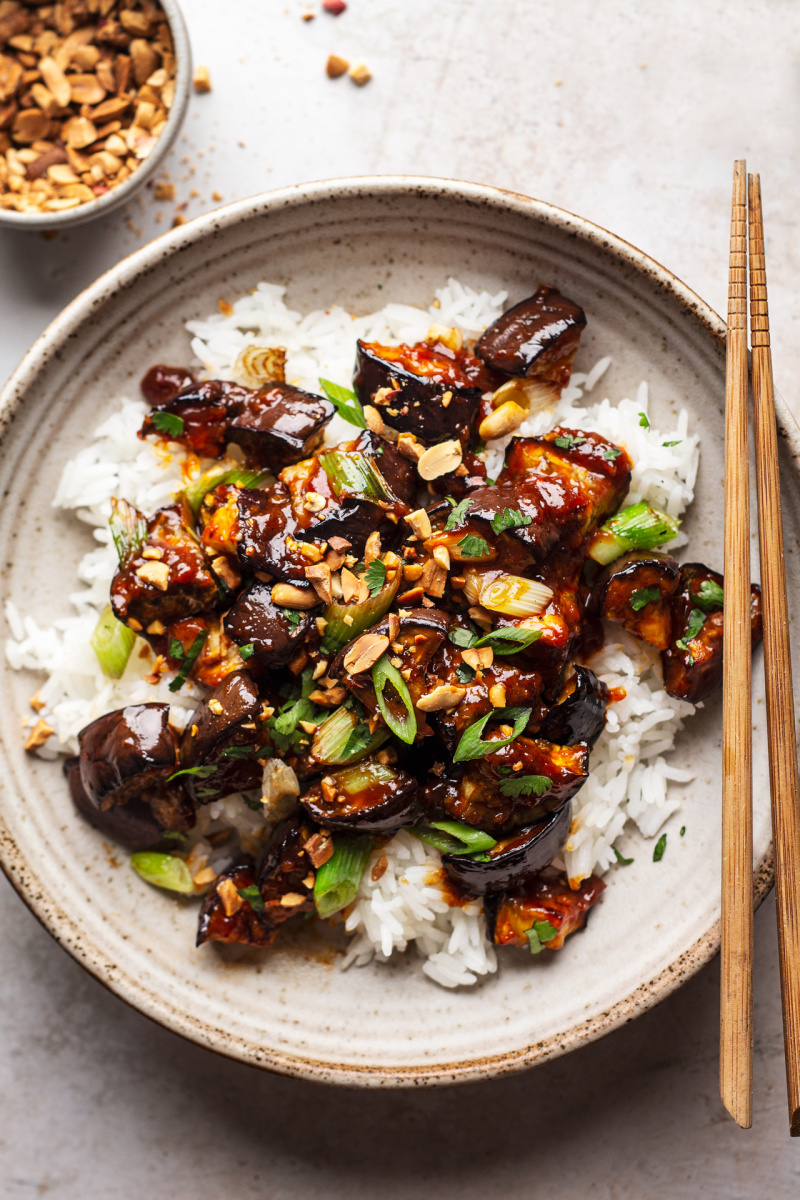 Even though autumn is clearly very much in the air, I am still a little nostalgic about summer. It's perhaps because I feel that there wasn't enough of it this year and what there was was tainted by the realities of a global pandemic – and so I am not ready to say goodbye to late summer produce just yet. Especially eggplants, which I have been buying a lot of lately. I have at least 2, maybe 3, shareable eggplant recipes in my head if you are a fellow fan.
Today's recipe is a quick, midweek number that uses few ingredients and is pretty effortless in terms of prep, yet it delivers a satisfying and packed-with-flavour meal. This dish is a love child of two of my other dishes, this one and this one. My focus here was to create a dish that is easy to make, delivers a lot of flavour and does not use a lot of oil as I am on a bit of a post-lockdown health kick.
Even when not on a health kick, I'm generally quite oil-averse although I'm not ready to ditch it completely. I realise that there is little nutritional benefit to oil (you are better off consuming the actual ingredient that it is derived from), but it does help in the flavour department immensely and I feel that's not a trivial matter. In this case, however, I really don't feel that there is that much difference and as eggplant is notorious for being an oil-thirsty vegetable, I've decided to prepare it in the same way I treat it when making my famous moussaka. I slice it and stick it into a hot oven and let the high temperature soften its flesh. Once soft, it takes well to being coated in an aromatic, spicy sauce and while the fried version is a touch more indulgent, I think this is a good option if you are trying to eat healthier.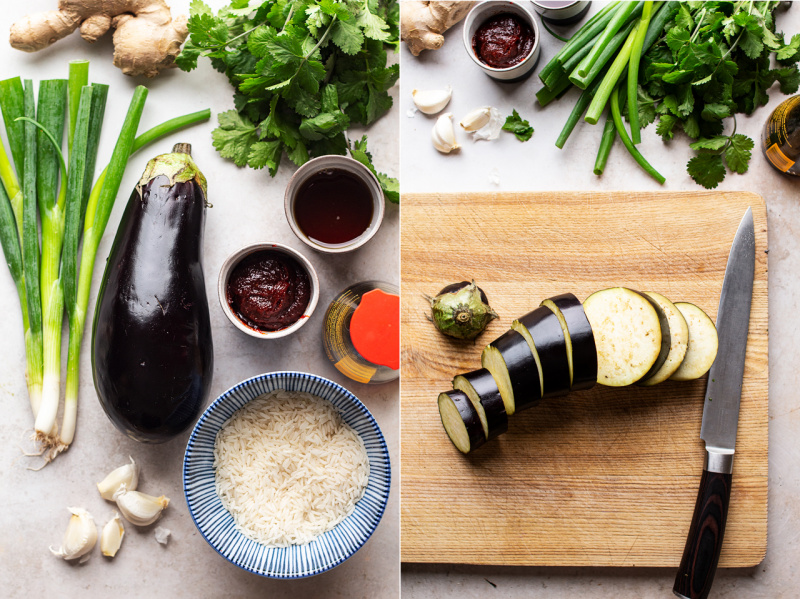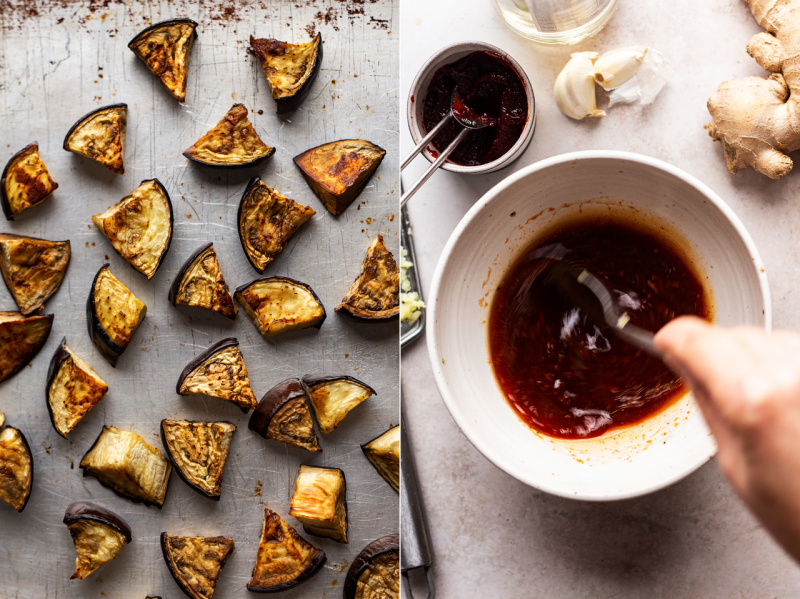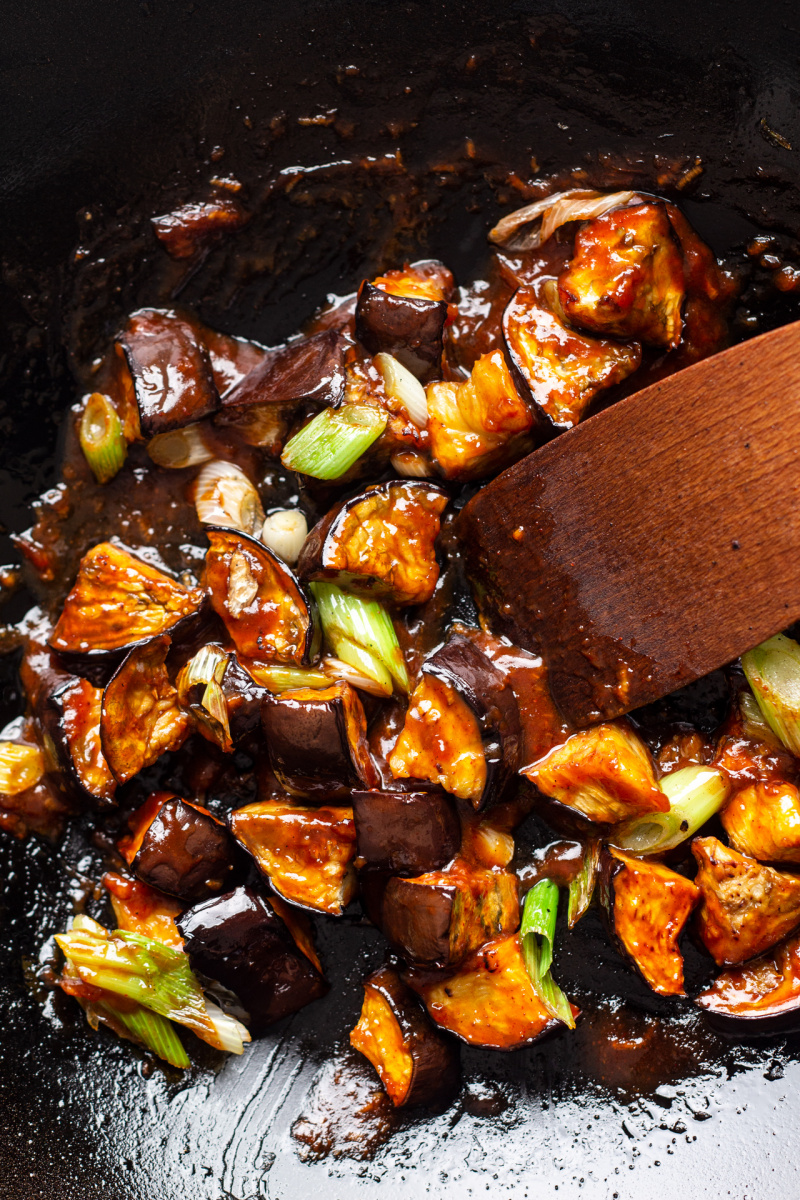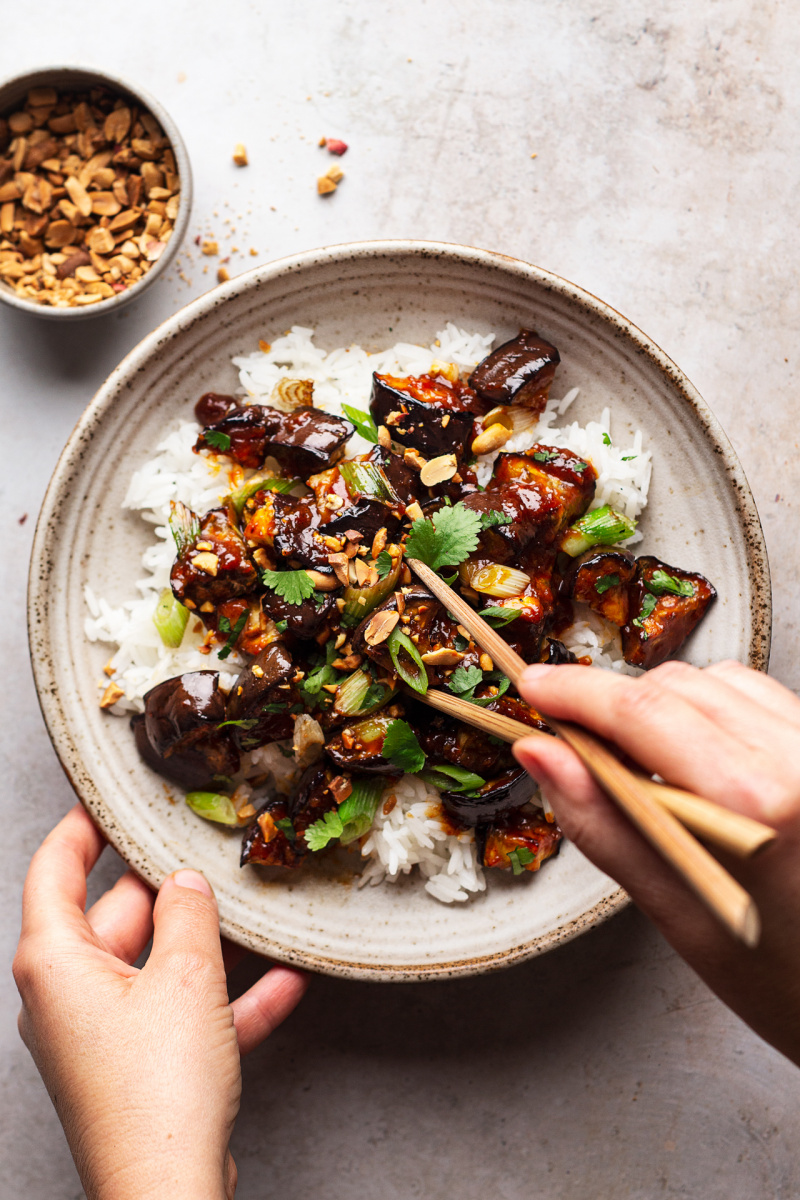 500 g / 1 lb (2 small) eggplants / aubergines
1 cup raw rice (I used white jasmin)
2 spring onions / scallions
5-10 ml / 1-2 tsp high smoke point oil, I use rice bran
small bunch of fresh coriander, chopped
chopped toasted peanuts, to decorate
SAUCE
METHOD
Heat up the oven to 200° C / 390° F and grab an old-fashioned (ideally steel not teflon coated) baking tray. See NOTES for the alternative.
Cut your aubergines / eggplants into 1.25 cm / ½" rounds and arrange them on the baking tray. There is no need to grease them although you can use a small amount of oil if you wish. Bake for about 25-30 minutes, flipping the slices to the other side halfway through. They are done when soft all the way though and lightly browned on both sides.
Meanwhile, cook the rice (I use the absorption method, 1 cup rice : 1¼ cups water and no salt) and chop spring onions. Cut them on the diagonal and separate white and light green parts from the dark green ends, which we will use as garnish. Set aside.
Dissolve cornstarch in 2 tsp of water in a medium bowl to create cornstarch slurry, then add the remaining sauce ingredients and 2 tbsp of water. Mix well and adjust the level of spiciness (gochujang) to your taste.
Once out of the oven, cut aubergine slices into smaller, bite-sized chunks. I cut each slice into 6-8 wedges, depending on the size.
Heat up a wok on a medium heat. Once it starts to smoke slightly, add a small amount of oil, white and light green spring onion slices to the wok. Stir fry them for a few seconds – until softened and lightly charred.
Give the sauce a good stir before adding it to the hot wok. Allow it to bubble for a few seconds to thicken. Stir in aubergine / eggplant chunks, give them a few seconds to heat up. Take off the heat.
Divide the rice between two bowls, top with saucy aubergine / eggplant. Garnish with green parts of spring onions, fresh coriander and chopped toasted peanuts.
NOTES
*Ensure you get a gluten-free brand if making this for someone intolerant to gluten.
If you are not fussed about your oil consumption, you can chop it up small, dust with cornstach / cornflour and fry the aubergine / eggplant in oil as in this recipe.