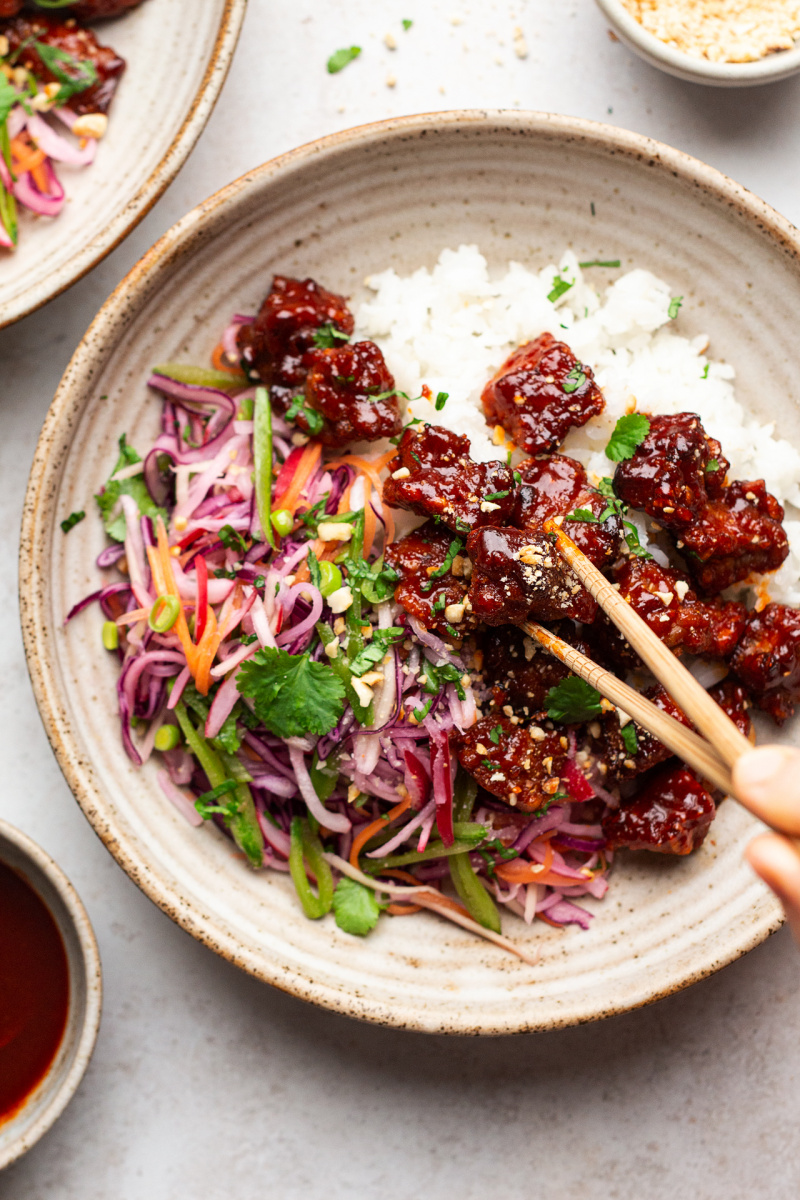 Happy New Year everyone! Hope you are well and excited about tackling another year on this Earth – let's make the most of it while it lasts, shall we? 😉 In all seriousness, the current affairs are so so bleak that I am trying to make a real effort this year not to get too sucked into a news vortex as it always leaves me feeling angry and helpless and it's not doing my mental health any good.
That's my New Year's resolution this year. And sugar…Both Duncan and myself are cutting down this month as we overindulged over Xmas and found ourselves addicted to sweet stuff. It's been 2 days so far and I have surprisingly had minimal cravings, which is just a miracle. I'm focusing on making it stick, one day at a time…
I'm on also having braces put on in two weeks time, ouch – I apologise in advance if the blog sees a sudden surge of soups and baby food – so eating less sweet stuff is probably what I will be inclined to do anyway once cleaning my teeth starts taking half an hour each time. Instead of focusing on pain, a great deal of which is involved I know, I am trying to think of this a a way to foster better eating habits. I shall report back.
So while I can still have real food, here is a satisfying dinner recipe inspired by Korean flavours. It's chunks of tempeh, which is a healthy soy product made of fermented soybeans for those of you who are new to this, either baked (healthy but still nice) or fried (not as healthy but twice as nice 🙂 ) and then coated in a spicy sweet Gojuchang marinade. I paired them with rice and a sour winter slaw, but stir-fried greens will work just as well if thinly cut veggies feels like too much work on a weekday. Enjoy and have a lovely weekend, while I will relax painting my living room ceiling, at last 🙂 .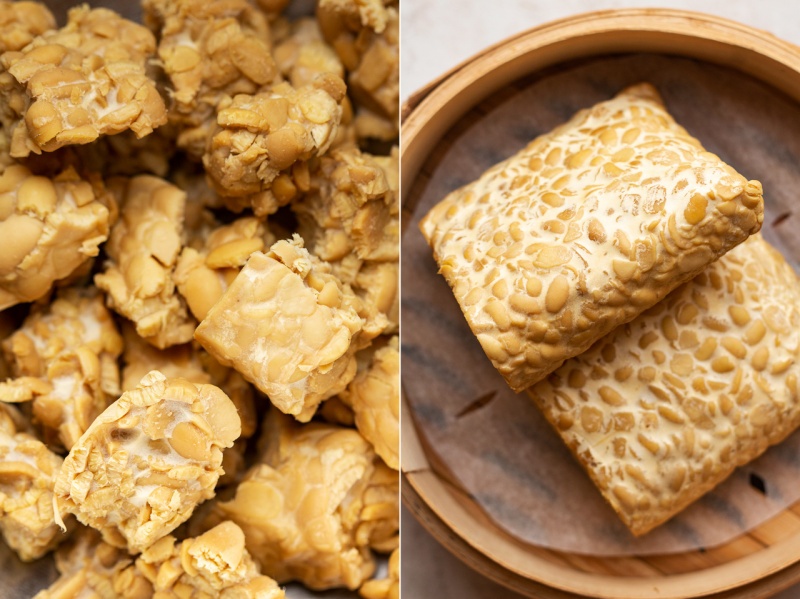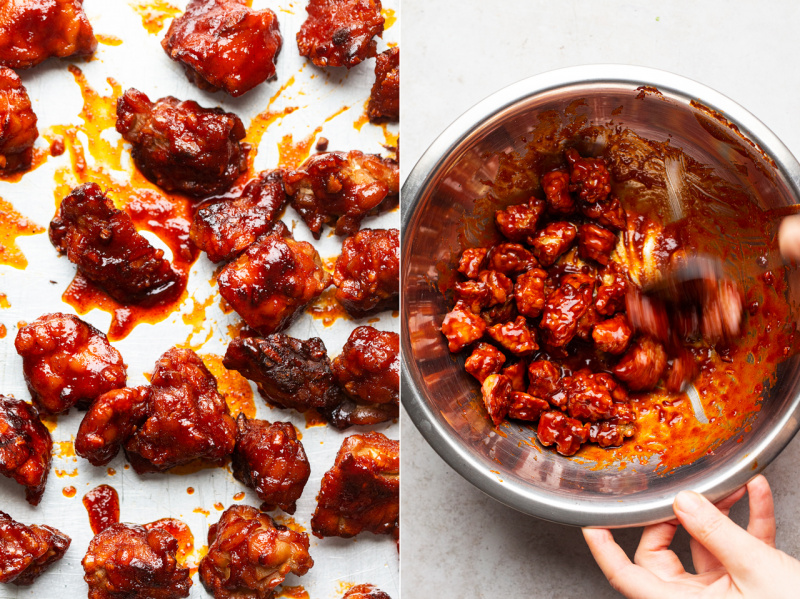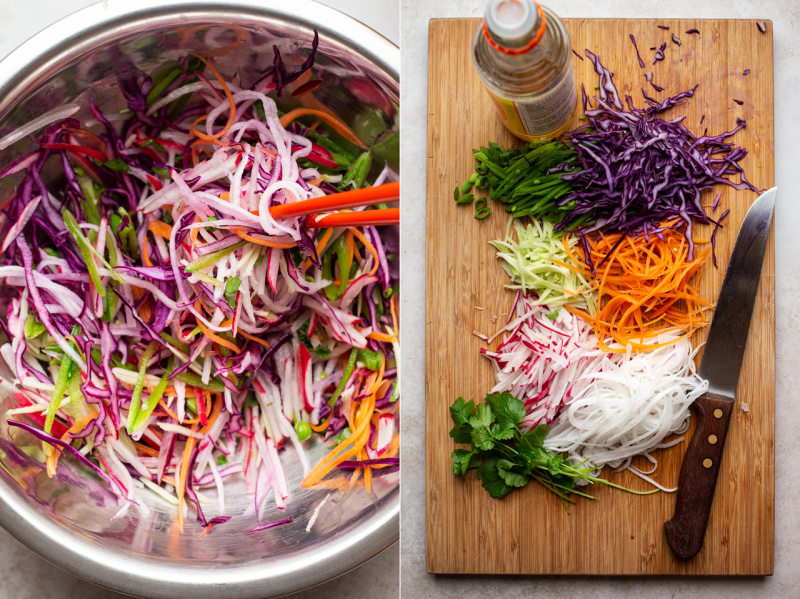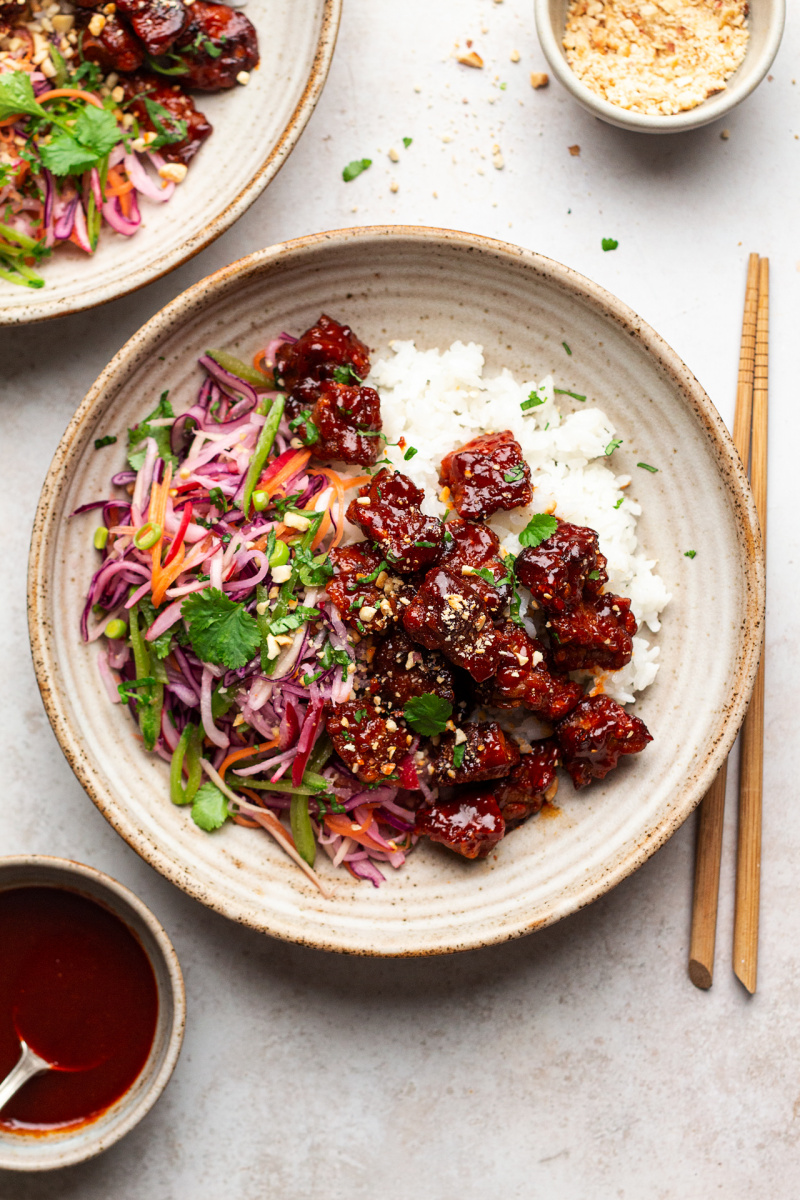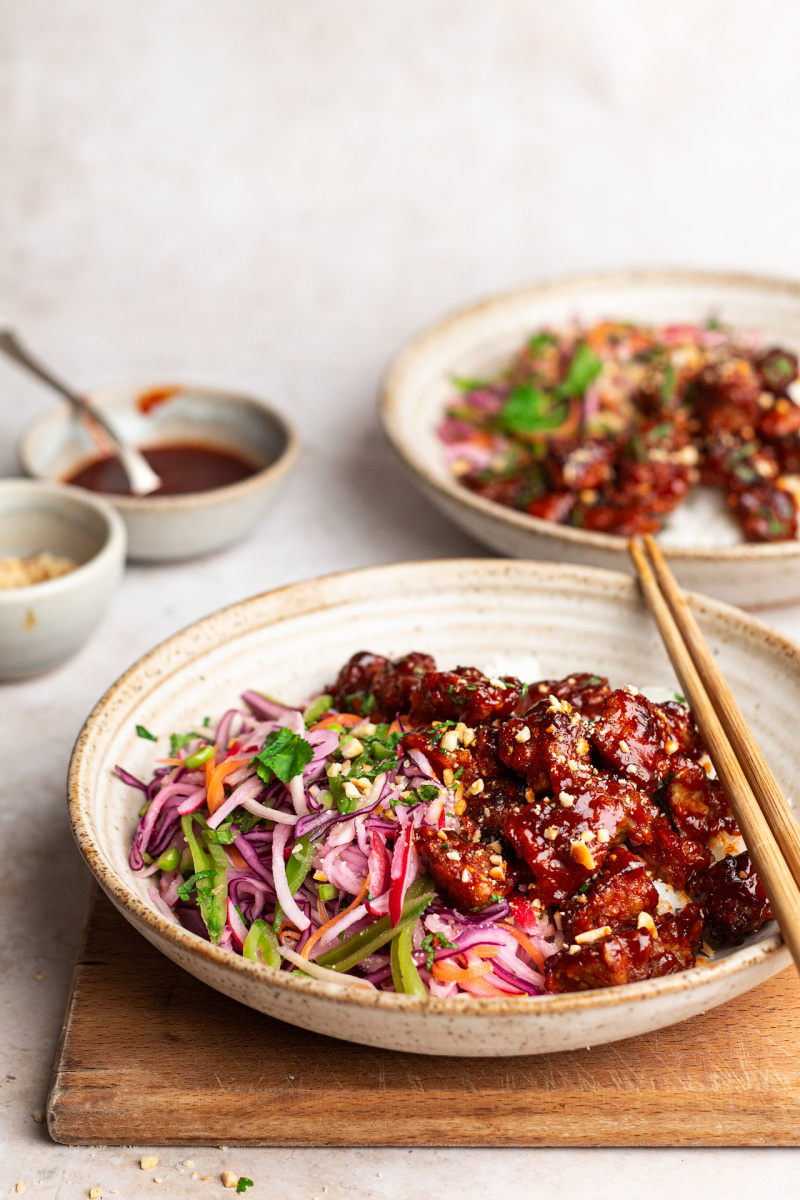 400 g / 14 oz fresh tempeh
2-3 tbsp high smoke point (I use rice bran) oil, optional
4 tbsp Gochujang (Korean chilli paste)*
2 tsp rice wine vinegar
2 tbsp soy sauce or tamari (for GF version)
2 tsp toasted sesame oil
2 tbsp maple syrup (or sugar dissolved in soy sauce)
approx. 2 tbsp natural vegan yoghurt (I use The Coconut Collaborative), optional
1 small garlic clove, finely grated
1 tsp finely grated ginger
cooked rice, to serve
2 tbsp toasted and crushed peanuts, to serve
PICKLED SLAW**
2 small carrots, julienned
15 cm / 6″ daikon / mooli, julienned
10 radishes, cut into matchsticks
10 sugar snaps, cut very finely
small wedge of red cabbage, shredded very finely
small bunch coriander, chopped finely
1 spring onion / scallion, chopped very finely (green part saved for garnish)
2 tbsp seasoned rice wine vinegar
2 tsp toasted sesame oil
salt, adjust to taste
METHOD
Cut the tempeh block in half (or more parts if necessary) and steam or simmer it in water for 15 minutes to improve its taste and to make the tempeh marinate better. Allow it to cool down.
Tear the tempeh into small-medium chunks with your hands. You could also cube it, but I prefer the organic shape and it's easier to make too.
If you would rather BAKE your tempeh, heat up the oven to 200° C / 390° F and spread the tempeh on a paper-lined baking tray. You may want to coat it in a oil first, but that's not necessary. Bake for about approx. 18 minutes, flipping the pieces to the other side 10 minutes in. It's ready when it's browned in places.
If you would rather FRY your tempeh, heat up 2 tablespoons of oil in a small pan. Once the oil is hot, add tempeh chunks and allow it to fry (without stirring) until browned on one side. Once golden-brown on one side, give it a stir and allow it to brown on the other side. Lift it out of the oil with a fork or a slotted spoon and place on a plate lined with a paper towel. Sprinkle with a generous amount of salt and set aside.
Mix all the marinade ingredients (starting from Gochujang paste) together in a bowl. Adjust the seasoning to taste, if you want a little less heat, incorporate a bit of vegan yoghurt into the mixture, otherwise, add a tablespoon (or so) of water to loosen the sauce a little.
Set 2 tbsp of the marinade aside and coat all the tempeh in the rest. Make sure all the pieces are evenly coated. Set aside for as long as you can (overnight is ideal, but you can also prepare the dish straight away if you need to).
Spread the marinated tempeh (save the marinade for brushing on more) on a baking tray and put in a 200° C / 390° F oven for about 10 minutes. Drizzle with extra marinade and serve on top of the cooked rice and with a side of slaw, sprinkled with peanuts and spring onions.
SLAW
Place all the slaw ingredients (apart from the green part of spring onion) in a bowl.
Stir seasoned vinegar, toasted sesame oil and salt through it and set aside for at least 20 minutes for the vegetables to soften and take on the vinegar flavour.
NOTES
*Ensure you get a gluten-free brand if making this for someone intolerant to gluten.
**The marinade is meant to be quite sweet as it is complimented by a sour tasting slaw, so if you decide not to make the slaw, you may want to add a touch more vinegar to the marinade.