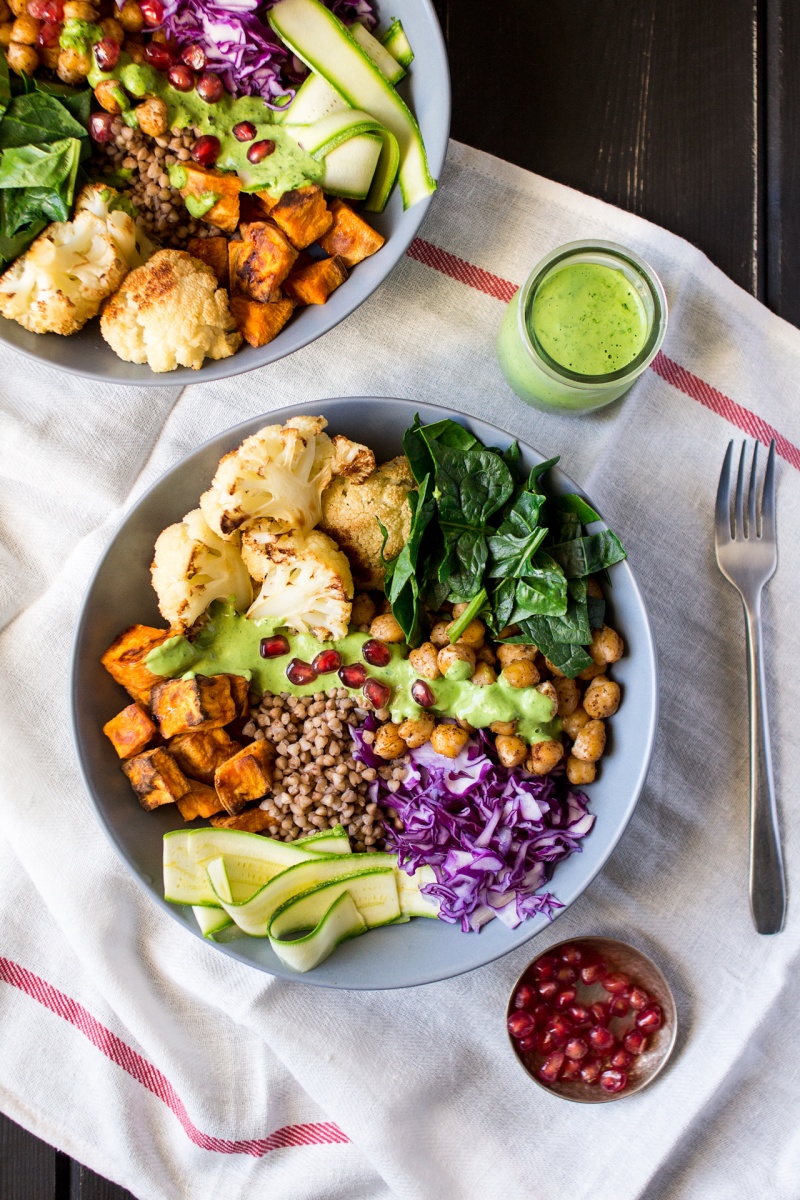 Yet another quick and dirty lunch from me today. A bowl of seasonal winter goodness smothered in a super green sauce that's tasty, healthy and nice to look at too.
How are you getting on with your NY resolutions, by the way? I'm pretty pathetic, to be honest. So you know how I vowed that no sugar will pass my lips in January?
Well, do two squares of dark chocolate (pretty large squares, so they probably count as four) with your afternoon espresso count? In my twisted mind, they don't…so I've been having them daily. I figured that going cold turkey is just too painful and totally unrealistic, frankly. Plus, two (that may look more like four to an onlooker) squares of dark chocolate have never hurt anybody, have they?
My new philosophy is that if you eat healthily throughout a day, you should not deny yourself a small treat. In my experience, denial is less healthy in the long run as, for me at least, it often leads to binging at some point. Today's recipe is an idea for a healthy and filling lunch. It will earn you some brownie points you can later spend on a little sweet treat.
We have this kind of lunch quite a lot. Goodness bowls (also known as buddha bowls) can be real time savers. I like to make large quantities of each component once every few days and then simply put them together just before lunchtime. Or if I have a shoot planned, I prepare them in the morning and when the hunger strikes at lunchtime, I don't have to lose precious daylight to lunch prep.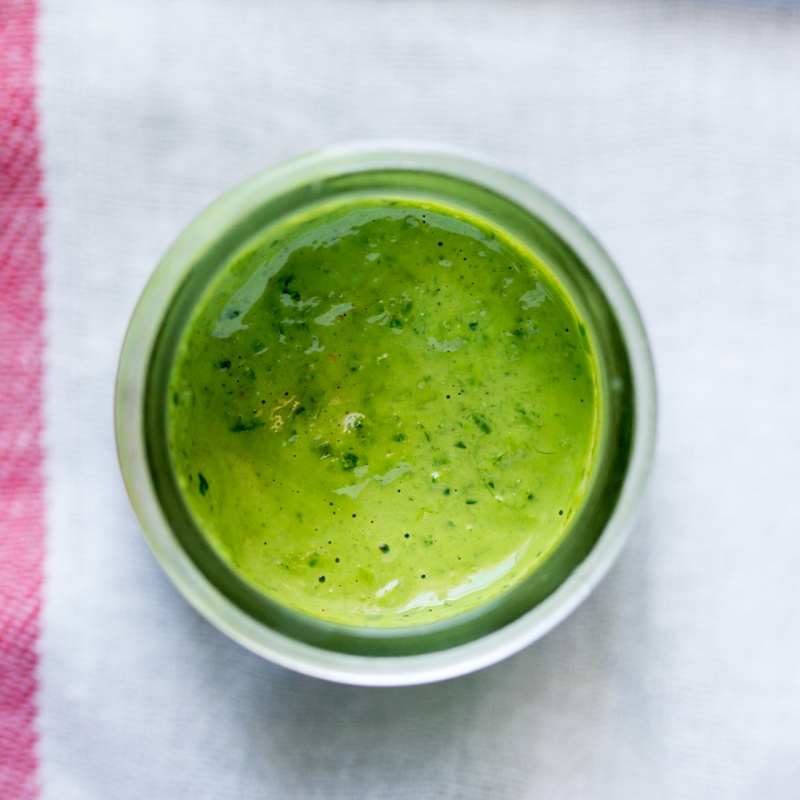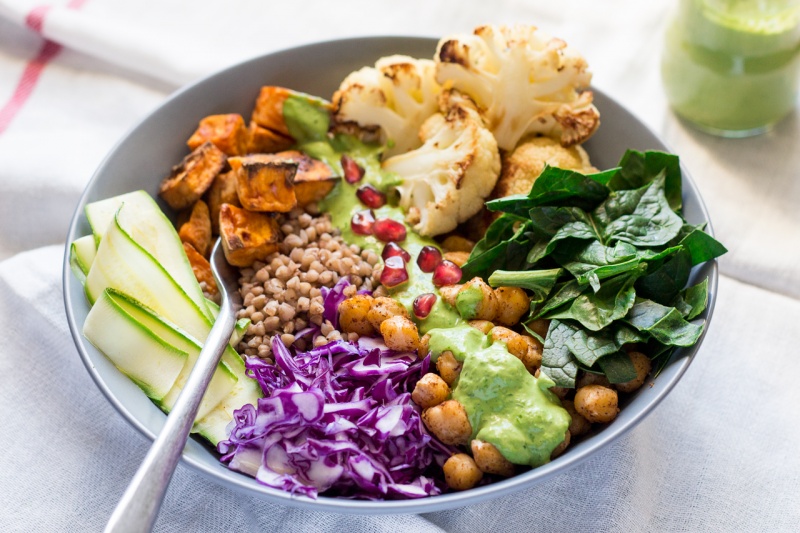 GOODNESS BOWL
½ cauliflower, divided into large florets
small sweet potato, peeled and cubed
a wedge of red cabbage, shredded finely
50 g spinach
1 cup of cooked chickpeas
½ cup roasted buckwheat, cooked
1 small courgette, sliced with speed peeler
olive oil
1½ tsp cumin
½-1 tsp hot chilli powder
¼ tsp sumac
salt
a handful of pomegranate seeds, to garnish (optional)
GREEN SAUCE
3 tbsp / 45 ml tahini
about 3-4 tbsp water, to thin
3 tbsp / 45 ml lemon juice
30 g / small bunch of fresh parsley, leaves only*
1 garlic clove, pressed
¼ tsp hot chilli powder
½ tsp salt
METHOD
Heat up the oven to 200° C / 390° F and line a baking tray with a piece of baking paper.
Put cauliflower and diced sweet potato into a large bowl. Mix in 1 tbsp / 15 ml of olive oil. Season with 1 tsp of cumin, ½ tsp chilli powder and salt. Spread on the prepared baking tray and bake for about 30 minutes. About 15 mins in, flip the veggies with a spatula to make sure they bake evenly. Cauliflower is usually ready a tad earlier than sweet potatos so check up on it 20-25 minutes in and remove from the oven once tender. Continue baking sweet potato for another 10-15 minutes.
In a small bowl, combine all sauce ingredients apart from parsley leaves. Stir well until you get a smooth sauce. Chop parsley leaves roughly and put them into a chopper with the mixed tahini sauce. Blitz well until the sauce turns a beautiful green. If you don't have a chopper, you could use a pestle and mortar to crush parsley finely and release its beautiful green juices and then add it to the sauce.
Heat up a tablespoon of olive oil in large frying pan. Add cooked chickpeas and toss well in oil. Season with salt (I used unsalted, home-cooked chickpeas), ½ tsp of cumin, ¼ tsp chilli and sumac. Toss well until chickpeas are evenly coated in the spices and warm.
Assemble the bowls by putting roasted cauliflower, sweet potato, spiced chickpeas, cooked buckwheat, raw cabbage, spinach and courgette shavings into each bowl. Serve with the green tahini sauce.
NOTES
*Parsley stalks are more fibrous, which spoils the consistency of the sauce and they have a bit of a bitter aftertaste. Best save them (they can be frozen) for making a
vegetable stock
.