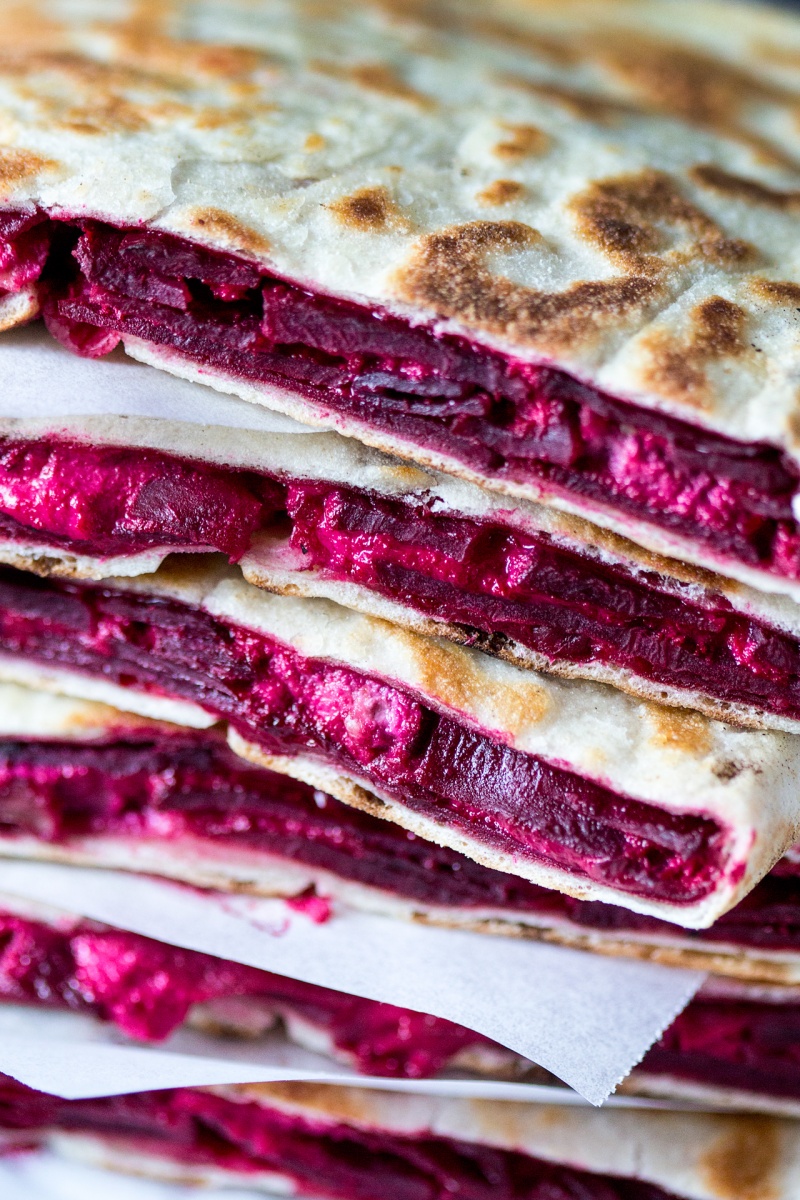 Today's lunch is inspired by Turkish cuisine, one of my personal favourites. I fell in love with it in London where I lived just a stone's throw from a thriving Turkish district. This is where I first saw gözleme making in action. In winter, several restaurants would have their staff make fresh gözleme in the shop windows in a bid to entice hungry customers inside. They were so slick when working with huge sheets of dough that sometimes I would just stand there and watch them work while waiting for a bus outside. It was a great show of skills.
The best gözleme I had was in Kadıköy market in Istanbul. We knew we were onto something special as the queue was miles long, but the ladies who ran the stall had such a slick operation going and they were such a pleasure to watch that the wait was not a problem at all. And it was so worth it too. We opted for a classic spinach filled gözleme and it was simply divine. It instantly made us feel warm despite walking for hours in the cold. Today's gözleme doesn't have a traditional filling. I came up with it myself, inspired by Polish cuisine where beetroots and horseradish are common winter staples and together they are a pretty good match. Traditional gözleme tends to be much larger in size, but constrained by the size of my pan, I went for small handy parcels that you can simply put into your lunchbox instead of a boring sandwich.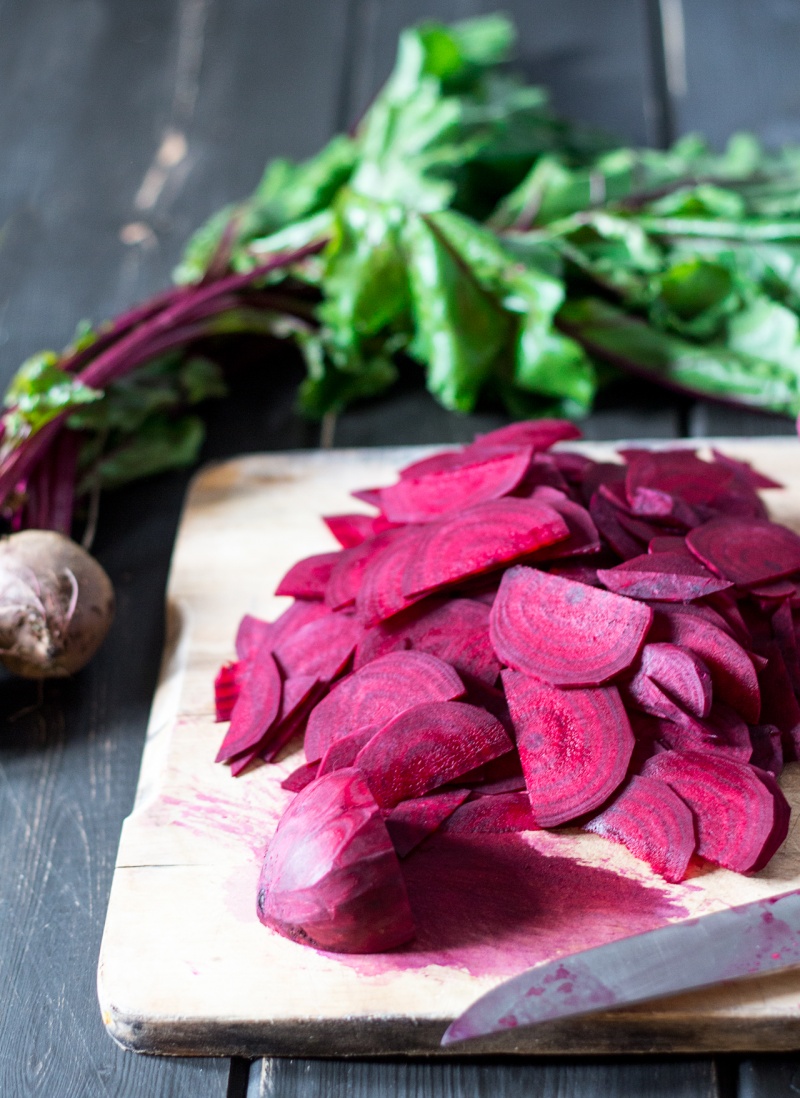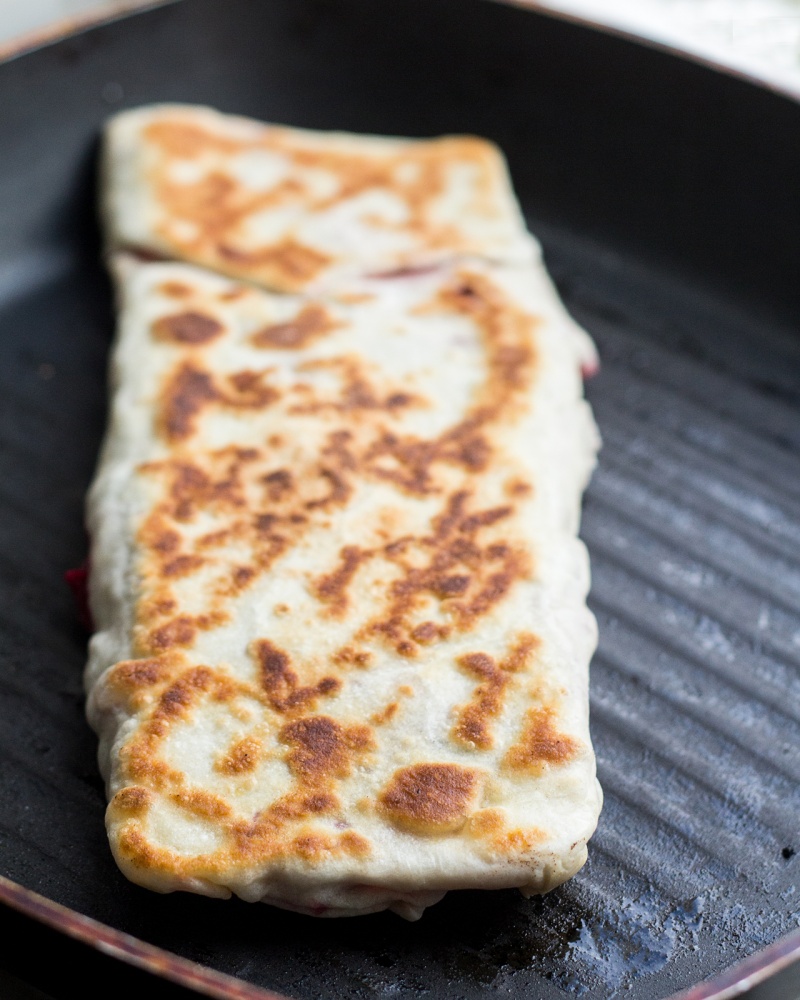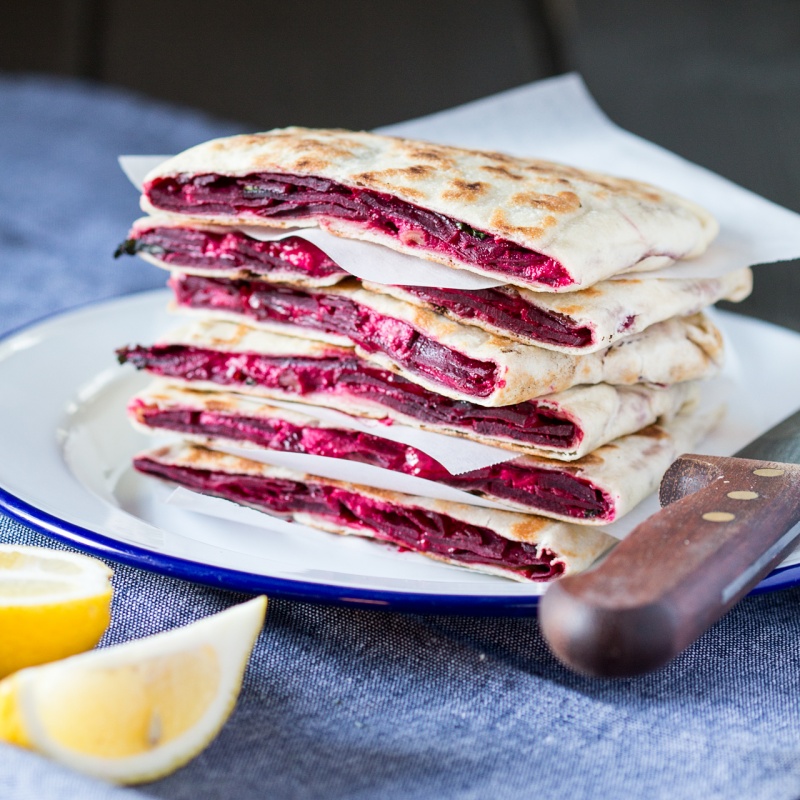 DOUGH
2 cups of flour, sifted
6 g dried instant yeast
½ tsp salt
½ tsp sugar
200 ml lukewarm water
1 tbsp / 15 ml olive oil + extra for brushing
FILLING
800 g beetroot*
5 garlic cloves, 4 finely diced and 1 pressed
3 spring onions or shallots
handful of fresh parsley, chopped finely
1 lemon, juice of ½ + a few wedges to serve
handful of chopped walnuts
¾ cup raw cashews, soaked overnight
1½ tsp cumin
about ½ cup / 120 ml grated horseradish (from a jar)
salt, to taste
pepper, to taste
METHOD
DOUGH
Combine yeast, sugar, salt and 200 ml of lukewarm water (make sure it isn't too warm or else you will kill the yeast) in a mixing jug. Mix well until sugar and yeast have dissolved. Cover with a kitchen towel and stand in a warm place for about 10-15 mins until yeast starts to froth.
Put sifted flour and olive oil into a large mixing bowl. Add activated yeast and combine into a dough ball. Knead for about 5 minutes until you get a smooth, elastic dough. Cover with a kitchen towl and stand in a warm place for 20-30 minutes until the dough has doubled in size.
FILLING
Peel beetroots and slice them super thinly (that's important!) with a mandolin or with a sharp knife.
Heat up 2 tbsp / 30 ml of olive oil over a medium heat, add 4 cloves of garlic and fry gently until garlic has softened. Add sliced spring onions and fry for another minute or so. Finally add sliced beetroot and stir-fry them on high heat until softened. Season with cumin, salt and pepper. Let it cool down. Sprinkle with chopped parsley.
Place rinsed cashews in a blender with about 100 ml of water. Process until you get the smoothest mixture possible. Use a scraper to scrape down the sides from time to time and add a touch more water if needed.
Season with plenty of horseradish (I used ½ cup / 120 ml), crushed garlic clove, lemon juice, salt and pepper. Blend until well combined. Don't be afraid to go for bold flavours as they won't come through as strong once the cream is layered with beetroot slices and wrapped in a piece of dough.
ASSEMBLY
Dust your work surface with a little flour. Divide proofed dough into six equal pieces. Press first piece down to get rid of air pockets. Roll the dough into a long rectangle so that the shorter edge runs perpendicular to the work surface. The thinner the dough the better, but do not over do it – it should not be so thin that beetroot filling bleeds through it.
Place a layer of beetroot slices in the middle of the rectangle so that you can close the parcel by pulling left and right sides of the rectangle up. On top of the beetroots, sprinkle some walnuts, then put a layer of horseradish cream and another layer of beetroot on top.
Close the dough by folding the sides over the filling and pinching both ends together in the middle of the parcel. If there is too much overlap, trim the dough a little as you want to minimise the area with a double layer of pastry. Seal the ends well.
Heat up a griddle or a non-stick pan. First brush the gözleme with a little bit of olive oil and place (oiled side down) on a hot pan. Brush the other side with oil and after a minute or so, flip the parcel. Press the parcel down where there are any seams as they'll need more time to cook. I also like to brown the sides by holding the parcel perpendicularly to the pan with a pair of kitchen tongs. Repeat steps 7-10 with the rest of the dough and filling.
NOTES
*Beetroot leaves and stalks also work very well here.