Gigantes Plaki
Gigantes Plaki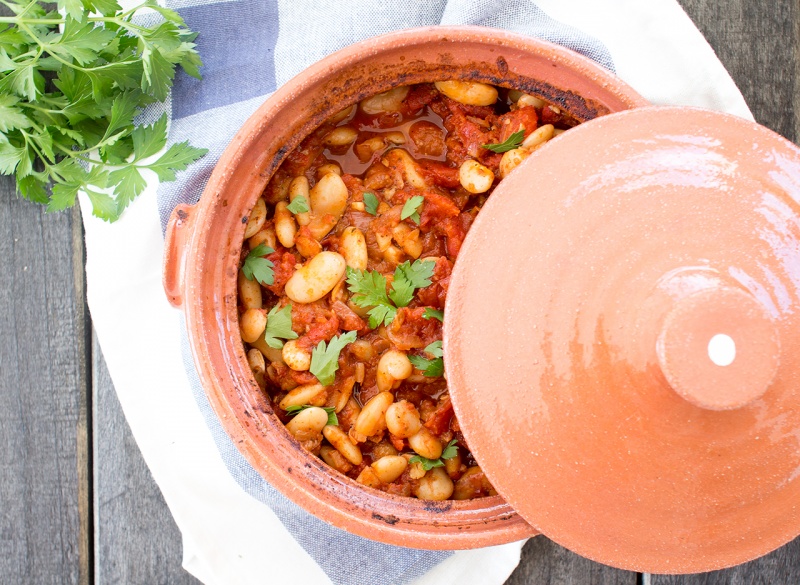 -> FOR A NEW, IMPROVED RECIPE, VISIT THIS POST.
During my London life, I often wondered why the British nation is so in love with tinned baked beans. People would pour warmed up baked beans on to a baked potato, a piece of toast, or next to eggs, sausage and fried bacon exclaiming 'yummy' and 'this is what I call comfort food'. I have to say I was never sold on the idea of a can of processed food delivering very much in the way of "comfort", and it kind of put me off the concept of baked beans in general.
Little did I know that I'll become a baked beans (or gigantes plaki as they call theme here) convert when I move to Greece. The first time I tasted Greek baked beans I couldn't believe how good they were. They were melt-in-your-mouth soft beans coated in deliciously rich tomato sauce, with a warming note of cinnamon. Initially, I was not too keen on putting cinnamon into my tomato sauce, but tasting this dish proved to me how wrong I was. It's a delicious combo and it's the addition of cinnamon that makes the dish taste so good. My version is a bit different from the original. I used smaller beans – traditionally, the Greeks use gigantic white beans in this dish (lima beans or butter beans) – as I prefer those. I also reduced the amount of olive oil. I've had Greeks tell me to use about a cup of olive oil in this dish, but I value my arteries too much to do that to them.
Admittedly, preparing this puppy is more time consuming than opening a tin; but the effort is well worth it, trust me. This dish is best enjoyed as part of a mezze spread or on its own with some crusty bread to mop up the sauce with and some wine (purely to facilitate digestion, of course). Finally, this is one of these dishes that tastes even better the next day so prepare it in advance if you can.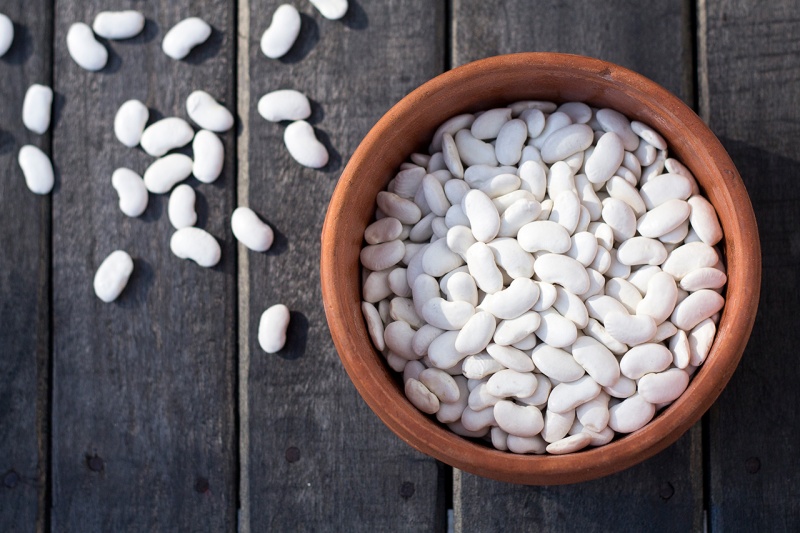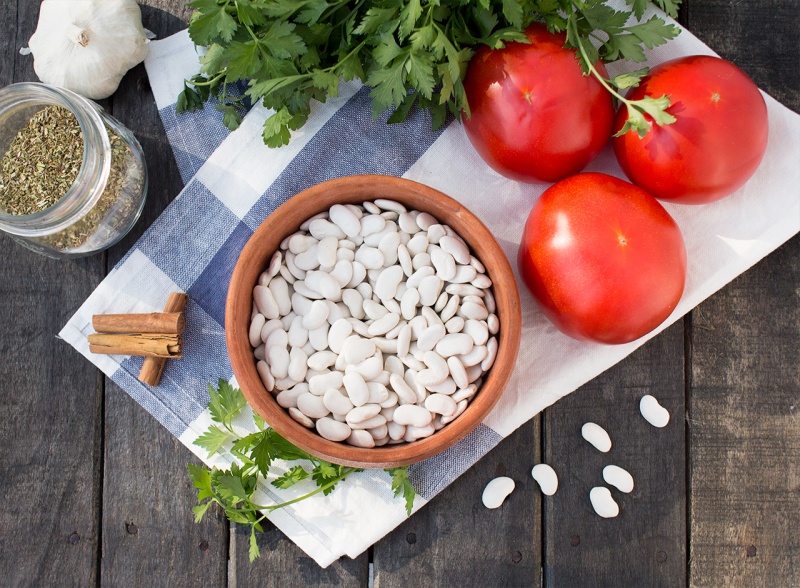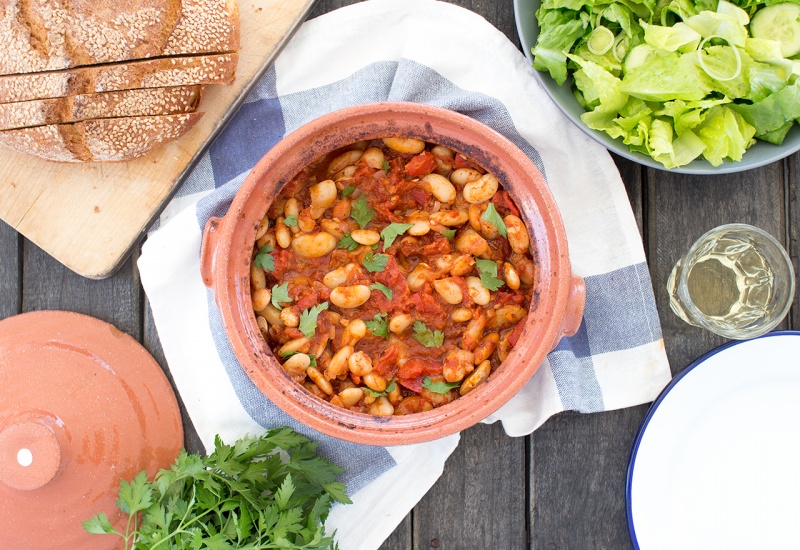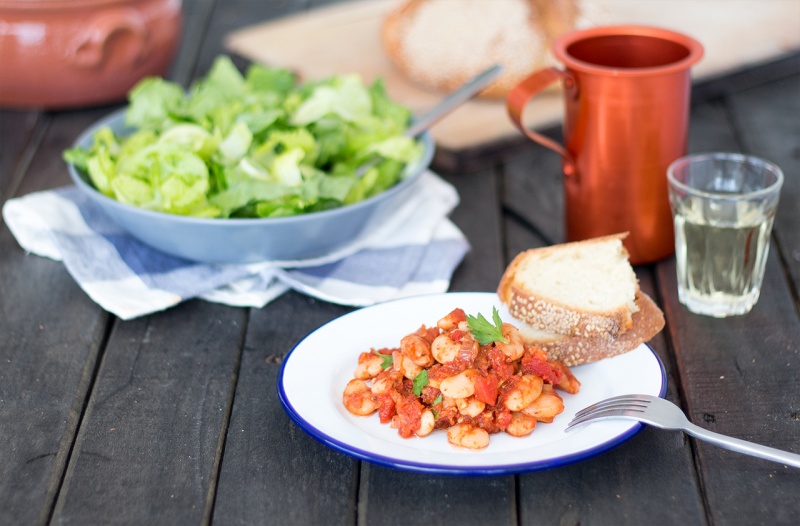 200 g dry medium white beans*, soaked overnight
3 tbsp olive oil
3 large tomatoes, peeled and diced (or 1 and ½ 400 g tin)
1 tbsp tomato paste
1 small red onion, finely diced
2 cloves garlic, finely diced
1 tsp dried oregano
1 heaped tsp ground cinnamon
2 tsp brown sugar
½ tsp chilli flakes (optional)
1 generous tsp fine sea salt
few grinds of black pepper
handful of parsley, finely chopped
METHOD
Rinse beans well. Put them into a large pot of water and cook on medium heat, covered for about 30 mins (make sure you gather the foam that has come to the surface and discard it). The beans need to be 'al dente' (not soft) by the end.
Pre-heat the oven to 200° C / 400° F.
In a frying pan, fry the onion until translucent, add in garlic and fry for another minute.
Add in cinnamon and chilli (if using), fry for another minute coating onion and garlic in the spices. Stir often.
Add in tomato paste, diced tomatoes, oregano, salt, sugar and pepper. Simmer without a lid, until tomatoes are starting to thicken. Add in drained beans and mix everything together.
Transfer the mixture to an oven safe dish with a lid and add ½ cup of water. Stir through.
Put the lid on and bake for about 30 mins. After 30 mins, take the lid off and bake for another 15 mins, until the sauce has thickened nicely and beans are soft.
NOTES
* Traditionally, Greeks use giant white beans in this dish (butter beans). I prefer these smaller ones so that's why I used those instead, but feel free to use butter beans if you like them more. If you do, cook them for about 10-15 minutes longer.
DON'T MISS A SINGLE RECIPE
Join our mailing list and we we will let you know when we publish a new recipe. You'll receive our DELIGHTFUL DESSERTS E-BOOK as a thank you for supporting us.