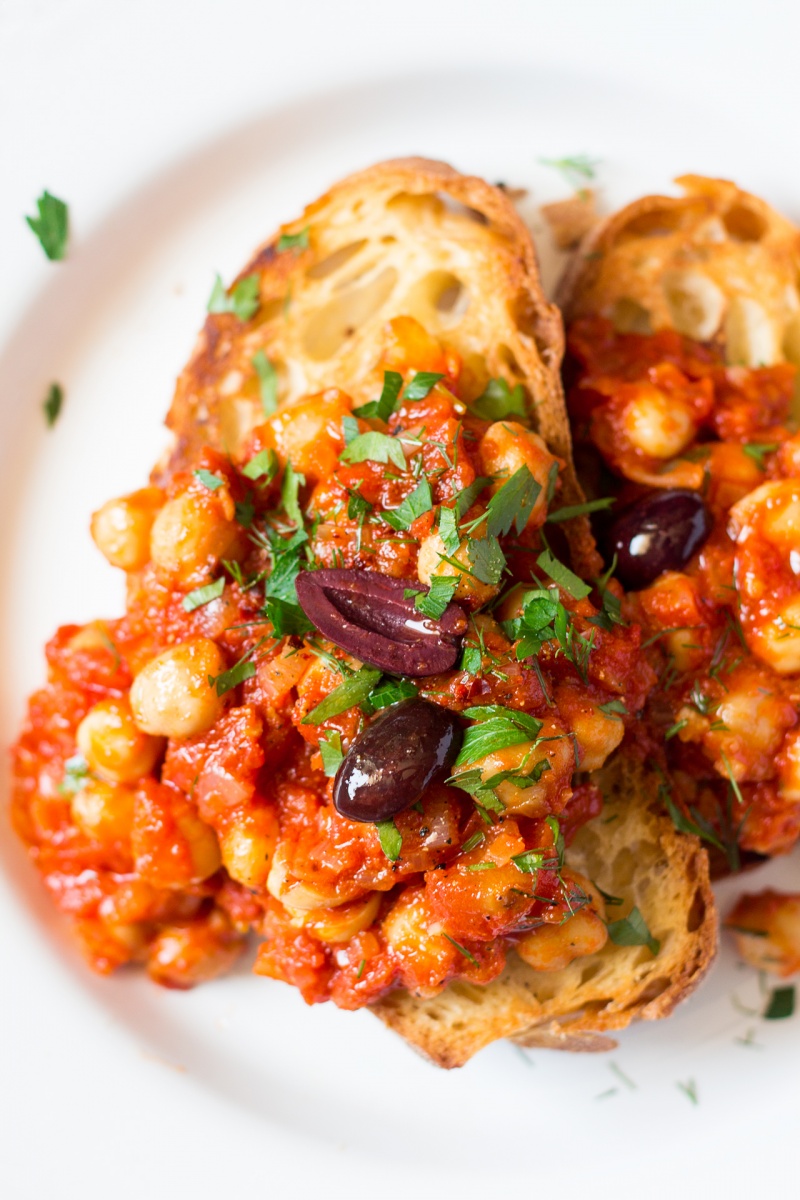 Today's recipe is a quick and easy affair. It also happens to be very nutritious. Half a portion contains 15 g of protein, which is approximately 1/3 of your daily recommended allowance. It makes a great lunch and breakfast alike.
I like its taste and convenience as I am a little snowed under lately. I'm putting finishing touches to a big project, so aside from the meals I make for the blog, I try to keep it simple.
This one went down so well with Duncan and myself that we have pronounced it blog-worthy. I've taken the liberty to call it 'Greek' chickpeas on toast as I used cinnamon in the tomato sauce, which is something Greeks do a lot and despite my initial scepticism it works really well.
I've embellished this delicious dish with plump Greek (of course) olives. They provide a salty accent against a delicately sweet tomato sauce.
Finally, my recommendation is to serve this on good quality bread. We are spoilt for choice here as all the local bakeries make an array of beautiful breads. We went for slices of toasted sourdough as it provides a pleasant crunchiness against melt-in-the-mouth beans.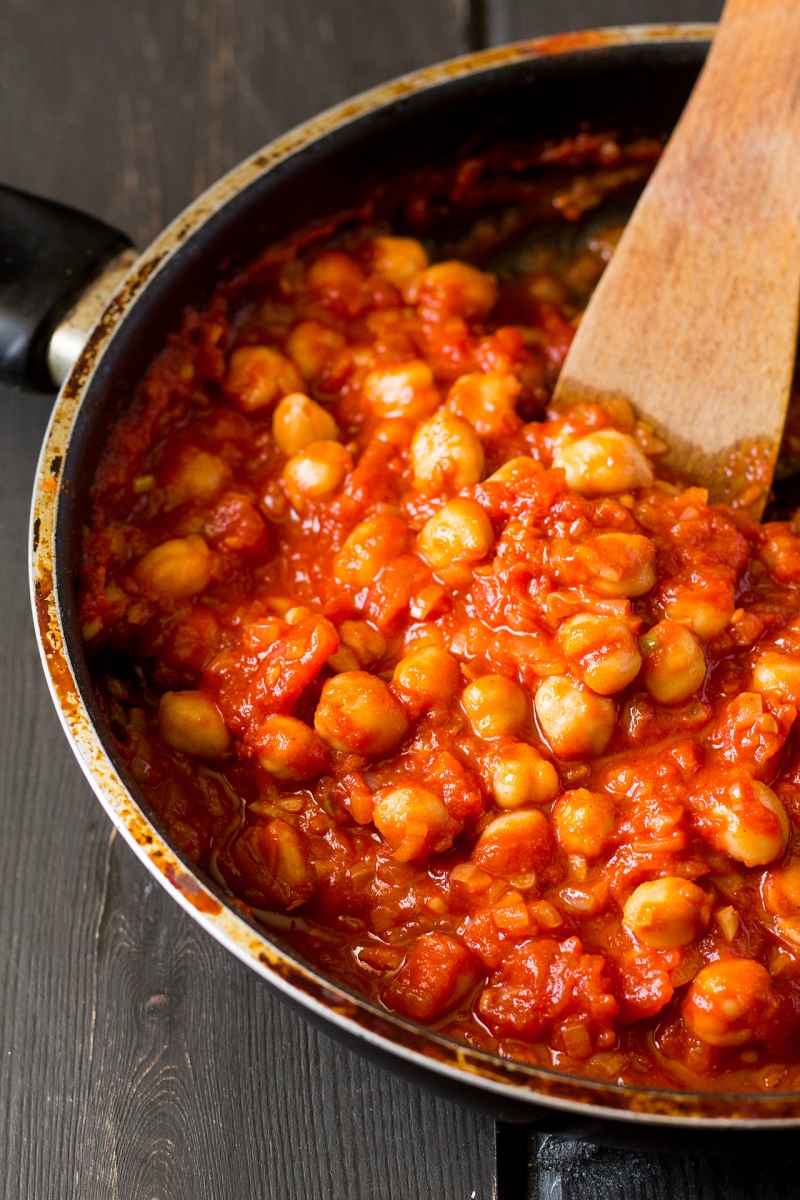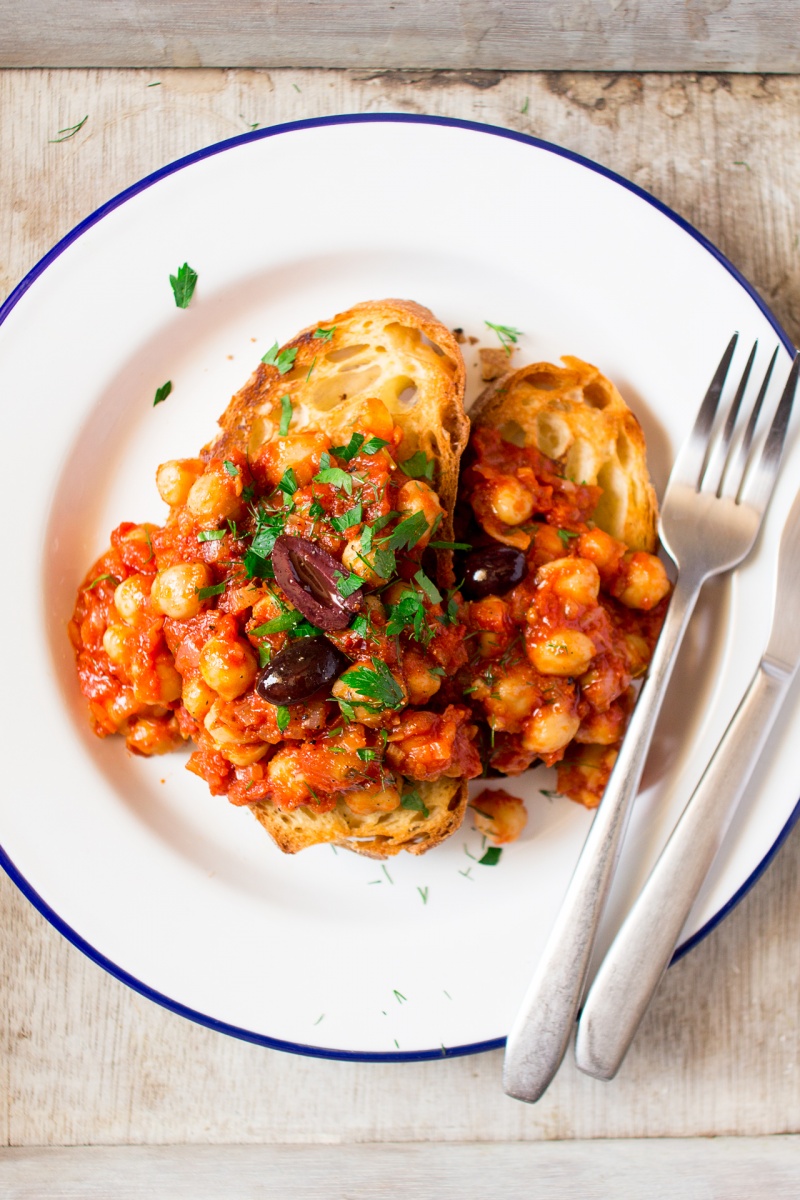 2 tbsp olive oil
3 small shallots, finely diced
2 large garlic cloves, finely diced
¼ tsp smoked paprika
½ tsp sweet paprika
½ tsp cinnamon (or cumin)
½ tsp salt
½-1 tsp sugar, to taste
black pepper, to taste
1 x 400 g tin of peeled plum tomatoes or 2 large tomatoes (skinned)
2 cups of cooked chickpeas
4-6 slices of crusty bread (gluten-free if required), toasted
fresh parsley and / or dill, to garnish (optional)
a few pitted Kalamata olives, to garnish (optional)
METHOD
Heat up olive oil on a medium pan.
Add shallots and fry gently, stirring frequently, until almost translucent. Add garlic and fry until shallots are completely translucent and garlic is softened.
Add all the spices to the pan. Mix them into the onion and garlic mixture and fry off gently for 1-2 minutes stirring the whole time.
Squash tinned tomatoes or chop them roughly before adding to the pan with a couple of tablespoons of water. Simmer on low-medium heat until the sauce has thickened.
Mix in cooked chickpeas and let them warm through in the sauce. Season with salt, sugar and black pepper.
Serve on toasted bread with a sprinkle of fresh herbs and a few black olives.