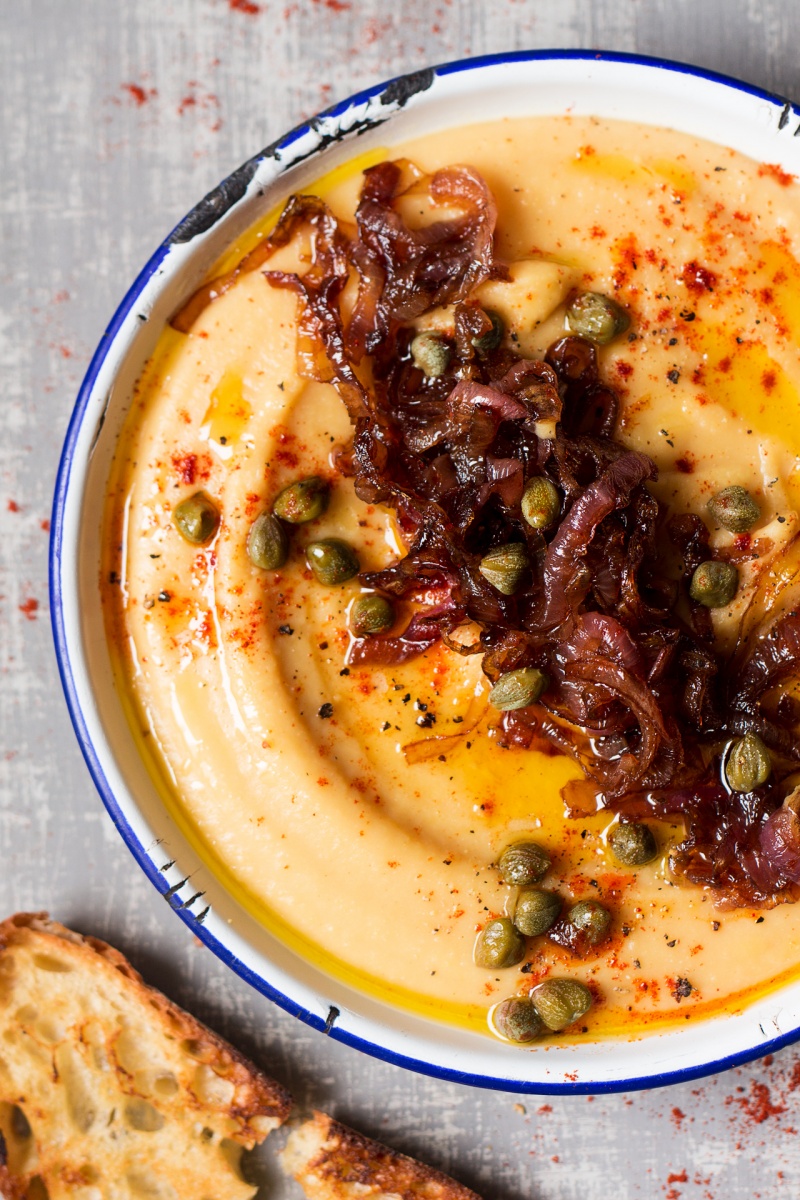 Contrary to what many people seem to think, hummus isn't Greek and so not something that belongs on a Greek taverna's menu. Greeks do, however, have a similar kind of dish called φάβα (fava), which is just as delicious despite being nowhere near as popular.
Greek fava is made from yellow split peas (known as fava in Greece), which grow in the volcanic soil of beautiful Santorini. It has always been one of my favourite mezedes (small dishes) and, as it is naturally vegan and available in every taverna, it is something I always order when I'm eating out, particularly now that I'm vegan.
Most places top it with capers and very thinly sliced red onion (which is milder compared to the onions I had elsewhere in Europe) but my favourite taverna on the island serves theirs with caramelised onions and I simply love that combination. The sweetness of the onions goes so well with the salty, tangy capers and lemon that flavours Greek fava.
Give me a bowl of warm fava, some toasted sourdough, a small glass of white wine and a healthy dose of Greek sunshine for lunch and I'm a happy bunny indeed 🙂 .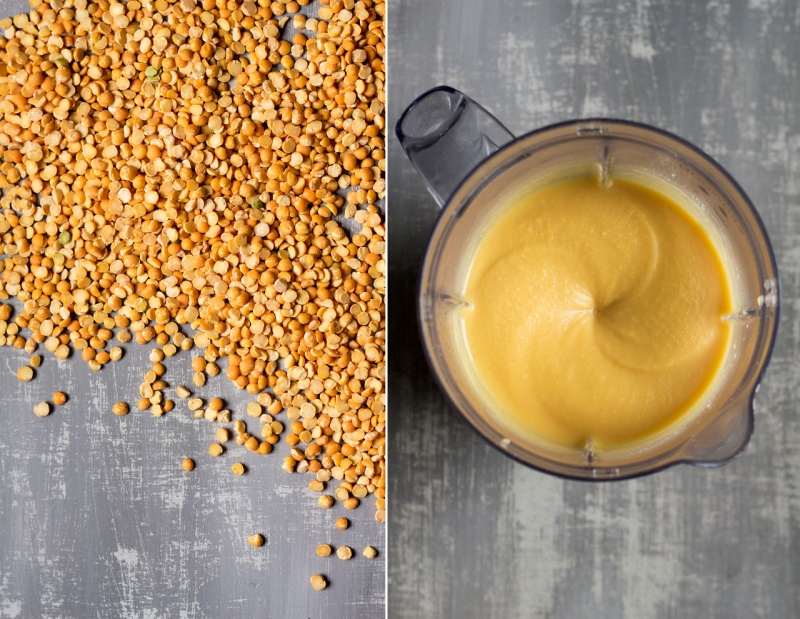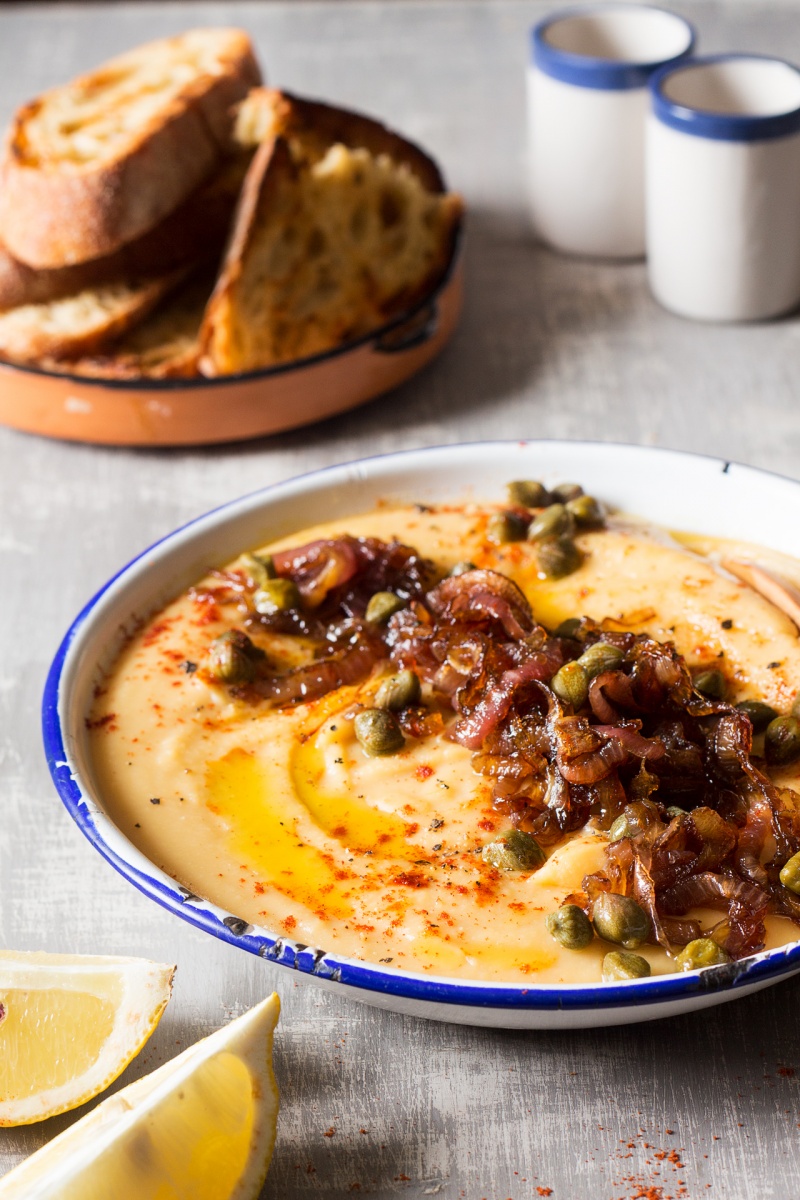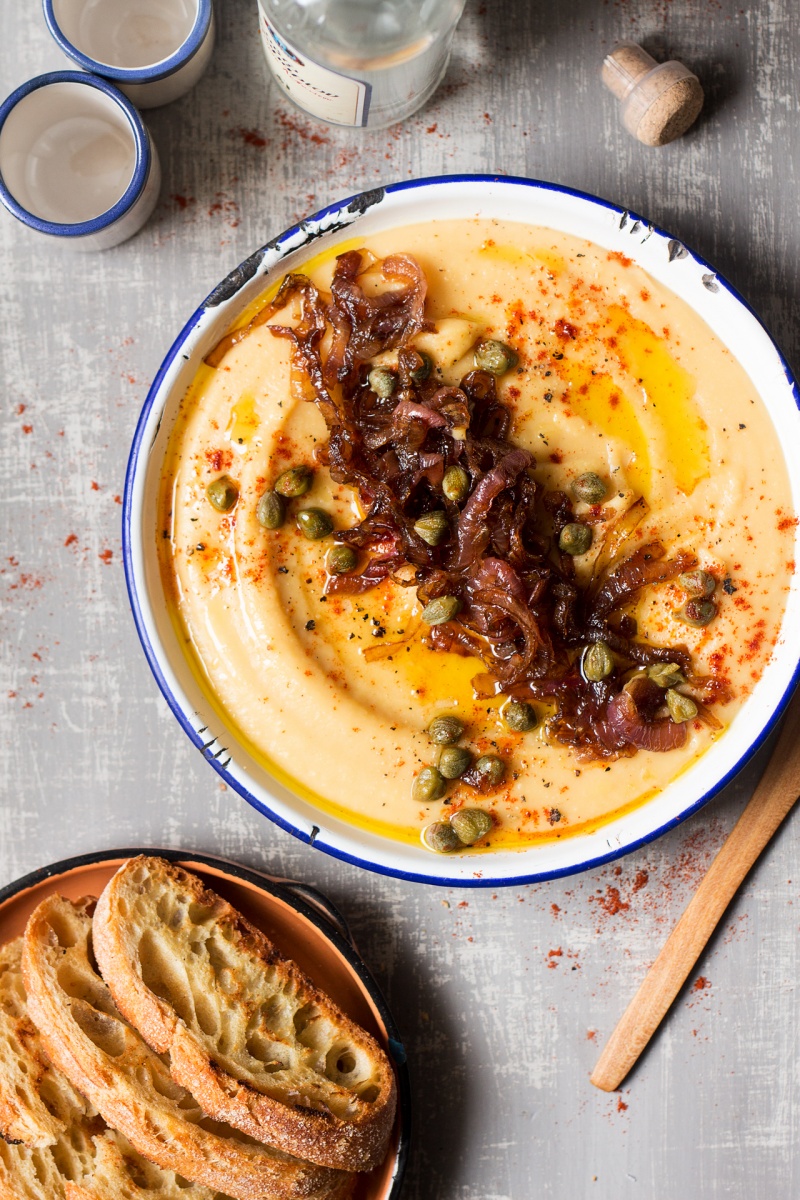 250g / 1¼ cups of Greek fava beans
½ medium red onion, cut into smaller pieces
2 small garlic cloves, grated finely
¾-1 tsp fine salt, more to taste
1 bay leaf
2 tbsp of lemon juice
1 tsp dried thyme
freshly ground pepper
extra virgin olive oil
a few pinches of sweet paprika
2 tbsp capers, to serve
caramelised onions OR raw red onion, very finely sliced
CARAMELISED ONIONS (optional but recommended 🙂 )
2 medium red onions
1-2 tsp brown sugar
1 tbsp balsamic vinegar
30 ml / 2 tbsp olive oil
pinch of salt
METHOD
FAVA
Put dry thyme into a tea strainer and immerse in boiling water for a few minutes to make a thyme infusion. Mix the grated garlic with 2 tbsp of lemon juice in a small bowl and set aside. This will give the garlic a more mellow flavour.
Check the split peas for small stones and debris and rinse really well, until the water runs clear. Put rinsed beans into a pot and cover with about 2.5 cm / 1 inch of water. Cover with a lid and bring to a gentle boil.
Once the peas boil, discard a film of scum that forms on the water's surface.
Add a bay leaf, half a chopped onion and thyme infusion and cover with a lid leaving a small gap. Simmer on a low-medium heat until peas are completely mushy and soft – depending on their size they will take about 45 min / 1 hour. Top up with more water if the water boils out too soon.
Blend cooked split peas and onions until smooth using an upright blender (recommended!), an immersion blender or a food processor.
Add lemon juice, garlic, salt and pepper. Traditionally, Greeks use quite a bit of olive oil in the fava, but I prefer a more healthy version and only added 1 tablespoon – add more if you prefer it more indulgent and creamier. Blend well. If using an upright blender that isn't a Vitamix or a Blendtec, you may want to use this tip to achieve a smoother fava: make small circles on the surface of your fava (in the direction of the turning blades) with a spatula (don't dip the spatula in too deep as you don't want to accidentally touch the turning blades). This simple trick will prevent air pockets from forming under the mixture's surface, helping your blender process the heavy mixture. Drizzle in a bit more water if the mixture is too thick – don't worry if the fava appears too runny at first as it tends to get thicker when as cools down.
Serve warm (recommended) or at room temperature, topped with extra virgin olive oil, caramelised red onions, capers and a pinch of sweet paprika.
CARAMELISED ONIONS
Heat up 2 tbsp of olive oil in a large pan. Peel the onions and slice them into 3 mm slices – if you slice them too finely, they will dry out rather than caramelise.
Add sliced onions to the pan, stir them well to coat them in the olive oil. Cook the onions on a very low heat (I used setting 2 out of 6) to soften them – to get them nice and caramelised, you mustn't rush the process.
Once soft, add salt, sugar and balsamic vinegar and cook some more. Finally add a splash of water to deglaze the pan and gather all the sweet oniony goodness stuck to the pan. Continue cooking until the water cooks out.